Thanks to my 80 Axios colleagues on our six-month anniversary — and thanks to all of you! We have ...
... plunged into seven future-shaping coverage areas: politics, tech, media trends, health, science, energy, and future of work (AI, robotics, etc.).
... pioneered a distinctive Axios style and voice — smart brevity — for mobile, newsletters, videos, events and graphics.
... created a culture that attracts and rewards highly ambitious, insanely creative, generous people.
Why it matters: We've only achieved 1% of our ambitions.
https://www.axios.com/newsletters/axios-am-3b4bc43b-e9ca-4a41-8f2c-846b89cc94cf.html?chunk=0#story0
1 big thing: R.I.P, repeal and replace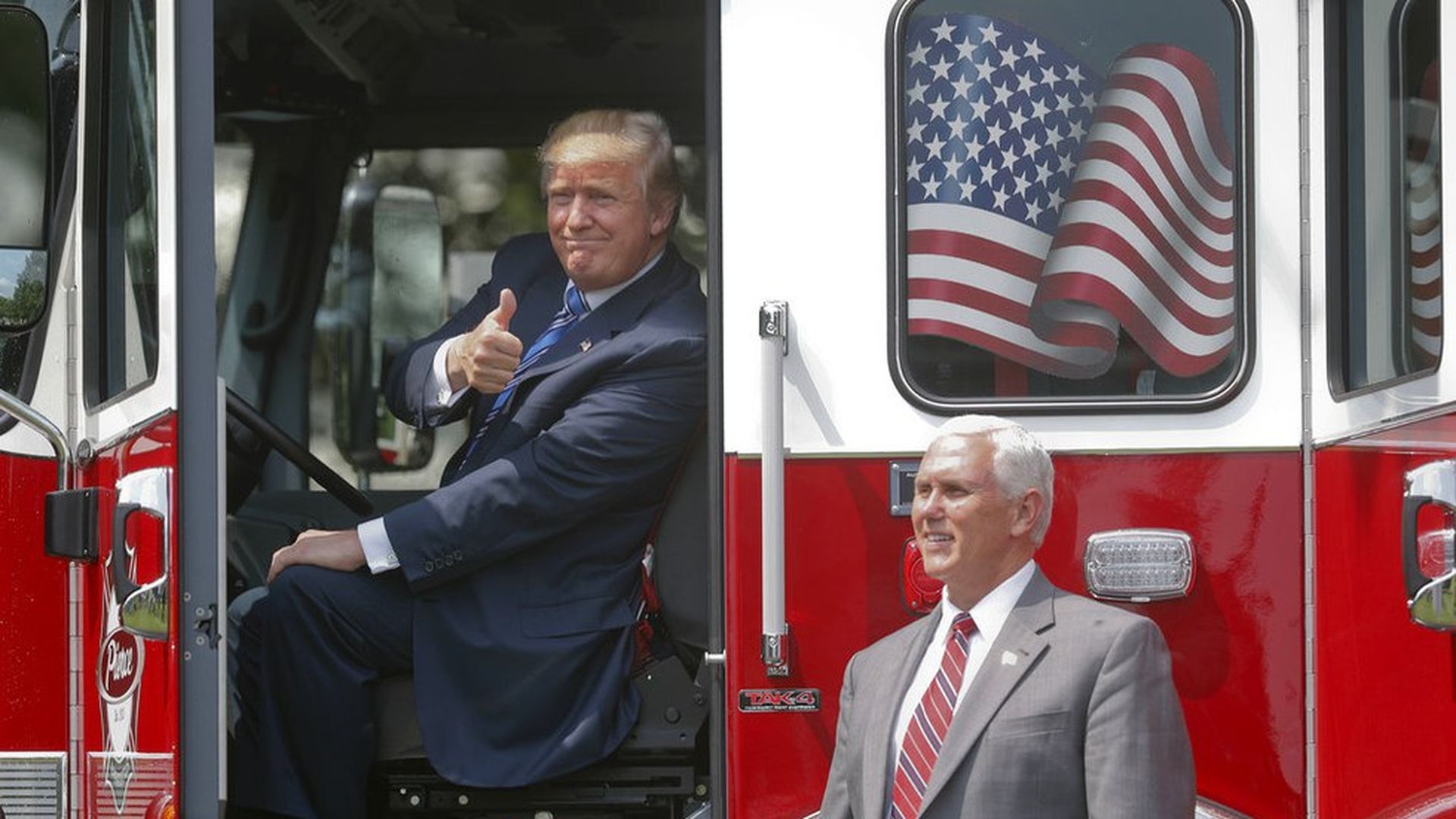 Obamacare remains the law of the land. And the White House didn't even get a courtesy call.
The West Wing was blindsided last night when two Republican senators — Mike Lee of Utah and Jerry Moran of Kansas — came out against repeal-and-replace. Either of them would have killed it.
But there's one more act in this drama. Don't leave the stadium, thinking it's over.
At 10:46 p.m., Senate Republican Leader Mitch McConnell announced that he was calling the bluff of his finicky GOP colleagues and planning a repeal-only vote, putting them on the line to act on the promise they had repeatedly made in their campaigns, with no excuses:
"Regretfully, it is now apparent that the effort to repeal and immediately replace the failure of Obamacare will not be successful. So, in the coming days, the Senate will vote to take up the House bill with the first amendment in order being what a majority of the Senate has already supported in 2015 and that was vetoed by then-President Obama: a repeal of Obamacare with a two-year delay."
Axios' Jonathan Swan tells me this is "the nuclear option": "This is leadership saying: 'If you're not going to come around on a "replace" bill, [forget] you. We'll do repeal without replace — which you voted for before, when Obama was president, and you knew it wouldn't take effect. What was that, a fake vote?'"
"All the moderates are squeamish about the current bill. Full repeal is way worse. It's a horrendous situation for the moderates."
The outlook: It'll probably lose. But this is McConnell trying to get the issue fully off his plate so he can move on to tax reform, while showing the base he tried everything he could.
The takeaway: Top Republicans sources believe that the failure of health reform would make tax reform more likely — because of political desperation by Republicans, who'll need something to run on.
Be smart: We emailed one of the GOP's sharpest vote counters with the repeal-only news and the subject line: "Hail Mary?"
The quick reply: "Incomplete pass."
https://www.axios.com/newsletters/axios-am-3b4bc43b-e9ca-4a41-8f2c-846b89cc94cf.html?chunk=1#story1
2. Quote du jour
Politico: "At a dinner with GOP senators on Monday evening, Trump said the party would look like 'dopes' if they couldn't pass [a repeal-only] bill after passing a repeal bill in 2015."
https://www.axios.com/newsletters/axios-am-3b4bc43b-e9ca-4a41-8f2c-846b89cc94cf.html?chunk=2#story2
3. What killed the bill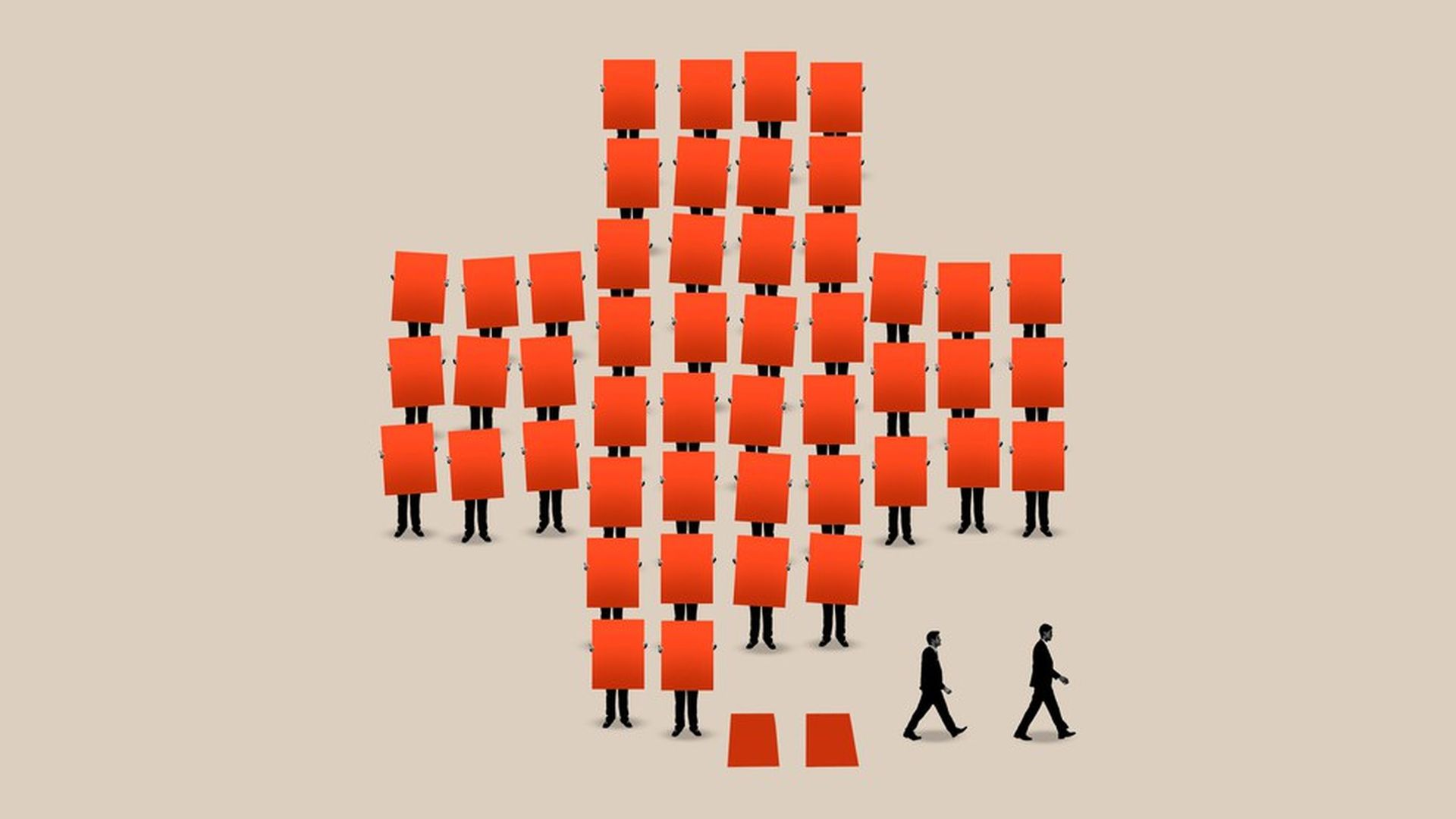 The biggest, most consistent obstacle was that the complaints within the GOP caucus were diverse, and a big part of that caucus was not especially invested in reconciling them, Axios' Sam Baker writes.
Why it matters: "To win total control of the government and fail to deliver is a stunning setback, and one that will reverberate into other legislative goals."
And how 'bout Ted Cruz? "The man who once made it his business to outflank almost the entire Republican party from the right decided to make a play for pragmatism — and found himself outflanked from the right."
P.S. WashPost front page, "Treasury chief hurtles toward fiasco," by Damian Paletta: "Mnuchin is ... unable to get Congress, let alone his colleagues in the Trump administration, on board with a strategy to raise the federal limit on governmental borrowing."
https://www.axios.com/newsletters/axios-am-3b4bc43b-e9ca-4a41-8f2c-846b89cc94cf.html?chunk=3#story3
4. "Double haters"
First look at a hot passage from a book out today by Josh Green of Bloomberg Businessweek, "Devil's Bargain: Steve Bannon, Donald Trump, and the Storming of the Presidency":
"[B]oth campaigns battled for a group of voters who would ultimately decide the race. ... Trump's data analysts gave them a nickname: 'double haters.' These were people who disliked both candidates but traditionally showed up at the polls to vote. They were a sizable bloc: 3 to 5 percent of the 15 million voters across seventeen battleground states that Trump's staff believed were persuadable.
"Early on, many indicated support for third‐party candidate Gary Johnson. But after a series of televised flubs, ... they largely abandoned him. ... Many refused to answer pollsters' questions ... These were the voters Clinton had hoped to shear off from Trump with her 'alt-right' speech in August. ... Comey's letter had the effect of convincing the double haters to finally choose."
How the "double haters" voted: The national exit poll found 18% of voters had an unfavorable opinion of both Trump and Clinton. Those voters went 47% for Trump, 30% for Clinton.
Other nuggets from Josh Green's book:
Trump thought governing was going to be easy: "I deal with people that are very extraordinarily talented people," he told Green, just after wrapping up nomination. "I deal with Steve Wynn. I deal with Carl Icahn. I deal with killers that blow these [politicians] away. It's not even the same category. This" — he meant politics— "is a category that's like nineteen levels lower. You understand what I'm saying? Brilliant killers."
"Bannon was prepared to sic the alt-right on Paul Ryan if he tried to steal the GOP nomination from Trump at a brokered convention: 'Pepe's gonna stomp their ass,' [Bannon] said, referring to the racist frog."
Early on, Chuck Schumer was deeply worried that Bannon's nationalism might fracture the Democratic coalition: "I know what you're doing, and I'm not going to let it happen," the Senate Dem leader told Bannon in the early days of the administration.
Schumer feared Trump would begin by pursuing a $1 trillion infrastructure bill that would neatly align with Trump's "builder" image, produce tangible benefits, win over union voters Democrats rely on, and stand as a testament to what "America first nationalism" could mean.
Trump blew up at Paul Manafort over a N.Y Times story saying the campaign chairman received $12.7 million in cash from a pro-Russian political party in Ukraine: "How can anybody allow an article that says your campaign is all fucked up?"
https://www.axios.com/newsletters/axios-am-3b4bc43b-e9ca-4a41-8f2c-846b89cc94cf.html?chunk=4#story4
5. Scoop: Coming attractions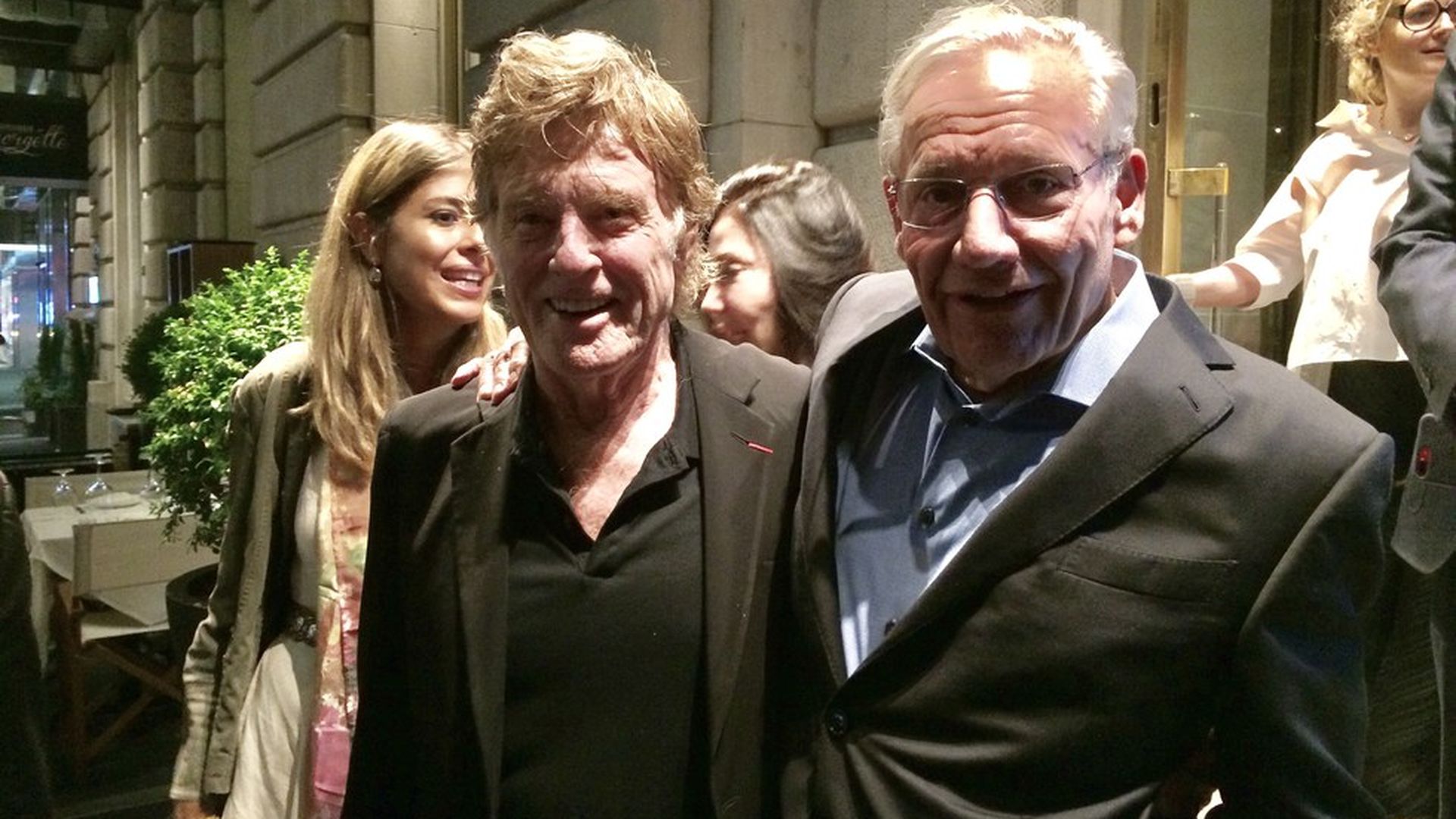 Robert Redford (age 80) and Bob Woodward emerge last night from Avra Madison on 60th Street in New York City. Redford played Woodward in the 1976 movie, "All the President's Men."
Asked if they're planning a Watergate-themed movie or documentary, Woodward said, with his customary mystique: "Yes."
The film's release date is unknown. But we're told: "soonest."
https://www.axios.com/newsletters/axios-am-3b4bc43b-e9ca-4a41-8f2c-846b89cc94cf.html?chunk=5#story5
6. If you read only 1 thing
WashPost lead editorial, "The worst crisis you've never heard of":
"More than 20 million people in four countries [Yemen, Somalia, South Sudan and Nigeria] are at risk of starvation in the coming months, in what the United Nations has called the worst humanitarian crisis since World War II. But the global response to the [famine] has been lacking, both from governments and from private citizens."
"'[O]ne encouraging development has been the formation by eight large U.S. private relief organizations of an unprecedented alliance, the Global Emergency Response Coalition, which on Monday launched a two-week fundraising drive. The campaign has attracted backing from several U.S. corporations, including Blackrock, PepsiCo and Google."
From a Global Emergency Response Coalition press release: "[D]onations to the Hunger Relief Fund can be made at www.globalemergencyresponse.org. The public service announcement voiced by actor and humanitarian George Clooney may be viewed in the coalition Press Room."
https://www.axios.com/newsletters/axios-am-3b4bc43b-e9ca-4a41-8f2c-846b89cc94cf.html?chunk=6#story6
Bonus, for NYC commuters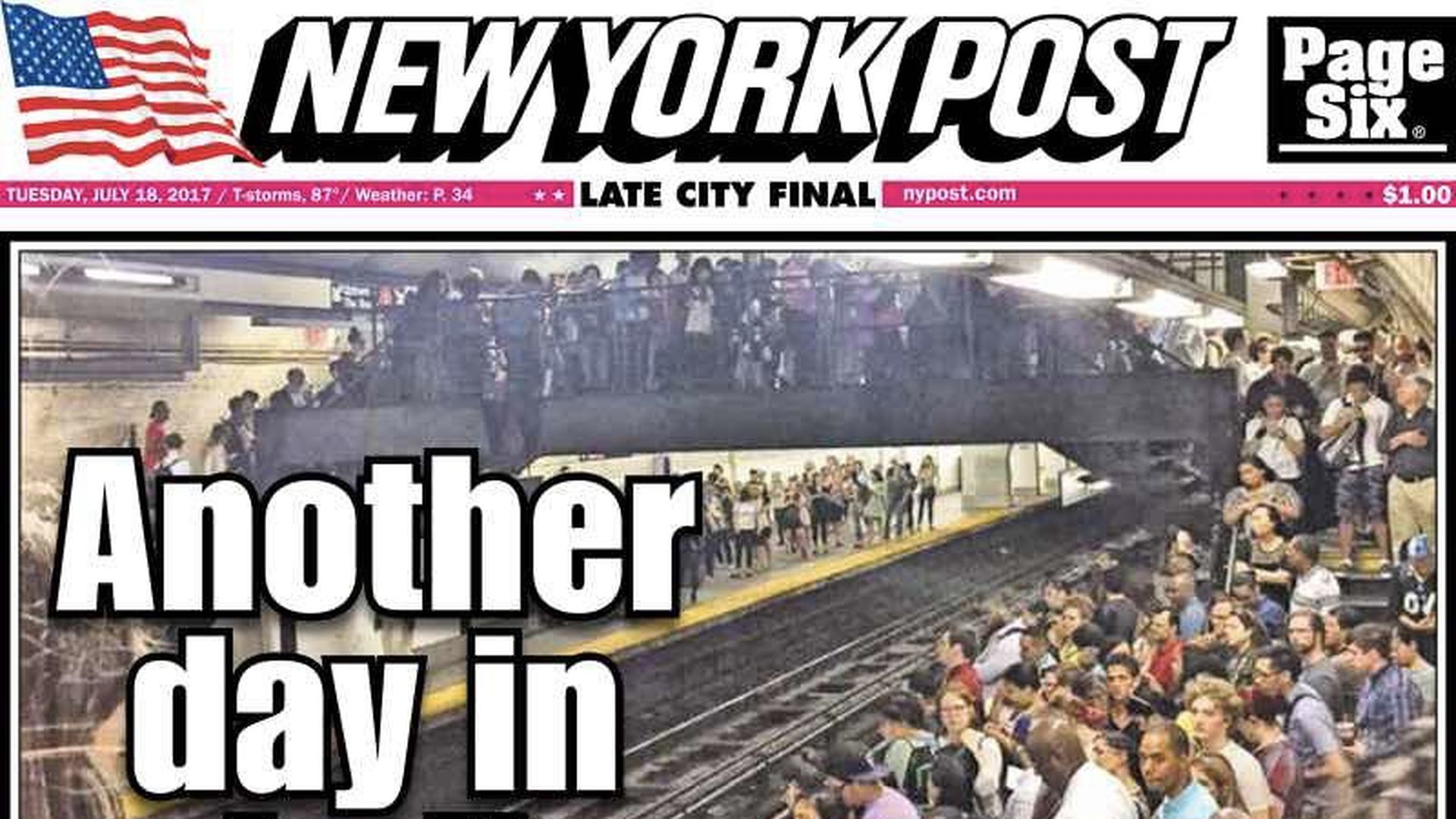 https://www.axios.com/newsletters/axios-am-3b4bc43b-e9ca-4a41-8f2c-846b89cc94cf.html?chunk=7#story7
7. Lawyer intrigue ... Defense fund for Flynn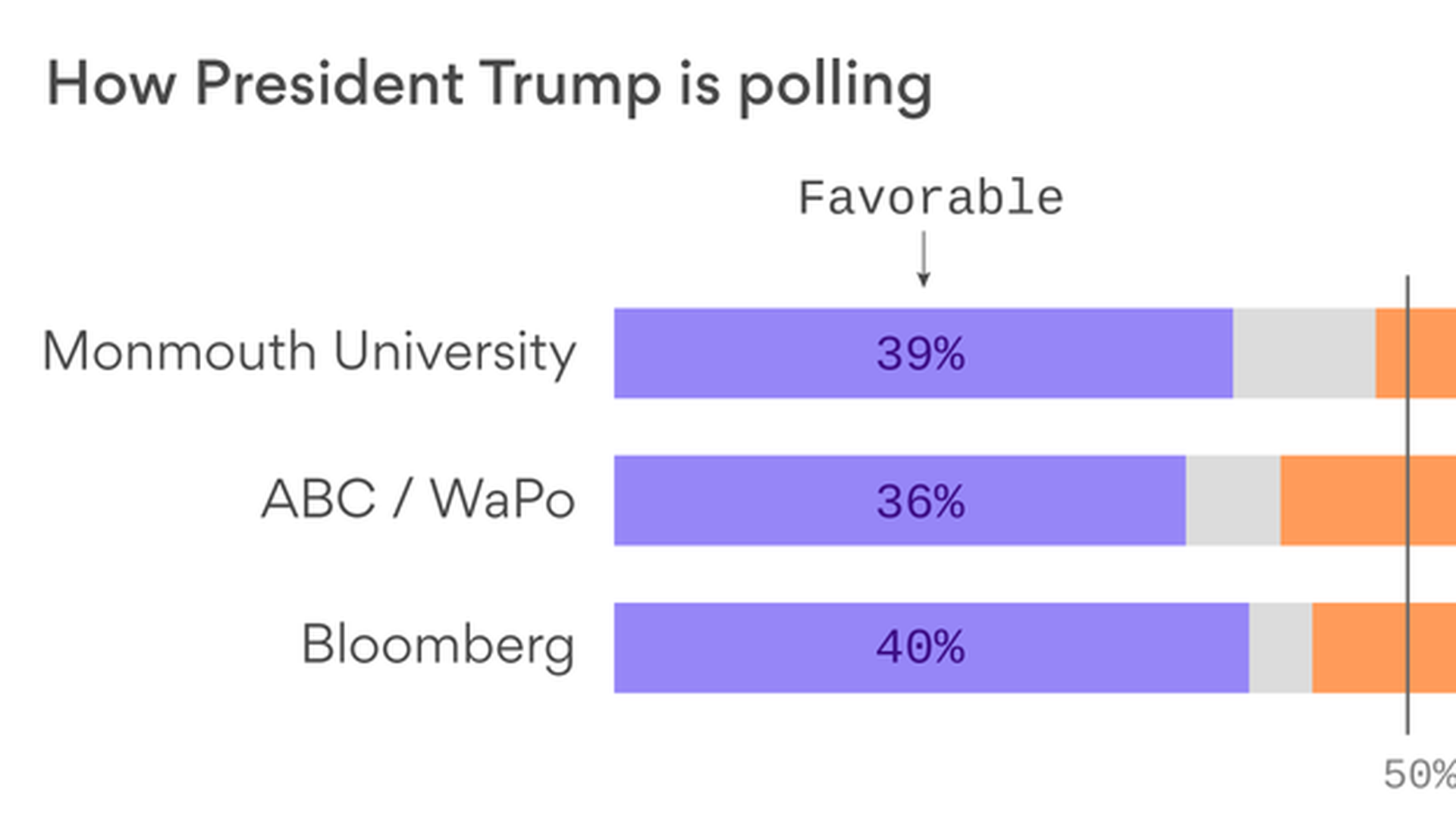 Diverging interests ... A "new layer of drama and suspicion in a White House already rife with internal rivalries," per AP's Julie Pace and Julie Bykowicz:
"[A] growing cast of lawyers is signing up to defend President Donald Trump and his associates. But the interests of those lawyers — and their clients — don't always align."
"The result is a crowded group of high-priced attorneys bent on defending their own clients, even if it means elbowing those clients' colleagues.
"Alan Futerfas, the attorney for the president's son, said Trump Jr. had been 'absolutely prepared' to make a 'fulsome statement' [about the Russia meeting] ... He did not respond to questions about why the initial statement, ... which was seen by the president, lacked some of those details."
"Flynn Plans Defense Fund," by Bloomberg's Shannon Pettypiece: "Michael Flynn ... may become the first associate of President Donald Trump to begin raising money for legal costs associated with the Russia investigation, though others also are weighing how to finance their legal defenses."
"Even if Flynn is never charged with a crime, his legal costs could reach hundreds of thousands of dollars .. The tab could easily climb to $1 million for a criminal defense."
"Flynn is among more than a dozen former Trump campaign officials and advisers who are at risk of hefty legal costs."
https://www.axios.com/newsletters/axios-am-3b4bc43b-e9ca-4a41-8f2c-846b89cc94cf.html?chunk=8#story8
8. Fight week: Media vs. big tech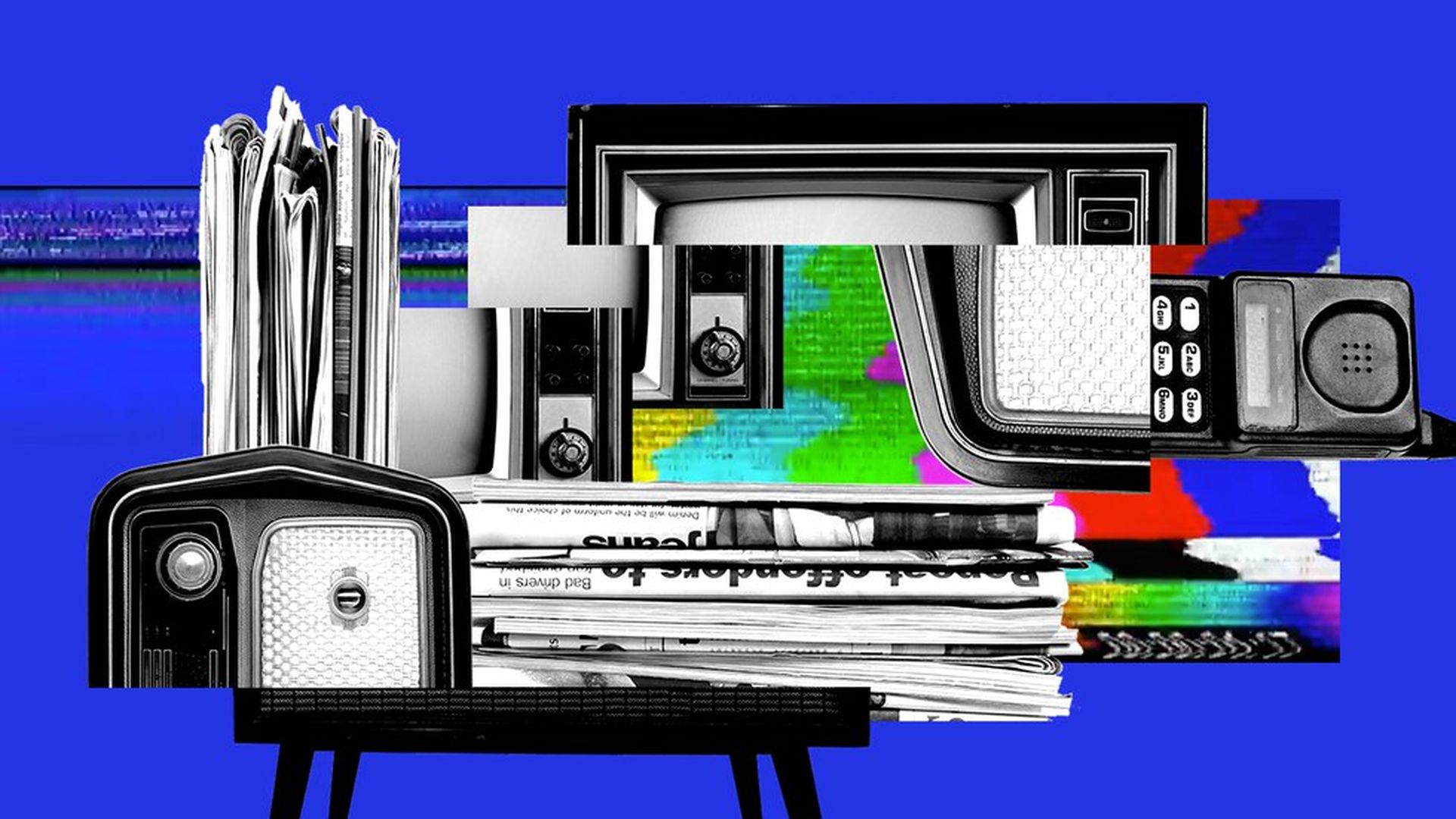 Axios' Sara Fischer, author of our weekly Media Trends newsletter (out this morning), reports that media companies are in the crosshairs of three major tech policy fights taking place right now — net neutrality, privacy, and antitrust.
State of play: We're seeing a phase of unbundling and re-bundling in the media industry to accommodate sinking cable viewership and an increase in digital video consumption.
Why it matters: The outcome of these battles will have an enormous effect on what content consumers can access through broadband providers, and how legacy media companies can survive against tech/telecom giants.
https://www.axios.com/newsletters/axios-am-3b4bc43b-e9ca-4a41-8f2c-846b89cc94cf.html?chunk=9#story9
9. Trends suggest GPAs are inflated
USA Today front page ... "High school grades have risen, but SAT scores don't follow," by Greg Toppo:
High school seniors graduating with an A average ... In 1998: 38.9%. Last year: 47%.
"That's right: Nearly half of America's Class of 2016 are A students."
"Meanwhile, their average SAT score fell from 1,026 to 1,002 on a 1,600-point scale."
"In colleges nationwide, the most popular grade is now an A, according to Stuart Rojstaczer, a former Duke University scholar and founder of the website GradeInflation.com."
https://www.axios.com/newsletters/axios-am-3b4bc43b-e9ca-4a41-8f2c-846b89cc94cf.html?chunk=10#story10
10. 1 fun thing: Recycled clothes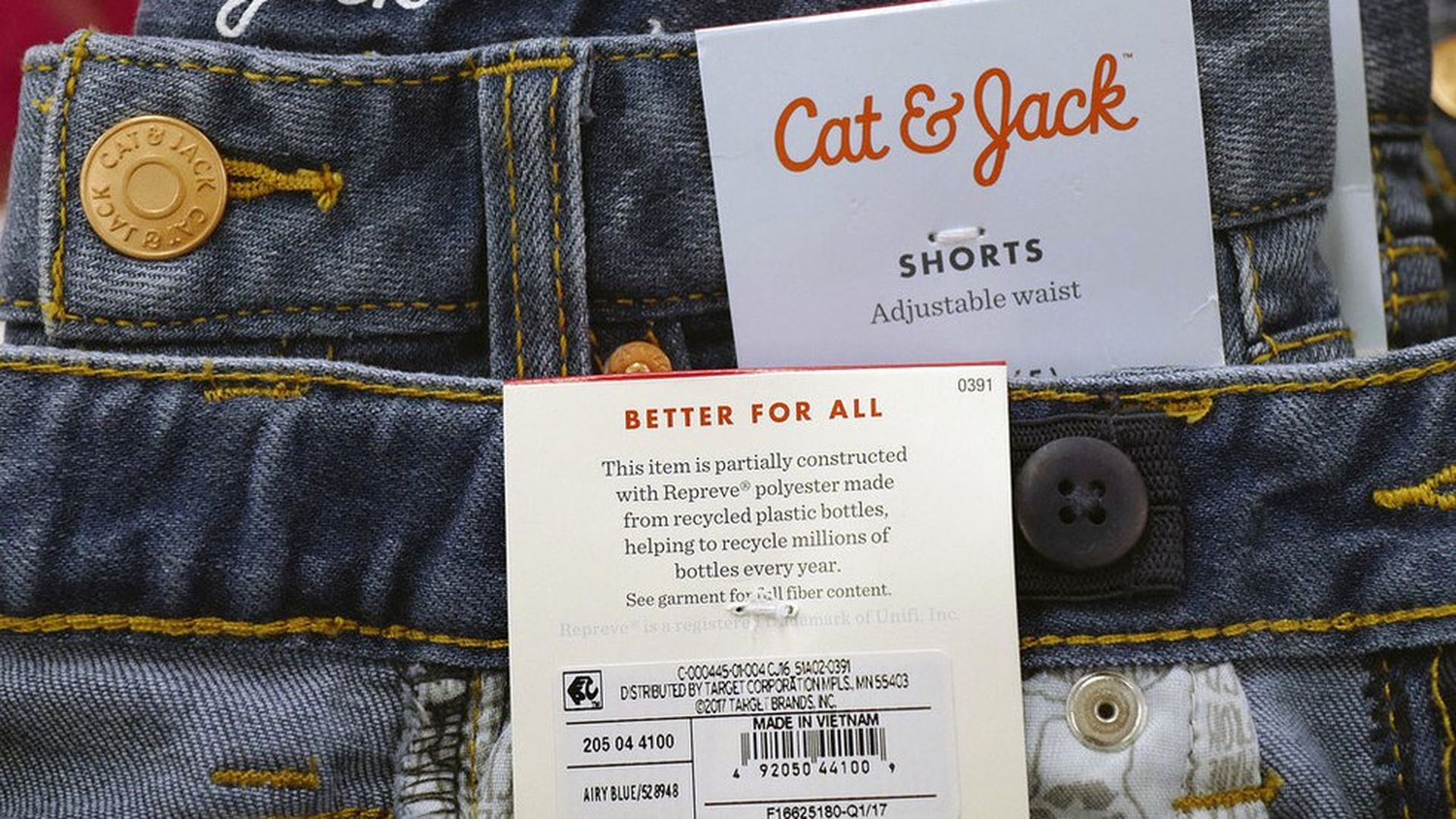 Trend watch ... "Retailers, brands see green for back-to-school shopping," by AP Retail Writer Anne D'Innocenzio:
"Concerns about the environment have [parents and kids] looking for secondhand clothing or fashions made from reused material — but price still rules."
"Retailers like H&M, Target and J.C. Penney are coming out with more clothes that use waste ... recycled denim or leather, nylon waste, remnants of old garments, or even plastic bottles."
"J.C. Penney is delivering three styles of jeans this fall made from 20 percent polyester created from bottles under its Arizona brand, after seeing what it believes to be teen customers searching for 'recycled jeans' on its site."
"Target started offering fashions made of polyester created from recycled plastic bottles with last year's launch of its children's brand Cat & Jack after focus groups of parents and children expressed interest in eco-friendly products."