May 22, 2018
Good Tuesday morning.
Situational awareness: "The New York Stock Exchange is set to get its first female leader in its 226-year history. Stacey Cunningham, the NYSE's chief operating officer, will become the Big Board's 67th president" on Friday. (Wall Street Journal)
1 big thing: Inside Trump's China cave
Who knows how the chest-bumping over China ends. But for now, President Trump's anti-China advisers are right: The president is buckling on his threats to punish China with fundamental, lasting changes to trade tariffs and rules. 
The reasons, official tell Jonathan Swan and me, are threefold: North Korea, Steve Mnuchin and a lack of focus internally. 
1. North Korea 
It's TBD whether Trump got played by China on the trade war that's now "on h0ld." But North Korea politics clearly played a big role: Trump desperately wants the upcoming summit in Singapore to work. Going hard against China now could derail an already fraught journey to the summit.
So the White House is stuck in limbo, with a divided administration team and the Chinese offering easy, flashy wins that will likely have little long-term impact on the trade deficit.
It's very possible the U.S. team cut a deal that sounds good in a press release, but does little to change Chinese behavior.
2. Mnuchin 
Trump chose Treasury Secretary Steven Mnuchin — a moderate and free trader — to be point man on the China negotiations.
Remember it was Mnuchin who led the delegation and was in the one-on-ones with Chinese economic adviser Liu He in Beijing.
Mnuchin is more willing to compromise with China than U.S. Trade Representative Robert Lighthizer or trade adviser Peter Navarro, who are the most hardcore China hawks in senior administration positions in recent memory.
3. Fleeting attention
The president's attention is spread too thin — Iran, North Korea, Mueller and more — to wage a sustained battle with China.
Aides describe a White House deluged with big decisions and scant deciders — and a president perpetually obsessed and distracted by Mueller.
Be smart ... The Chinese have played this beautifully:
They know Trump wants Singapore to work, and that they hold the cards on North Korea.
And they know that Trump is obsessed with one number — the trade deficit.
He wants concrete things to boast about (jobs and buying American products).
No matter their promises, they can't deliver a meaningful change in the trade deficit. But they can promise to buy billions of politically-useful U.S. products.
Breaking ... "China will cut the import duty on passenger cars to 15 percent, boosting auto makers such as BMW AG and Ford Motor Co.," per Bloomberg:
"While the levy reduction could be claimed ... as a concession to Trump and will be a boon to U.S. carmakers such as Tesla Inc., the move will also end up benefiting European and Asian manufacturers from Daimler AG to Toyota."
2. John McCain wishes Americans "lives as lucky as mine"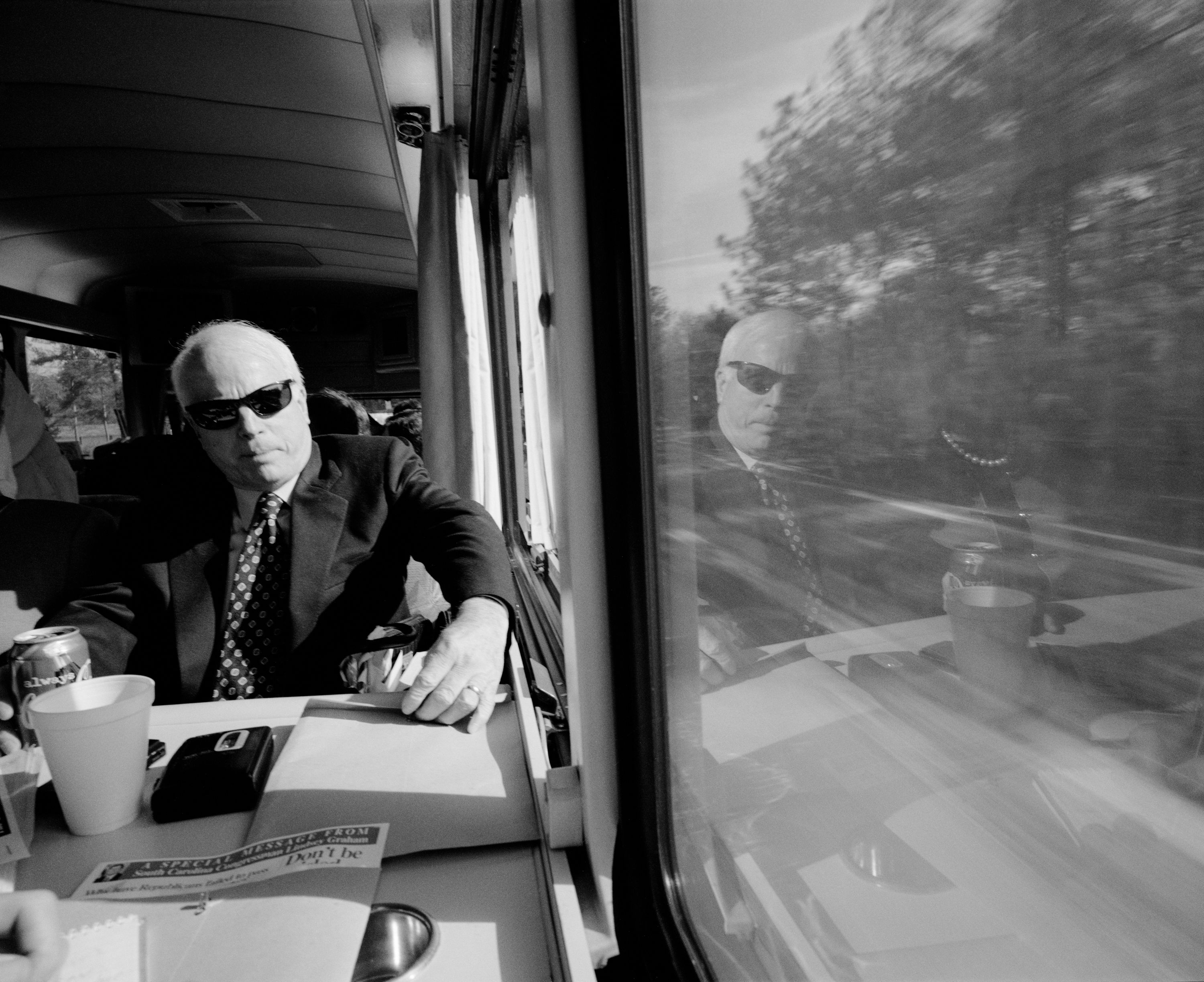 Out today, by Sen. John McCain and Mark Salter, his longtime aide and co-author, "The Restless Wave: Good Times, Just Causes, Great Fights, and Other Appreciations."
Salter told me he'd fly down to Arizona, where McCain is seeing a procession of friends for final reminiscences, chat with the senator, then write a few chapters, and go back and read them with McCain.
The book, which originally was to be focused more on foreign policy, became valedictory after McCain's brain-cancer diagnosis.
Salter wound up with 20 to 25 hours of iPhone recordings of McCain.
From the book:
"Maybe I'll be gone before you read this. … I'm getting prepared. I have some things I'd like to take care of first, some work that needs finishing, and some people I need to see … I made a small place for myself in the story of America and the history of my times. … The bell tolls for me. I knew it would … I hope those who mourn my passing, and those who don't, will celebrate as I celebrate a happy life lived in imperfect service to a country made of ideals, whose continued success is the hope of the world. And I wish all of your great adventures, good company, and lives as lucky as mine."
3. "Moral vacuum" in U.S.
A worthy freeze frame ... "Nation's 'moral compass' resets in Trump era: Polarization creates a vacuum in leadership," an analysis on USA Today's front page by Alia Dastagir, argues that the nation isn't as equipped to deal with a tumultuous period as it was 50 years ago, in 1968, ahead of Watergate:
"63% of voters say President Trump does not provide moral leadership (Quinnipiac University poll)."
"Movements such as Black Lives Matter and the women's marches make a point of democratized, not singular, leadership."
"News comes not from an authoritative few but from hundreds of sources with varying standards and reputations."
"51% say religion is 'very important' in their lives," down from more than 65% in 1968 (Gallup).
"Only 18% trust the government all or most of the time [down from 65% in 1968]; roughly half of Democrats and Republicans alike say the other party makes them 'afraid' (Pew Research Center)."
P.S. WashPost "Fact Checker" on May 1 ... In the first "466 days since he took the oath of office, President Trump ... made 3,001 false or misleading claims ... That's an average of nearly 6.5 claims a day."
4. How we live: impatient, distracted, demanding
American voters and viewers are increasingly picky, impatient, distracted and demanding — and our media diets are changing so fast that most traditional industries can no longer keep up, Axios media trends expert Sara Fischer writes in her weekly Media Trends newsletter (sign up free here):
Why it matters: The modern consumer has completely reshaped advertising, content creation and consumption.
Most media companies, advertising agencies, and telecom companies either didn't see it coming, saw it and ignored it, or acted too late.
At the heart of the on-demand economy is a user that wants choice:
Customers today want to pay for the content we like and nothing else.
We're dropping expensive cable packages with hundreds of channels we don't consume for "skinny bundles" with core channels that are much cheaper. (The average American cable package is roughly $92, while the average streaming package is roughly $40.)
We want to watch our favorite shows at any time, on any device. We're looking to technology companies to deliver content through apps that we can access at any time on our phone, smart TV or laptop.
And we expect these apps to store our information, so we can pick up on a show or series from the exact minute we left off.
This has made users so impatient and distracted that an estimated 177.7 million U.S. adults — or  70.3% of the total population — will regularly use another digital device while watching TV this year, up 5.1% from 2016, per eMarketer.
A majority of people (58%) say also say they browse the internet while watching video programming.
Distracted consumers no longer tolerate commercials, which is completely upending the advertising industry. We've become accustomed to on-demand viewing where there are no ads, or digital ads that are highly relevant.
As a result, commercials are shrinking and becoming more dynamic.
We have begun to tune out live programming, forcing leagues and entertainment groups to divvy up broadcast rights to social media and streaming companies:
Four years of data from Nielsen's Total Audience Reports show that every age group except those aged 65+ is spending less time — and in the case of younger Americans, far less time — watching television live or via DVR.
Sports and news are the two genres users still overwhelmingly watch live.
5. Defusing, or enabling, a constitutional crisis?
"The Justice Department agreed to show congressional Republicans 'highly classified' information they have demanded from the Russia probe, the White House said after Deputy Attorney General Rod Rosenstein and FBI Director Christopher Wray met ... with ... Trump." (Bloomberg)
Matt Miller, MSNBC analyst and former Obama Justice Department official, to Brian Williams on "The 11th Hour":
"The president basically demanded a counter-investigation of the people investigating him, and he got it. ... I worry that what Rod is doing ... is [making] strategic retreats, knowing that he will stand and fight at the right time. ... What I worry about is that by the time he decides to stand and make his fight, there may be nothing left for him to fight for."
6. Stat du jour: Health law proves durable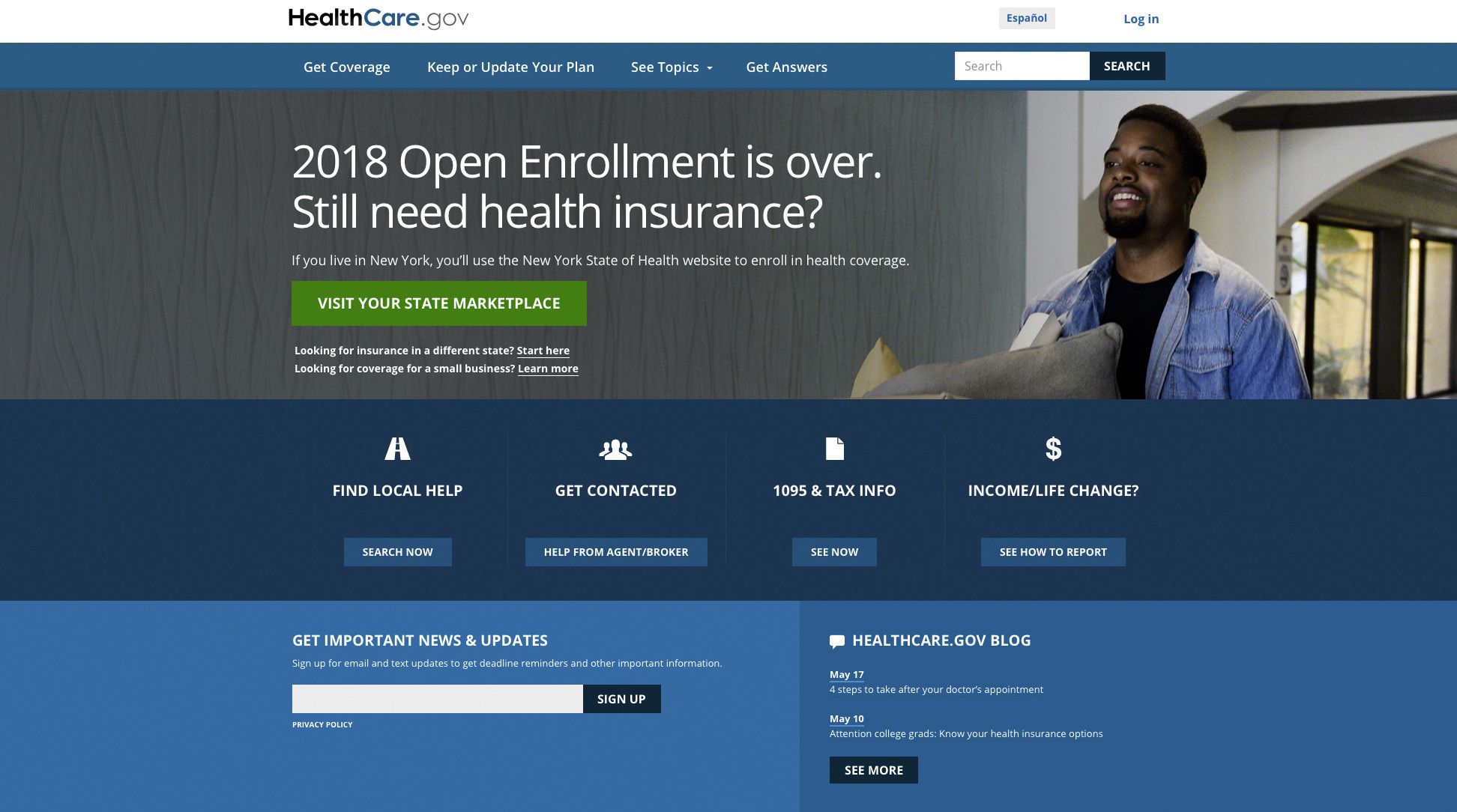 "Last year, Trump administration officials declared Obamacare 'dead,' pulled enrollment ads offline, distributed social media videos critical of the law and sent signals that the law's requirement to buy health insurance was no longer in effect," the N.Y. Times' Margot Sanger-Katz writes.
"But the number of Americans with health insurance stayed largely unchanged,"
The big picture, from AP: "[T]he Centers for Disease Control and Prevention found that 9.1 percent of Americans were uninsured in 2017, or a little more than 29 million people ... almost the same as toward the end of the Obama administration."
Why it matters: "[T]he uninsured rate dropped from 16 percent since the Affordable Care Act was signed in 2010, which translates roughly to 19 million people gaining coverage."
7. White House ghost tweets include intentional Trumpese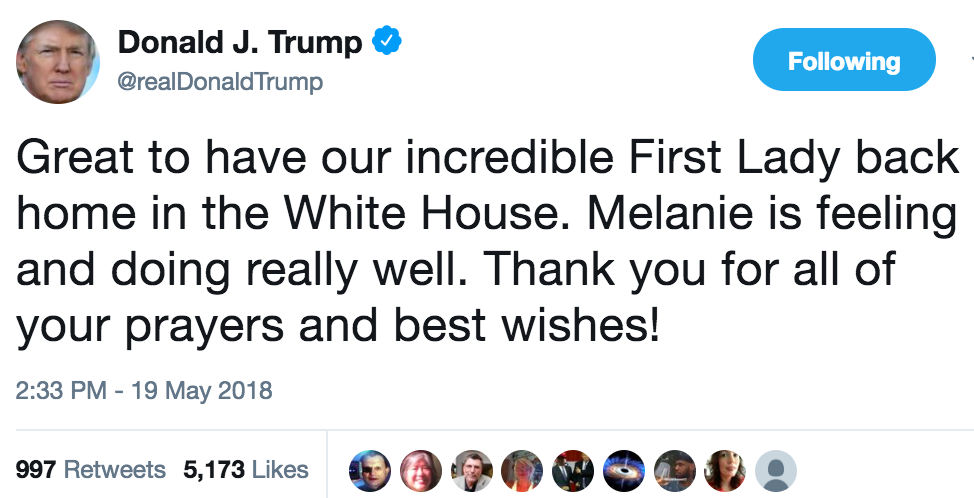 "West Wing employees who draft proposed tweets intentionally employ suspect grammar and staccato syntax in order to mimic the president's style, according to two people familiar with the process," the Boston Globe's Annie Linskey reports:
"They overuse the exclamation point! They Capitalize random words for emphasis. Fragments. Loosely connected ideas. All part of a process that is not as spontaneous as Trump's Twitter feed often appears."
"When a White House employee wants the president to tweet about a topic, the official writes a memo to the president that includes three or four sample tweets," often in his voice. "Trump then picks the one he likes best."
"While staff members do consciously use poor grammar, they do not intentionally misspell words or names."
8. Quote du jour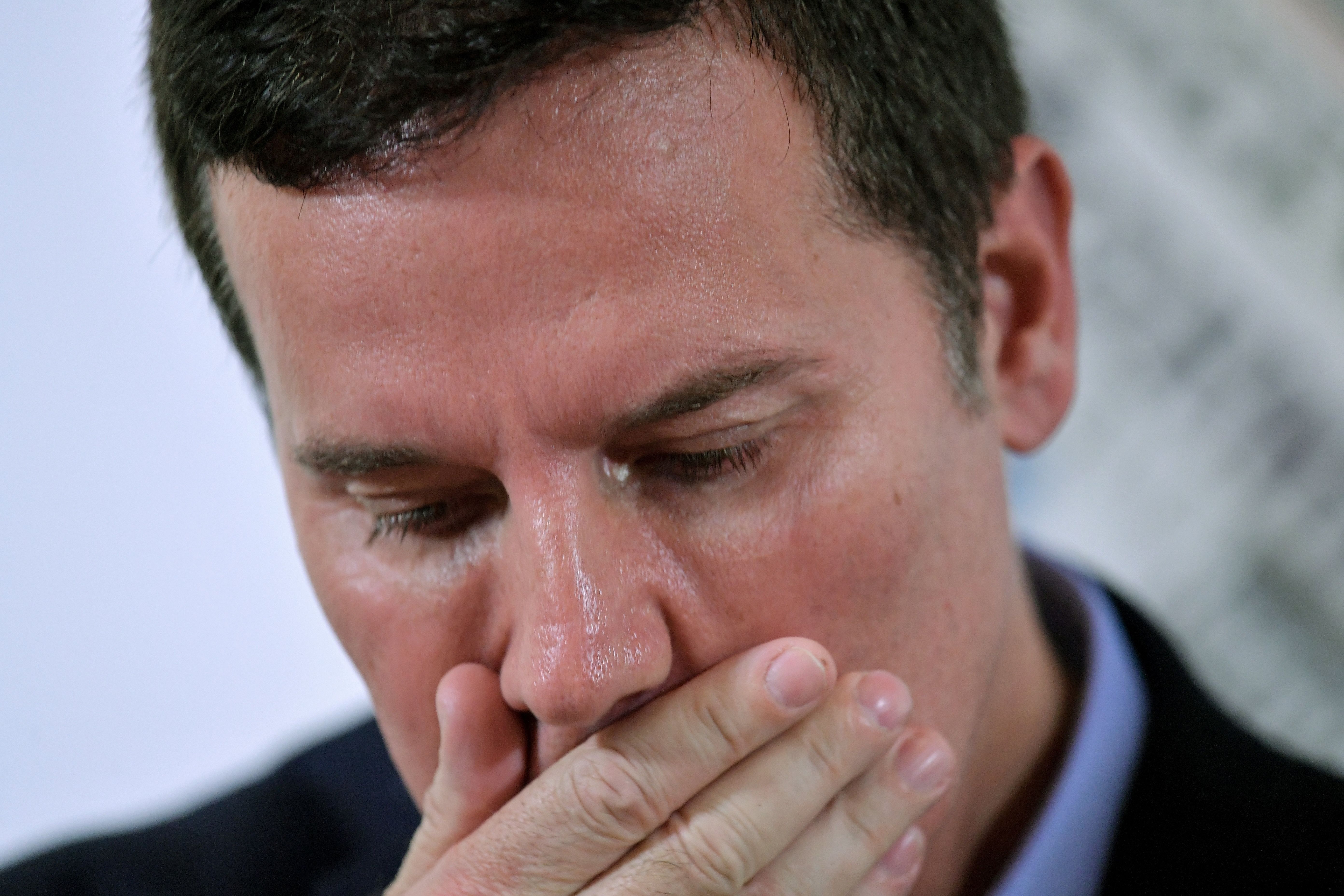 "A Chilean survivor of clerical sex abuse has said that Pope Francis told him in a private meeting this month that God had made him gay, ... a remarkable expression of inclusion for the leader of the Roman Catholic Church," the N.Y. Times' Jason Horowitz reports from Rome.
Juan Carlos Cruz, the abuse survivor:
"He said to me, 'Juan Carlos that's not a problem ... You have to be happy with who you are. God made you this way and loves you this way, and the pope loves you this way.'"
"The Vatican declined to comment on the pope's private remarks."
9. Facebook beating Snapchat on its own invention
Stories, the tap-and-swipe vertical format for sharing pictures and videos, are poised to dominate the social web's next era — and Facebook now has the lead, even though it was Snapchat that invented and popularized them, Axios' Scott Rosenberg writes:
Why it matters: Each generation of digital media brings new voices and firms to the fore. But right now, Facebook appears to have surmounted the Snapchat challenge — thanks to smart acquisitions, speedy product development, and the power of incumbency with billions of users.
How it happened: Simply by acquiring Instagram and WhatsApp, Mark Zuckerberg locked down an enormous amount of the social-media landscape — and its potential revenue.
Then, beginning with Instagram and spreading to the rest of Facebook's properties, Zuckerberg and his lieutenants openly and expertly copied Snapchat's stories invention — and even improved upon it.
By the numbers: Snapchat has a total of 191 million daily active users — whereas Facebook's platforms have close to a billion users just for its stories. That breaks down (with some potential overlap) to: 150 million for Facebook stories, 300 million for Instagram stories, and 450 million for WhatsApp's stories-style Status feature.
Facebook exec Adam Mosseri says visual sharing (images and videos) via stories on Facebook's platforms, including Instagram and WhatsApp, is growing fast, while visual sharing on the news feed is "stable."
10. 1 Swan thing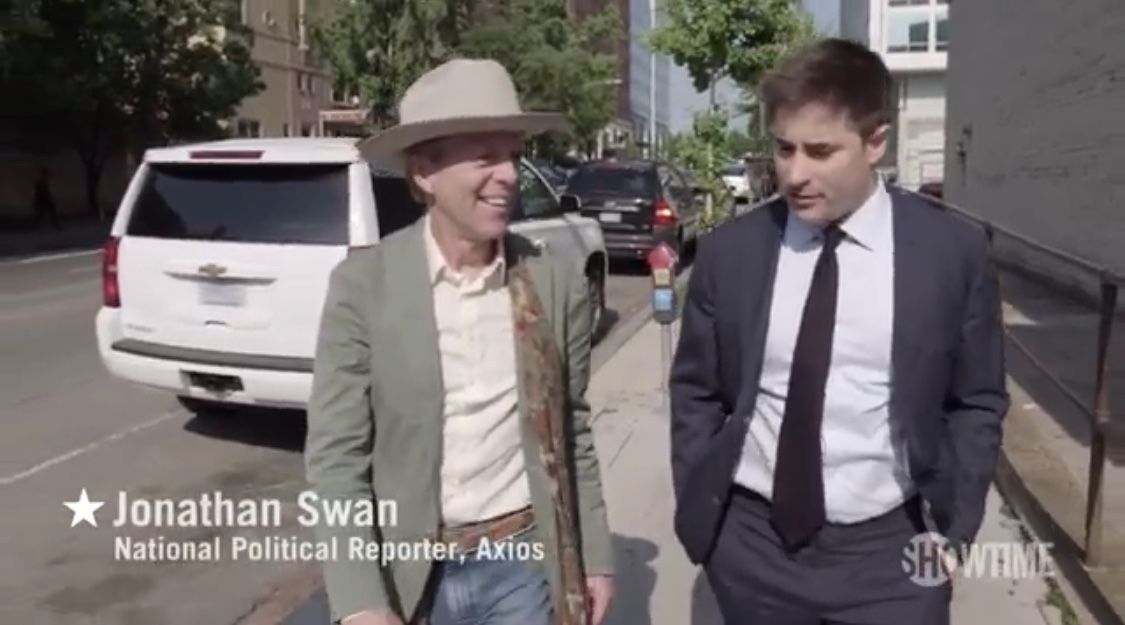 Mark McKinnon of Showtime's "The Circus" ("Inside the wildest political show on earth") interviewed Axios' Jonathan Swan about leaks and leakers:
"There are some very committed leakers in this White House — very committed to their craft. And skilled ... It starts with the president of the United States ... He kind of enjoys people talking about him. ... There is a 'kill or be killed' feeling in there. ... All of them know that if they're not talking, someone else is going to be talking and telling their story. And so a lot of it's just defensive."
YouTube clip for more on the "constant circle" of Trump's mysterious media ecosystem, and the Fox hosts' role.