Good Tuesday morning. This is the 366th edition of Axios AM! We launched a year ago today — along with two other newsletters: Dan Primack's Pro Rata, on tech deals, and Vitals, on health policy — getting a 10-day jump on the formal launch of Axios.
Thank you for being encouraging and supportive, and for your tips, rants and corrections. Let me know how I can do better: mike@axios.com. Get your friends to join the world's best breakfast conversation: Sign up free here.
1 big thing: Reality stalks "The Trump Show"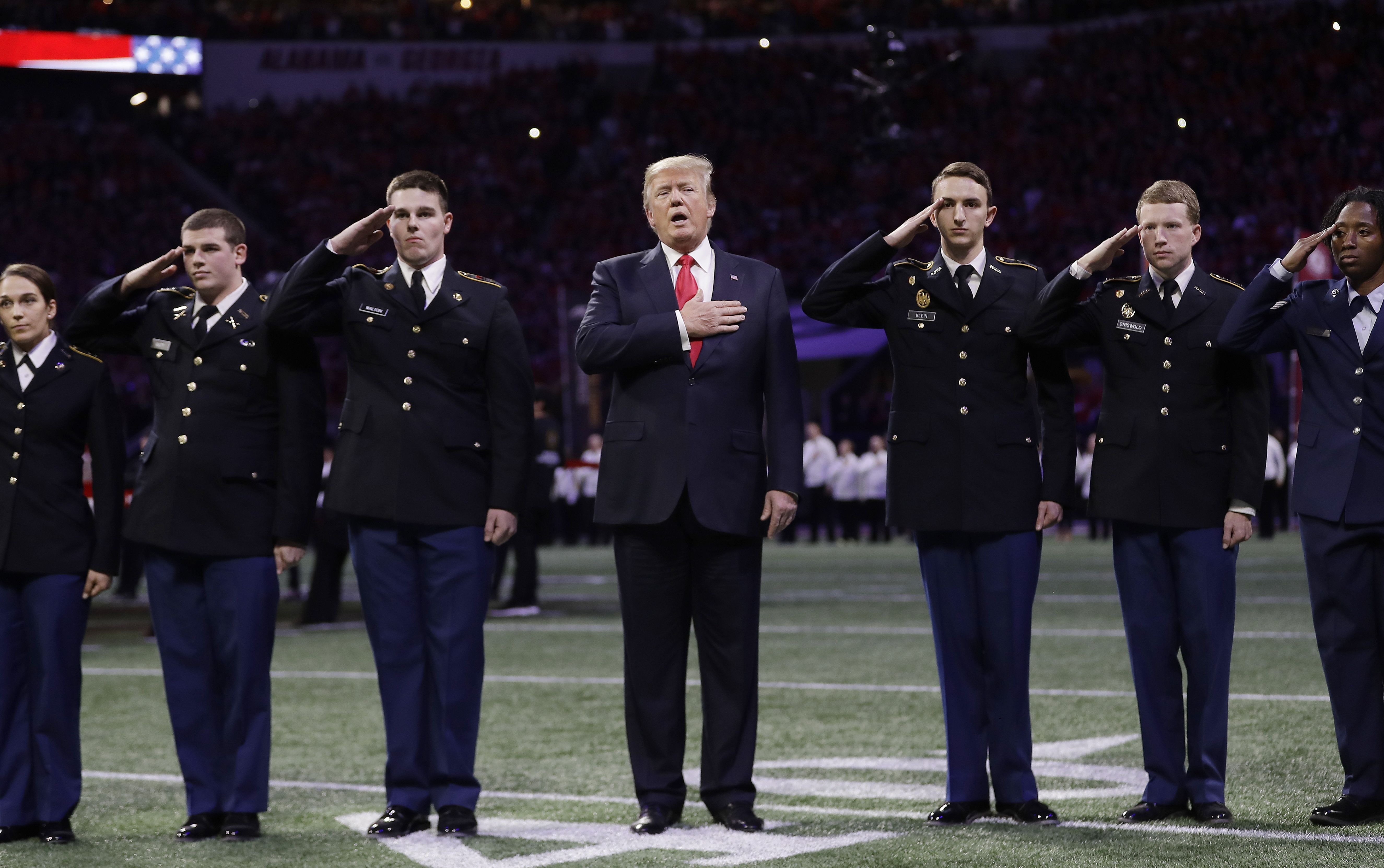 President Trump sings the national anthem before last night's college football championship game in Atlanta. (AP's David J. Phillip)
While Oprah and Michael Wolff soak up mindshare, two new revelations make it clear that reality may soon cast a pall over the addictive craziness of "The Trump Show":
1) President Trump and his war Cabinet are debating a "bloody nose" strategy for attacking North Korea, the Wall Street Journal's Jerry Seib reports.
"U.S. officials are quietly debating whether it's possible to mount a limited military strike against North Korean sites without igniting an all-out war on the Korean Peninsula."
Seib points out that it's "an enormously risky idea, and there is a debate among Trump administration officials about whether it is feasible."
2) Trump's lawyers came away from a pre-Christmas meeting with Bob Mueller convinced that the special counsel will ask to interview the president, and are debating "how to avoid a sit-down encounter or set limits," the WashPost's Carol Leonnig reports.

"The special counsel's team could interview Trump soon on some limited portion of questions — possibly within the next several weeks."
Such a deposition could be disastrous for Trump, who lives in his own reality, hates to prepare, and shuns facts or consistency.
Forget all the noise — the Fantasyland tweeting and coverage. These could be the two biggest intrusions of reality since Trump took office.
Based on conversations Jonathan Swan and I have had with insiders, there's very little enjoyment in this White House.

It's an uncertain moment, and a moment of transition: a book that roiled the president more than anyone expected, and a year that looks much tougher, legislatively and otherwise, than last.
To help follow "The Trump Show," the N.Y. Times' David Brooks offers a useful "two White Houses" construct in today's column:
"There's the Potemkin White House, which we tend to focus on: Trump berserk in front of the TV ... Then there is the Invisible White House that you never hear about, which is getting more effective at managing around the distracted boss."

"Imagine if Trump didn't tweet. The craziness of the past weeks would be out of the way, and we'd see a White House that is briskly pursuing its goals: the shift in our Pakistan policy, the shift in our offshore drilling policy, the fruition of our ISIS policy, the nomination for judgeships and the formation of policies on infrastructure, DACA, North Korea and trade."

"[T]he anti-Trump movement, of which I'm a proud member, seems to be getting dumber."

"More anti-Trumpers seem to be telling themselves a 'Madness of King George' narrative."
Be smart: It's looking like Year 1 of the Trump presidency could turn out to be the fantasy phase, and that Mueller, staff departures and North Korea could make Year 2 the reality phase.
2. China exploits U.S. inroads to conquer media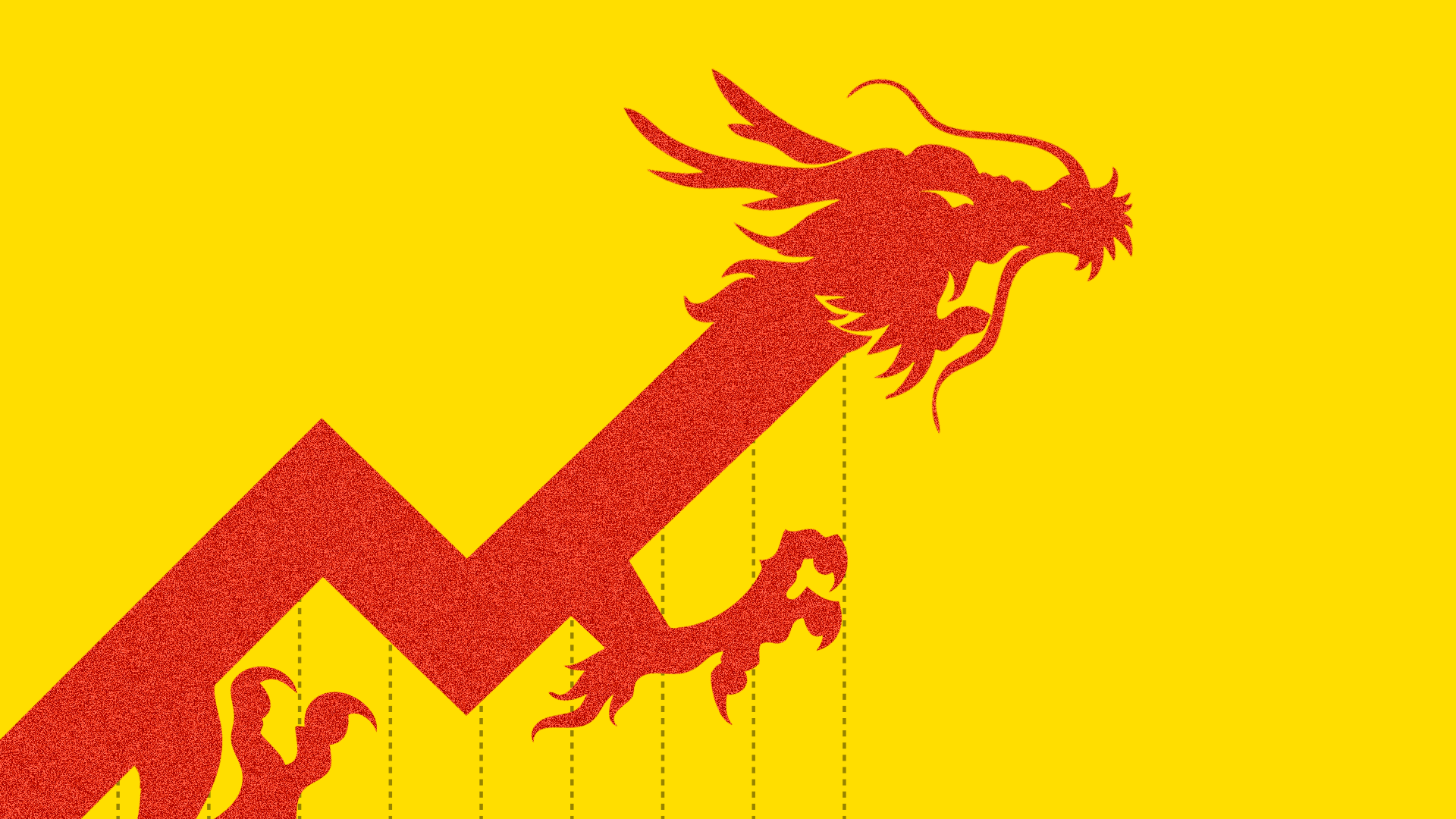 Illustration: Rebecca Zisser / Axios
Chinese internet giants like Tencent, Baidu and Alibaba are ramping up investments in U.S. tech and media companies, Axios' Sara Fischer reports:
Why it matters: Investments give Chinese executives access and exposure to the best practices of Western corporate management style, which tends to be flatter and more welcoming of group decision-making. 
They also give Chinese companies access to intellectual property that they can take back home to better compete with tech giants there. 
There's also a political focus on Chinese expats, Axios' Bill Bishop notes: "Beijing has a set of policies and institutions that are focused on working with and influencing overseas Chinese, including through Chinese traditional media in foreign countries."
3. Unintended consequences
The new tax law "could actually make it attractive for companies to put more assembly lines on foreign soil," according to the N.Y. Times ("New Tax Law, Billed as Boon To U.S. Plants, Could Backfire"):
"Under the new law, income made by American companies' overseas subsidiaries will face United States taxes that are half the rate applied to their domestic income, 10.5 percent compared with the new top corporate rate of 21 percent."
"What could be more dangerous for American workers, economists said, is that the bill ends up creating a tax break for manufacturers with foreign operations. ... [C]ompanies will not have to pay United States taxes on the money they earn from plants or equipment located abroad, if those earnings amount to 10 percent or less of the total investment."
Why it matters: "The Republican vision for the tax plan was to make the United States a more competitive place to do business."
The counter-argument: "Supporters contend that the new rules do not encourage companies to locate overseas. Rather, they say, slashing the corporate rate will make it more attractive to set up shop at home, since many other advanced economies now have higher taxes."
Bonus: Pic du jour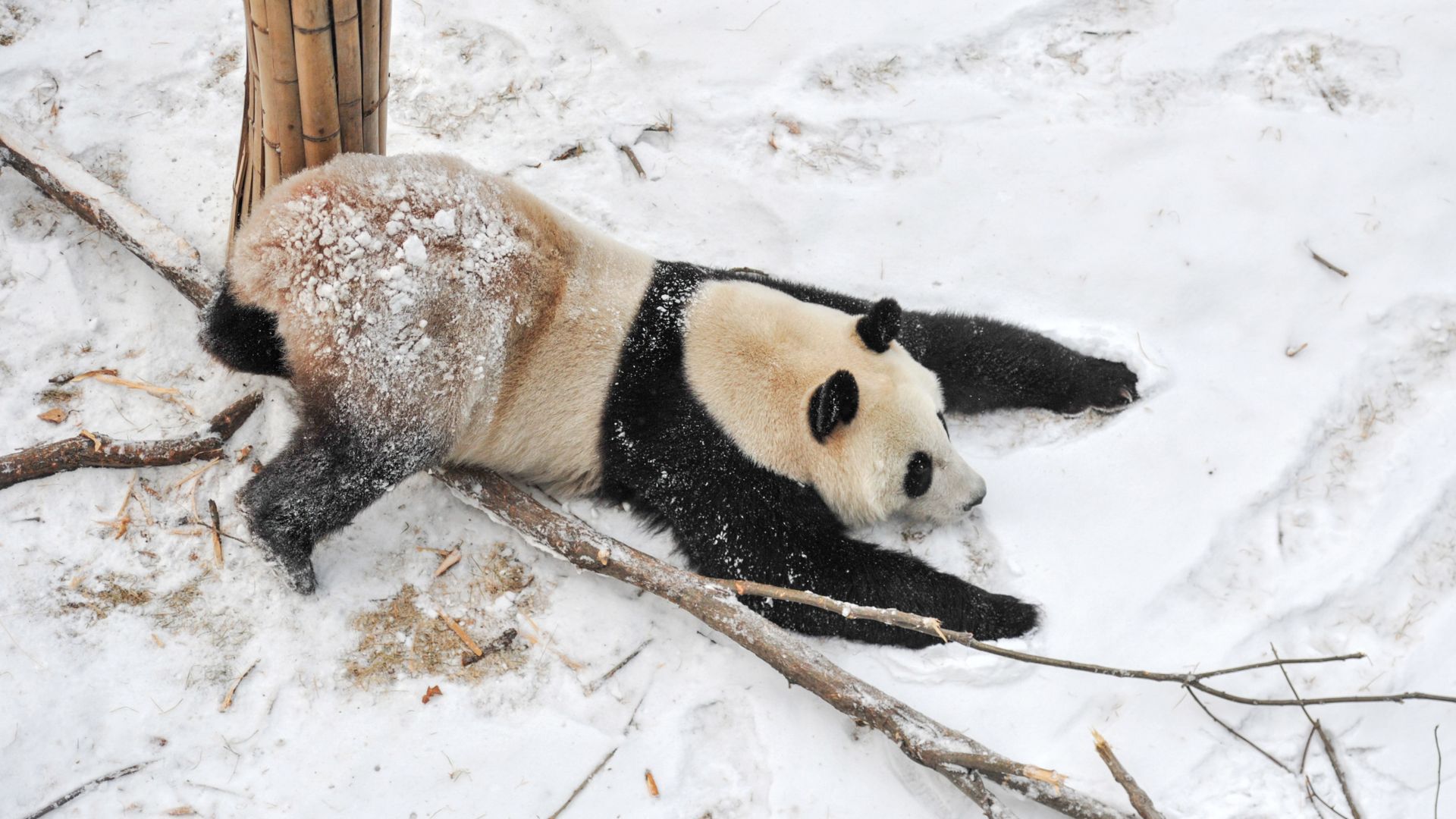 Giant panda plays in the snow yesterday at Shenyang Forest Zoological Garden in China.
4. Zeitgeist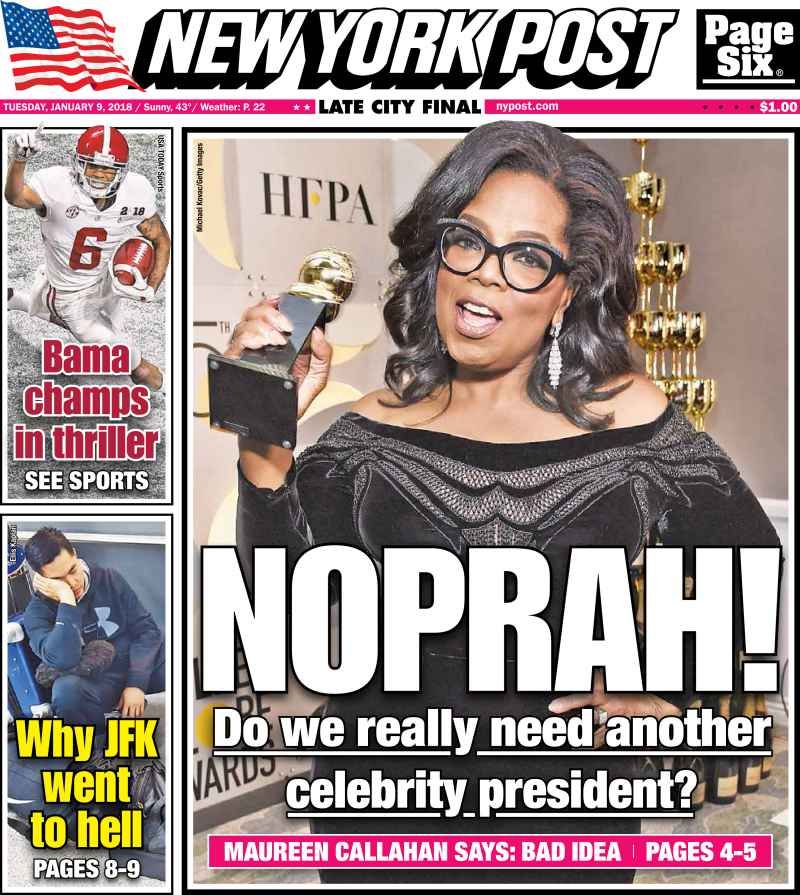 Courtesy N.Y. Post
5. Autos overshadow gadgets at tech show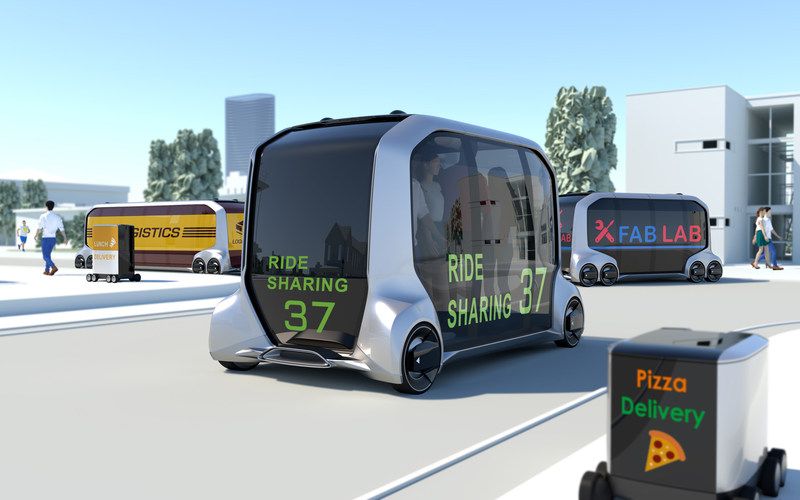 A drawing of Toyota's self-driving mini-bus (Toyota Motor North America)
The smartphones and other gadgets that used to dominate the annual CES (formerly the Consumer Electronics Show) in Vegas are being overshadowed by bigger mobile devices: namely, automobiles, AP reports:
"Toyota, Kia, Hyundai and Ford have a noticeable presence at this week's tech showcase in Las Vegas."

"Toyota says it's developing self-driving mini-buses that can serve as bite-sized stores. These vehicles will drive themselves to places where potential buyers can try on clothes or shoes or pick through flea market items. The project is still in the conceptual stage, with testing expected in the 2020s.
Other CES developments:
"TV manufacturers are showcasing new models — all with acronyms to set their sets apart. One feature called HDR10+ by Samsung and HDR 10 Pro by LG takes what's known as high dynamic range and adjusts settings for each frame, instead of having levels set for the entire video at once."

"[Q]uantum-dot technology promises more accurate colors. Samsung calls its version QLED, while Hisense has QDEF."

"As LG unveiled its lineup of smart appliances, executive David VanderWaal quickly lost rapport with his on-stage partner, the cute voice-activated assistant CLOi. After a greeting, CLOi stopped responding while continuing to blink its digital eyes."

VanderWaal shrugged it off: "Even robots have bad days."
6. V.C. getting pickier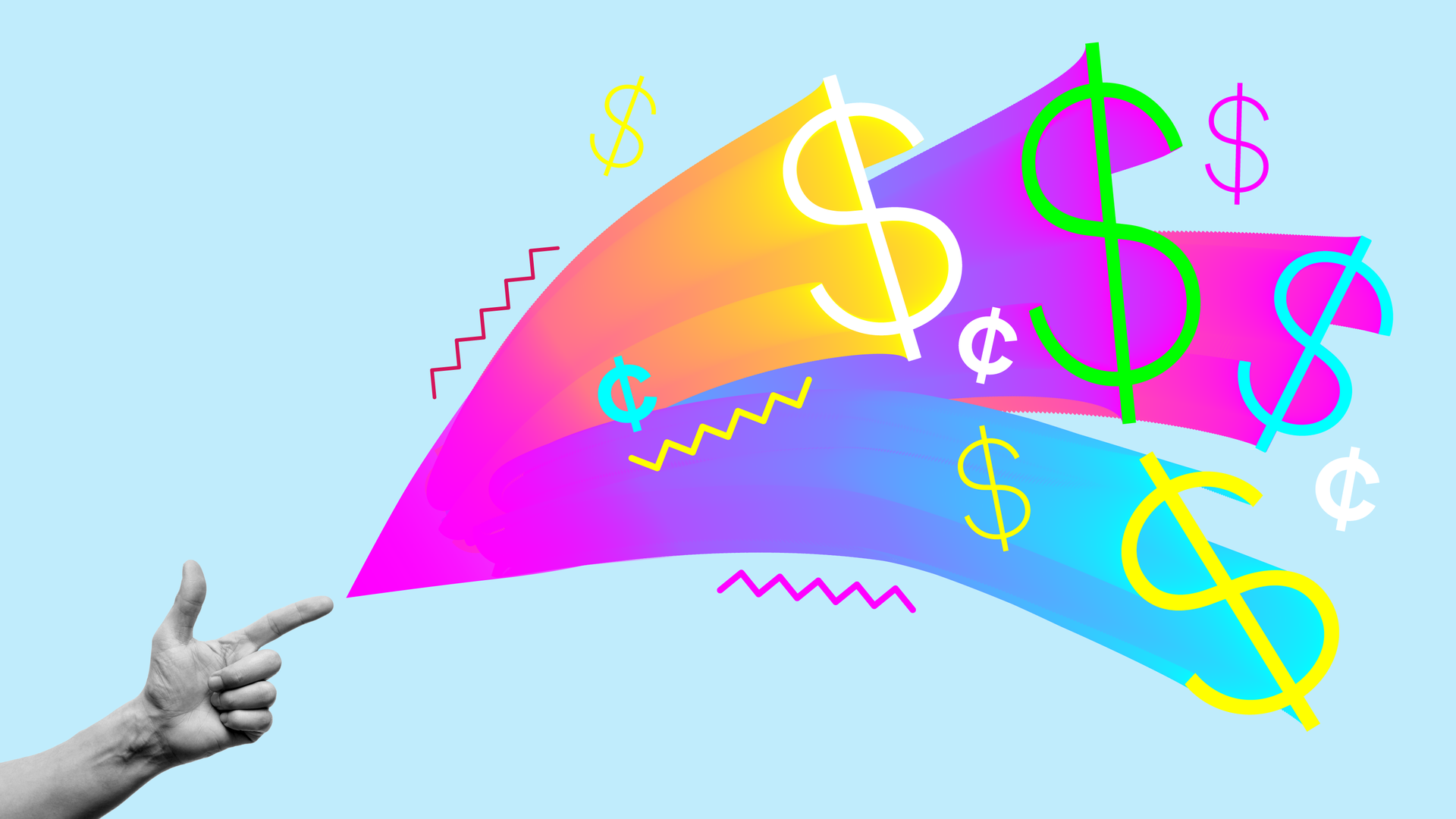 Venture capitalists have become much pickier than they once were, are taking longer to invest, and are writing bigger checks, Axios' Kia Kokalitcheva reports from S.F.:
Why it matters: It's harder for startups to raise money, even though investors are flush with cash.
One way to think about it: Today's seed rounds are yesterday's Series A rounds, which have become yesterday's Series B rounds, and so on. This has led to a hollowing out at the earlier stages of investing, as many firms have gone even more amoebic (so-called "pre-seed") while others have gone later.
Axios-versary countdown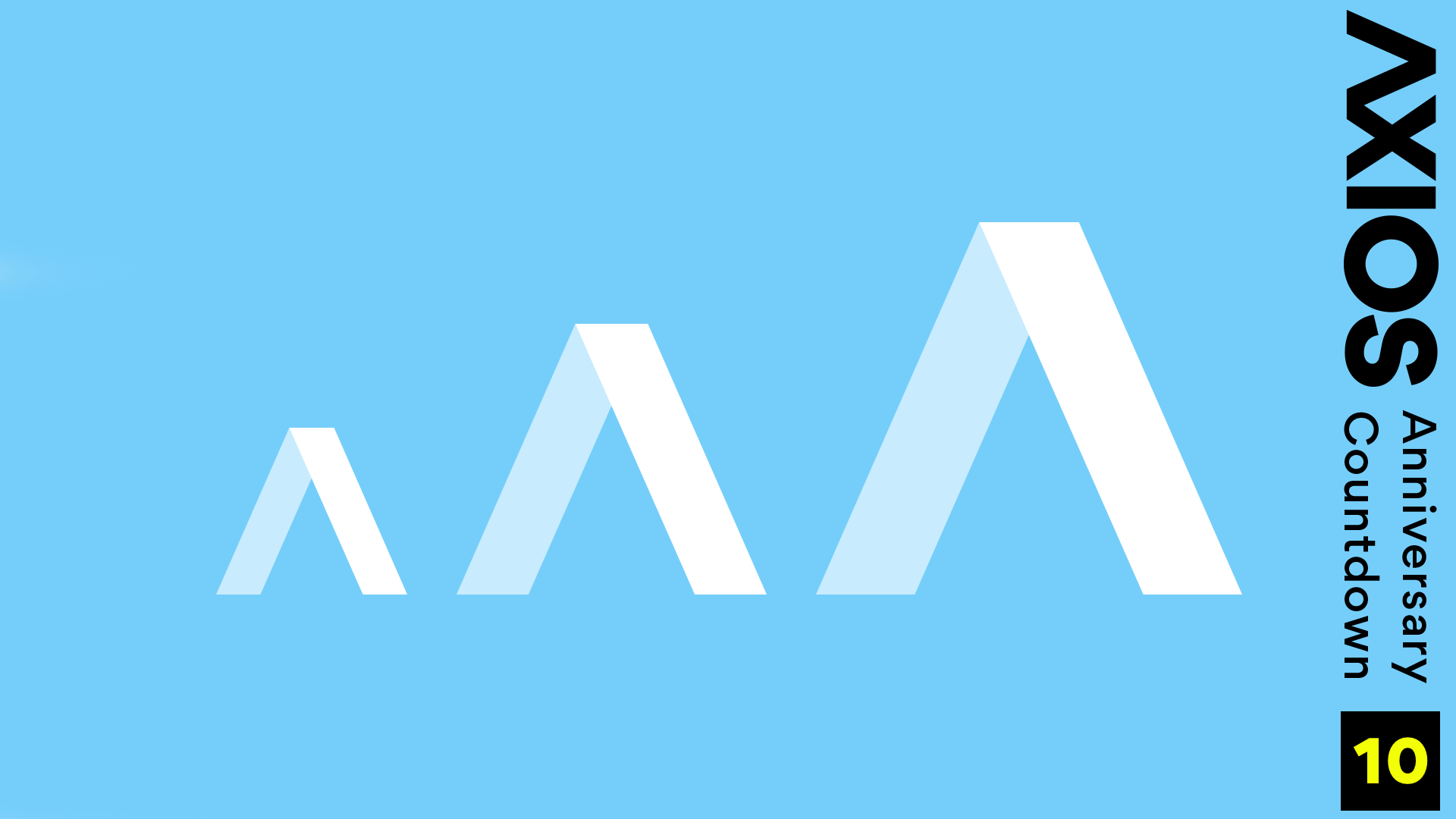 Illustration: Axios Visuals
Counting down to our 1-year anniversary on Jan. 18 ...
10. In one year, Axios has tripled in size — growing from a staff of about 30 at launch to 93 today.
Scoop: We plan to add 50-plus in coming months.
7. The man behind the dossier
The N.Y. Times gives above-the-fold real estate to a profile of former Wall Street Journal reporter Glenn Simpson ... "He Sought Dirt, Then Spotlight Shone on Him: Ex-Journalist at Center of the Russia Inquiry," by Matt Flegenheimer:
Simpson is "the man behind an explosive dossier — produced at his firm, Fusion GPS, with a former British spy, Christopher Steele — outlining possible connections between the president, his associates and Russian officials."
Why he matters: "For months, Mr. Simpson's name has ricocheted across the halls of Congress and the airwaves of Fox News, becoming shorthand in conservative circles for purported investigatory overreach and counterconspiracies against the White House."
8. Beyond the Beltway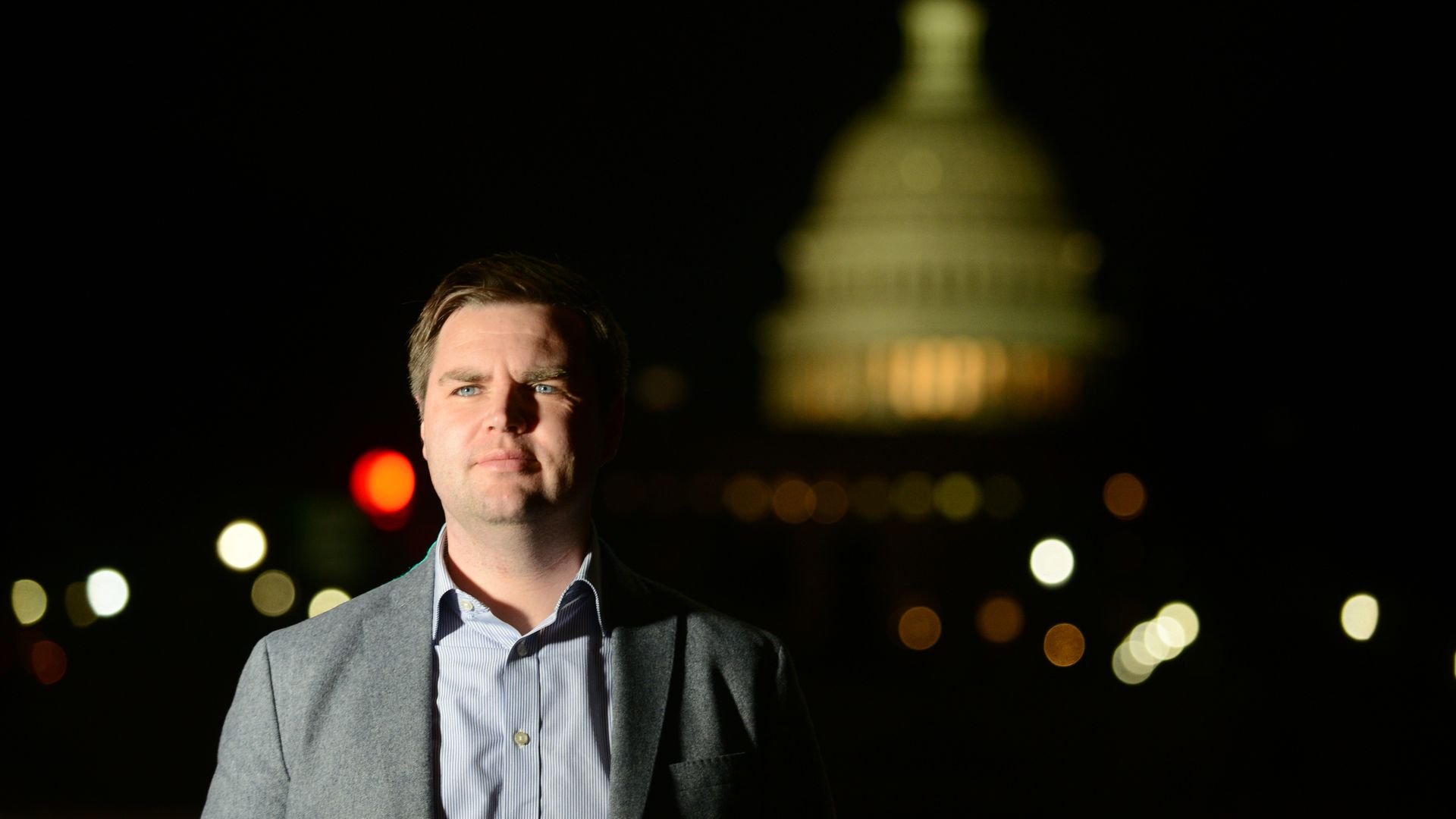 "Top Senate Republicans have quietly reached out to J.D. Vance — the star author of 'Hillbilly Elegy' — about running for Senate in Ohio after the abrupt withdrawal of GOP candidate Josh Mandel last week," Politico reports:
"Senate Majority Leader Mitch McConnell has spoken with Vance about a potential bid."
"Mandel announced on Friday that he would exit from the Ohio Senate race — one of the more high-profile battles in the 2018 midterm elections — due to his wife's health issues."
"McConnell has told associates that he would prioritize the race [for funding] if Vance jumps in."
9. Sinclair deal spooks liberals ahead of 2020
Sinclair Broadcasting's proposed $3.9 billion acquisition of Tribune Media would give the conservative-leaning company control of an additional TV station in Des Moines, Axios' David McCabe and Sara Fischer report:
Why it matters: Sinclair's possible acquisition of an NBC affiliate in Des Moines (WHO-DT) underscores Democrats' worries about the deal giving a right-leaning company significantly more control over local news. The Sinclair-Tribune deal is expected to be approved by regulators this quarter.
Sinclair already owns KDSM (Fox) in Des Moines, which received roughly $295,000 of political ad dollars during the 2016 primaries.
The Tribune-owned NBC channel (WHO-DT) captured roughly $1.6 million of political primary ad spend in the last cycle.
Sinclair already has a significant footprint in other major primary states. It owns a station in Portland, Maine, that covers parts of New Hampshire, and stations in four different South Carolina markets.
10. 1 fun thing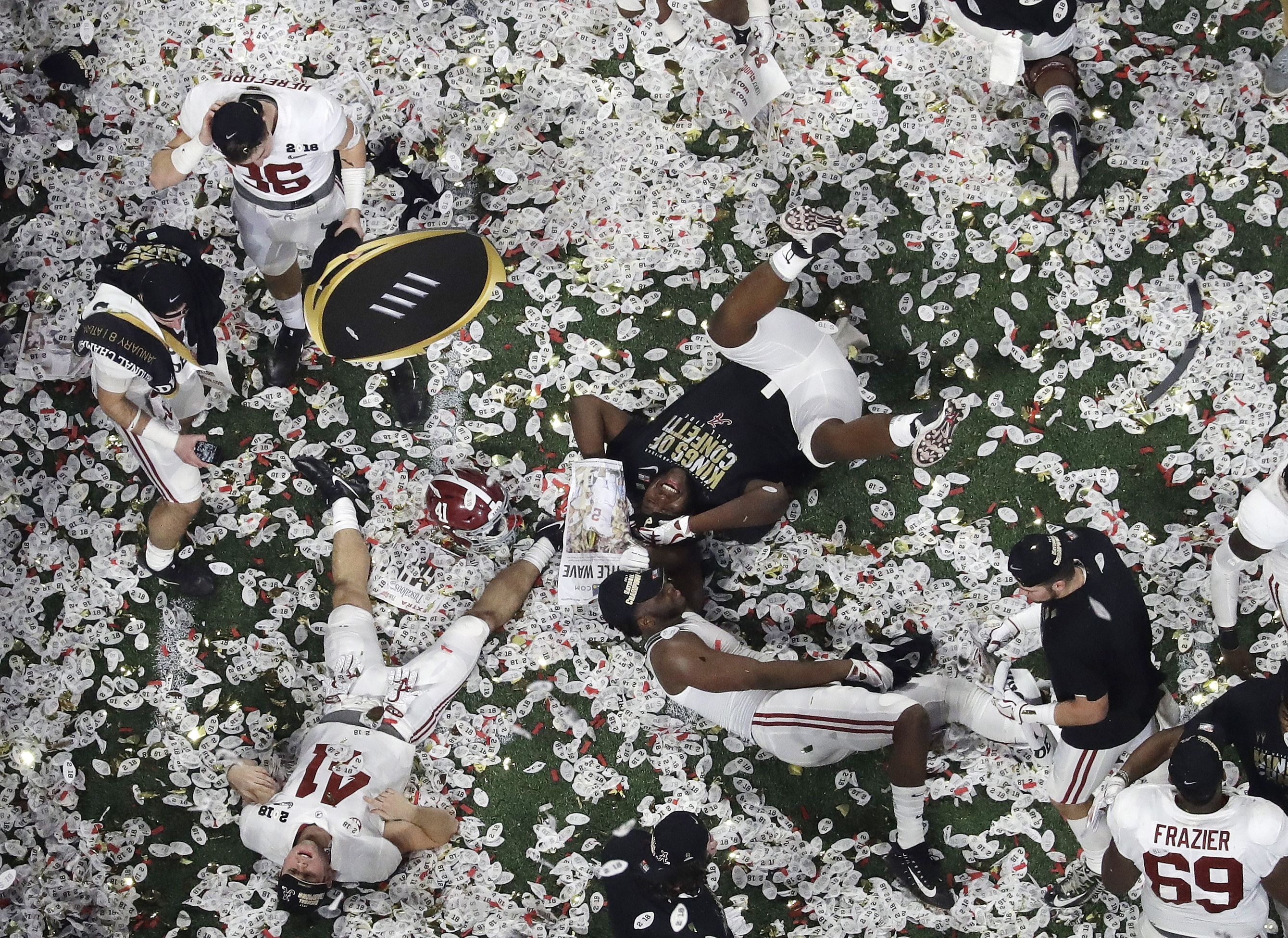 Alabama players celebrate after overtime win. (AP's John Bazemore)
Alabama stuns Georgia in overtime to win college football championship (The Crimson Tide's fifth title in nine years) — AP College Football Writer Ralph Russo:
"To add another championship to the greatest dynasty college football has ever seen, Alabama turned to its quarterback of the future, and Tua Tagovailoa proved that his time is now."
"The freshman quarterback, who had played mostly mop-up duty this season, came off the bench to spark a comeback and threw a 41-yard touchdown to DeVonta Smith that gave No. 4 Alabama a 26-23 overtime victory against No. 3 Georgia on Monday night for the College Football Playoff national championship."