https://www.axios.com/newsletters/axios-am-2f7a0bb6-15c3-4e6c-8973-459f6af8d334.html?chunk=0#story0
1 big thing: New Trump overture to Silicon Valley
First in Axios AM ... President Trump is establishing an American Technology Council to help the government deliver better digital services. The administration is bringing big names from the Silicon Valley to the White House in early June, to try get ideas and cooperation from a group that has been skeptical.
What it does: Officials say the new council is part of the efforts by Jared Kushner's White House Office of American Innovation to unite the government with private-sector ideas to solve long-term problems. The ATC will coordinate strategy with other departments and agencies, and funnel advice to Trump.
Why it matters: The White House will announce the council today as part of an effort to show it's thinking ahead to the next 1,000 days — the rest of the term (actually 1,361). The innovation office wants to take what it learned in the first 100 days and turn it into action.
The summit: About 20 leading tech CEOs will spend half a day in working sessions. We're told a few tech titans have indicated a willingness to participate. The CEOs have to worry about blowback from their workforces, so dealing with this administration will always be delicate. But we're told some have shown excitement about the bipartisan issue of modernizing government.
The backstory: Modernizing government IT has been a passion project of Kushner's. The council will be run by two of Kushner's lieutenants, Chris Liddell and Reed Cordish, assistant to the president for intra-governmental and technology initiatives. Liddell — the White House director of strategic initiatives, and former CFO of Microsoft and GM — will be the council's director.
Between the lines: Kushner has a stunningly broad portfolio, and is building a formidable internal team.
FYI: In addition to Kushner, Liddell and Cordish, members of the ATC include the President, who is chairman; the Vice President; SecDef; Secretary of Commerce; Secretary of Homeland Security; Director of National Intelligence; OMB Director; Director of the Office of Science and Technology Policy; and U.S. CTO.
https://www.axios.com/newsletters/axios-am-2f7a0bb6-15c3-4e6c-8973-459f6af8d334.html?chunk=1#story1
2. Email du jour
Mark McKinnon — agreeing with my Day 100 point that Trump has been more conventional than critics feared or diehards hoped — reminds me that in the closing scene of Season 1 of Showtime's "The Circus," McKinnon said as he left the White house after Trump met with Obama on Nov. 10:
"For those who are disappointed by this outcome, I would just say this: Maybe your greatest hopes are not going to be realized. But I think that probably your greatest fears won't be, either."
https://www.axios.com/newsletters/axios-am-2f7a0bb6-15c3-4e6c-8973-459f6af8d334.html?chunk=2#story2
3. Accomplishment Week ahead?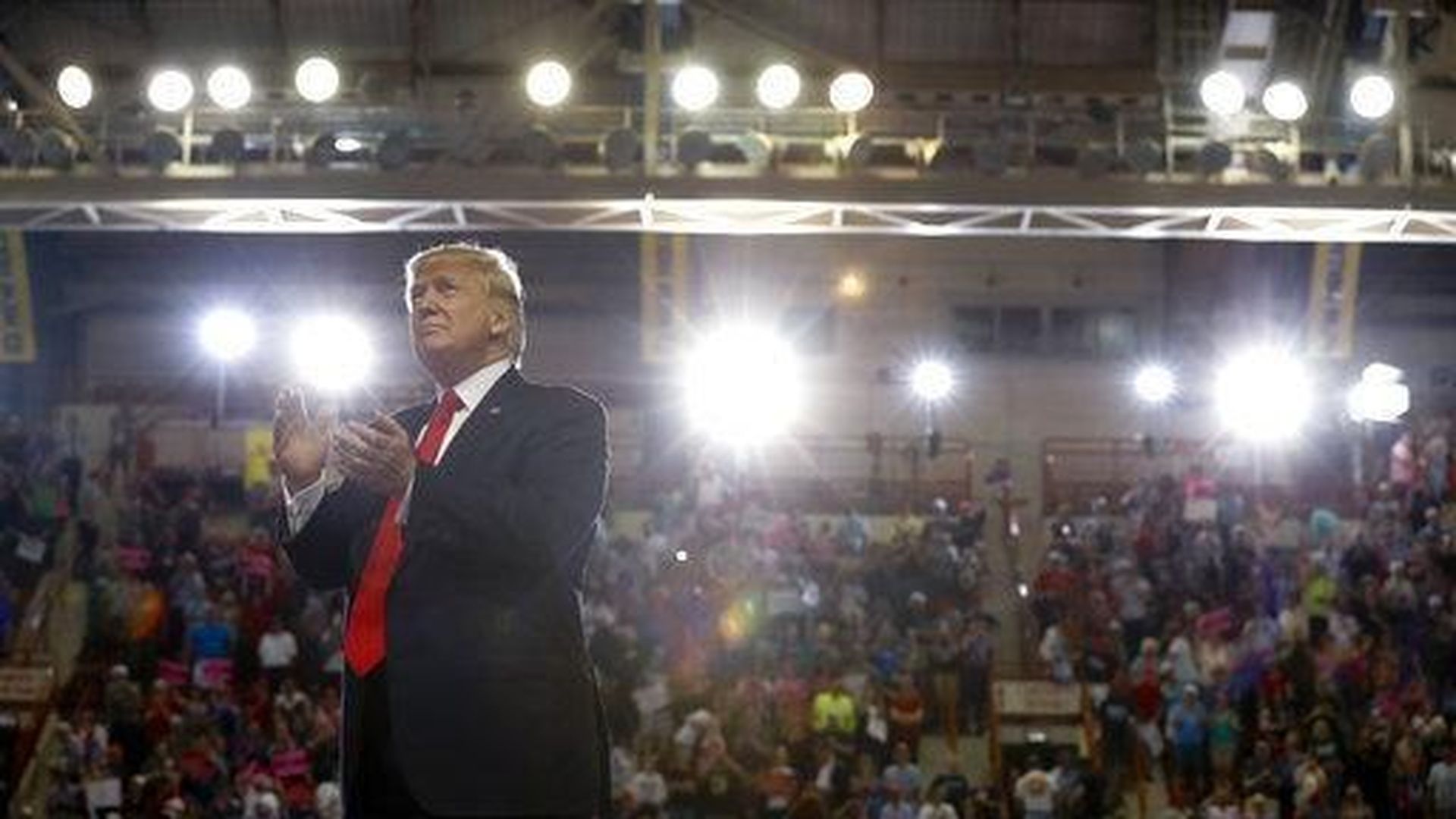 https://www.axios.com/newsletters/axios-am-2f7a0bb6-15c3-4e6c-8973-459f6af8d334.html?chunk=3#story3
4. Gray Lady courts Trump Country
President Trump got a 100-day gift yesterday from the paper he had called "totally failing" at a rally the night before: The New York Times' Sunday Review began a campaign to get readers to "Say Something Nice About Donald Trump," and a cover story of the section respectfully channeled the Steve Bannon world view.
What's going on here: Neither of the pieces was sarcastic. Both are part of the paper's effort to be more relevant in the Trump era. The paper's digital subscribers notably under-index in the heartland, a potential area of growth. Bret Stephens, a conservative columnist hired from the Wall Street Journal, debuted in Saturday's paper, calling for more balance in the climate-change debate.
Editorial Page Editor James Bennet tells me in an email these are "a convergence of efforts that have been underway for some time to open up our range."
In Sunday's paper:
Michael Kinsley, the leading liberal, wrote an opinion piece, "The Upside to the Presidential Twitter Feed," praising Trump for composing tweets himself, and making "social media almost a part of our constitutional system": "[T]he average citizen now has a view straight into the president's id."
But the surprising part was the last graf: "So that's one good thing he has done for the country. Can you think of another? Please let me know at somethingnice@nytimes.com. We'll be revisiting this theme regularly in Sunday Review."
Bennet tells me: "The say-something-nice feature was Mike's great idea, and it is sincere! If also arch, in the high Kinsley style."
On the section's cover, in a piece called "The New Party of 'America First,'" theologian R.R. Reno, editor of the journal First Things, writes: "Mr. Trump's shocking success at the polls has done our country a service. Scholars may tut-tut about the historical connotations of 'America First,' but the basic sentiment needs to be endorsed. Our country has dissolved to a far greater degree than those cloistered on the coasts allow themselves to realize."
https://www.axios.com/newsletters/axios-am-2f7a0bb6-15c3-4e6c-8973-459f6af8d334.html?chunk=4#story4
5. Trump's American Pipe Dream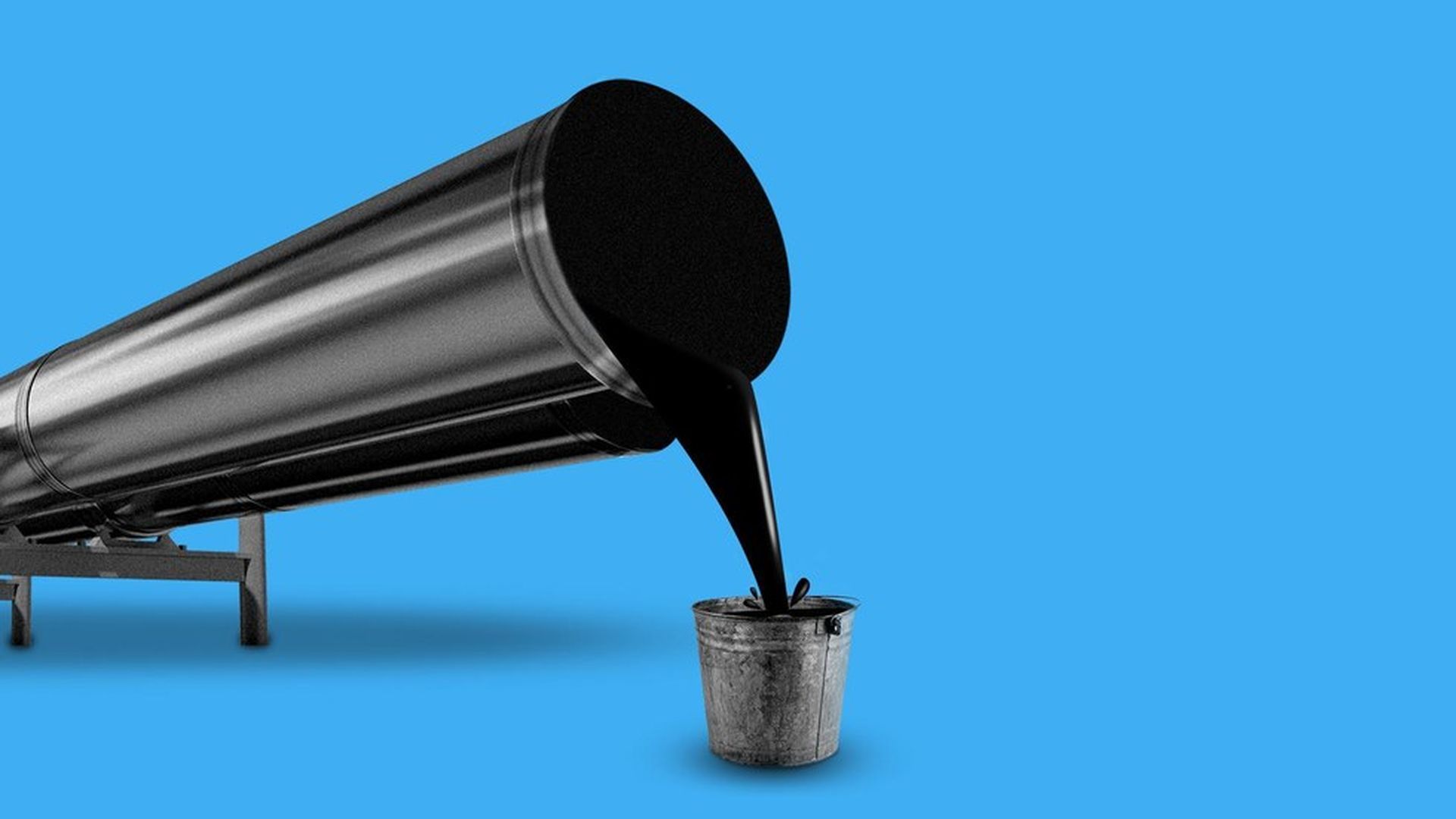 Axios' Amy Harder's weekly energy column, "Harder Line," reports: "Pipeline, oil and gas companies — along with their Beltway lobbying groups — are telling the Trump administration that domestic steel requirements would be almost impossible to meet and prohibitively expensive."
https://www.axios.com/newsletters/axios-am-2f7a0bb6-15c3-4e6c-8973-459f6af8d334.html?chunk=5#story5
6. Beyond the Beltway: EPA workers stick up for their jobs
This sounds unusual — let me know if you have heard about similar resistance by federal employees in your area. The Chicago Tribune's front page spotlights protests by EPA employees about planned Trump budget cuts, with local workers hoping that educating the public on cleanup jobs may save some jobs:
"At the EPA's Chicago office, which oversees the agency's work in six states around the Great Lakes, employees have participated in rallies protesting Trump's policies, organized a social media campaign and showed up at community forums to promote what they do for a living."
EPA Administrator Scott Pruitt — who as Oklahoma attorney general sued the EPA 14 times — "is proposing to cut grants that finance state environmental programs by 45 percent."
"[T]he EPA has always been unpopular in some quarters. The agency ... draws criticism from groups that feel the EPA moves too slowly or succumbs to political pressure."
Why it matters: "People in places like Flint [Mich.] still look to the EPA for help."
https://www.axios.com/newsletters/axios-am-2f7a0bb6-15c3-4e6c-8973-459f6af8d334.html?chunk=6#story6
7. Collision of tech and business
Wall Street Journal front page, "Apple's Mountain of Cash Is Set to Top $250 Billion," by Tripp Mickle: "The money, more than 90% of which is stockpiled outside of the U.S., has drawn fresh attention as ... Trump has proposed slashing business taxes and granting a one-time tax holiday on corporate cash brought home."
Why it matters: "Those policies could ratchet up pressure on the tech giant to dole out more money to shareholders or make splashy acquisitions."
The narrative ... "Trump's first 100 days were actually pretty good for tech," by Axios Tech Editor Kim Hart: "A number of Silicon Valley's post-election fears didn't materialize in the first 100 days — including a significantly gutted H-1B visa program and calls for increased law enforcement access to encrypted data. ... A number of big-ticket issues still wait in the wings, like patent reform, merger reviews and encryption."
https://www.axios.com/newsletters/axios-am-2f7a0bb6-15c3-4e6c-8973-459f6af8d334.html?chunk=7#story7
8. Disturbing and important
"AP reveals hidden horror of sex assaults by K-12 students": "Across the U.S., thousands of students have been sexually assaulted, by other students, in high schools, junior highs and even elementary schools — a hidden horror educators have long been warned not to ignore."
https://www.axios.com/newsletters/axios-am-2f7a0bb6-15c3-4e6c-8973-459f6af8d334.html?chunk=8#story8
9. Worthy of your time
The New Yorker's Evan Osnos, "How Trump Could Get Fired: The Constitution offers two main paths for removing a President from office":
"During the past few months, I interviewed several dozen people about the prospects of cutting short Trump's Presidency. I spoke to his friends and advisers; to lawmakers and attorneys who have conducted impeachments; to physicians and historians; and to current members of the Senate, the House, and the intelligence services. ...
"Although some of my sources maintained that laws and politics protect the President to a degree that his critics underestimate, others argued that he has already set in motion a process of his undoing. All agree that Trump is unlike his predecessors in ways that intensify his political, legal, and personal risks. He is the first President with no prior experience in government or the military, the first to retain ownership of a business empire, and the oldest person ever to assume the Presidency."
https://www.axios.com/newsletters/axios-am-2f7a0bb6-15c3-4e6c-8973-459f6af8d334.html?chunk=9#story9
10. 1 fun thing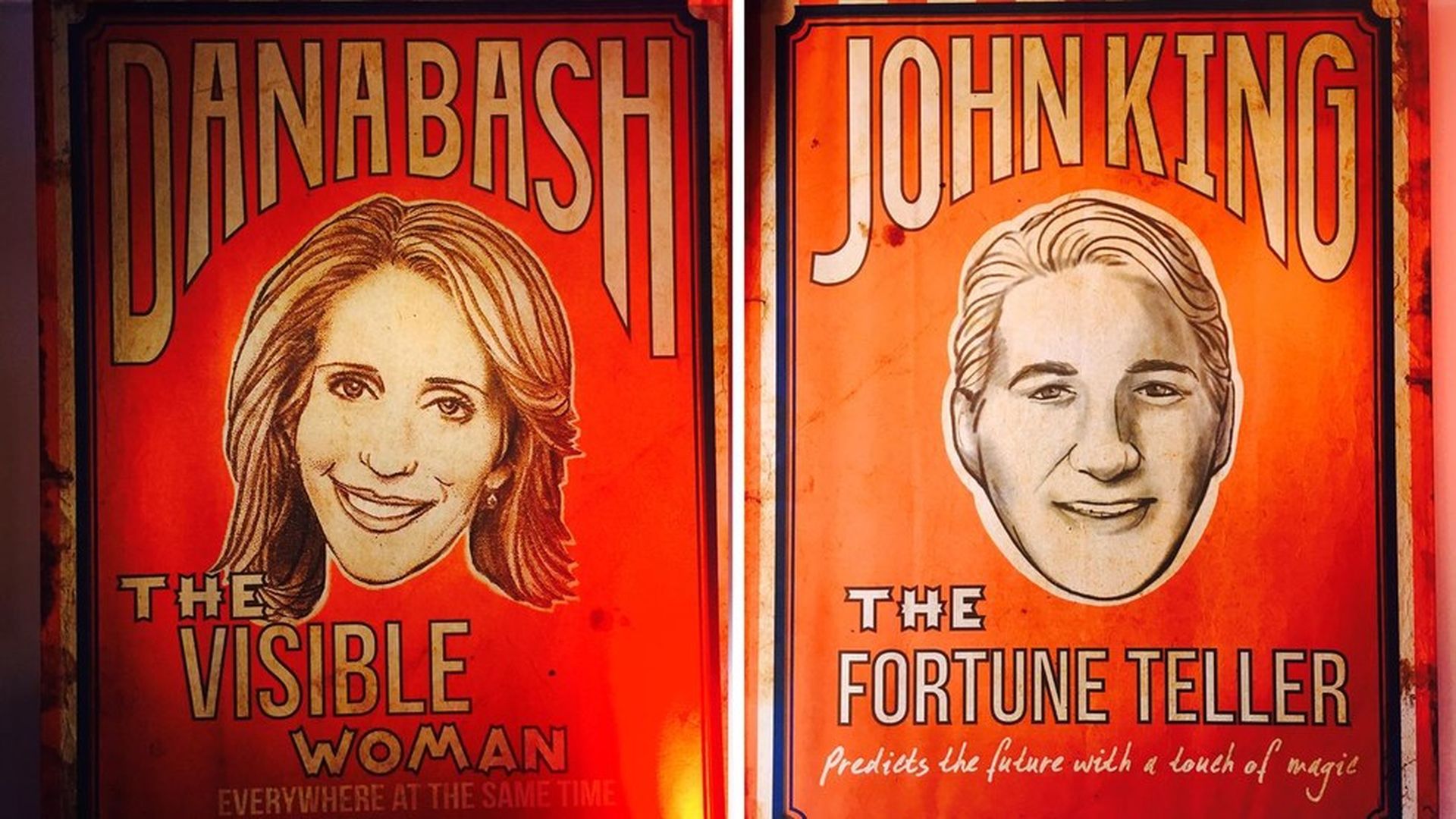 Sum-up of White House Correspondents' Dinner weekend, by N.Y. Times' Michael Grynbaum on page A15, "Typically Chummy Ritual Offers Moment of Catharsis":
Loud cheers and a palpable sense of defiance broke out when the president of the Correspondents' Association, Jeff Mason of Reuters, declared with sermonlike ferocity: "We are not fake news. We are not failing news organizations. And we are not the enemy of the American people." It was the longest ovation of the night. ...
The celebrity quotient was notably low. The biggest Hollywood names in attendance included the actors Matthew Modine and Alan Ruck.
[J]ournalists who did attend were greeted outside the event site, the Washington Hilton, by an unexpected sight: a small group of supporters, some from as far away as Boston, who had come to cheer the news media.