April 02, 2020
🚨 Joe Biden said last night that he expects a one-month delay for the Democratic convention, which is scheduled to begin July 13 in Milwaukee.
"I think it's gonna have to move into August," Biden told Jimmy Fallon on "The Tonight Show." (YouTube)
⚡ L.A. Mayor Eric Garcetti said all 4 million residents who are performing essential tasks such as food shopping should wear homemade, non-medical face coverings, or even bandanas. (AP)
📱 Please join an Axios virtual event, tomorrow at 12:30 p.m. ET: Dallas Mavericks owner Mark Cuban, Michigan Gov. Gretchen Whitmer and Edelman Global CEO Richard Edelman will discuss how business and society can adapt to the virus.
1 big thing: A new American coronavirus consensus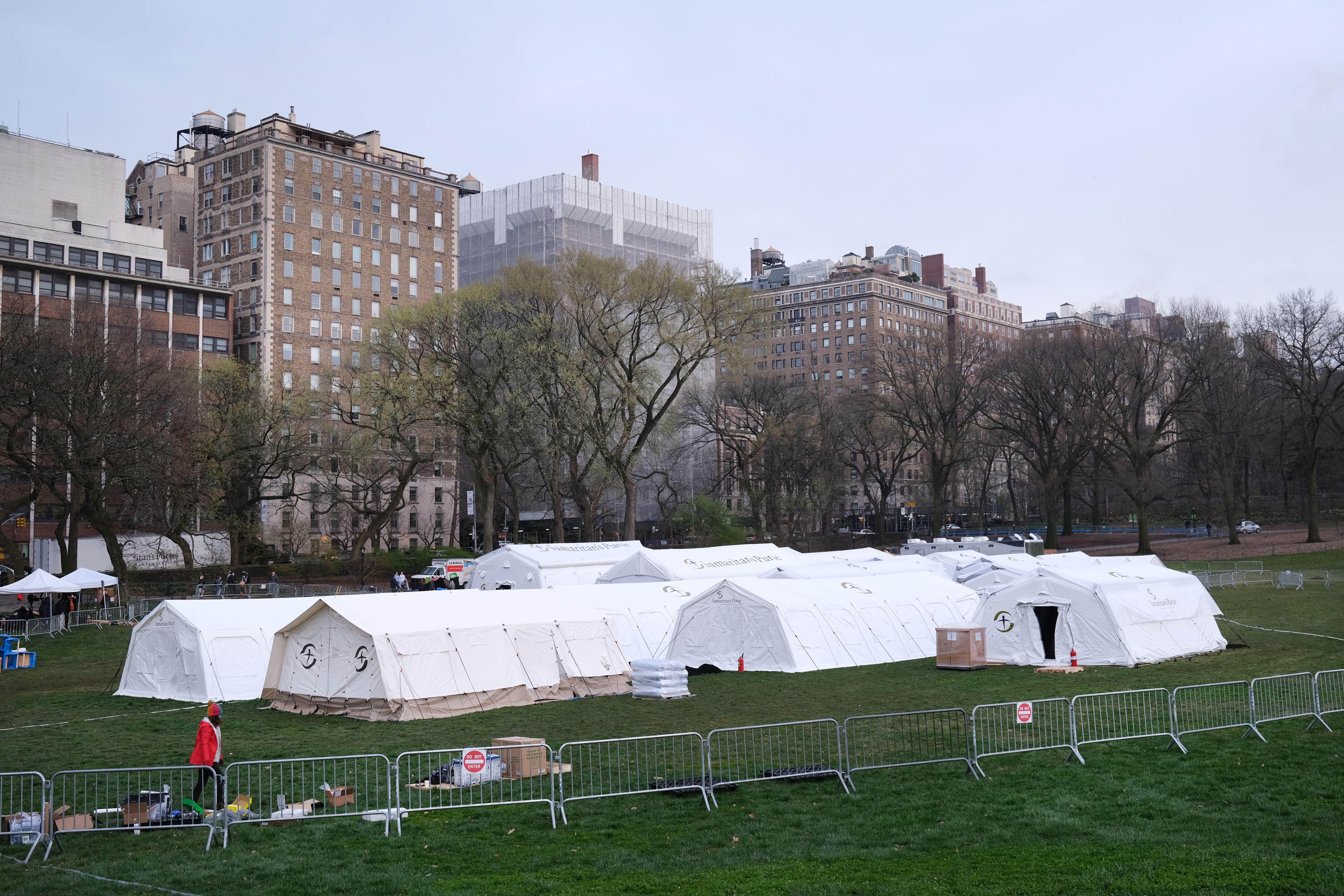 Something surprising is unfolding amid the finger-pointing and war-gaming about the coronavirus threat to America: A general consensus is forming about the next 60 days of wait and pain, Axios CEO Jim VandeHei writes:
Virtually every state will be in some form of quarantine for at least April and likely much of May.
Death tolls will rise high, possibly beyond 100,000. But the combination of increased testing, social distancing, medical supplies and public awareness should avert the worst scenarios.
The $2 trillion rescue package will float the U.S. economy through this month. Unemployment will skyrocket — before the stimulus, projections topped 30%. But help is on the way to blunt some of the damage, making the chances of catastrophic collapse much lower than a few weeks ago.
Businesses will still be destroyed, more than most realize. But the days of either party caring about Fed actions, congressional spending or simply doing too much are over, for now. Another big rescue package will be needed as we sort through the wreckage — and it could be bigger than the first.
College students are home for the rest of the academic year — and now face questions about employment and internships. And while it hasn't been made official for all K-12ers, it's hard to see any school reopening before summer.
America has a chance to return to some semblance of normal in late May or June, gradually and perhaps geographically. Anything beyond that would be too catastrophic to consider.
The threat of a post-summer resurgence is real, and likely. But the country will also be far better prepared to test, isolate and potentially heal. 
A realistic vaccine produced and distributed at scale likely won't be a reality until at least 2021, though there is hope experimental versions will be fast-tracked before. 
It will take years, if not a generation, to dig out of the debt, lives and jobs lost. But those conversations will be punted until coronavirus is behind us.
One thing to watch: A growing number of Fortune 500 CEOs worry this consensus underplays the danger to the U.S. economy, if America stays at home beyond April. 
If April becomes May, many fear the chances of America's economy snapping back fades.
2. Increase in domestic violence feared during lockdown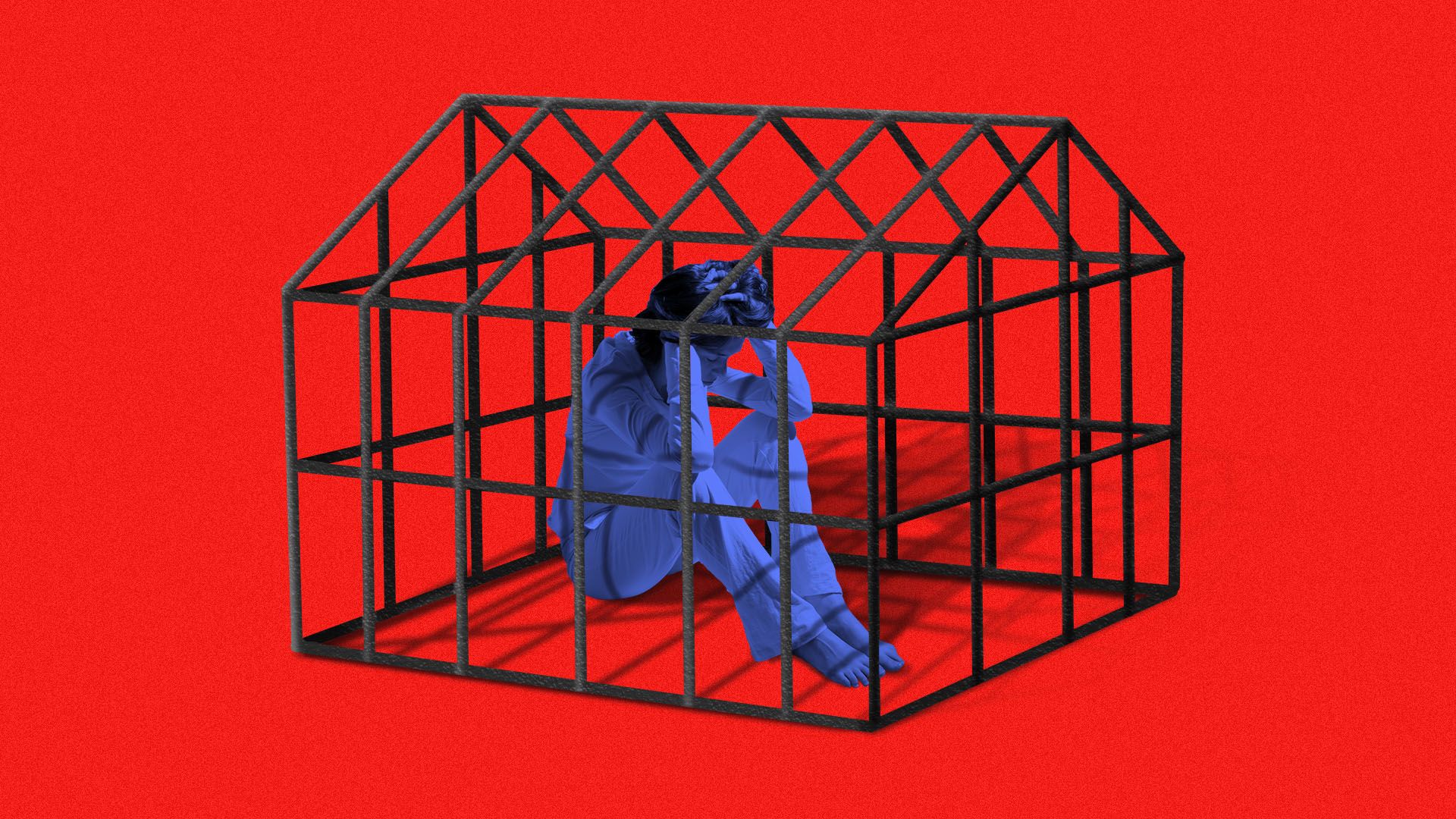 Experts are convinced we're on the precipice of a crisis of domestic violence fueled by the anxiety, stay-at-home rules and economic uncertainty caused by the coronavirus pandemic, Axios' Ina Fried writes.
The ingredients for an increase in intimate partner violence are clear. Survivors are more isolated, their abusive partners are under more stress, and the options for escape have become more limited amid the outbreak.
Crystal Justice, chief development and marketing officer for the National Domestic Violence Hotline, said the hotline already has heard from people whose abusers are preventing partners from going to work at essential jobs or from accessing safety measures, including basics like soap and hand sanitizer.
Abuse is about power, and many abusers are using the pandemic to control in new ways.
There have also been calls from people whose abusers are threatening to use firearms when they've never done so before.
Between the lines: There is also concern that violence will further increase with job losses and other economic pressures, as it has in past crises.
Nathaniel Fields, who runs Urban Resource Institute (URI), the largest shelter system in the country, with 12 shelters in New York, said the organization saw spikes after 9/11 and Hurricane Sandy.
"The messaging is to stay home and stay in place," Fields said. "That's not the message for domestic violence victims."
Experts are concerned about a range of secondary issues beyond those caused directly by the coronavirus, ranging from an increase in anxiety and loneliness to suicide and child abuse.
"I would make the plea for more funding for mental health organizations and providers," Nancy Lublin, CEO of Crisis Text Line, a nonprofit that lets people in domestic and other crises ask for help by text, said in an interview for "Axios on HBO." (You can see the full interview here.)
How to help: The biggest thing people can do is check in with individuals they know who may be in unsafe relationships, Justice said.
People can offer to set a check-in time or have a code word that can be used if help is needed.
How to get help: The National Domestic Violence Hotline can be reached by calling 800-799-7233, by texting LOVEIS to 22522 or by going to thehotline.org.
Crisis Text Line can be reached by texting HOME to 741741 and via Facebook Messenger from the organization's website.
3. Virus outruns the data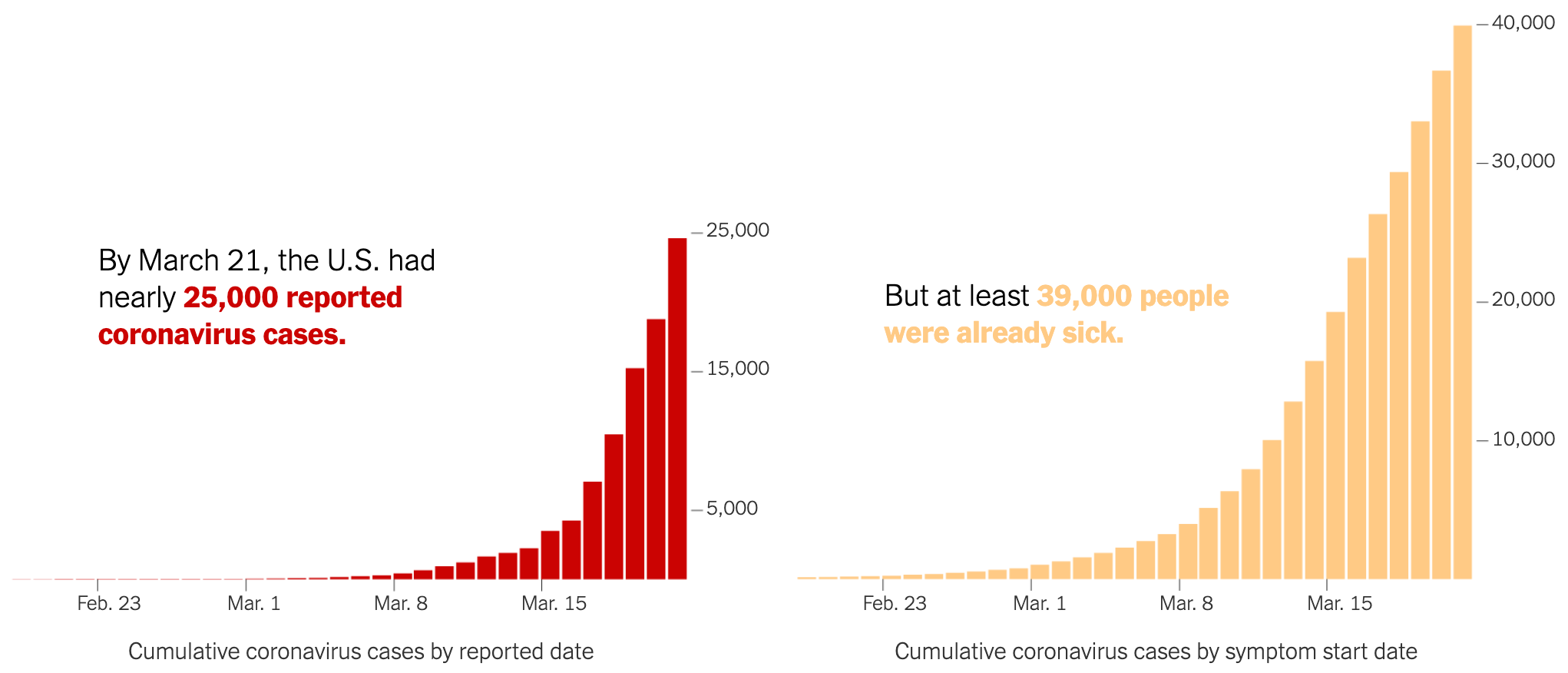 The N.Y. Times used CDC data to show that by the time 50 U.S. coronavirus cases were officially tallied, at least 1,200 people had started showing symptoms — and we've never caught up.
Why it matters: This shows "just how far behind the virus we are," said Justin Bahl, an associate professor of infectious disease and epidemiology at the University of Georgia, "and, potentially, how much more transmission is happening in the community before we can identify and isolate those people."
Keep reading (free access).
P.S. Virus heroes ...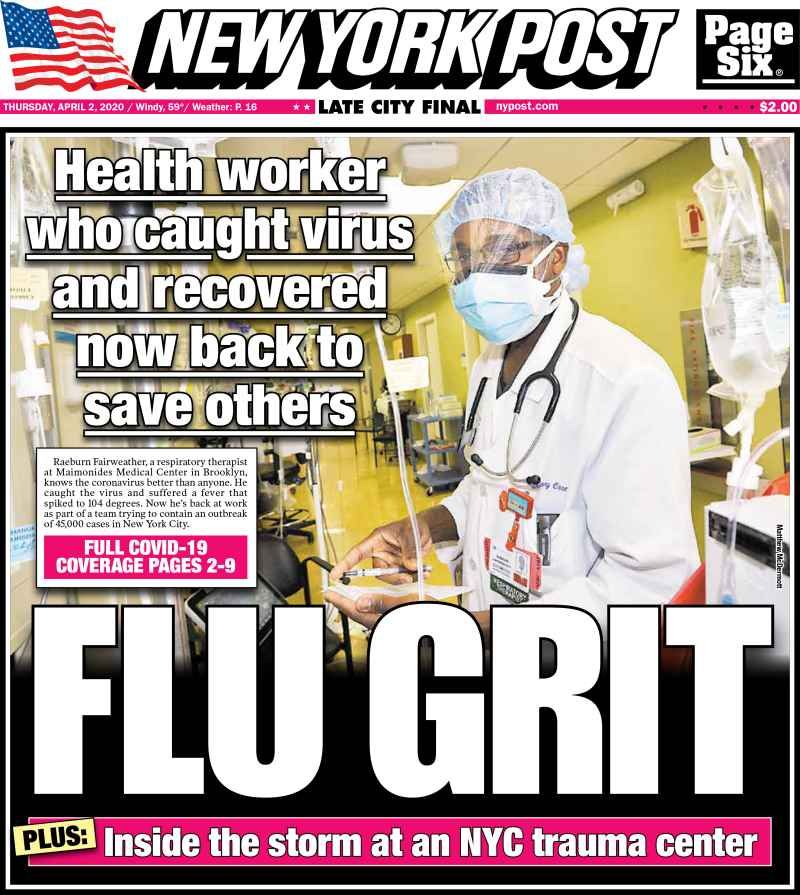 4. Pictures of America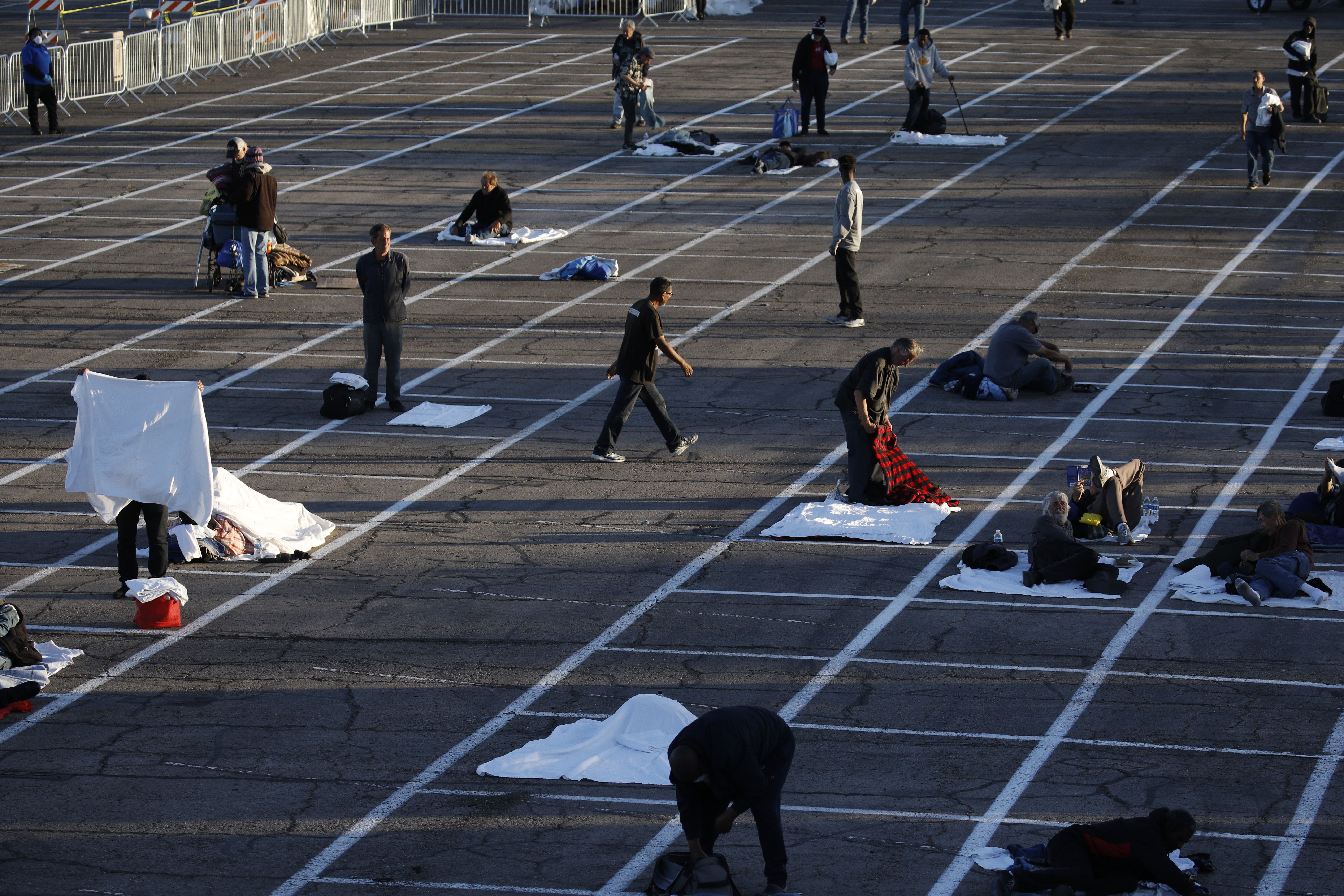 Above: Boxes were painted on a parking lot in Vegas to provide distancing in a makeshift camp for people who are homeless, stirring outrage on social media.
Below: The interchange of the 10 and 110 freeways in L.A.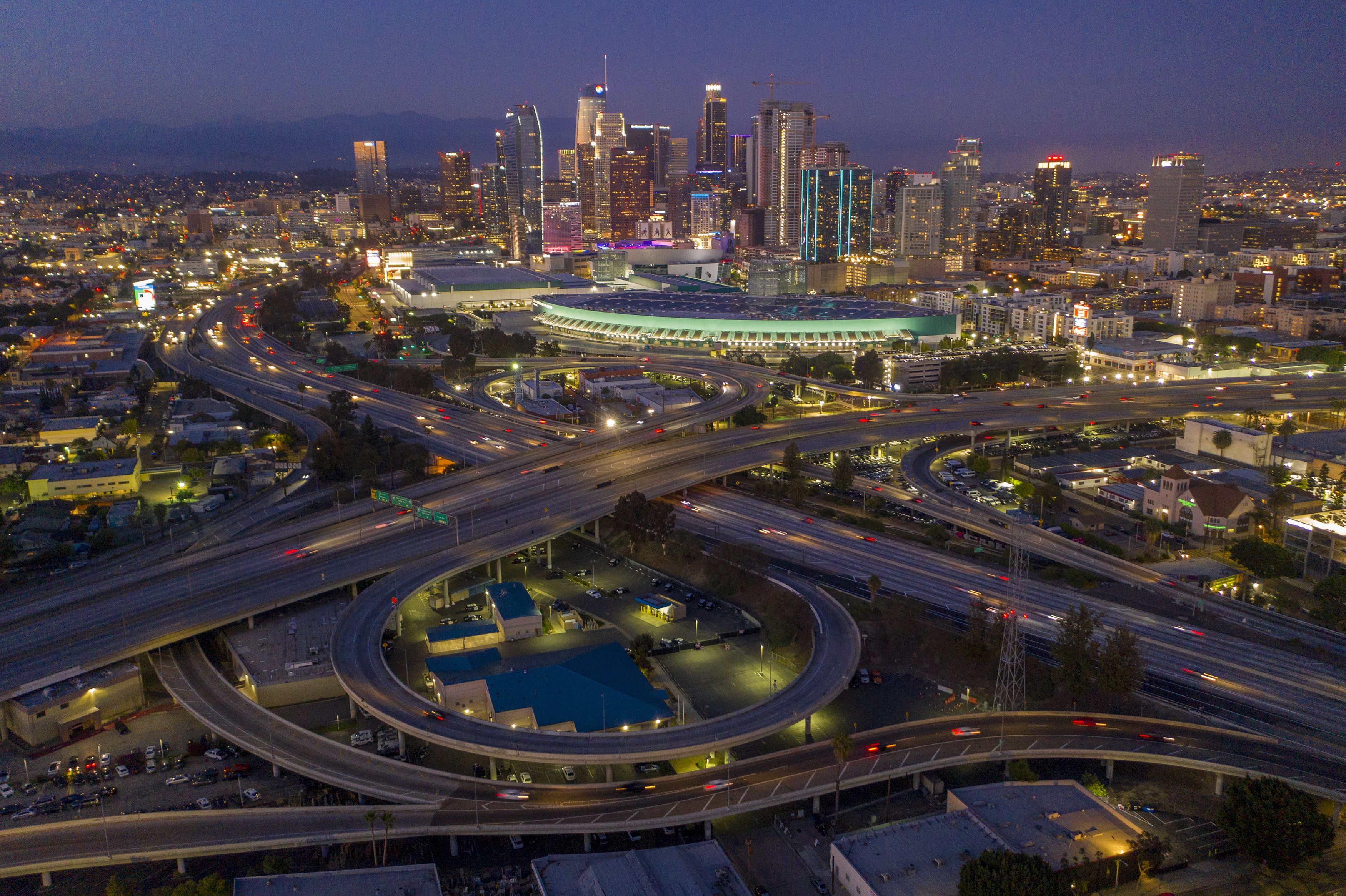 5. Florida's slow response set stage for disaster
Florida Gov. Ron DeSantis issued a statewide stay-at-home order yesterday as virus cases skyrocketed — finally taking a step that many governors embraced weeks ago, Axios' Caitlin Owens and Alayna Treene write.
Why it matters: Florida is the third-biggest state and its population has one of the highest risks for coronavirus, according to a Kaiser Family Foundation analysis.
One in five residents is 65 or older. Between age and pre-existing health conditions, nearly half the state's population is at high risk of contracting the virus.
6. Spike in gun sales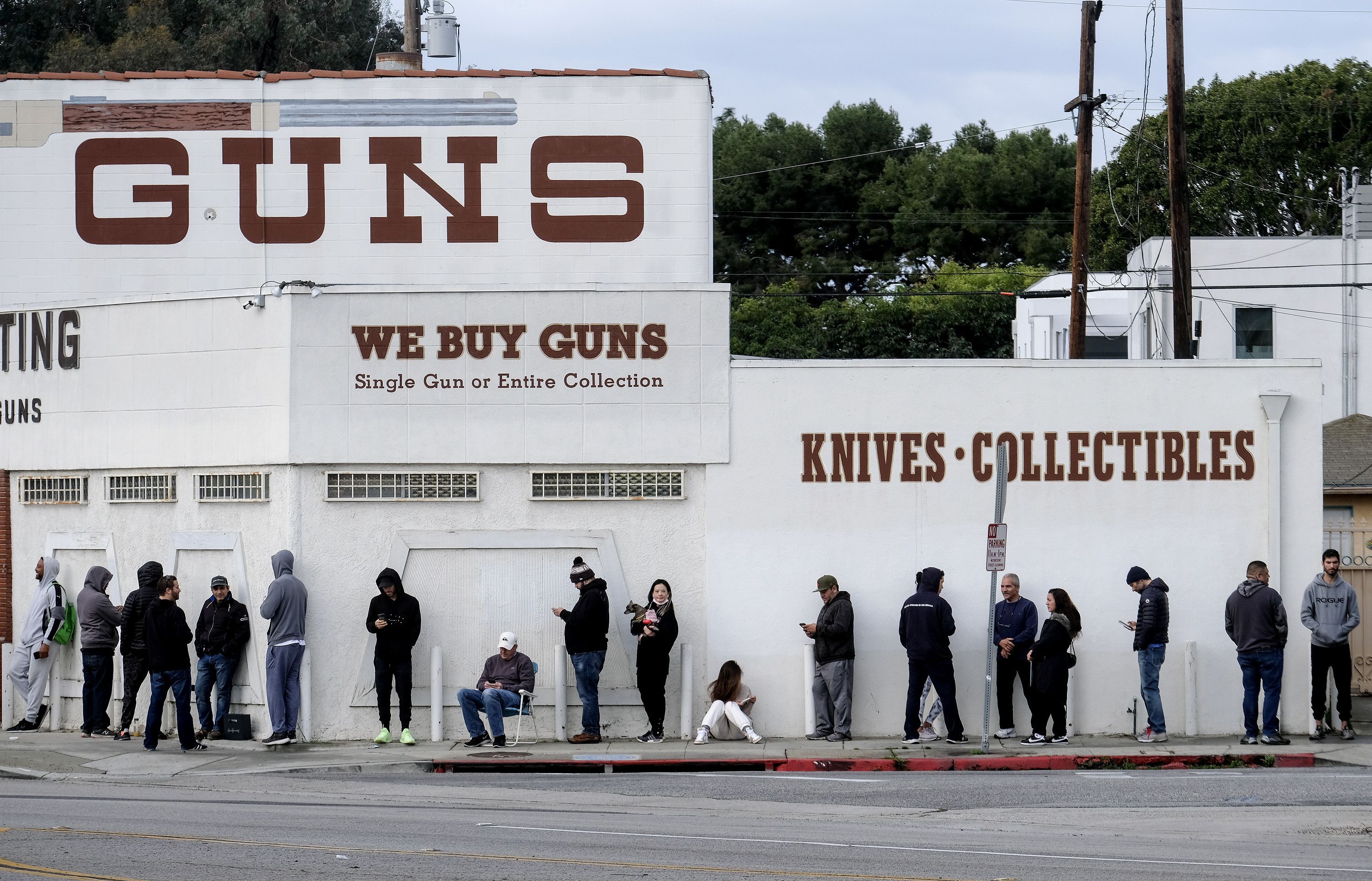 It's not just toilet paper that Americans stocked up on.
In March, the FBI processed a one-month record 3.7 million gun background checks — a figure that approximates gun sales, Axios' Stef Kight reports.
Last month included five of the top 10 days for background checks since the start of the National Instant Criminal Background Check System (NICS) in 1998 — 22 years ago.
March was the second-busiest month ever for gun sales — trailing only January 2013, just after President Obama's re-election and the Sandy Hook Elementary School shooting, the N.Y. Times reports.
Spikes in purchases of firearms and ammunition — and in first-time gun buyers — have been reported in areas hit hard by coronavirus, including Washington, California and New York.
In a video tweeted by the NRA on March 21, an activist warns: "If you aren't preparing to defend your property when everything goes wrong, you're really just stockpiling for somebody else."
7. Run on hotspots
Demand is outpacing supply for WiFi hotspots, now a hot commodity for schools and libraries trying to bring online learning to students without internet access at home, Axios' Margaret Harding McGill writes.
8. 1 run thing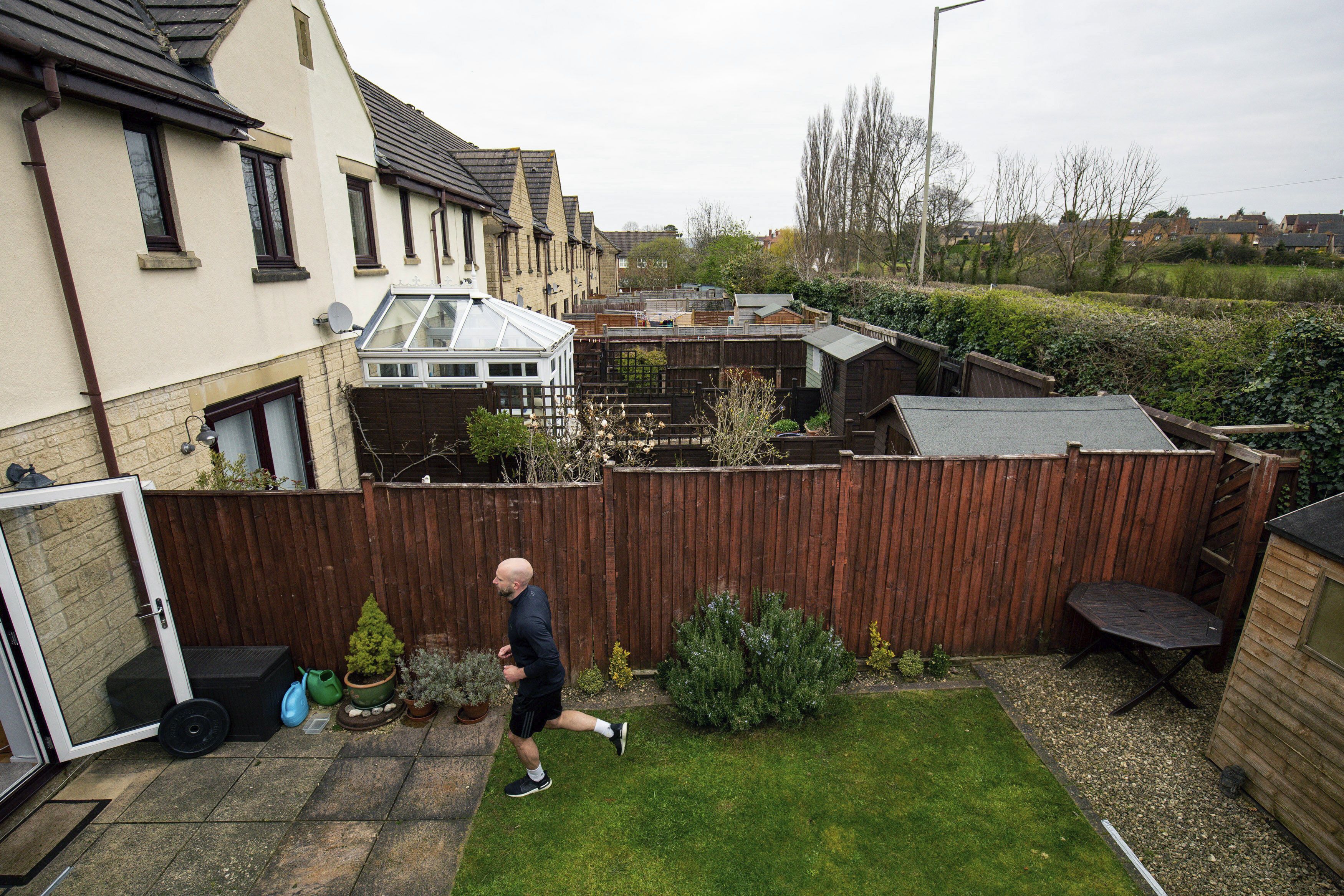 You may've heard about the Frenchman who kept up his training during the virus confinement by running a marathon on his 23-foot balcony ("marathon de mon balcon").
Now, a man in Cheltenham, England, has done the same in his yard, AP reports.
James Campbell, 32, a former professional javelin thrower, crossed his garden 7,000 times in just over five hours (#6metregardenmarathon).
Campbell had promised to run a charity marathon for the NHS, the U.K.'s national health care system, if one of his tweets got 10,000 retweets.
📬 Thank you for the honor of your time. Please spread the word about Axios AM/PM.