Good Tuesday morning. Ahead of my Axios News Shapers conversation with Al Gore at 8 a.m. today, the WashPost has this headline: "One of the most worrisome predictions about climate change may be coming true."
"Two years ago, former NASA climate scientist James Hansen ... laid out a dire scenario in which gigantic pulses of fresh water from melting glaciers could upend the circulation of the oceans, leading to ... fast-rising seas and even superstorms. ... [A] new oceanographic study appears to have confirmed one aspect of this picture."
https://www.axios.com/newsletters/axios-am-2c765097-3075-42d0-a7f2-42536c73b805.html?chunk=0#story0
1 big thing: LinkedIn CEO on tech's "unintended consequences"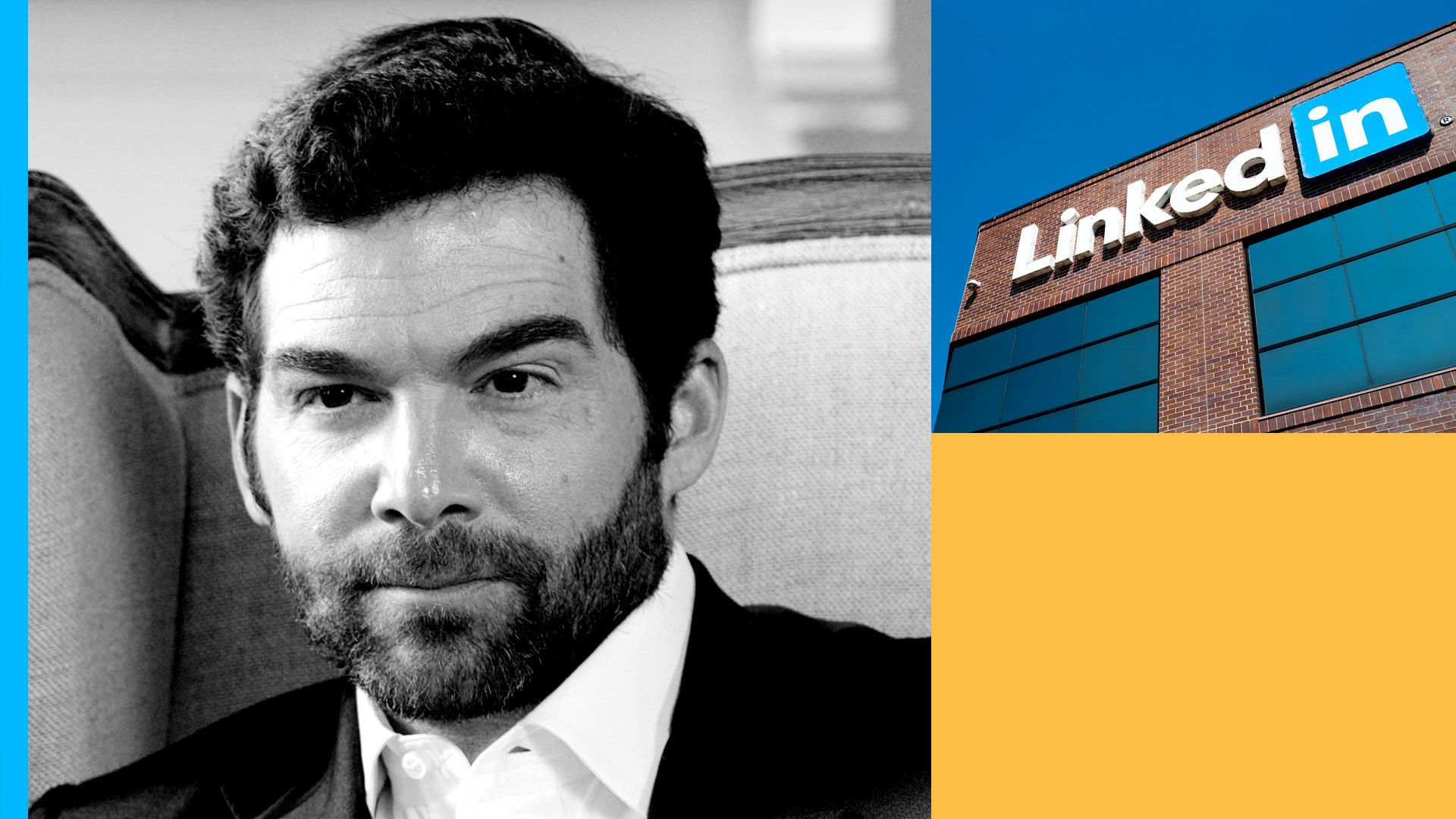 LinkedIn CEO Jeff Weiner, visiting Washington as part of Silicon Valley's new attentiveness to D.C., told Axios' Sara Fischer and me that tech companies still need to do more to deal with the unintended consequences of the power of their platforms.
In addition to running the world's largest professional network (546 million members), Weiner has been atop the tech rocket for a quarter-century, with stints at Yahoo and the iconic venture capital firm Greylock Partners.
"Increasingly, companies need to really think about the unintended consequences proactively," Weiner said.
"And when you amass the kind of scale and influence that current technology companies are capable of, those audiences that they're capable of reaching, it carries enormous responsibility."
"The companies may not have been founded with that as a first principle, but that is our reality. ... So, I think that's, first and foremost, something that we need to carry with us as an industry."
Why it matters: Weiner's comments echo those of other tech leaders that suggest new-age tech firms can no longer use the excuse of being well-intentioned but naive when faced with the unforeseen consequences of their products.
Netflix CEO and Facebook board member Reed Hastings, said a few weeks ago: "Social ... platforms — whether that's YouTube or Facebook — are clearly trying to grow up quickly. And you see that with all new technologies."
Bill Gates, in an interview with me in February, warned that tech companies need to be "careful that they're not trying to think their view is more important than the government's view."
Apple CEO Tim Cook said last month: "Privacy ... is a human right, a civil liberty."
Despite being a data-based ad platform, LinkedIn is rarely mentioned as a part of the Big Tech reckoning that's gripping news headlines.
But LinkedIn has a consequential connection to people's careers and money-earning capability, with an emotional and practical tie to basically every rising professional.
Weiner said the reality he was sketching "isn't necessarily specific to our industry, but by virtue of the rate of the change, I think it's accentuated."
Sara points to other industries facing unintended consequences:
Drug companies, which created opioids in the 1990s to help with pain, are reckoning with the most serious cause of death in the U.S.
The rise of online shopping has created enormous opportunities for consumers, but has also killed thousands of brick and mortar shops.
Go deeper: Video from the interview of Jeff Weiner by Sara and me.
See LinkedIn's Economic Graph, "a digital representation of the global economy" based on "all the data on LinkedIn."
P.S. You'll want to read ... Sara Fischer's popular Media Trends newsletter, out later this morning (sign up free here):
The twisted world of social media influencers: The account of popular progressive Instagram model @lilmiquela (1 million followers) was supposedly "hacked" last week by popular pro-Trump Instagram model @bermudaisbae (64,000 followers).
While details around the hack are hazy, a photo of the models together suggests that the event was coordinated.
The catch: Neither model is real, although one is verified by Instagram. They are both computer-generated imagery (CGI) models with massive followings and in some cases have racked up real advertising deals and music profiles.
https://www.axios.com/newsletters/axios-am-2c765097-3075-42d0-a7f2-42536c73b805.html?chunk=1#story1
2. Rahm Emanuel advises Dems against politicizing impeachment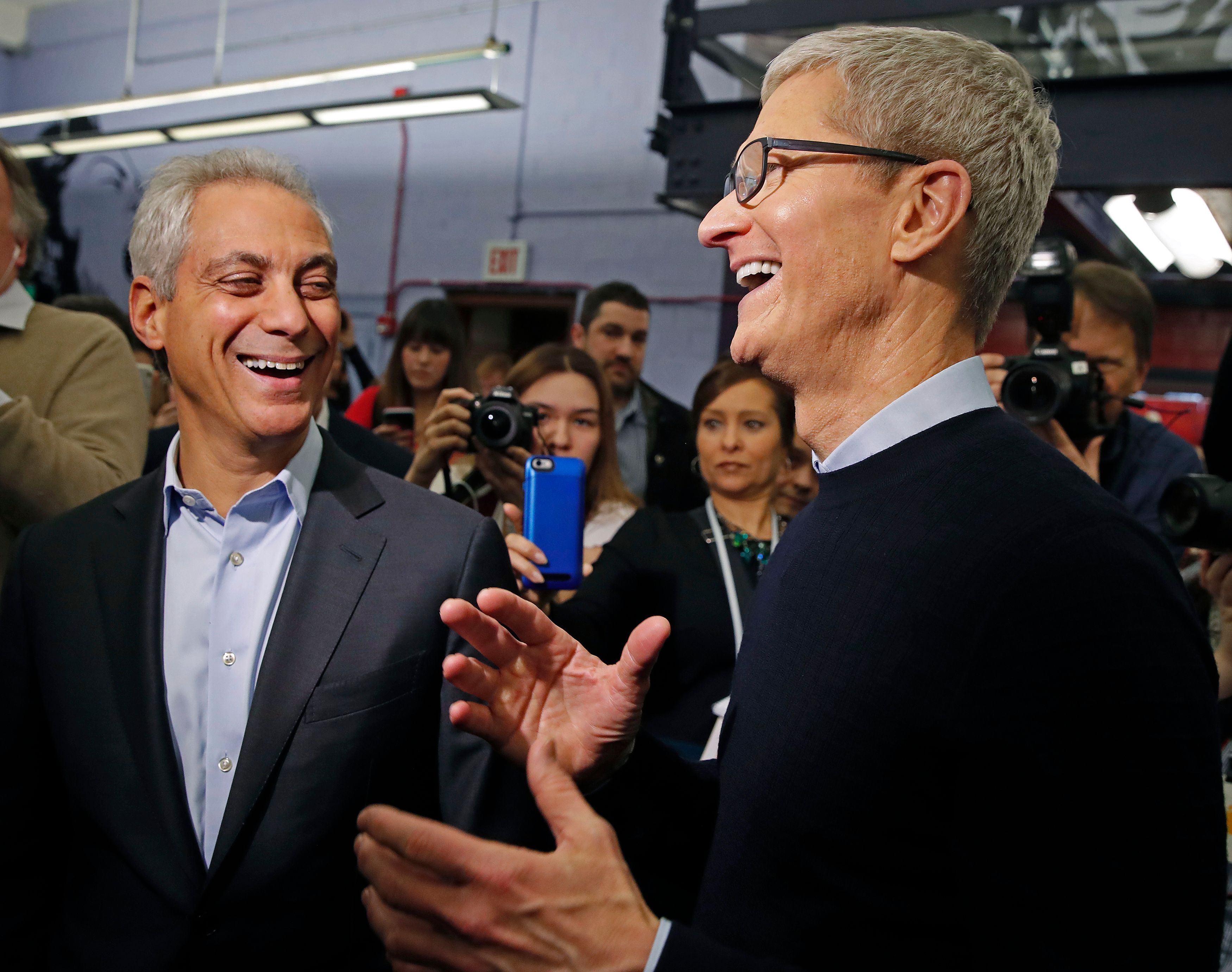 Mayor Emanuel with Apple CEO Tim Cook at a Chicago high school in March (Jim Young/AFP/Getty Images)
At an Axios event in Chicago yesterday, Mayor Rahm Emanuel told me midterm Democratic candidates are unwise to rely on the allure of impeaching President Trump as an issue in November's races:
"I lived through the Clinton White House. This is a serious legal and constitutional, not political, issue. ... I couldn't be angrier at Donald Trump. ... That said, you don't just flippantly say: We're for [impeachment]."
"When we get to it, we collectively as a country will know it — as we did with, like, Richard Nixon."
"[Y]ou don't just treat ... the policy standard of impeachment ... as a political tool. It's a constitutional standard and, when that standard has been met, we'll know about it. ... This is a case where the best politics is good policy."
The backdrop: The N.Y. Times reported that Republicans are trying to energize their base and lure moderate voters by warning that Dems "will immediately move to impeach President Trump if they capture the House."
Liberal N.Y. Times columnist Charles Blow bluntly spells out the politics of impeachment: "It is quite possible that trying to impeach and remove Trump could have the opposite effect than the one desired: It could boost rather than diminish his popularity and an acquittal by the Senate would leave an even more popular president in office."
P.S. Rahm's big idea for governments ... One of the most common complaints to Chicago's 311 hotline is streetlights being out, and Mayor Emanuel told me the city is converting 270,000 sodium bulbs, one by one, to an LED smart grid model:
Some neighborhoods can be brighter or dimmer.
Why it matters: "Governments [need] to get where private sector is — being able not just to throw out mass information, but target residents, residents be able to communicate back ... It's a part of modernizing government services and making them more personal, more direct."
https://www.axios.com/newsletters/axios-am-2c765097-3075-42d0-a7f2-42536c73b805.html?chunk=2#story2
3. Opening for ambition: "Time to dream big"
David Leonhardt, N.Y. Times Op-Ed columnist and associate editorial page editor, declares this "A Time for Big Economic Ideas":
"For Americans without a bachelor's degree, one social indicator after another — obesity, family structure, life expectancy — has deteriorated."
"There has been no period since the Great Depression with this sort of stagnation. It is

the defining problem of our age

, the one that aggravates every other problem. It has made people anxious and angry. It has served as kindling for bigotry. It is undermining America's vaunted optimism."
Why it matters: "Done right, ... the ideas could mimic the grand successes of government: Social Security, Medicare, the military, the Securities and Exchange Commission, the highway system, public universities, medical research and a Defense Department project that became the internet."
Be smart: Leonhardt is arguing for an opening for progressive policy. But this notion should be inspiring for people across the spectrum.
https://www.axios.com/newsletters/axios-am-2c765097-3075-42d0-a7f2-42536c73b805.html?chunk=3#story3
Bonus: Pic du jour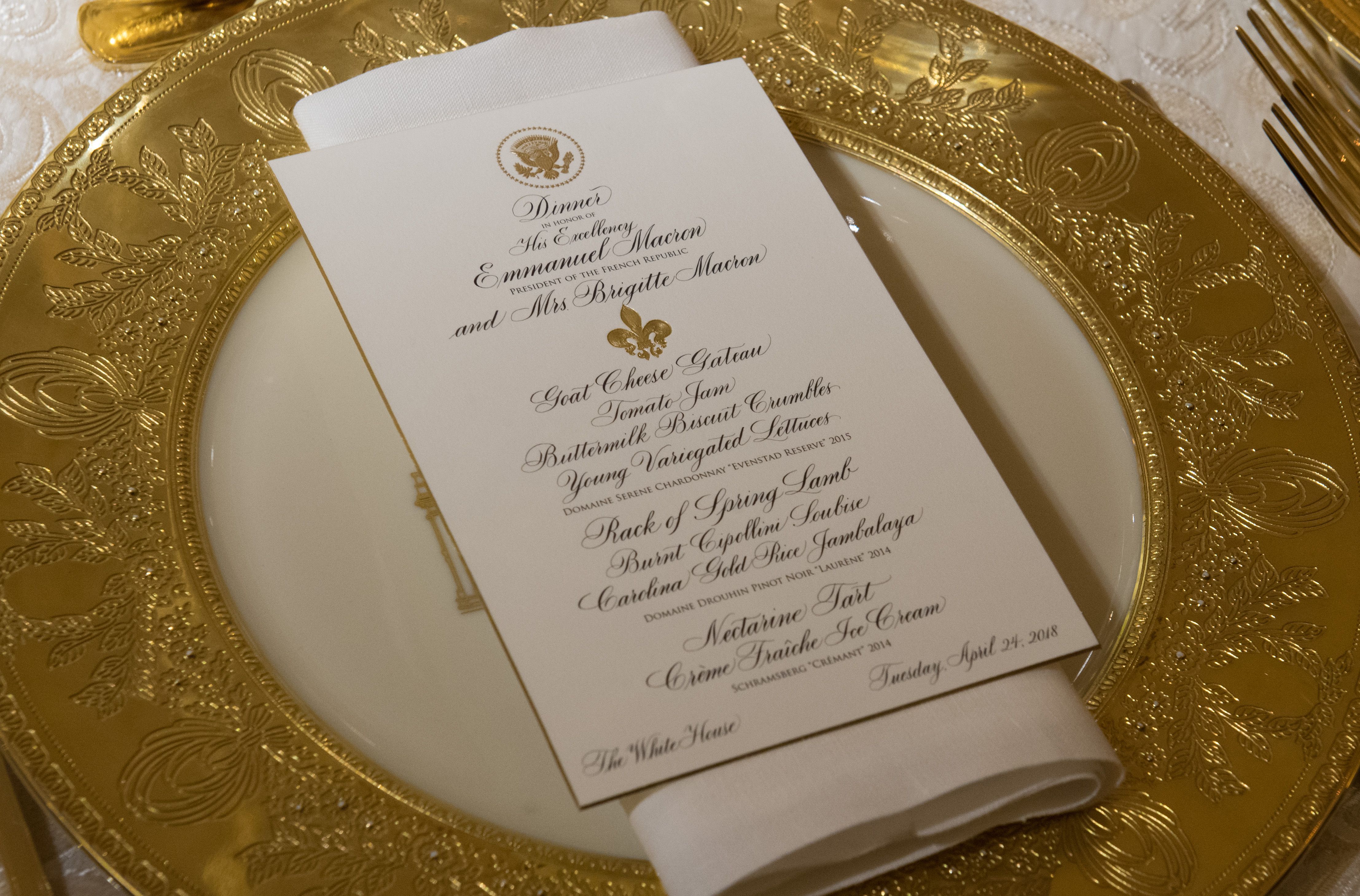 Saul Loeb/AFP/Getty Images
The menu for tonight's State Dinner for French President Emmanuel Macron was previewed in the State Dining Room.
https://www.axios.com/newsletters/axios-am-2c765097-3075-42d0-a7f2-42536c73b805.html?chunk=4#story4
4. Exclusive poll: Frozen on Comey
The public's views of James Comey, and President Trump's decision to fire him, have been baked in for the last year — so Comey's high-profile book tour hasn't moved the needle.
https://www.axios.com/newsletters/axios-am-2c765097-3075-42d0-a7f2-42536c73b805.html?chunk=5#story5
5. Prayers for Poppy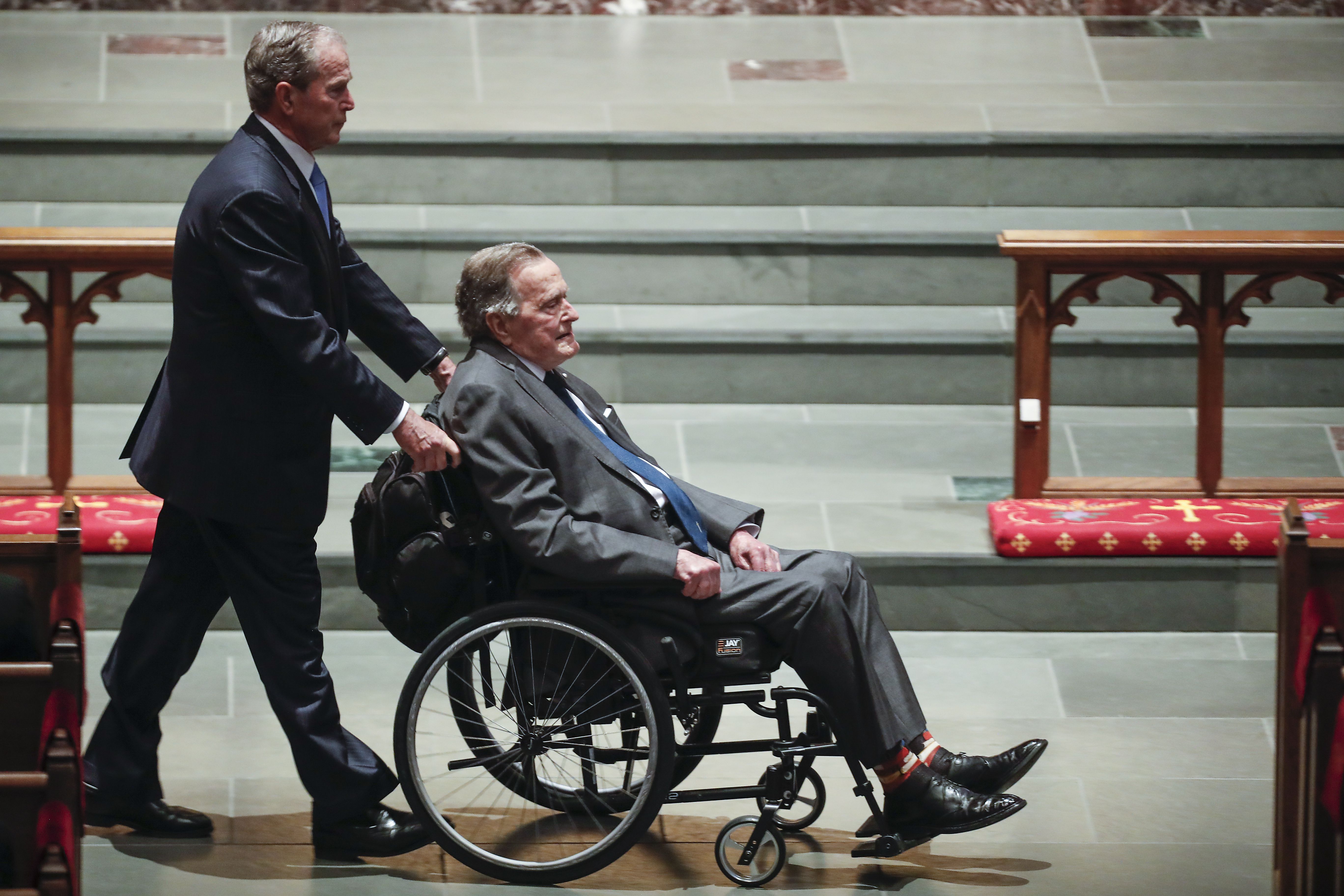 Two presidents on Saturday (Brett Coomer/Pool/Getty Images)
Statement from the office of George H.W. Bush:
"President Bush was admitted to the Houston Methodist Hospital [Sunday] morning after contracting an infection that spread to his blood. He is responding to treatments and appears to be recovering."
Spokesman Jim McGrath told AP that the 93-year-old is "eager to get well so he can get to his summer home in Kennebunkport, Maine."
CNN's Jamie Gangel, who is close to the Bush family, reported that President Bush 41 was in intensive care last night:
"Bush was admitted ... with an infection that led to sepsis, which can be life-threatening. He was in critical condition, [a] source said."
https://www.axios.com/newsletters/axios-am-2c765097-3075-42d0-a7f2-42536c73b805.html?chunk=6#story6
6. "So easy to perpetrate, so hard to prevent"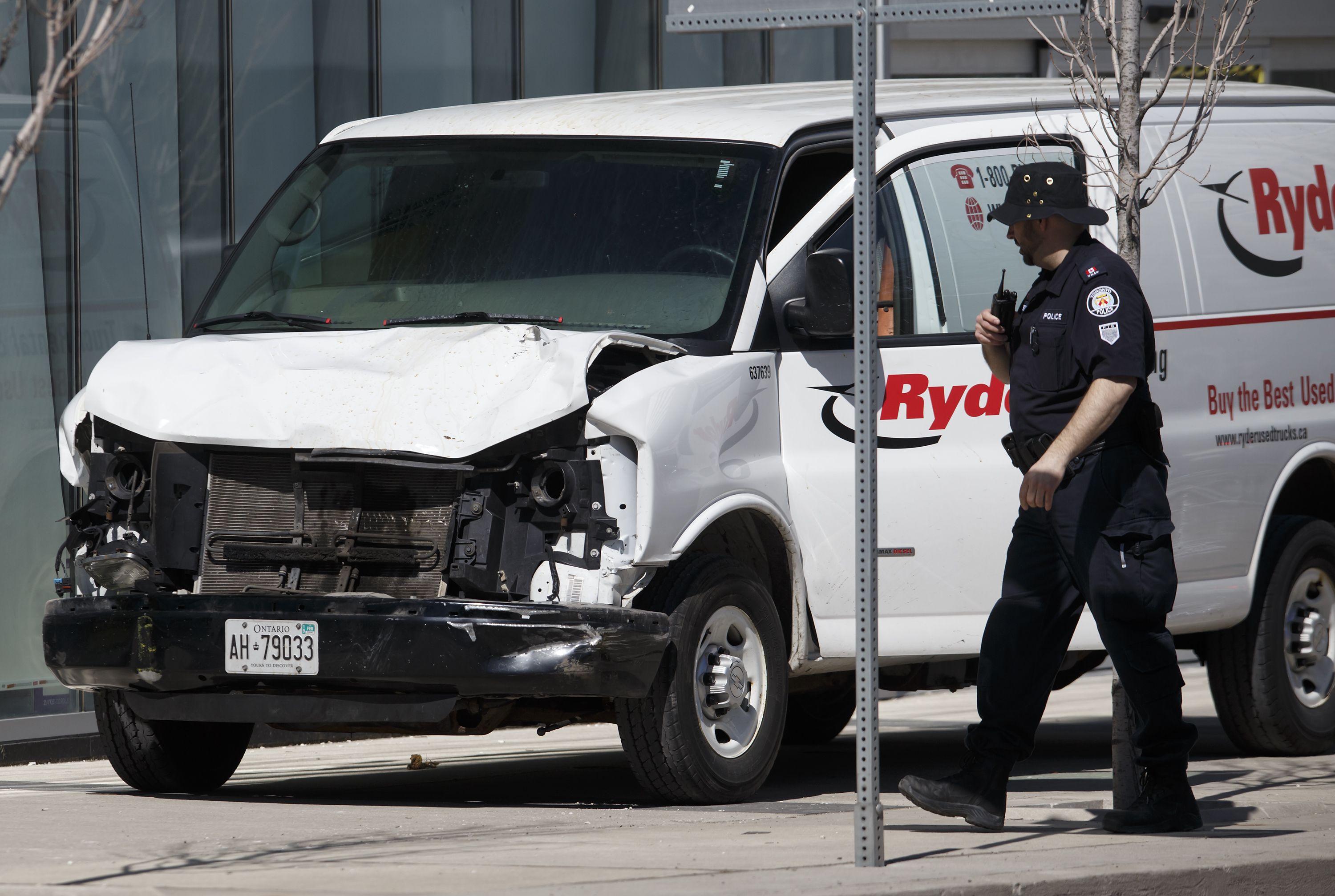 Cole Burston/Getty Images
"A curb-jumping Ryder van turned the first truly gorgeous spring day into a nightmare unlike anything Toronto has ever known, ... cutting a high-speed swath through pedestrians along Yonge St., ending at least 10 lives and wounding at least 15 others," the Toronto Star reports:
"Alek Minassian, 25, ... was in custody ... The suspect appeared to be pleading for his own death during a dramatic police takedown captured on video mere minutes after the attack."
"The suspect was heard to shout, 'Shoot me in the head.'"
"Public Safety Minister Ralph Goodale said Minassian's name did not trigger any red flags relating to terrorism."
Why it matters, from a (Toronto Globe) & Mail editorial: "The hope that this peaceful, diverse Canadian city might be exempt from the horror of vehicular attacks is gone."
"The terrible truth is that any crowded, busy city is a rich target for someone planning such a crime. All they need in order to be so unimaginably lethal is a grudge of any kind, and $30 to rent a van."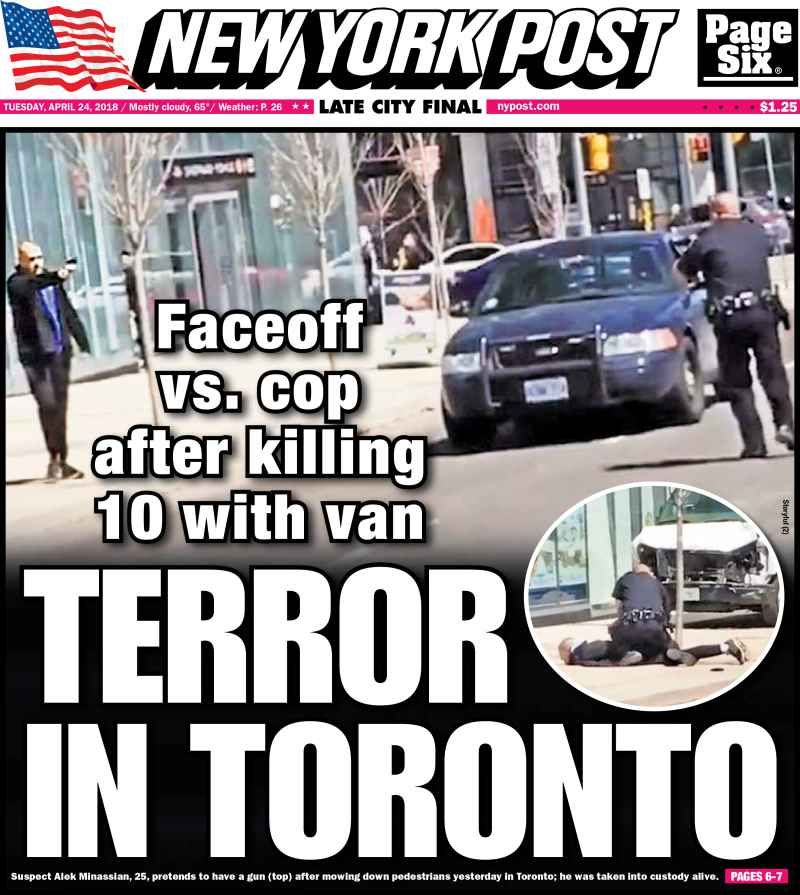 Courtesy N.Y. Post
https://www.axios.com/newsletters/axios-am-2c765097-3075-42d0-a7f2-42536c73b805.html?chunk=7#story7
7. Last-second drama gives Trump a win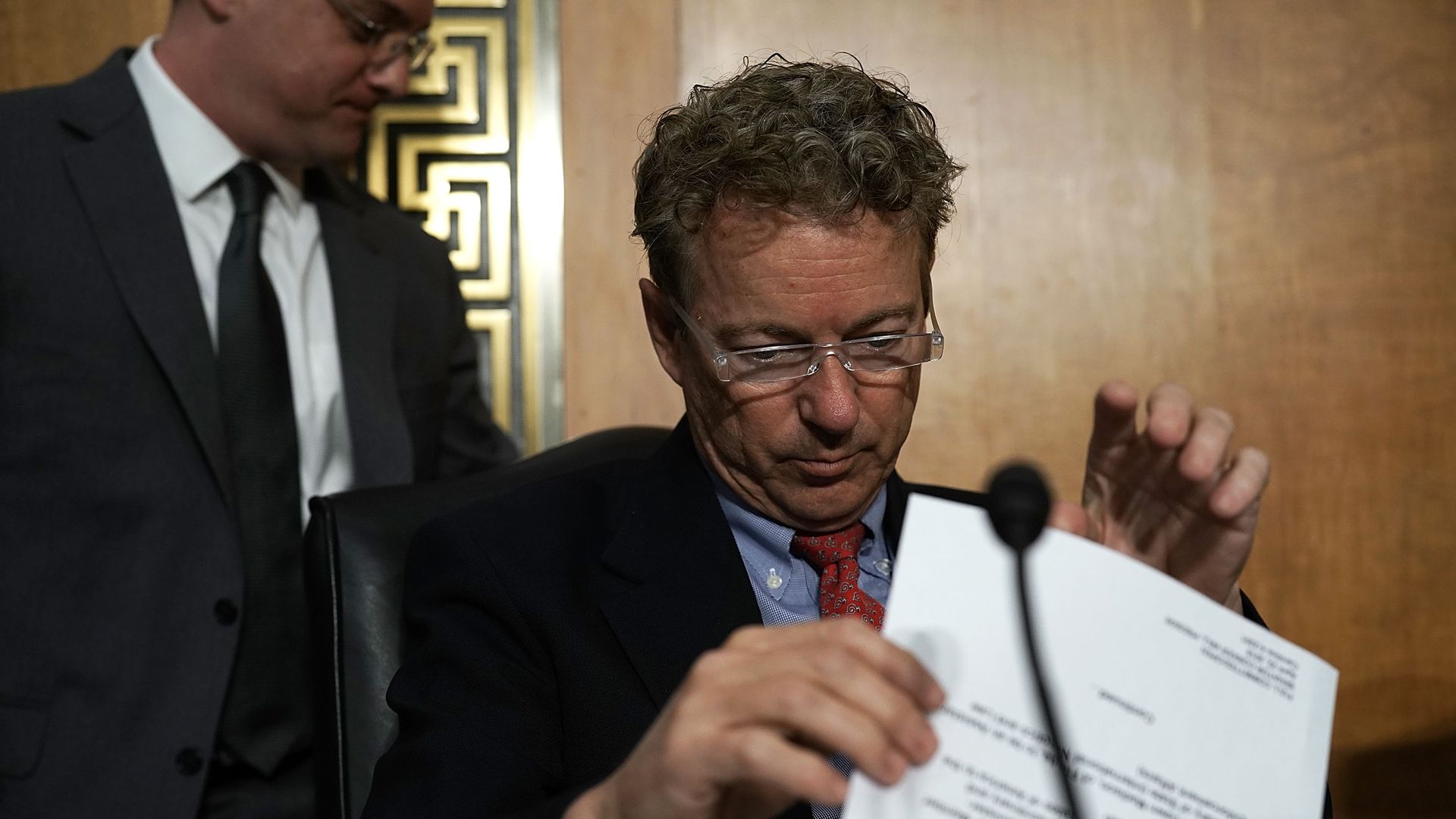 "Secretary of state nominee Mike Pompeo narrowly eked out an endorsement from the Senate Foreign Relations Committee ... after President Trump and a Democratic senator intervened at the last minute, all but guaranteeing that [the current CIA director] will be confirmed by the full Senate later this week," the WashPost writes:
"Pompeo had seemed unlikely to secure a majority of the panel's support. But Sen. Rand Paul (R-Ky.), who had pledged to oppose him, tweeted moments before the vote that Trump had talked with him and changed his mind."
"Democratic Sen. Christopher A. Coons (Del.) volunteered to change his vote to 'present' — making the vote 11 in favor, 9 opposed and 1 present."
P.S. "Senate lawmakers have postponed the confirmation hearing for Ronny L. Jackson, President Trump's nominee to lead the Department of Veterans Affairs, after top Republicans and Democrats raised concerns about his qualifications," per the WashPost.
Flashback ... Axios' Jonathan Swan on Sunday: "White House fears VA secretary will get denied."
https://www.axios.com/newsletters/axios-am-2c765097-3075-42d0-a7f2-42536c73b805.html?chunk=8#story8
8. Europe's new privacy rules favor giants
Beginning May 25, "Brussels wants its new General Data Protection Regulation, or GDPR, to stop tech giants and their partners from pressuring consumers to relinquish control of their data in exchange for services," The Wall Street Journal writes on A1:
"But some of the restrictions are having an unintended consequence: reinforcing the duopoly of Facebook Inc. and Alphabet Inc.'s Google."
"Google and Facebook ... are leveraging their vast scale and sophistication as they seek consent from the hundreds of millions of European users who visit their services each day."
"Some advertisers are planning to shift money away from smaller providers and toward Google and Facebook ... 'where there is clear, obvious consent. The huge platforms are really profiting.'"
Why it matters: "The EU would like to set an example for legislation around the world."
P.S. "NYSE challenges Nasdaq's reign as king of the tech IPO: Having secured Snap and Spotify, Big Board readies for battle over Uber and Airbnb," per the Financial Times (subscription):
"The expectation on Wall Street is that the trickle of deals in 2018 could gather pace in the coming years."
https://www.axios.com/newsletters/axios-am-2c765097-3075-42d0-a7f2-42536c73b805.html?chunk=9#story9
9. Why Sun-Times front page was blank
I was in Chicago yesterday and of course hunted down the print papers on a bottom shelf at the airport. The Sun-Times cover was blank. You had to turn to Page 2 to find out why — this "urgent appeal":
"Imagine a Chicago without the Sun-Times."
"[T]oday marks a new chapter. Like other regional newspapers nationwide, we're launching a digital-subscription model that is fundamental to our long-term survival ... $7.49 a month ... 25 cents a day."
https://www.axios.com/newsletters/axios-am-2c765097-3075-42d0-a7f2-42536c73b805.html?chunk=10#story10
10. 1 novel thing: Joe McCarthy's car smelled like Old Spice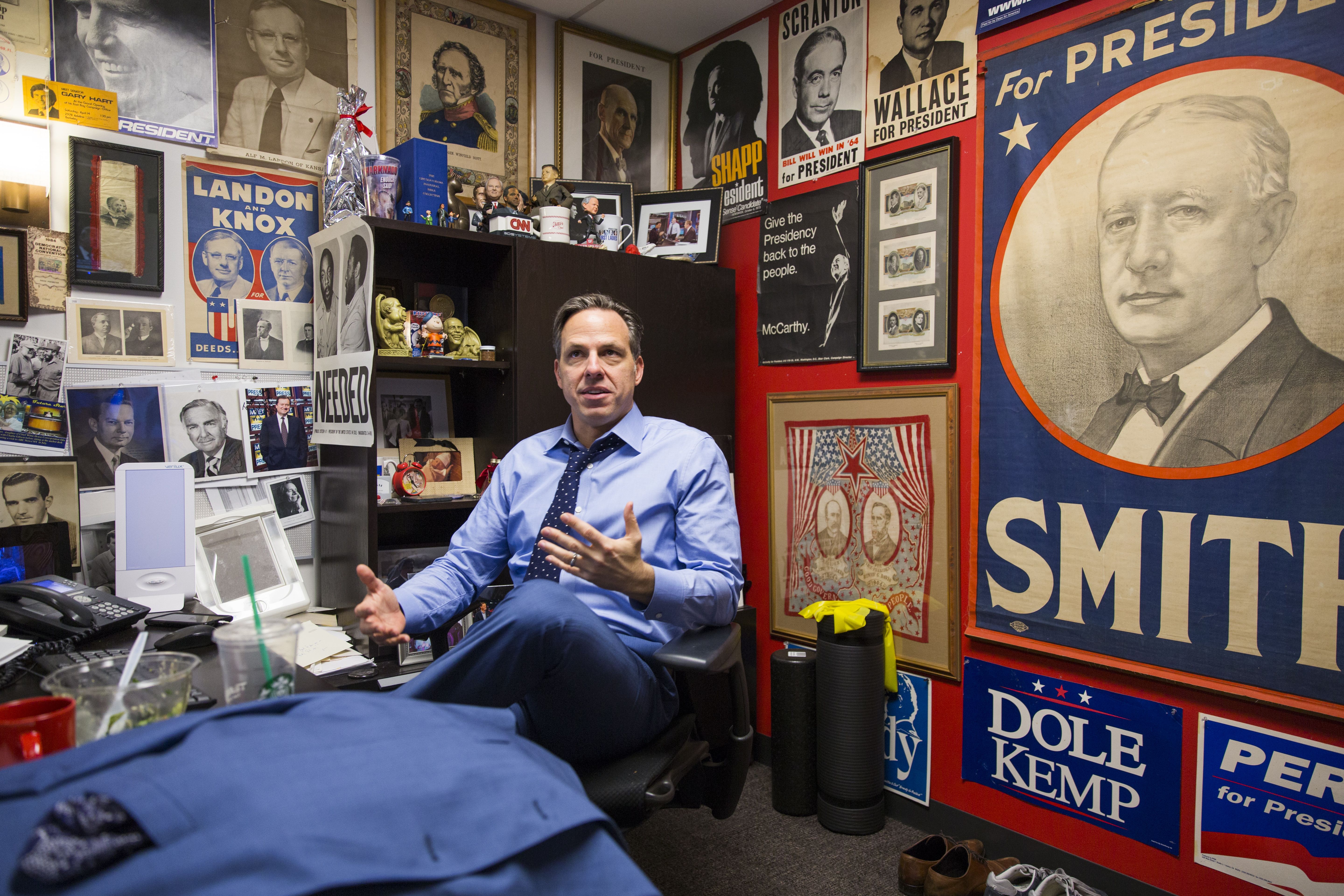 Jake Tapper in his CNN office in 2016 (Brooks Kraft/Getty Images)
Out today ... Jake Tapper's novel, "The Hellfire Club," is a thriller set in Washington in 1954, with a mix of Cold War intrigue and Georgetown glamor:
The hero is a young Republican congressman, Charlie Marder, who interacts with Senators Jack Kennedy, Joe McCarthy, Estes Kefauver and Margaret Chase Smith; Senate aides Bobby Kennedy and Roy Cohn; President Eisenhower and more.
Actual events from the first six months of 1954 — an Alfalfa Club dinner, the comic book hearings, the attack by Puerto Rican terrorists on the House of Representatives, the Army-McCarthy hearings — are interspersed.
Charlie and his wife, Margaret, drunkenly recite poetry with Jack, Jackie, Robert and Ethel Kennedy at Martin's Tavern in Georgetown.
A friend points out that those looking for resonance with today's Washington won't have to look far:
"It's all there: the swamp, the larger than life politician blotting out the sun with smears and falsehoods, conspiracy theories about the establishment manipulating events behind the scenes."
The press isn't let off the hook: In one scene, a wise congressman talks to Charlie, the main character, and say reporters are "focused on nonsense ... Same so-called journalists [McCarthy] is attacking as Commies today were only too happy to give McCarthy's character-assassination campaign front-page attention a few years ago with nary a scintilla of editorial discretion or judgment that was he was peddling was pure balderdash. As if there does not exist such a thing as empirical fact!"
My take: Back in high school in California, my Potomac fever was fed by Allen Drury's 1959 novel, "Advise and Consent," with a Senate confirmation drama as the centerpiece. Jake's feat will do the same for some of our successors.