https://www.axios.com/newsletters/axios-am-2b971c28-175d-4e9c-8602-43b05da54f62.html?chunk=0#story0
1 big thing: Trump wants to move on from Russian hack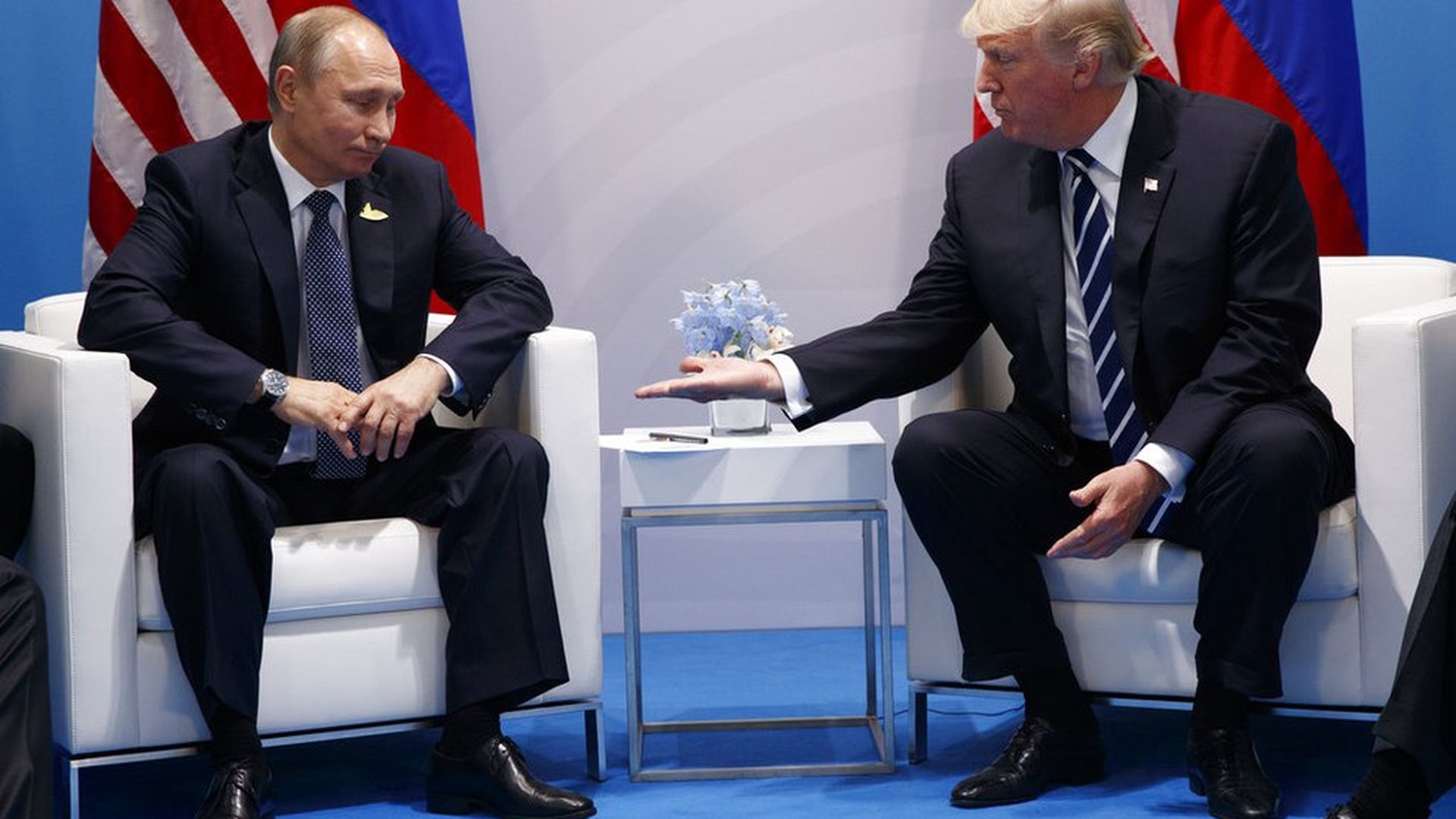 Bulletin ... Hamburg/AP: "Putin says Trump asked many questions about Russian meddling ... and they had long discussion on the topic."
When Trump met Putin, he didn't give the commentariat what it wanted: a threat or confrontation over Russian interference in the 2016 election. But by raising the issue (although the sides disagree on how forcefully), Trump at least temporarily defused an issue he has consistently failed to navigate.
The meeting, 30 minutes on the schedule, stretched to 2 hours, 16 minutes. Axios' Jonathan Swan's postgame:
"The deal": SecState Rex Tillerson says they spent a good deal of the meeting discussing a solution to the Syrian conflict, and we saw a gift-wrapped victory, with the post-meeting announcement of a ceasefire.
Trump got what he needed: Sources who've spoken to Trump privately say he's never fully bought into the intelligence community's assessment that Russia interfered to help him win. Still, Trump's advisers knew that if he didn't "confront" Putin over the election hacking, that would be the headline.
So Trump took a middle course: He raised the issue, but Tillerson made clear in his briefing after the meeting that Trump has no intention of continuing to litigate the issue.
Tillerson: "[W]hat the two presidents, I think rightly, focused on is, how do we move forward?"
Putin got what he wanted: He looked like a world leader and got the respect and recognition he craved.
N.Y. Times Quote of the Day ... Trump, at the outset of Putin meeting: "We look forward to a lot of very positive happenings for Russia, and for the United States, and for everybody concerned. And it's an honor to be with you."
https://www.axios.com/newsletters/axios-am-2b971c28-175d-4e9c-8602-43b05da54f62.html?chunk=1#story1
2. Trump on world stage: "international isolation"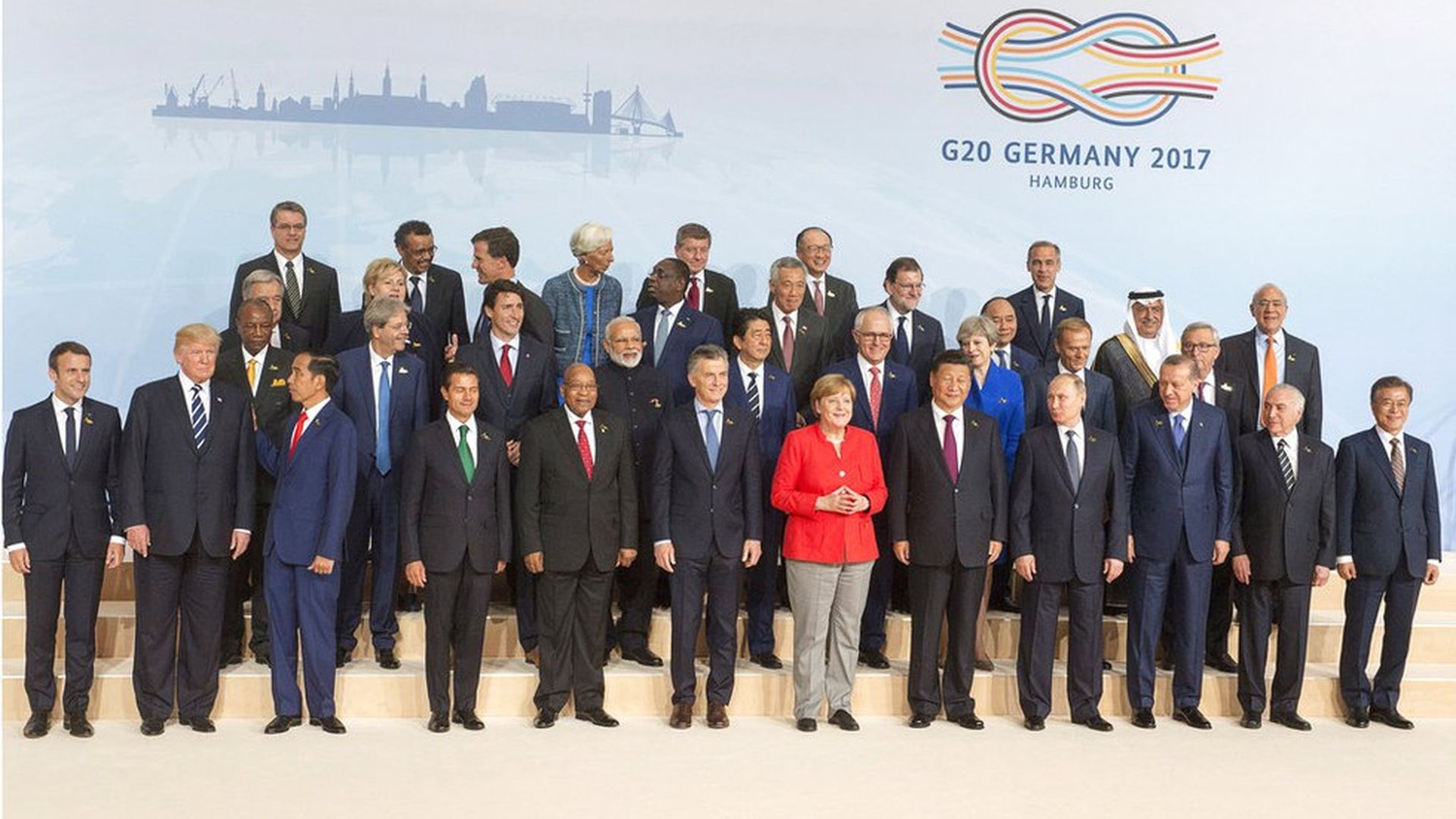 Trending term: "G19" statement reaffirming Paris climate agreement, sans U.S.
The big picture:
CNN chyron: "G20 SUMMIT SPOTLIGHTS WANING U.S. GLOBAL LEADERSHIP."
N.Y. Times front page, "Once Dominant, U.S. Is Now Isolated at G-20," by Steven Erlanger and Julie Davis: "Trump seemed to relish his isolation. ... What recent events have underscored ... is that no nation is today large or powerful enough to impose rules ... Trump has alienated allies and made the United States seem like its own private island."
WashPost front page, "European leaders band together to oppose Trump on trade, climate," by Michael Birnbaum and Damian Paletta: "The growing international isolation of the United States under President Trump was starkly apparent Friday as the leaders of major world economies mounted a nearly united opposition front against Washington on issues ranging from climate to free trade."
"[T]here were tough clashes with the United States and even talk of a possible transatlantic trade war."
The pushback ... John Podesta, Hillary Clinton's campaign chairman, in WashPost, "Why is Trump tweeting about me when he should be doing his job?": "Trump is supposed to be doing his job representing the United States in a respectable fashion to make sure we maintain and enhance our standing around the world. Instead, he has his face glued to his phone. It's really sad that the U.S. president can't get his head in the game even at the G-20 summit of world leaders."
https://www.axios.com/newsletters/axios-am-2b971c28-175d-4e9c-8602-43b05da54f62.html?chunk=2#story2
3. Breaking: Trump brushback to tech
The Trump administration plans to delay and ultimately rescind an Obama administration rule allowing foreign entrepreneurs to come to the U.S. to start companies, Axios Tech Editor Kim Hart reports.
The deets: The rule, called the International Entrepreneur Rule, is scheduled to go into effect July 17. U.S. Citizen and Immigration Services will take a procedural step to postpone that implementation date as soon as Monday. More on the rule here.
Why it matters: Since the rule hasn't yet taken effect, scrapping it won't change anyone's visa status. Still, it's a setback for tech and venture capitalist firms that supported the rule — and it's another sign of Trump's resolve to restrict visas, even for high-skilled workers.
https://www.axios.com/newsletters/axios-am-2b971c28-175d-4e9c-8602-43b05da54f62.html?chunk=3#story3
4. Ivanka goes global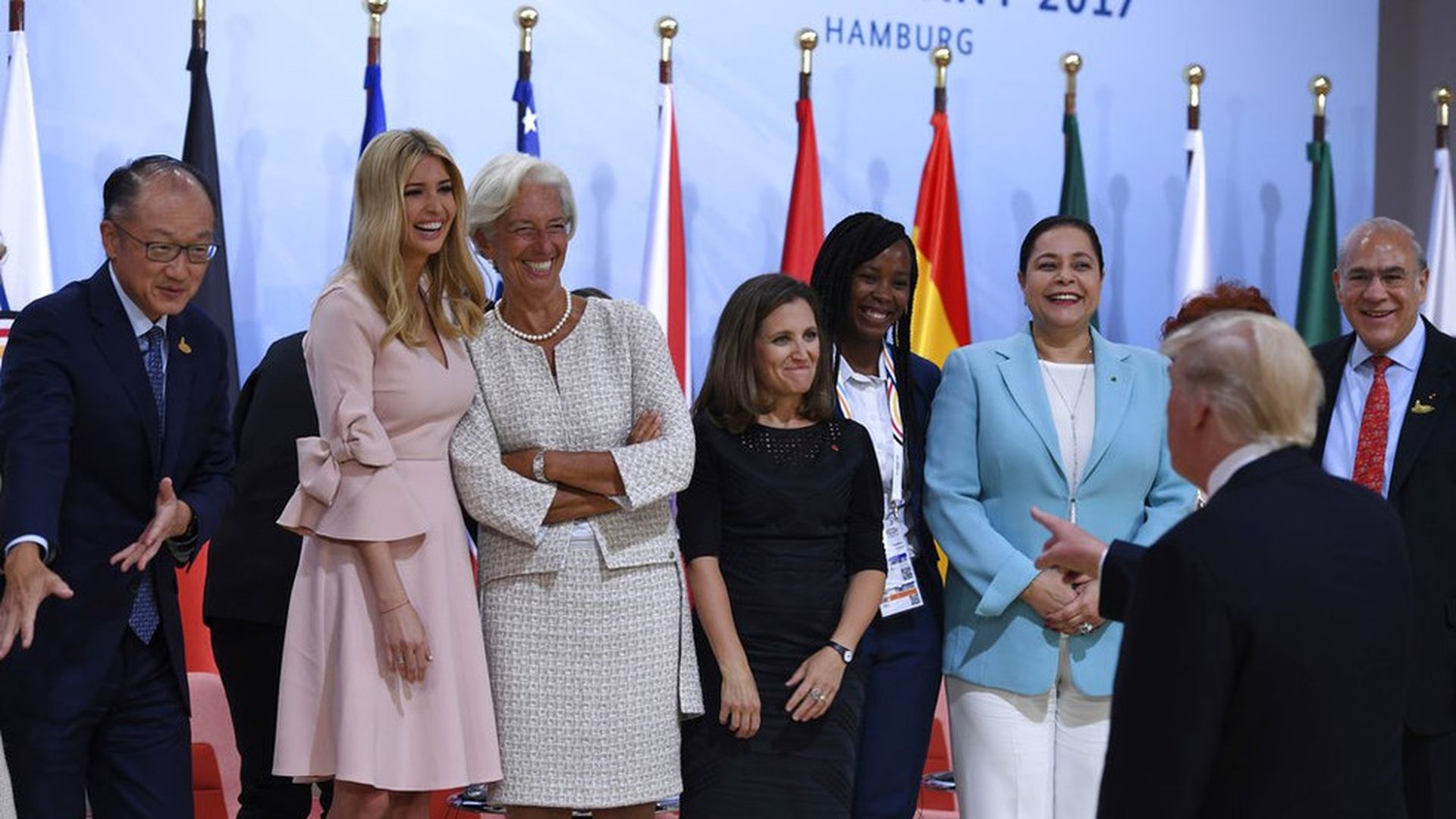 At the summit, the World Bank Group today announced creation of "an innovative new [fund] that aims to enable more than $1 billion to advance women's entrepreneurship and help women in developing countries gain increased access to the finance, markets, and networks necessary to start and grow a business."
AP: Trump says the U.S. will contribute $50 million to the fund, conceived by his daughter.
From the bank's release: "The United States initiated the idea ... and will serve as a founding member along with other donor countries."
German Chancellor Angela Merkel: "I want to sincerely thank everyone who worked on it especially the President of the World Bank Jim Yong Kim and Ivanka Trump."
"Notes to Editors ... While she helped initiate the idea for the facility and has been a strong advocate for the issue of women's entrepreneurship, Advisor to the President Ivanka Trump will play no operational or fundraising role."
https://www.axios.com/newsletters/axios-am-2b971c28-175d-4e9c-8602-43b05da54f62.html?chunk=4#story4
5. Malcolm Gladwell: "extended period of backlash "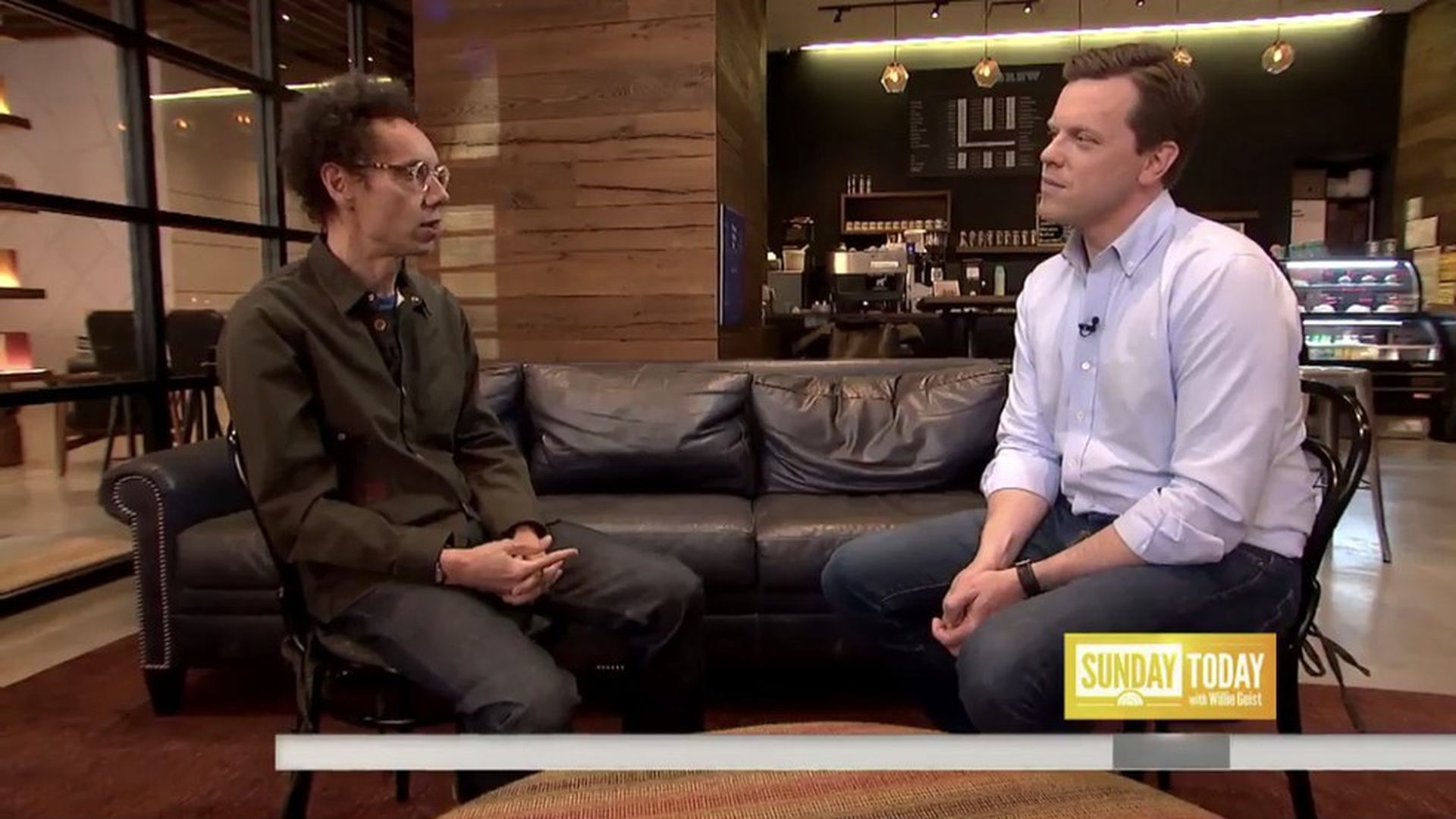 Malcolm Gladwell ("The Tipping Point") to NBC's Willie Geist on tomorrow's "Sunday Today," on change in America:
"We take one step forward and then we take two steps back. That doesn't happen in the same way in [Gladwell's native] Canada or in other parts where I'm most familiar with. It's a very American kind of thing. And I wonder whether we aren't at the beginning of an extended period of backlash in this country, which is a very typical American period ...
"[I]n the face of overwhelming amounts of change in a very small time, what people basically do is they say, 'Stop. Enough. Let's process through this.' So there's this angry, vicious backlash. But when change happens in a hurry, ... people ... have to find some way to make sense of it. ... I feel like maybe we are on the cusp of something similar." See the video.
https://www.axios.com/newsletters/axios-am-2b971c28-175d-4e9c-8602-43b05da54f62.html?chunk=5#story5
6. Business backstory: Jay Carney's hidden hand
A regulatory filing yesterday shows that Amazon SVP Jay Carney, former White House press secretary and TIME Washington bureau chief, helped play matchmaker in one of the most fascinating and consequential business deals of the year: Amazon's purchase of Whole Foods.
"Papers reveal awkward advances ... Rival suitors forced Amazon to raise Whole Foods bid," by Financial Times' Anna Nicolaou and Jessica Dye (subscription):
"[T]he first flirtation ... started unusually. Rather than Amazon pursuing the grocery chain with the normal phalanx of investment bankers, the wooing went in the other direction, with Whole Foods executives deciding to put in a call to the ecommerce giant after it spied a media report suggesting Amazon had once considered buying their company."
Whole Foods CEO John Mackey "asked a consultant to call Jay Carney, Amazon's senior vice-president of corporate affairs, to arrange a meeting."
"That kicked off nearly two months of negotiations that saw Amazon insist on total secrecy and resist an open auction process, even as Whole Foods received overtures from two other companies and four private equity firms."
https://www.axios.com/newsletters/axios-am-2b971c28-175d-4e9c-8602-43b05da54f62.html?chunk=6#story6
7. Saturday lean-back: "I could use my voice"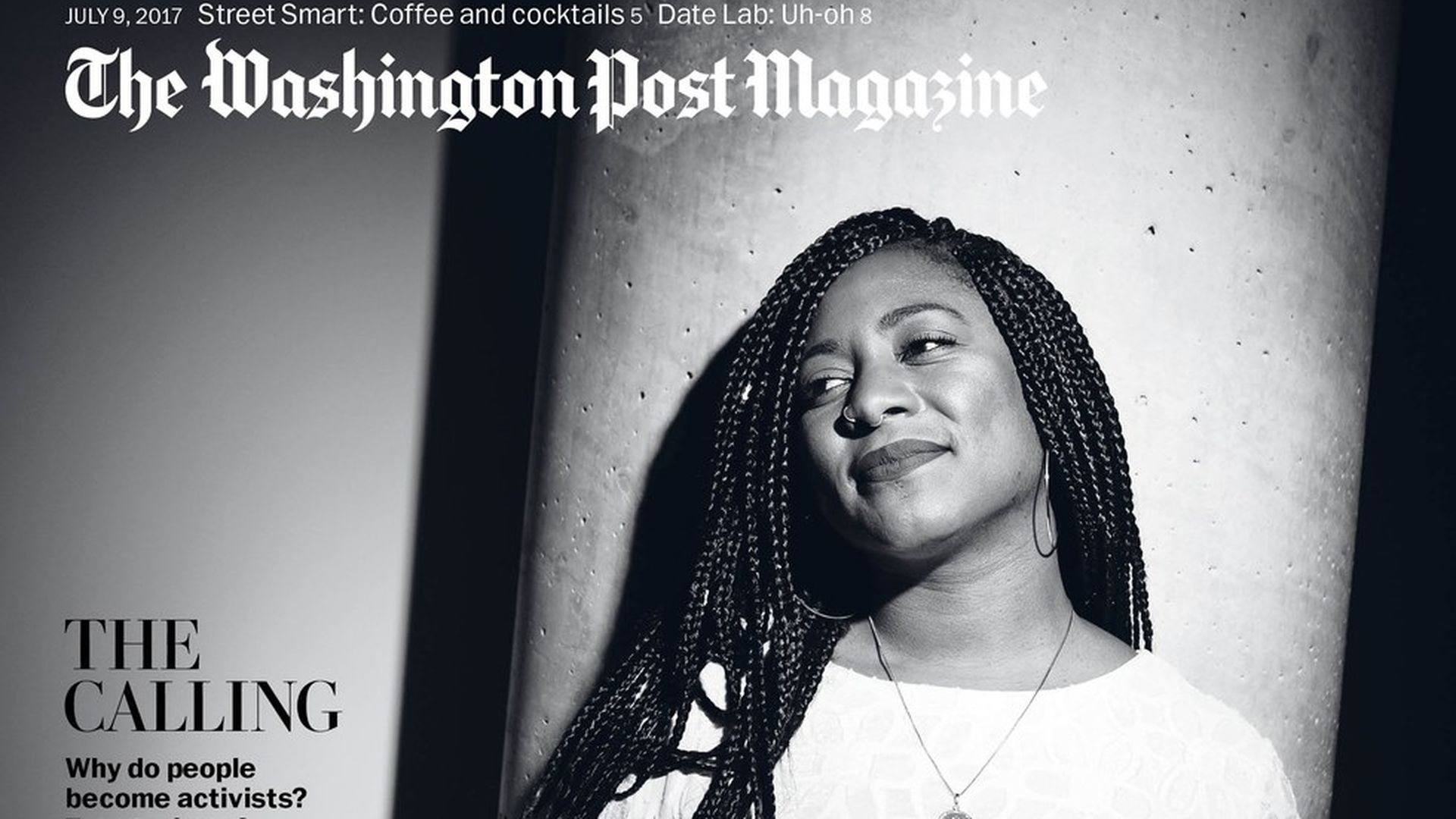 "The calling" ... In tomorrow's Washington Post Magazine, 10 activists from across the political spectrum tell KK Ottesen what has sustained them on their journeys:
Alicia Garza (cover photo), 36, co-founded Black Lives Matter with Patrisse Cullors and Opal Tometi in 2013: "The best advice I ever got as an organizer was that if you can organize your family, you're a good organizer. Because it's not just rhetoric then."
John Lewis (D-Ga.), 77, was a student leader in the civil rights movement: "I grew up in rural Alabama. And when we would visit this little place called Troy about 10 miles from our home, I saw the signs that said 'white' and 'colored.' I didn't like it. I would ask my mother and my father and my grandparents and my great-grandparents why. They would say, 'That's the way it is. Don't get in the way. Don't get in trouble.'"
Jenny Beth Martin, 47, became active in the tea party movement at its inception, first locally in Georgia and then as a co-founder and now president of the national Tea Party Patriots.
Grover Norquist, 60, president of Americans for Tax Reform, is best known for his Taxpayer Protection Pledge.
Ralph Nader, 83: "People would say to my mother, 'Mrs. Nader, you're raising four children. How do you find time to be active in the community?' And she said, 'There's really not that sharp a line, is there? If the community isn't good, what kind of environment is it to raise a family?'"
Mike's facts of life: The thread in the comments of these world-changing people is that the germ of their work was in conversations they had as children. So if you have the privilege to have a young person in your life, ya never know what you might spark by how you live and what you say.
https://www.axios.com/newsletters/axios-am-2b971c28-175d-4e9c-8602-43b05da54f62.html?chunk=7#story7
8. Disruption in the markets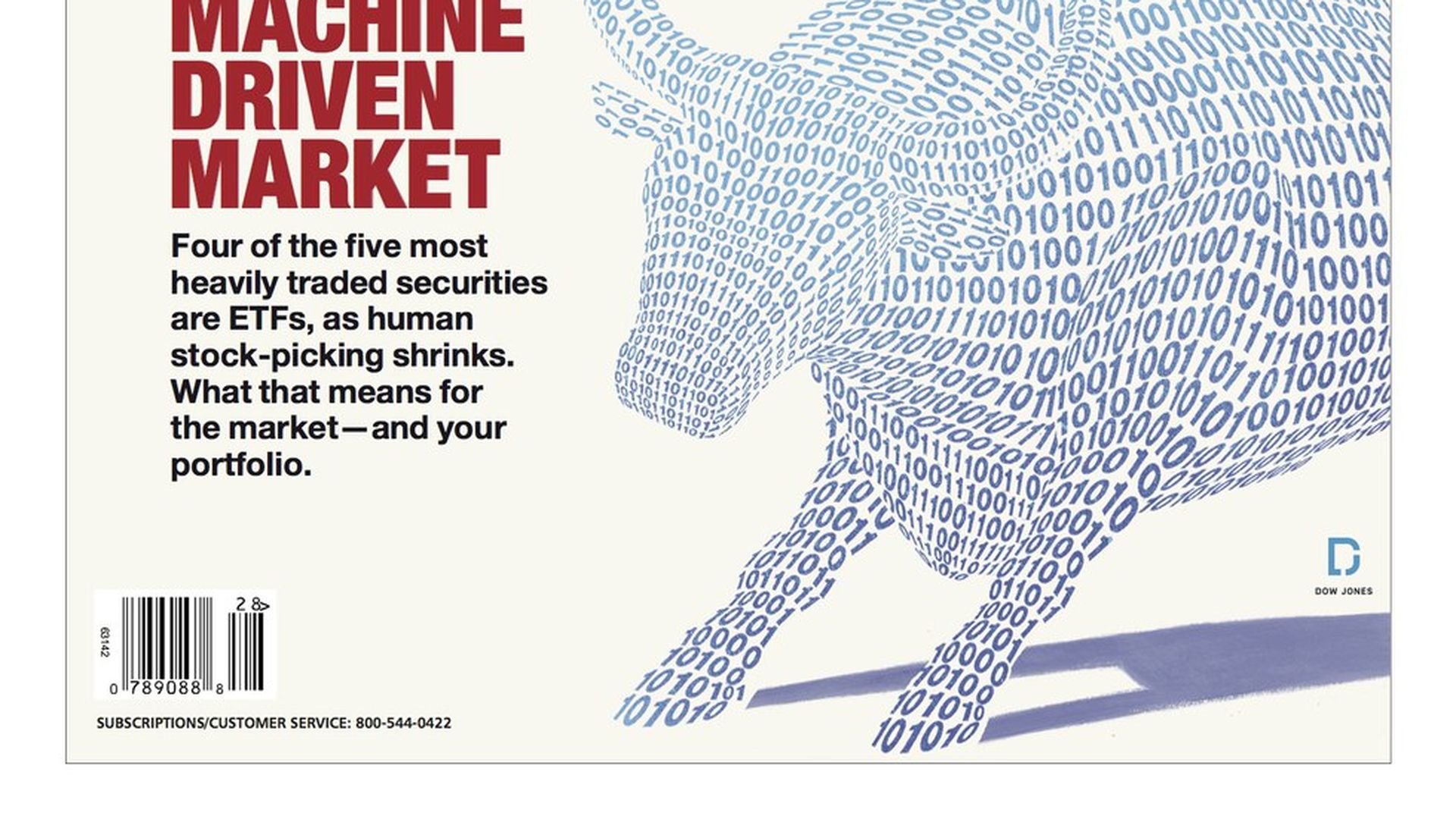 "Man vs. Machine" ... Broad-market indexes gain on active stock-picking, Barron's columnist Kopin Tan writes (free link for Axios readers):
Why it matters: "Active funds still manage more assets, but passive funds' hauls has grown much faster."
"There are nearly 6,000 indexes today, up from fewer than 1,000 a decade ago [according to Bloomberg Intelligence]. Meanwhile, the number of stocks in the Wilshire 5000 Total Market Index has shriveled to 3,599, from 7,562 in 1998."
"Some ETFs [exchange-traded funds] have presented investors with a hybrid approach, known as 'smart beta,' though it's really just old-school quant investing: These ETFs take active strategies, choosing stocks based on certain metrics or fundamentals, and create a formula that forms the basis of an index."
P.S. "Oil Prices Could Rise by 35% Later This Year: A prescient analyst at Citigroup thinks oil, recently at $44 a barrel, could head to $60," by Barron's columnist Gene Epstein: "The price of crude oil could touch $60 a barrel before the end of this year, as demand exceeds supply." Free link for Axios readers.
https://www.axios.com/newsletters/axios-am-2b971c28-175d-4e9c-8602-43b05da54f62.html?chunk=8#story8
9. The force behind this winter's hot D.C. film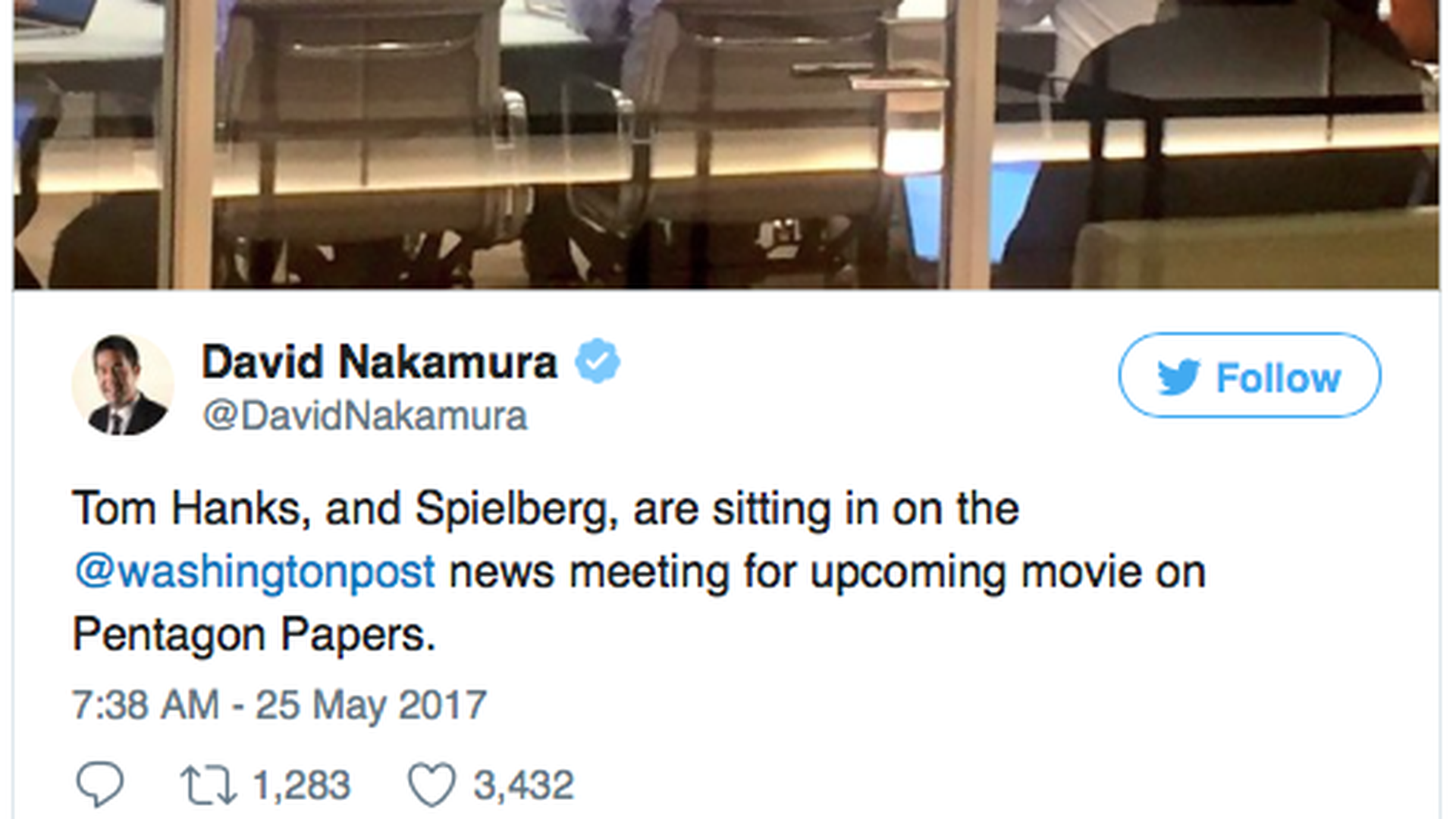 Cover of tomorrow's N.Y. Times Business section, "Amy Pascal's Hollywood Ending, Complete With Comeback Twist: After a humiliating 2014 cyberattack that helped lead to her ouster at Sony Pictures, the producer decided her life in the movie business was far from over," by Brooks Barnes in L.A.:
"Getting fired is bruising no matter how big the gig, but it packs an extra punch in Hollywood, a realm where power is assessed second by second."
"Pascal, a 59-year-old woman in an industry rife with sexism and ageism, seems to have emerged stronger and happier, having reinvented herself as a producer through her company, Pascal Pictures."
"She will deliver three films to three different studios this year, with more than a dozen more movies on the assembly line."
"Pascal is ... producing Steven Spielberg's next film, a Nixon-era newspaper drama [about the Pentagon Papers] called 'The Papers' [originally titled 'The Post'], which is already white-hot as an Oscar contender, in part because of President Trump's war with the news media. Starring Meryl Streep [as Kay Graham] and Tom Hanks [as Ben Bradlee], it will be released by 20th Century Fox on Dec. 22."
P.S. "In Hollywood, Asian American actors see few lead roles, and pay discrepancies when they land one," by L.A. Times' Meg James and David Ng: "Says one actor: 'If you want to be a store owner, the nail salon lady or the IT-tech guy, those are the parts, but rarely do we get a chance to be the main character.'"
https://www.axios.com/newsletters/axios-am-2b971c28-175d-4e9c-8602-43b05da54f62.html?chunk=9#story9
10. Chelsea Hander's "My 6 Big Things"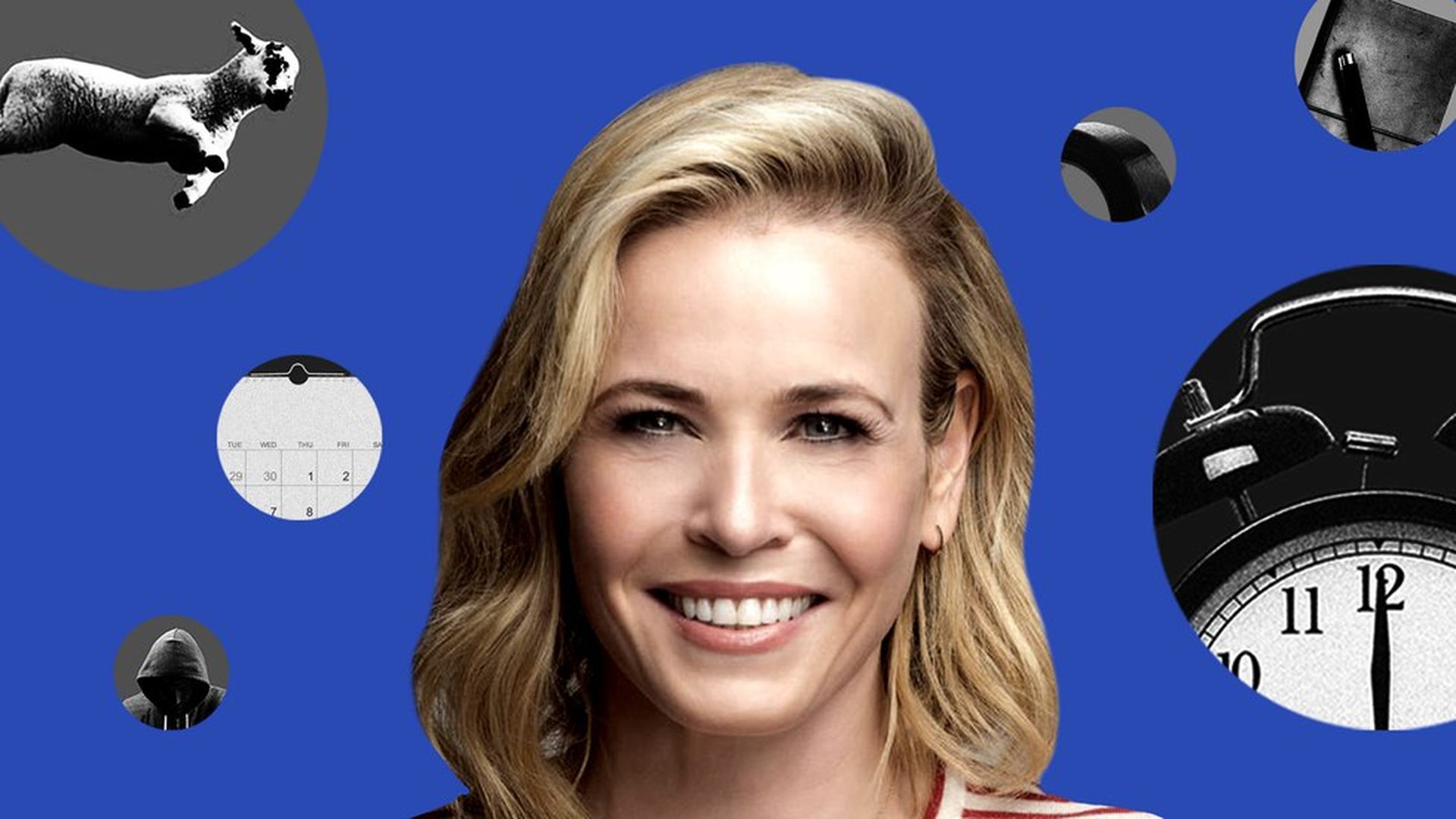 Once a month, as a Saturday treat, Axios AM checks in with the world's most interesting and consequential people on their passions, quirks and life hacks.
Today, with the help of my colleagues Evan Ryan and Molly Mitchell, our breakfast conversation is with comedian and activist Chelsea Handler, whose "Chelsea" talk show drops on Netflix on Fridays @ noon PT.
With no prodding or editing needed, Handler answered in Axios-style smart brevity:
What's the one thing you won't skip — or shorten — in the morning? My morning treadmill workout with CNN.
What's your favorite life hack? My assistants.
What are you looking forward to the most coming up on your calendar? My hiatus to France and Portugal. I have to work on my international affairs.
What's the one thing you are insecure about? My attention span.
What's one item on your bucket list? Being helpful in aiding the president's impeachment.
What's the one thing keeping you up at night? Take a wild guess.
See "My 6 Big Things" from Instagram co-founder Kevin Systrom.