Good Thursday morning, and happy Groundhog Day. Please "like" Axios on Facebook and follow @Axios on Twitter to see the cream of our daylong STREAM of scoops and insights on business, tech, media trends and politics. And please get your friends and colleagues to join our breakfast conversation, with this one-click sign-up for Axios AM.
https://www.axios.com/newsletters/axios-am-295f6f57-778e-4d41-8f85-fbfe55ec33d0.html?chunk=0#story0
​1 big thing: Trump's titans
President Trump's order restricting migrant travel has been added as the urgent, sizzling opening topic tomorrow when he holds the inaugural meeting of a council he established to get regular advice from some of the top names in corporate America, many of whom weren't supporters. What was planned as an old-fashioned, closed-door bull session – and, let's face it, a bit of an awkward first date -- will now be a high-stakes confrontation that'll test Trump's skills as an explainer, listener and diplomat.
"The White House recognizes there will be some tense moments," said an executive involved in the planning.
The roughly 15 attendees at the President's Strategic and Policy Forum are expected to include Uber CEO Travis Kalanick, who signed a letter calling for Trump to rescind the controversial executive order. We're told to look for Kalanick to be direct and candid in his comments to Trump. The forum is chaired by Stephen A. Schwarzman, chairman and CEO of Blackstone, the private-equity giant, who recruited the blue-chip roster.
Other CEOs who have RSVP'd "yes" include Elon Musk of SpaceX and Tesla, Mary Barra of GM, Indra Nooyi of PepsiCo, Ginni Rometty of IBM, Toby Cosgrove of the Cleveland Clinic, Jamie Dimon of JPMorgan Chase, Larry Fink of BlackRock and Doug McMillon of Walmart. Other expected participants include former Boeing CEO Jim McNerney, former Fed governor Kevin Warsh and energy expert Daniel Yergin.
More sedate topics on the agenda include regulatory relief; taxes and trade; women and the workforce; infrastructure; and education and "new-collar jobs," a passion of IBM's Rometty.
Some of the CEOs were initially reluctant to join Trump's panel, but soon recognized it as a chance to make up with an administration that clearly was going to be quite activist. These execs liked the idea of direct access, and saw the forum as a chance to persuade the president to moderate some of his views on China, Mexico and trade. Now, they're being coached on how to avoid being drawn into a confrontation with POTUS.
https://www.axios.com/newsletters/axios-am-295f6f57-778e-4d41-8f85-fbfe55ec33d0.html?chunk=1#story1
2. Trump 101: The optics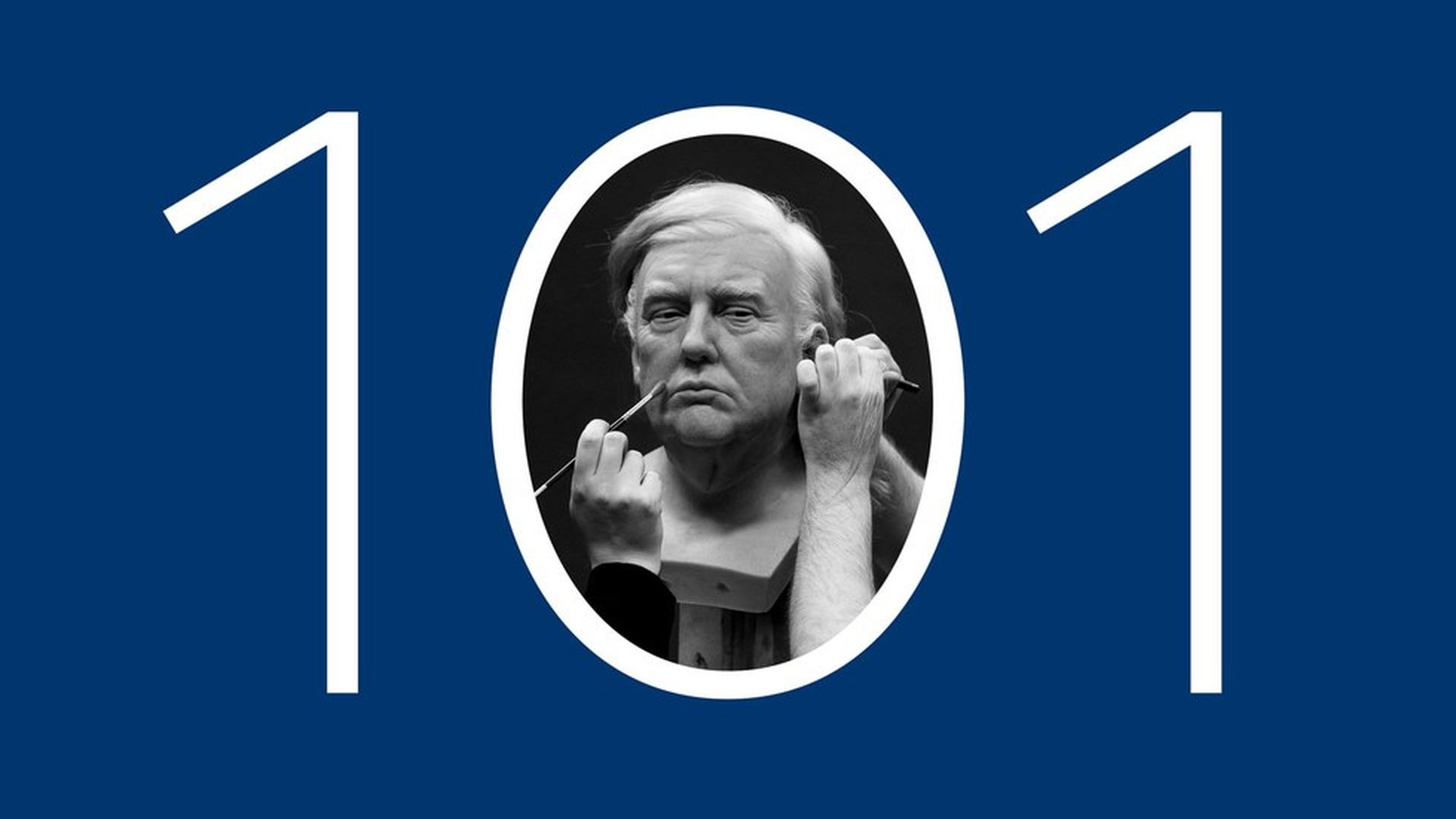 In "Trump 101: The producer of his own epic film," Jonathan Swan and I report after talking to many friends and colleagues that the president "sees himself as The Producer, conducting The Trump show, on and off stage": "Trump's gut on what sells on stage often works. His obsession with optics, style and TV glam are central to his being." Here are some gems we picked up:
Trump judges men's appearances as much as women's. A source who's worked with Trump explains: "If you're going to be a public person for him, whether it's a lawyer or representing him in meetings, then you need to have a certain look. That look —at least for any male — you have to be sharply dressed. Preferably, I would say, solid colors. … You should have a good physical demeanor, good stature, hair well groomed."
Trump pays close attention to ties. Says a source who has worked with Trump: "You're always supposed to wear a tie. If it's not a Trump tie, you can get away with Brooks Brothers. But I'd suggest Armani." Trump prefers wider, traditional ties, this source says. Regarding Trump's rakish policy adviser Stephen Miller, the source adds: "I've always been surprised about how Stephen Miller survives with those thin ties."
Trump likes the women who work for him "to dress like women," says a source who worked on Trump's campaign. "Even if you're in jeans, you need to look neat and orderly."
Read the whole thing for more on Trump's obsession with imagery. And see the cool video by Rob Groulx and Bubba Atkinson.
"Trump Takes a Hair-Growth Drug, His Longtime Doctor Says," the N.Y. Times' Larry Altman M.D. reports in a "Doctor's World" dispatch on p. A19: "Trump takes medication for three ailments, including a prostate-related drug to promote hair growth, ... Dr. Harold N. Bornstein, said ... The other drugs are antibiotics to control rosacea, a common skin problem, and a statin for elevated blood cholesterol and lipids."
https://www.axios.com/newsletters/axios-am-295f6f57-778e-4d41-8f85-fbfe55ec33d0.html?chunk=2#story2
3. Astonishing leak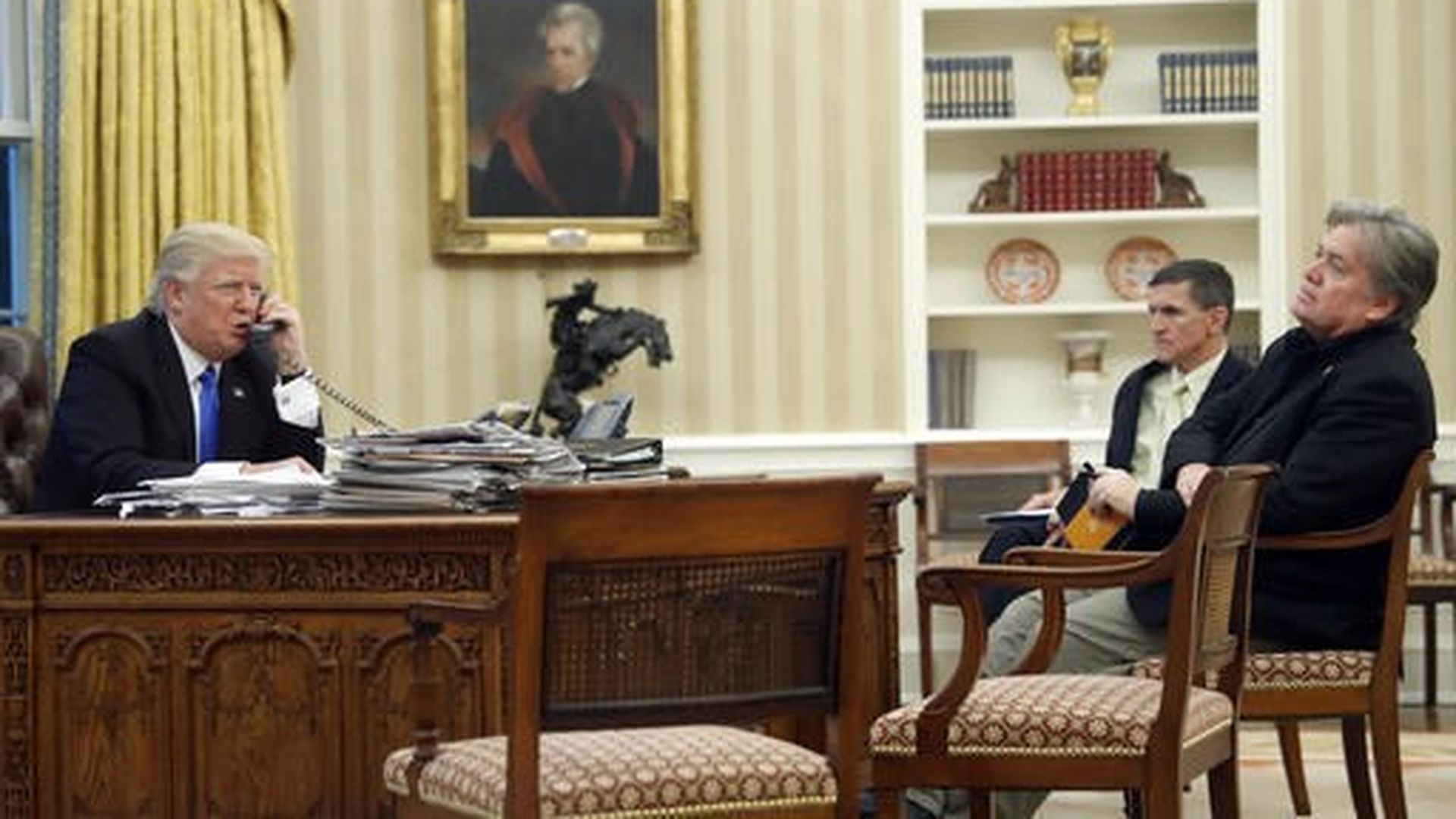 The WashPost's Greg Miller and Phil Rucker get an amazing readout of an Oval Office call on Saturday (top of column 1, "Trump badgers leader of Australia"):
"Trump blasted Australian Prime Minister Malcolm Turnbull over a refu­gee agreement and boasted about the magnitude of his electoral college win, according to senior U.S. officials ... Then, 25 minutes into what was expected to be an hour-long call, Trump abruptly ended it."
There's more: "At one point, Trump informed Turnbull that he had spoken with four other world leaders that day — including Russian President Vladi­mir Putin — and that 'this was the worst call by far.'"
In the Oval for the call, per an AP picture: national security adviser Michael Flynn and senior adviser Steve Bannon.
Why it matters: "Trump's behavior suggests that he is capable of subjecting world leaders, including close allies, to a version of the vitriol he frequently employs against political adversaries and news organizations in speeches and on Twitter."
CNN's Jake Tapper and colleagues report the Australia conversation was "a day after a call with Mexico's President, where a transcript showed Trump complaining about Mexico's 'handling' of 'tough hombres.'"
National security adviser Mike Flynn, in a visit to the White House briefing room yesterday, warns of reprisals after Iran missile test: "As of today, we are officially putting Iran on notice."
Reading between the lines: WSJ calls that "a more confrontational approach to Tehran" that marks "a pivot away from the Obama administration's policy of diplomatic engagement."
https://www.axios.com/newsletters/axios-am-295f6f57-778e-4d41-8f85-fbfe55ec33d0.html?chunk=3#story3
4. Trump pick in danger
Betsy DeVos, the nominee for Education secretary, is on thin ice after her performance at her confirmation hearing was panned. Republican senators Susan Collins of Maine and Lisa Murkowski of Alaska announced opposition yesterday, opening the possibility DeVos will be the first Trump nominee to go down.
The outlook: "If all other GOP senators support DeVos, and all Democrats oppose her, she would end up with a 50-50 vote in the Senate and Vice President Mike Pence would have to break the tie to confirm her. A vote is expected in the coming days."
Axios' Justin Green says no Dem has signaled support.
https://www.axios.com/newsletters/axios-am-295f6f57-778e-4d41-8f85-fbfe55ec33d0.html?chunk=4#story4
5. New clash in streets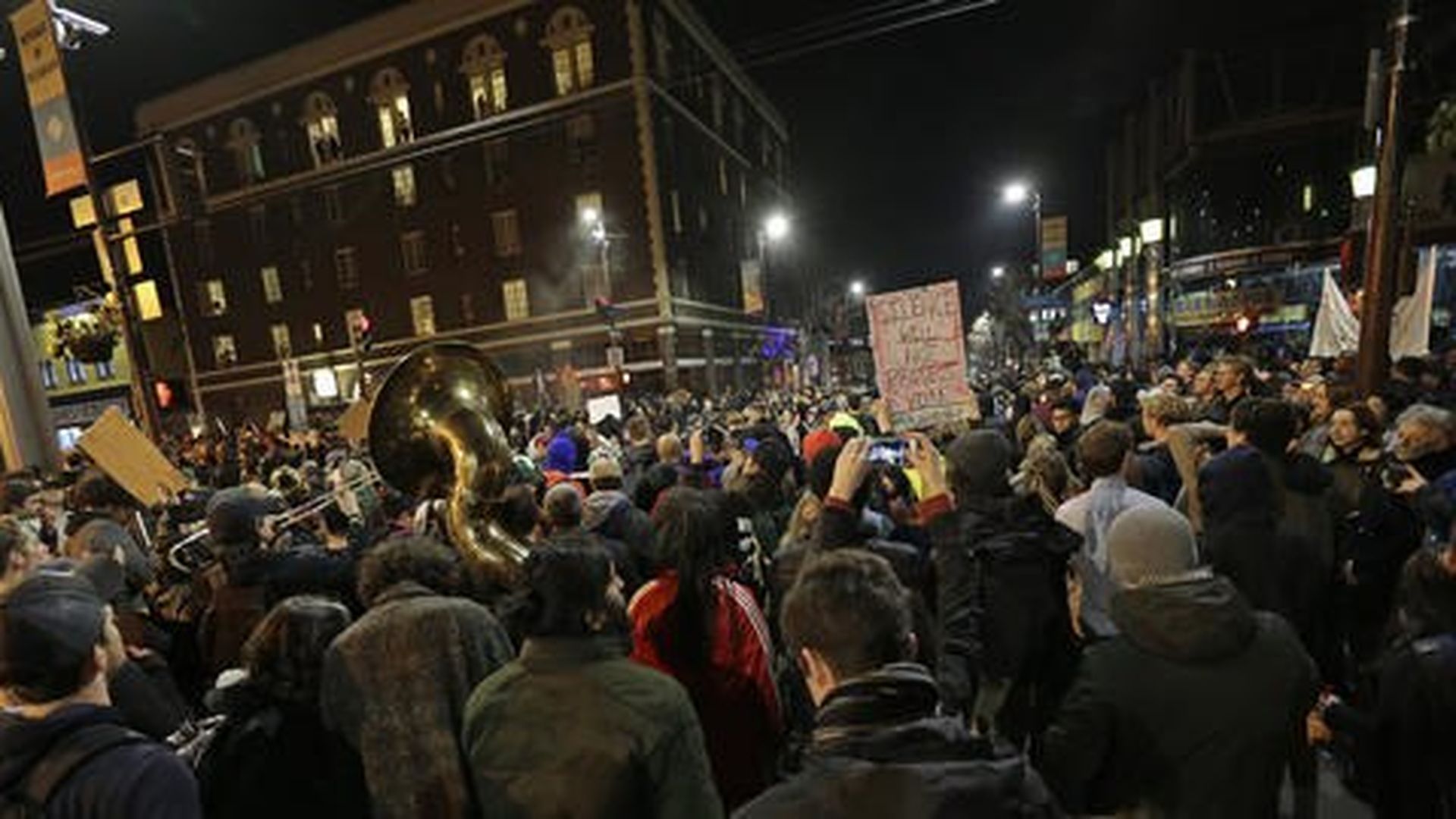 "UC Berkeley cancels right-wing provocateur's talk amid violent protest," via S.F. Chronicle: "A protest at UC Berkeley over a scheduled appearance by right-wing provocateur Milo Yiannopoulos turned fiery and violent Wednesday night, prompting police to cancel the event ... [E]ven after the event's cancellation, hundreds of protesters spilled off campus into the city streets."
Trump tweets this morning: "If U.C. Berkeley does not allow free speech and practices violence on innocent people with a different point of view - NO FEDERAL FUNDS?"
A Trump official comments: "Home of the Free Speech Movement."
https://www.axios.com/newsletters/axios-am-295f6f57-778e-4d41-8f85-fbfe55ec33d0.html?chunk=5#story5
6. Tops in tech
Facebook COO Sheryl Sandberg, a possible Cabinet member if Hillary Clinton had won, is keeping her visibility up and her options open. Axios' Kim Hart writes that Sandberg yesterday announced a $1 million donation to Planned Parenthood. In a Facebook post last week, she spoke out against Trump's new policy banning federal funding to international health organizations providing abortions or abortion counseling.
https://www.axios.com/newsletters/axios-am-295f6f57-778e-4d41-8f85-fbfe55ec33d0.html?chunk=6#story6
7. Tops in media trends
"How The New Yorker brought the soul of the magazine to the web," by Poynter's Benjamin Mullin: "It's established a separate web operation that's unchained writers and editors from the time-intensive print edition. It's colonized platforms like podcasts, YouTube, mobile applications, Instagram and Snapchat. And it's built a digital staff of about 40 people."
Editor David Remnick: "This is not a tech company ... We don't wake up in the morning thinking about tech. We're thinking about the wine in the bottle, not the bottle itself. We want the bottle to be beautiful. And we want it to work, and to be what readers expect in terms of standards. But first and foremost is what goes on those screens."
https://www.axios.com/newsletters/axios-am-295f6f57-778e-4d41-8f85-fbfe55ec33d0.html?chunk=7#story7
8. Trending in business
Today's action, per Axios' Chris Matthews: Apple was responsible for pushing the Dow into positive territory yesterday — investors were pleased at the brisk pace of iPhone 7 sales. Today, it's Facebook's turn. Stock in the company rose more than 2% after hours last night, following a mobile-driven 50% increase in revenue, an a call with analysts that described plans to leverage the "mega-trend" of online video to drive Facebook's next stage of growth. It'll get the chance today to carry the NASDAQ on its back.
https://www.axios.com/newsletters/axios-am-295f6f57-778e-4d41-8f85-fbfe55ec33d0.html?chunk=8#story8
9. Incoming
First Lady Melania Trump's social secretary is expected to be Natalie Jones, the State Department's former deputy chief of protocol, appointed by President Obama in 2011, per the WashPost's Reliable Source: "Jones was a finance director at the Democratic National Committee and for Hillary Clinton's 2008 presidential campaign. It's highly unusual for a president to pick a holdover from a previous administration for the sensitive job."
What it means: "The pick would signal that Melania Trump is willing to turn to political veterans, and not just those in the tight New York circle that the Trumps inhabit, to steer her tenure in Washington.
Lindsay Reynolds, associate director of the White House Visitors Office in Bush 43 (and daughter-in-law of GOP fundraiser Mercer Reynolds), was announced yesterday as the first lady's chief of staff.
Stephanie Winston Wolkoff, a New York party planner known for organizing the celeb-laden Met Gala, has been hired as a senior adviser, per the WashPost.
https://www.axios.com/newsletters/axios-am-295f6f57-778e-4d41-8f85-fbfe55ec33d0.html?chunk=9#story9
10. 2 fun things
Jon Stewart reunites with Stephen Colbert on "The Late Show," reads mock executive orders in what the N.Y. Times' Dave Itzkoff calls "a willfully halfhearted Trump accent": "To secure our border, China shall immediately, and without hesitation, send us their wall. Done. Boom. ... America now finally has an official language. The new official language of the United States is" baloney. "Mr. Stewart used a far stronger word beginning with 'b.'"
"Super Bowl Ads Walk A Political Tightrope," on Wall Street Journal p. B1: "The temptation for brands to weigh in on these situations can be high. So are the chances that they inadvertently spark a backlash. ... 84 Lumber said it had an ad rejected by Fox, this year's Super Bowl broadcaster, which is getting as much as $5 million for 30-seconds of ad time. It featured a border wall and Hispanic actors."
Just asking: How many ads will reference Trump's Twitter?