Axios AM
June 30, 2019
🥞 Happy Sunday — savor the last day of June.
Today's Smart Brevity count: 893 words ... 3.5 minutes!
Was this email forwarded to you? Get your own! Sign up here.
1 big thing: Trump steps into North Korea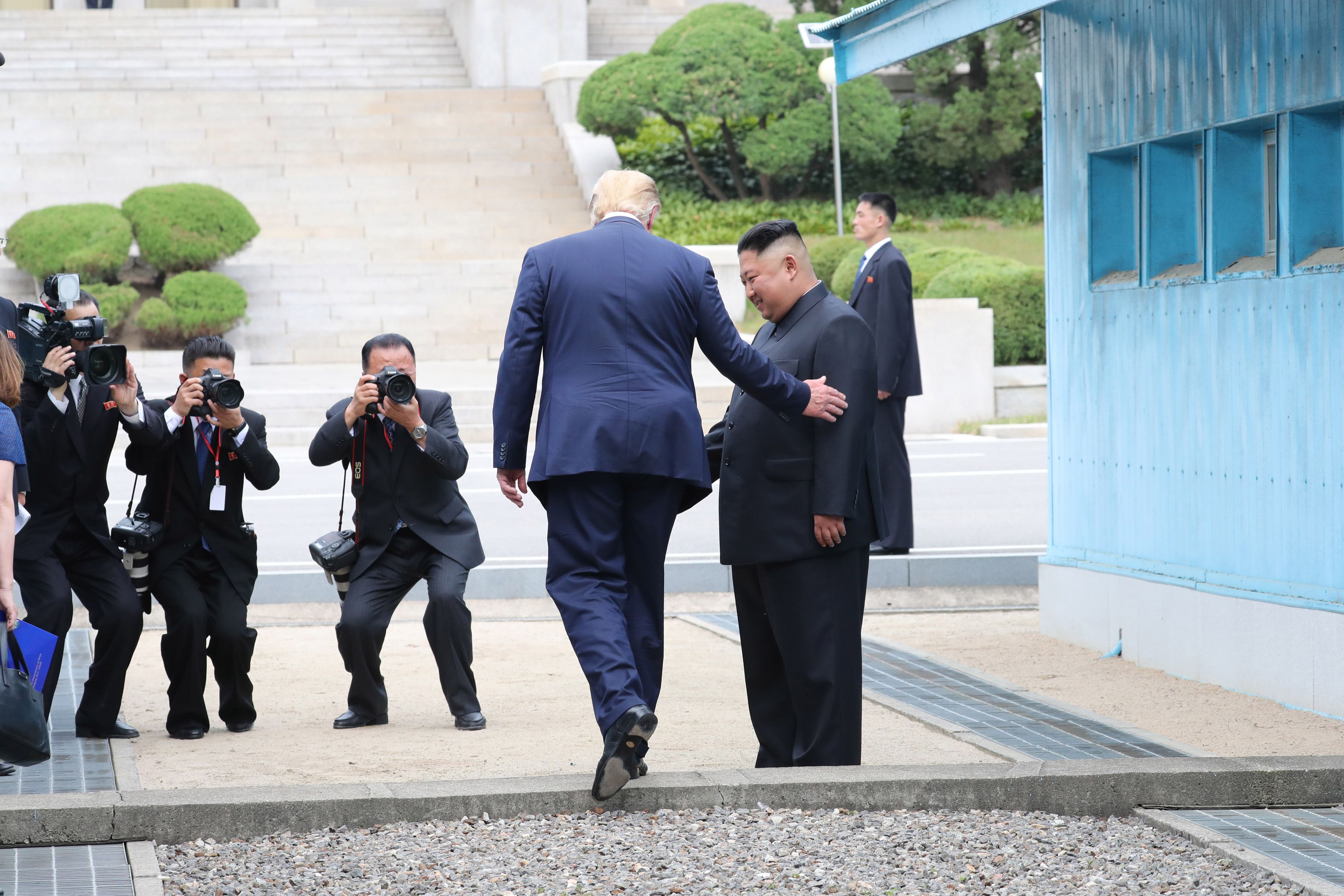 President Trump today became the first U.S. commander-in-chief to step onto the North Korean side of the Demilitarized Zone — the heavily guarded neutral strip dividing the Korean Peninsula between freedom and totalitarianism.
Trump heartily shook hands with Kim Jong-un and patted the North Korean dictator on the back during a last-minute encounter that followed a presidential trip to Japan and South Korea.
"Big moment. Big progress," Trump said after crossing the line at 2:50 a.m. ET.
Why it matters: The West for decades has seen the North Korean side of the DMZ, a vestige of the Cold War, as enemy territory. The encounter reflects Trump's instinct for stagecraft and spontaneous diplomacy.
The setting: "There isn't much demilitarized about it," per AP. "A minefield laced with barbed wire, it's guarded by combat-ready troops on both sides and has been the site of numerous, sometimes deadly gun battles and skirmishes."
The context: The pen pals had a pair of high-profile summits before today's hour-long meeting. But they have not struck an enforceable deal for North Korean denuclearization.
Speaking to U.S. reporters after saying goodbye to Kim, Trump trumpeted progress they have made over the past two and a half years: "You don't report it accurately, but that's OK. Someday history will record it accurately."
2. "I said, 'Hey, I'm over here. I want to call Chairman Kim'"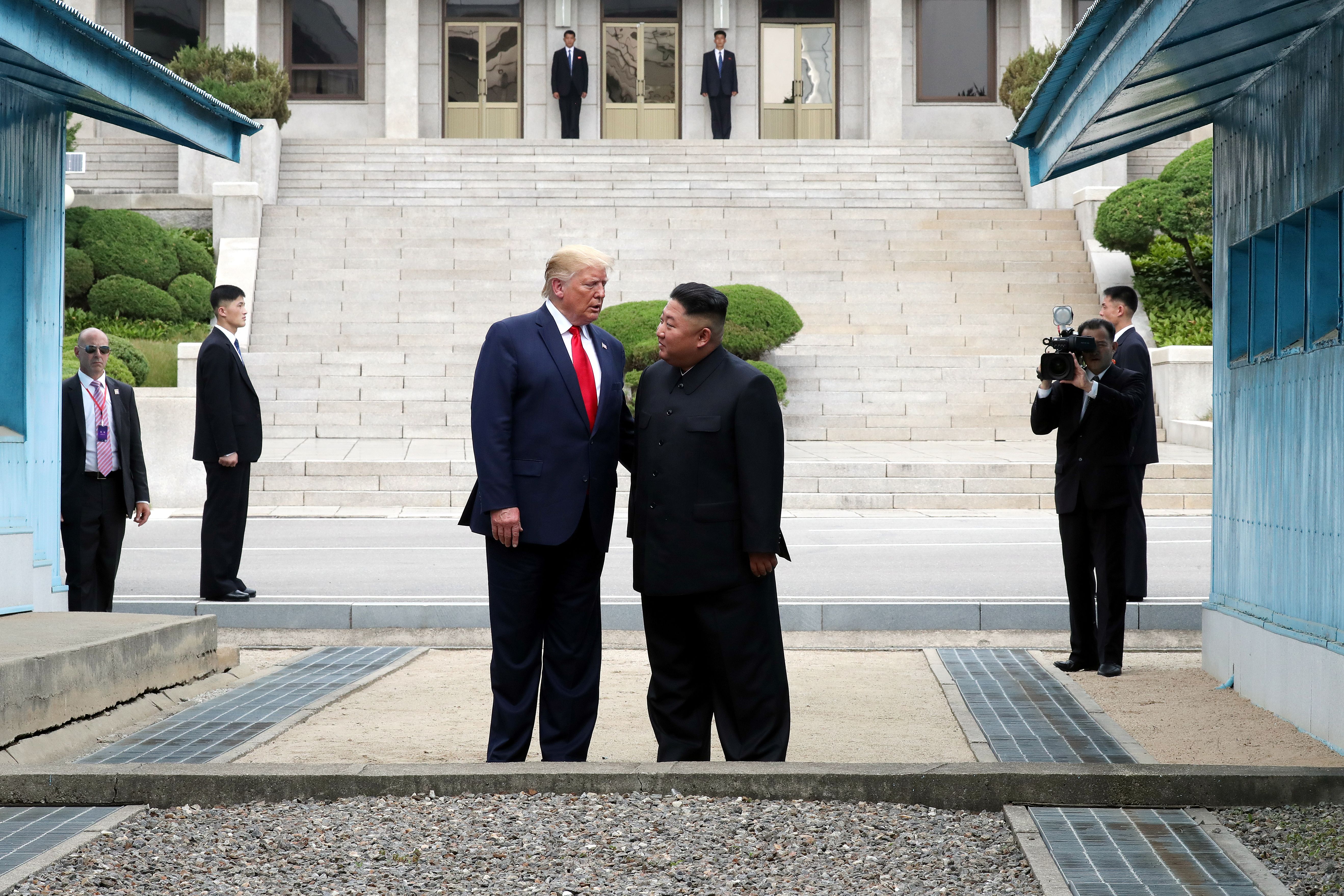 Trump said to Kim: "I just want to say that this is my honor. I didn't really expect it — we were in Japan for the G20. We came over and I said, 'Hey, I'm over here. I want to call Chairman Kim.' And we got to meet, and stepping across that line was a great honor."
Trump continued: "A lot of progress has been made, a lot of friendships have been made. And this has been, in particular, a great friendship. So I just want to thank you. That was very quick notice, and I want to thank you."
"Tremendous positivity — really great things are happening.," Trump added. "We met, and we liked each other, from Day 1. And that was very important."
"I'm going to invite him right now ... to the White House."
3. 10 steps into history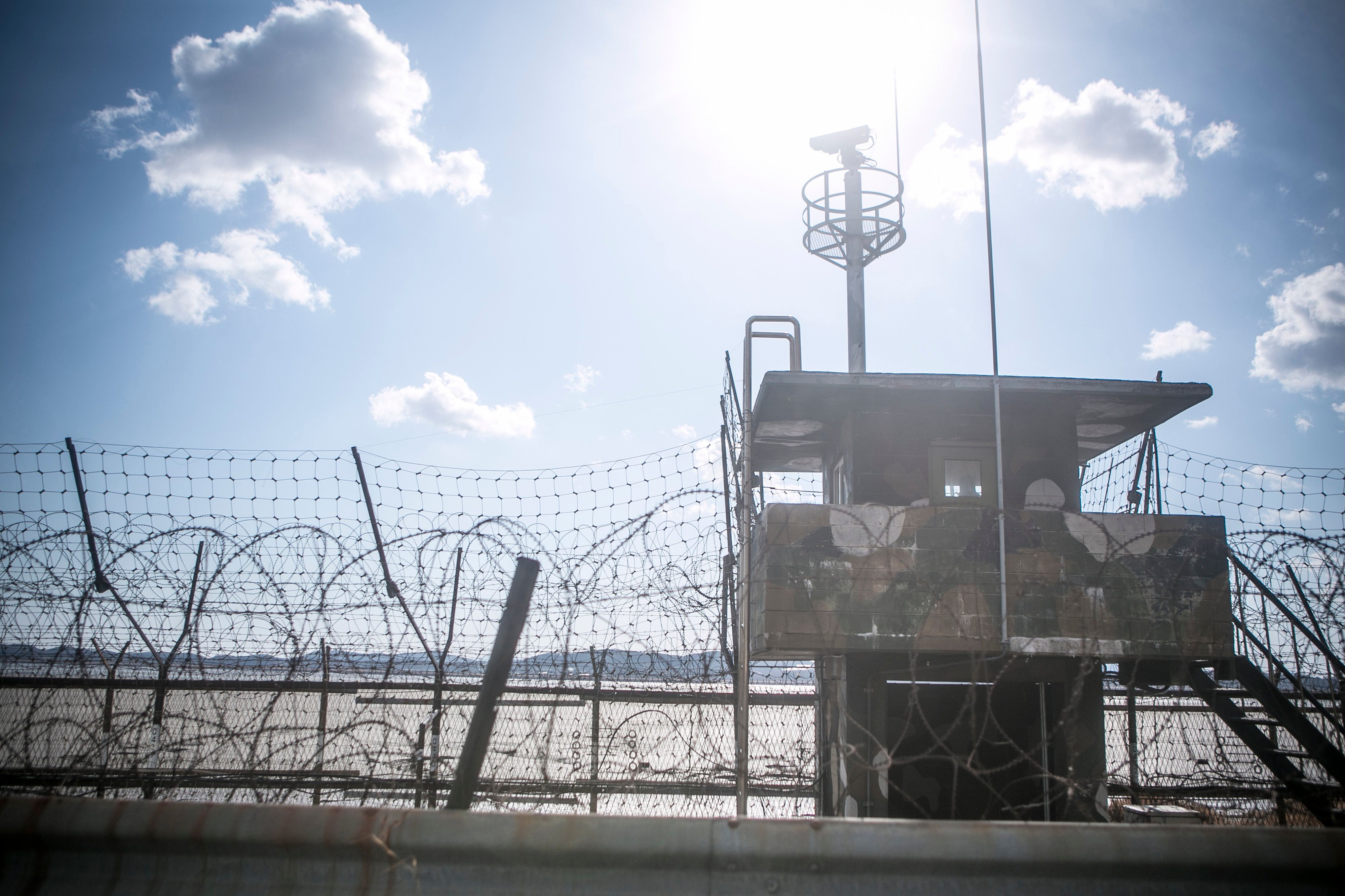 The choreography: ... In a made-for television moment, the two leaders strode toward one another from opposite sides of the Joint Security Area, AP reported:
They shook hands over the raised patch of concrete at the Military Demarcation Line as cameras clicked and photographers jostled.
After asking if Kim wanted him to cross, Trump took 10 steps into the North with Kim at his side, before escorting Kim back to the South for a sit-down at Freedom House.
Bonus: Pic du jour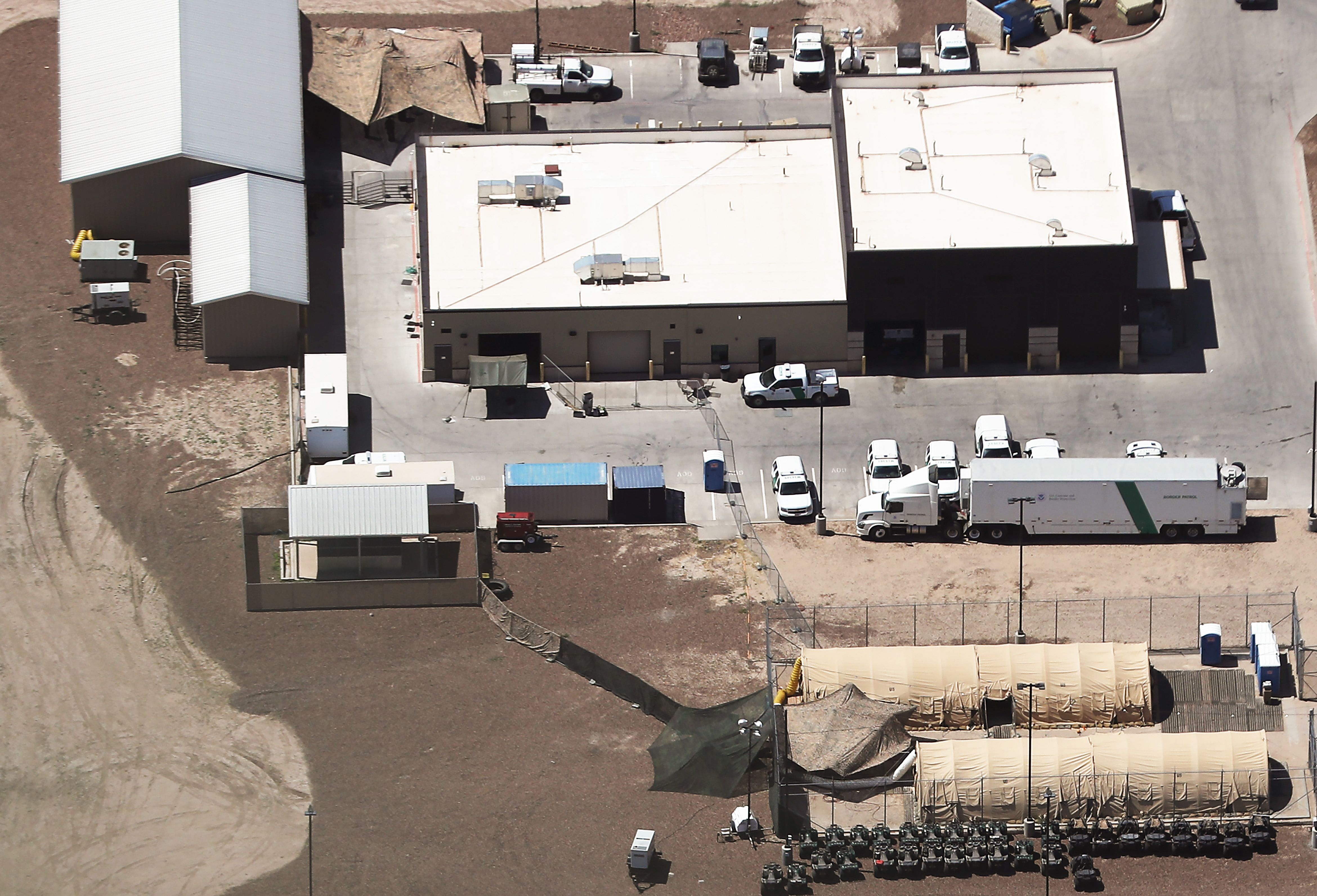 Above is an aerial view of the U.S. Border Patrol station in Clint, Texas, where attorneys say detained migrant children are held in disturbing conditions.
Notice the tents at lower right, with portable toilets in back.
Former Rep. Beto O'Rourke will cross the U.S.-Mexico border today:
"As part of the first foreign trip by a [Democratic] candidate this cycle," his campaign announced, "O'Rourke will meet with individuals who have fled violence and desperate conditions in their home countries to seek refuge in America but have been forced to wait outside this country."
4. New sportsbook champ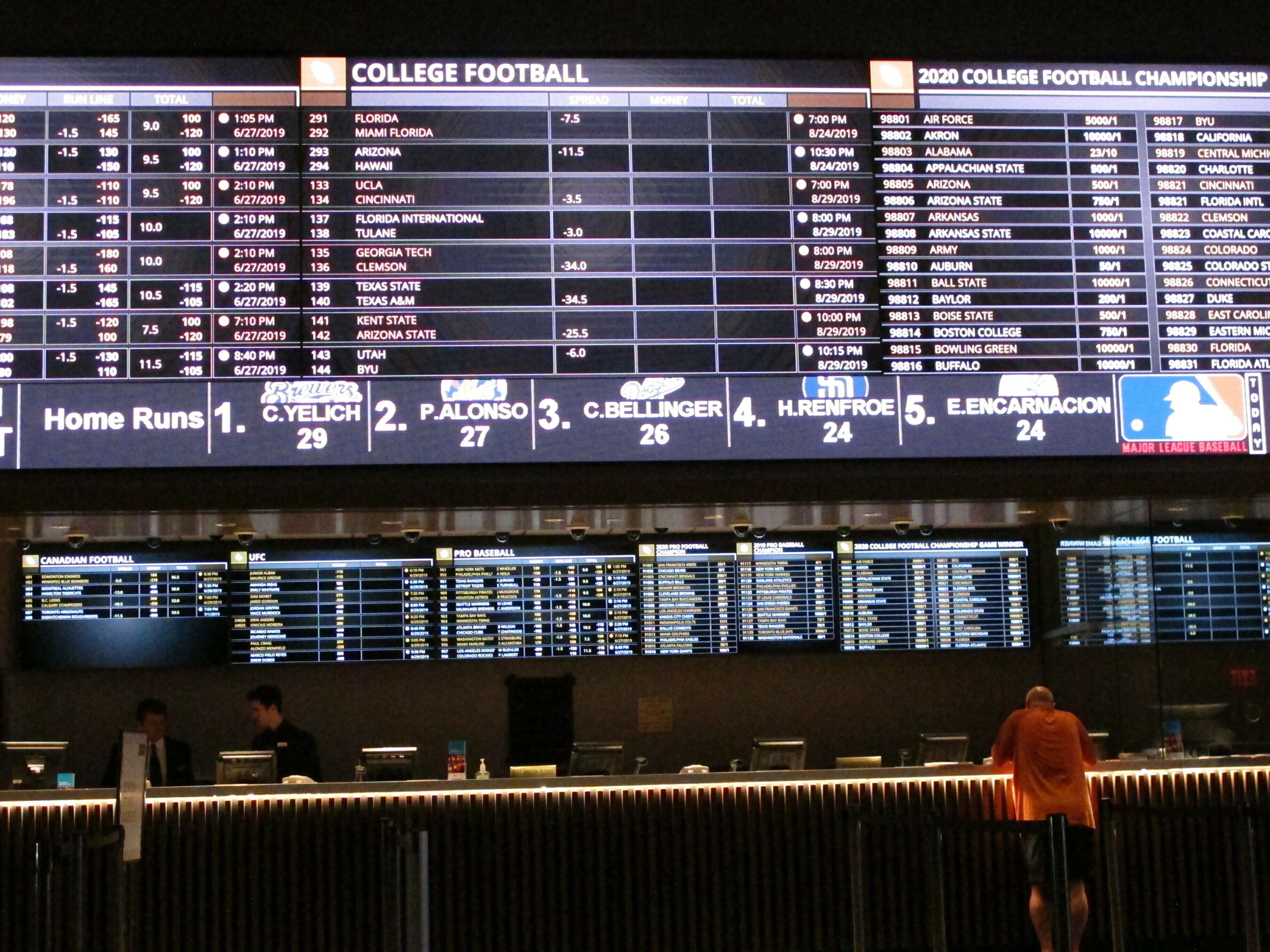 What's new: New Jersey took in more sports bets than Nevada last month, per AP:
New Jersey saw $318.9 million worth of bets; Nevada took in $317.4 million.
"From those bets, New Jersey casinos and racetracks made $15.5 million in revenue, compared to $11.6 million in Nevada."
Why it matters: New Jersey won a Supreme Court case last year that cleared the way for all 50 states to offer legal sports betting.
And the Garden State jumped into the market with both feet, with the goal of dethroning Nevada as the sports betting capital of America.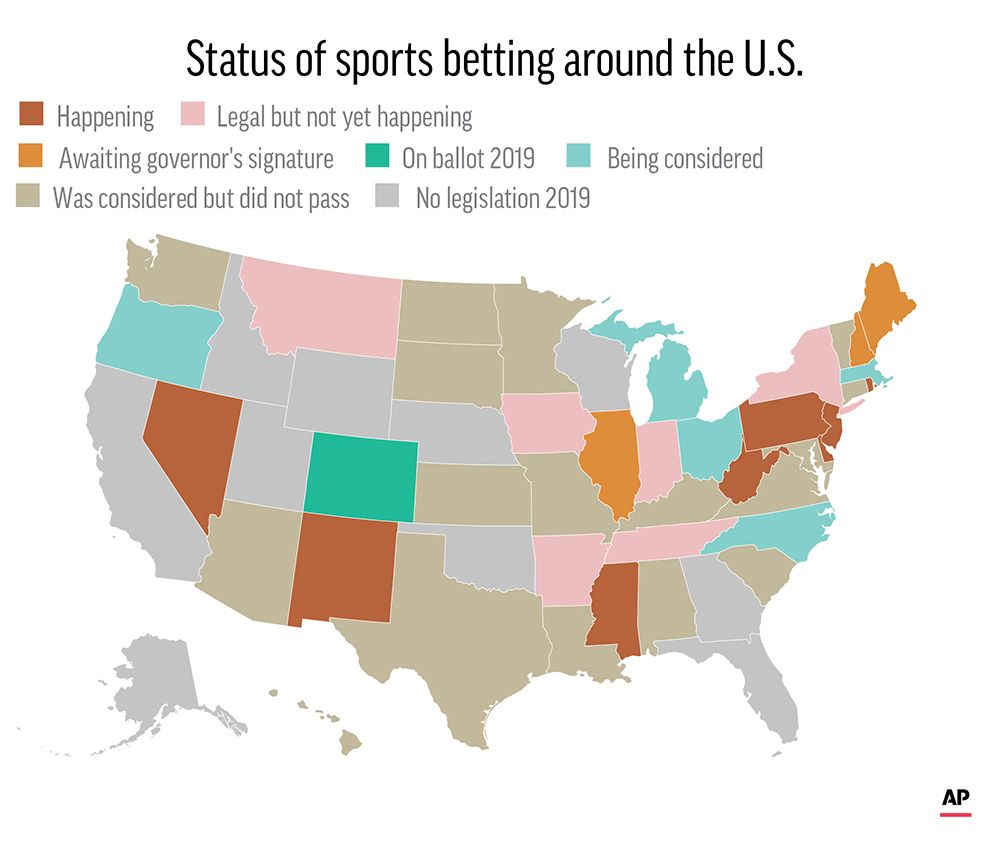 5. New data show depth of U.S. mental health crisis
What's new: U.S. suicide rates are at the highest level since World War II, according to a new Centers for Disease Control and Prevention report, per Bloomberg's Cynthia Koons.
"The U.S. suicide rate increased on average by about 1% a year from 2000 through 2006 and by 2% a year from 2006 through 2016."
Why it matters: "While material well-being has improved, America's emotional distress has climbed to crisis levels."
6. 1 ⚾ 🇬🇧 thing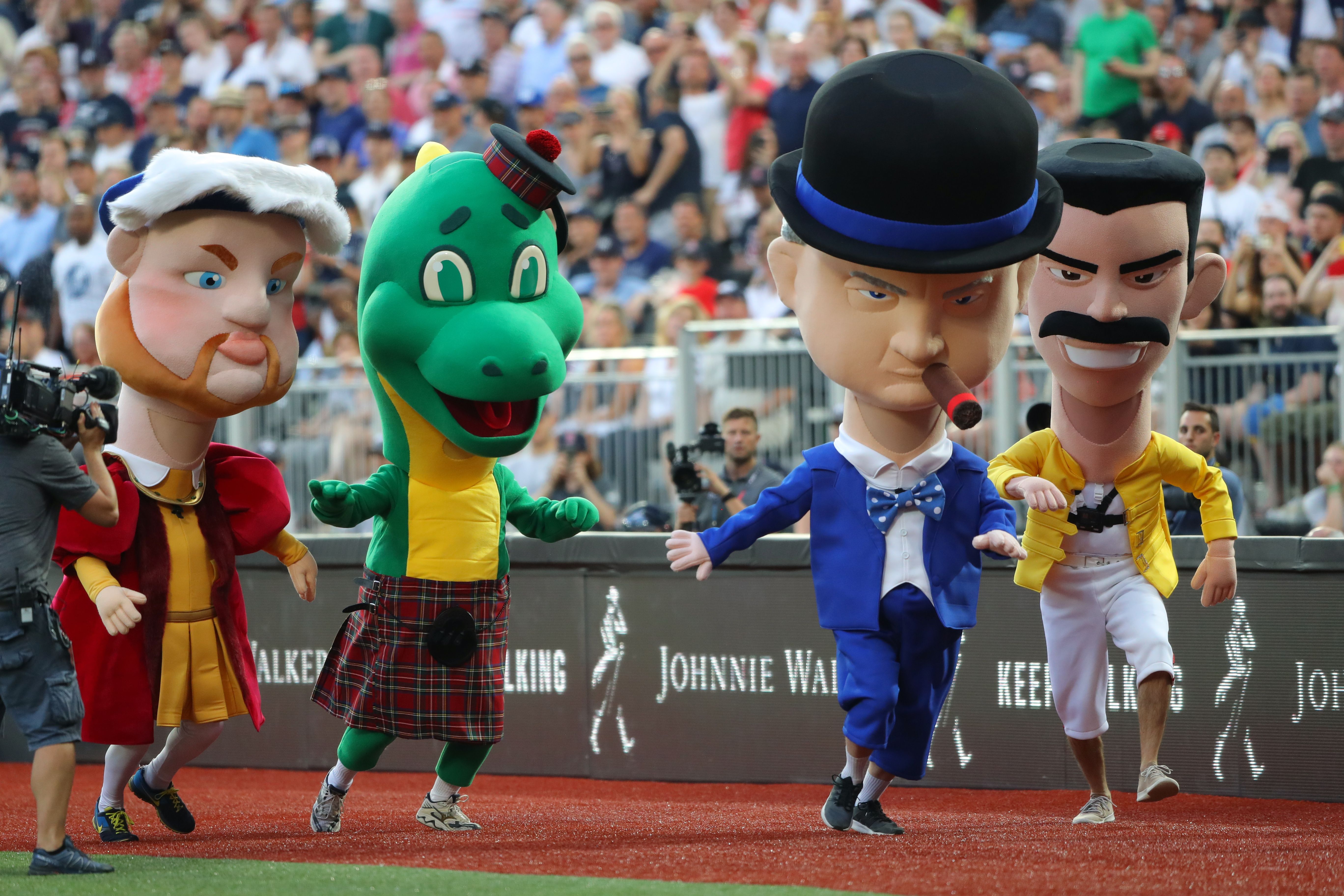 The first Major League Baseball game in Europe was played in London yesterday, and featured racing mascots of King Henry VIII, the Loch Ness Monster, Winston Churchill, and Freddie Mercury of the rock band Queen. (N.Y. Times)
How The Guardian covered the game:
The two-foot long, £24 "Boomstick" hot dog. The mascot race won by a giant-headed Freddie Mercury. ... America's pastime has arrived in the UK, as the New York Yankees beat their old rivals the Boston Red Sox 17-13 at the London Stadium ...
Aside from the vast amount of foul territory (the area behind the baselines in which batters can be caught but cannot score runs) it seemed to fit the purpose nicely ...
For a sport that has historically been insular, the goal is now long-term global expansion. They say this jaunt to London is just the start, with another planned for next year (the Chicago Cubs v the St Louis Cardinals) and then India, China and who knows where else.
But it is hardly global expansion if the bulk of the crowd is just here on holiday from New York and Boston.
📱 Thanks for reading Axios AM. Invite your friends, relatives, co-workers to sign up here.