November 15, 2018
🇸🇦 Bulletin: "Saudi Arabia releases findings of Khashoggi inquiry, seeks death penalty for five people it says who ordered the journalist's death." (WashPost)
🚨 New: Axios interviews Tim Cook, Elon Musk and Bill Gates in tech-heavy final two episodes of "Axios on HBO," airing the next two Sundays at 6:30 and 11:30 p.m. ET/PT. 
1 big thing: Presidential map for the 21st century
To win re-election, President Trump must wage a two-front war: Not only does he have to defend Democratic-leaning Midwest states that sealed his victory in 2016, but he now needs to defend against clear Republican erosion in the South and Southwest.
"Changing demographics and Trump have blown up the electoral map that has dominated American politics since 1992," said Doug Sosnik, a White House adviser to President Bill Clinton who is one of the best trend detectors in U.S. politics.
Why it matters: Sosnik projects that there could be more tossup states in the South and Southwest than in the Midwest — with almost twice the number of electoral votes at stake.
The Sosnik map above is congruent with the point Jim VandeHei and I made in the lead of Axios AM a few days ago: The midterms showed "that without Hillary atop the ticket, Midwest states like Wisconsin are tough for Trump, and Southern states with rising Hispanic populations are slowly growing more Democratic."
Sosnik adds this caution, based on 2016: "The president's voters don't always admit to pollsters that they like him. And he ran better in tossup states than his national average."
I asked Doug, who started in Democratic politics in Michigan in 1982, to parse the implications of his analysis for each side.
Encouraging points for Republicans:
"Due to Obama's neglect of the Democratic Party, this has been a lost decade for the Dems. Our entire farm system was wiped out. We now have a field of candidates that are either in their 70's (Biden, Kerry, Warren, Sanders, etc.), or a bunch of early 40s, largely untested candidates."
"Despite the heavy [midterm] losses, Trump did, in fact, turn out his voters when he was not on the ballot — which is not something that Obama could ever do."
Downsides for Republicans:
"They are on the wrong side of history [and demographics] with a white male strategy."
"Mueller/Southern District [of New York]/congressional investigations:  What people miss is how disabling these investigations are for the president, as well as the White House staff. (Take it from me: I had six years of investigations while in the Clinton White House)."
Bullish signs for Dems:
"The bigger the turnout, the worse it is for Trump. While his efforts to turn out his base worked, it also was magic for the Dems. And they have a much bigger pool to draw from than Trump."
"The Midwestern states that Trump carried never really liked him. His polling has sucked there since he took office."
"The Democrats' increasing strength in suburban areas will enable the party to not only be more competitive in the Midwest, but also expand the map into the South and Southwest."
Bearish signs for Dems:
"There is no obvious candidate or even close to an obvious candidate. That's a huge problem."
"It will not, even under the best of circumstances, be easy to take on candidate Trump. He relishes the fights."
"The Democrats cannot, under any circumstances, allow the anti-Trump vote to splinter, which could enable Trump to get re-elected despite a majority of Americans opposing his presidency."
2. Inside Trump's embrace of sentencing reform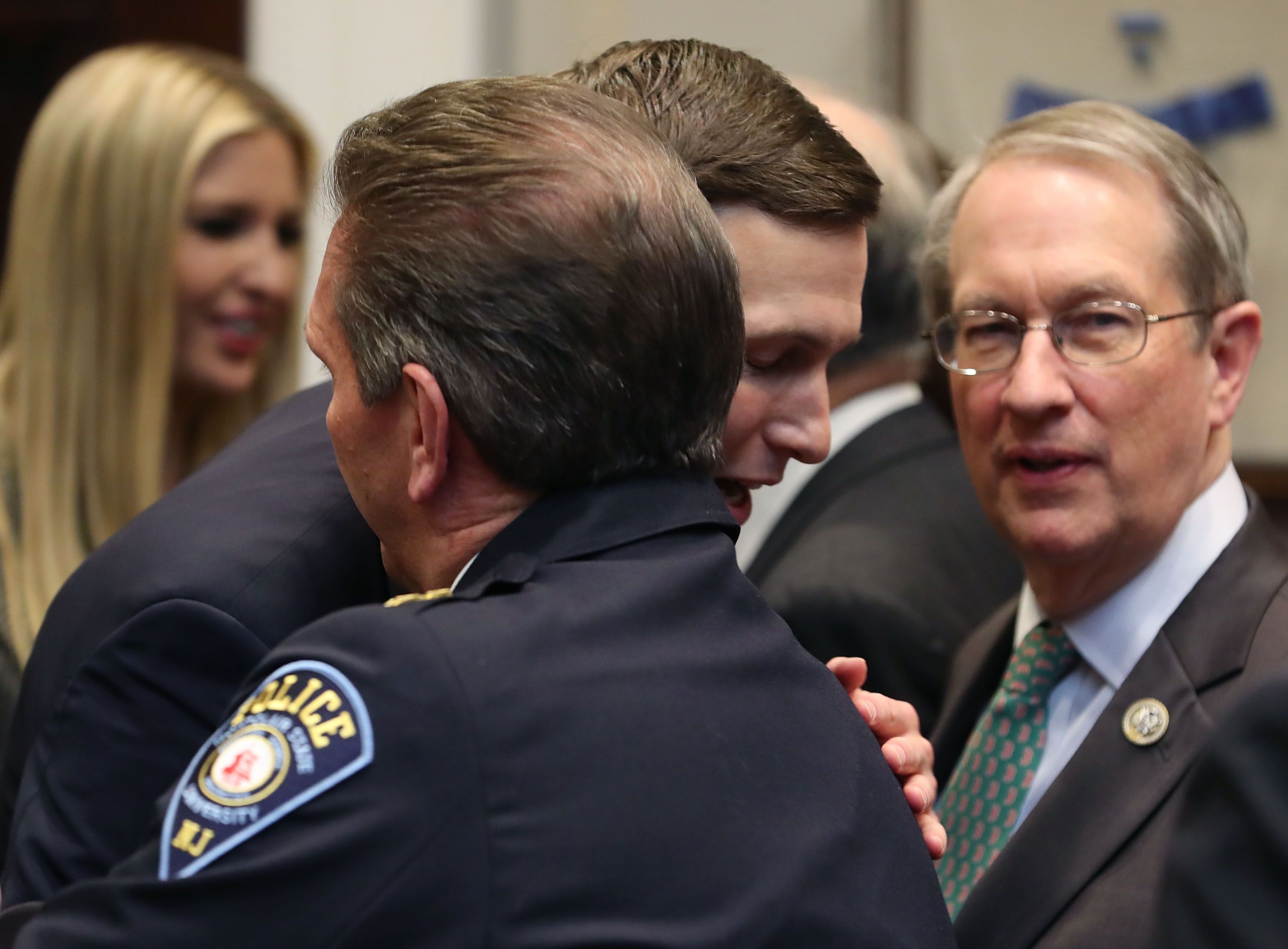 President Trump's backing of bipartisan criminal justice reform yesterday is a 180-degree twist from Campaign Trump, who ran on 1980s-style law and order.
Trump said in a statement yesterday: "Our whole Nation benefits if former inmates are able to reenter society as productive, law-abiding citizens."
AP calls the proposal, the First Step Act, "the first major rewrite of the nation's criminal justice sentencing laws in" decades.
Be smart: Trump still holds Old Testament views about certain aspects of the criminal justice.
He has privately expressed something close to admiration for the extra-judicial killings by Philippine President Rodrigo Duterte and wants the death penalty for drug dealers.
And he views the Justice Department as a collection of his own personal attorneys.
Jared Kushner brought the president a long way to get his support. Criminal justice reform was not what Trump ran on — quite the opposite — and it's been a huge effort from Kushner and allies to get Trump to this point.
Trump said in the Roosevelt Room: "I want to thank Jared Kushner for working so hard on the bill. Thank you, Jared. (Applause.) He worked very hard. He really did. He worked very hard. He feels very deeply about it."
Trump has privately worried that supporting the bill would madden his base and get him offside with law enforcement.
But the endorsement of the bill by the Fraternal Order of Police —"the world's largest organization of sworn law enforcement officers" — went a long way.
3. Facebook's year: "Delay, deny, deflect"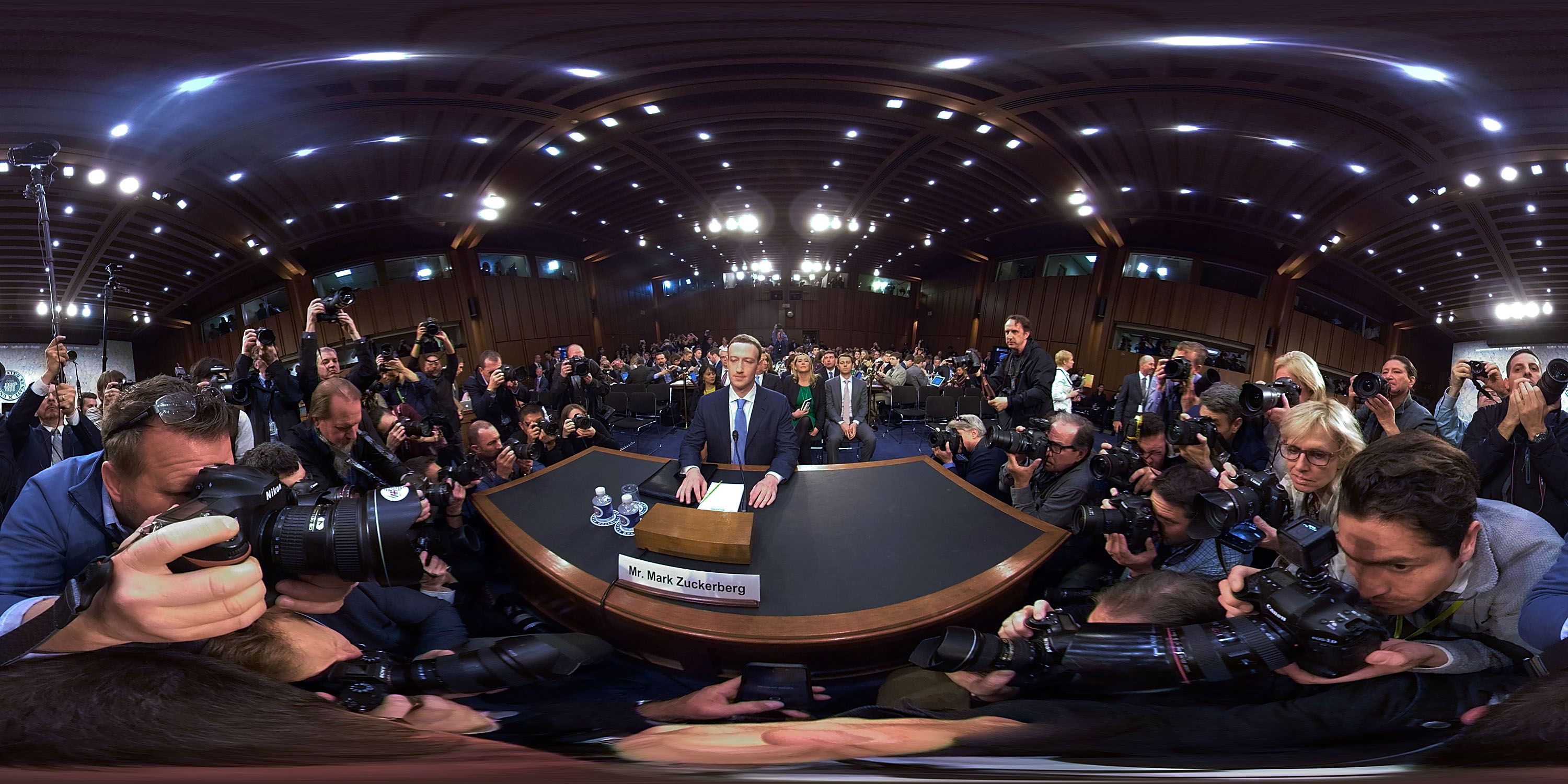 "[A]s evidence accumulated that Facebook's power could ... be exploited to disrupt elections, broadcast viral propaganda and inspire deadly campaigns of hate around the globe, [Mark] Zuckerberg and [Sheryl] Sandberg stumbled," the N.Y. Times' Sheera Frenkel, Nick Confessore, Cecilia Kang, Matt Rosenberg and Jack Nicas report, "based on interviews with more than 50 people":
"Bent on growth, the pair ignored warning signs and then sought to conceal them from public view. At critical moments over the last three years, they were distracted by personal projects, and passed off security and policy decisions to subordinates, according to current and former executives."
Privacy criticisms by Apple CEO Tim Cook "infuriated Mr. Zuckerberg, who later ordered his management team to use only Android phones — arguing that the operating system had far more users than Apple's."
When Sandberg testified before the Senate Intelligence Committee in September, she "spread neatly handwritten notes on the table before her: the names of each senator on the committee, their pet questions and concerns, a reminder to say thank you."
"In large letters were her stage directions: 'Slow, Pause, Determined.'"
4. Pics du jour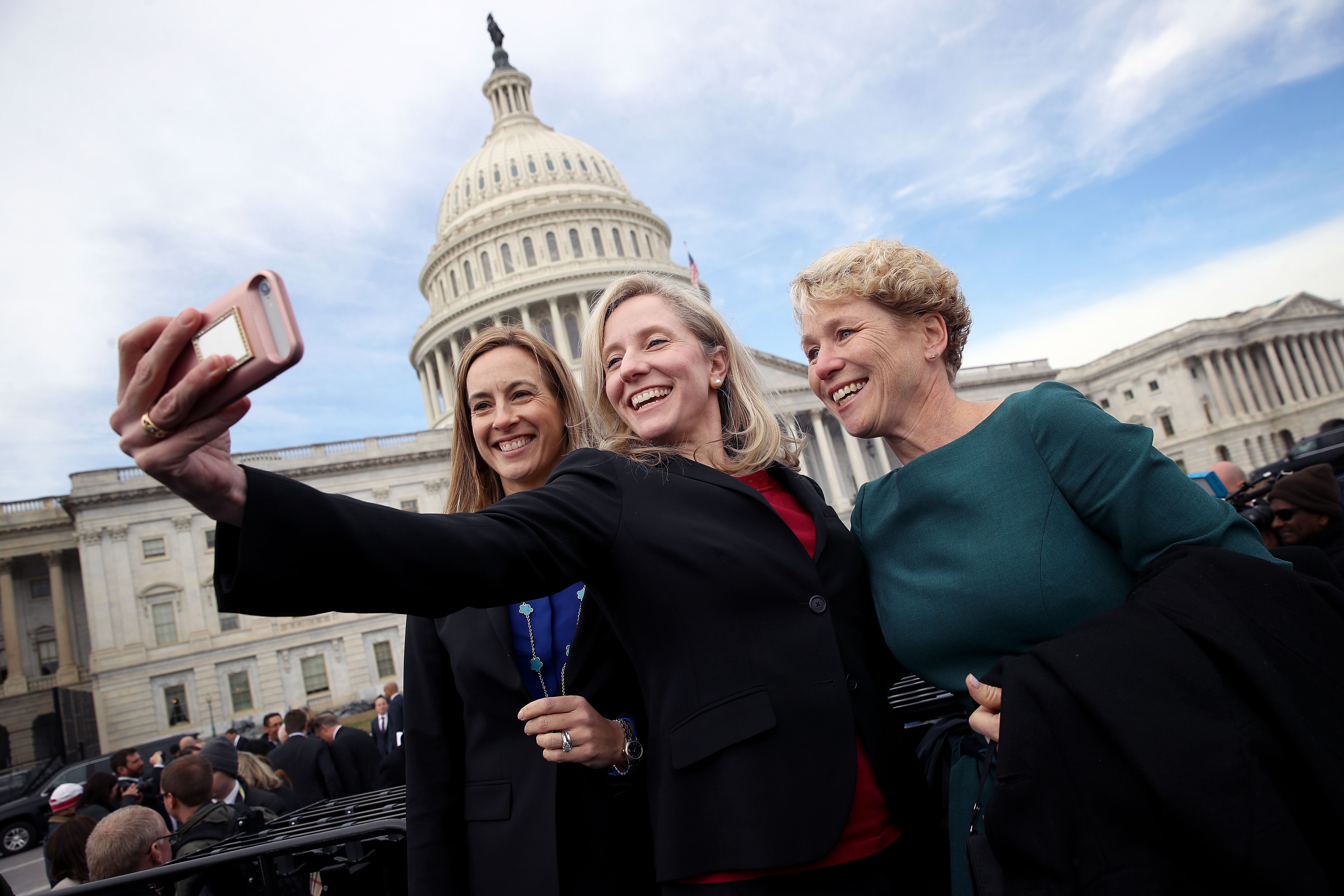 From left ... Newly elected House members Mikie Sherrill (D-N.J.), Abigail Spanberger (D-Va.) and Chrissy Houlahan (D-Pa.) take a selfie following an official class picture for new representatives, who are on the Hill for orientation.
Sherrill is a former U.S. Navy helicopter pilot and federal prosecutor. Spanberger is a former CIA officer. Houlahan is a former Air Force officer.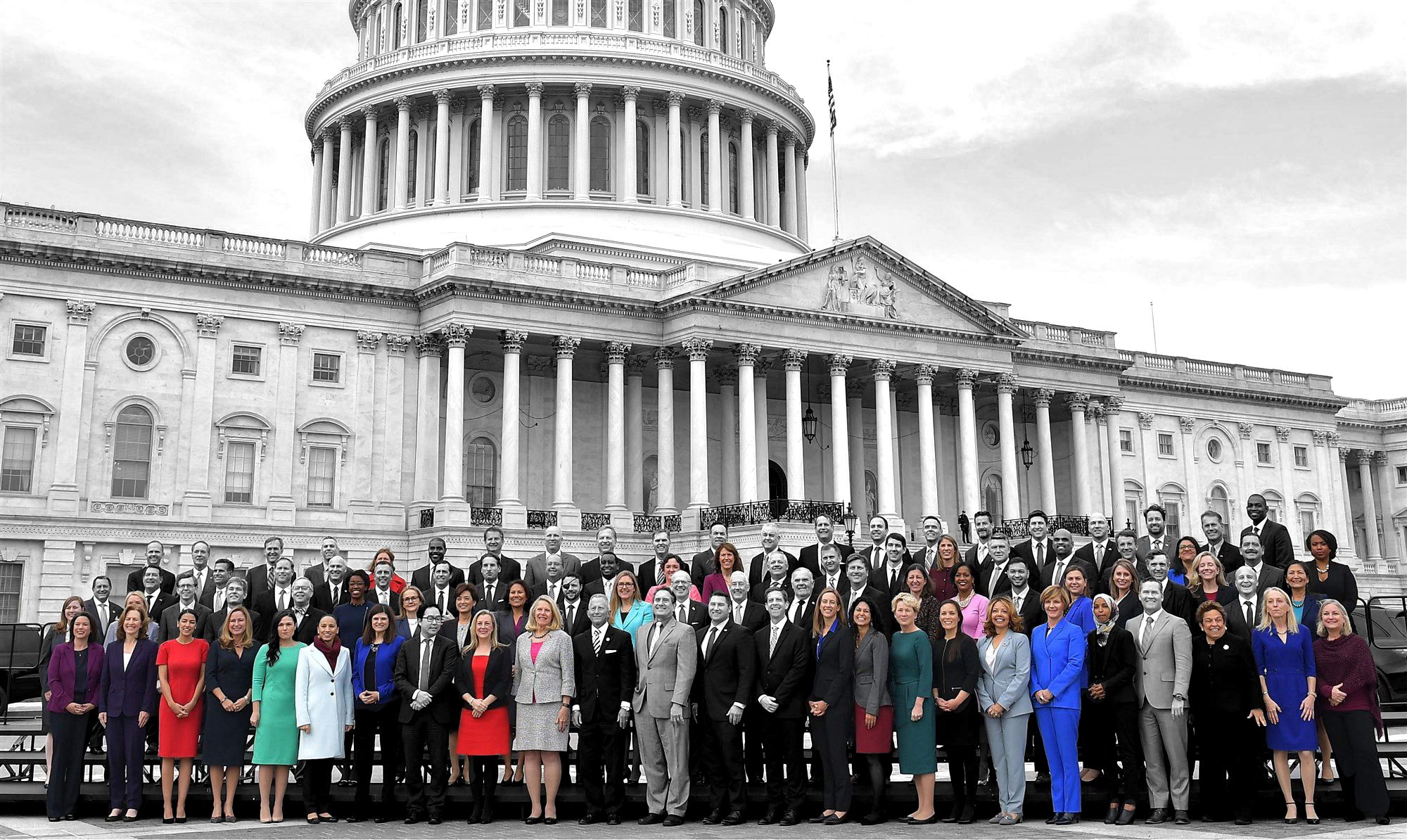 The design team at Quorum Analytics put together a photo edit of yesterday's freshman class photo of members-elect of the 116th Congress, doing a color-isolate on all the newly-elected women (above) and men (below).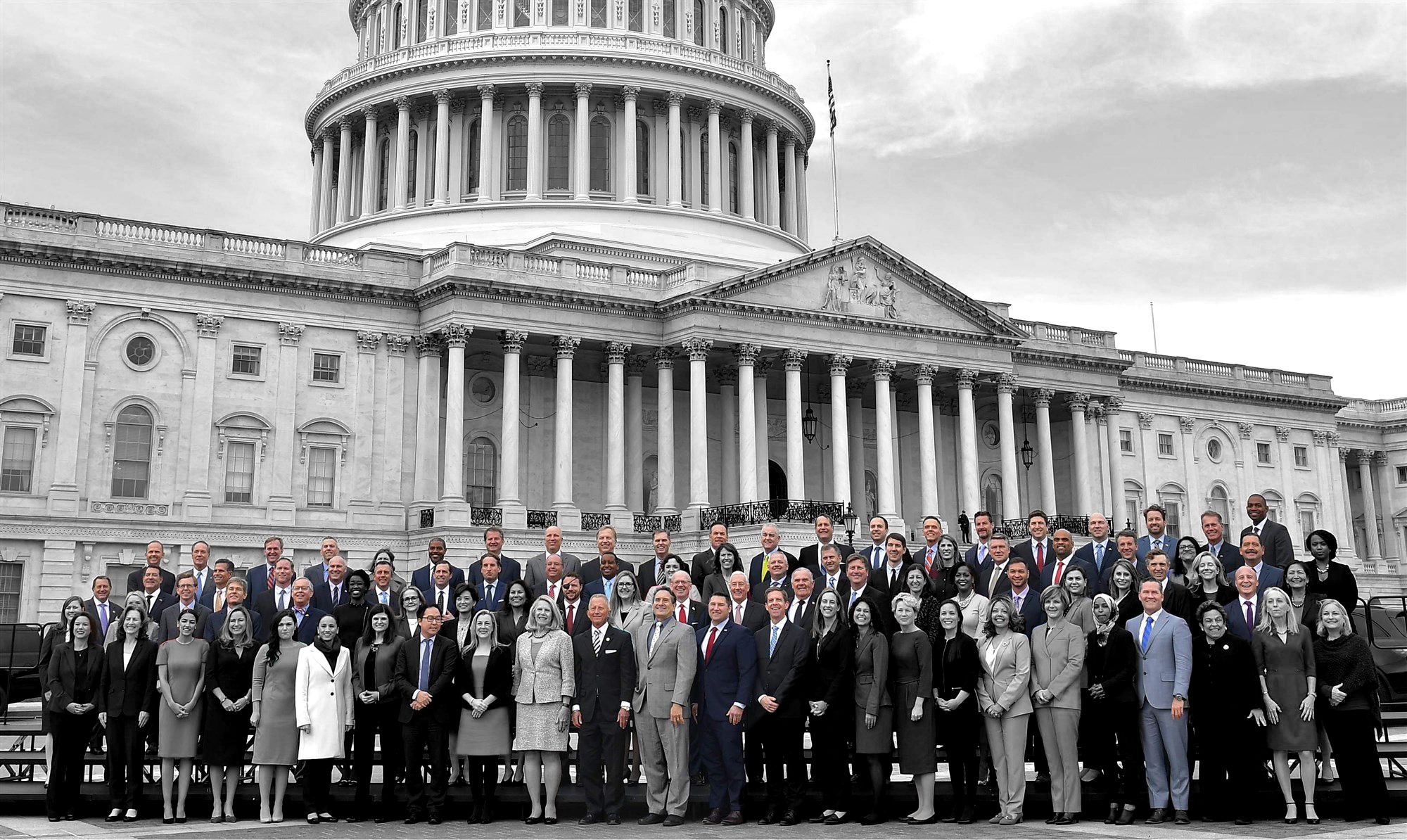 WashPost lead story, "Pelosi's foes in party dig in":
"House Democratic leader Nancy Pelosi ... faced solid opposition from at least 17 Democrats and encountered a significant bloc of undecided women in her bid for speaker, setting the stage for an intense battle over who will ascend to one of the most powerful positions in Washington."
5. Hot Hill job
House Dems are staffing up for investigations. From Tom Manatos Jobs, a popular Washington employment board:
"Counsel, Committee on Oversight and Government Reform ... Ideal candidate will be an attorney with several years of investigative or litigation experience. Responsibilities include depositions, transcribed interviews, briefings, and congressional hearings."
6. Surge in youth vaping drives FDA crackdown
The Food and Drug Administration today will announce a series of actions aimed at cracking down on youth vaping, despite e-cigarette maker Juul's last-minute effort to self-police, Axios' Caitlin Owens reports.
After years of warnings that flavored e-cigarettes appeal to young people, data finally drove the point home, prompting a Republican administration to move forward with an especially tough regulatory crackdown.
As the Washington Post reported, the FDA's actions are expected to include:
A ban on sales of most flavored e-cigarettes in most retail settings, along with age-verification rules for online sales.
A proposal to ban menthol in regular cigarettes.
Juul proposed a similar set of voluntary steps. FDA Commissioner Scott Gottlieb applauded Juul's efforts in a tweet on Tuesday, but said that "voluntary action is no substitute for regulatory steps #FDA will soon take."
Be smart: Both of these ideas have been pushed before, both by public health advocates and some Democrats. But new data showing a 77% increase in e-cigarette use among high school students between 2017 and 2018 prompted the FDA to act.
7. Lingo
"Oxford Dictionaries has chosen 'toxic' as its international word of the year, selecting it from a shortlist that included such politically inflected contenders as 'gaslighting,' "incel' and 'techlash.'" (N.Y. Times)
Explaining the choice, Oxford University Press said toxic became "an intoxicating descriptor for the year's most talked about topics."
📈 8. Half full / half empty
Half full ... Bloomberg, "A Strong U.S. Economy Will Boost Global Growth in 2019":
"According to the International Monetary Fund, the global economy is on track to grow a healthy 3.7 percent in 2018" and 2019.
"The contrast between the negative daily buzz and positive underlying conditions is sharpest in the U.S., where the expansion of the world's largest economy has actually strengthened as it's lengthened."
Half empty ... Wall Street Journal lead story, "Global Economic Slowdown Deepens":
"The global economy has hit a soft patch, putting the U.S.'s robust growth at risk should the slowdown persist."
"China, Japan and Germany show signs of stress, posing a risk to the U.S. should the trends persist."
⚡P.S. Breaking: "British Brexit Secretary Dominic Raab resigned [today,] thrusting Prime Minister Theresa May's government into turmoil." (Reuters)
9. "The seminal event of the 21st century"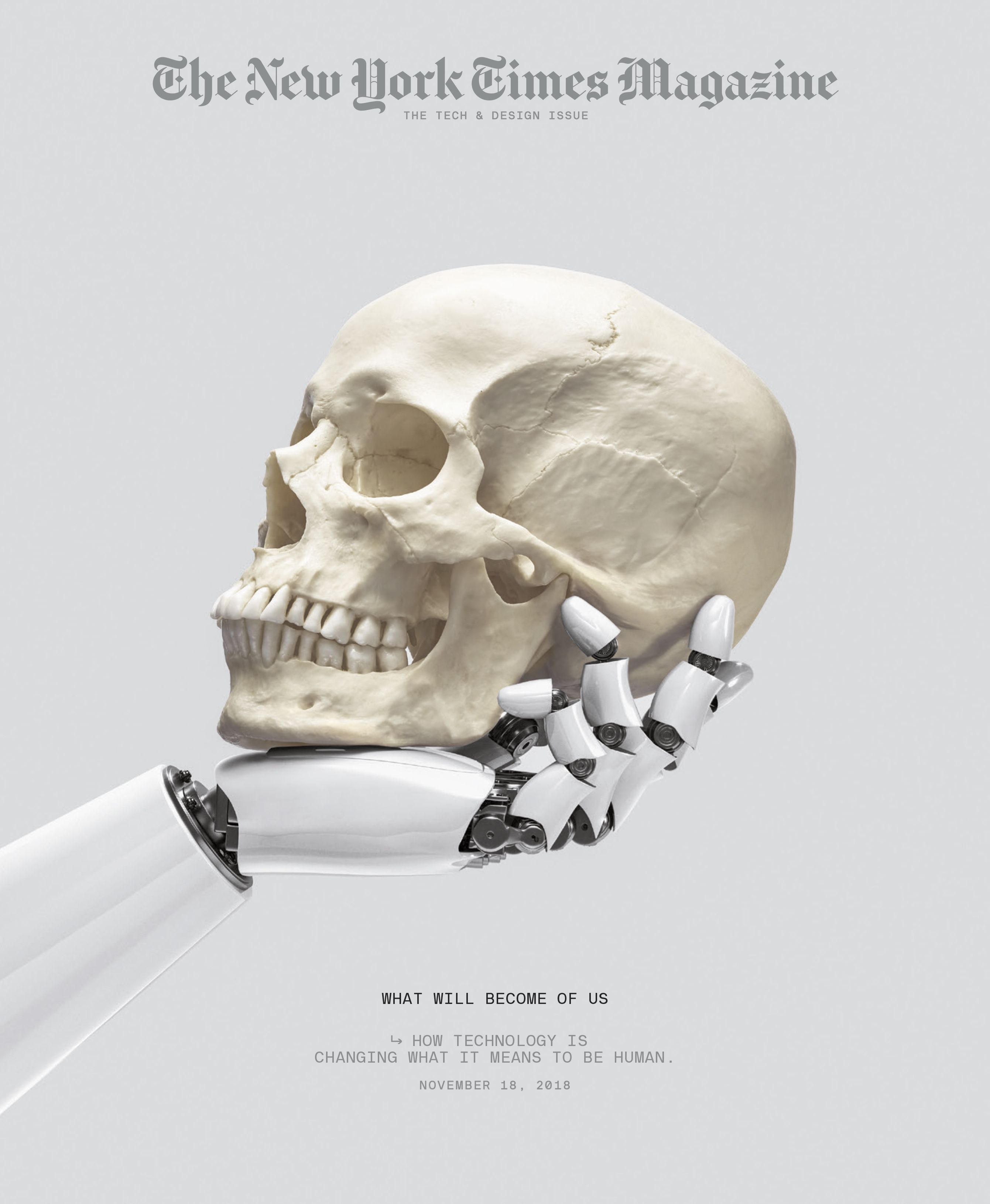 "If you make it to your 65th birthday in the U.S. today, you can expect about 20 more years and have a good chance at 30. The fastest-growing segment of the population, in fact, is between the ages of 85 and 94," Kim Tingley writes in the N.Y. Times Magazine, in an exploration of future housing and leisure for seniors:
"But longevity alone will not transform senior housing, an industry that experts warn is about to experience a revolution for which it is ill prepared."
"The Census Bureau projects that in 2034, for the first time ever, people 65 and older will outnumber those under 18."
"A similar demographic shift is underway around the globe, and no one seems to have a solid plan for addressing it."
"It really comes down to two questions: Where are we going to live, and who is going to take care of us?" says Andrew Carle, founding director of the program in senior-housing administration at George Mason University. "The rapidly aging worldwide population will affect us more than global warming, I think. It's the seminal event of the 21st century."
Behind the cover ... Gail Bichler, design director: "We liked the idea of a robot hand holding a human skull for its reference to 'Hamlet' and the humor of a robot's contemplating the future (or is it the past?) of humans."
10. 1 fun thing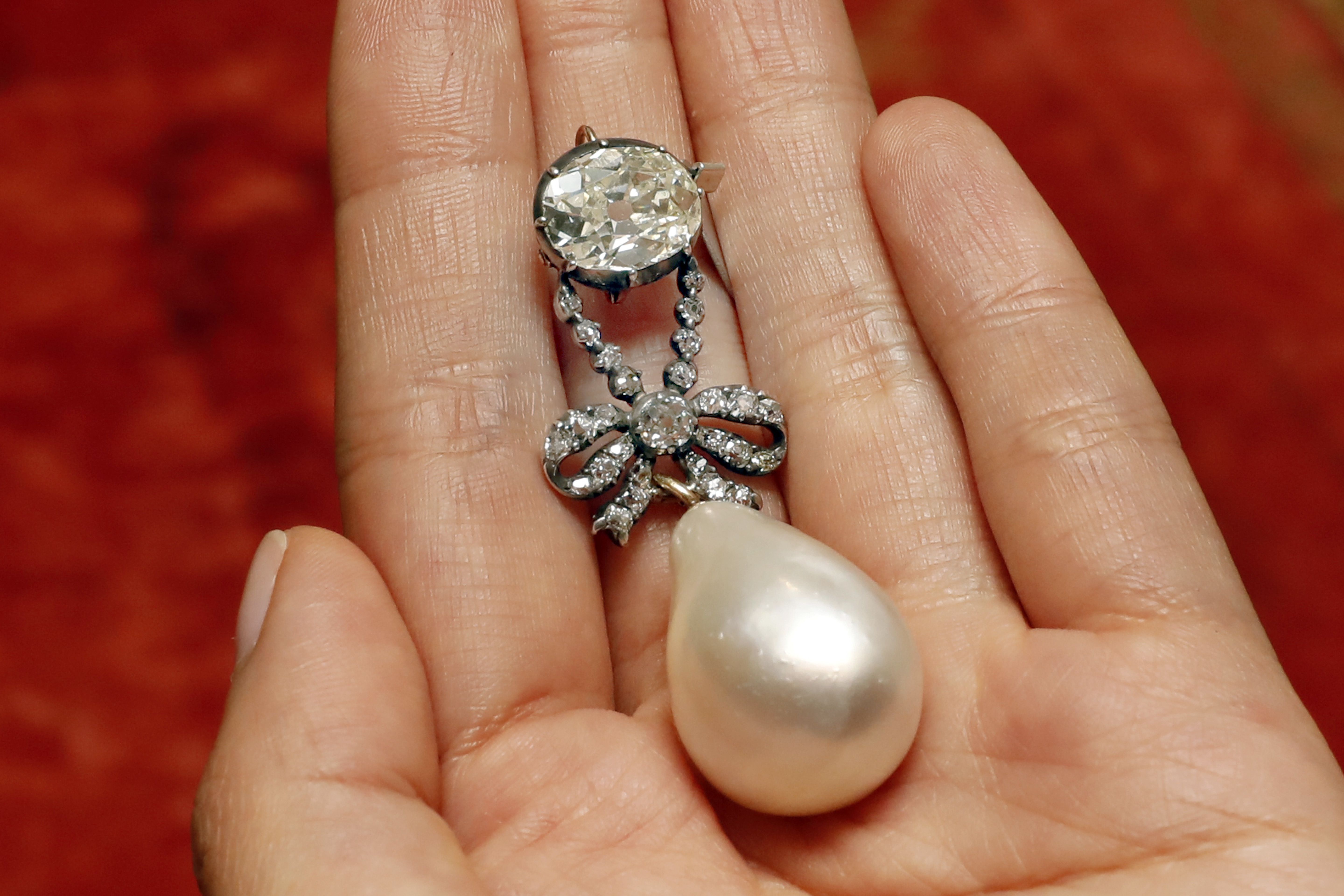 "A large, drop-shaped natural pearl pendant sold for more than $36 million Wednesday at a rare auction of jewelry that once belonged to French Queen Marie Antoinette, which Sotheby's is calling a record price for a pearl at auction," AP's Jamey Keaten reports from Geneva:
"The 'Queen Marie Antoinette's Pearl,' a diamond-and-pearl pendant, was among the highlight offerings on the block at the Sotheby's sale of jewelry from the Bourbon-Parma dynasty in Geneva."
"Sotheby's billed the sale as a once-in-a-lifetime chance to scoop up heirlooms and jewels that have been held in the Bourbon-Parma dynasty for generations."
"Some of the Marie Antoinette jewelry hadn't been seen in public for 200 years."
Why it matters: "The diamond and pearl jewelry of Marie Antoinette that went under the hammer epitomized the aloof, pre-Revolutionary opulence of French royals brought down by the uprising. The wife of King Louis XVI, she was executed in France's revolutionary fervor in 1793."
"Before falling to the guillotine, she had secretly smuggled abroad some of her most treasured possessions to her relatives amid rising the revolutionary fervor that ultimately marked the beginning of the end of France's centuries-old monarchy."