Axios AM
April 20, 2018
Good Friday morning. It's 4/20, National Weed Day. (Primer for never-stoners.)
Situational awareness: It's the 19th anniversary of the Columbine High School massacre, and school walkouts are expected nationwide.
Chicago readers: Please join me Monday at 10:30 a.m. for a conversation with Mayor Rahm Emanuel about the future of the city and the country. RSVP here.
1 big thing: What the Comey memos tell us about Trump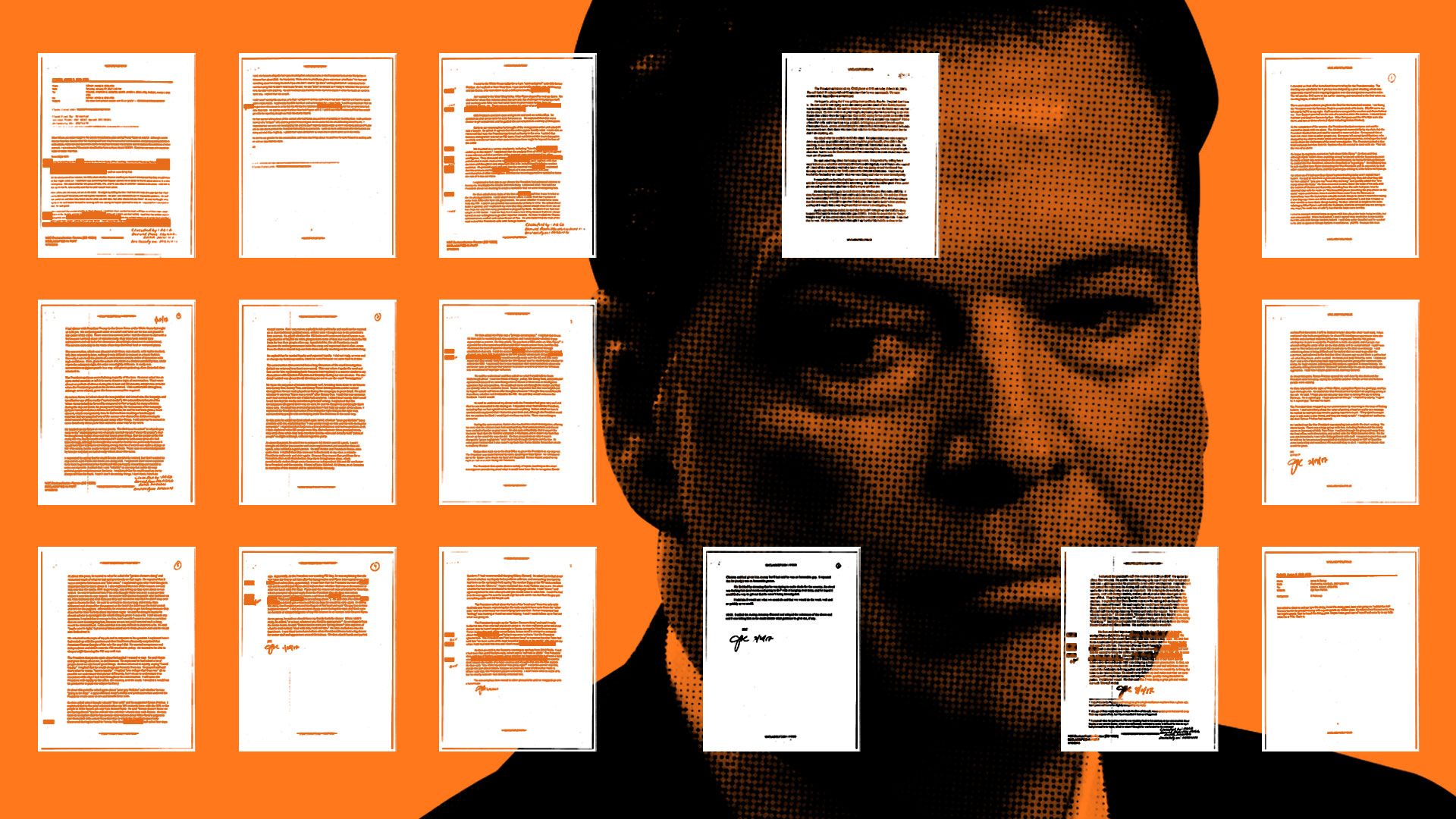 A gift from the journalistic gods ... Adding to our unprecedented real-time visibility into this presidency, Capitol Hill last night leaked 15 pages of memos that fired FBI Director James Comey had written in real time about his contacts with the White House.
One of the newsier revelations ... President Trump had immediate doubts about his own national security adviser, Mike Flynn, who was later fired and is now cooperating with Mueller: "[T]he president pointed his fingers at his head and said 'the guy has serious judgment issues.'"
Here's some of what the memos tell us about Trump:
Conversations can be mostly one-way exchanges:

"The president spoke an overwhelming majority of the time. He never asked me an open-ended question or left it to me to choose a topic of conversation."

He's obsessed with one particular passage in the dossier about his connections with Russia:

"I said, the Russians allegedly had tapes involving him and prostitutes at the Presidential Suite at the Ritz Carlton in Moscow from about 2013. He interjected: 'there were no prostitutes; there were never prostitutes.' He then said something about him being the kind of guy who didn't need to 'go there' and laughed (which I understood to be communicating that he didn't need to pay for sex.)"
"He said '2013' to himself as if trying to remember that period of time ... He said he always assumed that hotels he stayed in when he travels are wired in some way. I replied that I do as well."
"He then started talking about all the women who had falsely accused him of grabbing or touching them (with particular mention of a 'stripper" who said he grabbed her) ... "
"The President said 'the hookers thing' is nonsense but that Putin had told him 'we have some of the most beautiful hookers in the world.'"
"He said he thought maybe he should ask me to investigate the whole thing to prove it was a lie."

He eschews propriety, and traditional constraints of office:

"He touched on my future at various points."
"He [said] that he needed loyalty and expected loyalty. I did not reply, or even nod or change my facial expression, which he noted because we came back to it later."

Once he gets spun up, the obsession can last:

"[H]e returned to what he called the 'golden showers thing' ... He repeated that it was a complete fabrication and 'fake news.' ... He said it bothered him if his wife thought there was even a one percent chance it was true."
"The conversation then swerved into a long discussion of the email investigation ... He knew the sequence of events extremely well, breaking them down in his lexicon into Comey One, Comey Two, and Comey Three developments."

He speaks bluntly and likes gossip:

"[H]e asked me to compare [Obama's Attorney General Eric] Holder and AG [Loretta] Lynch."

He still uses "Art of the Deal" schmooze mode:

"As we got up, he said we should have my family back to dinner. When I didn't reply, he added, 'or a tour, whatever you think is appropriate."

He's preoccupied by press and leaks:

"He began by joking that I was getting more publicity than he. I replied that I hate it."
"He asked whether the FBI leaks and I answered ... of course."
"The president ... [returned] to the issue of finding leakers ... I said something about the value of putting a head on a pike as a message. He replied by saying it may involve putting reporters in jail. 'They spend a couple days in jail, make a new friend, and they are ready to talk.' I laughed."

He loves perks:

"[H]e talked about the inauguration and crowd size, the campaign and his effective use of free media ('earned media'), the extraordinary luxury of the White House (which he favorably compared to Mar-a-lago [sic]), his many activities during the day and week, his young son's height ... "
Be smart: One of the biggest takeaways is how much presidential mindshare goes to grievances, distractions and worries about investigations:
Comey quotes the president as saying that he "is trying to do work for the country, visit with foreign leaders, and any cloud, even a little cloud gets in the way of that."
2. Rosenstein may be "about to be spit-roasted"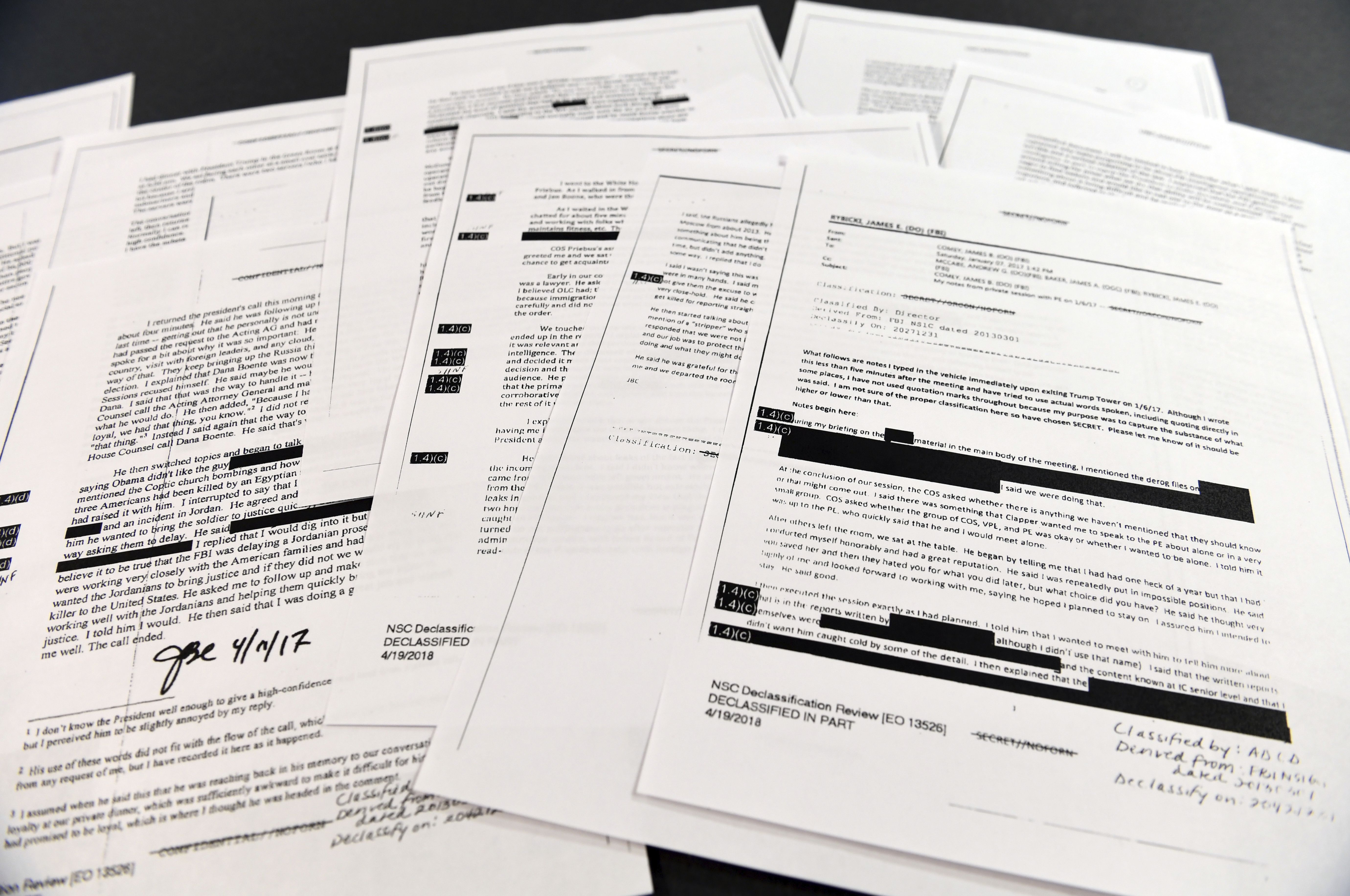 President Trump "hasn't cooled off on" Deputy Attorney General Rod Rosenstein (who oversees the Mueller investigation) and could still fire him, according to a source close to Trump.
The source gave Jonathan Swan this behind-the-scenes read on the latest thinking at the White House, which the source said is "in a defensive posture":
"Trump doesn't know exactly what to do with [Rosenstein]. They don't have a clean way to get rid of him. That's the problem."
But Rosenstein may be "about to be spit-roasted."
"I do think a case is being built against him [Rosenstein]. That's what Meadows and Jordan are doing." (Reps. Mark Meadows [R-N.C.] and Jim Jordan [R-Ohio], both members of the conservative House Freedom Caucus, met with Rosenstein on Monday to press him on the Russia and Clinton email probes, per the WashPost.)
On the addition of Rudy Giuliani to Trump's legal team: "The way it's been characterized by senior administration officials is that the president is frustrated and casting about. That's typical of him. He's done it before. He's upset, and the way he thinks more will happen is if new people are brought onto the scene."
"This is all Trump trying to move the ball and he thinks by having substitutions and additional players he'll do that. ... What he really needs is what he's not getting. He needs a lead lawyer who has the backing and resources of a large firm."
A possible White House addition, according to the source:
Another "senior lawyer is ... needed on the inside. There are indications that [White House counsel] Don McGahn would like to bring Emmet Flood [who represented Bill Clinton during impeachment] into the White House Counsel's office to help with the oversight and investigations work that is currently in play, and would likely intensify if the House was captured by Democrats." (In early March, the N.Y. Times reported that Trump was in discussions with Flood to help with the Mueller response.)
3. North Korean hackers get dangerous
North Korea's fingerprints have appeared over the past 18 months on an increasing number of surprisingly sophisticated cyber-attacks, The Wall Street Journal's Timothy W. Martin writes from Seoul:
"[T]he skill level of its hackers has rapidly improved and their targets have become more worrisome."
"Pyongyang [is] flashing levels of originality in its coding and techniques that have surprised researchers. It also has shown a willingness to go after targets such as central banks and point-of-sale systems."
"[S]uspected North Korean hackers appear to have infiltrated Turkish banks and invaded computer systems in the run-up to the Winter Olympics."
Why it matters: "As North Korea prepares for possible negotiations with Washington aimed at freezing its nuclear program, its hacking capabilities could help it generate money to compensate for economic sanctions or to threaten foreign financial institutions."
4. Pic du jour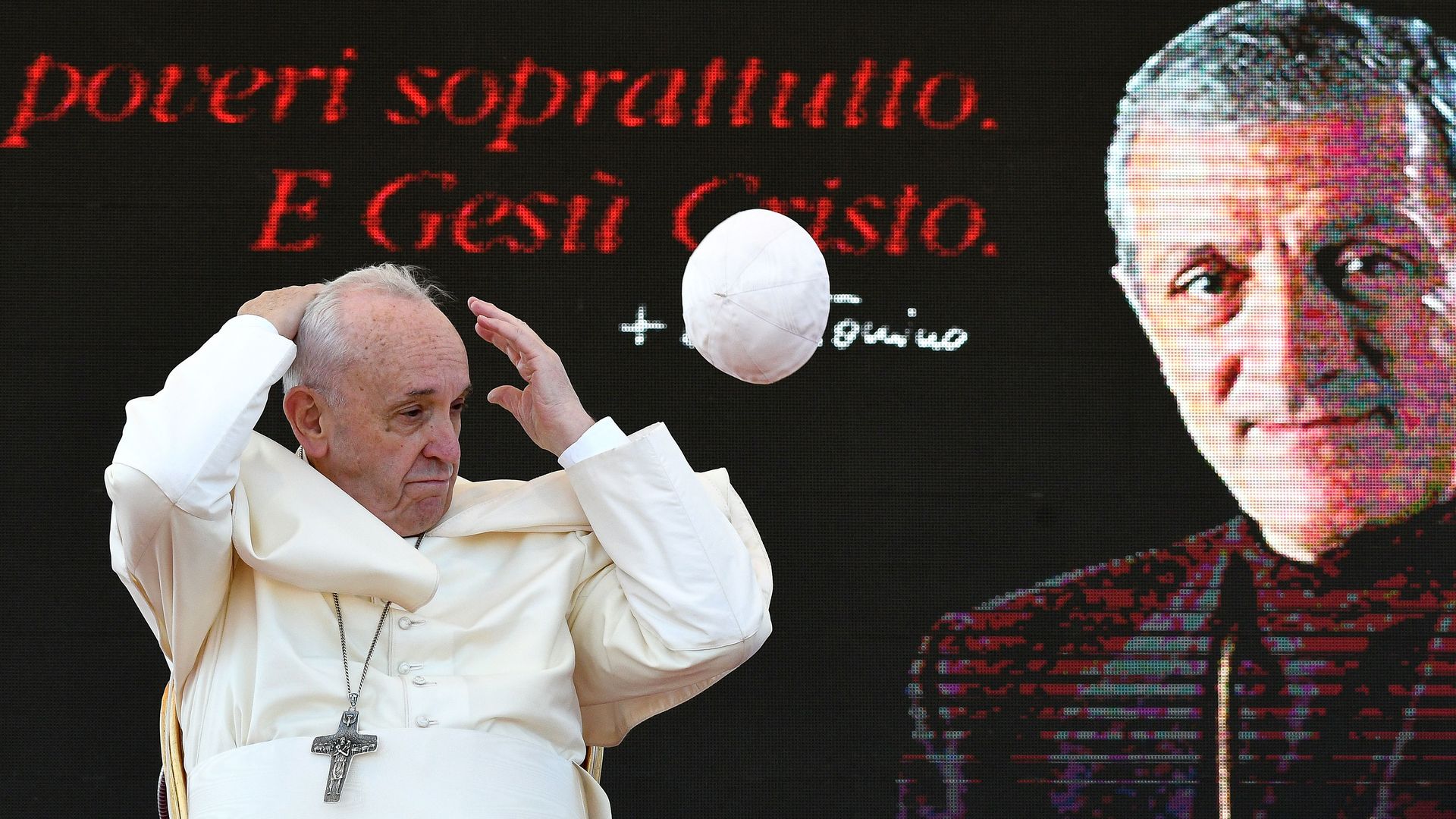 The zucchetto of Pope Francis is blown by a gust of wind as he attends a ceremony in Alessano, Italy.
5. Hurdle for selling weed: ads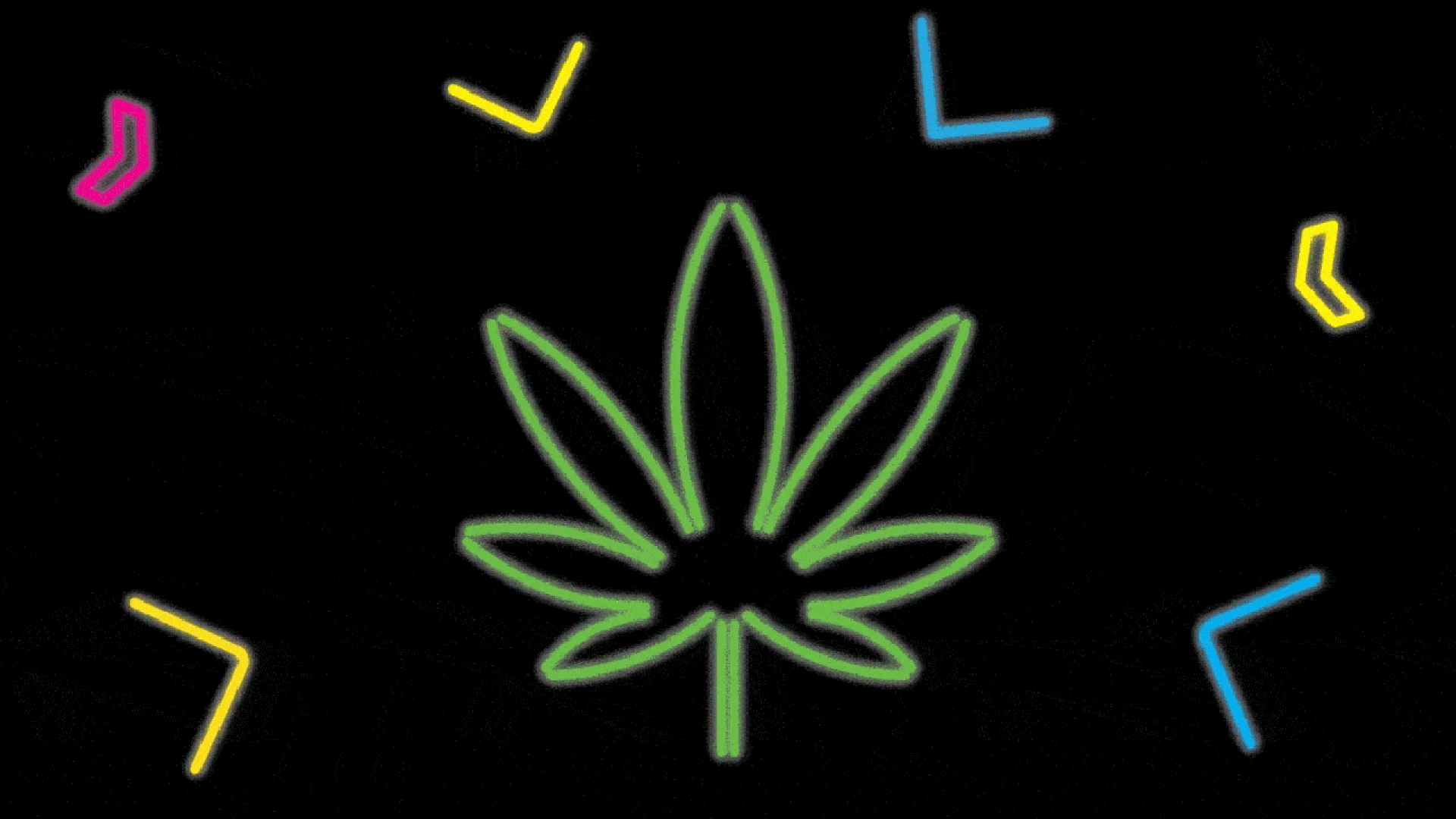 The marijuana industry is booming, but it's hard for pot growers and sellers to advertise and promote their products, Axios' Sara Fischer writes:
Why it matters: Most media companies don't accept weed ads, or have rules that make it nearly impossible to place them.
Both Facebook and Twitter prohibit the promotion of drugs and paraphernalia globally. 
The great exception seems to be billboards.
6. Abortion battles heat up in states
"In many state capitols, Republican lawmakers are backing unusually strict antiabortion laws ... eager to get more restrictions on the books in case November's elections bring a surge of Democrats hostile to them," the WashPost's Mary Jordan writes:
Why it matters: "Federal courts have immediately blocked many of these antiabortion laws ... But they still have a purpose: to set up legal challenges to Roe v. Wade ... at a time when Trump could appoint the justice who helps overturn it."
7. Republican Party becomes the Trump Party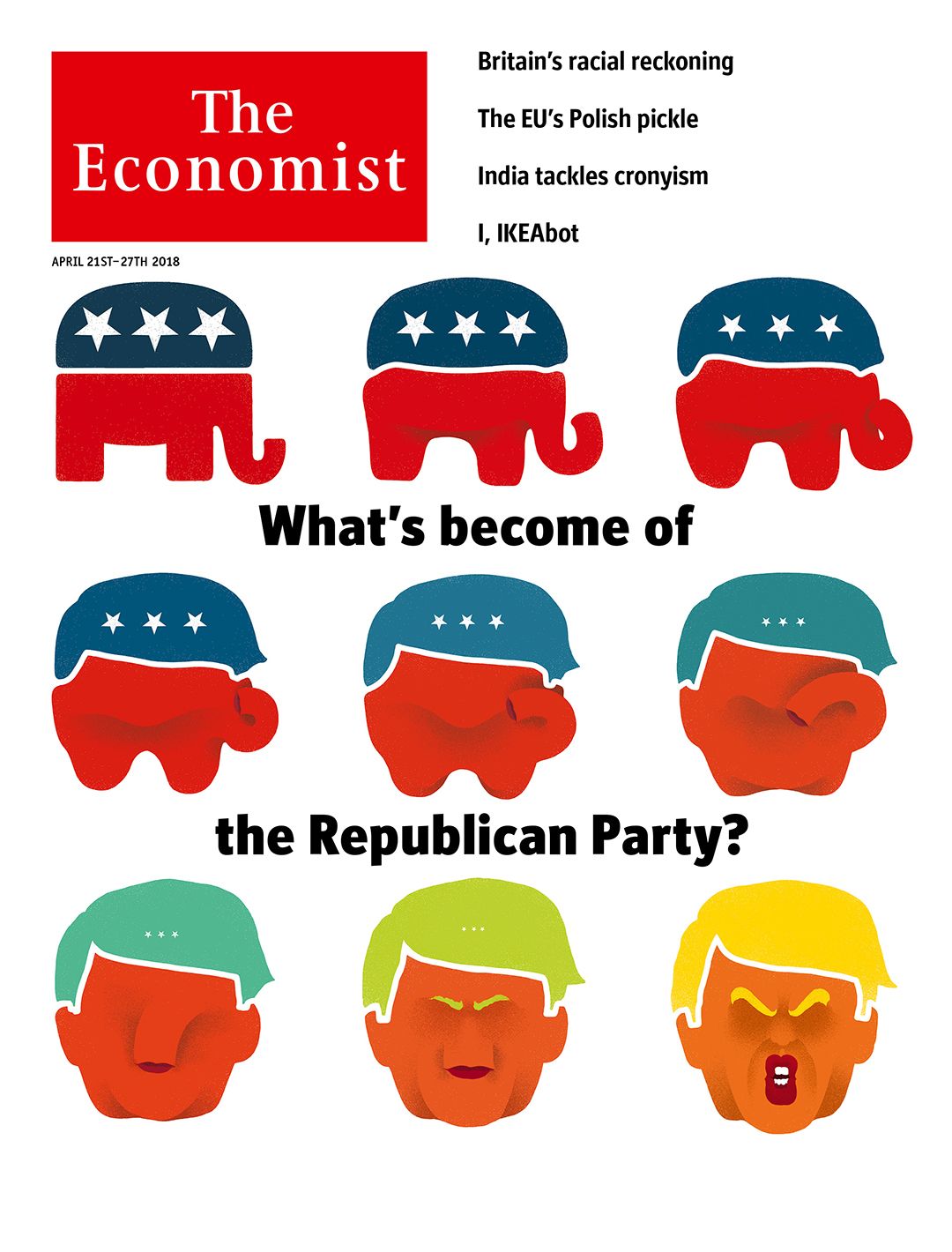 "All presidents, Republican and Democrat, seek to remake their party in their own image. Donald Trump has been more successful than most," The Economist writes in its cover editorial:
"The organizing principle of Mr. Trump's Republican Party is loyalty. Not, as with the best presidents, loyalty to an ideal, a vision or a legislative programme, but to just one man — Donald J. Trump — and to the ... rage which [consumes] the voter base that, on occasion, even he struggles to control. In America that is unprecedented and it is dangerous."
8. Bite of the day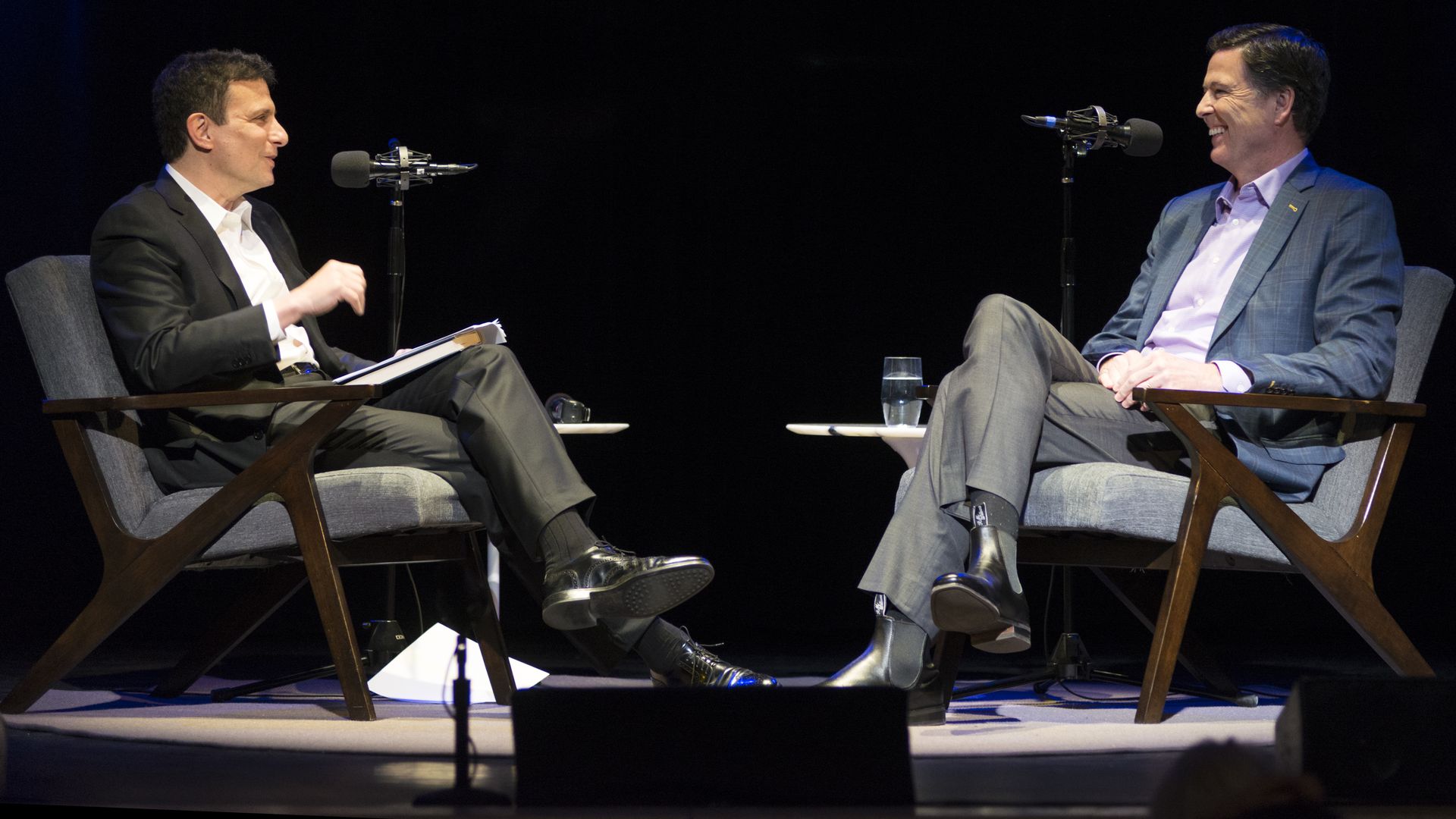 James Comey to New Yorker Editor David Remnick, during a taping of "The New Yorker Radio Hour" in New York last night, about President Trump:
"I think he has an emptiness inside of him, and a hunger for affirmation, that I've never seen in an adult."
9. Palantir and the ceaseless pressure to monetize data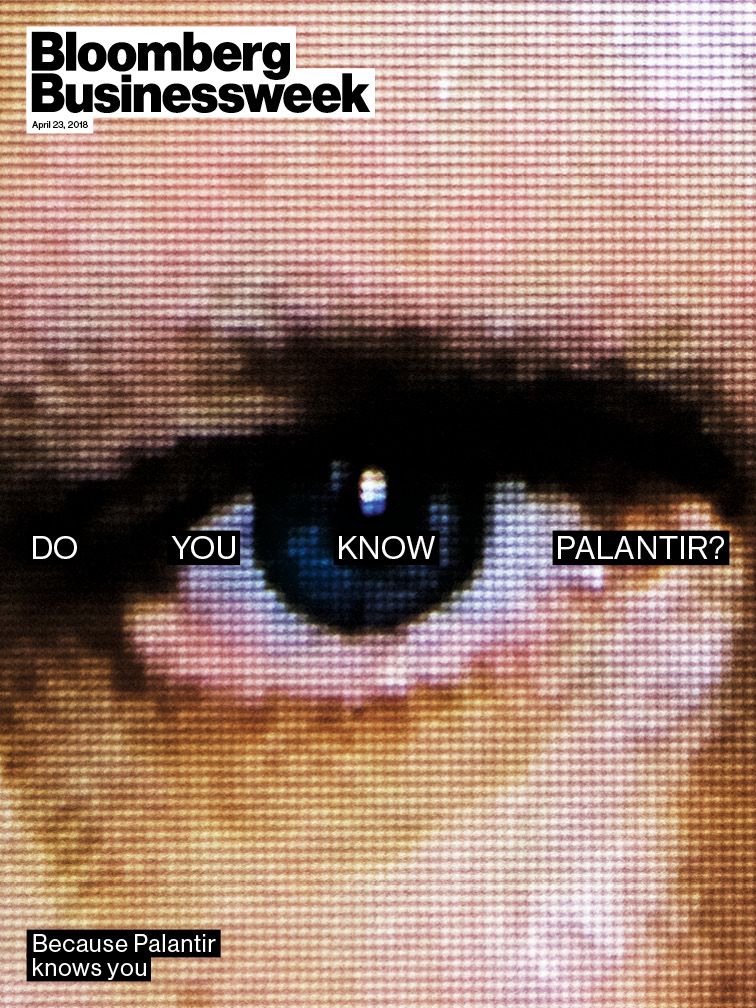 "Palantir Knows Everything About You ... Peter Thiel's data-mining company is using War on Terror tools to track American citizens. The scary thing? Palantir is desperate for new customers" — Bloomberg Businessweek cover story:
"Founded in 2004 by Peter Thiel and some fellow PayPal alumni, Palantir cut its teeth working for the Pentagon and the CIA in Afghanistan and Iraq."
"The company's engineers and products don't do any spying themselves; they're more like a spy's brain, collecting and analyzing information that's fed in from the hands, eyes, nose, and ears."
"The software combs through disparate data sources — financial documents, airline reservations, cellphone records, social media postings — and searches for connections that human analysts might miss. It then presents the linkages in colorful, easy-to-interpret graphics that look like spider webs."
"The U.S. Department of Health and Human Services uses Palantir to detect Medicare fraud. The FBI uses it in criminal probes. The Department of Homeland Security deploys it to screen air travelers and keep tabs on immigrants."
"Police and sheriff's departments in New York, New Orleans, Chicago, and Los Angeles have also used it, frequently ensnaring in the digital dragnet people who aren't suspected of committing any crime."
"People and objects pop up on the Palantir screen inside boxes connected to other boxes by radiating lines labeled with the relationship: 'Colleague of,' 'Lives with,' 'Operator of [cell number],' 'Owner of [vehicle],' 'Sibling of,' even 'Lover of.'"
10. 1 phone thing
"From promposals to Snaps, smartphones are crashing the prom," by USA Today's Brett Molina:
"There is the flurry of texts to organize dinner. Perhaps calling an Uber. A FaceTime chat with the parents (who are probably tracking their prom-goer's location by GPS). And then, of course, ... Instagram stories, Facebook updates, Snaps, tweets."
"At St. Francis High School in Mountain View, Calif., smartphones are a no-no at school dances. The one exception is prom. At the school's junior prom last weekend, students were allowed to use their smartphones to take pictures  — but any students spotted sitting down using their smartphones were asked to put them away."
Why it matters: "[D]ocumenting the prom has perhaps become as important for teens as the prom itself. But being buried in your smartphone instead of rocking out on the dance floor — is it becoming too much? Are high-schoolers so focused on what to post on Snapchat they're not enjoying the moment?"
Thanks for reading. See you all day on Axios.com.