Good Thursday morning. Today's biggest quote ... Senate Foreign Relations Chair Bob Corker (R-Tenn.) told reporters: "I think Secretary Tillerson, Secretary Mattis, and Chief of Staff Kelly are those people that help separate our country from chaos." (Video)
https://www.axios.com/newsletters/axios-am-1f4ae8dd-f7bf-4a79-8bc6-4ad7790f41ca.html?chunk=0#story0
1 big thing: Being Rex Tillerson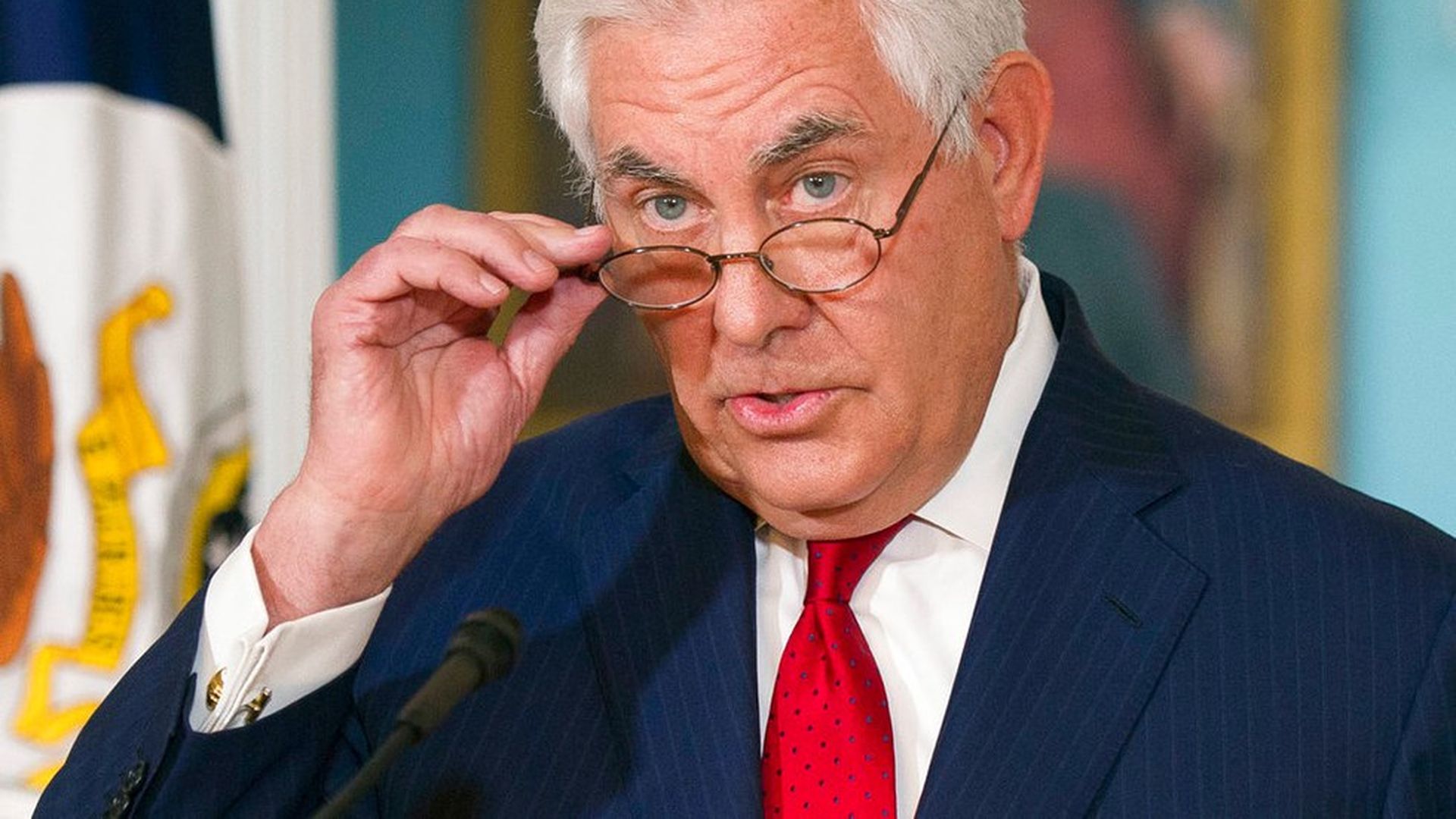 You headed one of America's couple largest companies, and the biggest of the energy "supermajors":
You were unusually imperious, even for a corporate big shot — waited on hand and foot by lackeys who stroked and coddled you for decades.
You had a corporate dining room, so you never had to see the rabble.
You presided over one of the most hierarchical of the world's corporate cultures, reflecting the tone set by John D. Rockefeller.
You flew private all over the globe. You got briefing books, had your own foreign policy, and a security detail.
You were Rex Tillerson, CEO of Exxon.
Now you're Rex Tillerson, Secretary of State to Donald Trump. Your life blows:
Your boss doesn't love you, and doesn't even think he needs someone in your job — he likes doing it himself, and thinks he should.
You don't think much of your boss, and neither do your friends.
You're supposed to cut your budget: always a thankless job — but one that, in this case, may not even be a good idea.
Morale in your building is terrible, and no one thinks you have juice.
You treat everyone dismissively — media, colleagues, counterparts — with predictable results.
Yes, you called your boss a "moron" during a meeting at the Pentagon. It could have been worse.
You didn't even bother to deny it, although finally your spokesperson did. Everyone in the West Wing thinks/knows you said it.
Some people who were in the room tattled to the press. So now you have to go out and say your boss is a genius — as if you were being forced to apologize to a sibling.
And now you're trapped. The new regime downtown wants stability. Expectations were that you'd be gone by Thanksgiving, but now that's stretched into 2018.
On top of it all, after a perfect career, your last public act is already an obvious failure — and you have to keep doing it.
Welcome to Rex Tillerson's life. No wonder he doesn't feel very diplomatic.
https://www.axios.com/newsletters/axios-am-1f4ae8dd-f7bf-4a79-8bc6-4ad7790f41ca.html?chunk=1#story1
2. Game change?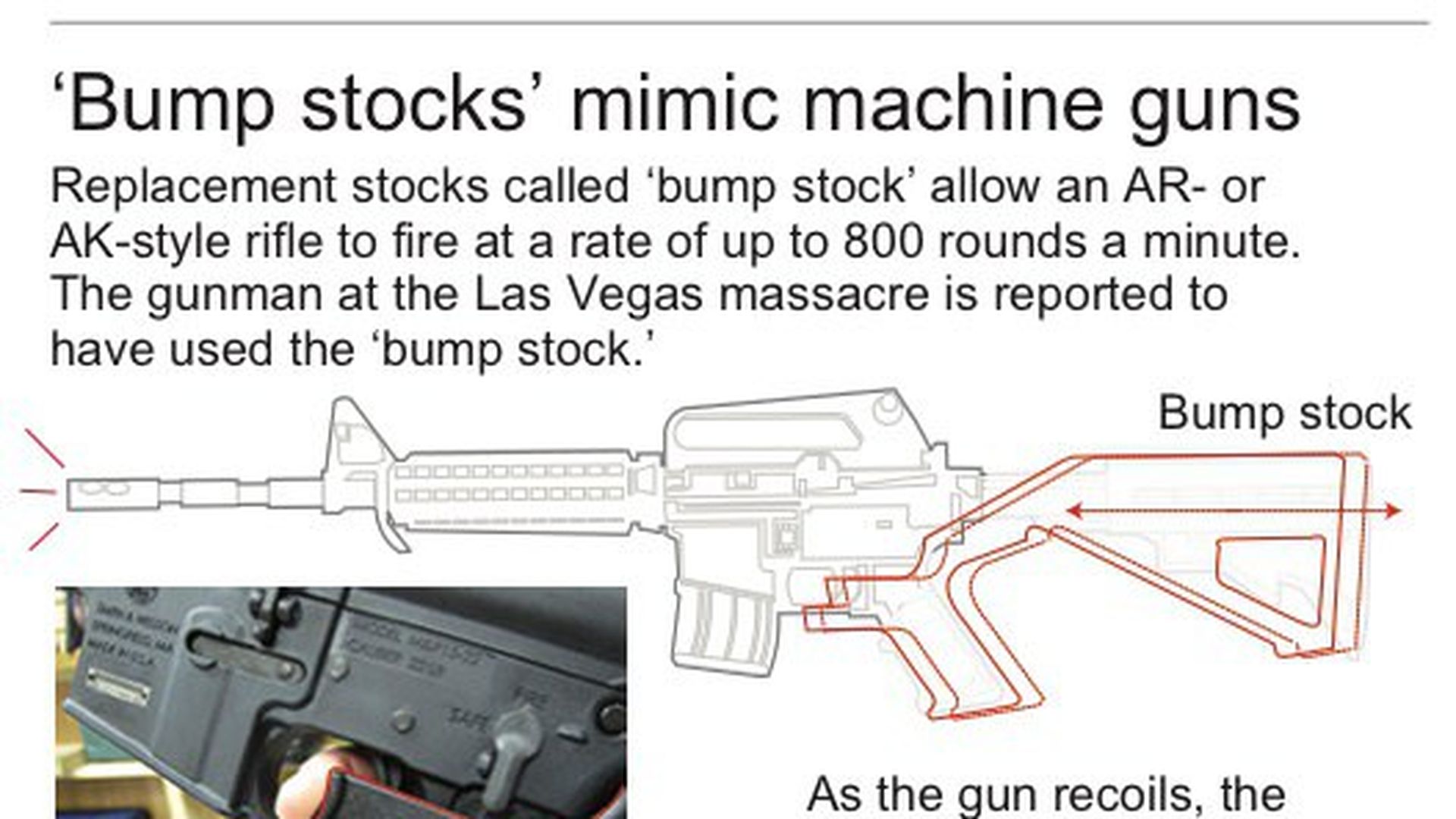 "After Years of Resistance, G.O.P. May Back Gun Control Measure," N.Y. Times' Sheryl Stolberg and Tiffany Hsu write on the N.Y. Times front page, above fold:
"Top congressional Republicans ... signaled ... that they would be open to banning the firearm accessory that the Las Vegas gunman used to transform his rifles to mimic automatic weapon fire ... previously obscure gun conversion kits, called 'bump stocks,' that turn semiautomatic weapons into weapons capable of firing in long, deadly bursts."
Sen. John Cornyn of Texas, No. 2 Republican in the Senate: "I own a lot of guns, and as a hunter and sportsman, I think that's our right as Americans, but I don't understand the use of this bump stock ... It seems like it's an obvious area we ought to explore and see if it's something Congress needs to act on."
A senior House Republican aide tells me: "Most members hadn't heard about [this technique] until this week. It'll be the subject of discussion over the coming days."
https://www.axios.com/newsletters/axios-am-1f4ae8dd-f7bf-4a79-8bc6-4ad7790f41ca.html?chunk=2#story2
3. "Commanding terrain"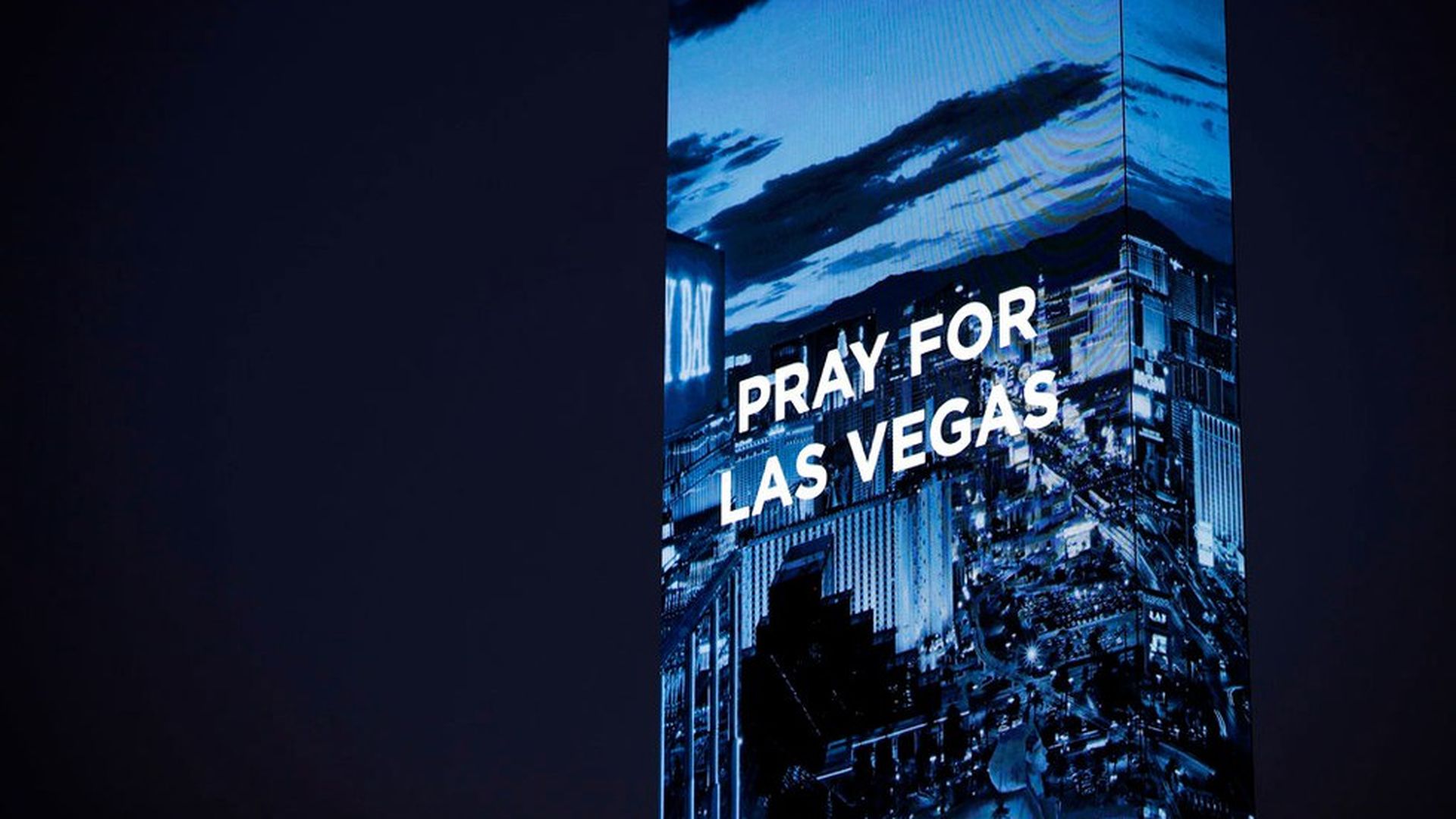 The L.A. Times recreates the Vegas horror ... "From the 32nd floor, Stephen Paddock became a killing machine, showing the power of a sniper": "He was a quarter of a mile away and a few hundred feet high — the smallest of specks in a boisterous landscape. They were 22,000 targets in an open field, dodging gunfire.""Some staked their lives on the shelter of a beer cart, a food truck, a cooler. Those who ran had little sense of direction. Were they racing toward the shots? Would a car, a restaurant, a hotel closet, become refuge or a trap?"Why it matters: "Authorities have long discussed the threat of terrorism by a sniper in a crowded area and the reality that there are relatively few tools to prevent or quickly stop such an attack.""Los Angeles police have tried different tactics, including placing sharpshooters on rooftops during the Academy Awards.""But replicating those tactics more commonly at open-air events would be costly and in some cases impractical. Stephen Paddock's position ... gave him 'commanding terrain.'"N.Y. Times Quote of the Day ... John Weinreich, executive casino host at the Atlantis Casino Resort Spa in Reno, Nev., recalling Paddock, who played as many as 1,000 hands of video poker an hour: "Not a lot of smiles and friendliness. There was not a lot of body movement except for his hands."
https://www.axios.com/newsletters/axios-am-1f4ae8dd-f7bf-4a79-8bc6-4ad7790f41ca.html?chunk=3#story3
4. Facebook fights back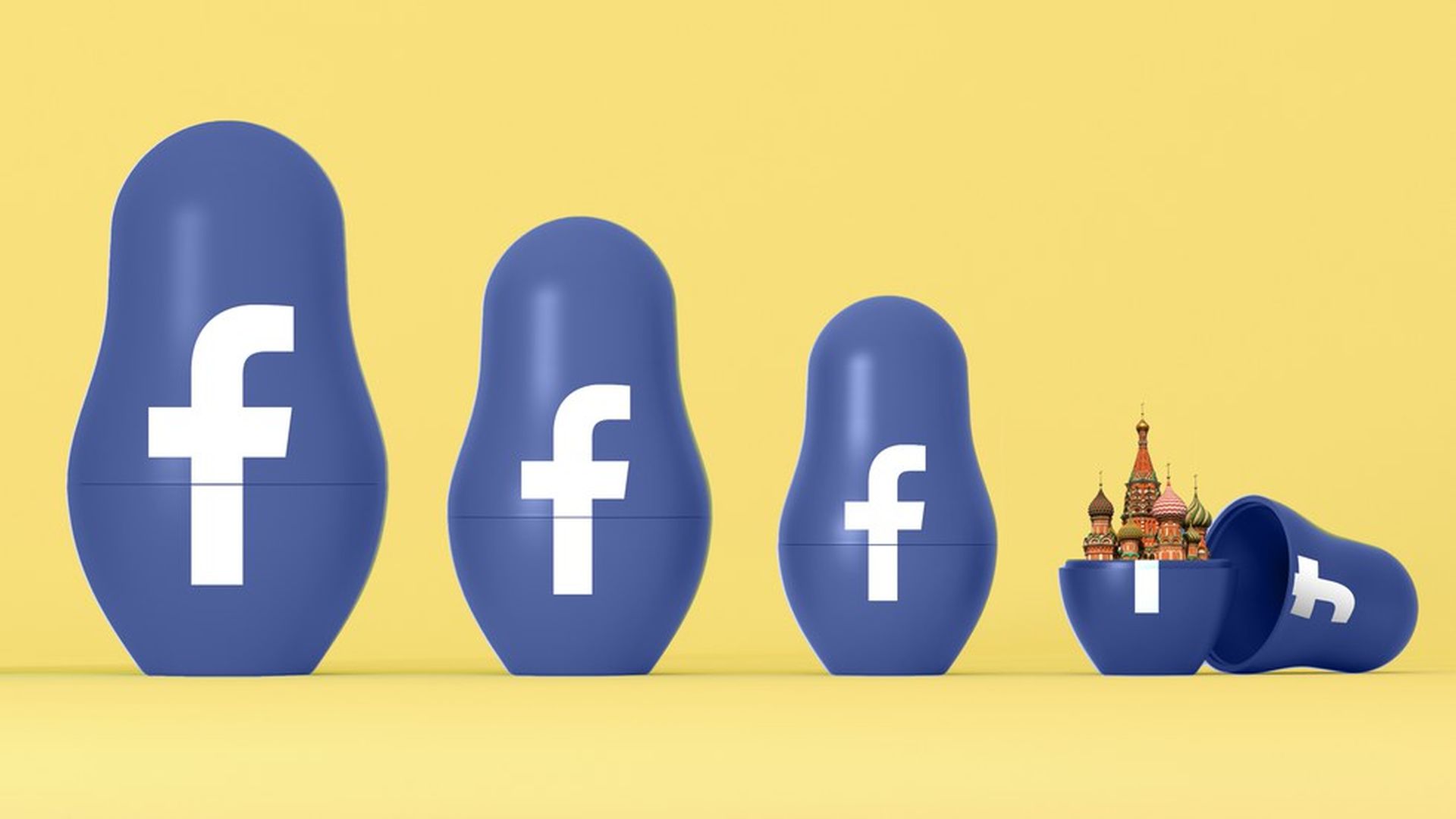 "Facebook is stepping up its offensive to respond to questions about the role it played in Russian meddling in the 2016 presidential election," Axios' David McCabe and Sara Fischer write:
What's new: "Facebook is investing in full-page ads, new policies and C-suite lobbying efforts as it stares down a crisis that imperils its reputation with Congress and relationship with the public. In contrast, Google and Twitter have kept a lower profile in response to the same investigation."
"Facebook hired consulting firms on both sides of the aisle ... Definers Public Affairs [Matt Rhoades, Joe Pounder, Tim Miller in S.F., Colin Reed, etc.] pitches itself to help Silicon Valley navigate the world of political opposition research. On the left, Facebook is working with GreenLight Strategies (helmed by a former top aide to John Kerry) and TSD Communications, led by former Democratic operatives."
The bottom line: "This is an unprecedented response for Facebook at an unprecedented moment. 'I've never seen anything quite like [this],' tweeted Salesforce CEO Marc Benioff [yesterday], juxtaposing Facebook's ad with a Wall Street Journal story on the controversy."
https://www.axios.com/newsletters/axios-am-1f4ae8dd-f7bf-4a79-8bc6-4ad7790f41ca.html?chunk=4#story4
5. This could save your life
"The infotainment technology that automakers are cramming into the dashboard of new vehicles is making drivers take their eyes off the road and hands off the wheel for dangerously long periods of time," AP's Joan Lowy writes about a AAA study out today:
What's new: "The technology is also becoming more complicated to use. Cars used to have a few buttons and knobs. Some vehicles now have as many as 50 buttons on the steering wheel and dashboard that are multi-functional. There are touch screens, voice commands, writing pads, heads-up displays on windshields and mirrors and 3-D computer-generated images."
"The auto industry says the new systems are better alternatives for drivers than mobile phones and navigation devices that were not designed to be used while driving."
Why it matters: "Jake Nelson, AAA's director for traffic safety advocacy and research, said drivers testing all 30 of the 2017 model year cars and light trucks took their eyes off the road and hands off the wheel while using infotainment systems."
"The test drivers used voice commands, touch screens and other interactive technologies to make calls, send texts, tune the radio or program navigation — all while driving."
https://www.axios.com/newsletters/axios-am-1f4ae8dd-f7bf-4a79-8bc6-4ad7790f41ca.html?chunk=5#story5
6. TIME cover: "America's nightmare"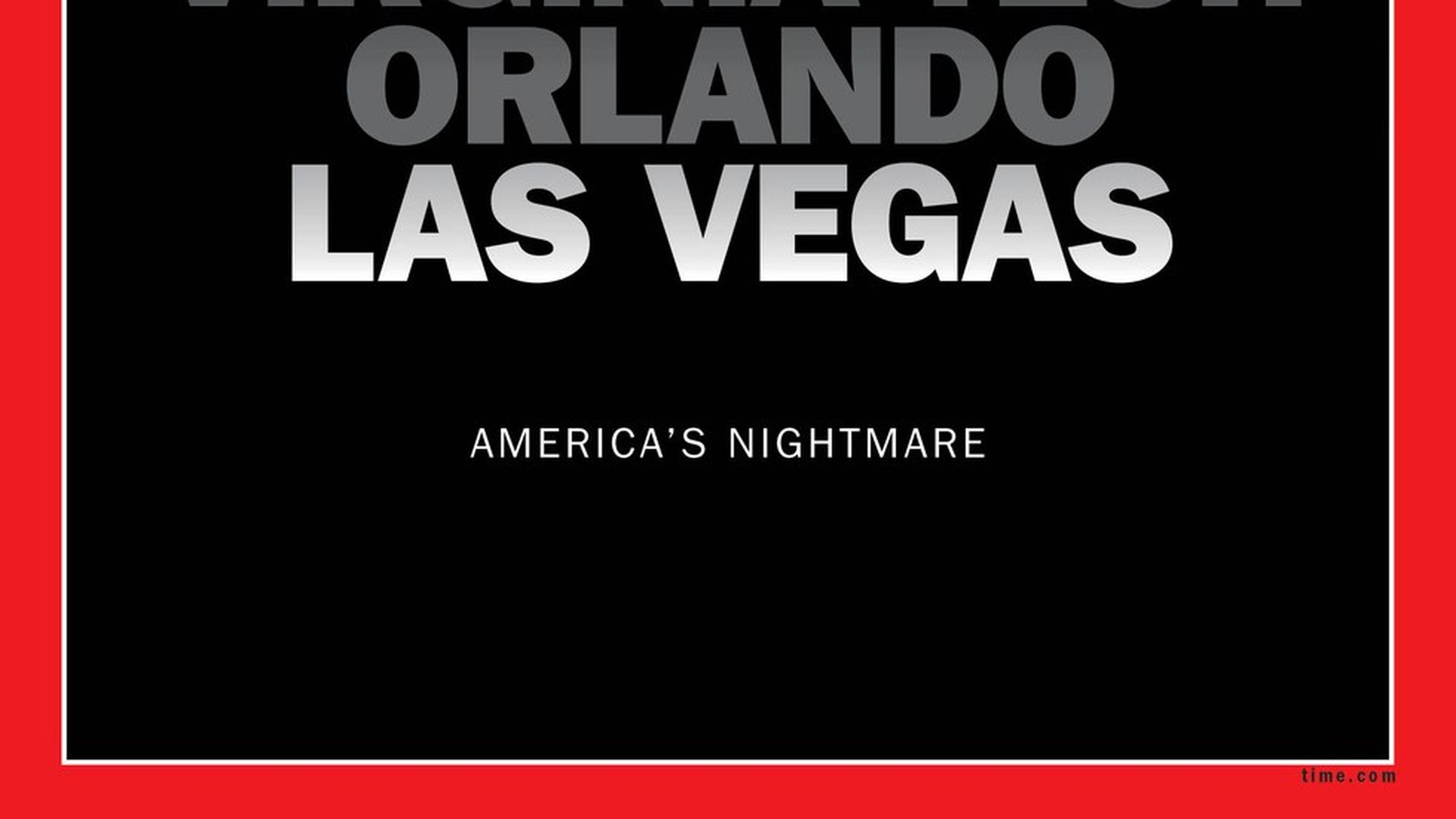 TIME's Phil Elliott and Haley Sweetland Edwards, on the debate ahead:
The challenge in bringing change is that the debate over gun rights isn't really about guns at all. It's about what they represent: cherished freedoms, a reverence for independence. The guns are a rejection of political correctness that creeps into everything. Even the most incremental move to constrain deadly weaponry seems to many Americans to cut against their rights.
https://www.axios.com/newsletters/axios-am-1f4ae8dd-f7bf-4a79-8bc6-4ad7790f41ca.html?chunk=6#story6
7. Poll du jour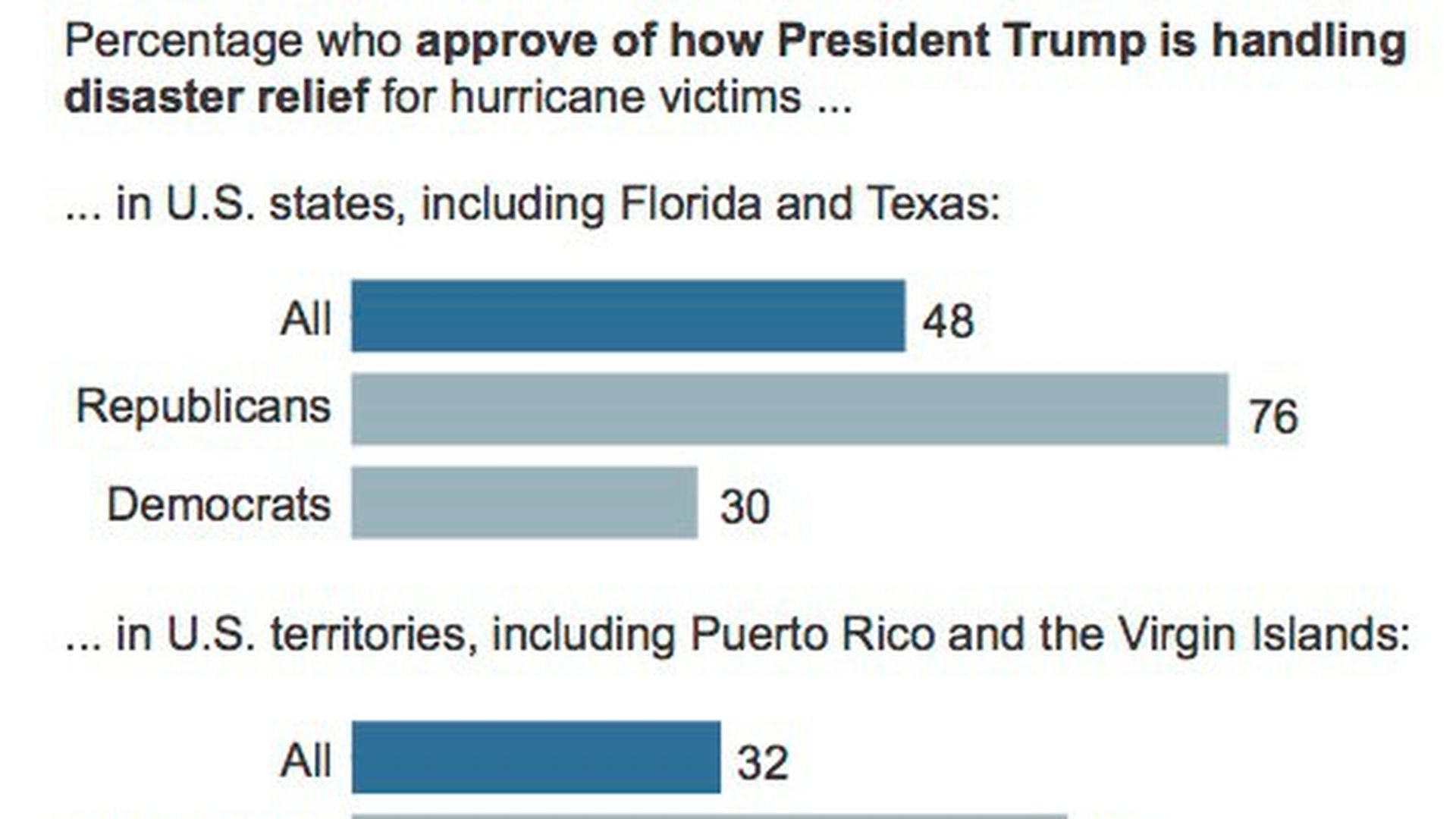 And in the states ... WashPost A1, "Northam leads Gillespie by 13 points," by Greg Schneider and Scott Clement: "A relatively unified party base gives Democrat Ralph Northam a clear lead [53-40] over Republican Ed Gillespie heading into the final month of the Virginia governor's race, according to a new Washington Post-Schar School poll."
https://www.axios.com/newsletters/axios-am-1f4ae8dd-f7bf-4a79-8bc6-4ad7790f41ca.html?chunk=7#story7
8. 40 states all have the same idea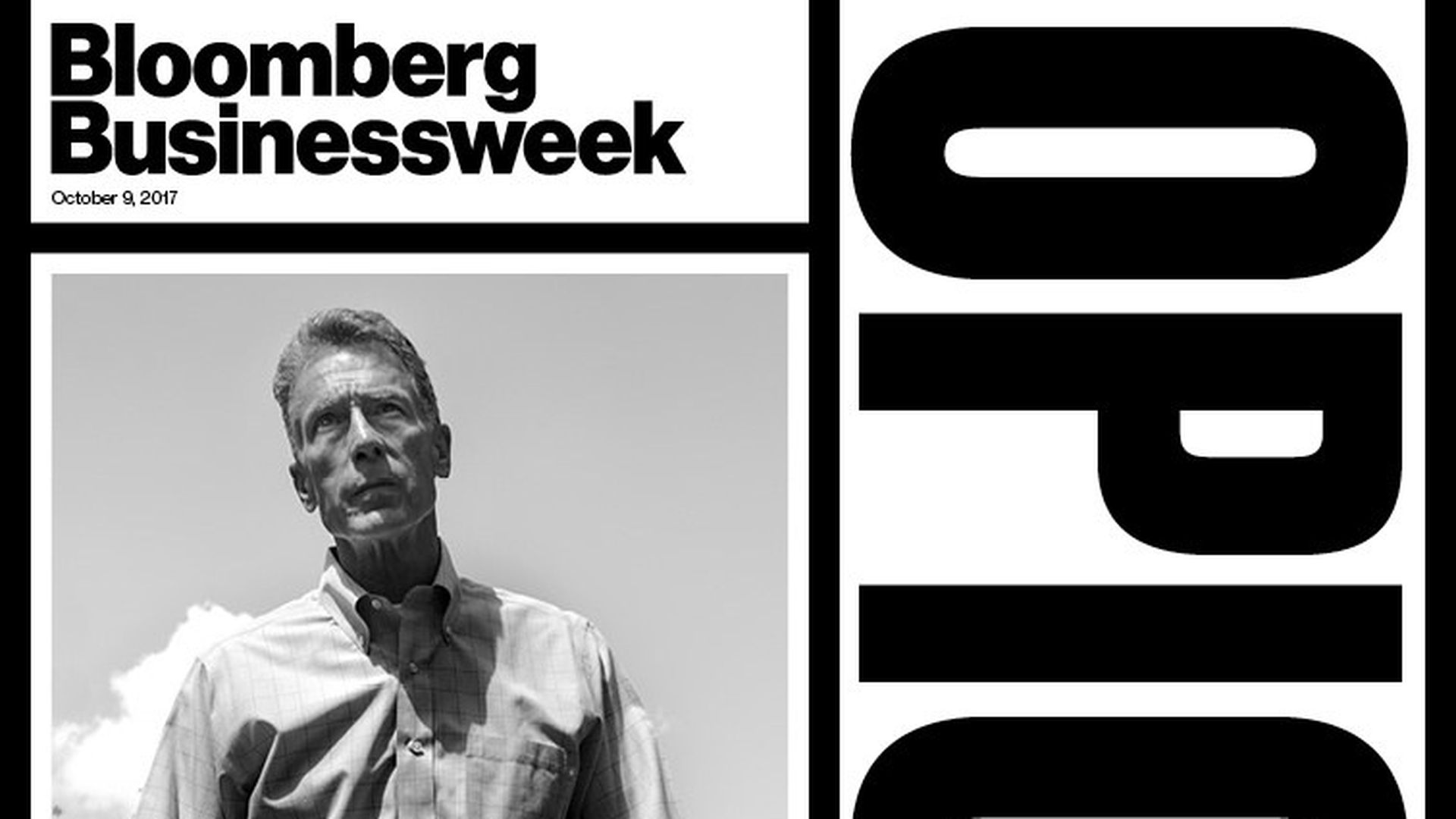 Mike Moore, the lawyer who pierced Big Tobacco (and negotiated the largest corporate legal settlement in U.S. history) now has the opioid industry in his sights, Esmé E. Deprez and Paul M. Barrett write in the Bloomberg Businessweek cover story:
Moore is "convinced this is the moment to work the same mechanisms on the drug companies that forced the tobacco industry to heel."
The parallel: "Just as he did during the tobacco-litigation era, Moore has been traversing the country to recruit people ... Moore and his allies hope to corral at least 25 states to exert enough pressure, collect enough evidence, and drive potential damages so high that it will be cheaper for opioid manufacturers to back down."
"10 states and dozens of cities and counties have sued companies including Purdue Pharma, Endo, and Johnson & Johnson's Janssen Pharmaceuticals —­ beginning in 2014 but mostly in the past few months."
"Forty state AGs have launched preliminary investigations as a way to gauge the viability of litigation."
Why it matters: "The suits allege that the companies triggered the opioid epidemic by minimizing the addiction and overdose risk of painkillers such as OxyContin, Percocet, and Duragesic. Opioids don't just cause problems when they're misused, the suits argue: They do so when used as directed, too."
https://www.axios.com/newsletters/axios-am-1f4ae8dd-f7bf-4a79-8bc6-4ad7790f41ca.html?chunk=8#story8
9. Another thing Amazon is disrupting
"M.B.A. Recruiting ... Amazon.com is flooding the zone at business-school recruiting events — drawing overflow crowds and irking other recruiters," by Wall Street Journal's Kelsey Gee, on A1 (subscription):
"Amazon has hired some 1,000 M.B.A.s in the past year ... a drop in the bucket for a company that plans to add 50,000 software developers in the next year."
"The talent wars begin even before classes do. This past June, Amazon sponsored an event at its Seattle headquarters for 650 soon-to-be first-year and returning women M.B.A. students, some of whom left the event with internship offers for summer 2018."
Why it matters: "Tech companies, once averse to hiring PowerPoint-loving B-school grads, have embraced them in the past few years."
Miriam Park, Amazon's director of university programs, "said business students understand Amazon's customer-obsessed ethos and tend to be 'risk oriented,' scrappy and analytical."
How they do it: "Amazon's campus recruiters descend en masse and are in almost-constant touch with students ... Amazon might have eight or 10 alumni working large events or hosting coffee meetings for one-on-one conversations with students, compared with a typical one or two presenters from other companies. 'It's been a huge volume play.'"
The takeaway: "Many big banks and consulting firms now want to know when Amazon is coming to campus so they can schedule their visits for a different day and avoid going head-to-head for an audience."
https://www.axios.com/newsletters/axios-am-1f4ae8dd-f7bf-4a79-8bc6-4ad7790f41ca.html?chunk=9#story9
10. 1 fun thing
"The New Bedtime Story Is a Podcast," by N.Y. Times' Amanda Hess:
"As podcast makers look to expand their audience — just under a quarter of Americans have listened to a podcast in the past month — they're turning to a previously untapped demographic: children."
"The public radio tradition that's powered the recent podcast boom never invested much in children's audio. But now that podcasting has allowed for endless shows on demand, audio makers are eager to get their content straight to children's ears."
Why it matters: "[T]he technology that made podcasts possible — the smartphone — has also gifted its producers a golden sales pitch: Podcasts are being pushed as a guilt-free alternative to screen time, a more engaging option than zoned-out YouTube bingeing or hypnotizing mobile games."
"The market is suddenly bustling."
Snuggle down with the rest.
P.S. Worth reading the whole thing ... "How We Found Tom Price's Private Jets: A tantalizing tip, followed by months of painstaking reporting, revealed the HHS secretary's extravagant travel habits," by Politico's Dan Diamond and Rachana Pradhan:
"There were several missed opportunities, when we either went to the wrong airport or the right airport at the wrong time."