Axios AM
July 16, 2021
Happy Friday! I'm off to Norfolk, then Chicago — will send pics.
Smart Brevity™ count: 1,387 words ... 5 minutes. Edited by Justin Green.
🛰️ FCC acting chair Jessica Rosenworcel joins Axios' Ina Fried and Kim Hart today at 12:30 p.m. ET for a virtual event on digital connectivity. Register here.
1 big thing: New war over "packing" and "cracking"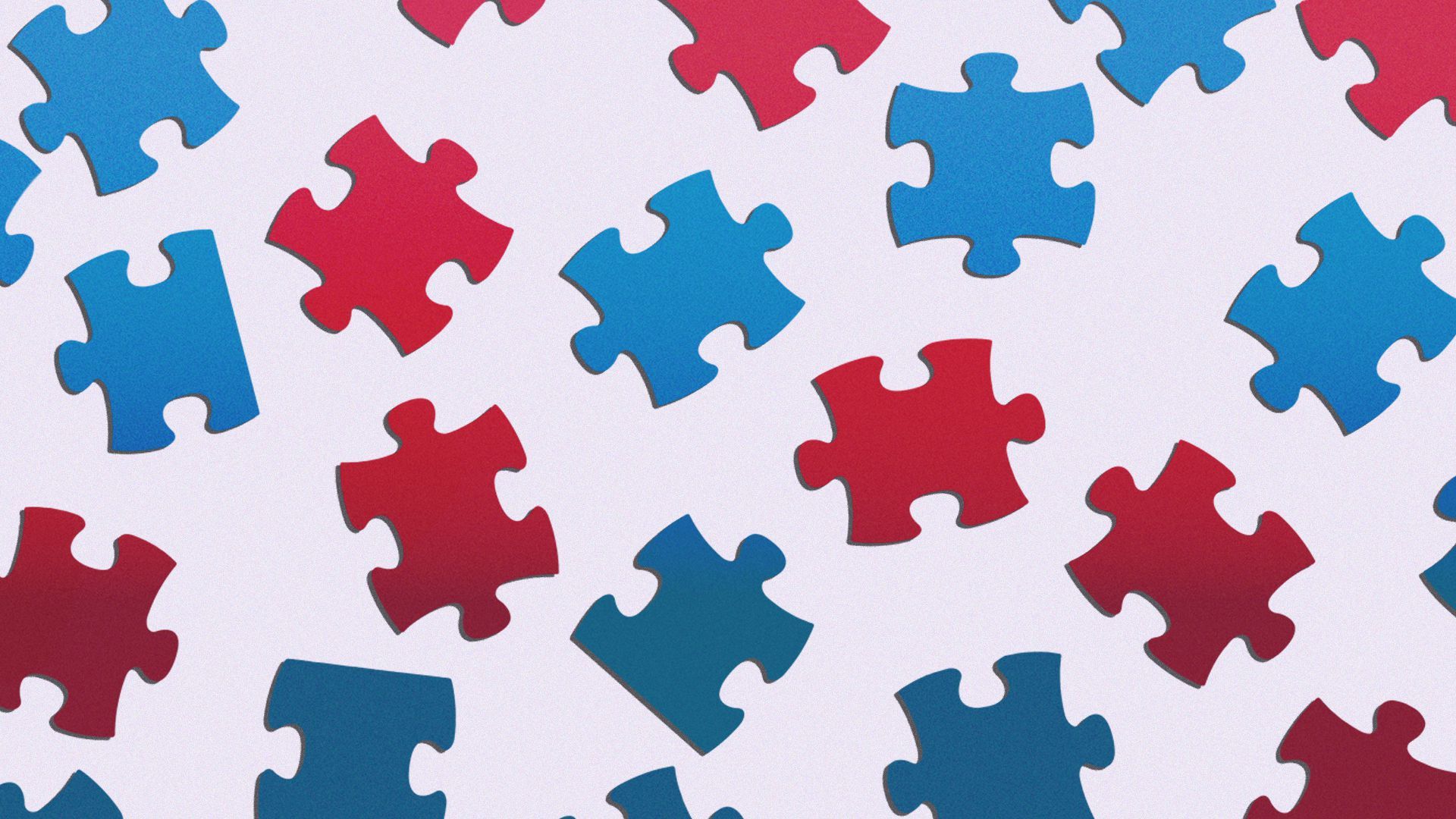 America's demographic revolution — increasing diversity, fast-growing cities and extreme partisan sorting — is changing how the parties fight for advantage as they draw district lines, Axios' Stef Kight reports.
Why it matters: Democrats have the demographics, but Republicans have the political power — putting Dems at a disadvantage on their new home turf.
What's happening: The growth of big, diverse cities in the Sun Belt should benefit Democrats. But because they're so far out of power in important states, gerrymandering New York and Illinois may be Democrats' only shot at preserving a House majority.
And the sunbelt is diversifying. Texas, Florida, Georgia and North Carolina saw the biggest increase in Black population over the past 10 years, while Texas, Florida and Arizona gained the most Hispanics, Brookings demographer William Frey said.
Cities are booming. Of the 20 fastest-growing major metro areas over the past decade, 16 voted for President Biden in 2020, according to Frey.
But nine of those metro areas are blue cities in red states, including several in Texas. Republicans could use their control over the redistricting process in those places to pack Democrats into a small number of districts.
On the other hand, GOP-controlled legislatures are considering "cracking" cities like Louisville and Omaha — diluting Democratic votes by spreading them out, as Politico reported.
2. Canceling cash
Cash is getting a bad rep. It was already on the ropes, and the pandemic accelerated the decline, Axios business editor Kate Marino writes.
We used less cash in 2020. That, along with the trend toward digital, suggests that most cash in circulation is being used under the table.
Why it matters: That strengthens the case for governments to develop their own digital currencies, which would be trackable and taxable.
With more of us going digital, the demand for $100 bills illustrates the increasingly underground use of cash, says Harvard's Kenneth Rogoff, who in 2016 authored the definitive tome on paper money's dark side.
The $100 bill accounts for more than 80% of U.S. bills in circulation.
C-notes, of course, are rarely used in legit transactions.
To combat tax evasion and criminal activity, countries around the world are studying the development of central bank digital currencies (CBDCs), as Axios' Hope King has reported.
Cashless policies by businesses exclude the underbanked. But in rural areas and in emerging economies, digital banking can be a solution.
3. Disinformation comes for business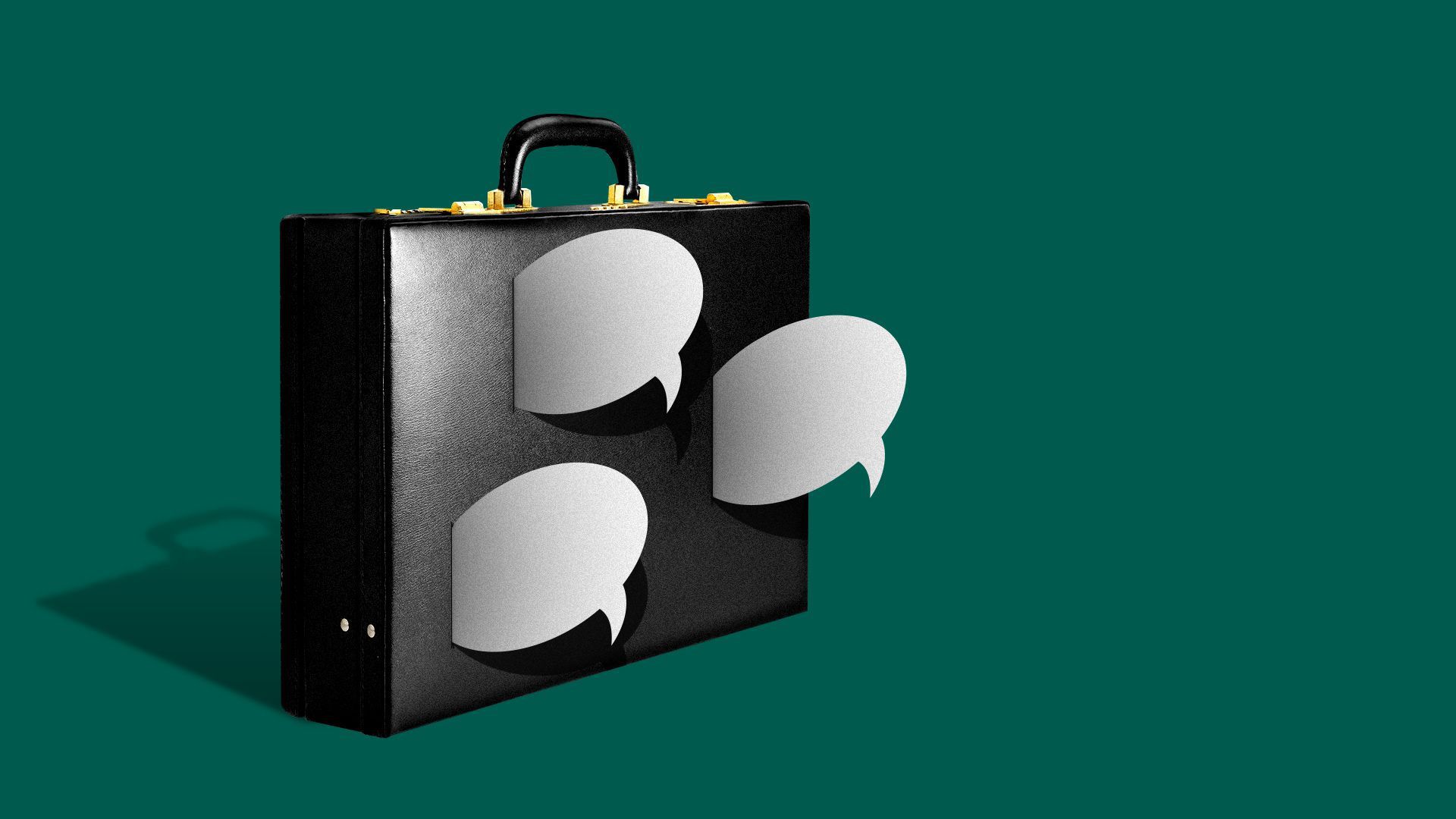 Businesses face a growing risk of becoming a disinformation campaign's direct target or collateral damage, Ina Fried writes from San Francisco in her weekly "Signal Boost" column.
Why it matters: Disinformation attacks are often cheaper to launch than a ransomware hit, and harder to protect against.
Disinformation is becoming a business unto itself, spawning agencies that specialize in creating and spreading false messages.
"There are organizations that are playing a disinformation-as-a-service function," former U.S. cybersecurity head Chris Krebs told executives and clients of PR firm Weber Shandwick.
Many types of disinformation attacks aren't illegal so the consequences can be minimal — getting banned from a platform.
4. What the witness sees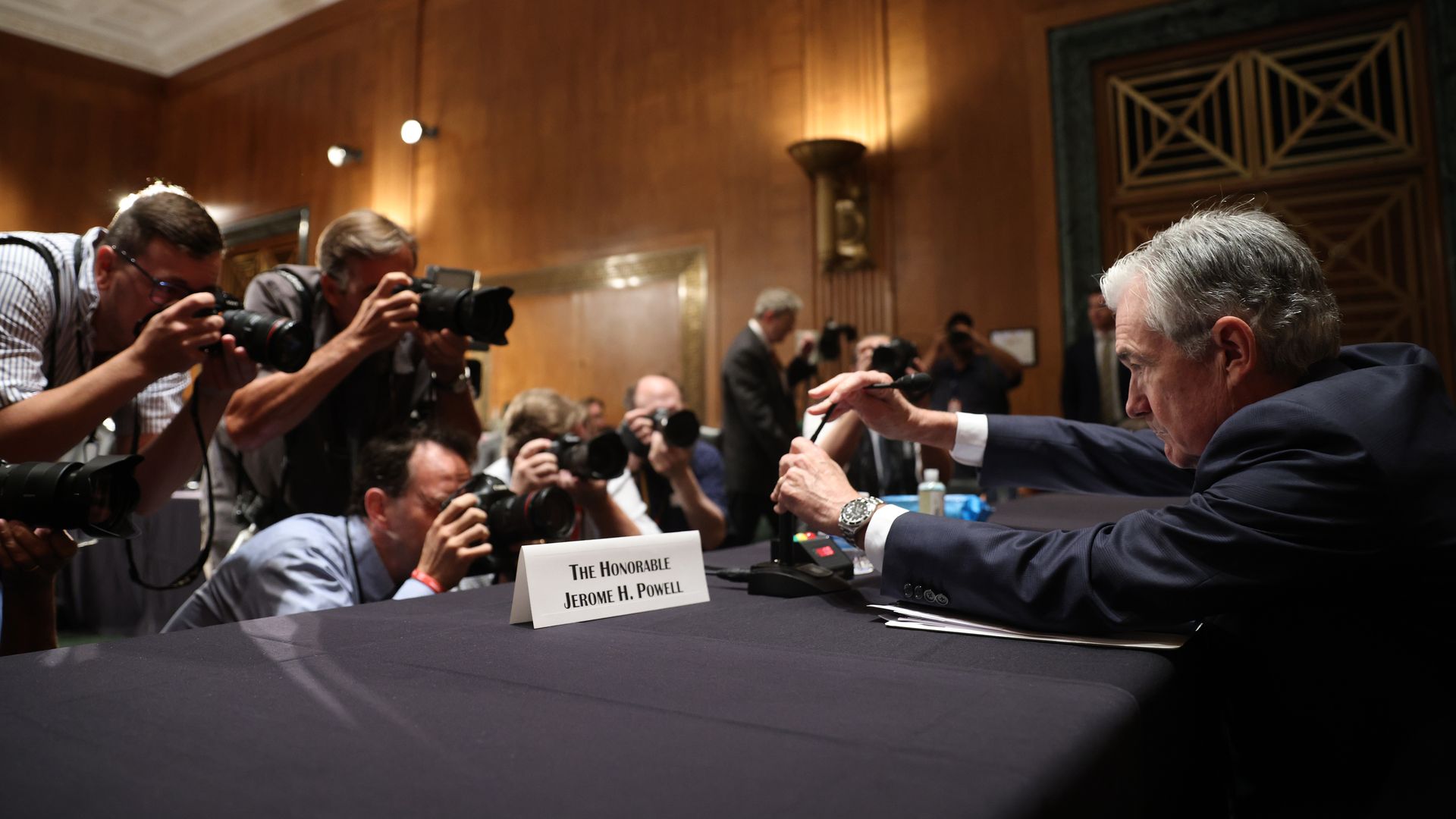 Fed Chair Jerome Powell testifies for Senate Banking yesterday.
5. Exclusive: New caucus shows GOP split on tech regulations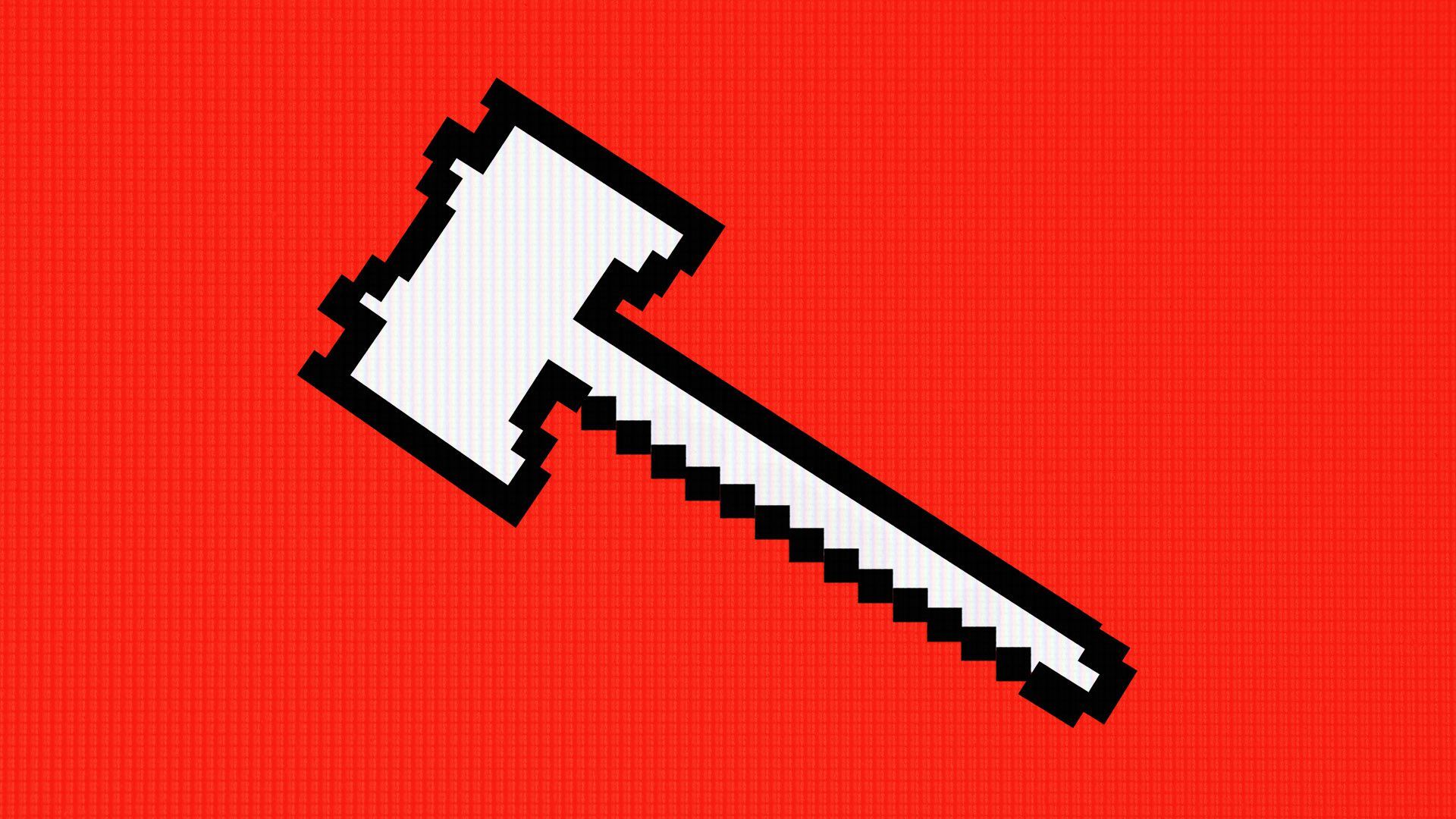 The top Republican on the House Judiciary antitrust subcommittee is launching a caucus on Big Tech to build support for antitrust changes, despite a divide in the GOP, Axios' Margaret Harding McGill writes.
Why it matters: Republicans eager to take on Big Tech are at a crossroads between working with Democrats to enact changes now, or going it alone and playing a longer game.
The new "Freedom from Big Tech Caucus" is co-chaired by Rep. Ken Buck (R-Colo.) and Rep. Lance Gooden (R-Texas), and counts Rep. Madison Cawthorn (R-N.C.) as a vice chair, and Reps. Burgess Owens (R-Utah) and Paul Gosar (R-Ariz.) as founding members.
House Minority Leader Kevin McCarthy (R-Calif.) said in June he's working with fellow GOP leaders Jim Jordan (Ohio) and Cathy McMorris Rodgers (Wash.) to craft an approach to regulating Big Tech.
Both McCarthy and Jordan, the top Republican on the House Judiciary Committee, criticize the House's bipartisan antitrust bills as handing too much power to Biden-appointed antitrust enforcers.
6. "COVID: THE SEQUEL"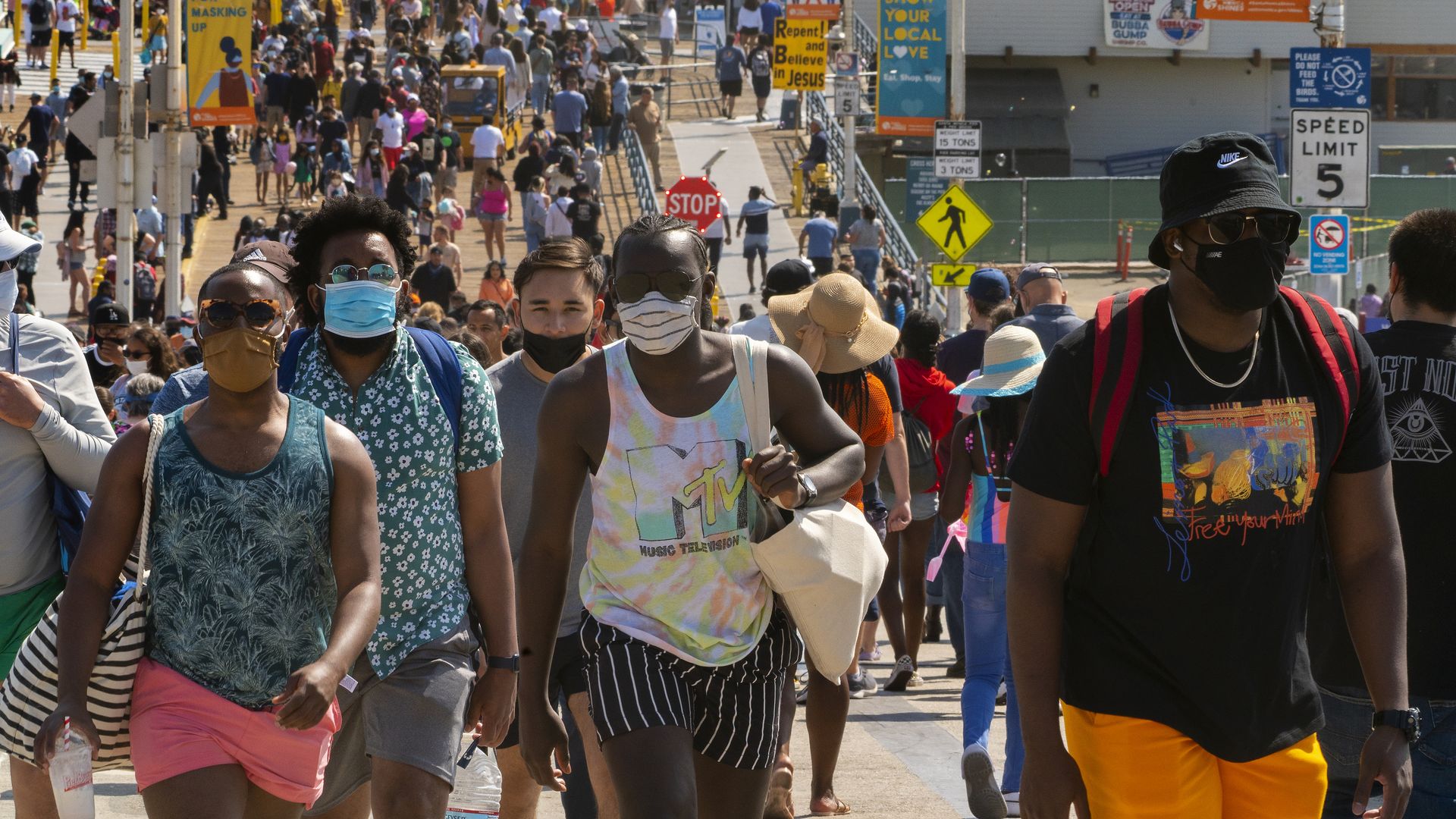 That's Drudge's headline for the announcement that L.A. County, America's most populous county, tomorrow night will reinstate a mask requirement indoors in public spaces, "regardless of vaccination status," because of a rapid rise COVID cases.
The order is at odds with the CDC and the California Department of Public Health, "both of which continue to maintain that vaccinated people need not cover their faces indoors," the L.A. Times notes.
It also puts officials "in the precarious position of asking the inoculated to forfeit one of the benefits recently enjoyed."
7. Floods swamp Western Europe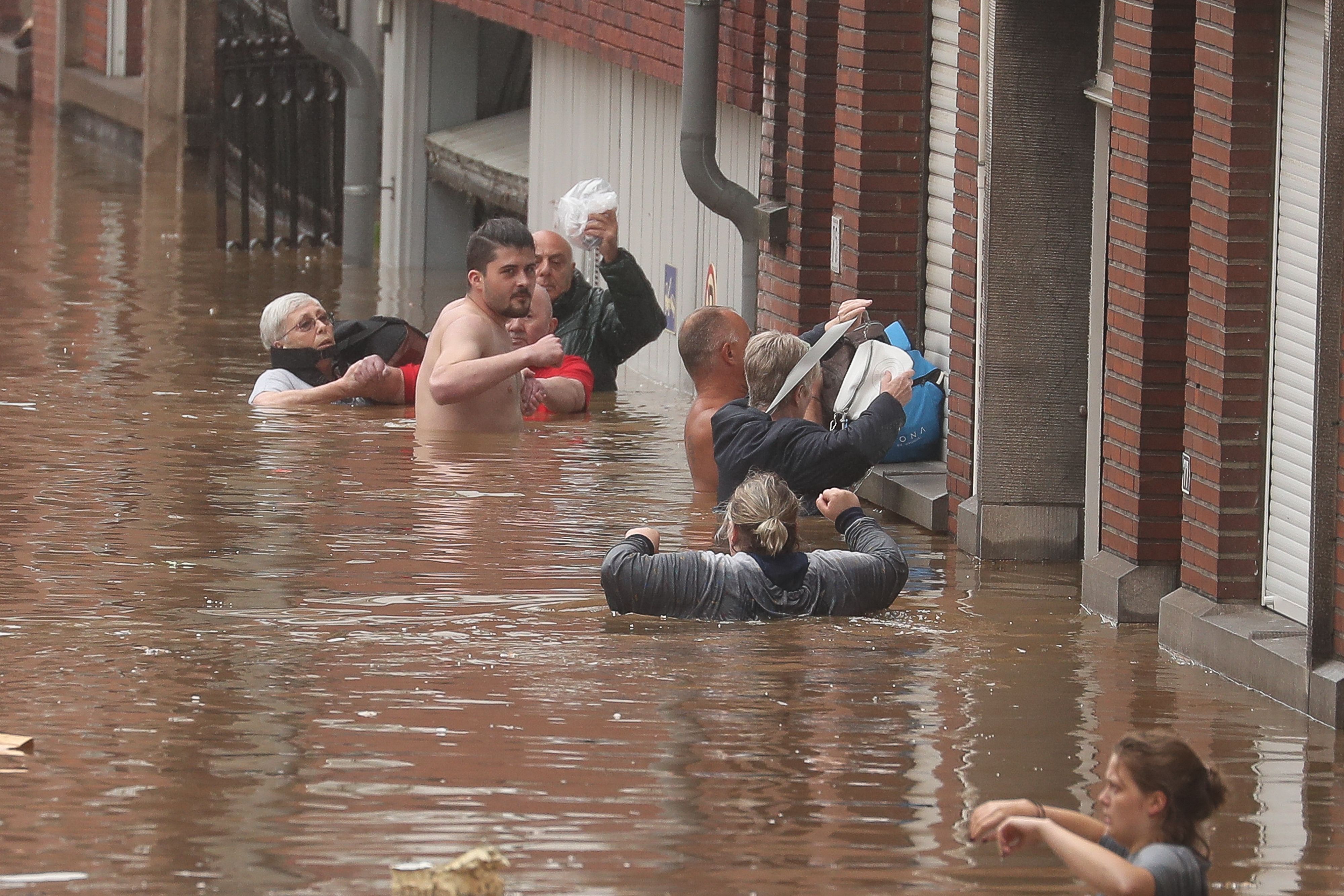 Above, residents of Liège, Belgium, desperately try to escape flooding after heavy rain yesterday.
100+ people have lost their lives in Germany's worst mass loss of life in years.
1,300 people were missing south of Cologne.
Mobile phone networks collapsed in some regions. Entire towns and villages lay in ruins after swollen rivers swept through. (Reuters)
8. Defining "Tuckerism"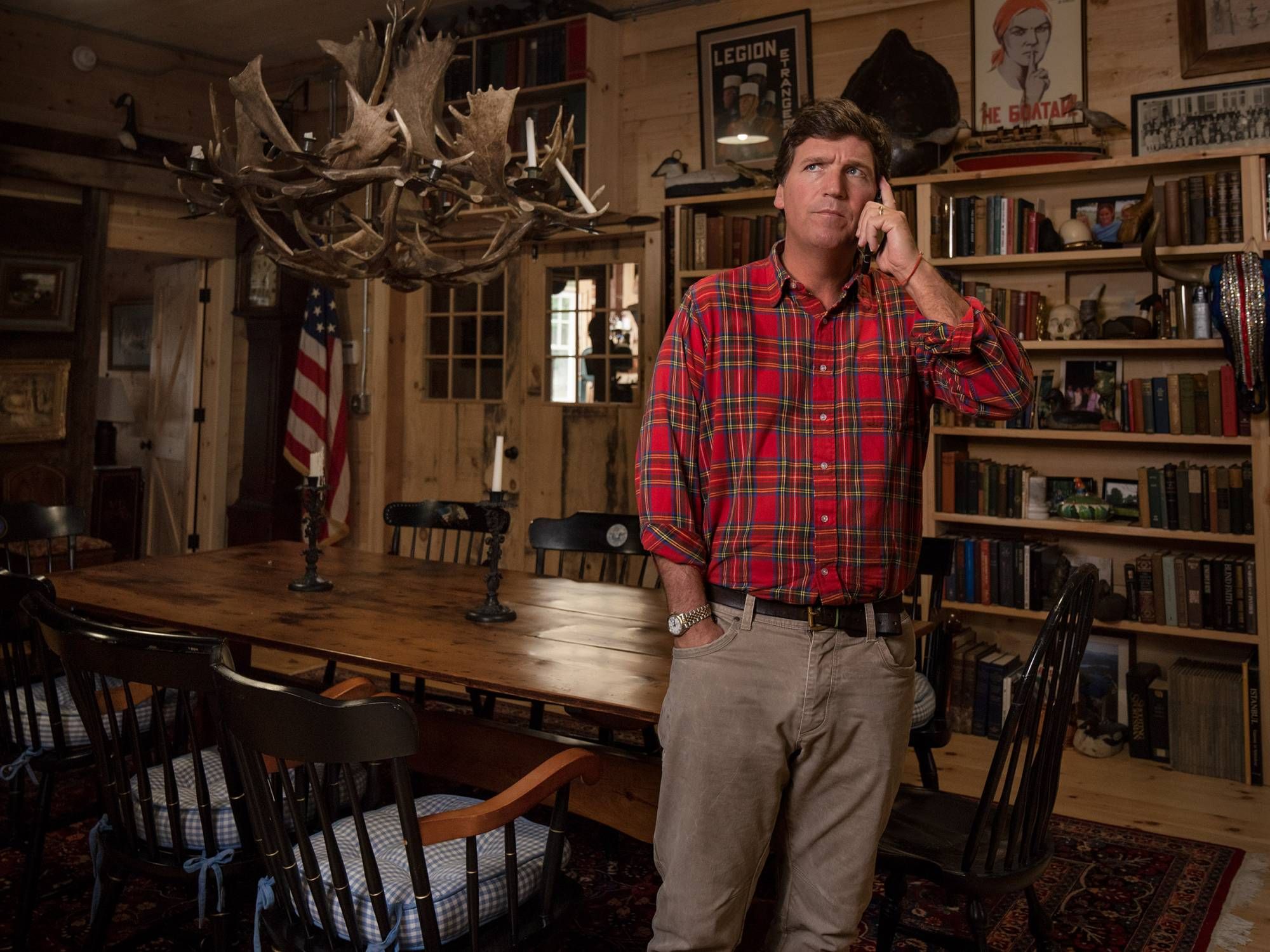 Tucker Carlson, arguably America's most powerful conservative, tells TIME's Charlotte Alter that Republicans lost the House, Senate and White House because "they're inept and bad at governing."
"The party is much more effective as an oppositional force than it is as a governing party," said Carlson, whose Fox News show draws 3 million viewers a night — by far the most of any hour in cable news.
"Tuckerism," Alter writes, "is about resisting a shadowy group of elites conspiring against hardworking Americans, the corrupt establishment colluding to brainwash the masses, the plot to control what people think and say."
In the phone interview from his home in Maine, Carlson, 52, said: "The truer something is, the more penalized you are for articulating it."
"I wound up working at the last mass medium where you can say pretty much whatever you want, and that's true, and I think my show is evidence that that's true."
Keep reading. ... Go deeper: WashPost's Michael Kranish, "How Tucker Carlson became the voice of White grievance."
9. Former WeWork CEO on SoftBank: "We're taking toxic money"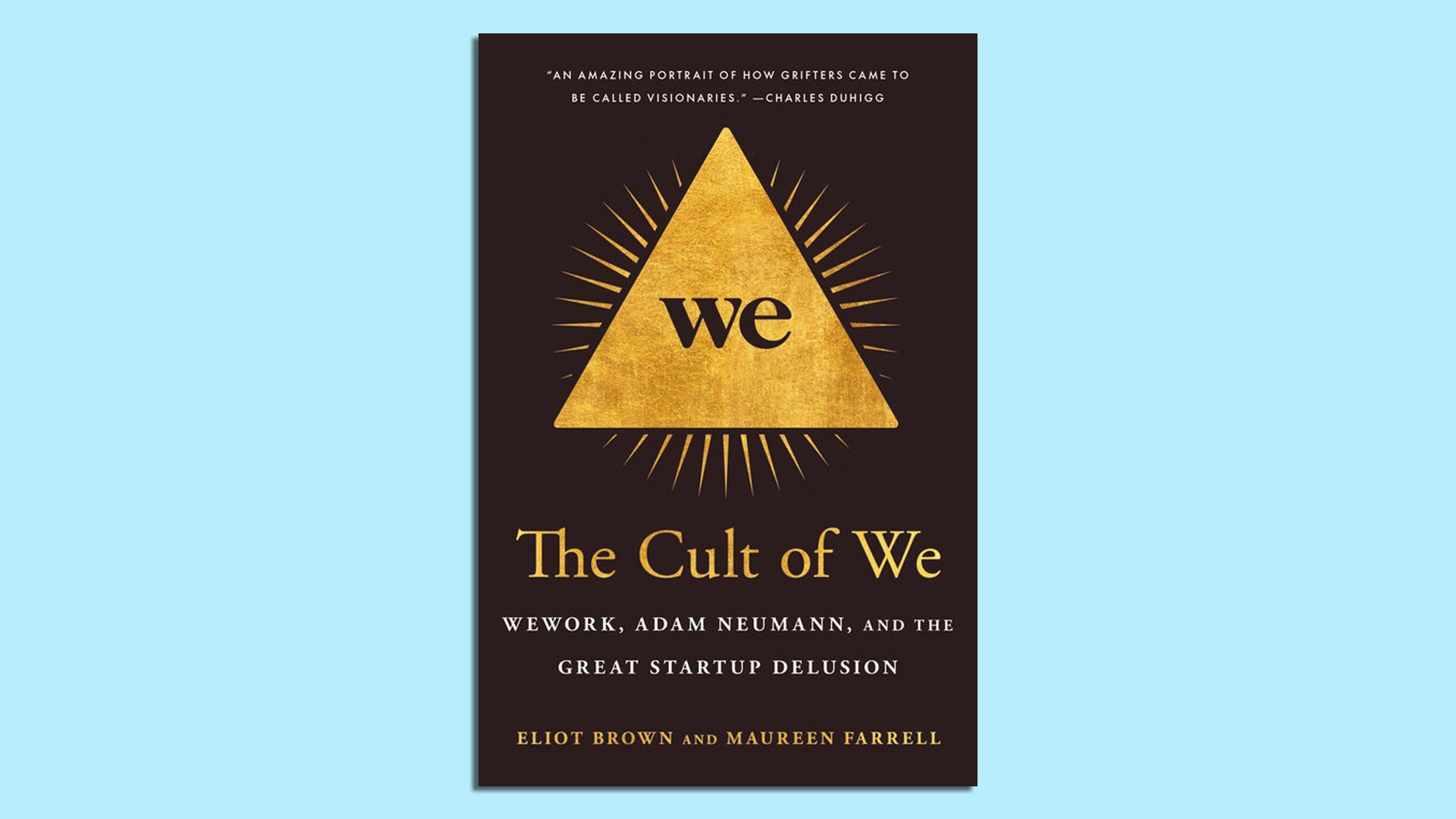 WeWork founder and former CEO Adam Neumann threatened to walk away from a multi-billion dollar investment because of a request that he viewed as antisemitic, according to "The Cult of We," out Tuesday, by Wall Street Journal reporters Eliot Brown and Maureen Farrell.
Axios' Dan Primack sets the scene: Neumann, who was born in Israel and is Jewish, was in Tokyo in early 2017 to finalize a giant investment from SoftBank, which planned to mostly use money from a $100 billion fund whose largest investor was the government of Saudi Arabia.
On the private flight back to America, Neumann told colleagues that SoftBank asked if he'd pledge not to give any of his own proceeds to the Israeli military, because it could be problematic for SoftBank's Middle Eastern investors. SoftBank denies that it made the request.
10. 1 for the road: Hammer down on robotrucks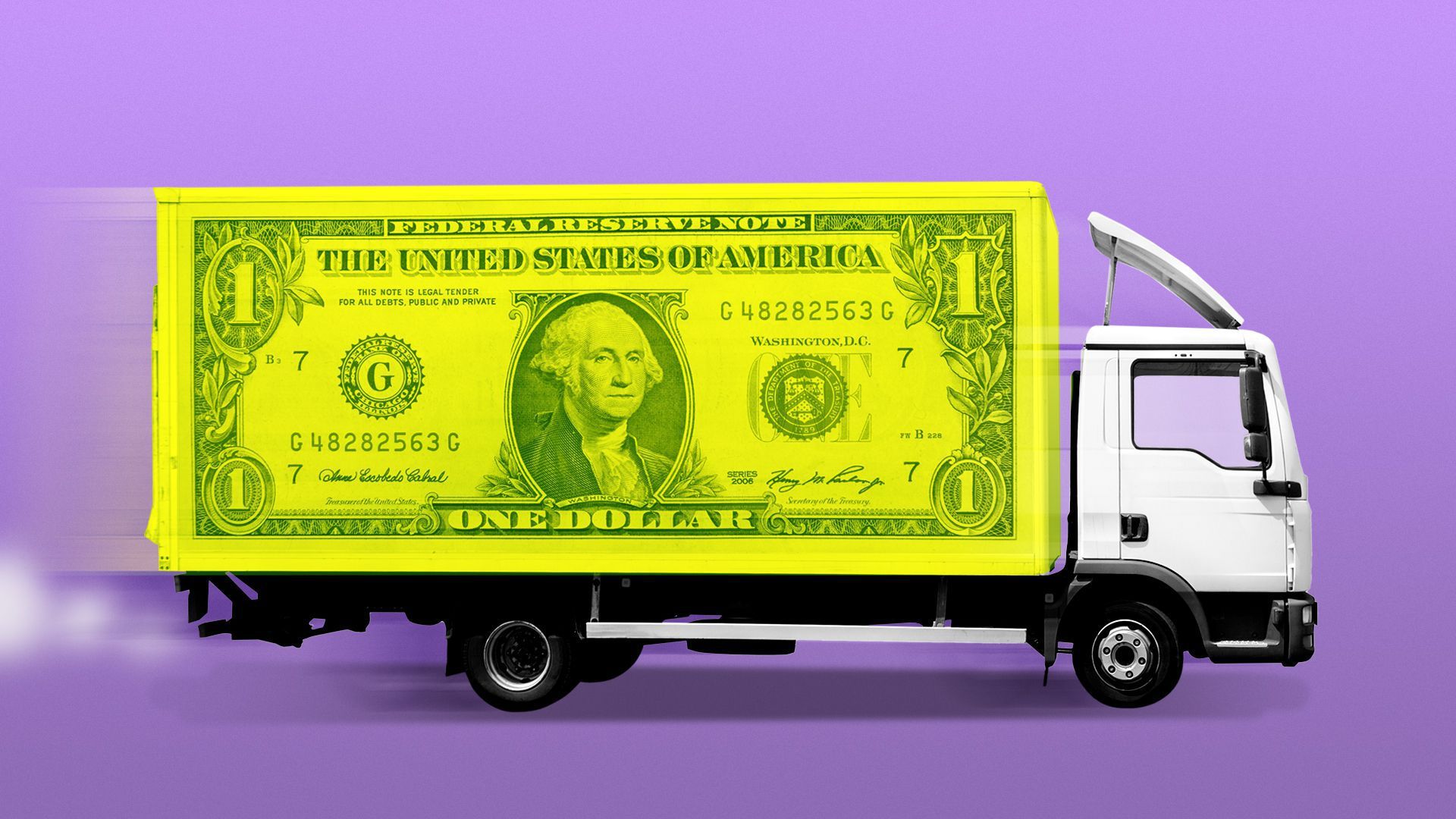 Autonomous trucking is a hot commodity as investors once dazzled by self-driving cars are now pouring truckloads of money into automated logistics, Joann Muller writes in Axios What's Next.
It's still not clear when robotaxis might be ready for large-scale deployment. But the explosion of e-commerce since the pandemic has created an increased demand for shipping.
In the first half of 2021, investors pumped a record $5.6 billion into autonomous trucking companies such as TuSimple, Plus and Embark.
Valuations for the top four companies in the truck sector soared 544% from Q2 2020 to Q2 2021, compared to a 12% rise for the four largest robotaxi companies, according to PitchBook research.
Aurora Innovation is the latest self-driving tech company to go public, announcing plans yesterday to merge with a special purpose acquisition company, Reinvent Technology Partners Y.
Aurora will net about $2 billion from the deal and boost its valuation to an estimated $11 billion, more than any other publicly traded AV company.
The company turned its focus from robotaxis to trucks about a year ago.
📬 Please invite your friends, family, colleagues to sign up here for Axios AM and Axios PM.