https://www.axios.com/newsletters/axios-am-16019293-ab68-4149-8b56-8ff25e0e775b.html?chunk=0#story0
1 big thing: Survival at stake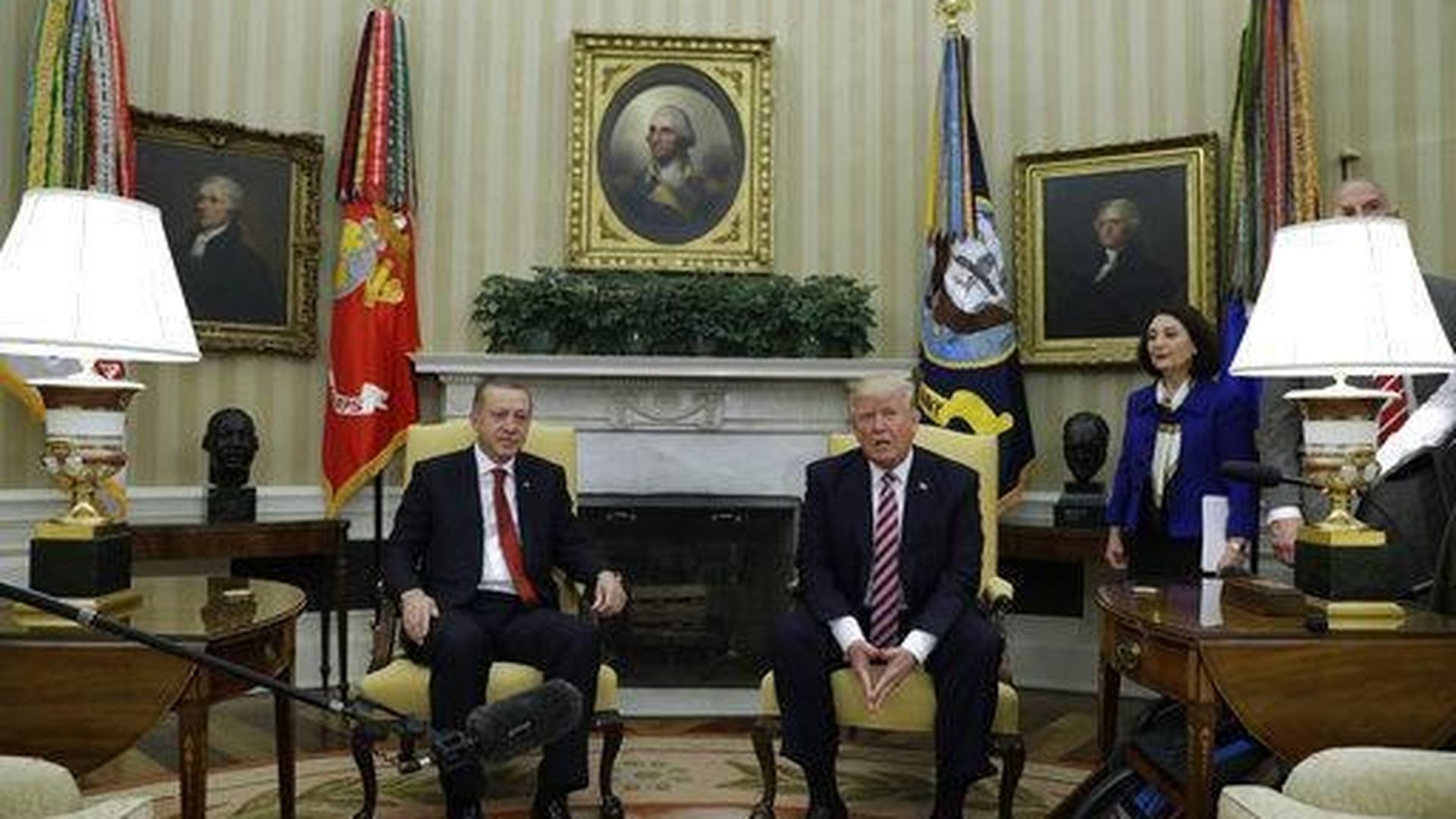 Republicans close to the White House fear that Tuesday's revelations could take President Trump into a legal or constitutional realm where his staff and supporters can't save him.
"A whole new door has opened," said a well-known Republican operative who has worked to help the Trump White House. "A week ago, we were talking about the agenda grinding to a halt," the Republican said. "Now, the train is going down the hill backwards."
More officials are likely to need lawyers, and could face subpoenas for texts and emails off personal devices. They could be asked questions like: "Did the president ever talk about this in your presence?" ... "Were you in the room?" ... "Is there a record?"
The N.Y. Times reported that in a memo written after an Oval Office meeting in February, then-FBI Director James Comey said Trump had asked him to shut down the investigation into former national security adviser Mike Flynn.
Numerous competitors instantly confirmed the report — a reminder of the enemies that Trump has made in the permanent government. There could be more memos, and there'll be lots more leaks.
The Times reported that according to the memo (which is disputed by the White House), Trump said: "I hope you can see your way clear to letting this go, to letting Flynn go ... He is a good guy. I hope you can let this go."
Drudge dubbed the memo "Comey's Revenge." And we may hear a lot more from him: The sacked director is likely to testify on the Hill. Hushed talk — obstruction of justice; impeachment — grew louder.
Capturing the mood of the stunned capital, Sen. John McCain told Bob Schieffer at an award dinner last evening that the Trump scandals have reached a "Watergate size and scale."
Dire predictions about Trump are usually wrong, so forecasting the uncharted days ahead is a fool's errand. The president leaves Friday on a world tour that his staff hopes can serve as a modest reset.
Trump's campaign sent supporters a fundraising email yesterday with the subject line "SABOTAGE": "You already knew the media was out to get us. But sadly it's not just the fake news… There are people within our own unelected bureaucracy that want to sabotage President Trump and our entire America First movement."
Be smart: Watch for Trump to continue stoking his base, because his support there is what gives him power over lawmakers: They're much less likely to abandon or undermine him if he remains popular in their states and districts. It's his most basic survival strategy — and it's another reason he won't change.
https://www.axios.com/newsletters/axios-am-16019293-ab68-4149-8b56-8ff25e0e775b.html?chunk=1#story1
2. Speed read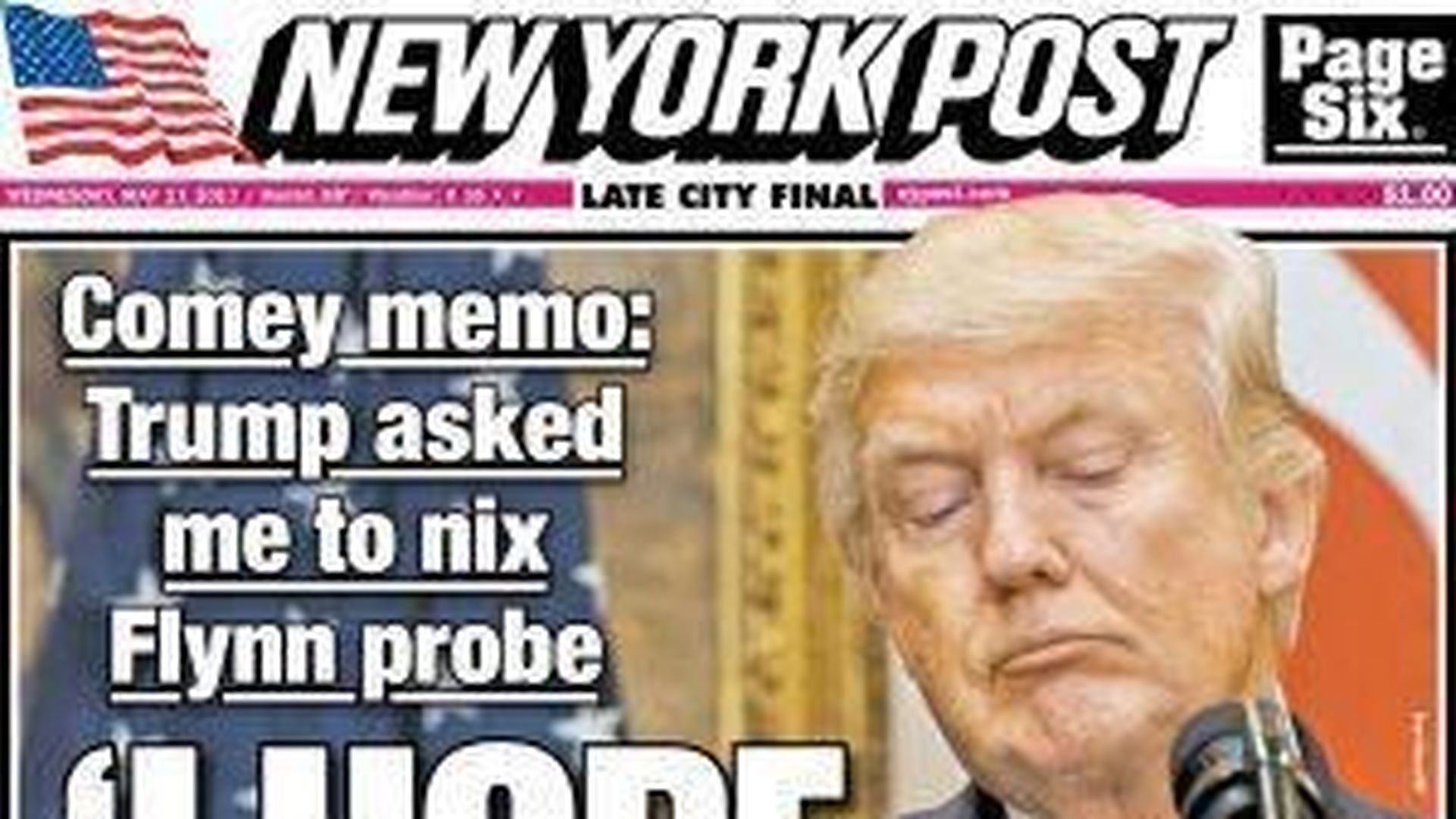 https://www.axios.com/newsletters/axios-am-16019293-ab68-4149-8b56-8ff25e0e775b.html?chunk=2#story2
3. Article of the day ...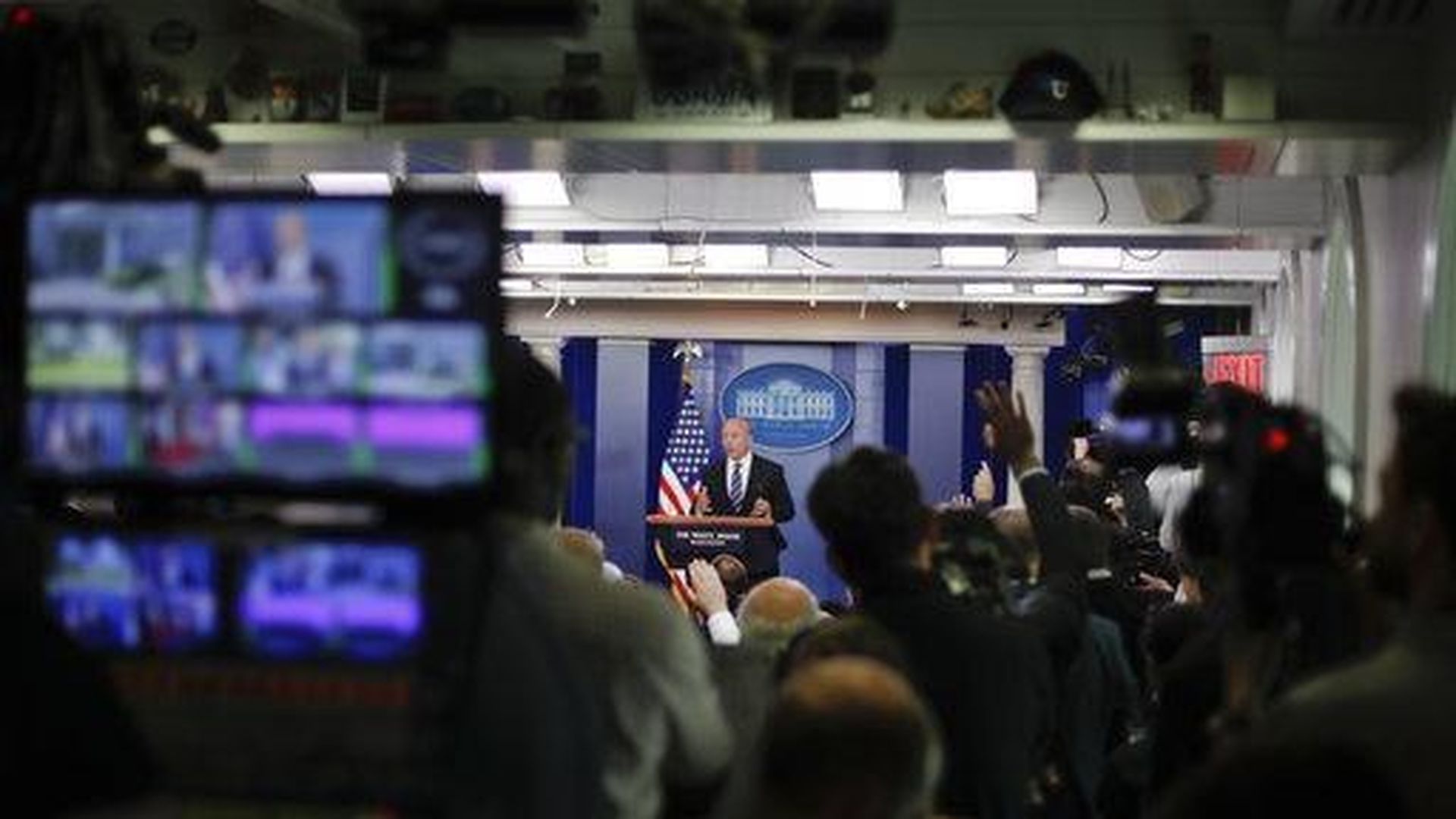 ... and maybe the month! From N.Y. Times p. 16, "Aides Cope With Chaos And Boss's Foul Mood," by Glenn Thrush and Maggie Haberman:
Trump's "mood, according to two advisers, ... has become sour and dark, and he has turned against most of his aides — even his son-in-law, Jared Kushner — describing them in a fury as 'incompetent.'"
"Trump's rattled staff kept close tabs on a meeting early Monday in which the president summoned Mr. Spicer; the deputy press secretary, Sarah Huckabee Sanders; and the communications director, Michael Dubke, to lecture them on the need 'to get on the same page.'"
"Trump was considering the firing of several lower-level staff members, including several hired by Reince Priebus, ... while weighing a plan to hand most day-to-day briefing responsibilities to Sanders."
"Some of Mr. Trump's senior advisers fear leaving him alone in meetings with foreign leaders."
"[T]hree administration officials conceded that they could not publicly articulate their most compelling — and honest — defense of the president: ... that Mr. Trump ... simply did not possess the interest or the knowledge of the granular details of intelligence gathering to leak specific sources and methods."
Read the whole thing. Every line in it is a story.
https://www.axios.com/newsletters/axios-am-16019293-ab68-4149-8b56-8ff25e0e775b.html?chunk=3#story3
4. Zeitgeist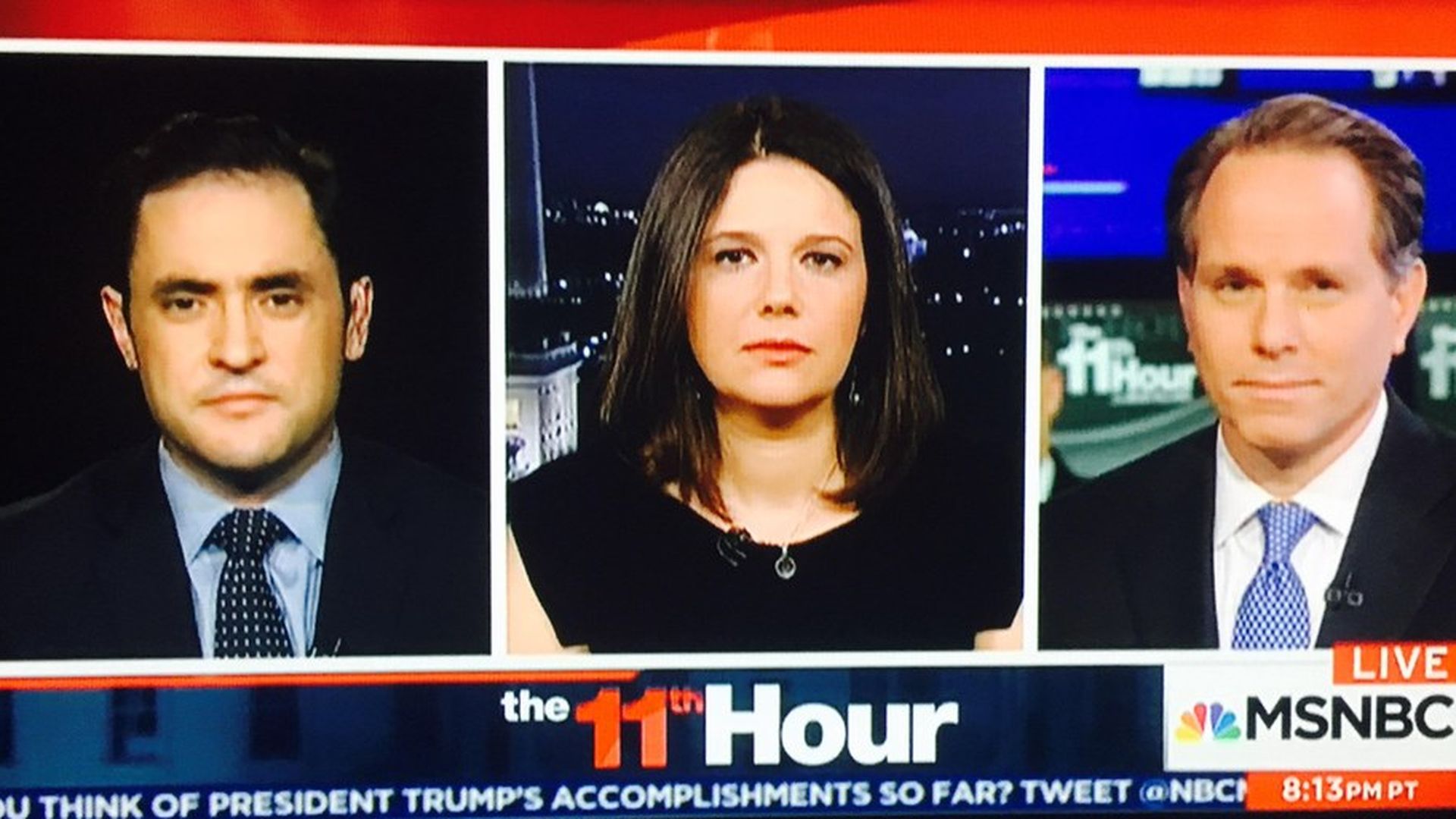 "Morning" Joe Scarborough: "The arc of this narrative keeps getting worse. People on the inside say he keeps getting worse ... This is not, unfortunately, a learning curve. ... This is a man in decline."
David Ignatius column in WashPost, "Trump's presidency is beginning to unravel": "Observing this White House ... is sometimes like watching a horror movie. The 'good guys' ... keep falling through trap doors. National security adviser H.R. McMaster ... struggled ... to defend Trump's actions in disclosing terrorism information."
N.Y. Times conservative columnist Ross Douthat, "The 25th Amendment Solution to Remove Trump": "[T]he 25th Amendment to the Constitution ... allows for the removal of the president if a majority of the cabinet informs the Congress that he is 'unable to discharge the powers and duties of his office' and (should the president contest his own removal) a two-thirds vote by Congress confirms the cabinet's judgment."
https://www.axios.com/newsletters/axios-am-16019293-ab68-4149-8b56-8ff25e0e775b.html?chunk=4#story4
5. Parallel universe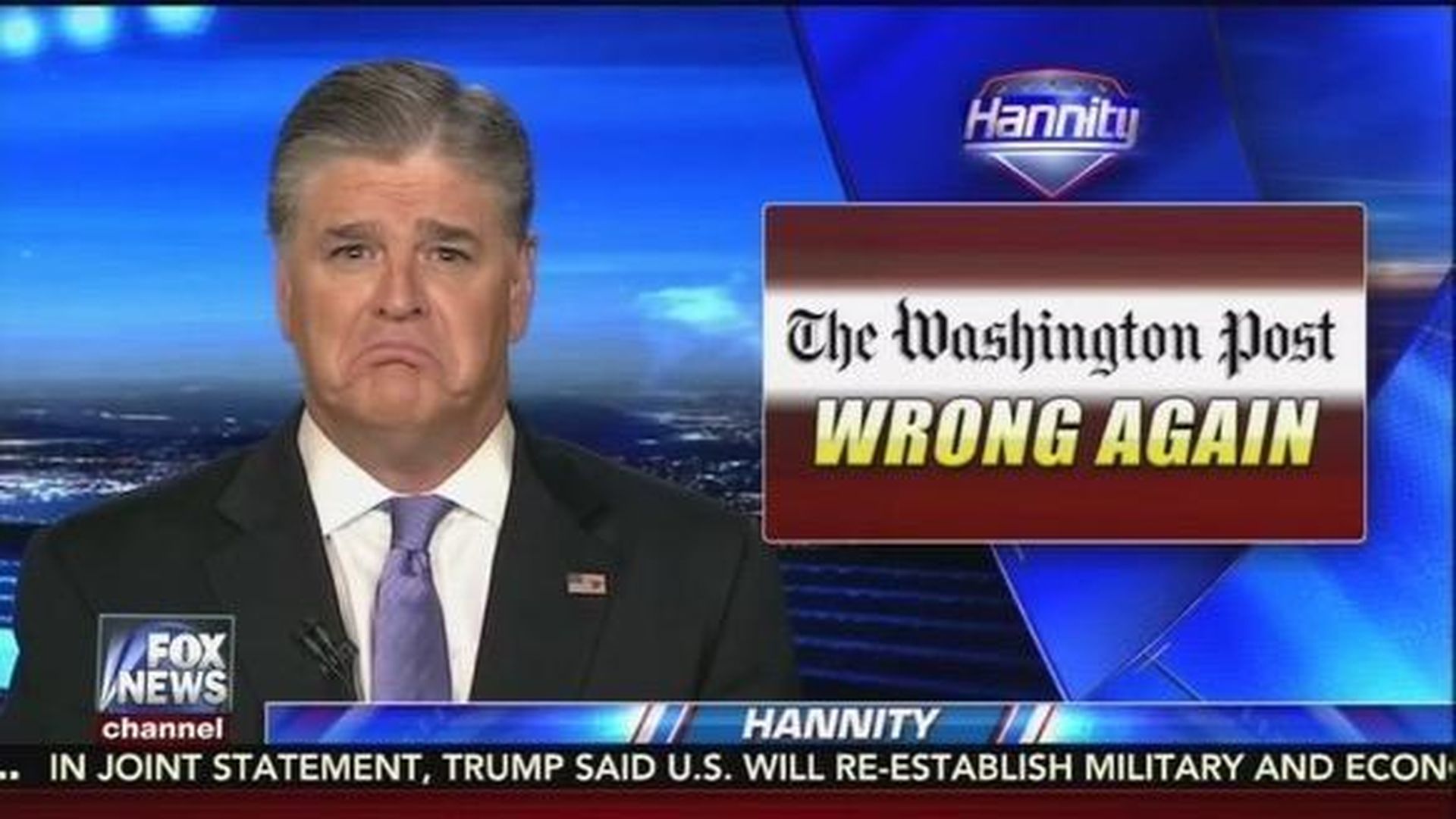 Sean Hannity's alternative universe is the lead story of the WashPost Style section, "Hannity sees unicorns, not the elephant in the room," by media columnist Margaret Sullivan:
The president's favorite apologist was at it again, devoting his hour-long show on Fox News Channel to a strange assortment of topics that had nothing to do with the blockbuster news ...
[T]he most notable segment was his idea for reforming the White House news briefings by requiring journalists to choose among a dozen or more topics and submit written questions in advance. The White House could then pick those it liked and answer them after carefully crafting responses.
Deadspin editor Timothy Burke tweeted screenshots of the three cable news networks at the same moment in prime time: CNN: "Sources: Comey Memo Says Trump Asked Him To End Flynn Probe" ... MSNBC: "Trump Asked Comey To End Flynn Investigation" ... Fox: "Clinton Foundation: Where Is It Now?"
Why it matters: Remember that Trump — and a key slice of his base — are watching Fox in prime time, reinforcing their view that the rest of the world is delusional.
P.S. "Creeping closer: MSNBC has good week competing with Fox," by AP Television Writer David Bauder: "MSNBC topped Fox among the 25-to-54-year-old age demographic for the first time since the week of Dec. 29, 2008, just after Barack Obama's first election."
https://www.axios.com/newsletters/axios-am-16019293-ab68-4149-8b56-8ff25e0e775b.html?chunk=5#story5
6. The Emoji States of America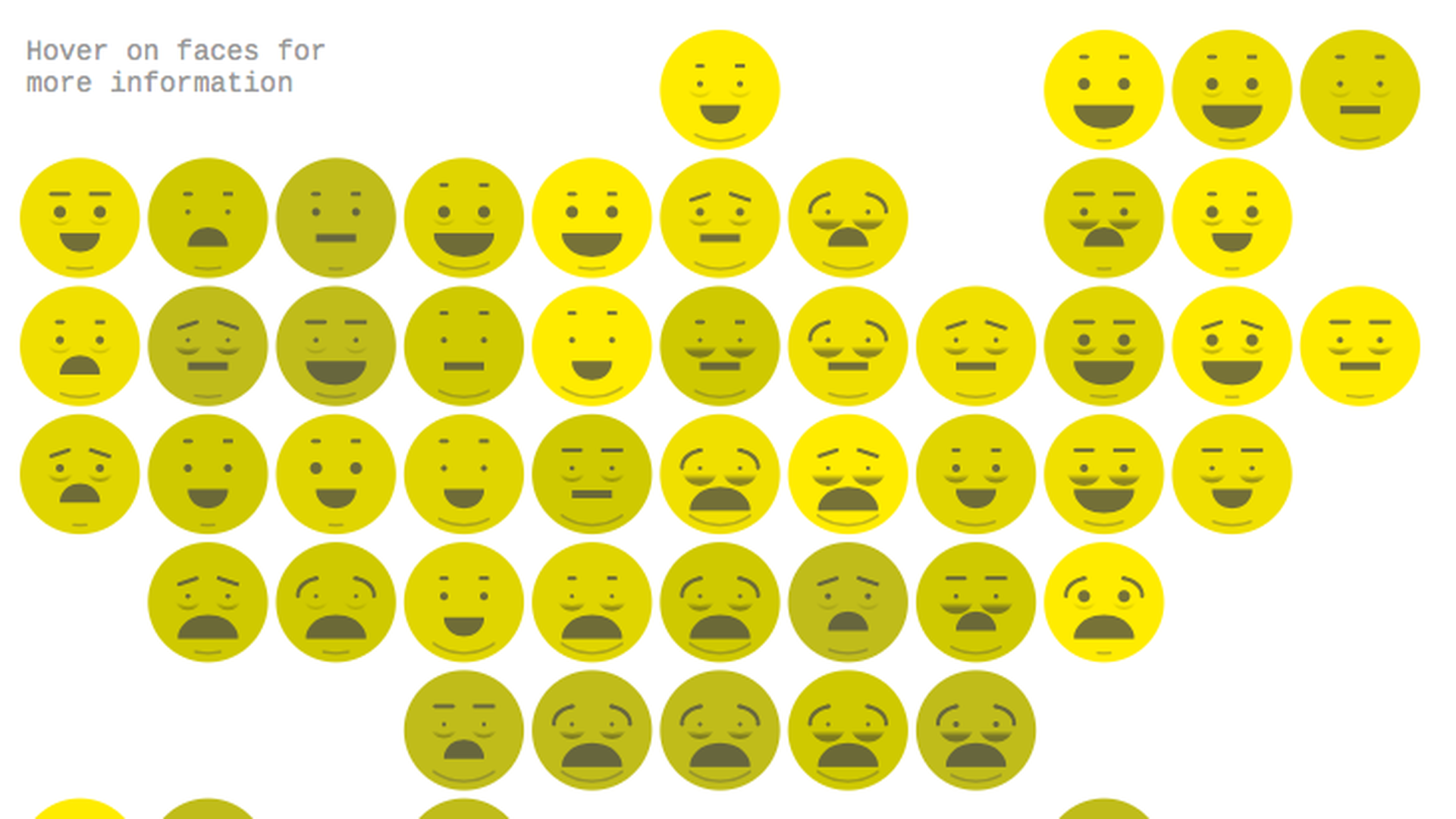 A tour de force by Axios Visuals Editor Lazaro "Laz" Gamio:
"This visualization is a modified version of Chernoff Faces, a technique that maps multiple statistical values to the features of a face. Because it's 2017, we expanded on the technique and made Chernoff Emojis. Each part of the emoji is controlled by the state's ranking in a given metric, which range from the uninsured rate to the percent of adults who report getting enough sleep."
Face color: This is mapped to the uninsured rate in every state — the greener and more sickly the face, the lower this state ranks. (Worst: Texas; best: Massachusetts)
Eyebrows: The more furrowed the brow, the lower a state ranks in the unemployment rate. (Worst: New Mexico; best: Colorado)
Eye size: The larger the eyes in each face, the larger the share of adults over 25 with a bachelor's degree. (First: Colorado; last: West Virginia)
Eye bags: The more pronounced these are in every face, the smaller the share of adults that report at least 7 hours of sleep each night. (Best-rested: South Dakota; worst: Hawaii)
Mouth: The shape of the mouth is mapped to the poverty rate. (Highest: Mississippi; lowest: New Hampshire)
Chin: The more noticeable this feature is, the higher this state ranks in obesity rates. (Highest: Louisiana; lowest: Colorado).
Treat yourself to clicking on the whole thing.
https://www.axios.com/newsletters/axios-am-16019293-ab68-4149-8b56-8ff25e0e775b.html?chunk=6#story6
7. Likely expansion of laptop ban
The travel industry hates this ... Reuters' David Shepardson: "U.S. Homeland Security chief John Kelly has not made a final decision on extending a ban on larger electronic devices [such as laptops in the cabins of] airplanes, but the department still believes an expansion is likely."
"Fears that a bomb could be concealed in electronic devices prompted the United States to announce in March it would restrict passengers from bringing devices larger than cellphones on flights originating from 10 airports, including in the United Arab Emirates, Saudi Arabia, Qatar and Turkey."
"Britain followed suit with restrictions on a slightly different set of routes."
"The United States has been considering increasing the number of airports affected by the ban to possibly include some European ones."
https://www.axios.com/newsletters/axios-am-16019293-ab68-4149-8b56-8ff25e0e775b.html?chunk=7#story7
8. The talk of tech
"Amazon is hiring people to break into the multibillion-dollar pharmacy market," by CNBC's Christina Farr: "[W]ith the rise of high-deductible plans and the trend towards consumers paying for health care, it is ready to get more serious. ... The company recently started selling medical supplies and equipment in the U.S."
"Tesla Rebuffed Uber Partnership on Self-Driving Cars in 2016," by Bloomberg's Eric Newcomer: Uber CEO Travis Kalanick "rang up Tesla Inc. CEO Elon Musk last year to propose a partnership on self-driving cars, according to an upcoming book."
"The discussion came after Apple Inc. invested $1 billion in Didi Chuxing, then a fierce competitor of Uber in China. Kalanick pitched Musk on teaming up against Apple, according to Wild Ride [Inside Uber's Quest for World Domination], a book by Fortune magazine's Adam Lashinsky scheduled for release next week."
https://www.axios.com/newsletters/axios-am-16019293-ab68-4149-8b56-8ff25e0e775b.html?chunk=8#story8
9. The talk of business
The Wall Street Journal has a rocking front page today, with a trifecta of stories worthy of your attention:
"Despite Promises, Car Makers Are Set on Job Cuts": "GM, Ford plan to cut U.S. workforce ... Faced with softening U.S. car sales and mounting investor skepticism about Detroit's ability to weather the first industry downturn in nearly a decade, auto executives are facing a tough choice in who to please — Wall Street or the White House."
"Disney's Iger Isn't About to Let Go as CEO": "[T]he question of who will succeed Robert Iger at Walt Disney Co. is more uncertain than it has been for nearly a decade. ... [I]nside candidates leave, outsiders lack interest."
"Activist Investors Have a New Bloodlust: CEOs": "No longer satisfied with board seats and buybacks, activists now target chiefs at the start of campaigns."
https://www.axios.com/newsletters/axios-am-16019293-ab68-4149-8b56-8ff25e0e775b.html?chunk=9#story9
10. 1 sad thing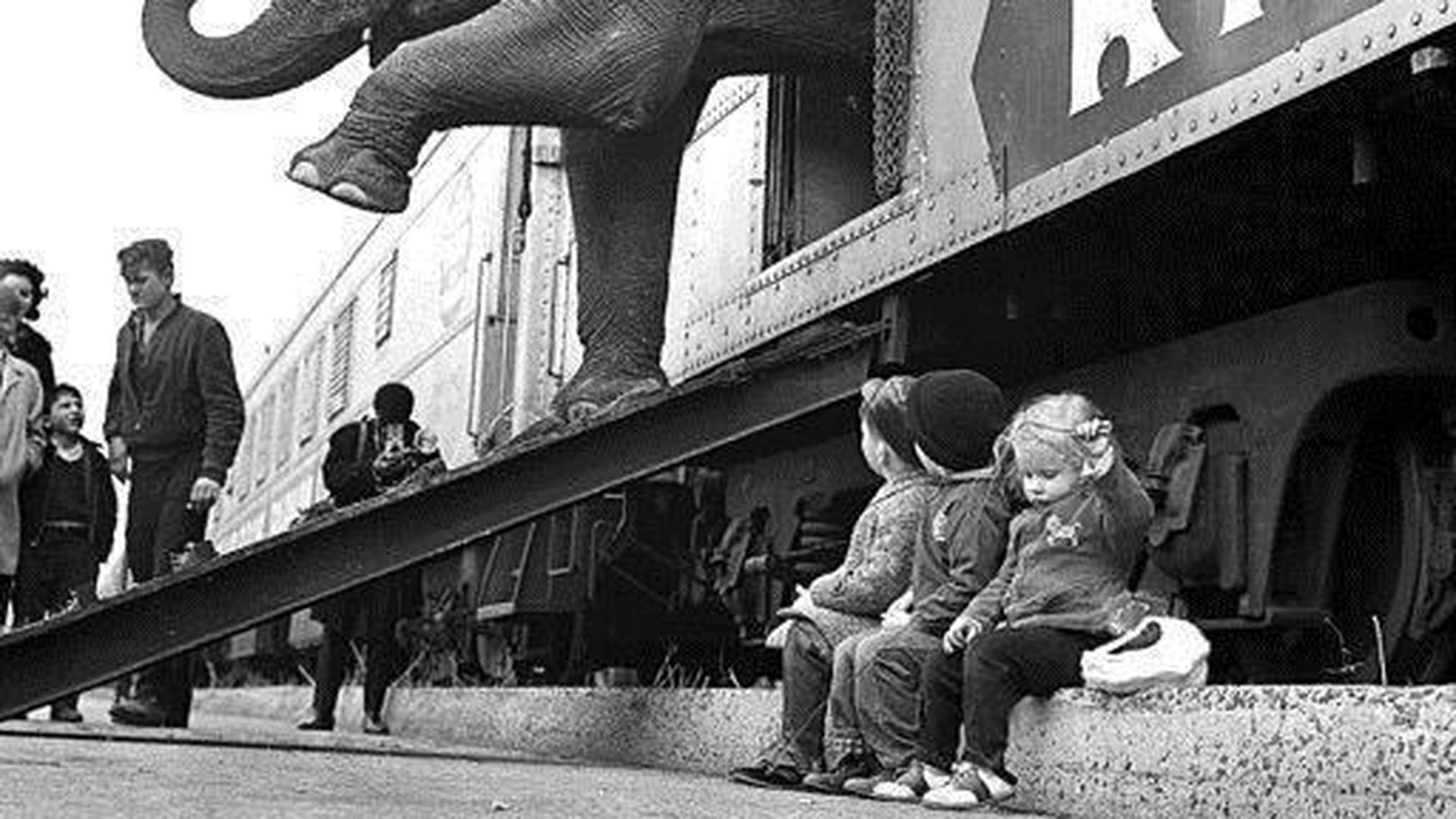 "The last days of the Ringling Bros. circus," which ends this weekend after 146 years — AP's Michelle Smith in Providence, R.I.:
An elephant stretches its trunk through a window to soothe a sick child. A woman gives birth and three months later is back performing on the high wire. A handler of big cats weeps as the beasts lope out of the ring for the last time.
These stories could come only from circus performers, and in particular one famous circus, the one immortalized as "The Greatest Show on Earth": the Ringling Bros. and Barnum & Bailey Circus, which is hanging its hat for the last time this weekend. ...
The size, the spectacle and the history — stretching back to P.T. Barnum and his traveling museum in the 1800s — set it apart. One of Ringling's two traveling circuses is scheduled to perform its final show Sunday in New York. The other closed this month, in Providence, Rhode Island, and with it, the end to a way of life.