https://www.axios.com/newsletters/axios-am-14b1c136-9712-466d-896b-015ab4d0a77c.html?chunk=0#story0
​1 big thing: New "West Wing"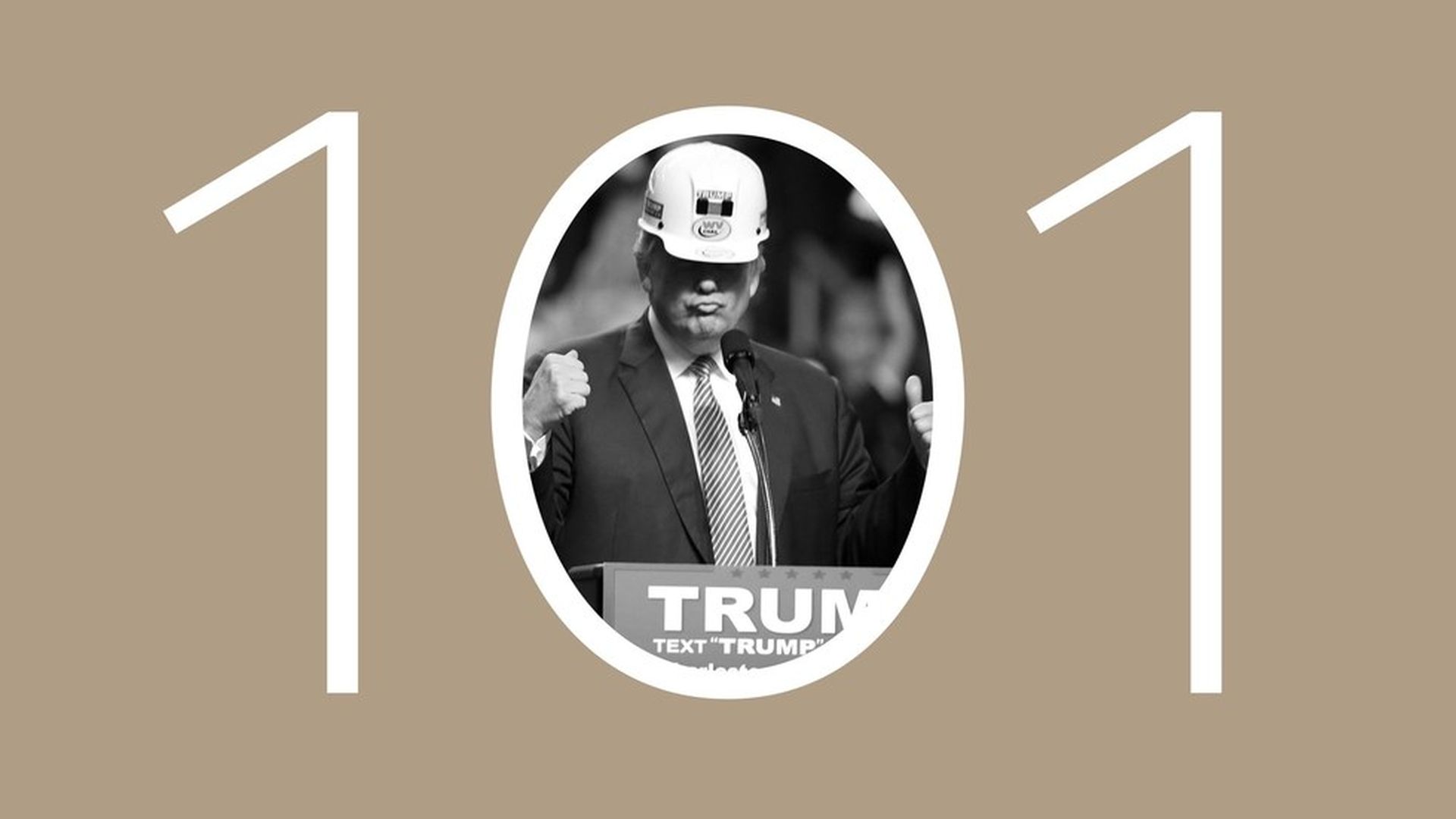 Today, the Full Trump:
The president this afternoon will begin a wave of sweeping executive orders on immigration, including steps toward a Mexican border wall, that will be announced when he visits the Department of Homeland Security. Last night, he tweeted: "Big day planned on NATIONAL SECURITY tomorrow. Among many other things, we will build the wall."
New Axios "Trump 101": This series has been blowing up in social media and Apple News. Today, Jonathan Swan and I reveal deep details of Trump's plans for rapid, radical gutting of the regulatory state: "Internally, [his Cabinet secretaries] are known by some as 'deconstructors,' the men and one woman … tapped because of their shared view in eviscerating key pieces of the agencies they will run."
Trump also tweeted last night: "If Chicago doesn't fix the horrible 'carnage' going on, 228 shootings in 2017 with 42 killings (up 24% from 2016), I will send in the Feds!" CNN's Dylan Byers points out that the tweet SEEMED to come out of nowhere. Then, you discover that Fox's "O'Reilly Factor" had just run a segment about violence in Chicago that noted "42 homicides in 2017 (up 24% from last year)."
Sean Spicer used yesterday's briefing to cement Trump's belief in the untrue conspiracy theory that widespread fraud tainted the election. The press secretary said the president had "said 3 to 5 million people could have voted illegally, based on the studies that he's seen." There are no such studies.
"'1984' sales soar after Trump claims, 'alternative facts'" per AP: "First published in 1949, Orwell's classic dystopian tale of a society in which facts are distorted and suppressed in a cloud of 'newspeak' topped the best-seller list of Amazon.com [last] evening. … Sinclair Lewis' 1935 novel about the election of an authoritarian president, 'It Can't Happen Here,' was at No. 46. Aldous Huxley's 'Brave New World' was at No. 71. Sales also were up for Hannah Arendt's seminal nonfiction analysis 'The Origins of Totalitarianism.'"
Read those five items and remember this is real, not fake, news — not "The West Wing," not "House of Cards," but honest-to-goodness events that unfolded in a 24 hour period less than a week into the Trump presidency.
And then remember this: There is a dominant faction inside the White House that believes fervently this is shrewd, long-term, disruptive politics that will forever change the country.
https://www.axios.com/newsletters/axios-am-14b1c136-9712-466d-896b-015ab4d0a77c.html?chunk=1#story1
2. Trumpsplaining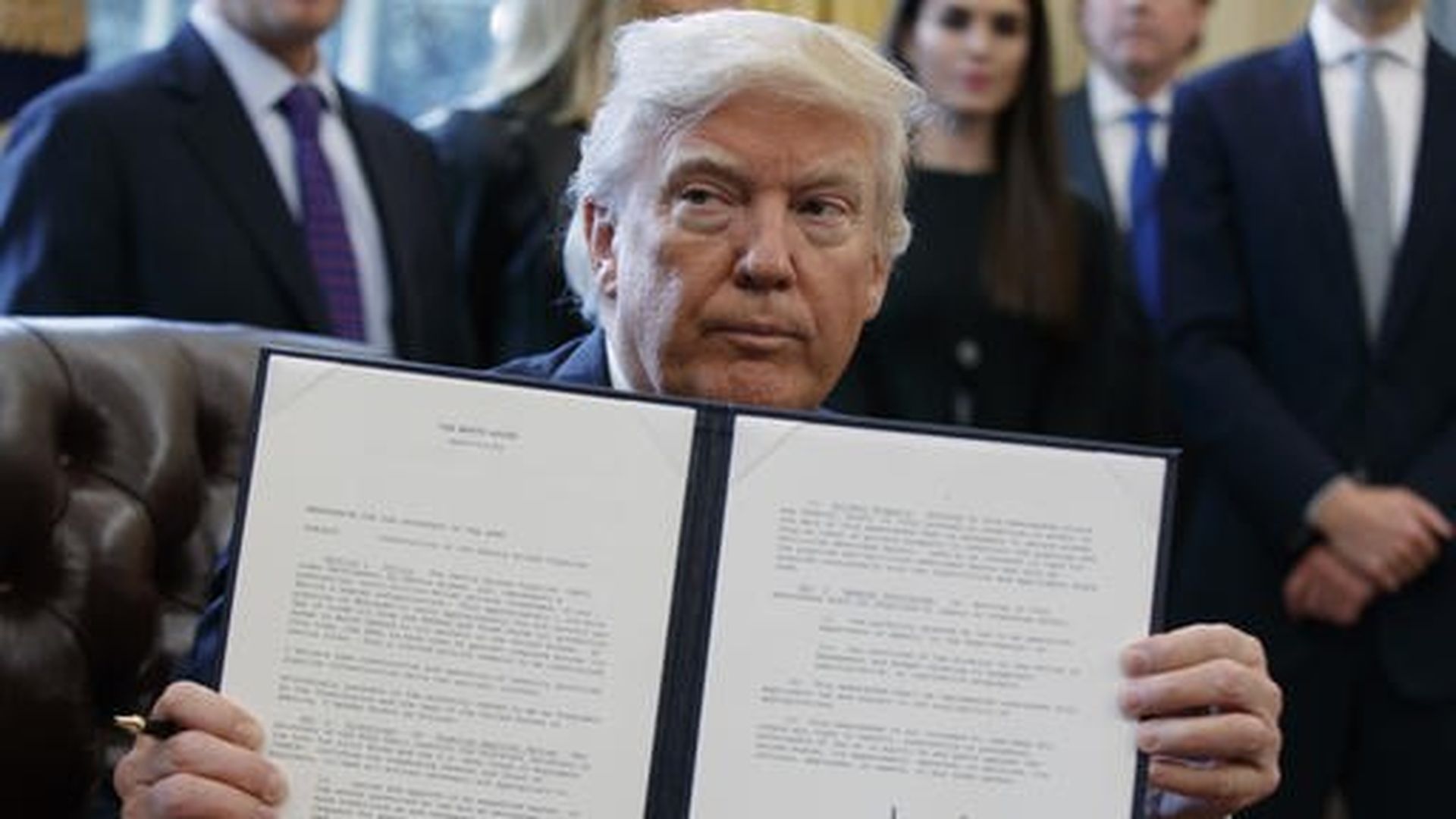 What the bogus election-fraud story means at home … Karen Tumulty front-pager for WashPost, "White House Debrief: No longer on campaign trail, but still untethered by facts": "Veterans of previous White Houses say they can recall no precedent for what Trump and his top aides are doing. They worry about the implications of this untethering from the truth when big decisions must be made about dealing with terrorism or charting the course of the economy."
And what it means abroad … Financial Times chief foreign affairs commentator Gideon Rachman: "This spectacle of obvious lies being peddled by the White House is a tragedy for US democracy. But the rest of the world — and, in particular, America's allies — should also be frightened. A Trump administration that is addicted to the 'big lie' has very dangerous implications for global security."
IMAGINE inserting George Bush (either one), or Barack Obama, or FDR in these stories, four days after becoming president.
3 smart thoughts:
CNN's Brian Stelter in his Reliable Sources newsletter: "On Red Facebook and on conservative news sites, I'm seeing two types of responses to Trump's illogical beliefs about illegal voting: One, to just ignore it and pretend this controversy isn't going on. Two, to blame the media for picking on the president and blowing this way out of proportion."
Jim VandeHei, Axios CEO, to fellow Packer fan Greta Van Susteren on MSNBC: "This is not about crowd sizes — crowd size has no bearing whatsoever on how someone is going to govern. … [Y]ou're talking about an allegation that goes to the heart of our democracy, … [E]veryone keeps thinking, 'Ah, he's gonna change — he's in office.' … It's Donald Trump. He's not going to change. … [P]eople have to take a deep breath and understand that sometimes facts are facts."
John Dickerson to Scott Pelley on the "CBS Evening News": "[T]he reason it's important to have a president believe in things that are true is It creates a sense of belief in EVERYTHING he says. … The most important quality for a White House staff is the ability to tell a president something he doesn't want to hear — and contradict him when he believes something that's not true. And if they are not able to do it in THIS case, the question is whether they'll be able to do it on more serious matters."
https://www.axios.com/newsletters/axios-am-14b1c136-9712-466d-896b-015ab4d0a77c.html?chunk=2#story2
​3. China watch: Globalist play
This headline in Politico Europe says it all … "As Trump retreats on trade, China moves in": Angry over Trump's TPP withdrawal, America's traditional trade partners have already reached out to Beijing.
We can't say this enough: This Trump v. China, nationalist v. globalist battle could shape the first year of this presidency — and reshape the world order.
Huge deal … "China Delivers Strong Message to President Trump": "Lu Kang, a senior official at China's Foreign Ministry, [in a rare interview] told NBC News' Richard Engel that the South China Seas dispute and the One China Policy are issues that are not up for discussion with the new U.S. administration."
https://www.axios.com/newsletters/axios-am-14b1c136-9712-466d-896b-015ab4d0a77c.html?chunk=3#story3
​4. 1 article to read in full
To understand the worldview pervading the West Wing, carve out time to curl up with this N.Y. Times Magazine article (with grim photographs), "Will France Sound the Death Knell for Social Democracy? As a presidential election approaches this spring, even workers in the country's rust belt are embracing right-wing populism," by James Angelos: "Is socialism dead? The answer, at least in today's Europe, is probably yes."
https://www.axios.com/newsletters/axios-am-14b1c136-9712-466d-896b-015ab4d0a77c.html?chunk=4#story4
​5. You'll hear more about …
New overnight … "Sanctuary Restaurants … The next front for the immigration debate?" by AP's Sophia Tareen in Chicago: "From down-home delis to upscale bistros, dozens of restaurants nationwide are seeking 'sanctuary' status, a designation owners hope will help protect employees … First inspired by churches, the label is something cities and other public entities have sought to offer local protections to immigrants living in the U.S. illegally."
Pressure from the right … "Anti-immigration groups are pushing Trump to stick to campaign pledge to deport Dreamers," by L.A. Times' Noah Bierman: "Trump has tried to emphasize more popular aspects of his immigration enforcement agenda … while avoiding the debate over young people, which plays to his opponents. … Roy Beck, executive director of NumbersUSA, which favors strict enforcement and limits on legal immigration, called the uncertainty around the program [Deferred Action for Childhood Arrivals, known as DACA] 'troubling.'"
https://www.axios.com/newsletters/axios-am-14b1c136-9712-466d-896b-015ab4d0a77c.html?chunk=5#story5
​6. Quick stats
USA Today front page, "6 oil-rich states in recession: Energy industry hopes Trump acts to open federal land," by Nathan Bonney: "As oil prices dipped as low as $27 a barrel at one point early last year before recovering, recession came to Alaska, Louisiana, New Mexico, North Dakota, Oklahoma and Wyoming, according to the S&P Global Ratings report. … Texas and Montana barely avoided recession."
"Americans Are Flipping Houses Like It's 2006," by Bloomberg's Patrick Clark: "A tactic that helped define the height of homebuying madness in the U.S. in the years before the market collapsed is rearing its head again. Home flippers, who buy homes as a speculative bet on short-term price appreciation, accounted for 6.1 percent of U.S. home sales in 2016, … the highest share since 2006, when flips accounted for 7.3 percent of sales."
https://www.axios.com/newsletters/axios-am-14b1c136-9712-466d-896b-015ab4d0a77c.html?chunk=6#story6
7. Tops in media trends
More dire news for legacy-media business models … Drudge bannered this as "SOCIAL STRAINS SPARK MEDIA ANXIETY" … "Facebook, Snapchat Deals Produce Meager Results for News Outlets," by Bloomberg's Gerry Smith: "Newspapers and other media outlets are struggling to make money from their partnerships with tech giants like Facebook and Snapchat … Some publishers are scaling back on Facebook Inc.'s Instant Articles program."
How bad IS it? Axios' Sara Fischer: "The report found that participating publishers, on average, made only $7.7 million on third-party platforms, like Facebook, Snapchat and Google, which is roughly 14% of their overall revenue. Video represents 85% of that, largely driven by television and cable companies' monetization of internet-based content."
https://www.axios.com/newsletters/axios-am-14b1c136-9712-466d-896b-015ab4d0a77c.html?chunk=7#story7
​8. Trending in business
"Gary Cohn's Goldman Exit Tops $100 Million," per WSJ: Trump's top economic adviser "received $65 million in cash to cover his potential future bonuses at the bank .. Those payouts would otherwise have been determined by how Goldman fared over the next several years.He also received $45 million worth of stock that was locked up or remained subject to clawback."
https://www.axios.com/newsletters/axios-am-14b1c136-9712-466d-896b-015ab4d0a77c.html?chunk=8#story8
9. Tops in tech
Axios' Kim Hart and David McCabe take us inside GOP strategery in "The plot to kill net neutrality": "The dismantling effort could happen in Congress, at the FCC, or both. New FCC Chairman Ajit Pai, the most senior Republican on the panel and a vocal critic of the rules, can start the reversal process on day one. But that doesn't mean he will. He may opt to let Republicans in Congress resolve the issue with legislation. And both lawmakers and commissioners will be watching what the courts do on the issue."
So it turns out Peter Thiel became a citizen of New Zealand in 2011: "Thiel is a huge fan of 'The Lord of the Rings … New Zealand, of course, was where the director Peter Jackson made his acclaimed films of the series." Earlier this week, The New Yorker's Evan Osnos wrote about New Zealand as a favorite doomsday haven of Silicon Valley's elite.
https://www.axios.com/newsletters/axios-am-14b1c136-9712-466d-896b-015ab4d0a77c.html?chunk=9#story9
10. 1 fun thing
Oscar nominees … "Record Six Black Actors Nominated, Diversity Improves After Controversy" — Variety: "While no actors of color were nominated the last two years, this year saw every acting category recognizing a person of color. A record-tying (with 2007) seven minority actors were recognized, including a record-setting six black actors." … Complete list ... Ranked by studio (Lionsgate first, Paramount second).
THANK YOU FOR READING. To write me, just reply to this email: It's my real/only email address, and no one else sees it.