Axios AM
February 19, 2020
🇨🇳 Breaking: "China revoked the press credentials of three Wall Street Journal reporters based in Beijing, the first time in the post-Mao era that the Chinese government has expelled multiple journalists from one international news organization at the same time," the Journal reports (subscription).
China's Foreign Ministry said the move was punishment for a Feb. 3 "Global View" column by Walter Russell Mead: "China Is the Real Sick Man of Asia."
1 big thing: Bloomberg's baggage — and barrage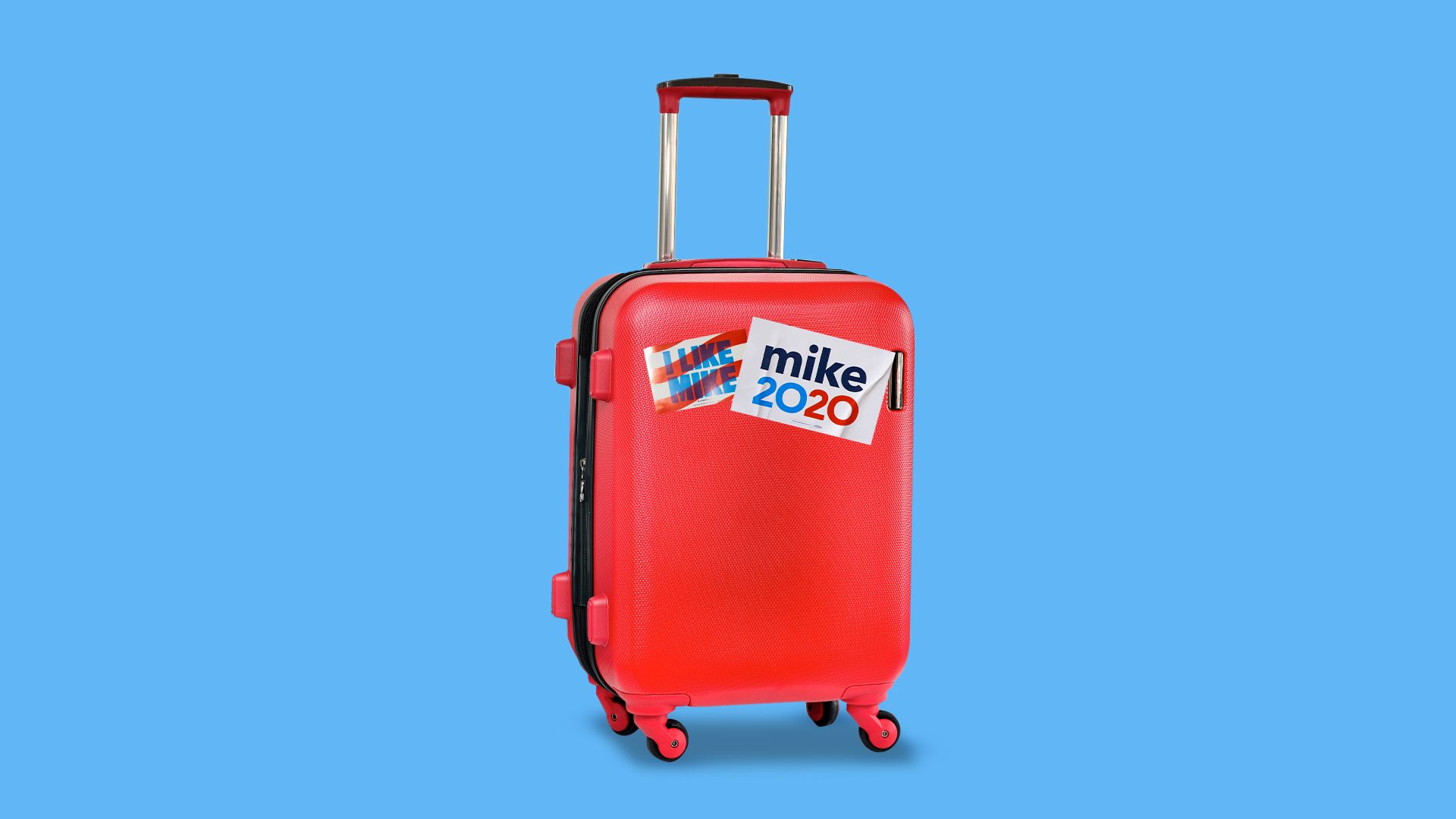 Top 2020 Democrats, armed with decades of opposition research, plan to savage Mike Bloomberg as a Democratic Trump — an egomaniac New York billionaire who's stained by sexism and racial slights, and hell-bent on buying power and puppeteering mass media, Axios CEO Jim VandeHei writes.
Why it matters: Bloomberg knows it's coming, has rehearsed his retorts, readied ads and policy plans to deflect, and will unleash $1.5 billion more on ads and staff to clean up any damage.
Tonight's debate in Vegas, Bloomberg's first time onstage with his rivals, should be a doozy.
The Bloomberg campaign sounds unfazed. Kevin Sheekey, Bloomberg's top strategist, tells Axios: "Mike will defend his record of doing more to address issues of concern to Democratic voters than anyone else in the race."
Sheekey added, in what the campaign considers its trump card: "Voters are focused on electability."
But check out what Bloomberg has coming at him. In public comments and private leaks of opposition research, this is rivals' anti-Bloomberg argument:
👀 Watch Joe Biden tonight: The former vice president has easily the most incentive to go after Bloomberg.
Each is competing to be the Electable One; Biden was hacked off that Bloomberg promised not to run against him and then did; and, unlike the others, he has no interest in his money — or a job in his administration.
2. Barr vs. Trump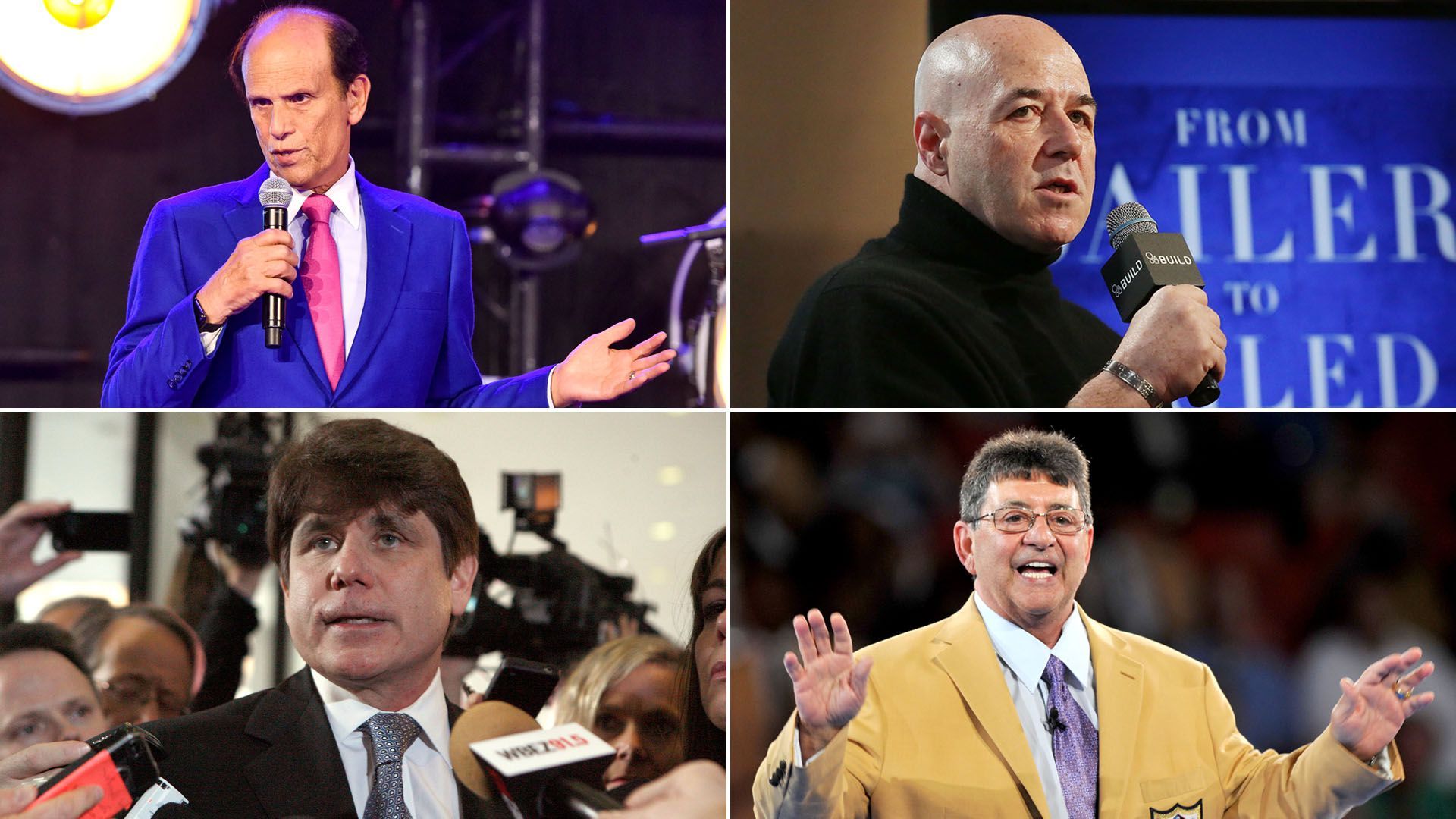 Attorney General Bill Barr has made clear to President Trump — both publicly and, repeatedly, in private conversations — that he can't do his job if the president keeps publicly commenting on Justice Department criminal cases, Axios' Jonathan Swan reports.
Trump chose to ignore that warning yesterday when he tweeted again about Roger Stone's case.
The tweet could not have been timed worse — whether he was aware of that or not. It came only a few hours before a status conference call between the judge, Stone's lawyers, and Justice Department prosecutors.
Barr's spokesperson tweeted after multiple reports that the attorney general might leave:
"Addressing Beltway rumors: The Attorney General has no plans to resign."
Flashback ... Lead of yesterday's Axios PM: "Trump announced Tuesday that he would commute former Illinois Gov. Rod Blagojevich's 14-year prison sentence for extortion, bribery and corruption — as well as issue full pardons for former San Francisco 49ers owner Edward DeBartolo Jr., former NYPD Commissioner Bernie Kerik and financier Michael Milken."
Go deeper: List of yesterday pardons and commutations, "11 big and not-so-big names granted clemency by Trump."
3. Bloomberg's "dire" warning: Sanders soon unstoppable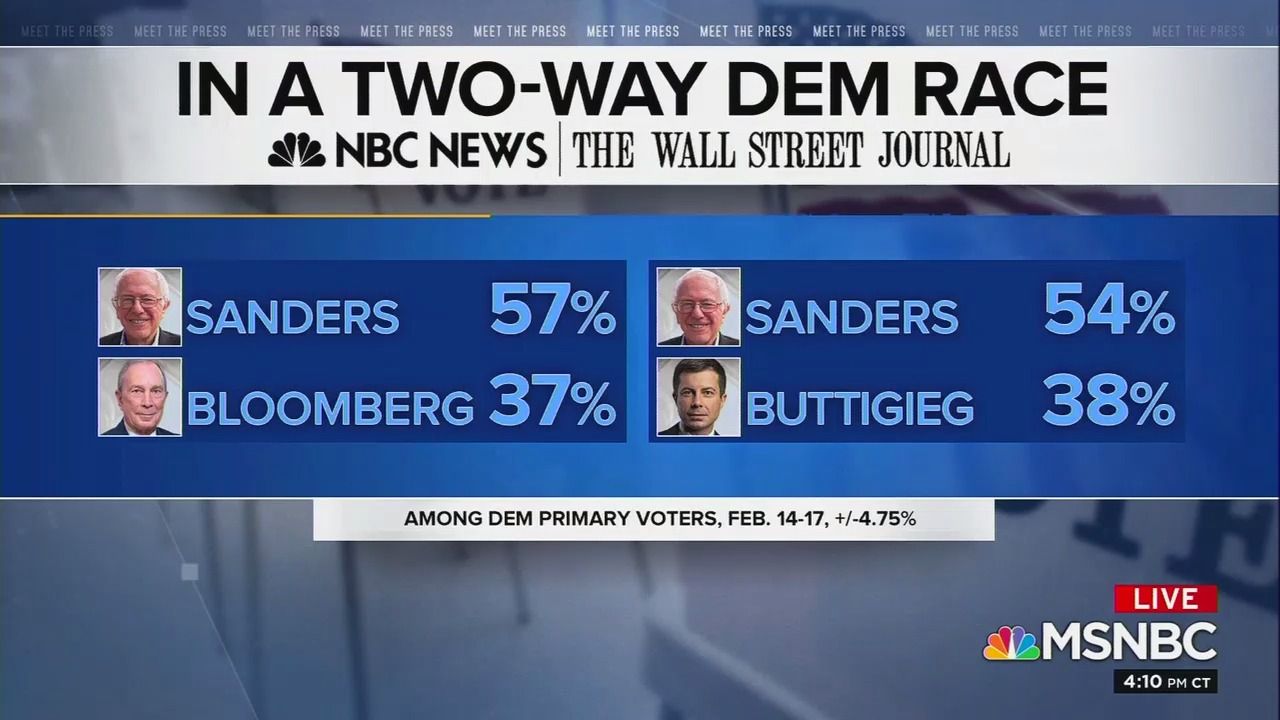 Mike Bloomberg's campaign is sounding the alarm that Bernie Sanders will soon amass an unsurmountable delegate lead if the Democratic field stays split — and took the extraordinary step of suggesting laggards should drop out.
Kevin Sheekey, Bloomberg's top strategist, said: "The fact is if the state of this race remains status quo — with Biden, Pete and Amy in the race on Super Tuesday — Bernie is likely to open up a delegate lead that seems nearly impossible to overcome."
"I don't think many people understand the dire circumstances here."
Why it matters: Based on every national poll, plus steady access to money, Sanders is the indisputable — if underappreciated — frontrunner.
The Bloomberg campaign got high-profile validation of its theory:
David Plouffe, Barack Obama's 2008 campaign manager, tweeted in response to Nate Silver's delegate projections through Super Tuesday — which show Sanders with 41%, followed by Bloomberg and Joe Biden with 18% each.
"If this happens, Sanders would have a pledged delegate lead he'll never relinquish."
In a "State of the Race" memo to Bloomberg gurus Sheekey and Howard Wolfson, senior adviser Mitch Stewart and states director Dan Kanninen argue:
"If Biden, Buttigieg, and Klobuchar remain in the race despite having no path to appreciably collecting delegates on Super Tuesday (and beyond), they will propel Sanders to a seemingly insurmountable delegate lead by siphoning votes away from [Bloomberg]."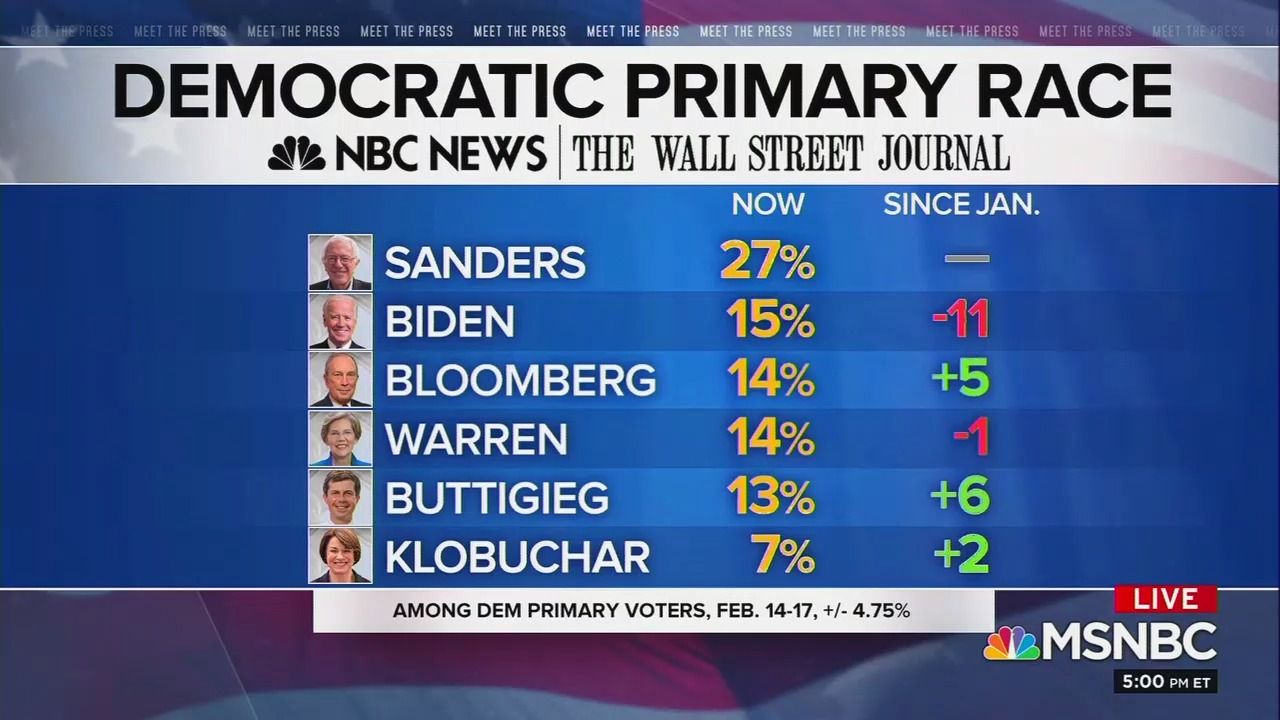 4. Coronavirus may be "at the brink" of a global pandemic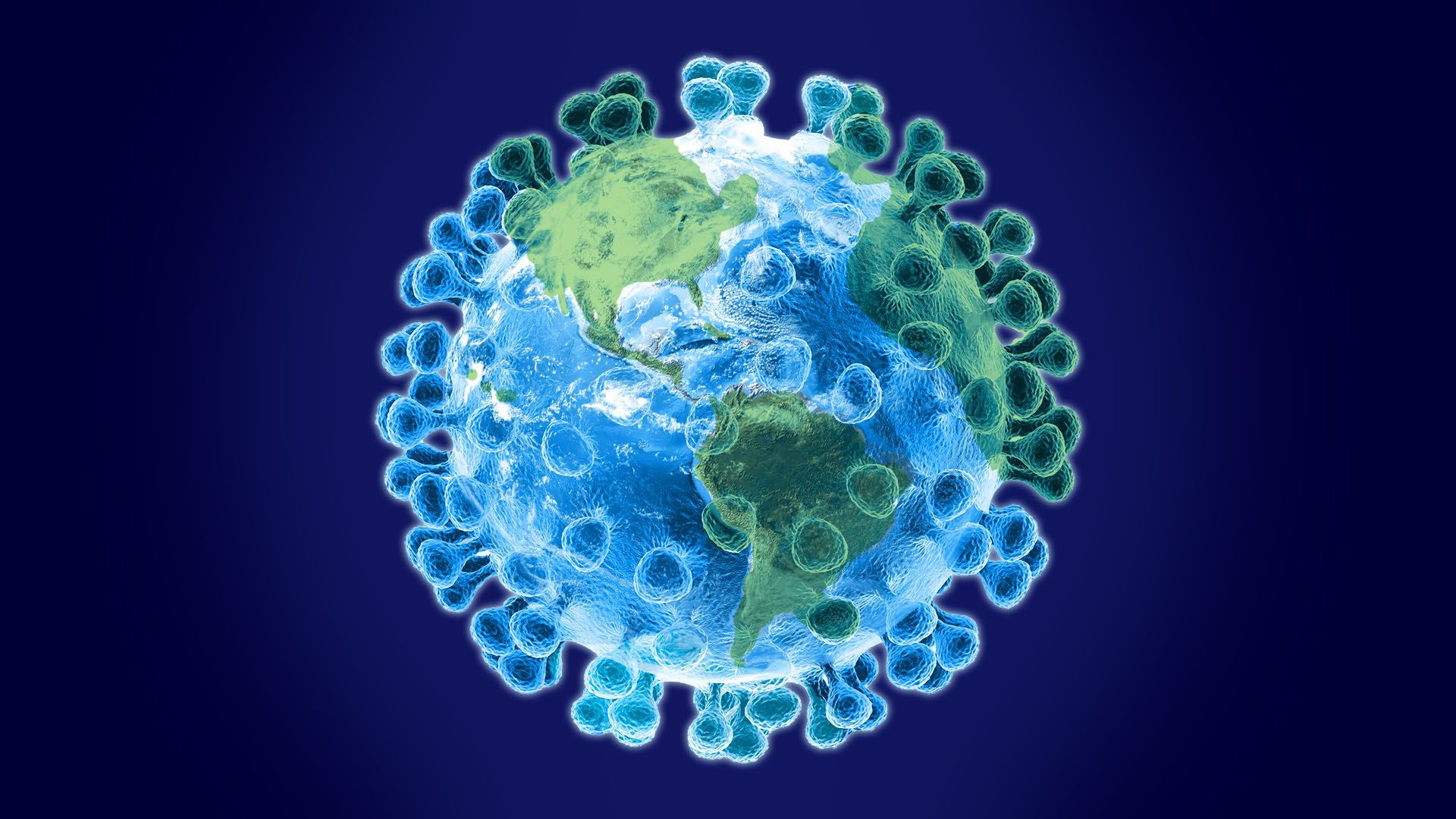 The coronavirus outbreak may be "at the brink" of a global pandemic, Anthony Fauci, director of the National Institute of Allergy and Infectious Diseases, tells Axios' Eileen Drage O'Reilly.
What's new: Signs people are infecting each other in a more sustainable fashion in China, an uptick in confirmed cases in Japan and Singapore, and research showing people without symptoms can infect each other are fueling concern that COVID-19 will develop into a pandemic.
What to watch: Stephen Morrison of the Center for Strategic and International Studies told Axios that despite efforts to prepare the American health care system for a pandemic, the U.S. is not ready.
He pointed to the 2017-2018 flu season that killed at least 80,000 Americans as an example of when a sudden increase of cases "really overwhelmed the system."
"We'd be very quickly in trouble" if there was a sudden influx of ill people during a pandemic, Morrison said.
5. Mike Bloomberg's war on Wall Street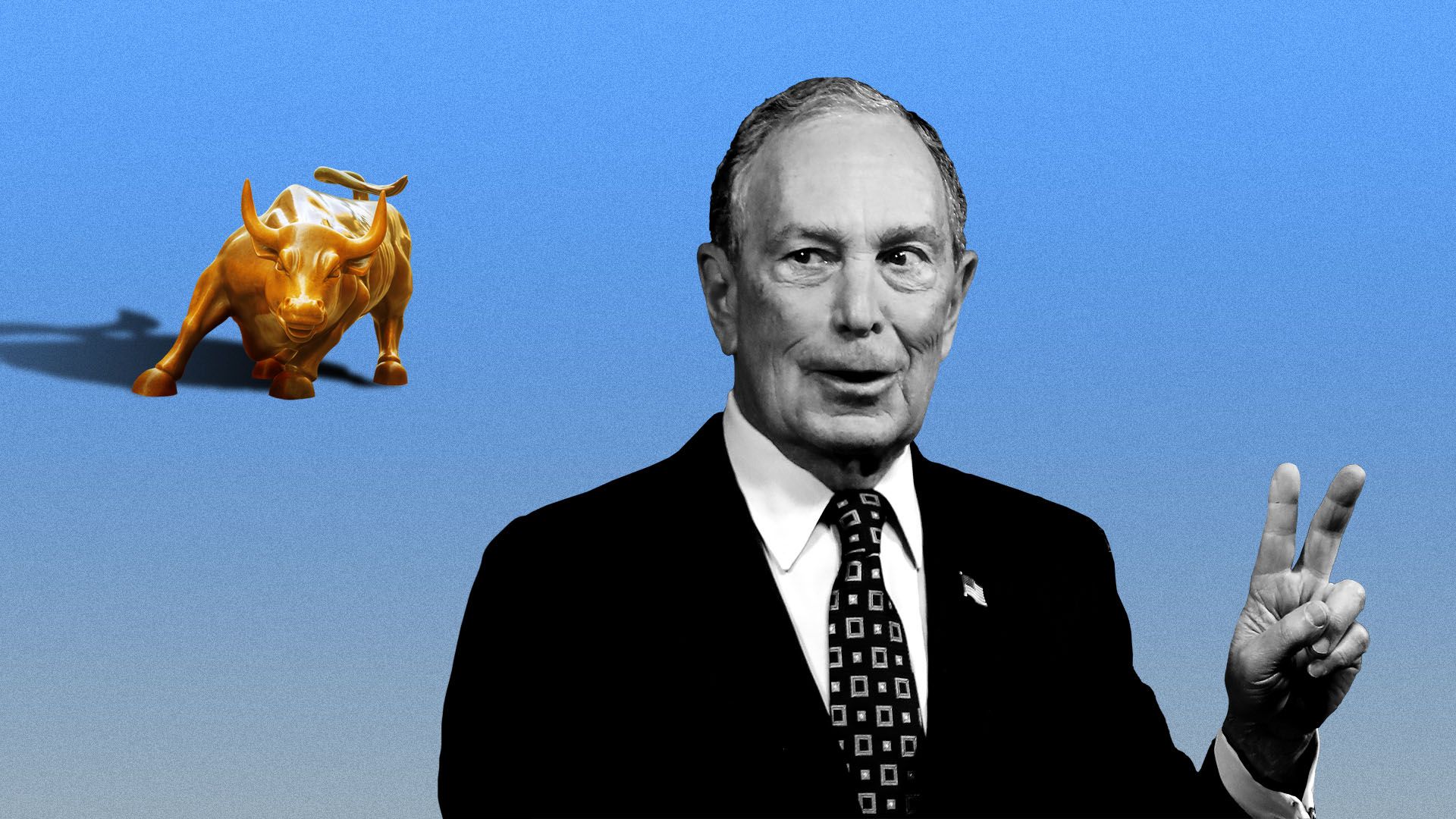 Mike Bloomberg makes billions of dollars from Wall Street every year. But his plan to rein in the financial sector is very aggressive, Axios chief financial correspondent Felix Salmon writes.
If he were to become president, it would be fought vociferously by the biggest clients of Bloomberg LP, the financial-information company that's the source of the candidate's wealth.
Why it matters: Bloomberg's detailed financial reform policy, released yesterday, could cost Wall Street trillions of dollars while significantly increasing regulatory scrutiny of financial activities.
It's a vision that would not be at all surprising coming from Elizabeth Warren, but that was less expected from an avatar of red-blooded capitalism.
At the top of Bloomberg's wish list is for banks to hold significantly more capital on their balance sheets. He also calls for:
A financial transactions tax, affecting mostly the very wealthy, that would raise about $500 billion over 10 years. Every stock, bond, and derivatives transaction would be taxed a tiny amount, helping to discourage socially-useless high-frequency trading.
Allowing the Postal Service to provide banking services.
Beefing up the Consumer Financial Protection Bureau.
The bottom line: Where President Trump deregulated Wall Street, Bloomberg wants to re-regulate it — and he wants to go significantly further than even former President Obama managed with the post-crisis Dodd-Frank legislation.
6. 🥗 1 sentence for our times
The Boston Globe, on the downtown lunch rush, where seconds count and a tense crowd waits in a salad place for the kale they preordered on their phones:
Even the order-ahead apps aren't fast enough.