Axios AM
June 22, 2017
1 big thing: What your team can learn from Uber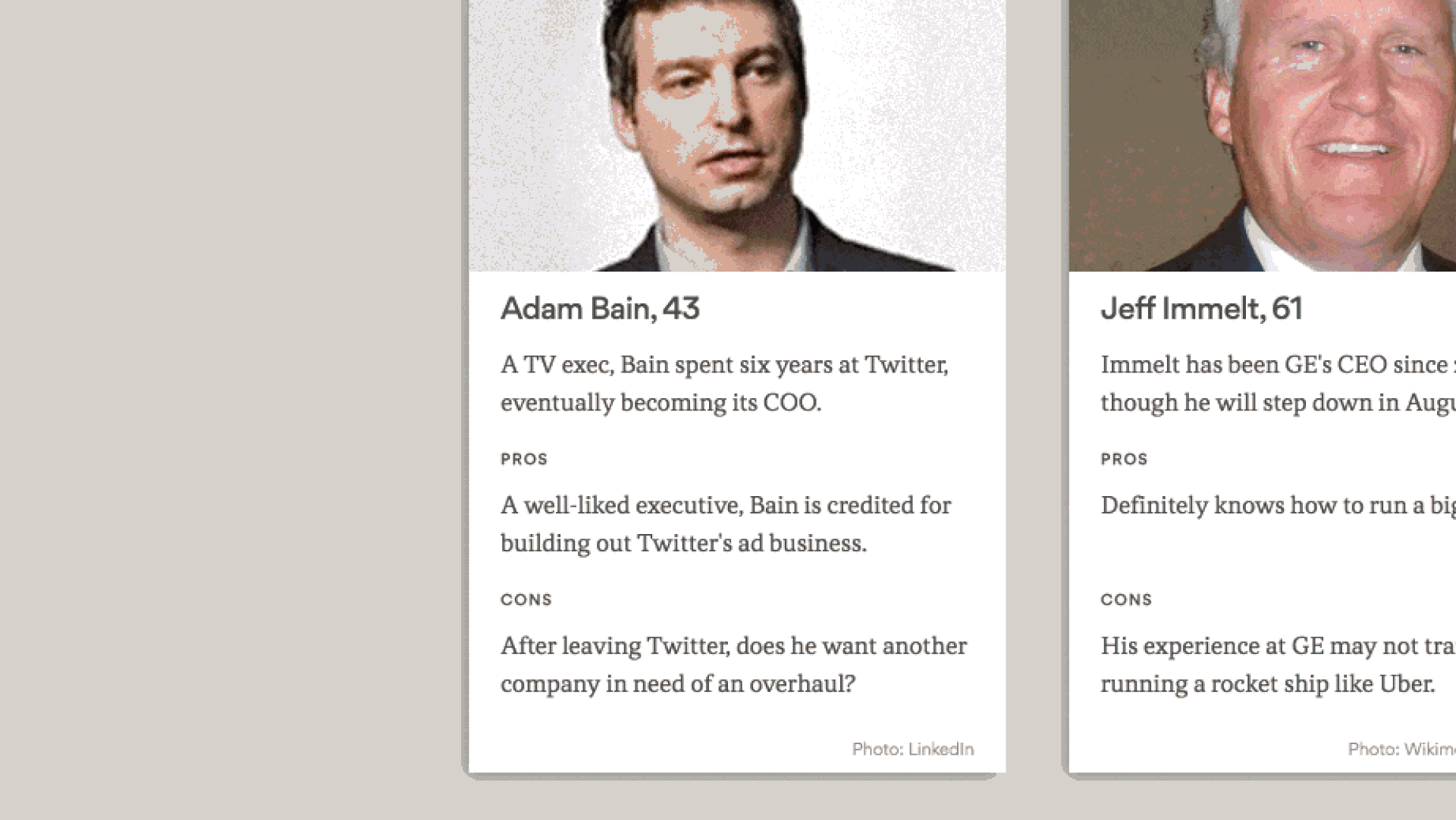 The Wall Street Journal this morning calls Uber CEO Travis Kalanick's "abrupt surrender ... a stunning fall for one of the most celebrated careers in Silicon Valley": "Tech entrepreneurs idolized the pugnacious Mr. Kalanick for snubbing convention and prioritizing winning at all costs, and investors hailed him as the model for a founder."
Kalanick keeps his board seat, retains control of a majority of Uber's voting shares, and had the pleasure of seeing a critic, venture capitalist Bill Gurley, leave the board.
But this was a very personal rejection of a corporate culture that was long viewed as aggressive and unrestrained, then harshly scrutinized amid complaints of sexual harassment and discrimination.
I just finished the well-timed new book by Fortune's Adam Lashinsky, "Wild Ride: Inside Uber's Quest for World Domination."
My big takeaway ... The fiasco at Uber is a product of the same phenomenon we're seeing in the Trump West Wing: Corporate cultures, whether healthy or sick, flow from the top — and are set in the organization's earliest days.
A few memorable passages:
"Travis Kalanick ... came to define what it meant to be a tech entrepreneur in the second decade of the twenty-first century ... the philosopher/execution guy, a jerk to many."
Over the years, there was "a sense of shiftiness about Kalanick, a can't-quiet-put-your-finger-on-it untrustworthiness that would irk some who deal with him."
Ilya Hykinson, a Kalanick colleague at an earlier start-up, recalls: "He'd write a large dollar figure on the whiteboard, circling it and outlining it for effect, just in case somebody came by and saw it ... That's kind of a weird, sleazy move."
"Kalanick ... seemed incapable, in public or in private, of holding back ... His widely quoted whoppers sometimes had an intellectually defensible ring to them. Yet they suggested a shocking lack of empathy or, at the very least, an inability to know when to keep quiet."
Be smart: The values you project, whether they're intentional or not, will quickly pollinate through your organization. Know what they are, and make sure they're what you want.
2. America's choice: Tired, or restless?
In George Will's column today in the WashPost ("Plunge forward, or fall back"), he uses the Amazon-stoked trepidation in the grocery industry as a launching pad for a worthy point amid all the collisions and disruptions that are facing our society, our politics and our businesses:
"In the accelerated churning of today's capitalism, changing tastes and expanding choices destroy some jobs and create others, with net gains in price and quality. But disruption is never restful, and the United States now faces a decision unique in its history: Is it tired — tired of the turmoil of creative destruction? If so, it had better be ready to do without creativity. And ready to stop being what it has always been: restless."
3. The Trump Show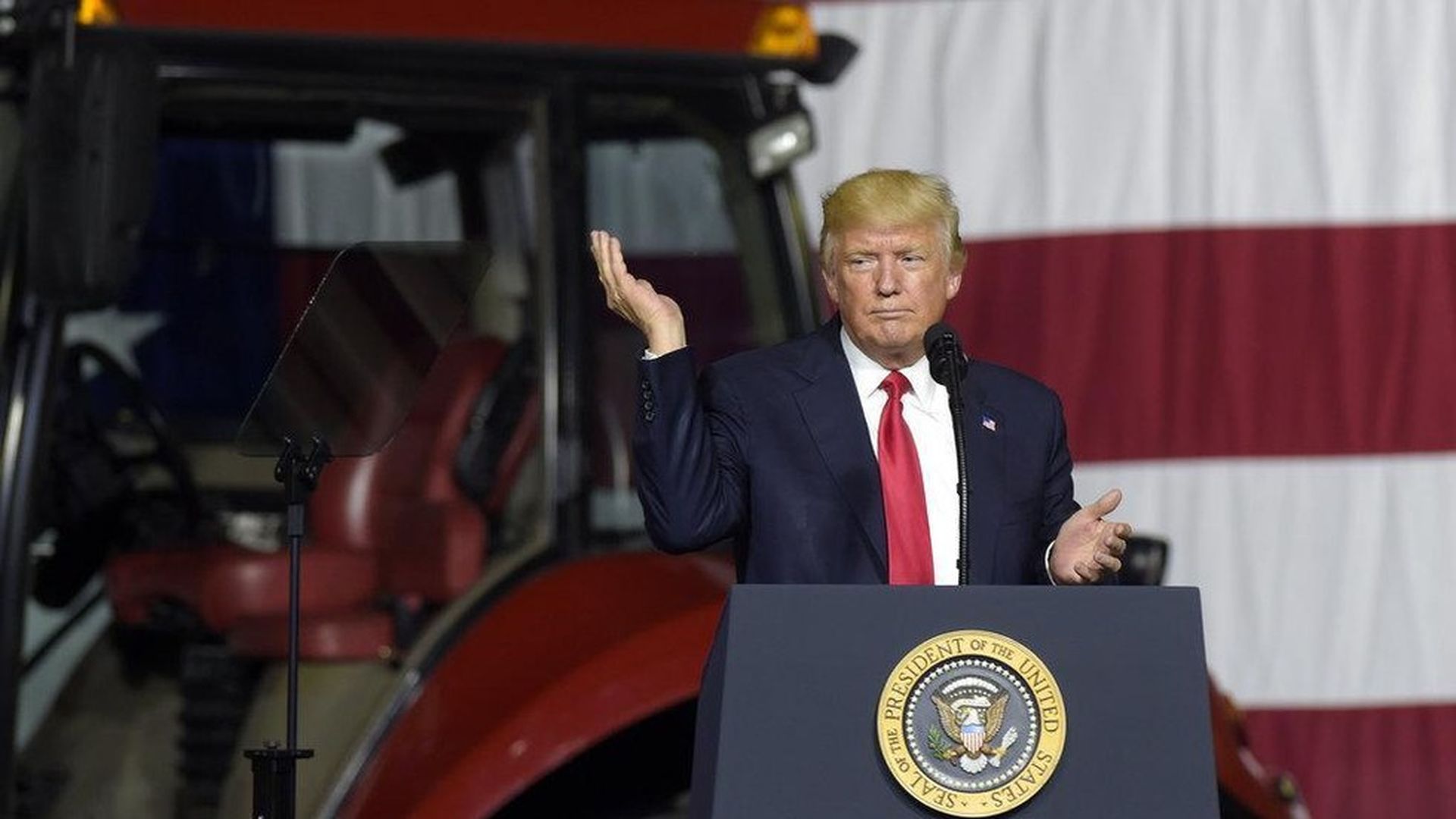 AP's Jonathan Lemire points out that with last evening's "Make America Great Again Rally" in Cedar Rapids, Iowa, Trump has now held five rallies in his first five months in office:
"Trump, no stranger to victory laps, turned his visit ... into a celebration of his resilience despite the cloud of investigations that has enveloped his administration and sent his poll numbers tumbling."
The N.Y. Times' Maggie Haberman writes that the hour-plus speech turned into "a venting session for a pent-up president who has stewed and brooded from inside the gilded cage of the White House ... an epic version of the fact-challenged, meandering and, even for his detractors, mesmerizing speeches he gave during his upstart presidential campaign."
From the remarks, per Axios' David Lawler:
Immigration: Trump said he would introduce legislation stating that immigrants cannot receive welfare until they have been in the U.S. for 5 years — a 5 year ban is already in place under current law.
The wall: Axios' Jonathan Swan reported earlier this month that Trump had pitched congressional Republicans a solar-paneled border wall. Last night, Trump spoke about it publicly for the first time, giving himself a bit of credit — "pretty good imagination, right? My idea." He claimed a solar wall would pay for itself, and the higher it was the more money it would make.
Another statement that's getting some attention, on casting roles like Commerce Secretary: "I love all people, rich or poor. But in those particular positions I just don't want a poor person."
4. The wilderness: Blaming Pelosi
Democrats' embarrassing special-election loss in Georgia, after the vocal left fanned unrealistic expectations, provokes a wave of bitter post-gaming that targets House Democratic Leader Nancy Pelosi. It's part of a generational argument that's also driving the party's 2020 conversation:
Front page of Silicon Valley's paper, The Mercury News of San Jose, "THE PELOSI PROBLEM: Some fault minority leader for losses," by Casey Tolan: "Some of the toughest ads against the 30-year-old [Georgia Dem candidate Jon] Ossoff were those tying him to Pelosi, whose approval ratings are underwater outside California."
The N.Y. Times' lead print story, "Democrats Fume As Georgia Loss Deepens Discord," by Alex Burns and Jonathan Martin, carries this memorable online headline: "Democrats Seethe After Georgia Loss: 'Our Brand Is Worse Than Trump.'"
The money quote: "Representative Tim Ryan of Ohio, who tried to unseat Ms. Pelosi as House minority leader late last fall, said she remained a political millstone for Democrats. But Mr. Ryan said the Democratic brand had also become 'toxic' in much of the country because voters saw Democrats as 'not being able to connect with the issues they care about.' 'Our brand is worse than Trump.'"
NBC's Alex Seitz-Wald: "At a closed-door meeting with colleagues, there were no challenges to the Democratic leadership or any obvious signs of dissent ... But for every Democratic official or operative publicly calling for new leadership, there are others who privately express the same sentiment."
A morning-after memo from the head of the House Democrats' campaign arm, DCCC Chair Ben Ray Luján of New Mexico, tries to buck up the troops by declaring: "THE HOUSE IS IN PLAY," partly because of "the nationwide collapse of support for President Trump."
Be smart: With a wobbly start for Trump and his agenda, Dems we talk to as we travel the country have gotten the idea that of course the House will flip in midterms next year. In fact, this year's special elections showed that vulnerability by the other side doesn't necessarily translate into raw votes for you. Republicans are more reliable voters in midterms, and reversing that will be a massive task for Dems.
5. Trump's nemesis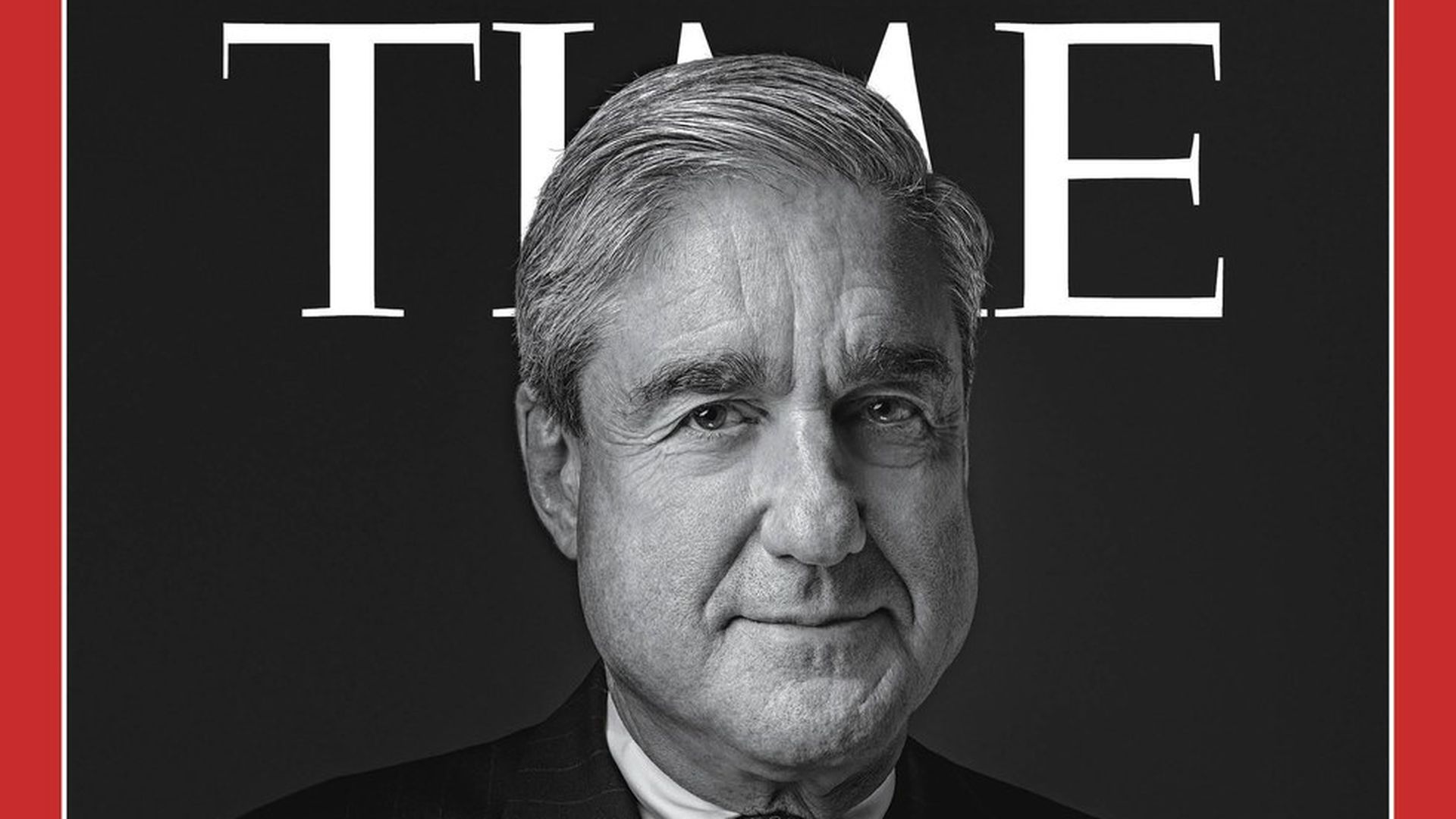 These four points — from a forthcoming TIME cover story by David Von Drehle — set the narrative for special counsel Robert Mueller as he takes the national stage:
"Mueller must be careful and measured and honest and open. If he finds offenses, he must lay them out clearly, with every t crossed. If he finds none, he must issue equally clear and compelling exonerations. America is hungry for fair dealers: Mueller can do his part by proving himself to be one."
"Investigations like Mueller's have a way of moving from Topic A to Topic Z, from Ozarks real estate to an intern's blue dress as one question begets another and clue leads to clue."
"[A]n investigation of Trump's actions as President ... could become a dissection of the inner workings of his private business. The tax returns he has steadfastly refused to publish. The conflicting accounts he and his sons have given about Russian investments in Trump projects. The sharp rise in the number of Trump- branded luxury condos bought by shell corporations since his nomination."
"It goes back to the Greeks, who understood that the peril of kings was hubris, and that hubris was an invitation to the avenging goddess called Nemesis. In Robert Mueller, Trump may have found his."
6. 1 Hollywood thing: The power of the green light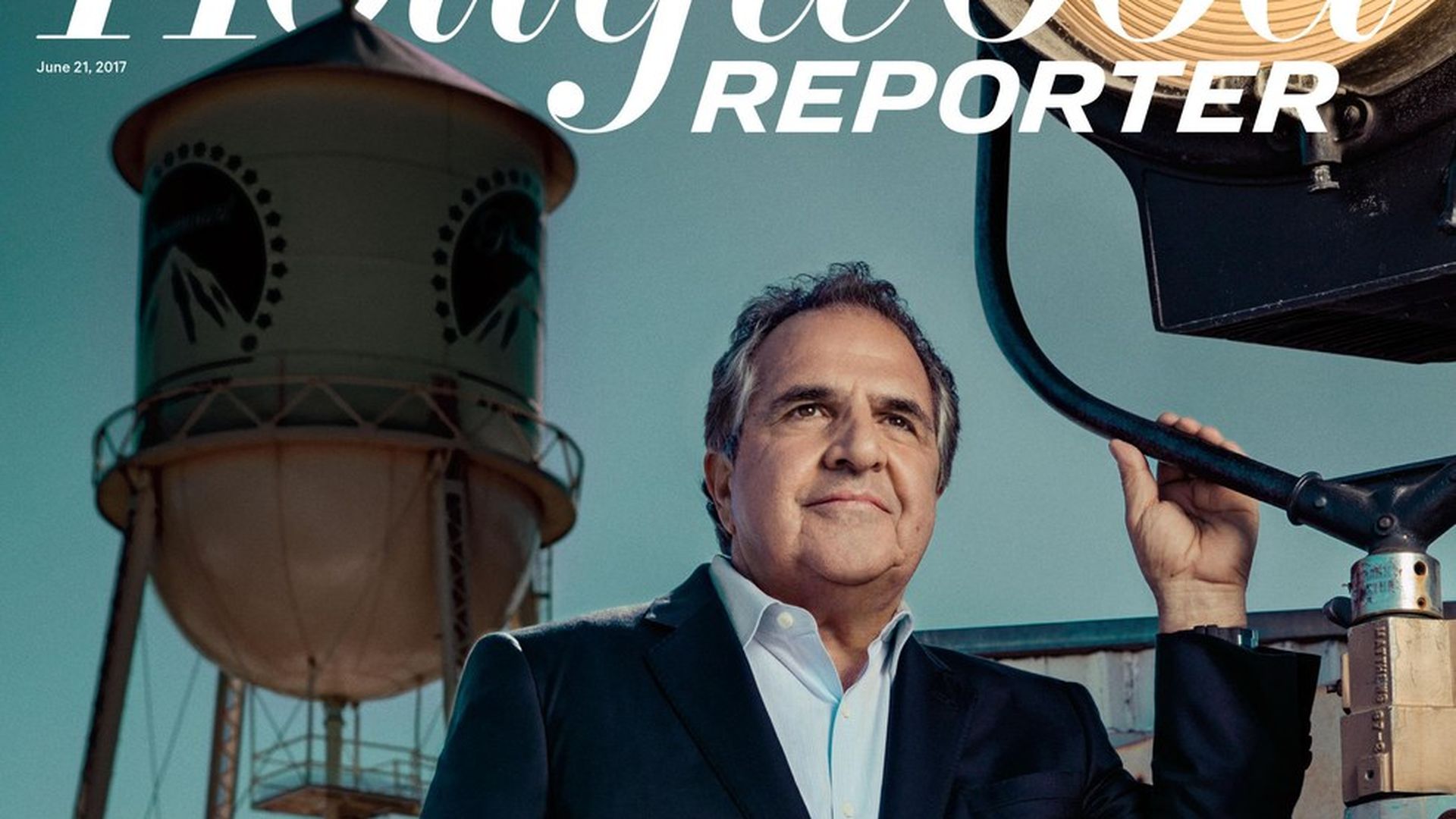 Hollywood Reporter's 100 Most Powerful People in Entertainment, edited by Alison Brower:
"THR 100 essentially is a greenlight list: who has the authority to take projects from a no to a yes or the talent and track record to make what he or she wants. There are objective factors, like the size of an executive's empire (owning it helps, a la Shari Redstone), access to vast sums of money (both Megan Ellison and David Ellison) or the number of series a showrunner has on the air and their ratings (congrats, Ryan Murphy).
"Then there's the subjective element of heat around town: 'juice,' for lack of a better word. The Murdoch family's 21st Century Fox is far more profitable than Netflix, but Reed Hastings and Ted Sarandos rank higher because there's no company more the subject of Hollywood fascination and envy these days than theirs. Patty Jenkins' Wonder Woman probably will end up grossing less worldwide than F. Gary Gray's The Fate of the Furious, but the fact that Jenkins broke ground for female directors lands her (and not him) on the list."
The top 5:
Bob Iger, Chairman/CEO, Walt Disney Co.
Netflix CEO Reed Hastings and Netflix chief content officer Ted Sarandos
Steve Burke, CEO, NBCUniversal, and senior executive V.P., Comcast Corp.
Leslie Moonves, President/CEO, CBS Corp.
James Murdoch, Lachlan Murdoch and Rupert Murdoch, 21st Century Fox