Axios AM
June 30, 2017
Good Friday morning — happy getaway day. Situational awareness: Gorsuch already pushing Supreme Court right on religion, guns, gay rights ... Scaled-back version of Trump travel ban takes effect; new court fights expected.
1 big thing ... ​🚨 Exclusive: Trump plots trade war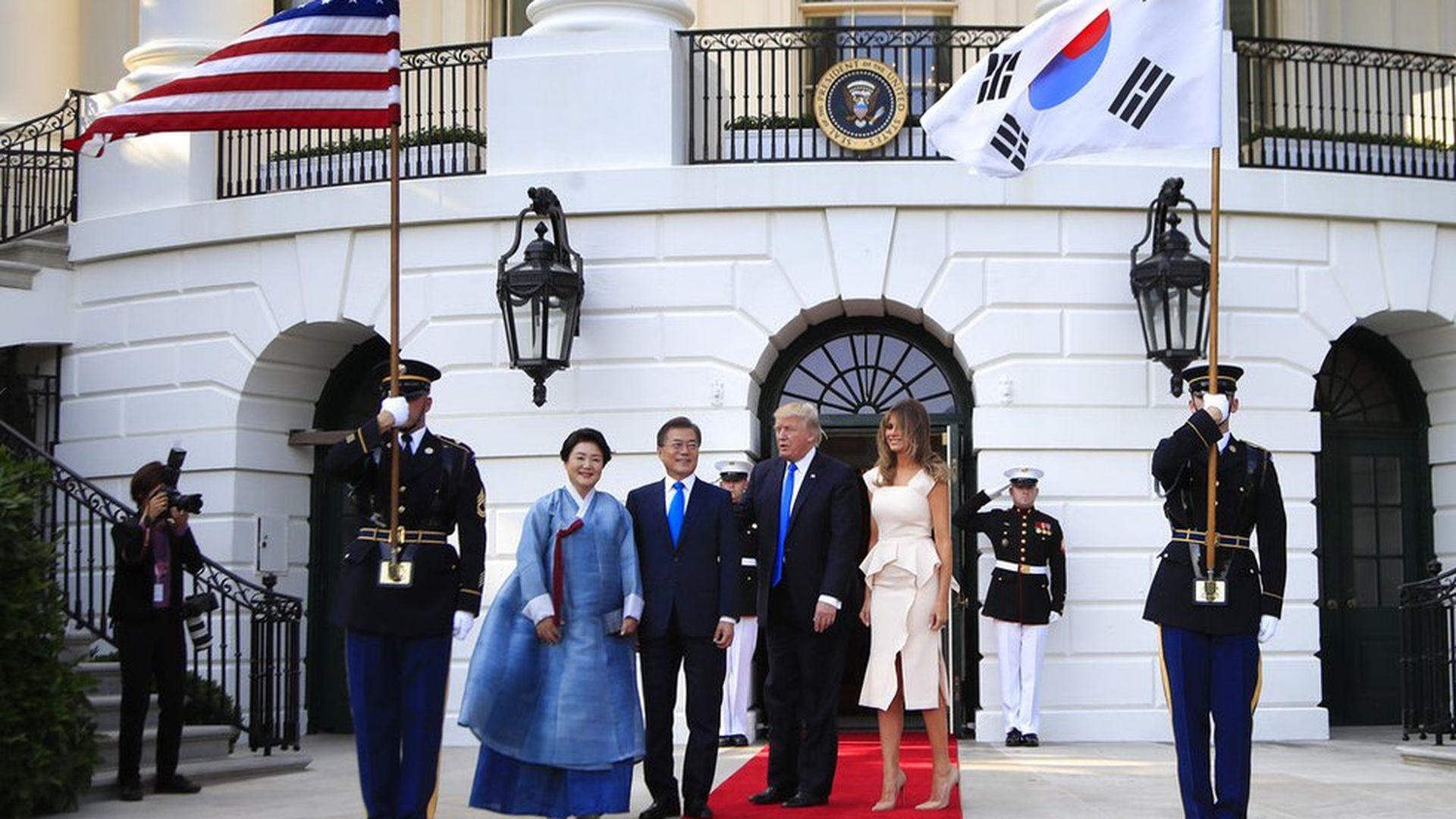 With the political world distracted by President Trump's media wars, one of the most consequential and contentious internal debates of his presidency unfolded during a tense meeting Monday in the Roosevelt Room of the White House, administration sources tell Jonathan Swan and me.
The outcome, with a potentially profound effect on U.S. economic and foreign policy, will be decided in coming days.
With more than 20 top officials present, including Trump and Vice President Pence, the president and a small band of America First advisers made it clear they're hell-bent on imposing tariffs — potentially in the 20% range — on steel.
The penalties could eventually extend to other imports. Among those that may be considered: aluminum, semiconductors, paper, and appliances like washing machines.
One official estimated the sentiment in the room as 22-3 — but since one of the three is named Donald Trump, it was case closed.
No final decision has been made, but the President is leaning toward imposing tariffs, despite opposition from nearly all his Cabinet.
In a plan pushed by Commerce Secretary Wilbur Ross, and backed by chief strategist Steve Bannon (not present at the meeting), trade policy director Peter Navarro and senior policy adviser Stephen Miller, the United States would impose tariffs on China and other big exporters of steel. Neither Mike Pence nor Jared Kushner weighed in either way.
Everyone else in the room, more than 75% of those present, were adamantly opposed, arguing it was bad economics and bad global politics. At one point, Trump was told his almost entire cabinet thought this was a bad idea. But everyone left the room believing the country is headed toward a major trade confrontation.
The reason, we're told: Trump's base — which drives more and more decisions, as his popularity sinks — likes the idea, and will love the fight.
The problem, according to top officials who argued strenuously that the move is ill-advised: The trade war wouldn't just affect China. The collateral damage would include a slew of allies, including Canada, Mexico, Japan, Germany and the United Kingdom.
Watch for: Trump was warned — and White House officials anticipate — that an affected industry like automakers is likely to seek a court injunction within hours of any tariffs on steel.
2. Being Trump: Imagine this scene ...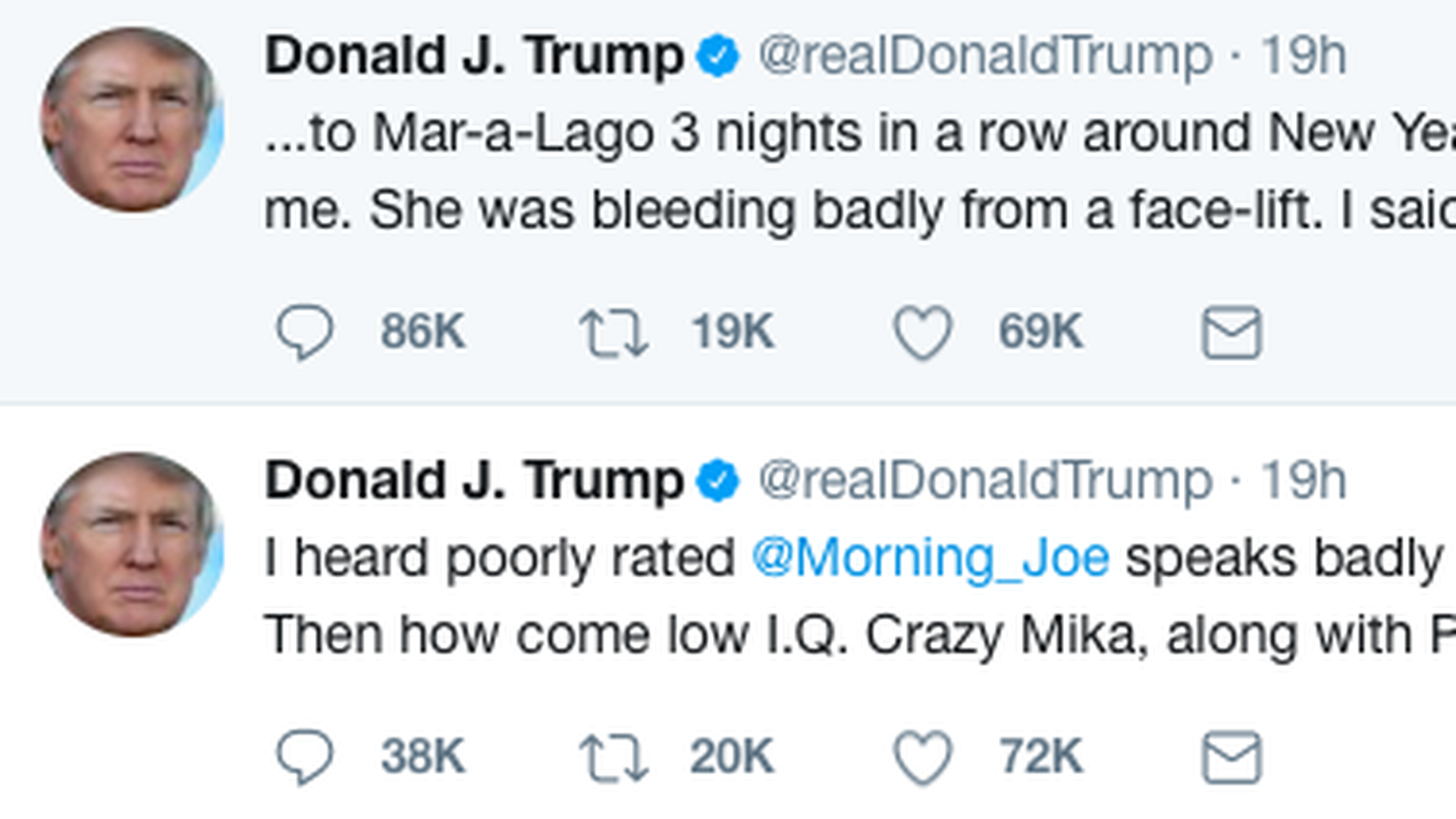 At 8:50 a.m. yesterday, the President of the United States confronted a day of tense and definitional decisions. His health-care plan faced life-or-death negotiations with nervous Republicans. Within hours, he'd host his first meeting with the leader of a nation at urgent risk of decimation by North Korea, which is flirting with nuclear war. He was about to give a speech designed as the centerpiece of a week dedicated to national energy policy. The trade war we just mentioned was brewing.
But as the president watched TV, one topic consumed his mind and mood: two talk-show hosts who had insulted his psychological stability. Their average audience is just over 1 million — .3% of the nation's population.
He banged out the 53 words you see above.
The tweets would suck up the day's public conversation, pushing aside any of his White House's planned messages. They'd provoke numerous Republicans to rebuke him, and force even some of his closest advisers to admit he wasn't acting presidential.
Sound smart: Reread the first paragraph.
Sound dumb: Defend the tweet.
P.S. Mika and Joe respond in WashPost column, "Donald Trump is not well": "Despite his constant claims that he no longer watches the show, the president's closest advisers tell us otherwise. That is unfortunate. We believe it would be better for America and the rest of the world if he would keep his 60-inch-plus flat-screen TV tuned to 'Fox & Friends.'"
AP's Barbara Ortutay: "If President Donald Trump were anyone else, he'd be fired, or at least reprimanded, for his latest tweets attacking a female TV host, social media and workplace experts say."
N.Y. Times Quotation of the Day ... Senator Susan Collins, a moderate Republican from Maine, in response to Trump's tweet: "People may say things during a campaign, but it's different when you become a public servant. I don't see it as undermining his ability to negotiate legislation, necessarily, but I see it as embarrassing to our country."
3. Sorry, Mac: Windows-loving Trumpers swayed vote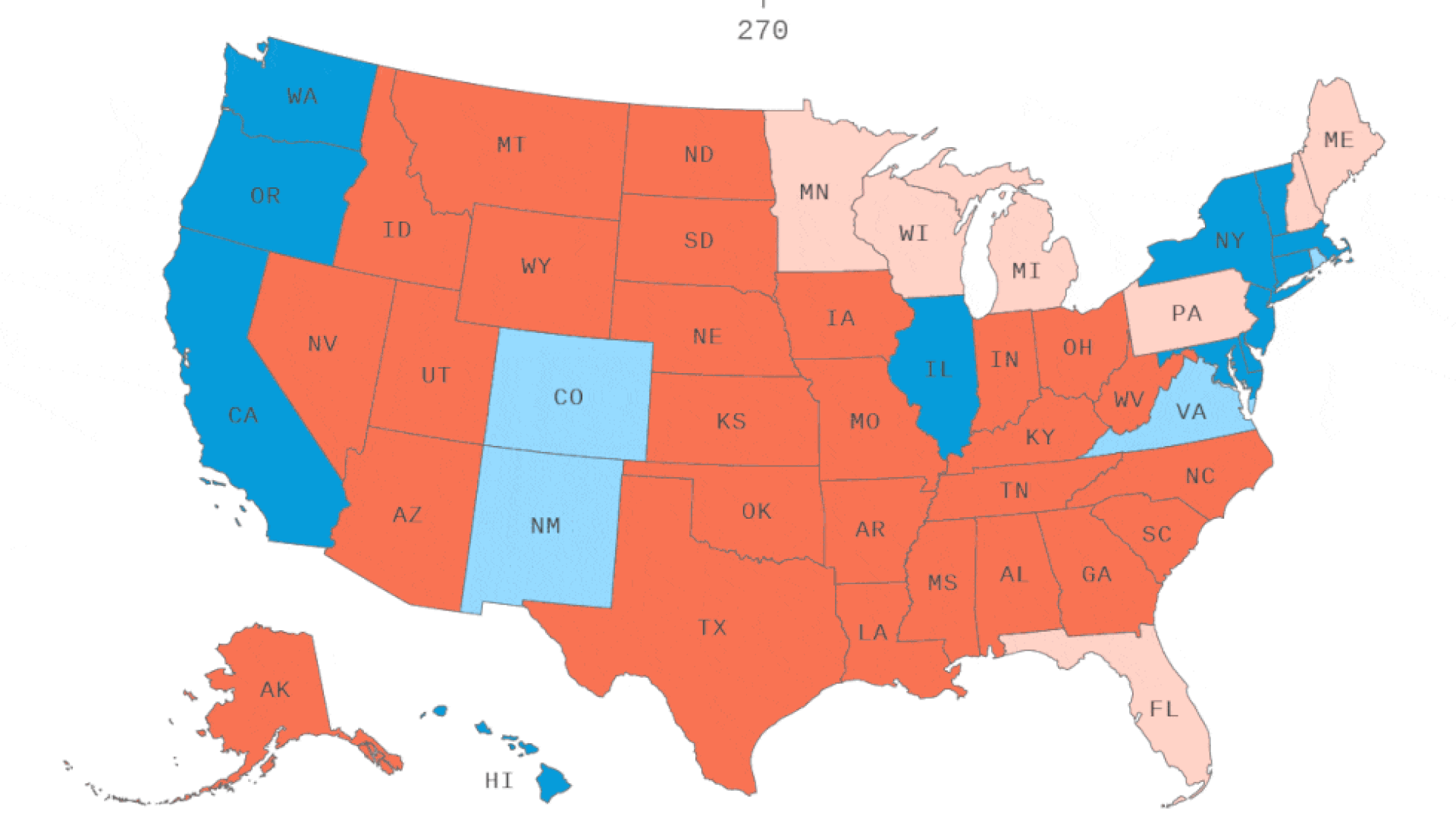 SurveyMonkey, which nailed the recent U.K. election, has started randomly putting political questions to some of the 3 million people who take the company's surveys each day.
Adjusted for demographic data, here's a unique look at the 2016 U.S. election: How the election would have shaped up if the only voters were Mac users; or only PC, iPhone or Android users.
Click for more maps, and analysis by Axios' Ina Fried.
4. POTUS: "Fun" to sue CNN
Trump, speaking Wednesday night at a closed-press, $35,000-a-person GOP fundraiser at Trump International Hotel in Washington, caught on audio obtained by The Intercept's Ryan Grim and Lee Fang:
"Boy, did CNN get killed over the last few days ... These are really dishonest people. Should I sue them? I mean, they're phonies. ... I mean, these are horrible human beings. ... It's a shame what they've done to the name CNN, that I can tell you ... But as far as I'm concerned, I love it. If anybody's a lawyer in the house and thinks I have a good lawsuit — I feel like we do. Wouldn't that be fun?"
5. 1 awkward thing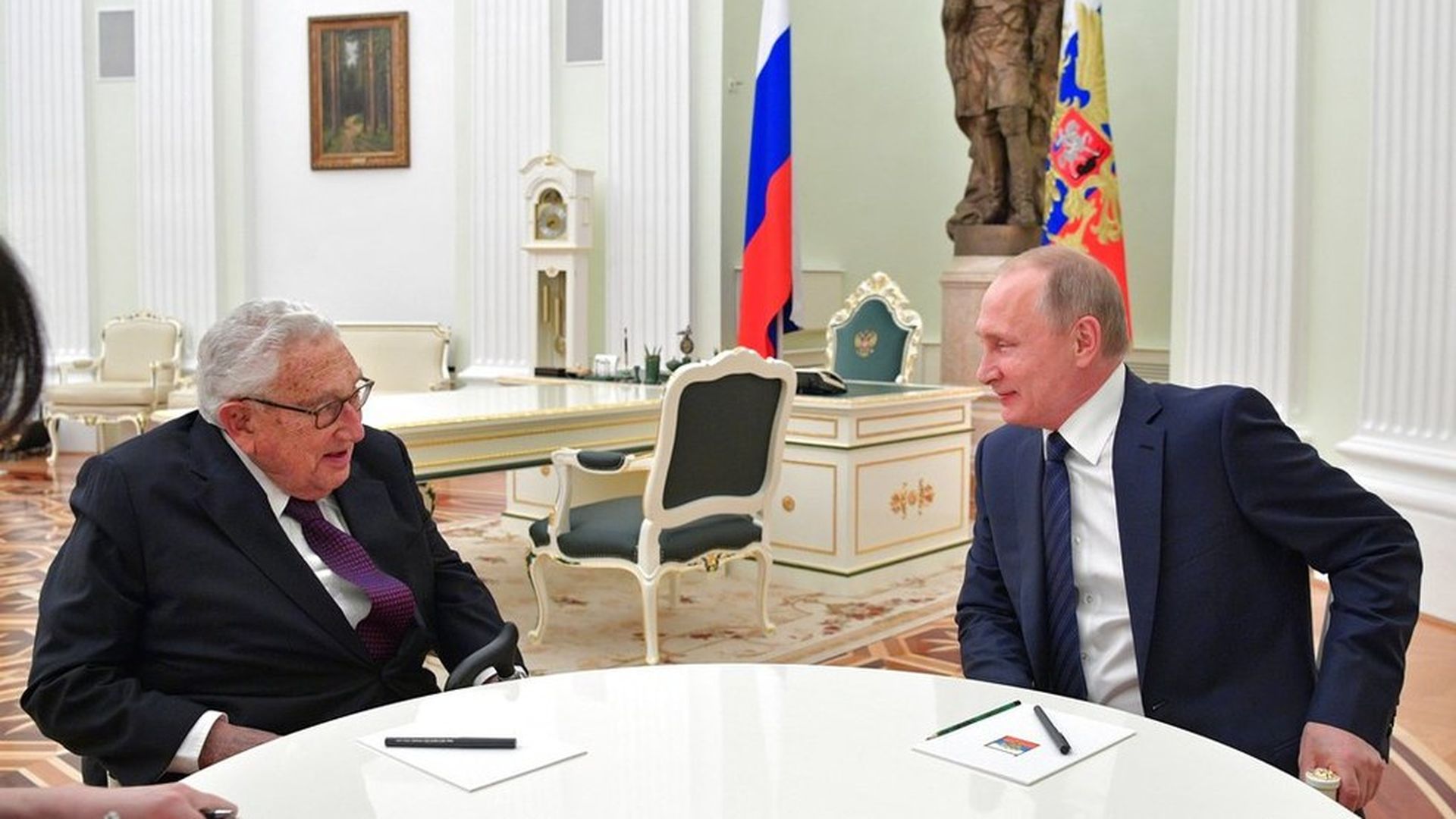 I'm told that to make things less awkward, the U.S. plans to have many aides in the room with President Trump next week when he and Russian President Vladimir Putin hold their first meeting, on the sidelines of the Group of 20 summit in Hamburg, Germany.
Everyone will be watching the body language. Heather Conley, a former State Department official in the George W. Bush White House, tells Reuters: "If there are big grins on both of their faces, that will be the picture on the front pages of every Western newspaper, as the investigation continues here."
AP: "Trump will kick off his second foreign trip in Warsaw, Poland, where he plans to deliver a major speech at Krasinski Square, the site of the memorial to the 1944 Warsaw Uprising against the Germans during World War II."
6. Health care anticlimax
Team Axios reports: "Senate Republicans didn't get a health care deal nailed down before leaving town — but they don't want to lose momentum, so they're going to send the Congressional Budget Office some broad outlines of a new bill to look at over the recess."
Behind the curtain: Swan adds that HHS Secretary Tom Price met with senior officials at the White House yesterday: "The mood was somber, and significantly more negative than the day before. ... In short: the moderate Republican senators aren't buying what Mitch McConnell is selling. At least not yet."
Go deeper: Axios' Caitlin Owens, "What we know about Senate health care bill 2.0."
Be smart ... Chris Krueger of Cowen Washington Research Group emails me: "The calendar is not the Republicans' friend. Winter is coming after Labor Day."
7. ABC's Jon Karl, on regaining trust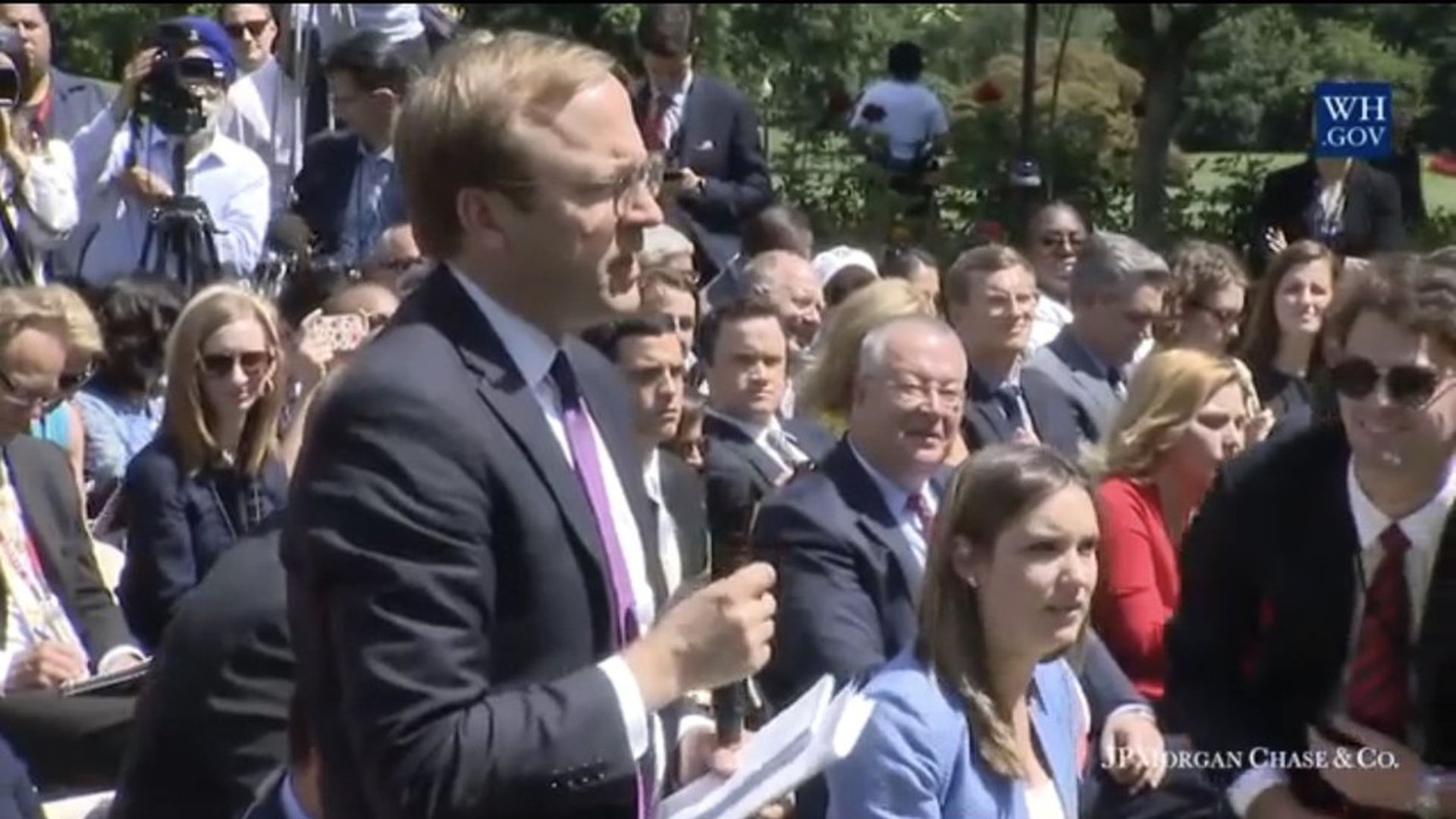 ABC News Chief White House Correspondent Jonathan Karl, who first covered Trump as a young New York Post reporter, in a video interview for the Axios "Smarter, Faster" series:
On covering Trump in New York, and early in his campaign: "Donald Trump was one of the most media-friendly public figures that I ever covered."
On an abrasive relationship between presidents and the media: "There is as much a tradition of that in our country as there is of freedom of the press."
On President Teddy Roosevelt: "His complaint with investigative journalists of his day is that all they saw was the negative. They didn't see any of the positive things ... his administration was doing ... They were always looking down at the muck. That's almost exactly the complaint that I've heard from the people that I cover."
8. How they see us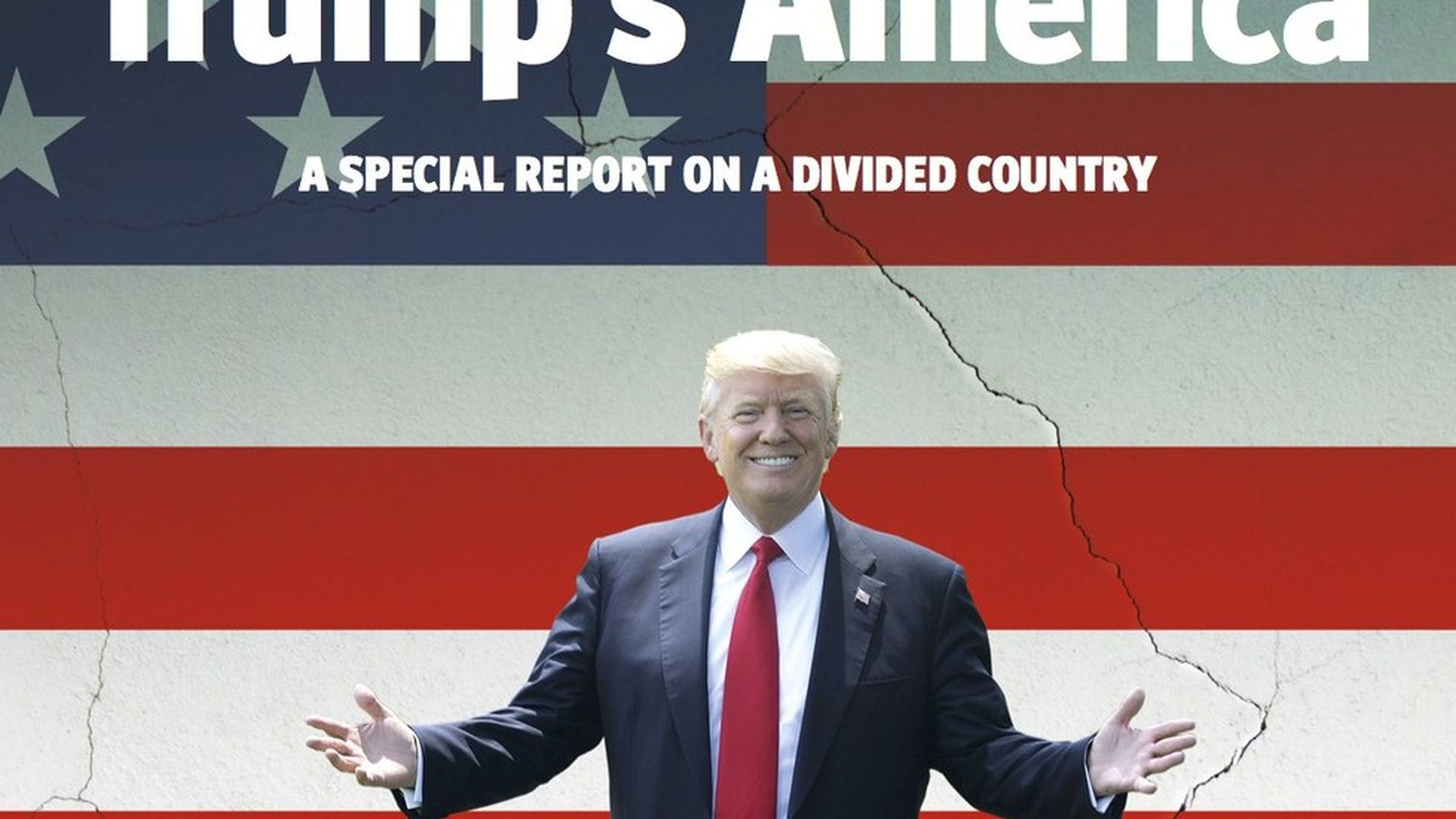 Trump is both a symptom and a cause of the country's divisions, The Economist writes from London in its cover editorial, "Trump's Washington is paralyzed — And the man in the Oval Office is making a bad situation worse":
"[T]his July 4th Americans are riven by mutual incomprehension: between Republicans and Democrats, yes, but also between factory workers and university students, country folk and city-dwellers. ...
"His approach is not working. ... Trump presides over a political culture that is even more poisonous than when he took office. His core voters are remarkably loyal. Many businesspeople still believe that he will bring tax cuts and deregulation. But their optimism stands on ever-shakier ground.
"The Trump presidency has been plagued by poor judgment and missed opportunities. The federal government is already showing the strain. Sooner or later, the harm will spread beyond the beltway and into the economy."
9. Global warming to hit South hardest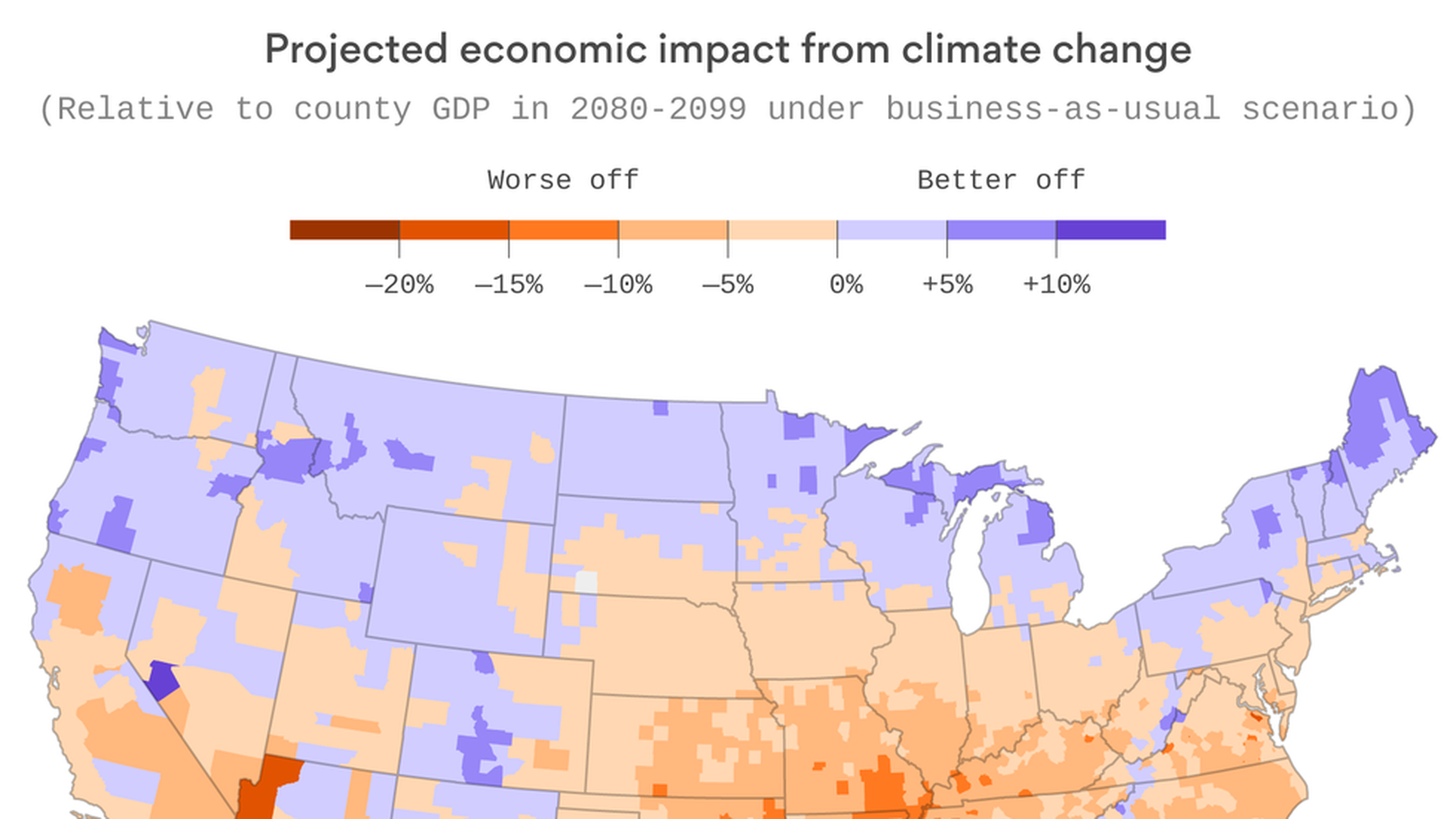 Left unmitigated, rising temperatures from climate change will increase inequality and mortality rates in the U.S. by the end of the 21st century, a team of economists and climate scientists warn, according to Axios' Eileen Drage O'Reilly and Alison Snyder:
The study, published in Science magazine, is the first to project the impacts of climate change on individual counties in the U.S. Among the states projected to be hit hardest are fast-growing Arizona, Texas, and Florida.
CEOs should know ... N.Y. Times: 'Higher temperatures could also lead to steep increases in energy costs in parts of the country, as utilities may need to overbuild their grids to compensate for heavier air-conditioning use in hot months. Labor productivity in many regions is projected to suffer, especially for outdoor workers in sweltering summer heat. And higher sea levels along the coasts would make flooding from future hurricanes far more destructive."
10. 1 fun thing: Game theory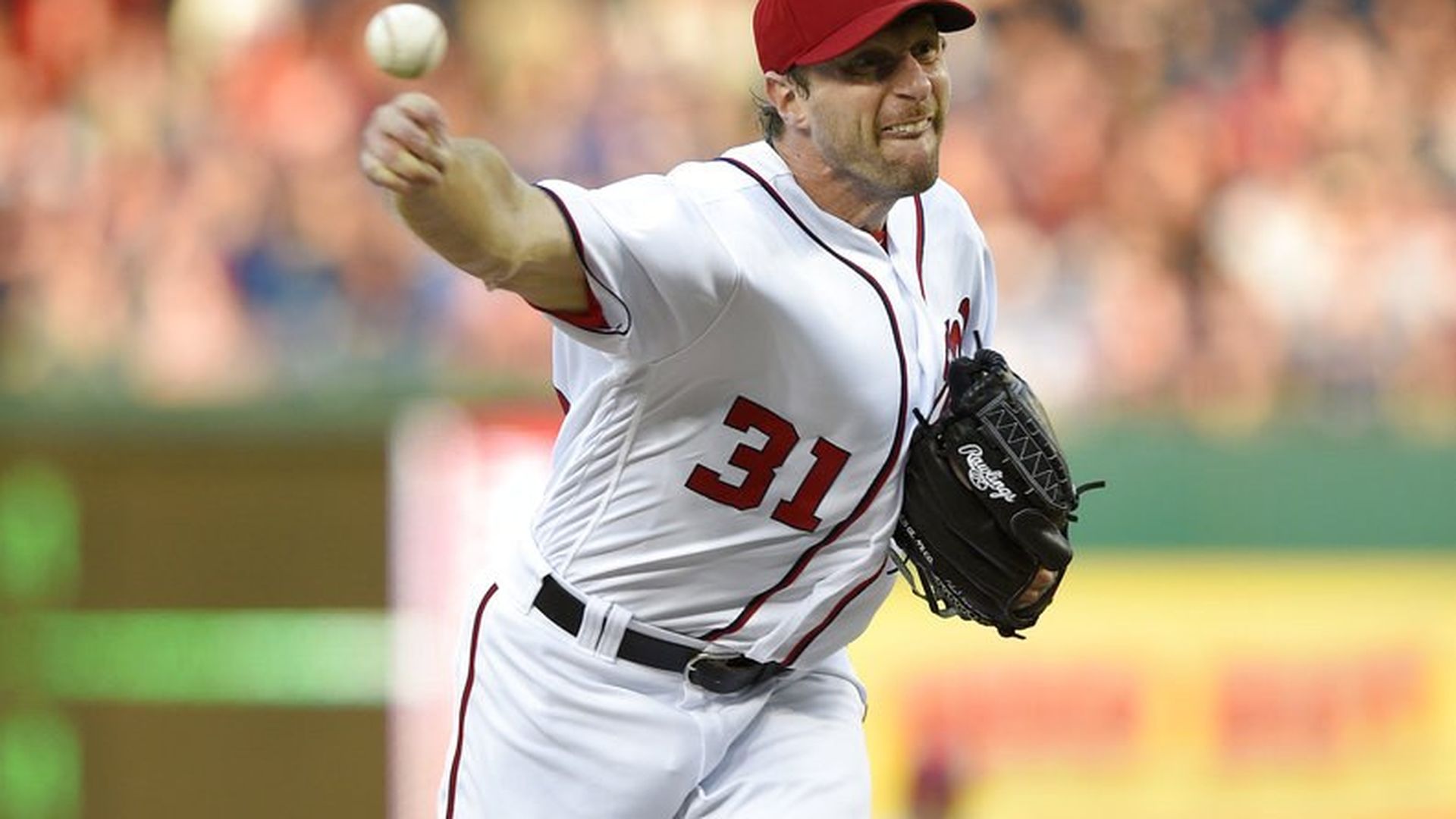 WashPost columnist Charles Krauthammer, a regular at Nats Park, "Why do they even play the game?":
"[T]he Krauthammer Conjecture: In sports, the pleasure of winning is less than the pain of losing. ... For every moment of triumph, there is an unequal and opposite feeling of despair. ...
"Max Scherzer, ace pitcher for the Washington Nationals, makes $30 million a year. On the mound, forget the money. His will to win is scary. Every time he registers a strikeout, he stalks off the mound, circling, head down, as if he's just brought down a mastodon.
"On June 6, tiring as he approached victory, he began growling — yes, like a hungry tiger — at Chase Utley as he came to the plate. ... When Scherzer gets like that, managers are actually afraid to go out and tell him he's done. He goes Mad Max."