Axios AM
April 25, 2018
Good Wednesday morning.
Situational awareness : "A D.C. federal judge has delivered the toughest blow yet to Trump administration efforts to end deportation protections for young undocumented immigrants, ordering the government to continue the Obama-era [DACA] program and ... reopen it to new applicants." (WashPost)
1 big thing: Trump's election nightmare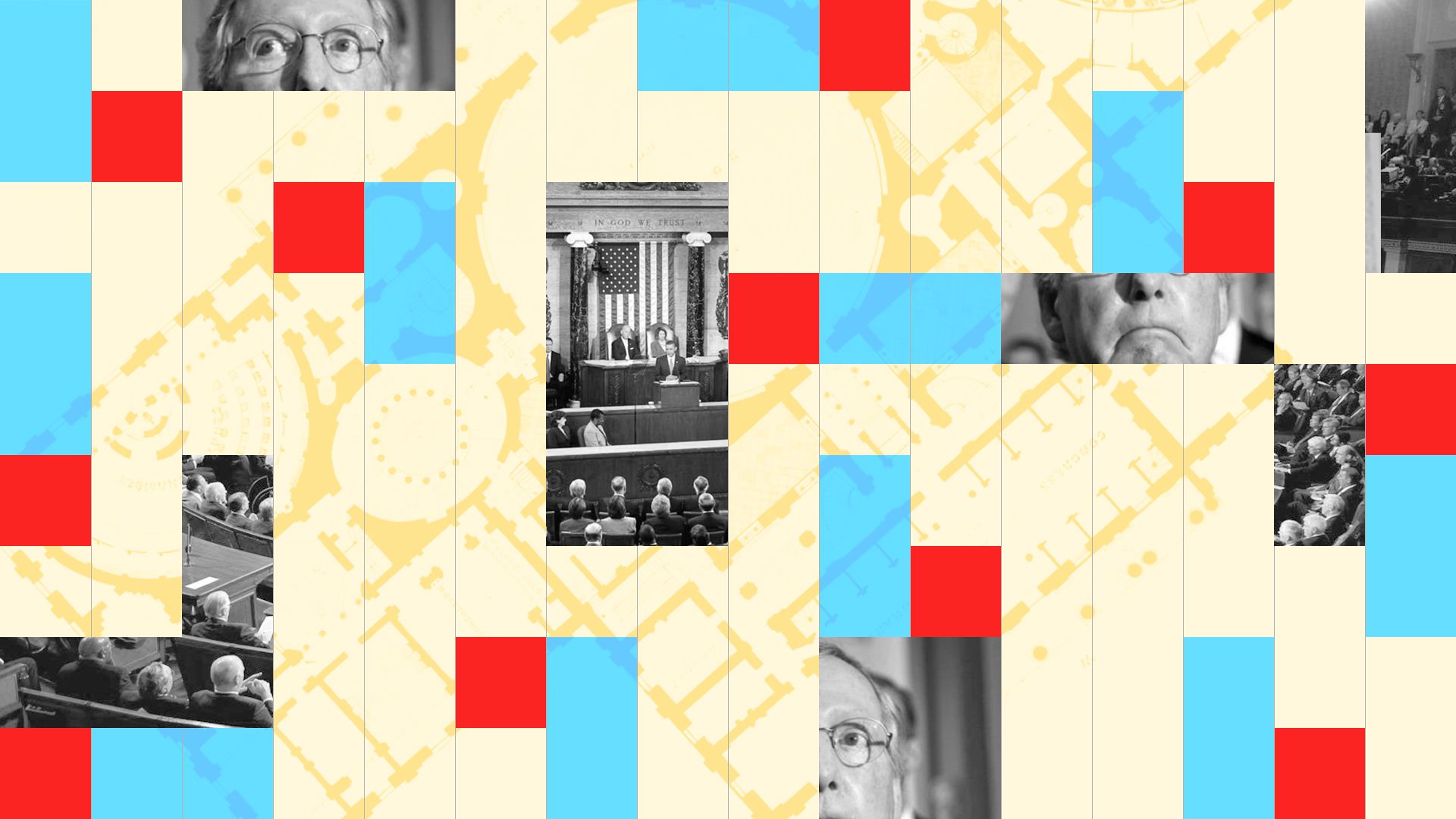 Top Republicans have conceded for months that they're likely lose the House in November's midterms. But some well-wired operatives now tell Jonathan Swan and me that President Trump may face his real nightmare: losing the Senate, giving Democrats both ends of the Capitol, and one-third of the government.
Why it matters: It's not just that Democratic dominance at the Capitol would speed impeachment proceedings and trap the White House in a thicket of oversight probes and hearings. Twin losses would be a massive repudiation of Trump and his brand of Republicanism, just as he embarks on his reelection.
A killer data point, from the N.Y. Times: Republicans have underperformed in every special election since Trump became president.
Republicans eked out a special House race in Arizona last night that was closer and more expensive than it should have been. Republicans spent more than $1 million to win a district Trump won by 20 points — weakness.
AP's headline is "GOP unsettled by narrow win": "Tuesday's narrow victory ... sends a big message to Republicans nationwide: Even the reddest of districts in a red state can be in play this year."
Steven Law, a top Mitch McConnell ally who runs American Crossroads, the most powerful and well-funded outside group supporting Republican Senate campaigns, said it's "not likely but not out of the question" to lose the Senate.
Law said: "[W]e do have more defensive terrain to hold than when the cycle started ... And targeted Democratic incumbents have been over-performing in terms of their early fundraising activity."
A Republican lobbyist who is well-connected in the Senate is becoming increasingly bearish about holding the chamber: "Everyone just universally assumed it would be status quo or Republicans would win a seat or two. And now it feels like Republicans are at a risk of losing one, which would be a 50-50 Senate or two, which would be a Democratic Senate."
The stakes: Republicans are already sweating every nominee in the Senate they now control. They're already finding it near impossible to legislate. They're already fighting for every judge, every cabinet secretary, not to mention there's likely to be one if not two Supreme Court openings in the next two years.
If they lose the Senate majority, they lose the capacity to implement anything resembling a conservative agenda.
Republicans still have an overwhelmingly favorable map, where 26 of the contested seats are held by Democrats and just nine by the GOP:
The Republican's top trouble spots: open seats in Arizona and Tennessee; and Nevada, where Sen. Dean Heller is the only Republican running for reelection in a state won by Hillary Clinton.
By contrast, 10 Dems are running in states won by Trump, some widely.
Be smart: Republicans say they're more worried, but not panicked. But the rising doubts reflect stunning Republican weaknesses.
Republicans who are more worried:
Sen. Ted Cruz in Texas is Exhibit A. His Democratic rival, Beto O'Rourke, more than doubled Cruz's first quarter fundraising.
The lobbyist who has turned bearish said: "The first quarter FEC reports set off alarm bells."
The same story played out in Missouri, where Claire McCaskill massively out-raised Josh Hawley.
Republicans who are less worried:
This is a state-by-state trench war where national atmospherics may not decisive.
One of the best-connected Republican operatives says: "You and I are having a conversation that's happening nowhere else in the country. ... Throw out everything you hear about national erosion and suburban voters. In the states that matter, most of that's not relevant."
A big advantage for Rs, according to this operative: "Republicans are coming to appreciate the president's ability to totally decimate the approval ratings of Republicans and Democrats alike when he points the cannon toward you."
The operative added: "Democrats have to be absolutely perfect to win."
What both sides agree on:
Driven by grassroots contempt for Trump, Democrats' fundraising is going much better than Republicans' — a reversal from what the party that holds the White House might expect.
"The Democrats are awash in cash, from the super PAC level to the candidate level," the operative said. "The question is whether you can mitigate it. That's the challenge for the summer."
Go deeper: See Cook Political Report ratings for Senate races.
2. Exclusive poll: Millennials say boomers ruined their lives
Beset by big college loans, inherited wars and an uncertain work future, a majority of millennials say baby boomers made things worse for them — and a lot of boomers agree, according to a new Axios/SurveyMonkey poll.
Why it matters, from Axios future editor Steve LeVine: If it persists, the generational divide could turn into political rivalry as the generations compete for limited tax dollars — millennials seeking government help as automation takes hold, and boomers insisting on promised levels of Social Security and Medicare.
The findings:
51% of millennials (18- to 34-year-olds) blame boomers (51- to 69-year-olds) for making things worse for their generation. Just 13% said boomers had improved things.
Boomers were split on the issue: 30% said policies created by their generation had made things worse, 32% said they had made things better, and 34% that they had done neither
Millennials' suggestions:
"Remove all old government officials and term limits for the House and Congress," a 34-year-old male Republican said.
"Sleep more because you will be less sensitive to negative emotions," said a 22-year-old female Democrat.
Go deeper: The coming conflict between millennials and boomers.
3. Bite of the day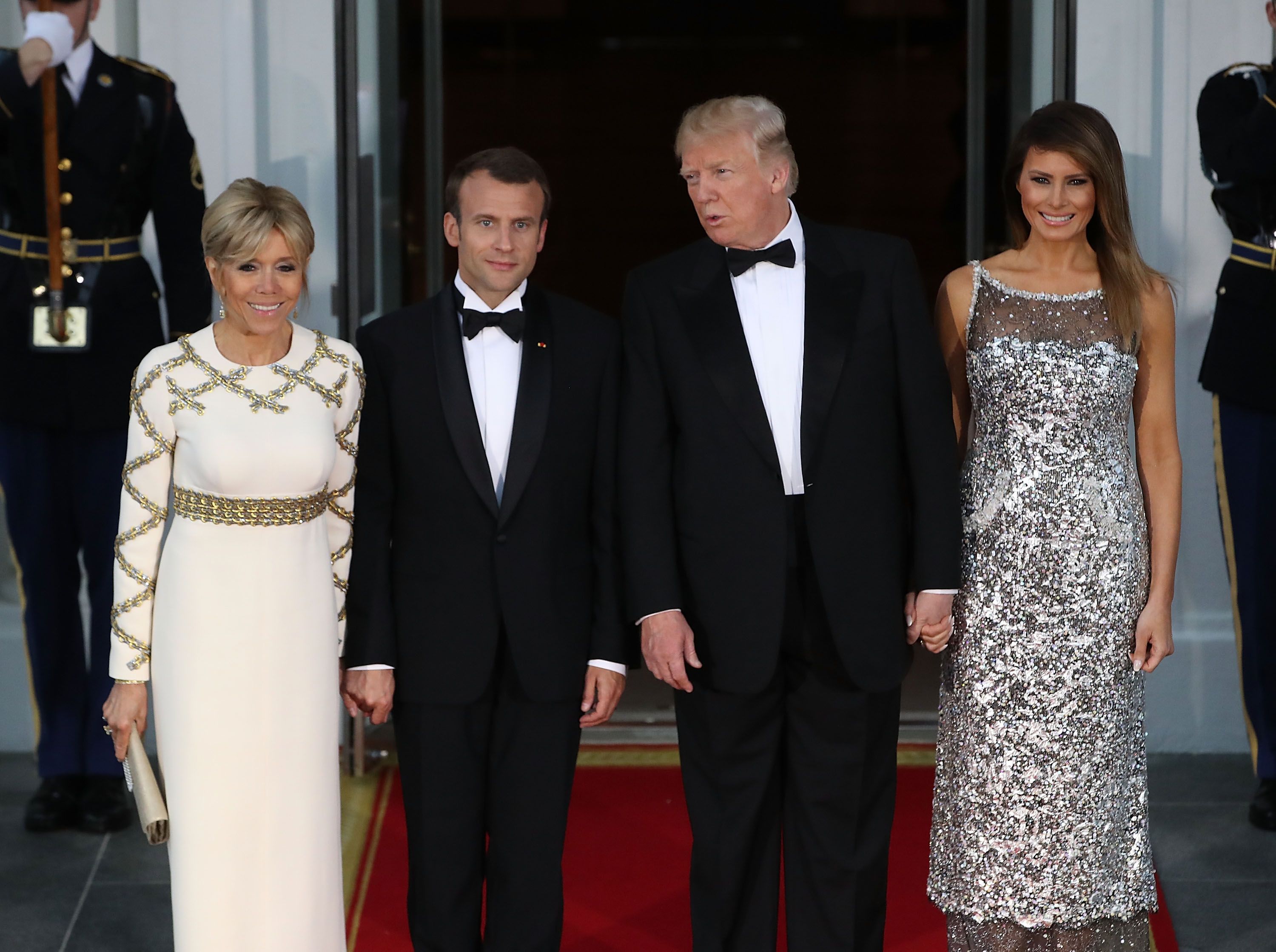 President Trump, speaking in the Cabinet Room, alongside French President Emmanuel Macron:
"Kim Jong-un, he really has been very open and I think very honorable from everything we're seeing. ... Maybe it will be wonderful and maybe it won't."
Bonus: Pic du jour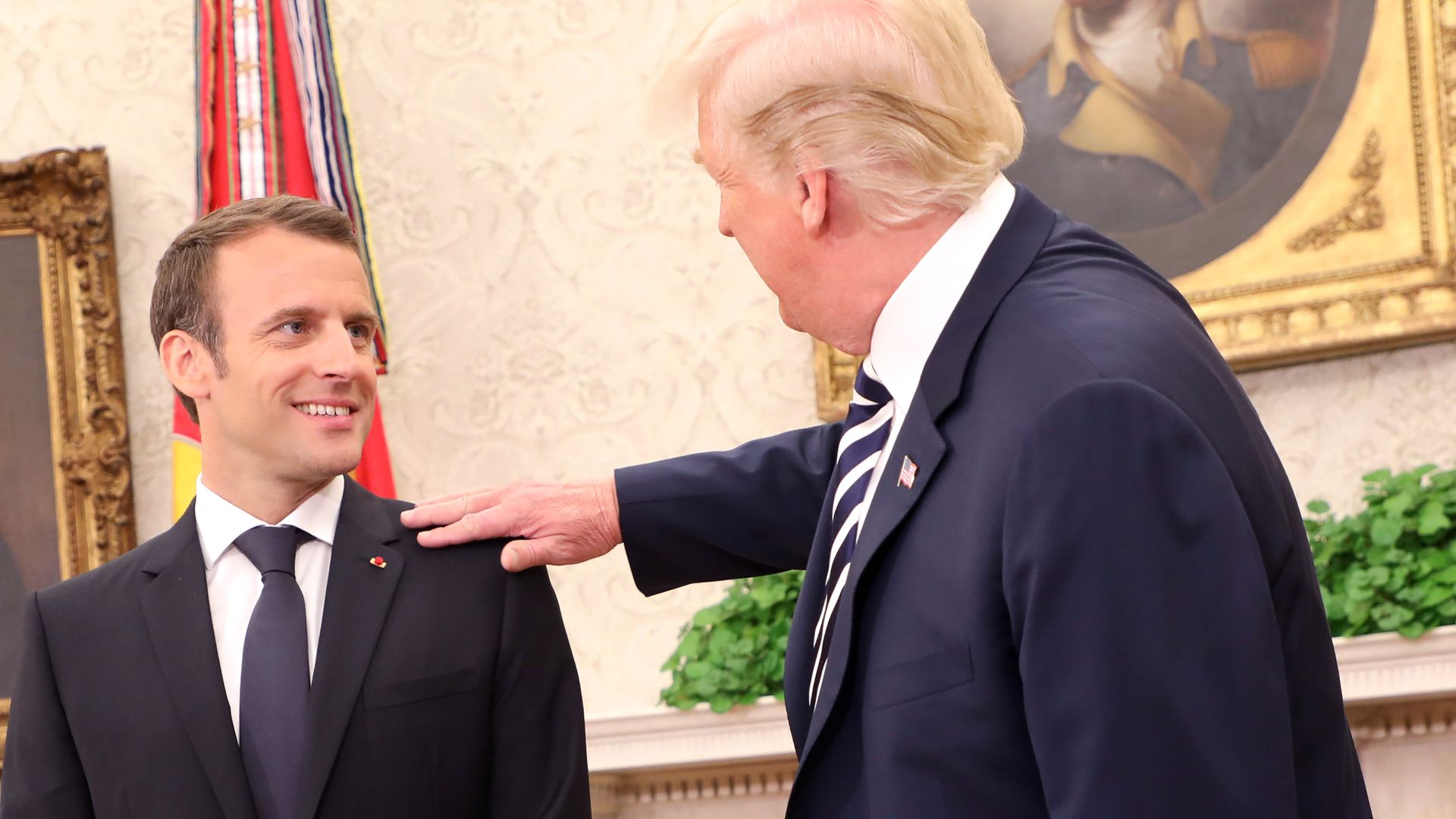 President Trump to French President Emmanuel Macron in the Oval Office:
"[W]e do have a very special relationship. In fact, I'll get that little piece of dandruff off; you have a little piece. We have to make him perfect. He is perfect."
4. Trump nominee "besieged" by allegations
Top two stories on WashPost front page:
"White House vows to fight for its VA nominee": "The White House rallied around Ronny L. Jackson's nomination to lead the Department of Veterans Affairs ... as the president's doctor was besieged by accusations that he improperly dispensed drugs, created a hostile workplace and became intoxicated on duty."
"Criticized from start, Jackson nomination quickly unraveling": "The chaos triggered bewilderment on Capitol Hill, where some senators expressed concern about Jackson's hasty nomination process."
Trump during presser with Macron:
"I said to Dr. Jackson, 'What do you need it for?' ... I don't want to put a man ... who's not a political person ... through a process like this. It's too ugly and too disgusting. ... [I]t's totally his decision — but he'll be making a decision."
5. New insight on Trump voters
A new academic study finds that Trump voters' anxiety was driven more by fear of what may come than by anger over the past, according to a New York Times account by Niraj Chokshi that shot to #1 on the site's Most Popular list:
"A study published on Monday in the Proceedings of the National Academy of Sciences [suggests that w]hite, Christian and male voters ... turned to Mr. Trump because they felt their status was at risk" and they felt "a growing sense of racial or global threat."
"The study is not the first to cast doubt on the prevailing economic anxiety theory."
"[T]he findings revealed a fear that American global dominance was in danger, a belief that benefited Mr. Trump and the Republican Party."
Be smart: The trends feared by Trump voters have only accelerated, adding to his hold on a base that has stayed rock stable.
6. You said that out loud
"Mick Mulvaney, the interim director of the Consumer Financial Protection Bureau, told banking industry executives on Tuesday that they should press lawmakers hard to pursue their agenda, and revealed that, as a congressman, he would meet only with lobbyists if they had contributed to his campaign," per N.Y. Times' Glenn Thrush:
"We had a hierarchy in my office in Congress," Mr. Mulvaney, a former Republican lawmaker from South Carolina, told 1,300 bankers and lending industry officials at an American Bankers Association conference in Washington. "If you're a lobbyist who never gave us money, I didn't talk to you. If you're a lobbyist who gave us money, I might talk to you."
7. Tim Cook to see Trump
Apple CEO Tim Cook, a guest at last night's state dinner, will meet with President Trump today amid tariff concerns, Axios chief tech correspondent Ina Fried reports:
Why it matters: When Trump decided to pick a trade war with China, he sent shivers through Silicon Valley. So many tech products — including zillions of iPhones — are made in China, which is also a big market for many U.S. tech companies.
What we're hearing: Talking Trump down is high on the agenda of Cook, the CEO of the world's most valuable company. In this case, though, he's also speaking for the rest of the industry. Cook is also looking to feel out the president more broadly when it comes to economic policy.
8. Snapchat redesigning its redesign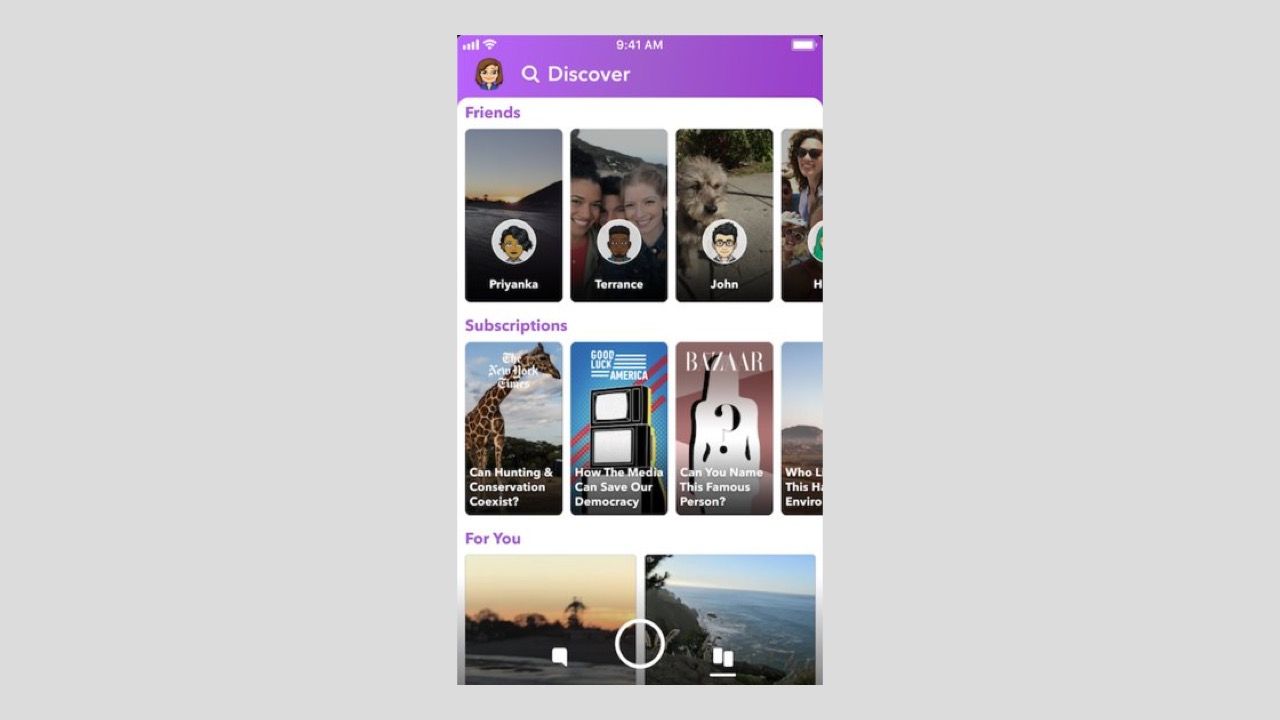 Snapchat confirmed "that it's begun testing a new design for the app that would walk back some of the biggest changes since the original redesign dropped in February," Business Insider's Kaylee Fagan reports:
"[T]his design would reunite on the same page your friends' Snapchat Stories with those that come from celebrities. Check out the screenshot provided by Snap:
9. Pimco to rely more on robots, less on humans
Pacific Investment Management Co., one of the world's largest bond managers, used to rely heavily on one man (cofounder Bill Gross, ousted in 2014) to make key investment decisions. Now it's betting a big part of its future on millions of lines of software code, The Wall Street Journal's Justin Baer reports on A1:
"Pimco will open a new office in Austin, Texas, later this year to help recruit more tech-savvy workers who might otherwise spurn the bond manager for traditional software companies."
"The Newport Beach, Calif.-based firm plans to grow its workforce by 10% this year, adding about 250 new staff."
"Many of those new employees will be engineers tasked with modernizing Pimco's technology systems, from the tools used to harness new databases of information to the platforms that trade bonds electronically."
10. 1 fun thing
Ashland University in Ashland, Ohio, became the first university to announce it would offer scholarships for skill in Fortnite Battle Royale, the online game that's sweeping the nation and irking teachers everywhere, Fortune reports:
"Ashland University is one of 66 colleges and universities in the U.S. that have joined the National Association of Collegiate Esports since it was founded in 2016. The schools recruit esports players the same way they would a varsity athlete, and many of the athletes receive scholarships."
Not The Onion ... Official university news release: "The Ashland University esports program will be adding Fortnite Battle Royale to its title offerings beginning in the fall of 2018 it was announced by head coach Josh Buchanan."
"The AU esports team will be the first known collegiate esports program in the country to add the title to its official offering."