Happy Friday! It's Day 190.
https://www.axios.com/newsletters/axios-am-0c81e8e6-4c65-4034-b8e1-9039a8572fa0.html?chunk=0#story0
1 big thing: "Mini-me" goes maxi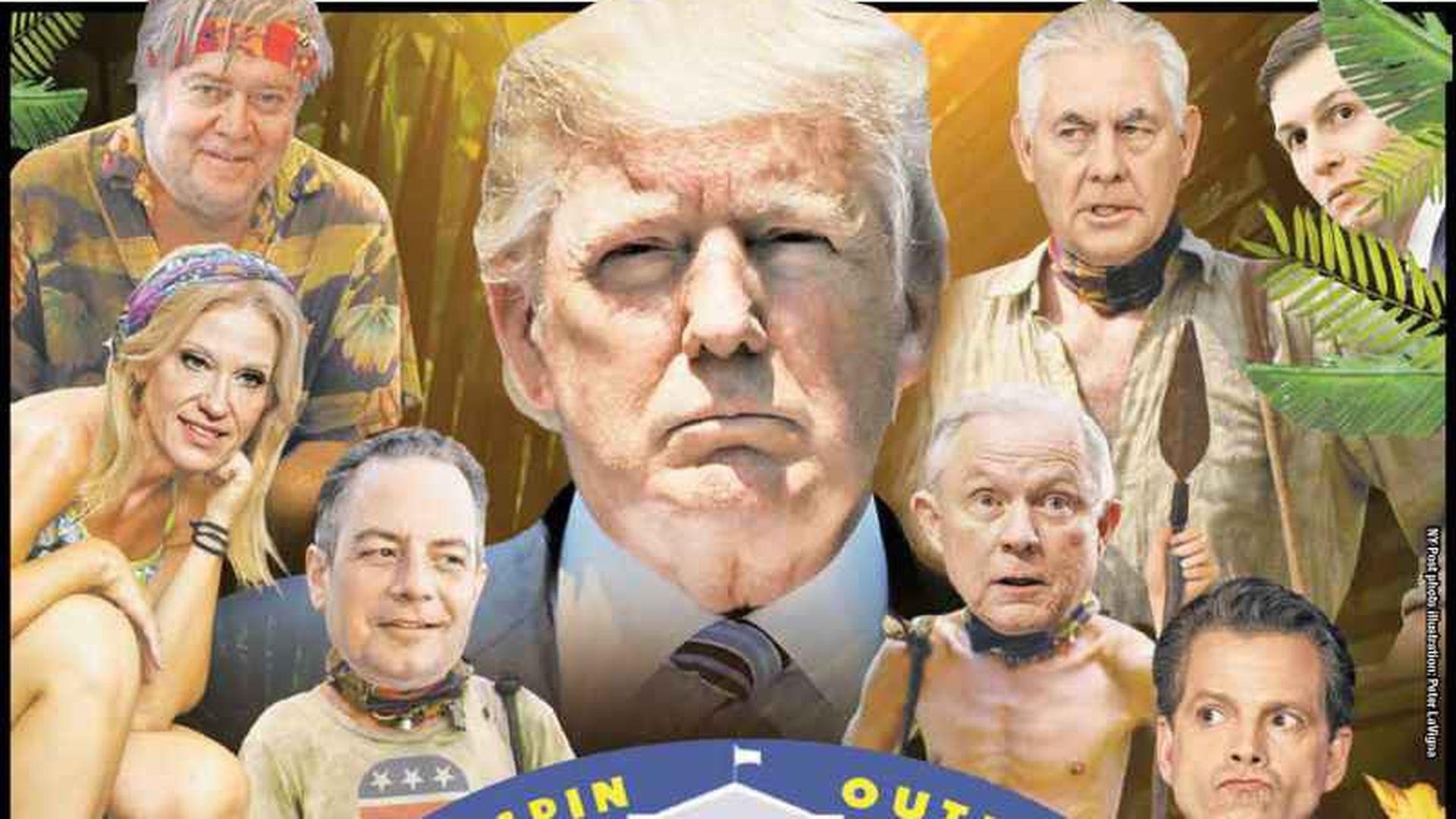 Top Republicans tell us that yesterday may have been an inflection point in the West Wing meltdown — that if behavior like this continues, apparently sanctioned by the President, people will finally leave.
The story that they've been telling themselves and others, about the President growing in office, looks more and more like a fable. Instead, insiders feel the situation is getting worse.
A George W. Bush alumnus told us last night: "Republicans don't care about Russia. They do care about dysfunction."
What triggered this new bearishness among White House officials and their allies were the crude quotes by incoming White House communications director Anthony Scaramucci to The New Yorker's Ryan Lizza in a jaw-dropping piece headlined, "Anthony Scaramucci Called Me to Rant About Reince Priebus: He started by threatening to fire the entire White House communications staff. It escalated from there."
In the seconds after the astonishing story posted, a veteran lobbyist sent me a screenshot and said: "not sure if this is truly real."
It wasn't The Onion. It was real:
Scaramucci said White House chief of staff Reince Priebus "is a f---ing paranoid schizophrenic, a paranoiac."
"He reiterated that Priebus would resign soon, and he noted that he told Trump that he expected Priebus to launch a campaign against him. 'He didn't get the hint [when it was announced] that I was reporting directly to the President.'"
"Scaramucci also told me that, unlike other senior officials, he had no interest in media attention. 'I'm not Steve Bannon, I'm not trying to s--k my own c--k ... I'm not trying to build my own brand off the f---ing strength of the President. I'm here to serve the country.'"
"Yeah, let me go, though, because I've gotta start tweeting some sh-t to make this guy [the White House chief of staff] crazy."
What some in the West Wing are thinking: There are interns reading this.
Be smart: The President likes people with backbone. And at the moment, Scaramucci is empowered: We're told the President loved the Mooch quotes. But President Trump doesn't like being upstaged. "Mini-me" can't forget the "Mini" part. Being more Trump than Trump, in Trump's house, is a dangerous game.
P.S. A source close to Mooch says he thought he was off the record, and Mooch tweeted: "I made a mistake in trusting in a reporter. It won't happen again."
A New Yorker spokesperson tells us: "Late in the conversation, Scaramucci requested that one part be off the record, and we respected that. The rest was on the record. Today (Thursday), Ryan and Scaramucci had another conversation and Scaramucci was clear and agreed that the conversation was on the record."
https://www.axios.com/newsletters/axios-am-0c81e8e6-4c65-4034-b8e1-9039a8572fa0.html?chunk=1#story1
2. "Obamacare is the law of the land"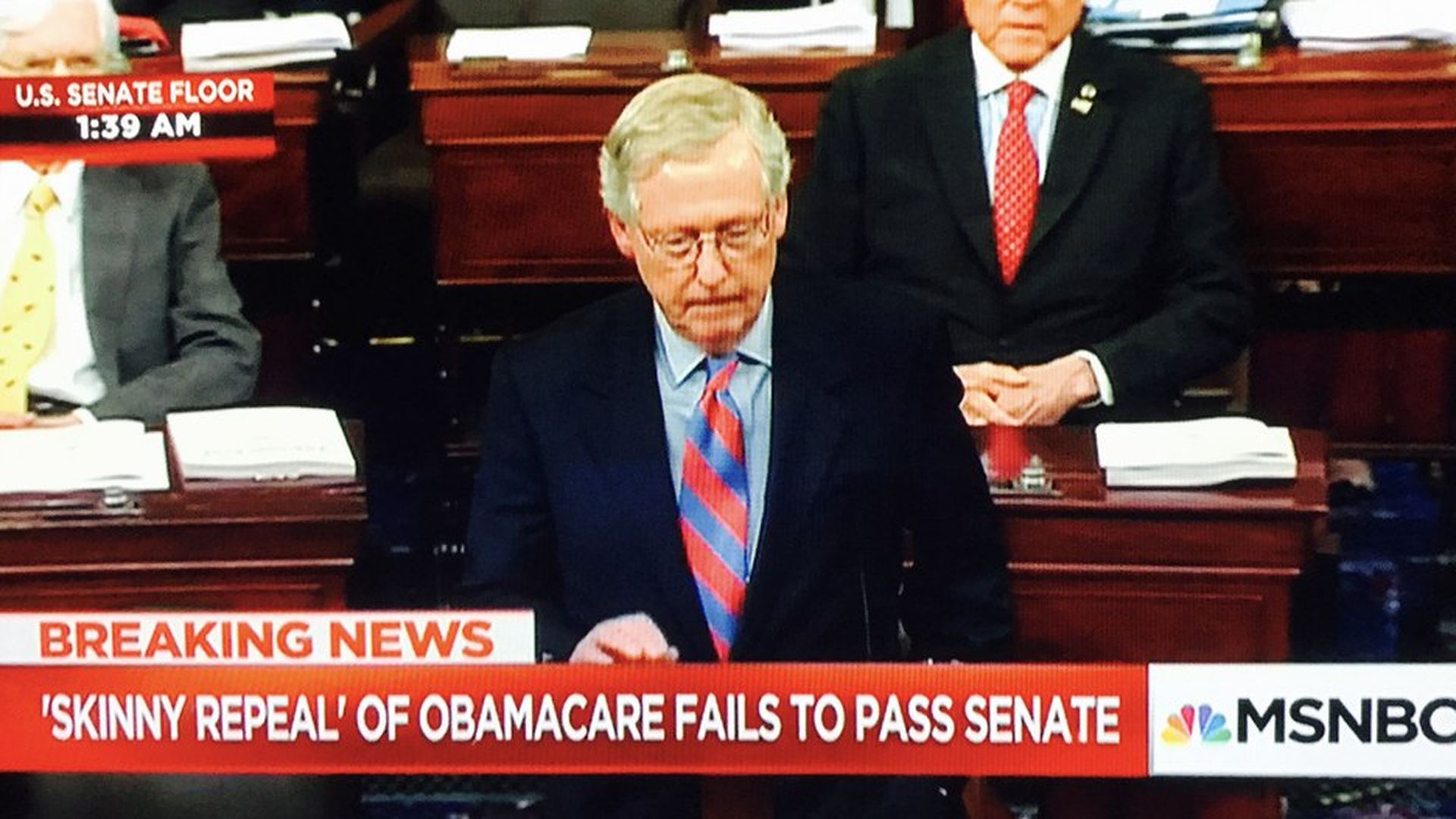 1:41 a.m. ... "WASHINGTON (AP) — Senate rejects measure to repeal parts of Obama health law, dealing serious blow to GOP and Trump's agenda."
Vote was 49-51, with three Republicans (Sens. John McCain of Arizona, Susan Collins of Maine and Lisa Murkowski of Alaska) joining all Democrats in voting "no."
The bottom line for Axios AM readers, from David Nather, Axios health care editor, and co-author with Tom Daschle of the 2010 book, "Getting It Done: How Obama and Congress Finally Broke the Stalemate to Make Way for Health Care Reform":
This is not the end of the battle over the Affordable Care Act. It's just the end of seven years of Republican promises that they could wipe it away and start over.
This is not President Trump's failure, or Mitch McConnell's, or Paul Ryan's. It's a collective failure — because Republicans had seven years to decide what should come after repeal, and they couldn't get on the same page.
The fate of the ACA is now in the hands of Trump and Health and Human Services secretary Tom Price, who are so vested in their attacks on the law that they have no interest in helping it succeed.
It's now up to bipartisan teams like Sen. Lamar Alexander (R-Tenn.) and Sen. Patty Murray (D-Wash.) — who have proven they can work together — to come up with smaller fixes to stabilize the markets. And they may have to force their leadership, and Trump, to swallow them.
https://www.axios.com/newsletters/axios-am-0c81e8e6-4c65-4034-b8e1-9039a8572fa0.html?chunk=2#story2
3. A dramatic end to a chaotic process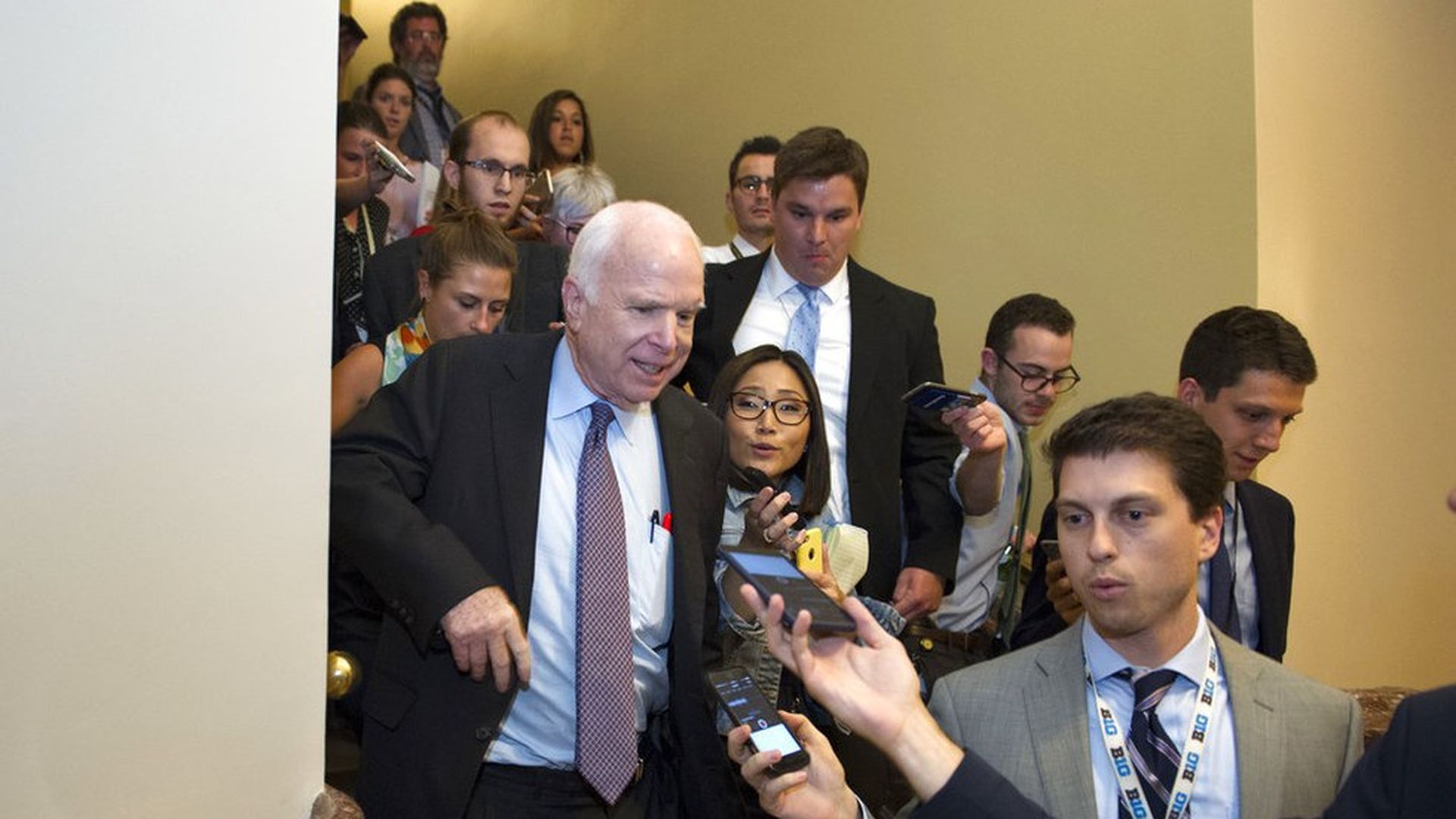 In the end, it wasn't Dean Heller or Mike Lee or any of the other leading suspects who ultimately picked up the knife and killed Republicans' efforts to repeal the Affordable Care Act, Axios' Sam Baker and Caitlin Owens write:
It was Sen. John McCain, who has never been especially active on health care and whose presence in the Senate this week was itself a surprise, following his diagnosis with brain cancer.
McCain held out despite intense lobbying from Vice President Pence. Leadership held a separate vote open for almost an hour as Pence stood at McCain's desk, making his case. But the writing was on the wall almost as soon as McCain entered the Senate chamber last night and said something that put a smile on Sen. Chuck Schumer's face.
What comes next: Conservatives were particularly stung, and said they would keep up the pressure for some sort of action on repeal. But, realistically, it's hard to see leaders in either chamber wading back into such a bruising fight any time soon. "It's time to move on," an emotional Mitch McConnell said as he closed out the Senate's session.
Trump tweeted that he still wants to "let ObamaCare implode, then deal."
https://www.axios.com/newsletters/axios-am-0c81e8e6-4c65-4034-b8e1-9039a8572fa0.html?chunk=3#story3
4. Connecting the dots
N.Y. Times A1, above fold, "White House Lands 3 Punches Against Gay Rights in One Day," by Charlie Savage and Mike Shear: "The Trump administration abruptly waded into the culture wars over gay rights this week, signaling in three separate actions [on Wednesday] that it will use the powers of the federal government to roll back civil rights for gay and transgender people."
"[T]he Justice Department intervened in a private employment lawsuit on Wednesday, arguing that the ban on sex discrimination in the Civil Rights Act of 1964 does not protect workers on the basis of their sexual orientation."
"The move ended a day that began with a tweet from President Trump announcing a ban on transgender people serving in the military."
"Also on Wednesday, Mr. Trump announced that he would nominate Sam Brownback, the governor of Kansas and a vocal opponent of gay rights, to be the nation's ambassador at large for international religious freedom."
Why it matters: "The constellation of events raised alarm among gay rights advocacy groups."
https://www.axios.com/newsletters/axios-am-0c81e8e6-4c65-4034-b8e1-9039a8572fa0.html?chunk=4#story4
5. Axios investigates: How Zuck gives away his billions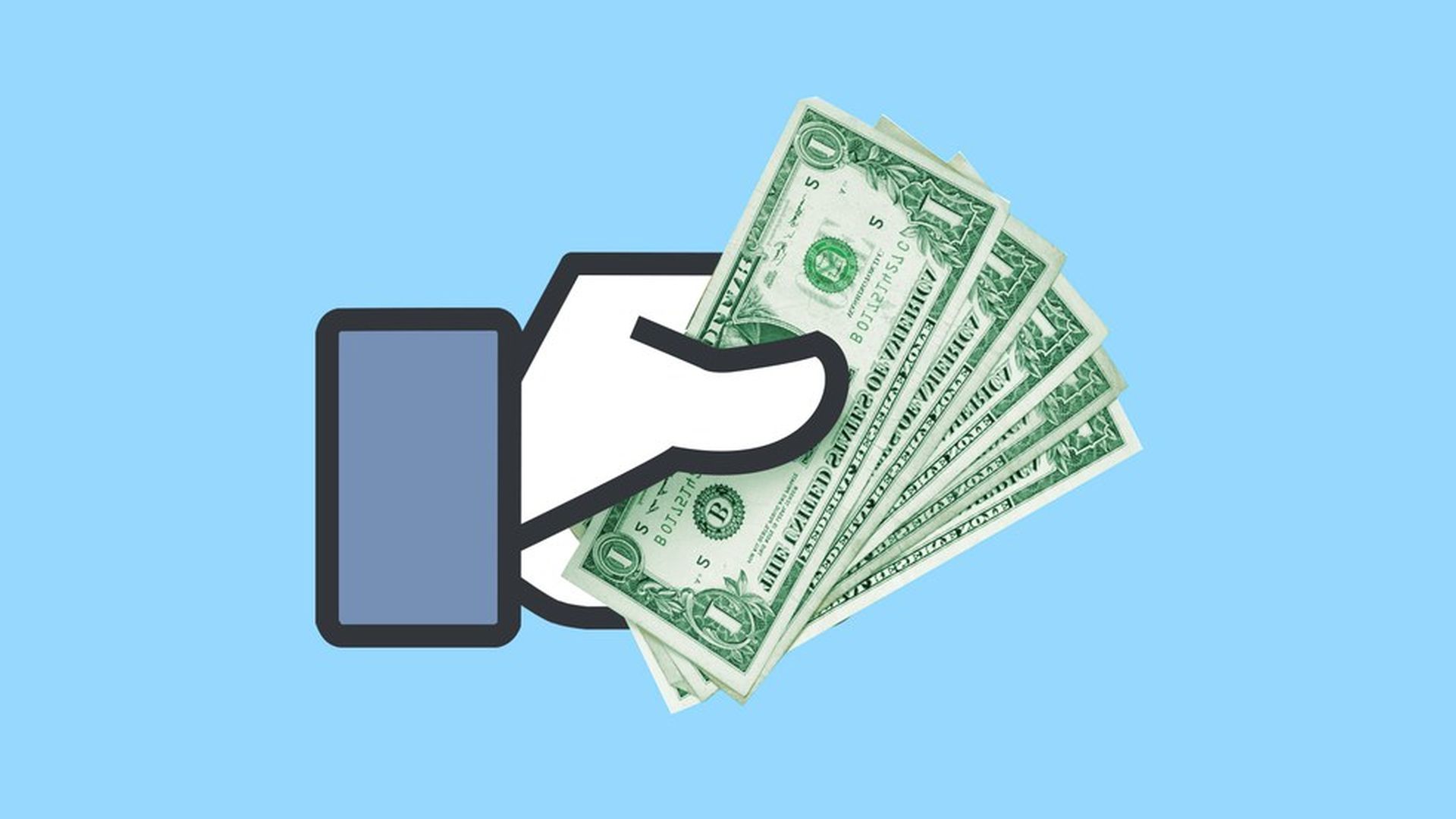 Mark Zuckerberg and his wife, physician Priscilla Chan, are staking out aggressive positions as philanthropists in contentious areas like education, affordable housing and criminal justice, Axios tech reporter David McCabe writes:
Why it matters: Zuckerberg got rich creating a product that defined the last decade. But he and Chan are trying to define the next century by giving that money away. The Chan Zuckerberg Initiative is on track to be this generation's Gates Foundation. With an initial pledge of more than $45 billion in stock that has since grown in value it could be more influential than anything else Zuckerberg has ever done. Yes, including Facebook.
See details on the gifts, culled from documents, public statements and individual organizations.
https://www.axios.com/newsletters/axios-am-0c81e8e6-4c65-4034-b8e1-9039a8572fa0.html?chunk=5#story5
Bonus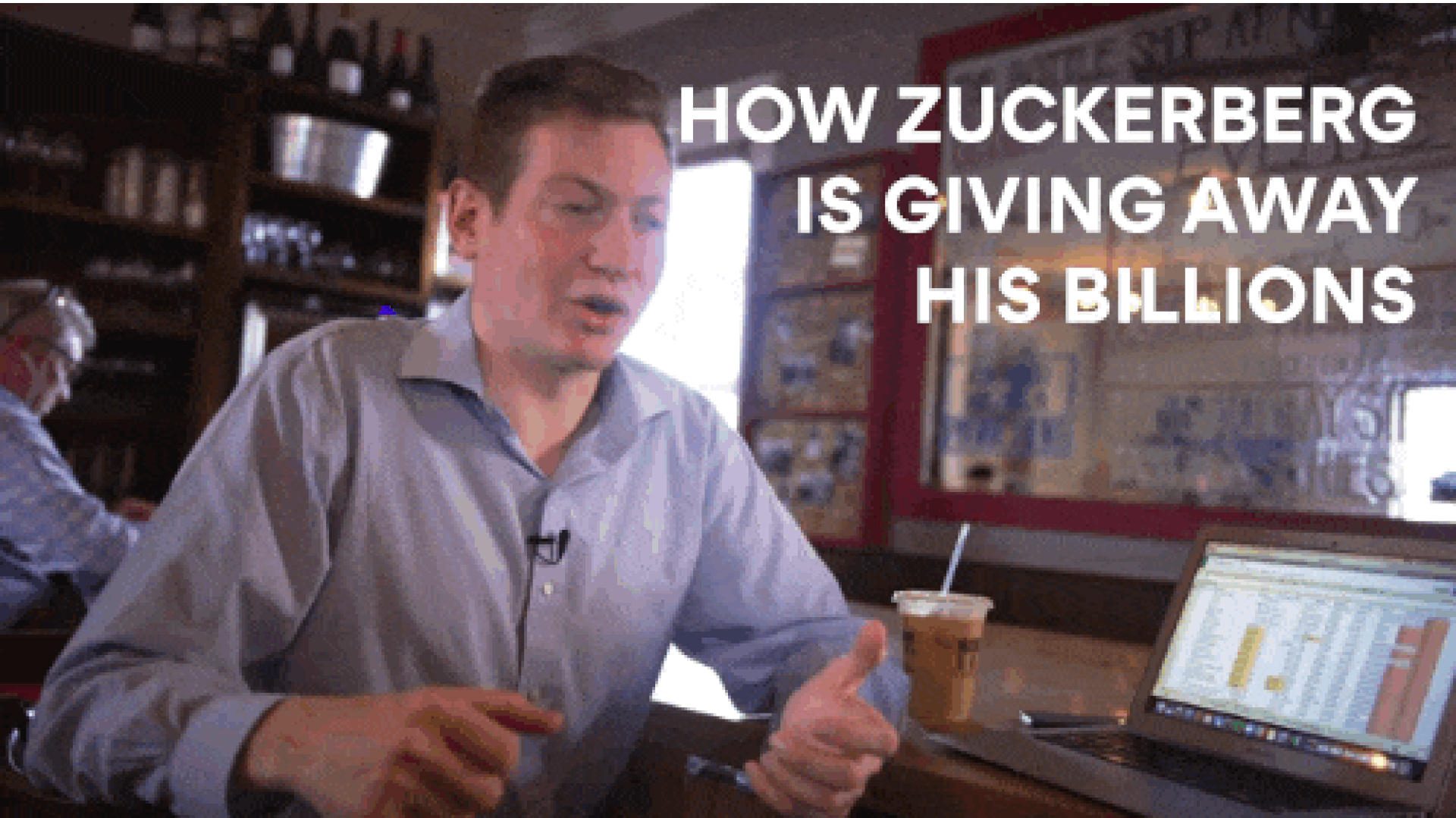 New in our take-you-there video series, "Axios Sourced": Iced-coffee drinking, spreadsheet-filling David McCabe tells how he pursued the Zuckerberg story: "This is: Define the next century."
https://www.axios.com/newsletters/axios-am-0c81e8e6-4c65-4034-b8e1-9039a8572fa0.html?chunk=6#story6
6. "Russia inquiry could expose Trump secrets"
USA Today front page, "Mueller's investigators could delve deeply into president's million-dollar real estate transactions," by Nick Penzenstadler and Steve Reilly:
"Since Election Day, President Trump's businesses have sold at least 30 luxury condos and oceanfront lots for about $33 million. That includes millions of dollars in properties to secretive shell companies."
"Federal investigators are expected to delve into records revealing some of the President's most closely guarded secrets, including how much money he makes, who he does business with and how reliant he is on wealthy, politically-connected foreigners."
Why it matters: "Mueller's sweeping mandate means his investigators can get, or may already have, The Trump Organization's phone records, e-mail and contracts."
N.Y. Times Quote of the Day ... Vladimir Putin, denouncing proposed U.S. legislation to bolster sanctions against Russia: ""It is impossible to put up forever with this boorishness toward our country."
https://www.axios.com/newsletters/axios-am-0c81e8e6-4c65-4034-b8e1-9039a8572fa0.html?chunk=7#story7
7. Top-ed: Sacking Mueller
David Ignatius column in WashPost, "It's time to start thinking about the unthinkable" (print headline: "A firewall against Trump"):
"In Trump's Washington, it's a fact of life that officials must now weigh whether they would follow presidential orders that might be improper or illegal. Officials mull (and occasionally, discuss quietly) what to do if a presidential request for loyalty conflicts with their sense of right and wrong. A possible order to fire Mueller is an imminent concern ...
"Protecting Mueller by statute may be impossible because of the constitutional separation of powers. If he is fired, though, Congress could enact a new independent counsel law, at least providing the authority needed for a continuing investigation that would get to the truth of what happened. In dealing with this administration, lawmakers and other officials can't wait until the bomb detonates; they should begin to take precautions now."
https://www.axios.com/newsletters/axios-am-0c81e8e6-4c65-4034-b8e1-9039a8572fa0.html?chunk=8#story8
8. "A high-stakes battle worth billions"
Boston Globe front page, "DC lobbyists ready for 'Hunger Games' of tax code reform," by Victoria McGrane:
"The business community has been quietly shaping terms of the debate and building support behind the scenes for what they hope is a massive reduction in business taxes.
Chris Krueger, a policy analyst at the Cowen Washington Research Group, in a recent note to clients: "One person's loophole is another's business model and entrenched interests will fight to the death — because tax reform is the corporate 'Hunger Games.'"
A change of tune: "Trump this week told The Wall Street Journal he might be willing to raise individual taxes on the wealthy, if it would pay for a middle-class cut. ... [W]ith his agenda stalled in Congress thus far, any rich-versus-middle-class battle could play into Democrats' hands."
https://www.axios.com/newsletters/axios-am-0c81e8e6-4c65-4034-b8e1-9039a8572fa0.html?chunk=9#story9
9. "Intimate account and cautionary tale"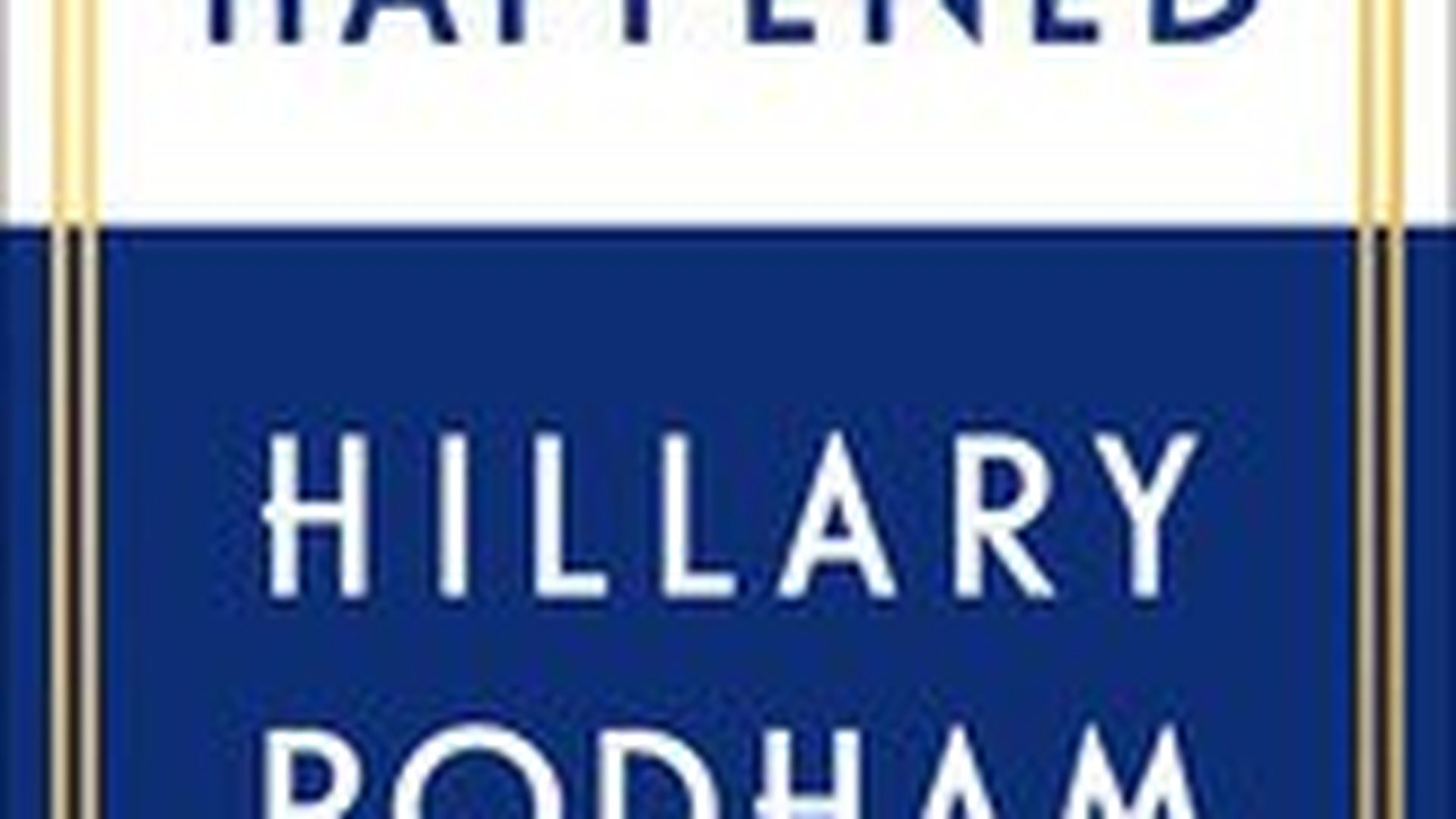 Coming Sept. 12 from Simon & Schuster: "What Happened," by Hillary Rodham Clinton, "her most personal memoir yet":
"[S]he describes what it was like to run against Donald Trump, the mistakes she made, how she has coped with a shocking and devastating loss ... With humor and candor, she tells readers what it took to get back on her feet — the rituals, relationships, and reading that got her through."
Nick Merrill: "Within 6 hours it was number one on Amazon, and we're still 6 weeks from release. Very exciting, it's a good book, not your typical political memoir. Very personal, it will surprise people."
P.S. Debuting at #1 on the N.Y. Times nonfiction list of Aug. 6 ... "DEVIL'S BARGAIN, by Joshua Green. (Penguin Press) A deeply reported account of the relationship between Donald Trump and his chief strategist."
https://www.axios.com/newsletters/axios-am-0c81e8e6-4c65-4034-b8e1-9039a8572fa0.html?chunk=10#story10
10. 1 fun thing
"Larry David says his blunt 'Curb' character is no Trump," by AP TV Writer Lynn Elber in Beverly Hills:
"Larry David says his irascible, mouthy character on 'Curb Your Enthusiasm' ... bears no resemblance to Donald Trump. 'I don't consider myself a (expletive),' he told a TV critics' meeting, ... brushing off a reporter's question about whether Trump represented a rival as David's HBO comedy returns after a long absence."
"'Curb Your Enthusiasm,' which last aired six years ago, is back for a 10-episode ninth season starting Oct. 1. Besides Garlin, cast members include Cheryl Hines, Susie Essman and J.B. Smoove, with Elizabeth Banks, Bryan Cranston and Lauren Graham among the guest stars."
"David was asked why he decided to bring the show back now. 'Why not? ... I'm not a miss-er, so to speak. I don't really miss things, people, that much. But I was missing it and I was missing these idiots,' he said of the cast members who joined him to promote the show. 'So I thought, what the hell.'"