Axios AM
March 18, 2023
☀️ Welcome to Saturday! Axios' Erica Pandey, at [email protected], is your host.
Smart Brevity™ count: 1,095 words ... 4 minutes. Edited by TuAnh Dam.
1 big thing: Trump calls for arrest protests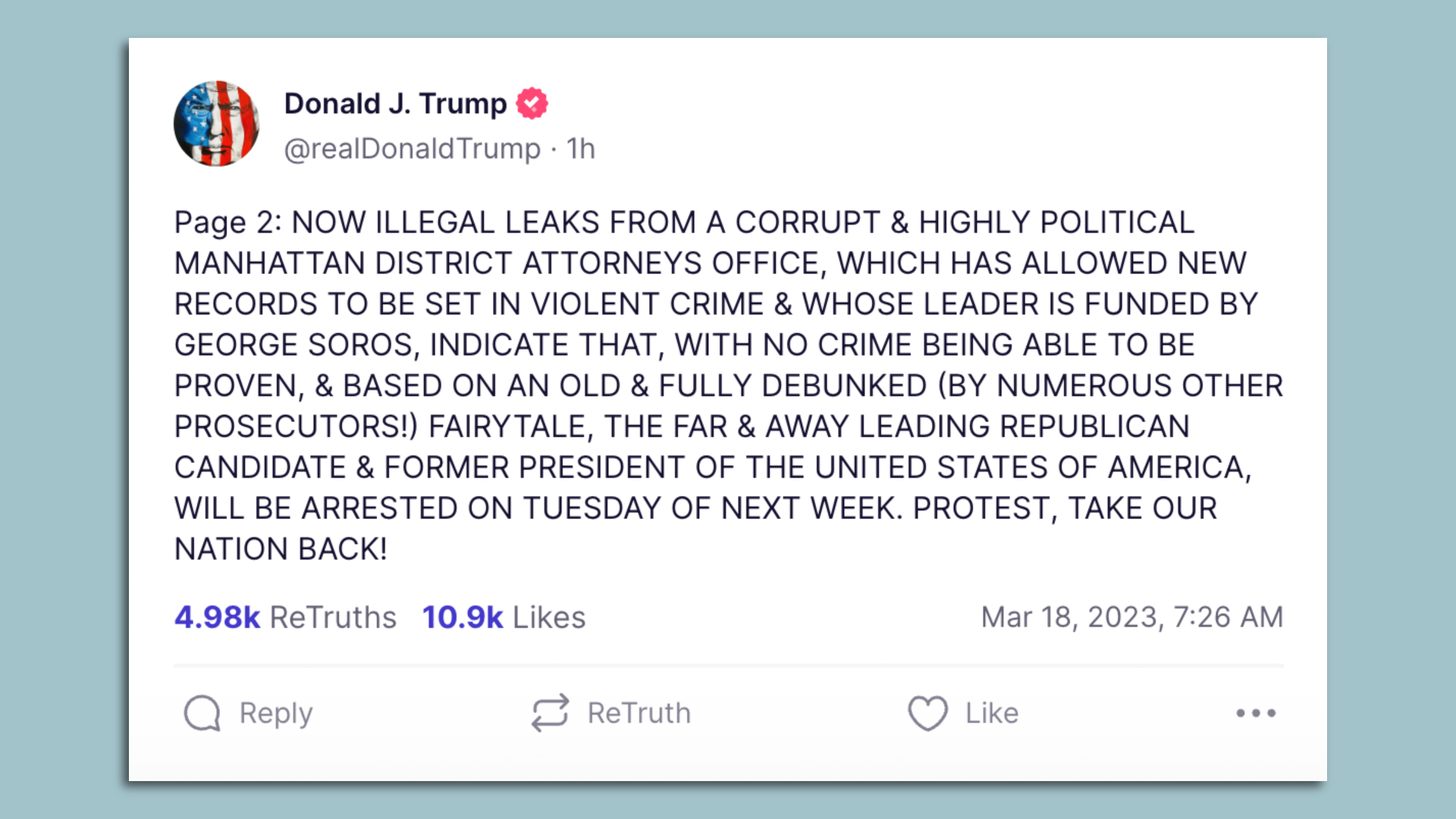 Former President Trump predicted this morning that he will be arrested Tuesday, urging his supporters to "PROTEST, TAKE OUR NATION BACK!"
What's happening: Law enforcement officials are making security preparations for the possibility of a Trump indictment as soon as next week.
They're preparing for a possible courtroom appearance by Trump following a Manhattan district attorney's investigation of hush money paid to women who allege sexual encounters with him, AP reports.
In a sign a denouement is near, Trump was offered a chance to testify.
The big picture: If indicted, Trump would be the first sitting or former president in U.S. history to face criminal charges, Axios' Herb Scribner writes.
His lawyer, Joseph Tacopina, said, "We will follow the normal procedures."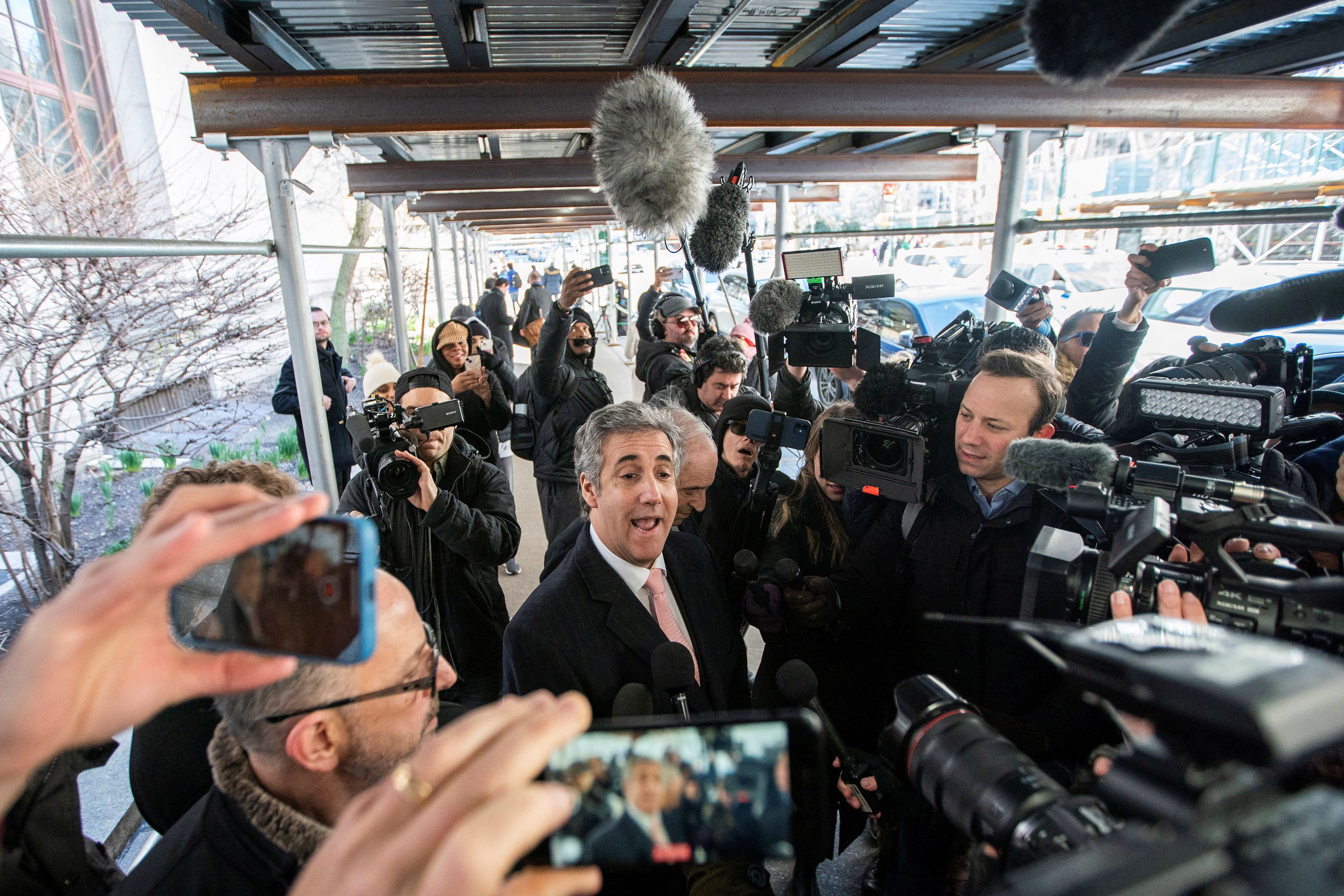 Manhattan District Attorney Alvin Bragg's office has apparently been examining whether any state laws were broken in connection with the payments or the way Trump's company compensated Michael Cohen for his work to keep the women's allegations quiet.
Daniels and at least two former Trump aides — former White House officials Kellyanne Conway and Hope Hicks — are among witnesses who have met with prosecutors in recent weeks.
Cohen testified before the grand jury Monday and Wednesday.
👢 P.S. Trump will hold a "Make America Great Again Rally" next Saturday in Waco, Texas — a Republican state where he has a big following, increasing chances of a packed house. Go deeper.
2. 🐠 GPT-4: "Memory of a goldfish"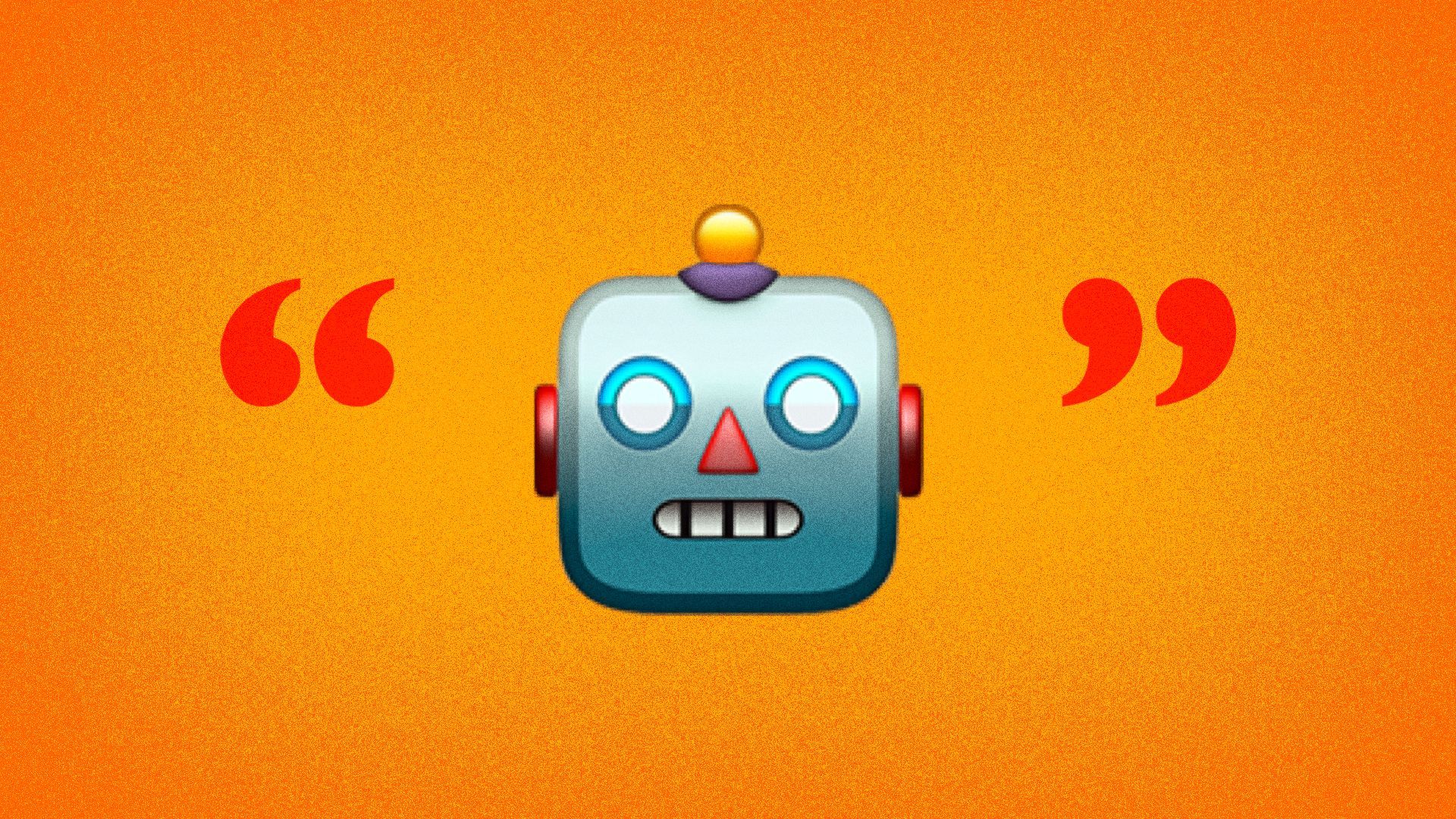 Open AI's new GPT-4 has a glaring flaw, shared by other advanced AI language systems: it can't recall much at all.
"These multibillion-dollar programs, which require several city blocks' worth of energy to run, may now be able to code websites, plan vacations, and draft company-wide emails in the style of William Faulkner," The Atlantic's Jacob Stern writes.
"But they have the memory of a goldfish."
🛠️ How it works: ChatGPT, the earlier version of OpenAI's product, uses roughly 4,000 words of contextual clues to answer your questions.
For example, if you ask the AI, "Make me a vegetarian grocery list for two weeks of meals," wait for the response, and then ask, "Now make it vegan," it understands you're referring to that grocery list.
But if you tell the AI your name, then paste in 5,000 words of nonsense, and ask it your name again, it can't remember.
GPT-4 can handle around 8,000 words of context, and OpenAI has an unreleased version that can deal with 32,000 words, The Atlantic notes.
Why it matters: AI has a long-term memory problem. And engineers aren't just trying to help machines remember more things, they're trying to figure out how to teach machines what they need to remember and what they can forget.
3. 🏢 Shrinking apartments
The average apartment size in the U.S. has dropped from 940 to 887 square feet in the last decade, Axios' Sami Sparber and Kavya Beheraj report.
The addition of new studios and one-bedrooms in the rental market is driving the shrinkage, researchers at the listing service RentCafe found.
Seattle listed the smallest newer apartments at 659 square feet, 26% smaller than the national average.
4. 🎸 Swift's epic return to stage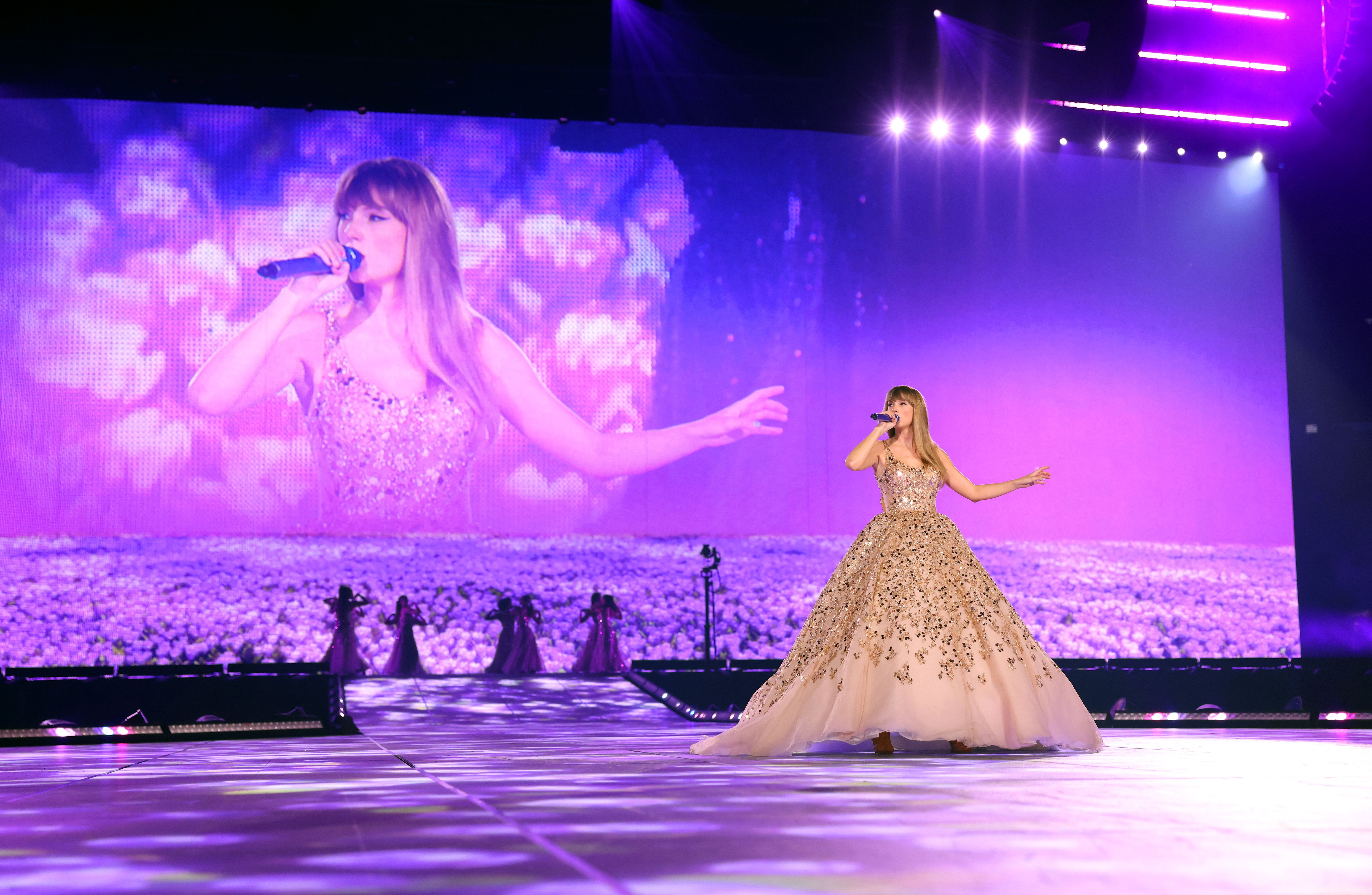 Taylor Swift performed 44 songs across 10 albums last night at the opening show of her arena tour in Glendale, Arizona.
"Not since the most vigorous days of Bruce Springsteen and his legendary live concerts has a mainstream artist packed so much music into one show," USA Today's Melissa Ruggieri writes.
"Swift's show is as ambitious as a Broadway musical."
"Numerous moving set pieces ... squads of dancers and backup singers ... confetti ... and a gorgeous curved video screen to blanket her always-smiling visage to those in the farthest rafters."
5. 🍿 Cinemas' new frills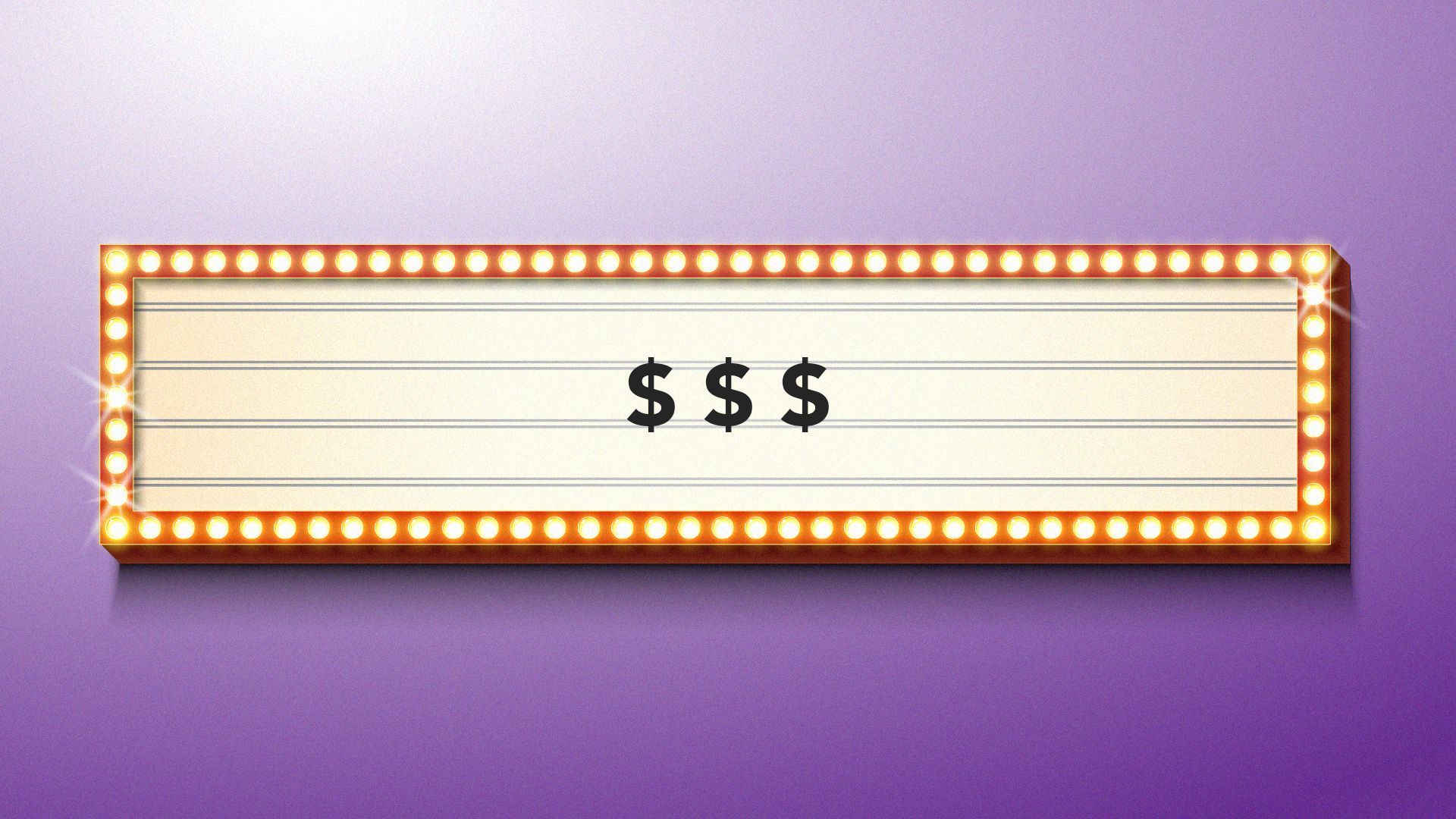 The box office is showing signs of life again after a stagnant few years due to the pandemic — and patrons are returning to a revamped movie theater experience, Axios' Herb Scribner reports.
The big picture: Hundreds of theaters have shuttered since the onset of the pandemic, but those that remain are betting that making movie-going a more luxurious or unique experience will bring back audiences.
Some theaters have become smaller with comfier seats, and others are offering food and drink service to your seat.
Big chains like AMC Theatres, Cinemark and Regal have redesigned their theater rooms to include more luxury recliners.
6. 🏀 Cinderella is from Jersey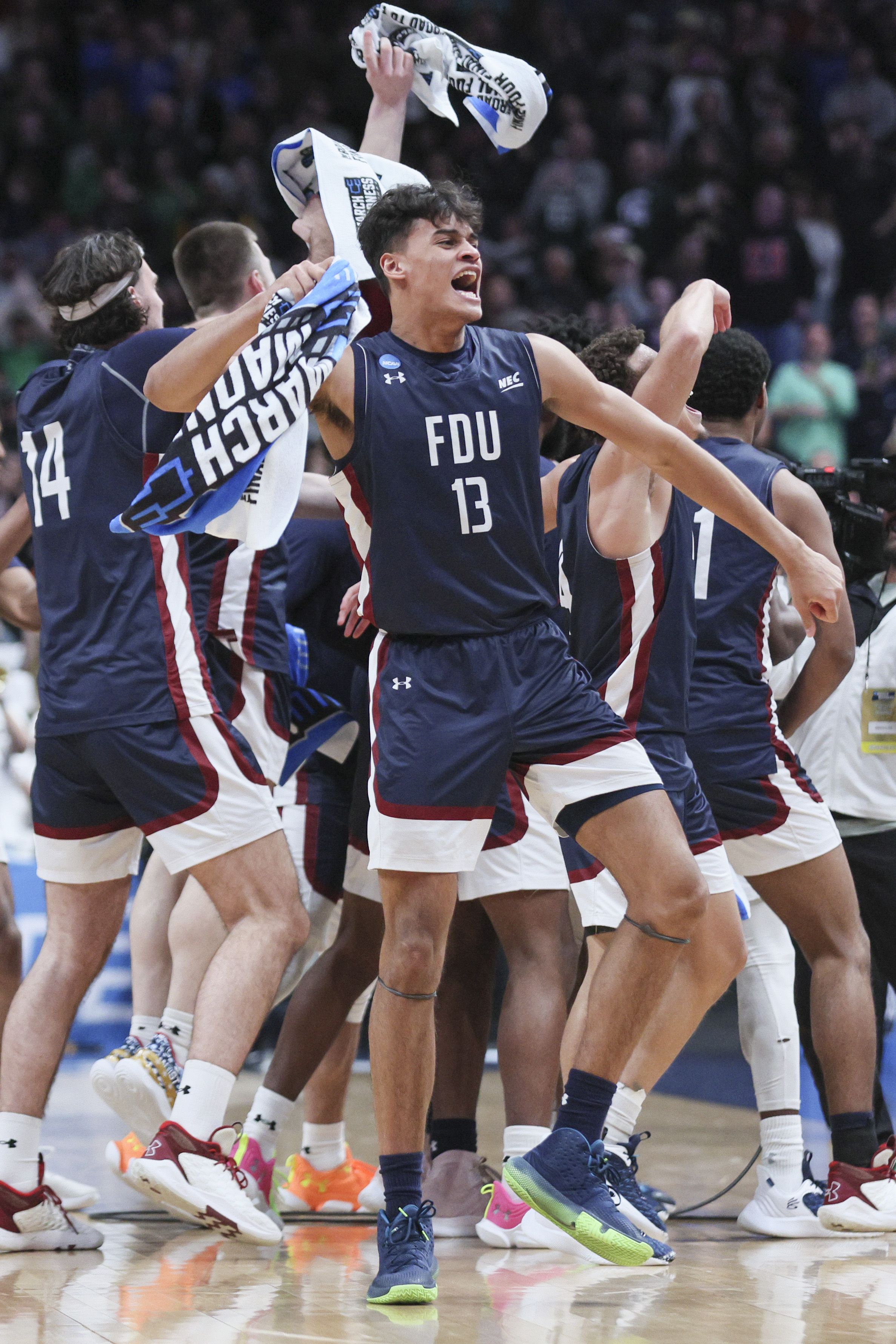 It's one of the biggest upsets in March Madness history:
Why it matters: Fairleigh Dickinson becomes the second No. 16 seed to win a game in March Madness, after University of Maryland, Baltimore County five years ago.
The shortest of the 363 Division I teams in the country, the Knights (21-15) showed no fear in swarming 7-foot-4 All-American center Zach Edey from the start — and outplayed the Big Ten champion Boilermakers (29-6).
"If we played them 100 times, they'd probably beat us 99 times," FDU coach Tobin Anderson said.
Flashback: In 2018, UMBC showed the way for the little guys by overwhelming Virginia in the first 16-over-1 victory.
🥊 The bottom line: Before last night, No. 16s had a 1-150 record against No. 1s, and were 1-151 overall.
🧐 Go deeper ... Explainer: What's Fairleigh Dickinson!? Spoiler: FDU has two campuses in New Jersey — Teaneck and Florham (Madison).
7. 💥 Charted: Biggest March upsets
See how Fairleigh Dickinson's win stacks up against other March Madness first-round upsets over the years.
Zoom in: A No. 12-seed pulls off an upset almost 50% more often than a No. 13-seed in the round of 64, Axios' Rahul Mukherjee and Simran Parwani report.
No. 10 and No. 11-seeded teams have about the same winning percentage as No. 12 seeds. All three won between 35 to 40% of first-round games.
Between the lines: Princeton's win on Thursday over No. 2 seed Arizona marks the third straight year a No. 15 seed has won a first-round game.
8. 🖥️ Missing Zoom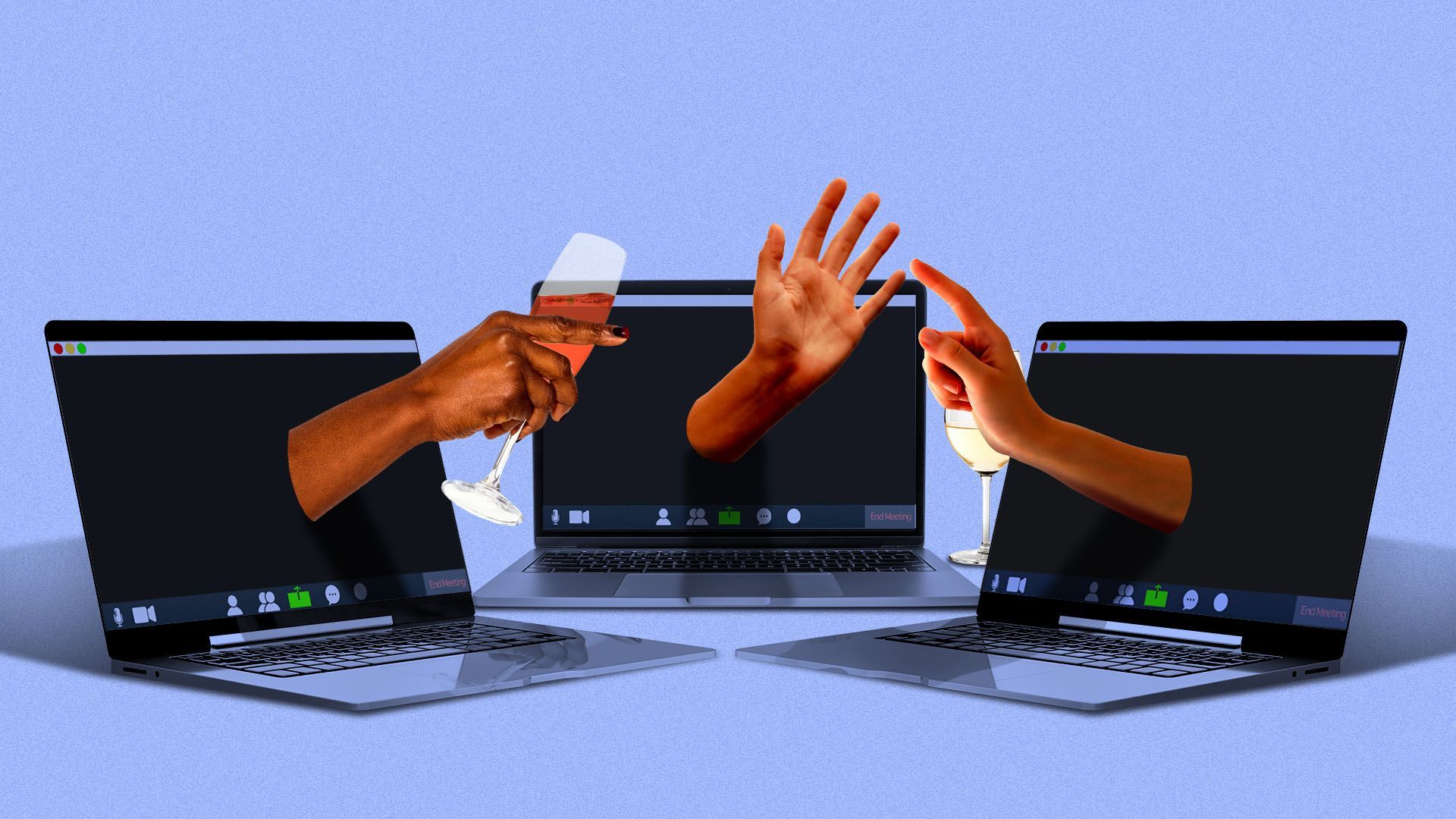 Here's a counterpoint to Zoom fatigue: Software engineer Julie Gauthier told The New York Times she's nostalgic for virtual happy hours and game nights.
Why it matters: The isolation of the pandemic pushed us to be more creative — and more intentional — about how we socialize.
As the world has opened back up, we're no longer doing virtual hangouts, but many of us aren't getting together in real life either.
35% of Americans said going out and socializing is a lower priority now than it was before COVID, per a recent Pew survey.