Good morning, and happy Super Sunday! Kickoff is 6:30 p.m. Here's a cheat sheet for sounding like an NFL fan at your Super Bowl party, even if you're just there for the nachos and ads.
https://www.axios.com/newsletters/axios-am-083a6377-b916-4347-8913-966115ebd716.html?chunk=0#story0
1 big thing: ​The state of Trumpland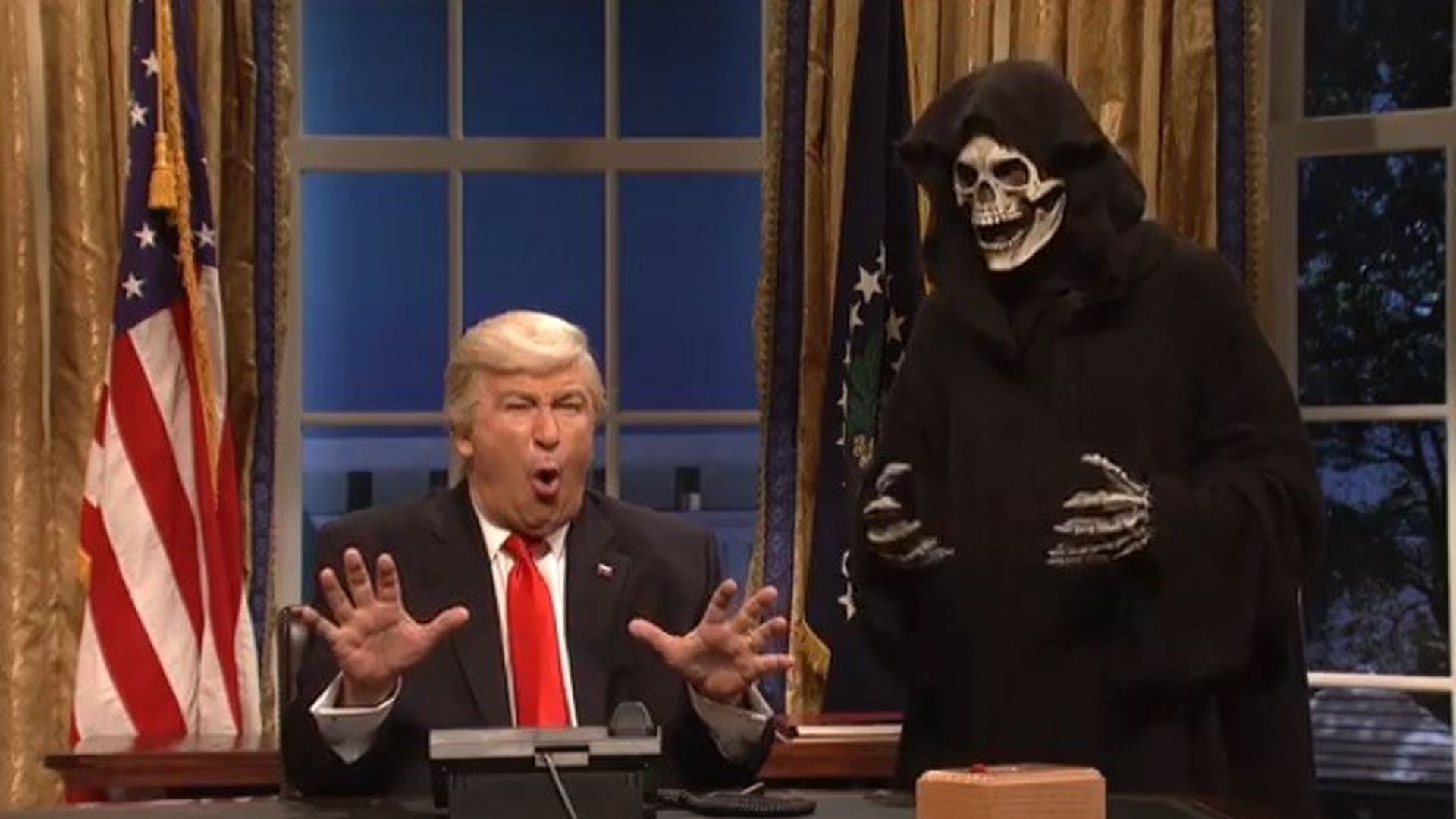 Every news outlet, us included, has done countless stories of jockeying, infighting and confusion inside this White House. Two weeks in, here's where things stand, based on the unvarnished view of Trump insiders:
The most influential voices in shaping what the president does and says are Steve Bannon and Stephen Miller. They flooded, not just filled, the early void, and prevailed in early skirmishes. They got too much attention, too soon, so have retreated a bit, albeit temporarily.
Chief of Staff Reince Preibus asserted himself this past week, and got a boost internally from Trump telling aides he runs the show. That shows that the president knows he needs his lifeline to the establishment, and some semblance of order. Bannon and Preibus sat down with reporters to insist they get along great, and several bit.
Jared Kushner and Ivanka Trump have the surest staying power, despite being overshadowed early on. It was telling that their allies leaked stories to Vanity Fair and others about their concerns with the refugee executive order and restrictions on LGBT freedoms. They are playing the long game.
Gary Cohn, the former Goldman Sachs, made his public debut as a force, rolling out the rollback of Dodd-Frank in the WSJ and on CNBC. Cohn is the newest top player inside the White House, so it'll take time to see how he meshes with the others.
Kelly Ann Conway had a rough week, PR-wise, admitting she was wrong about "the Bowling Green massacre," and getting rejected by CNN as a Sunday morning guest on Jake Tapper's show. But she remains close to the boss: He likes that her opinions sometimes differ from those of them men around him, and loves the way she fights for him on the air.
https://www.axios.com/newsletters/axios-am-083a6377-b916-4347-8913-966115ebd716.html?chunk=1#story1
2. New overnight
https://www.axios.com/newsletters/axios-am-083a6377-b916-4347-8913-966115ebd716.html?chunk=2#story2
3. "So-called judge"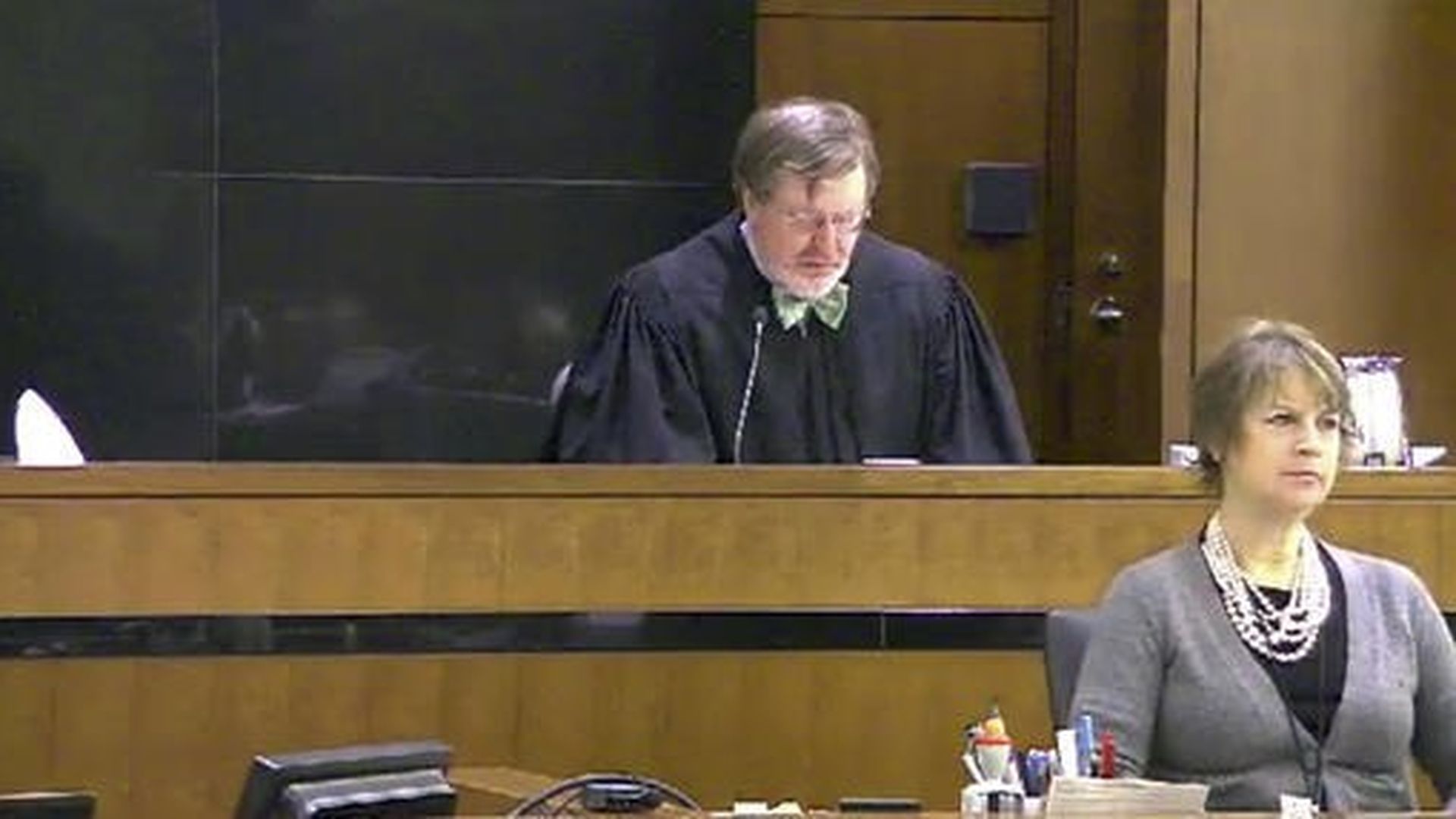 With his tweet attacking the "opinion of this so-called judge," Trump may have complicated efforts by his lawyers to defend the travel restrictions. University of Pittsburgh law professor Arthur Hellman told AP: "Either they have to defend the statements that Judge Robart is a 'so-called judge,' which you can't do, or they have to distance themselves from the president, who is their boss."
The #1 trending article on Apple News last night was a CNN opinion piece,"Trump's most bone-chilling tweet," arguing he was "apparently attempting to delegitimize our federal judiciary."
Profiles of the judge make the swipe look misplaced. Seattle Times front-pager: "Trump's 'so-called judge' is highly regarded Republican appointee" ... AP: "Seattle judge derided by Trump known as conservative jurist" ... N.Y. Times, "'So-Called' Judge Criticized by Trump Is Known as a Mainstream Republican."
Just the facts on U.S. District Judge James Robart, 69:
Graduate of Georgetown Law.
Nominated by President George W. Bush in 2003.
Confirmed 99-0 by Senate in 2004.
Known for conservative legal views.
Record of helping disadvantaged children that includes fostering six of them; represented refugees from Southeast Asia.
"Last year, Robart declared 'black lives matter' during a federal court hearing, saying he would not allow the Seattle police union to hold the city 'hostage' by linking demands for higher wages to constitutional policing."
https://www.axios.com/newsletters/axios-am-083a6377-b916-4347-8913-966115ebd716.html?chunk=3#story3
4. Sneak peek
Speaker Paul Ryan defends Trump in his pre-tape with Chuck Todd for "Meet the Press," saying he's "hit the ground running extremely hard. He's doing a lot. And there's a lot that needs to be done."
Ryan also has a kind word for Steve Bannon: "I think there is a lot of hyperventilating. I've just gotten to know Steve since the election. I've had nothing but good relationship with him."
Chuck Todd: "His publication [Breitbart] did not have a good relationship with you."
Speaker Ryan: "That's for sure."
https://www.axios.com/newsletters/axios-am-083a6377-b916-4347-8913-966115ebd716.html?chunk=4#story4
5. What Bannon's reading
For months, Steve Bannon has been recommending "The Best and the Brightest," David Halberstam's devastating 1972 account of the self-regard, delusion, and tragic series of miscalculations that led America into Vietnam. Our Jonathan Swan says Bannon told Jared Kushner, Anthony Scaramucci, and other associates that the book is a warning against hubris.
Here are Swan's four takeaways from the book that help illuminate how Bannon processes the world:
Halberstam holds in contempt the highly educated, verbally sophisticated elites — JFK's band of brilliant young men — making decisions in Washington.
The author flatters hard-won experience — "true wisdom" — over intellectual theorizing.
He critiques Washington's compliant press corps.
He reinforces Bannon's belief that "personnel is policy" and that the very act of selecting a cabinet can lock in an administration.
New York Times sports reporter Marc Tracy spotted Bannon with the book in the Atlanta airport the day after Christmas, and recalls in today's paper that Bannon told him: "It's great for seeing how little mistakes early on can lead to big ones later."
https://www.axios.com/newsletters/axios-am-083a6377-b916-4347-8913-966115ebd716.html?chunk=5#story5
6. Sentence of the day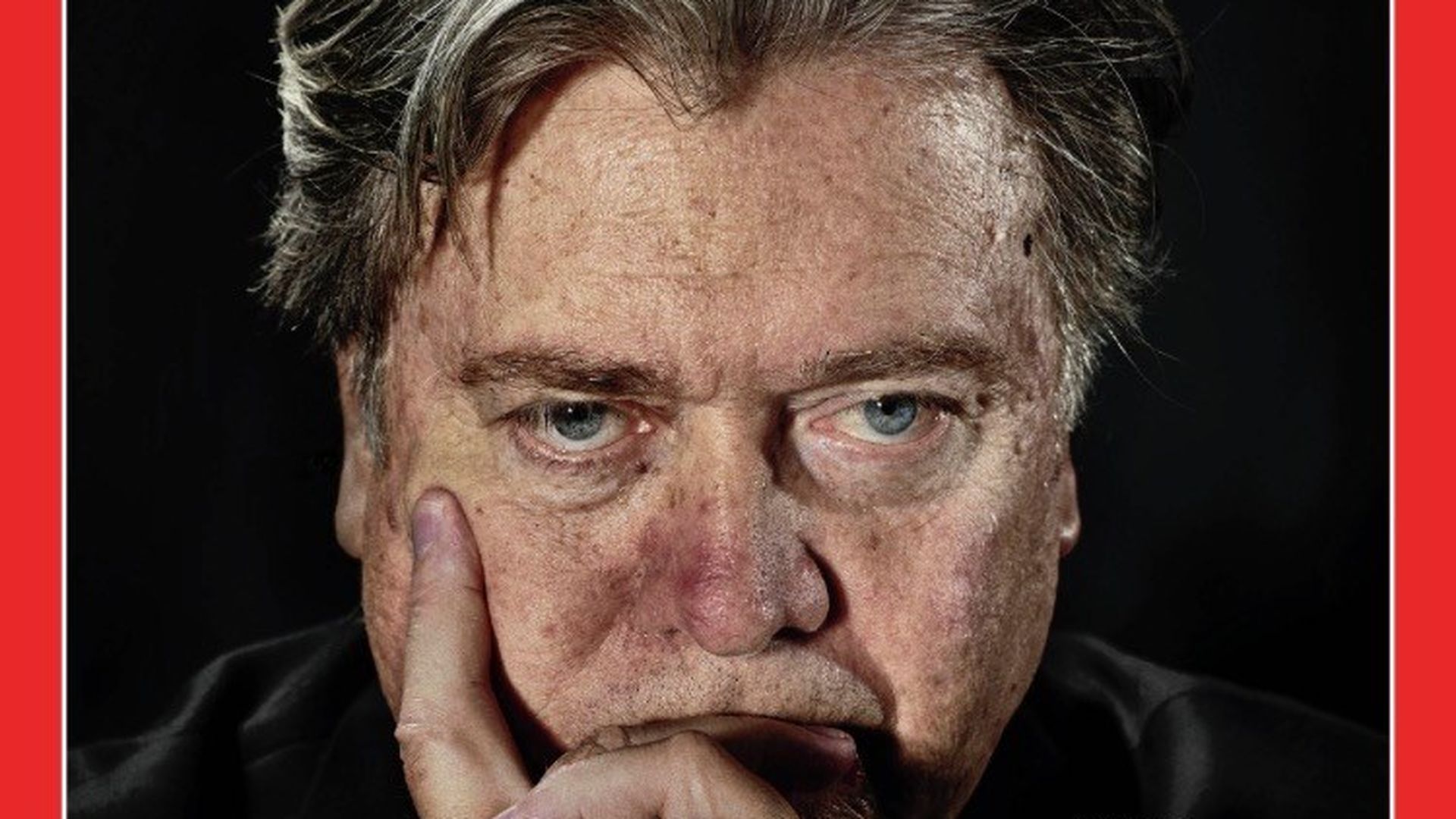 From WashPost front-pager, "Trump team tries to regain its footing," by Phil Rucker and Ashley Parker: "Bannon's rising profile — captured on this week's cover of Time magazine ... — caught the attention of senior officials, as well as Trump, who takes pride in his own cover appearances and inquired about Bannon's Time debut with aides."
https://www.axios.com/newsletters/axios-am-083a6377-b916-4347-8913-966115ebd716.html?chunk=6#story6
7. The Brain's backstory
Steve Miller's White House title is senior adviser for policy, but his role is so outsized, and his direct access to the president so remarkable, that we call him "The Brain." The Raleigh News & Observer's Jane Stancill profiles Miller, 31, on the Sunday front page, "A path from Duke to the White House":
"On the fifth anniversary of 9/11 Miller was determined to stage an elaborate memorial that required weeks of organizing student groups, Durham officials, fire and police departments, and the university to join in the event, which included planting 2,997 flags on campus – one for each victim."
"He got Duke to give $4,000 for the spectacle, he wrote in an online article, which he considered a major victory: "Anything that portrays America as under attack by Islamic terrorists, as even the most purely apolitical 9/11 memorial inevitably will, challenges the university dogma." The event, he wrote, was "one of the most memorable and meaningful days of my life."
"Besides patriotism, terrorism and his defense of the lacrosse players, Miller also wrote about race, diversity and what he said were condescending attitudes toward minorities, as well as 'racial paranoia.' A column about racial injustice ... was about someone accusing him of being racist."
https://www.axios.com/newsletters/axios-am-083a6377-b916-4347-8913-966115ebd716.html?chunk=7#story7
8. Top-ed
Maureen Dowd, "Free Melania – From Our Expectations: The Sphinx of Fifth Avenue skirts the Potomac": "As our omnipresent new president hijacked our reality, the first lady vanished, sparking headlines for nary a glimpse in D.C. since the inaugural."
"Whether or not she intends it, the woman who calls herself 'a full-time mom' is making a modern statement about the role of the first lady. She's saying: I'll do it on my terms."
https://www.axios.com/newsletters/axios-am-083a6377-b916-4347-8913-966115ebd716.html?chunk=8#story8
9. Tops in media trends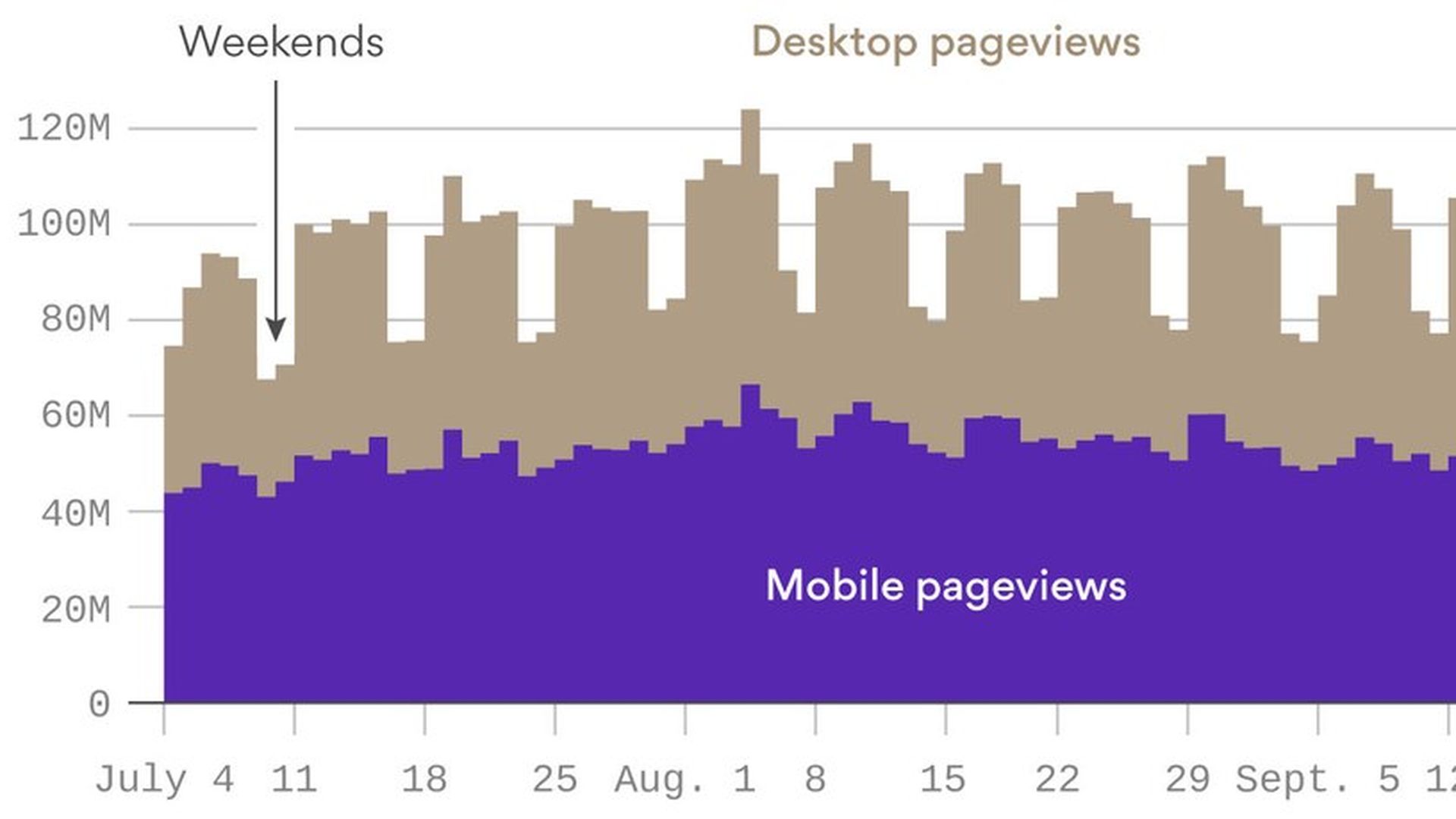 You're reading this on a phone: Axios' Sara Fischer, citing Parse.ly figures showing desktop use dies over weekends: "The mobile ratio tends to increase late at night, even supporting an 11 p.m. EST 'reading activity peak' for mobile visitors."
"A period of experimentation" ... Liz Spayd, N.Y. Times public editor, takes an insider look at the paper's tough choices as it reduces its layers of editing: "Some of those editors may be resistant to change, but they also know where the risks lie."
NFL ratings were down 9% during the regular season and 6% during playoffs, per Recode's Peter Kafka: "That's a troubling data point for the TV Industrial Complex, which has viewed live events — and live NFL games in particular — as the last wall of defense against the internet and other competition for eyeballs."
https://www.axios.com/newsletters/axios-am-083a6377-b916-4347-8913-966115ebd716.html?chunk=9#story9
10. 1 fun thing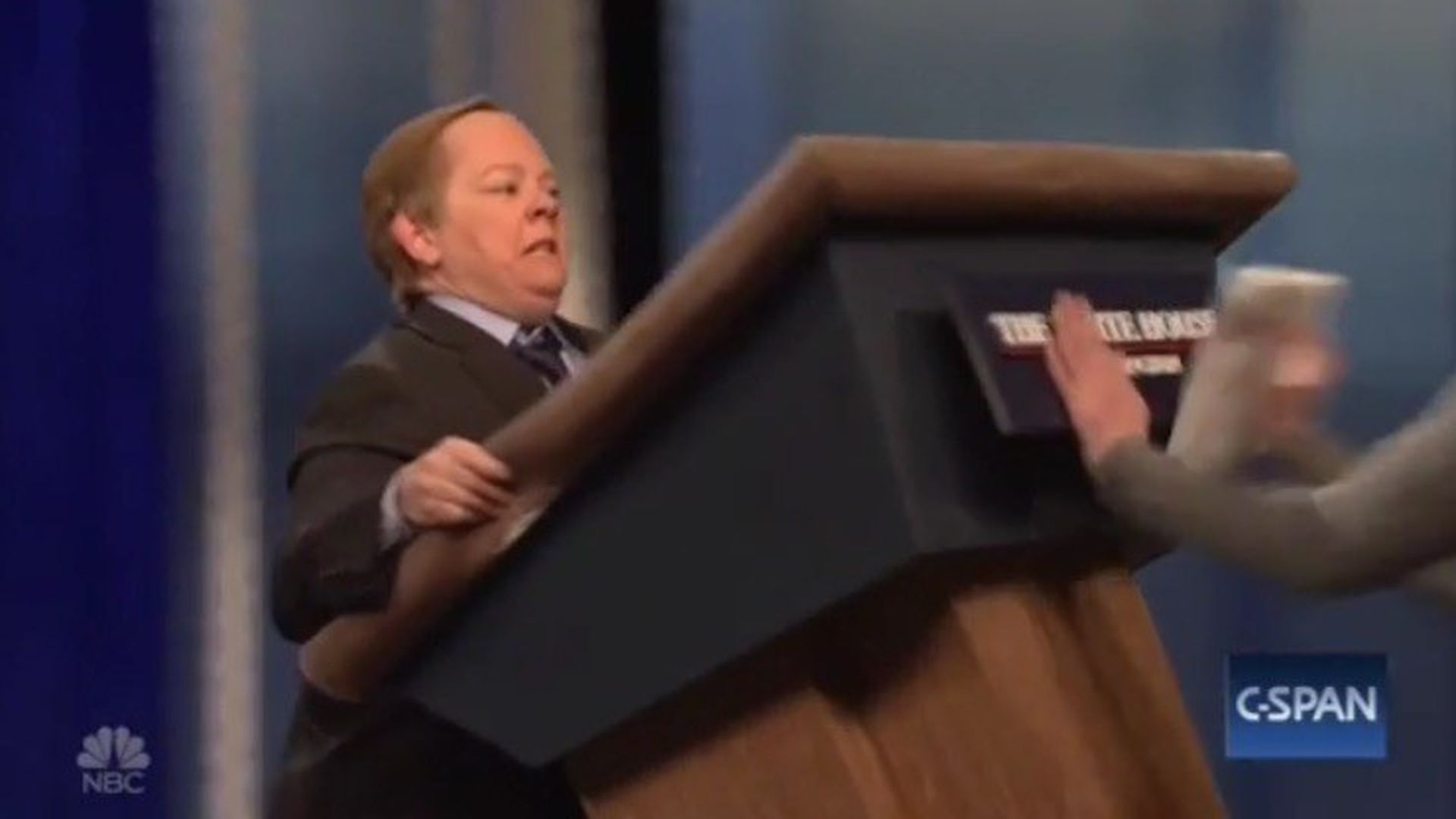 Sean Spicer gets the "SNL" treatment, with a squeaky, ranting portrayal by Melissa McCarthy: "I'm not here to be your buddy. I'm here to swallow gum, and I'm here to take names. ... OK, now let me wave something SHINY In front of you monkeys."
"Spicer" tells Glenn Thrush to sit down (then calls a female reporter "Glenn" with air quotes), and fires a super soaker from the podium: "This is soapy water, and I'm washing that filthy, lying mouth."
"Spicer" eventually freaks out and rams his podium toward a female Wall Street Journal reporter: "You guys still aren't GETTING IT. ... You like THAT, dork? ... Everybody just COOL out, all right?" SNL's tweet labeled the moment "lunges with podium."
N.Y. Times' Dave Itzkoff: "An addled Ms. McCarthy then read her own email password, and tangled with a New York Times reporter ([Glenn Thrush] played by Bobby Moynihan) who asked why Mr. Trump did or did not use the word 'ban' ... 'You just said that,' she told the reporter. 'He's quoting you. It's your words. He's using your words, when you use the words and he uses them back, it's circular using of the word and that's from you.'"