Axios AM
July 05, 2022
Hello Tuesday, and welcome back. While you were out, Tom Cruise turned 6-0.
Smart Brevity™ count: 1,452 words ... 5½ mins. Edited by Noah Bressner.
1 big thing — Justices' next target: Executive branch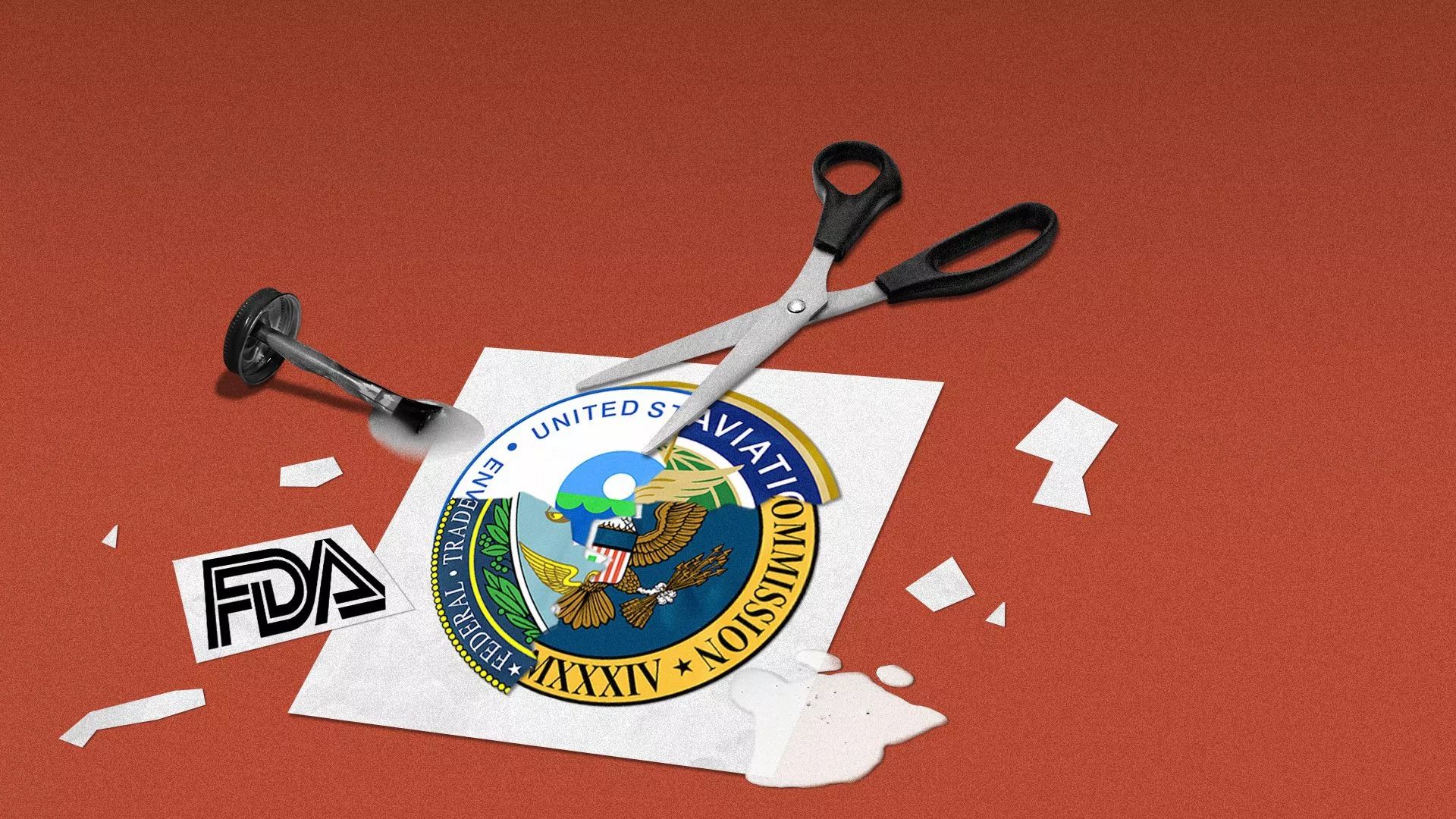 Battles over the federal government's power will likely define a lot of the conservative Supreme Court's future.
That will likely include voting rights, as well as a sustained effort to restrict the authority of regulatory agencies in the executive branch, Axios' Sam Baker writes.
Why it matters: These cases don't always feel like blockbusters in isolation. But they can constrain federal power in ways that are almost impossible to reverse, with dramatic implications across policy areas.
What's happening: Abortion has been the biggest animating force in the conservative legal movement for decades. Now that the Supreme Court has overturned Roe — sooner than some advocates expected — other long-term projects will get more of the right's legal and political energy.
Just in the past few months, the court …
Some of the issues are bigger than others. But each of those cases raised questions about overarching legal principles of executive-branch authority.
Taken together, it's clear which direction things are headed: The federal government is going to be able to do a lot less than in the past.
But even the conservative justices aren't united on how far to go.
How it works: Several of the court's conservative justices are highly skeptical of "Chevron deference" — the principle that, if a particular law isn't clear on its face, courts will generally defer to the interpretation of the agency implementing that law.
In striking down EPA regulations, the OSHA vaccine mandate and the CDC's eviction moratorium, the court leaned heavily on a different but related legal test — the "major questions" doctrine.
It holds that executive-branch agencies can't rely on general authority from Congress in order to justify particularly sweeping actions.
👀 What we're watching: At the outer bound of this campaign is the "nondelegation doctrine" — a theory that Congress cannot delegate to the executive branch any of the powers the Constitution gives to Congress.
At least three justices — Neil Gorsuch, Clarence Thomas and Samuel Alito — seem to want to bring it back.
2. America mourns — again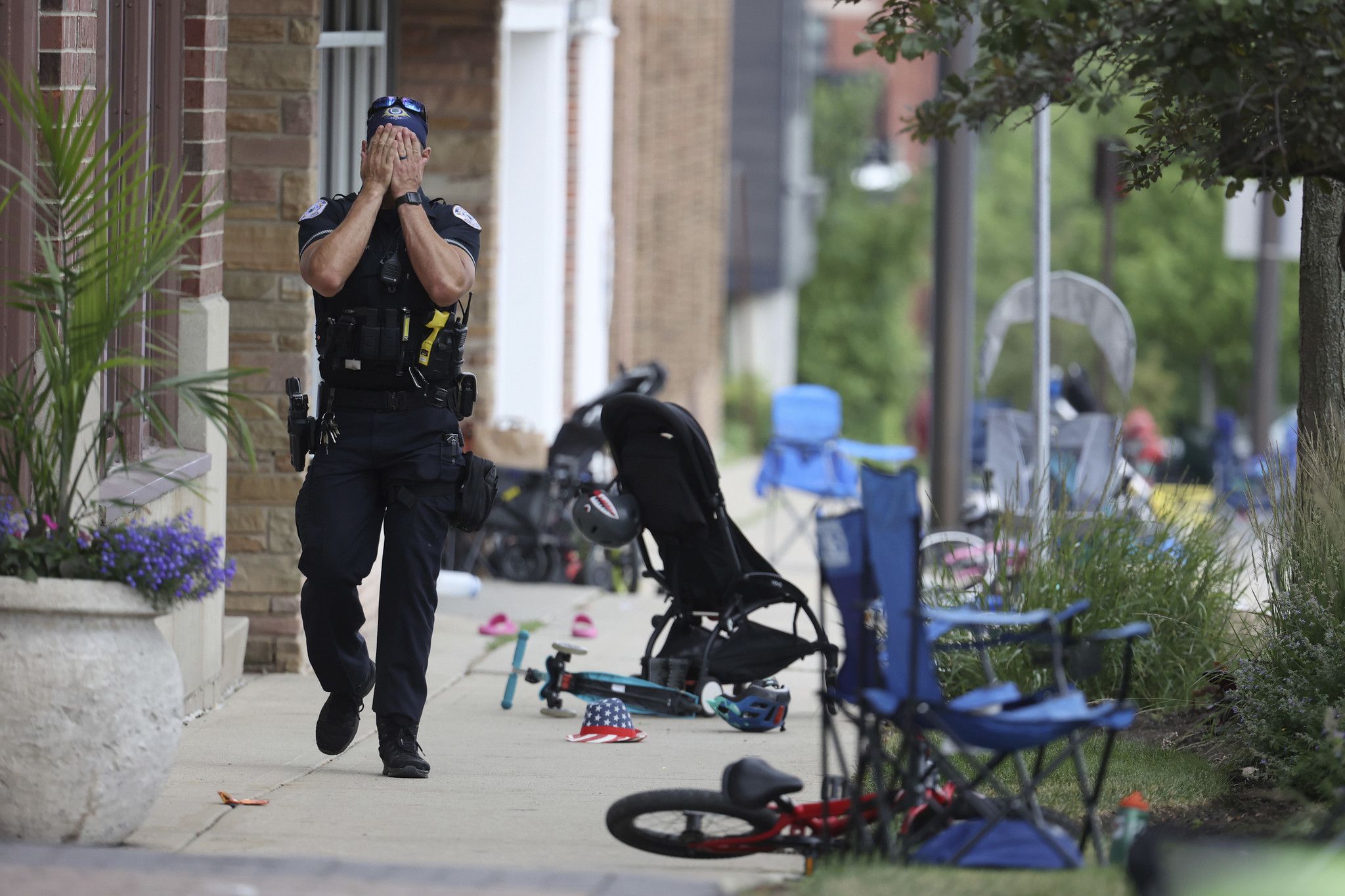 The latest mass shooting — in the wealthy lakefront suburb of Highland Park, Ill. — came as Americans celebrated bonds still holding us together.
A grocery store, a church, an elementary school and now a parade have all become killing grounds in the past seven weeks, AP notes.
Here's what we know, via AP and Reuters:
A gunman on a rooftop fired dozens of bullets on an annual Fourth Fest parade — killing six, wounding 30 and sending hundreds of marchers, parents with strollers and kids on bikes fleeing in terror.
"The high school marching band's members sprinted for their lives, still carrying their flutes and saxophones," the Chicago Tribune reports.
The wounded ranged in age from 8 to 85, including four or five children. At least 19 were treated and discharged.
One of the dead was a 76-year-old grandfather in a wheelchair, Nicolas Toledo, the N.Y. Times reports.
The gunman climbed to the roof of a business using a ladder in an alley.
The suspected shooter — technically a "person of interest" — was taken into custody about five miles away, in Lake Forest, after an eight-hour manhunt.
The 21- or 22-year-old suspect — a white aspiring rapper — was pulled over after police released photos of him and his silver Honda Fit.
The shooter opened fire partway through the parade, at a point on the route where residents had staked out prime viewing spots.
The gunman apparently used a "high-powered rifle," the incident commander said. The rifle was recovered at the scene.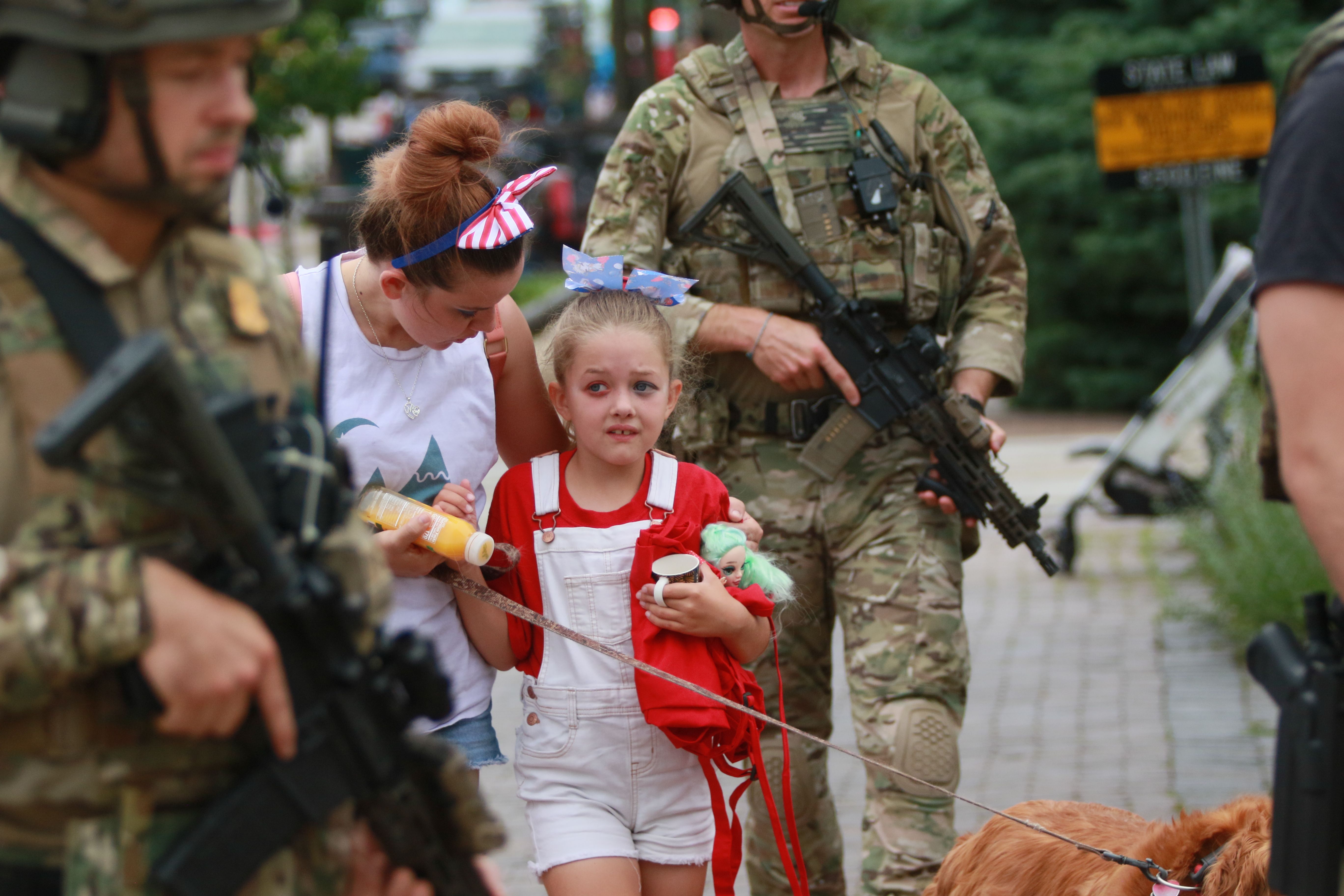 In an animated video taken down by YouTube, the suspected shooter raps as a drawing appears of a man pointing a rifle. Police cars arrive. The shooter holds his hands up.
In another video, he says he is "like a sleepwalker … I know what I have to do ... Everything has led up to this. Nothing can stop me, even myself."
His father, a longtime deli owner, ran unsuccessfully for mayor of Highland Park in 2019.
🏡 The setting: Highland Park (population 30,000) is on the shores of Lake Michigan just north of Chicago, with mansions and lakeside estates.
NBA legend Michael Jordan lived there when he played for the Chicago Bulls.
🎞️ John Hughes filmed parts of several movies in Highland Park, including "Ferris Bueller's Day Off," "Sixteen Candles" and "Weird Science."
Several nearby cities canceled parades and fireworks.
3. ✈️ Flying's new high
A pandemic-era record number of people took to the skies over the Fourth of July weekend in the U.S., despite predictions of a hellish few days for air travel, Alex Fitzpatrick writes for Axios What's Next.
Nearly 2.5 million people passed through airport security checkpoints Friday — the most since February 2020.
2.2 million were screened Saturday and 2.1 million on Sunday.
Why it matters: The air travel system is struggling with staffing shortages, prompting cascading delays and cancellations. So the past few days were a big test for airlines, airports, the FAA — and passengers.
Behind the scenes: Some airlines took preemptive measures.
Delta issued an unusual waiver making it easier for people to rebook Fourth of July travel to less busy days.
4. 📷 America turns 246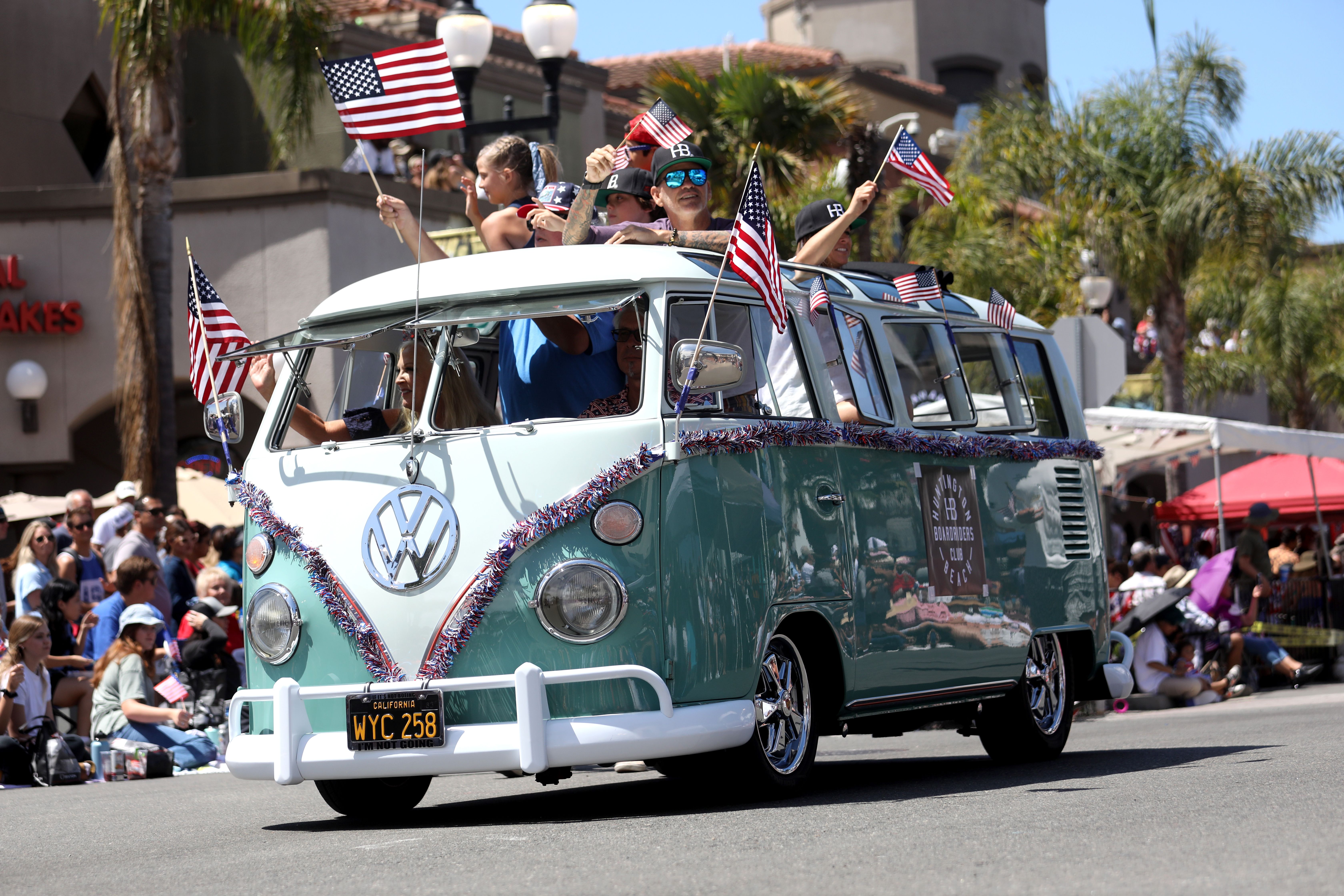 A classic VW van was entered by the Huntington Beach Boardriders Club in a Fourth of July parade along Main Street in Huntington Beach, Calif.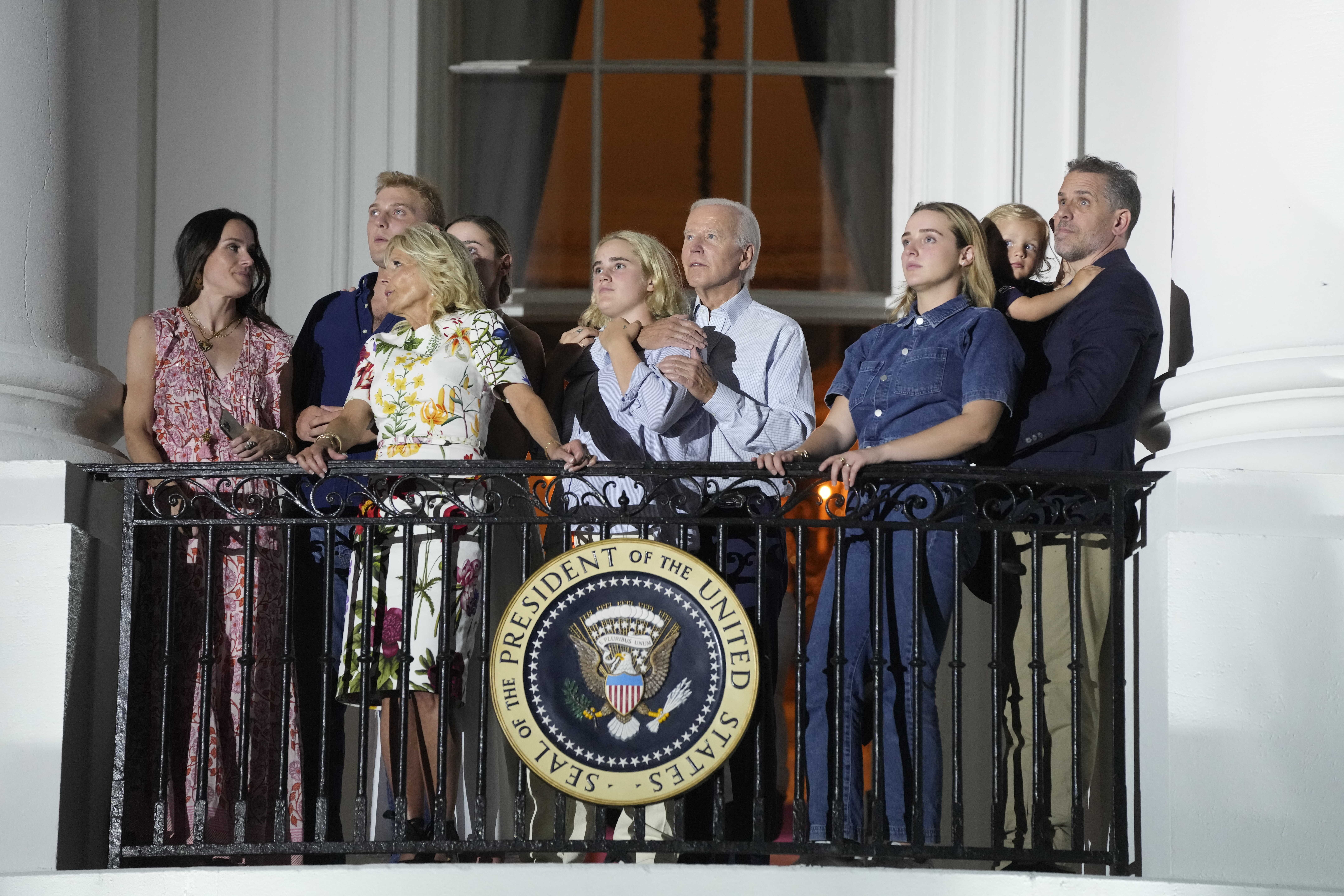 The Bidens watch fireworks from the Truman Balcony.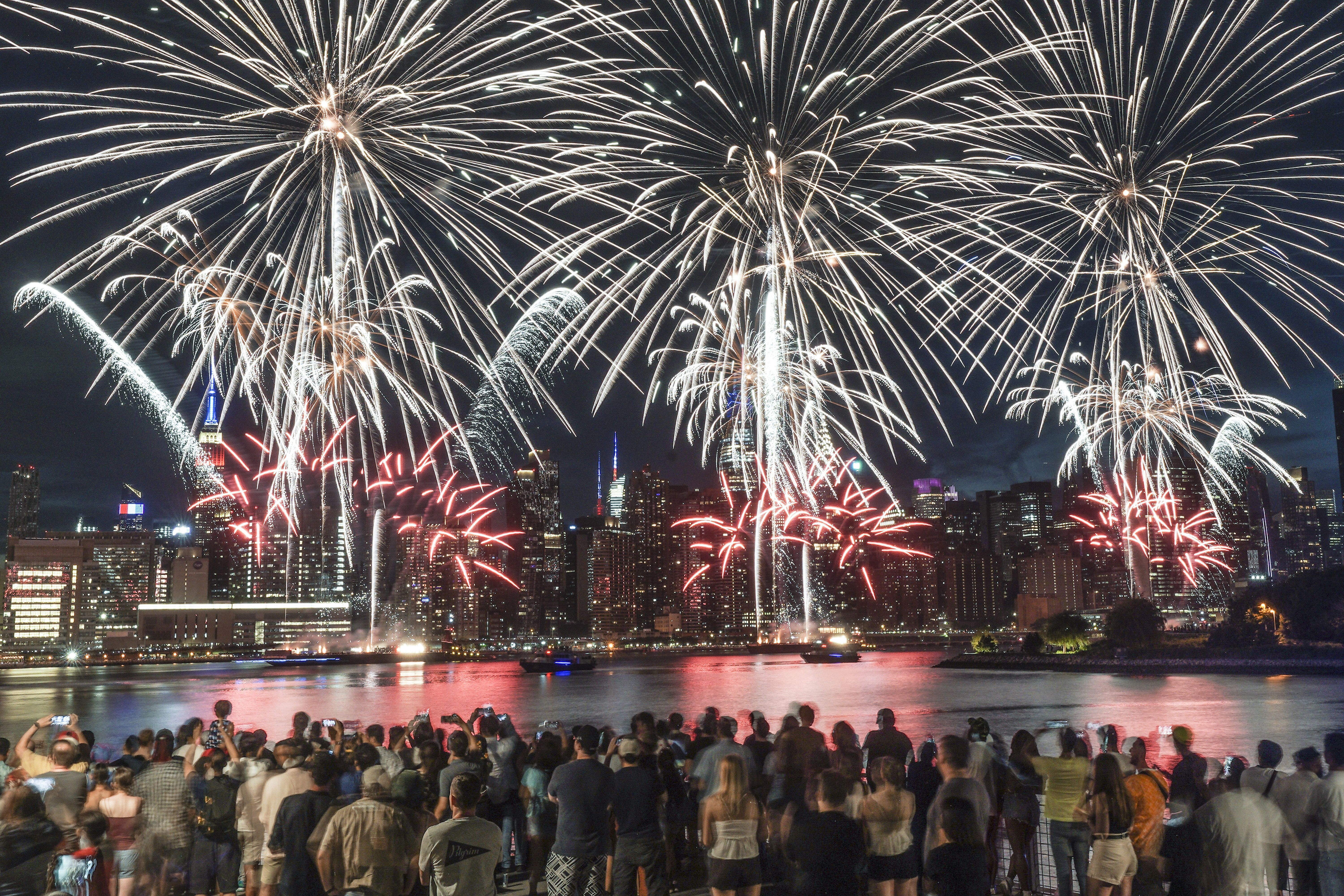 Spectators along the waterfront in Williamsburg, Brooklyn, watch last night's Macy's fireworks, deployed from barges on the East River.
5. 🔎 Economists rush to study post-Roe world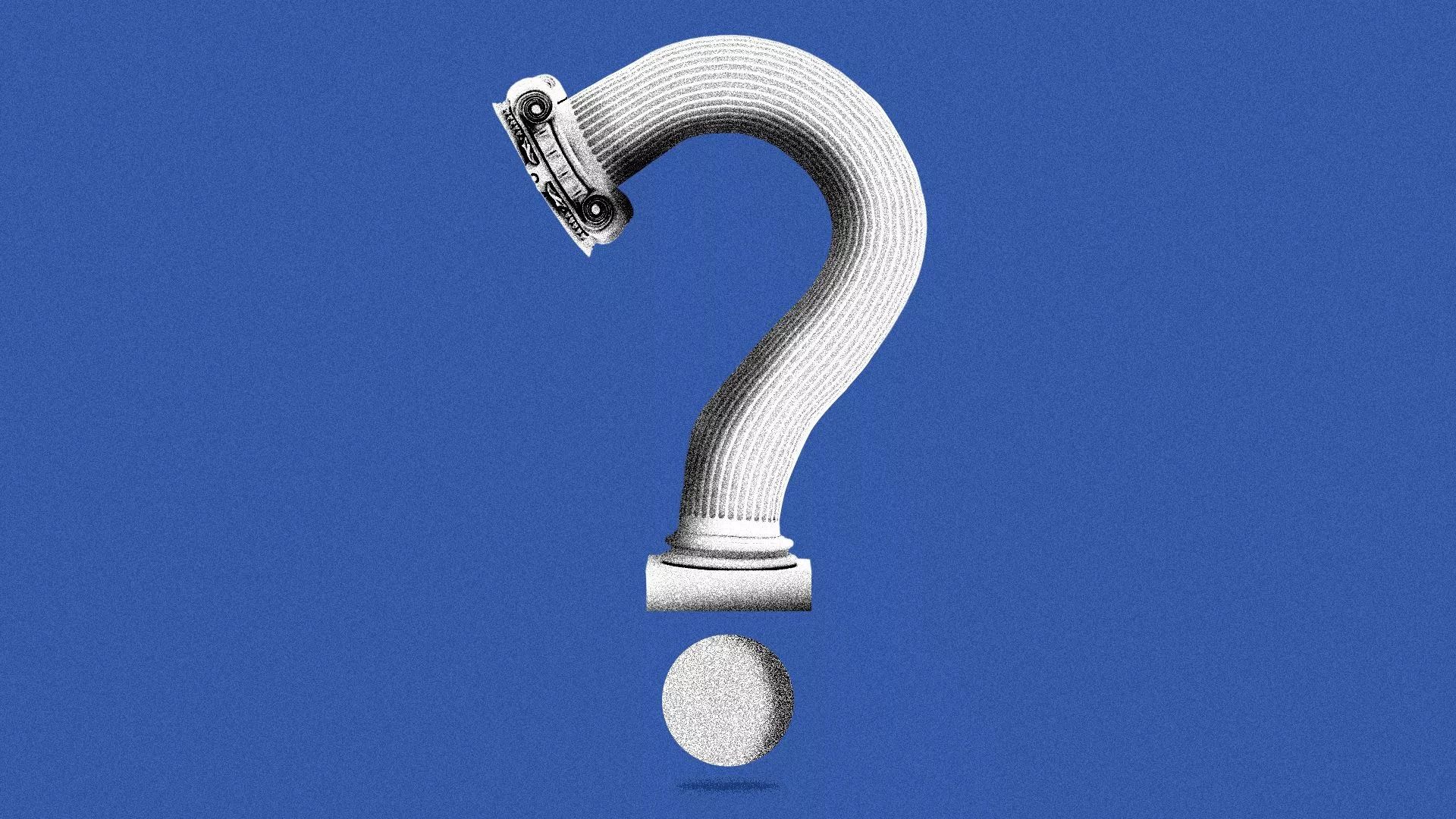 Economists are racing to gauge the fallout from the Supreme Court's abortion decision on women's lives, from health to finances, Emily Peck writes for Axios Markets.
Why it matters: Studies of the real-world impact of the 1973 Roe decision didn't get seriously underway until the late 1980s. Now, because of advances in technology and research methods, researchers are moving more quickly.
Zoom out: About half the states are expected to ban or heavily restrict abortion; the rest won't. That's precisely the kind of natural experiment economists like — where the cause is clear and they can examine the effect.
Caitlin Knowles Myers, a Middlebury College economist known for her work on abortion, said: "What we're looking at is a natural experiment of a magnitude we haven't seen since the Roe era."
She's been deluged with requests from social scientists looking for help accessing data: "My email is absolutely flooded."
🔮 What's next: Researchers are now drafting studies and gathering data to understand: What happens to abortion rates? Are women still able to access care? How far will they travel to get it? Will there be more second trimester abortions because it takes longer to find a provider?
6. 🧠 West learns Ukraine lessons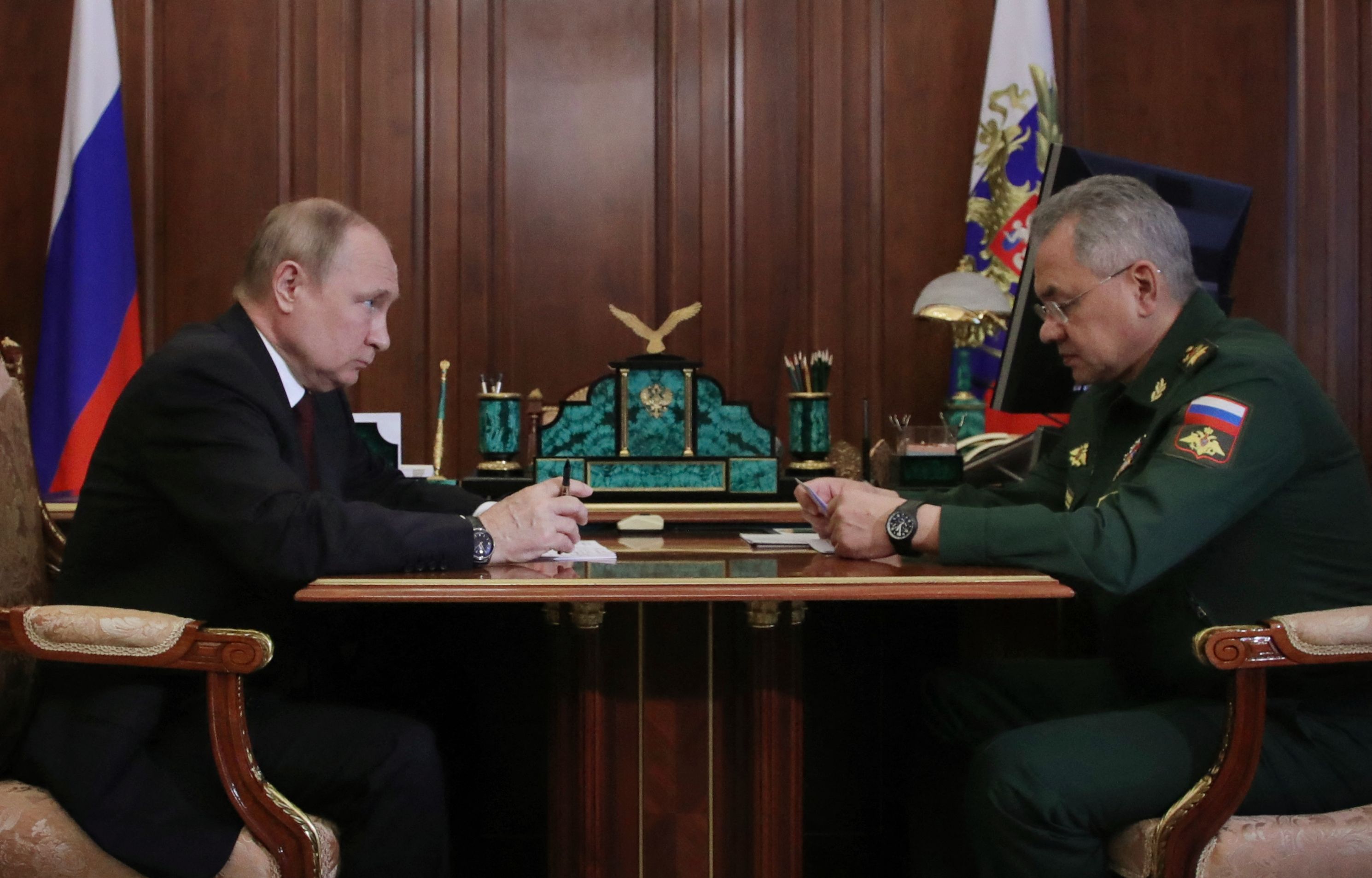 U.S. defense planners are already studying weapons, tactics and logistics from the Ukraine war to get an edge in future conflicts, The Wall Street Journal reports (subscription).
Why it matters: Military thinkers say it's "a wake-up call for citizens of the West who have come to see war as something distant and high-tech, executed with surgical precision."
A key learning: "The modern battlefield has no hiding places and no boundaries. Drones, electronic surveillance and space-based observation make concealment harder than even a few years ago," The Journal says.
7. 🗳️ New issue for Dems: Red tape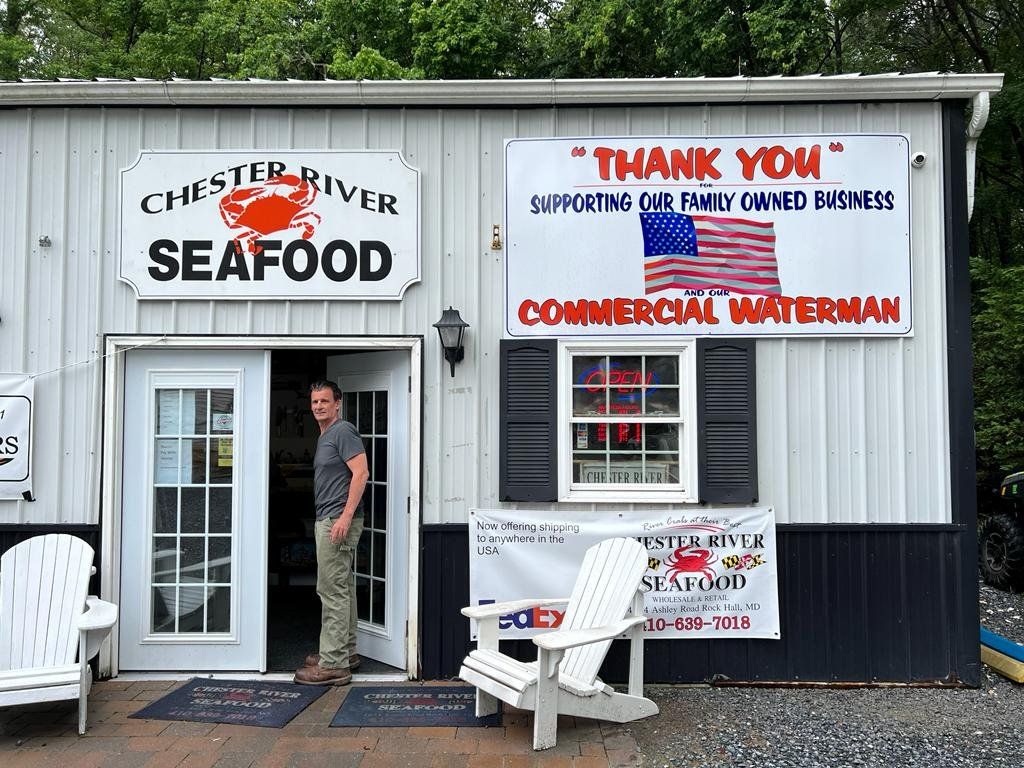 Dave Harden, a Democratic challenger for Congress on Maryland's conservative Eastern Shore, is getting a huge response by focusing on maddening, seemingly arbitrary federal regulations.
Why it matters: "[N]itpicky government rules remain a potent and under-appreciated source of populist anger against Democrats, especially in rural areas," writes Farah Stockman, a member of the N.Y. Times editorial board.
Harden, a 59-year-old former USAID official, is running to unseat Rep. Andy Harris, the lone Republican in Maryland's delegation.
Stockman asks: "Can Democrats flip the script and win over conservative districts, particularly small-business owners in those areas, by speaking out against government red tape?"
8. 🛫 1 fun thing: The new Points Guy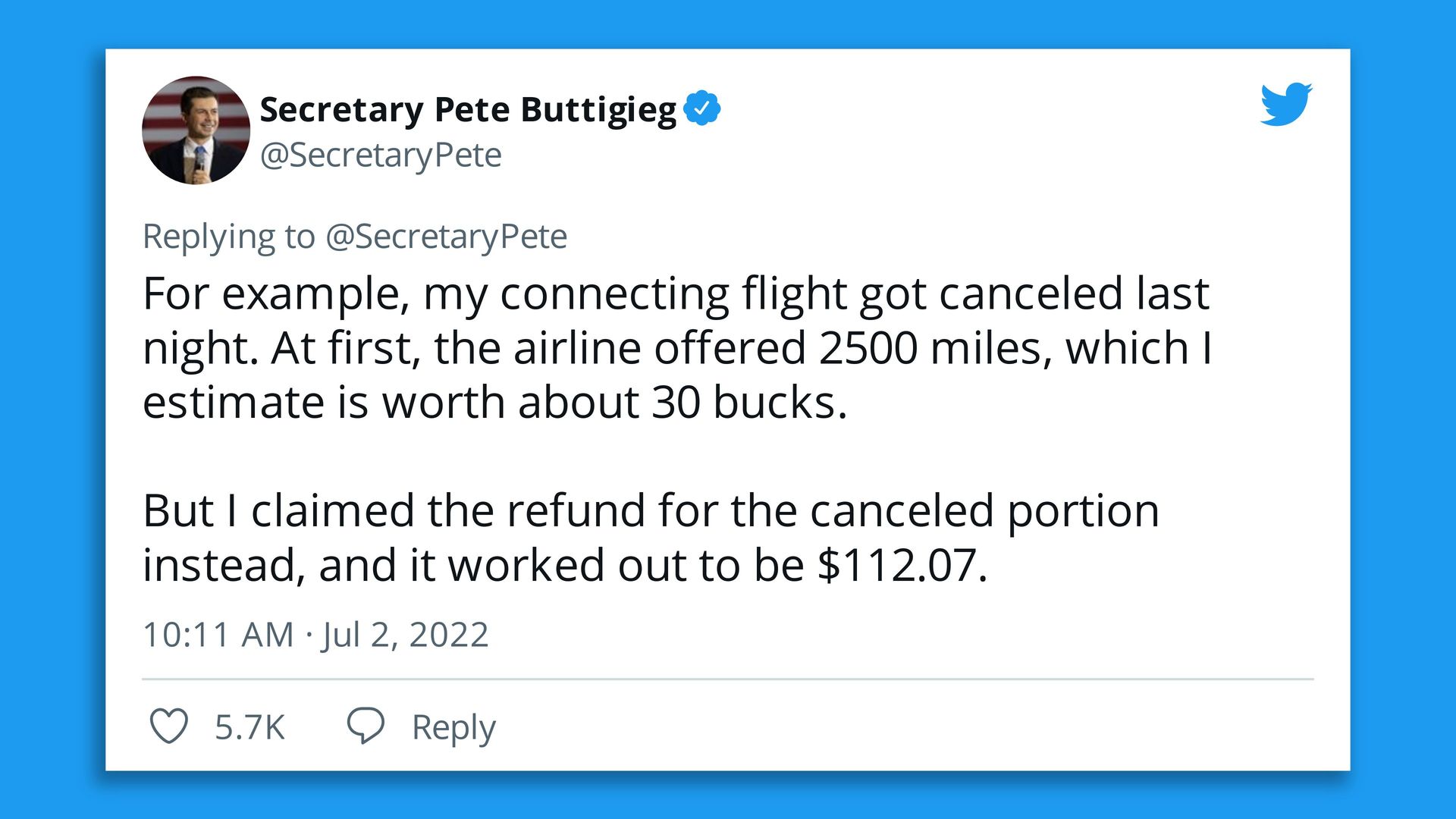 Transportation Secretary Pete Buttigieg, pushing frazzled flyers to exercise their rights with airlines, tweeted over the holiday weekend:
"Sometimes an airline will offer you points or miles as compensation, but you are entitled to a cash refund when your flight is canceled."
"When deciding whether to accept miles, it's helpful to know their value, which varies, but often is estimated at 1 to 1.5 cents per mile."
📬 Invite your friends to sign up here for their daily essentials — Axios AM, PM and Finish Line.