June 22, 2018
Happy Friday!
Situational awareness: ABC green-lights "Roseanne" spinoff — without Roseanne. Working title: "The Conners" ... 10 episodes, airing Tuesdays at 8 p.m. (Statement)
1 big thing: Trump, Russia, the elections — again
As President Trump's administration plans for a summit in Europe next month with Russia President Vladimir Putin, U.S. national-security officials tell Jonathan Swan and me that one of the most urgent issues will be Moscow's covert intrusion into American politics:
An immediate concern of top officials is Russia's efforts to interfere with the mechanics of voting and tabulation. U.S. officials have said: "Russians successfully penetrated the voter registration rolls of several U.S. states prior to the 2016 presidential election."
That's in addition to the propaganda efforts through Facebook and other tech platforms, which far exceed the methods used by other countries in foreign elections.
Director of National Intelligence Dan Coats told the Senate in February: "We expect Russia to continue using propaganda, social media, false-flag personas, sympathetic spokespeople and other means of influence to try to exacerbate social and political fissures in the United States."
As preparations for the summit speed up on both sides, CNN reported that Russia has given the State Department a list of "known irritants" — diplomatic lingo for background issues that could interfere with bigger progress.
That should be an interesting list.
But for the U.S. side, the top issue is the threat of Russian hacking and intervention into this year's midterms and the 2020 elections:
National-security officials say this problem has to be solved before Russia can have non-antagonistic relations with the U.S.
One fear is that other countries will learn from Russia's efforts, and try the same thing.
The biggest threat the U.S. can make is economic pressure, through additional sanctions.
A key point of leverage is Trump's recent moves to rejuvenate and expand U.S. nuclear forces.
That's taken by some Russian officials as a threat commensurate with President Reagan's "Star Wars" Strategic Defense Initiative.
Be smart: The issue poses a significant test for Trump, who has been criticized for doing too little to respond to Russian invasions of the 2016 election. He hates talking about the subject, fearing it'll raise questions about the legitimacy of his victory. So how insistent will he be when he has his chance with Putin?
2. 2,342 kids in limbo ... Administration envisions as many as 20,000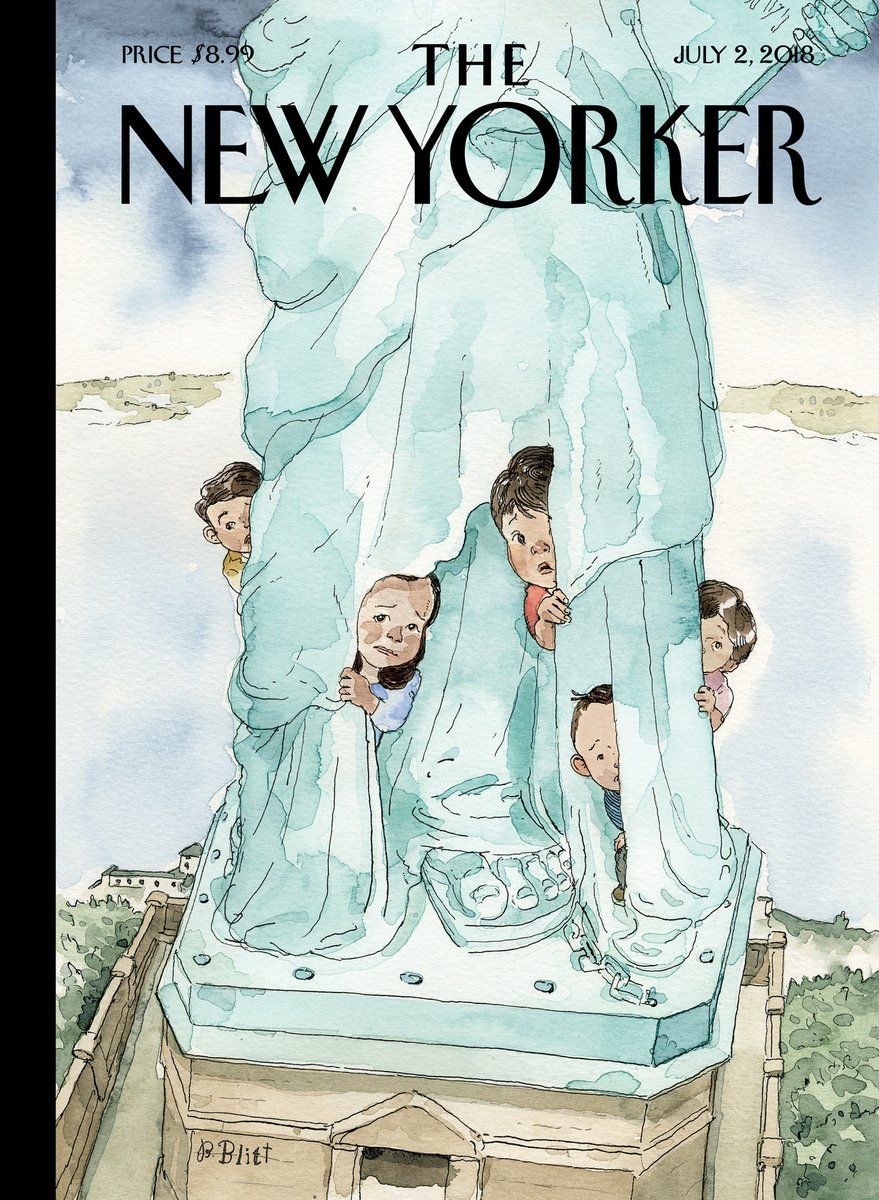 "The U.S. military has been asked to get ready to house up to 20,000 immigrant children, ... as President Donald Trump's efforts to roll back a widely condemned policy of separating children from their parents were beset by confusion," per Reuters:
"While no decision has been made, the Department of Health and Human Services (HHS) has already assessed three military bases in Texas and would review another in Arkansas, Pentagon spokeswoman Dana White said."
"She said HHS had asked the Pentagon 'to determine its capabilities to provide up to 20,000 temporary beds for unaccompanied alien children' at military installations."
"[P]rosecutors said they were not dismissing any cases, [but] some hearings ... did not proceed as scheduled."
"Before one deportation flight left for Honduras from Texas on Thursday, U.S. officials asked who had children in detention in the United States and the four who put up their hands were not put on the flight, deportees arriving in Honduras told Reuters."
A crisis that flew under the radar ... N.Y. Times p. A15, "In New York City, There Were Hints of a Crisis for Immigrant Children" ... Meghan Newman, a book publisher who lives a block away from a child care agency in East Harlem that has taken in children separated from their parents at the border (online: "16 and Alone, Inside a Center for Separated Children in New York"):
"I haven't seen babies, per se. But yeah, a lot of little ones. It's a steady parade."
Go deeper ... WashPost: "Lawyers searching for migrants' children encounter 'a total labyrinth': Parents endure chaotic attempts to reunite with their children."
3. Exclusive poll: U.S. fear of China spikes as North Korea fades
A year ago, nearly half of Americans considered North Korea the greatest immediate threat to the United States. Today, that number has plummeted and fear of China has increased — to the point where the two nations are essentially tied, according to a new Axios/SurveyMonkey poll.
62% of Americans are concerned by China's economic power ... 51% by China's technological advancement ... 35% by its military strength.
Takeaways by Axios' Erica Pandey:
Russia is the greatest perceived threat, and the share of Americans who believe so has risen in the last year.
Fear of ISIS remains consistently high, despite the fact that the terrorist organization is rapidly losing territory in Iraq and Syria.
Two nations ... 38% of Americans think President Trump's trade war with China will be good for jobs, and 58% think it will hurt jobs:
Republicans: 71% think good for jobs ... 26% think bad for jobs.
Democrats: 11% good for jobs ... 87% bad for jobs.
Independents: 32% good for jobs ... 66% bad for jobs.
Go deeper ... Axios Deep Dive, "China is the greatest, growing threat to America."
4. Pics du jour: First day of summer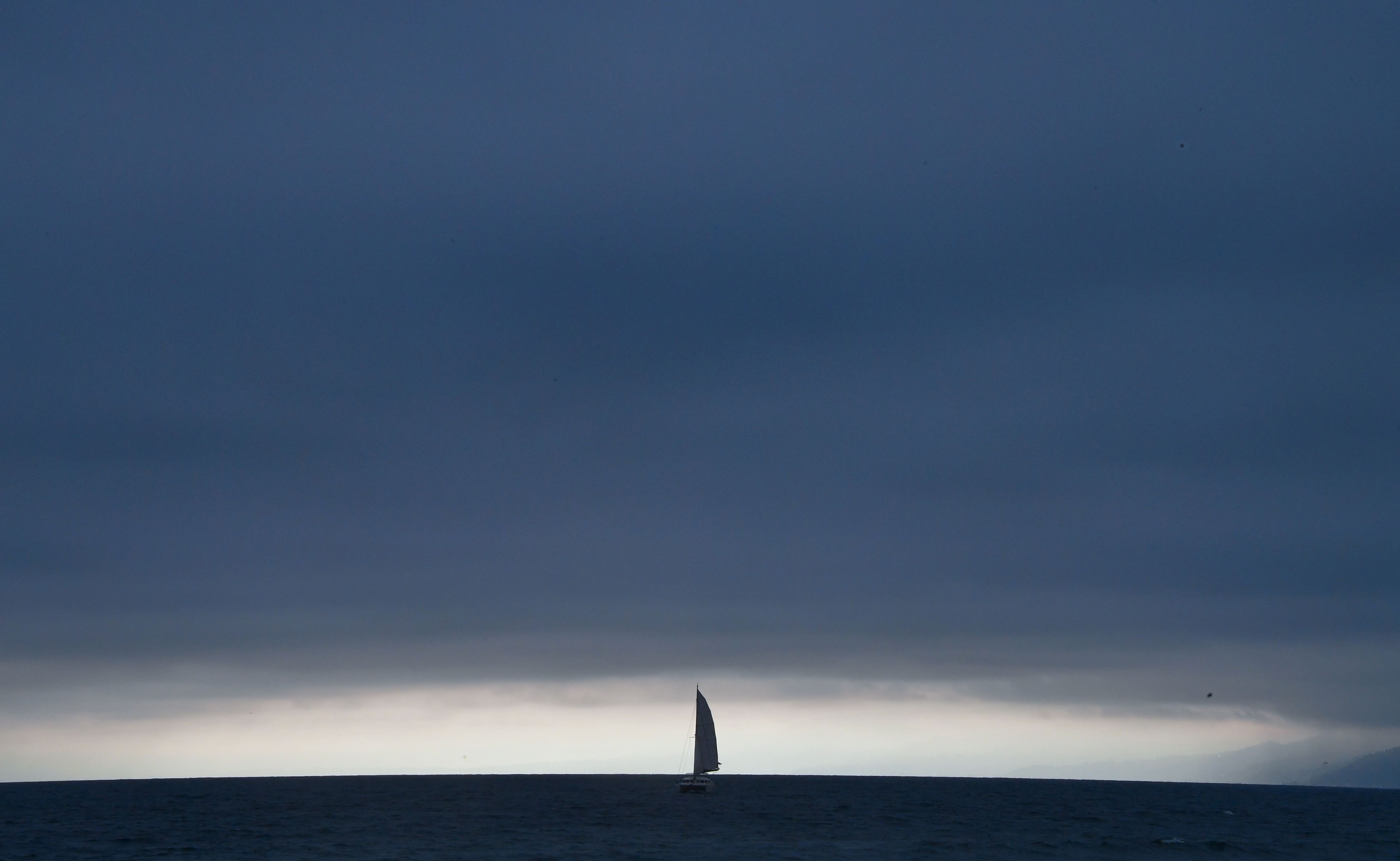 A sailboat crosses the overcast horizon last evening off Santa Monica beach.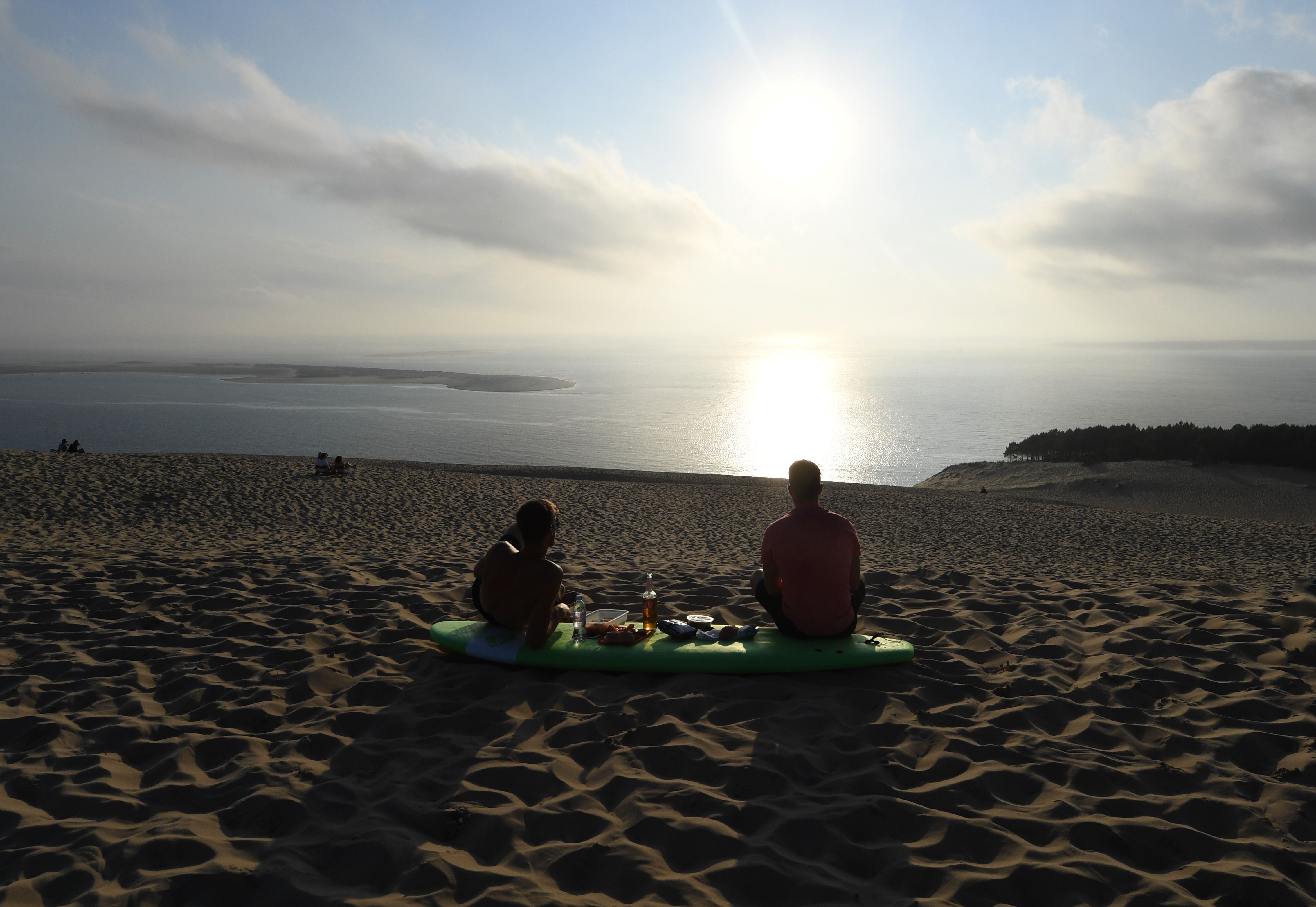 Two young men eat dinner on a surfboard atop Dune Du Pilat in Arcachon Bay, France, near Bordeaux.
5. Map du jour
P.S. What President Trump is reading ...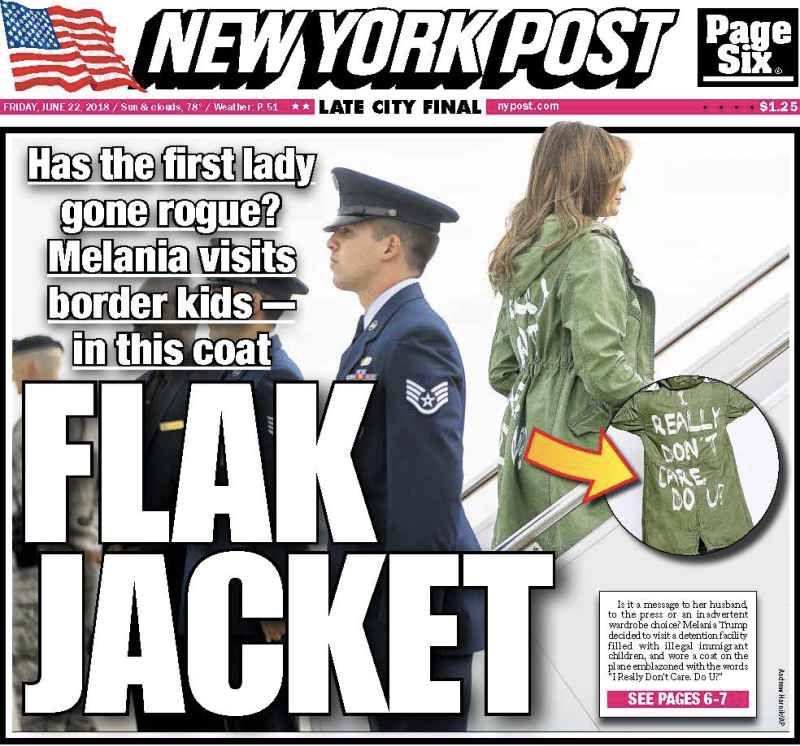 6. Everyone wants Mayor Mike's money
The lobbying has started for the $80 million Michael Bloomberg plans to spend for House Democrats in the midterms ... Rep. Seth Moulton (D-Mass.), a possible 2020 presidential candidate, wants it to go to military veterans who are running, per the Boston Globe's Liz Goodwin:
"Moulton has contributed $1.9 million to nearly two dozen Democratic candidates with a military background whom he's endorsed in the 2018 midterm cycle. ... He's personally recruited several of them."
Bloomberg strategist Howard Wolfson told The Globe the recipients are still being determined, but will include at least some of Moulton's team.
Why it matters: "A vocal critic of House Democratic leader Nancy Pelosi, Moulton has raised his profile within the party by pushing for a 'new generation' of leadership and by recruiting and funding centrist, fresh-faced candidates to run in moderate and even red-leaning districts."
7. Talker tweet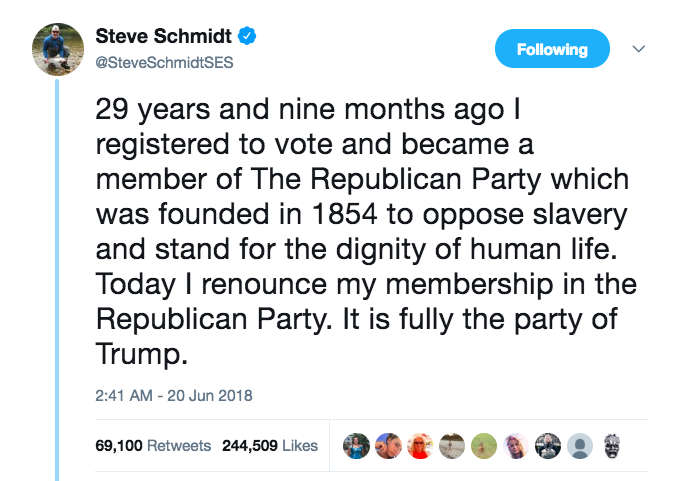 8. Charles Krauthammer, champion of neoconservatism, dies at 68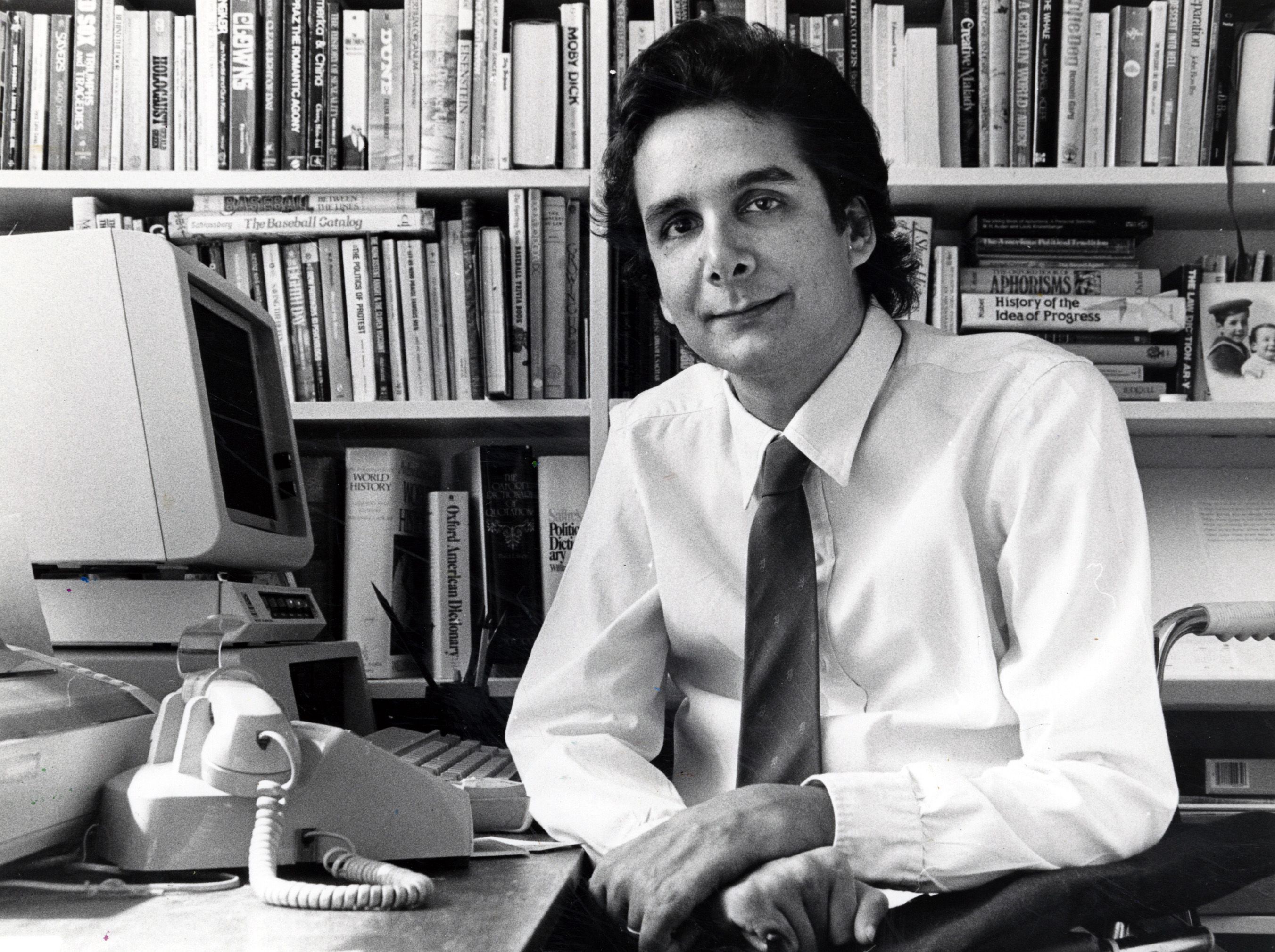 George Will, "The Charles Krauthammer I knew":
"Paralyzed from the neck down, he completed medical school, did an internship and, one thing leading to another, as life has a way of doing, became not a jewel in the crown of the medical profession, which he would have been, but one of America's foremost public intellectuals. Nothing against doctors, but the nation needed Charles more as a diagnostician of our public discontents."
"Charles died at 68, as did, 19 years ago, Meg Greenfield, the editor of The Post's editorial page. For many years, Meg, Charles and this columnist met for Saturday lunches with a guest — usually someone then newsworthy; now completely forgotten — at a Washington greasy spoon whose name, the Chevy Chase Lounge, was grander than the place."
"Like Meg, Charles was one of those vanishingly rare Washingtonians who could be both likable and logical. This is not easy in a town where the local industry, politics — unlike, say, engineering; get things wrong and the bridges buckle — thrives on unrefuted errors."
Worthy of your time ... WashPost excerpts from 1,600 colums, "Things that matter, in the words of Charles Krauthammer."
TV tonight ... "Charles Krauthammer: His Words," 9 p.m. ET/1 a.m. ET on Fox News Channel, including Krauthammer's voice and reflections by Bret Baier, Brit Hume, Sean Hannity, Tucker Carlson, Laura Ingraham, Fred Barnes, George Will.
9. Gaming's quest for the next great hit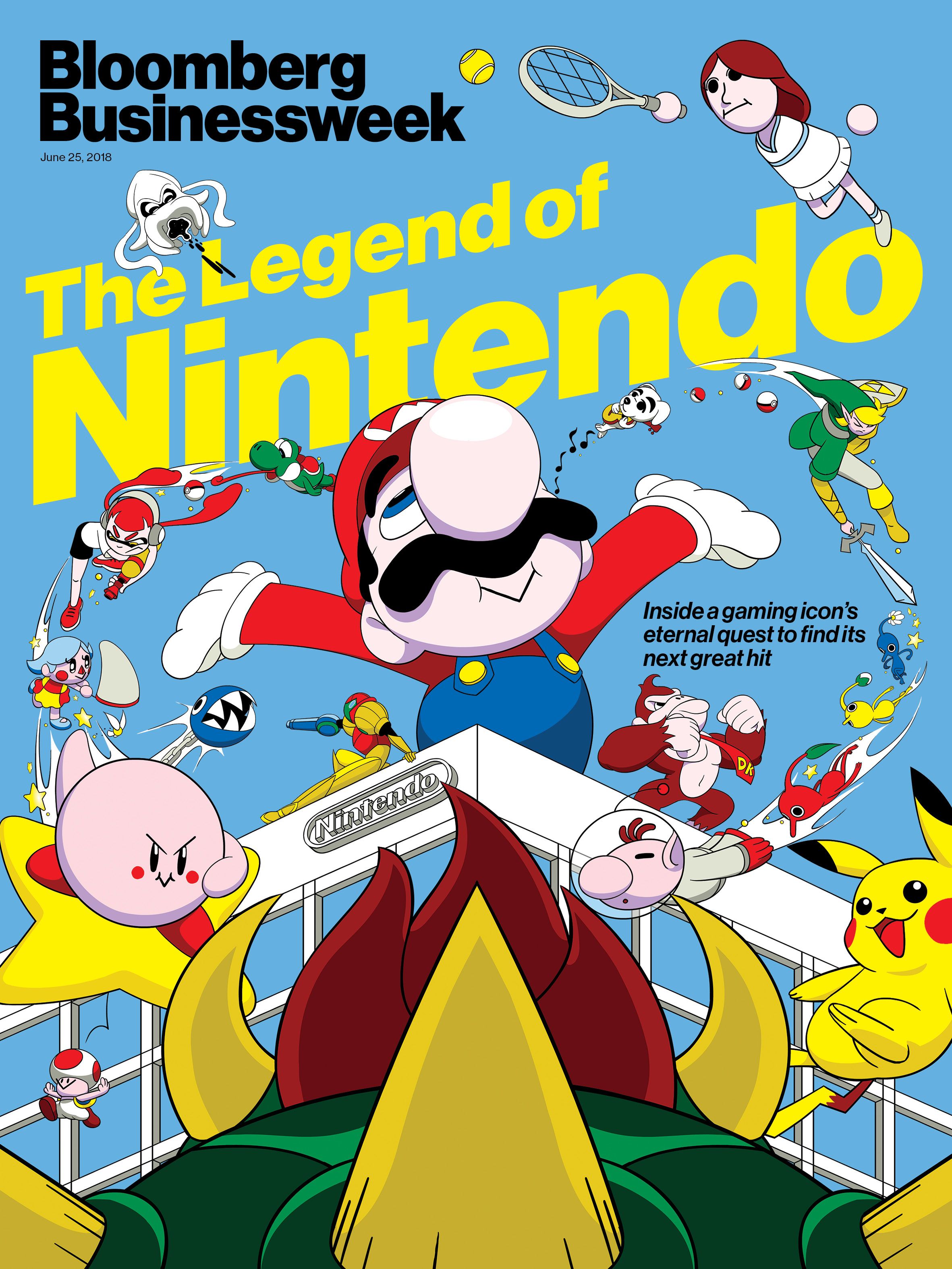 "For anyone who's ever marveled at Nintendo's vivid, phantasmagoric, zoologically ornate video games, visiting the company's understated home in Kyoto, Japan, can be disorienting at first" — Bloomberg Businessweek's Felix Gillette:
"In March 2017, the company released the Nintendo Switch. People were skeptical that the console, which can be used as a portable gaming device or docked to a television set, would succeed."
"It had been more than a decade since Nintendo's last hardware megahit, the Wii, and the world of home entertainment had destabilized. Smartphones, some analysts maintained, were the future of video games — not sleek, meticulously crafted $299.99 devices with curious motion-sensitive, detachable controllers."
"But from the start, gamers loved the Switch's originality, versatility, and design. This April, Nintendo announced that during the previous fiscal year it had sold more than 15 million units and more than 63 million games. A strong lineup of reimagined classics had helped drive the frenzy.
"The Legend of Zelda: Breath of the Wild had sold more than 8 million copies and been named Game of the Year by the Academy of Interactive Arts & Sciences. New iterations of the Mario Kart, Super Mario, and Splatoon franchises had performed similarly well. Nintendo's revenue had more than doubled from the previous year, to $9.5 billion, and its share price had shot up 81 percent."
10. 1 Cup thing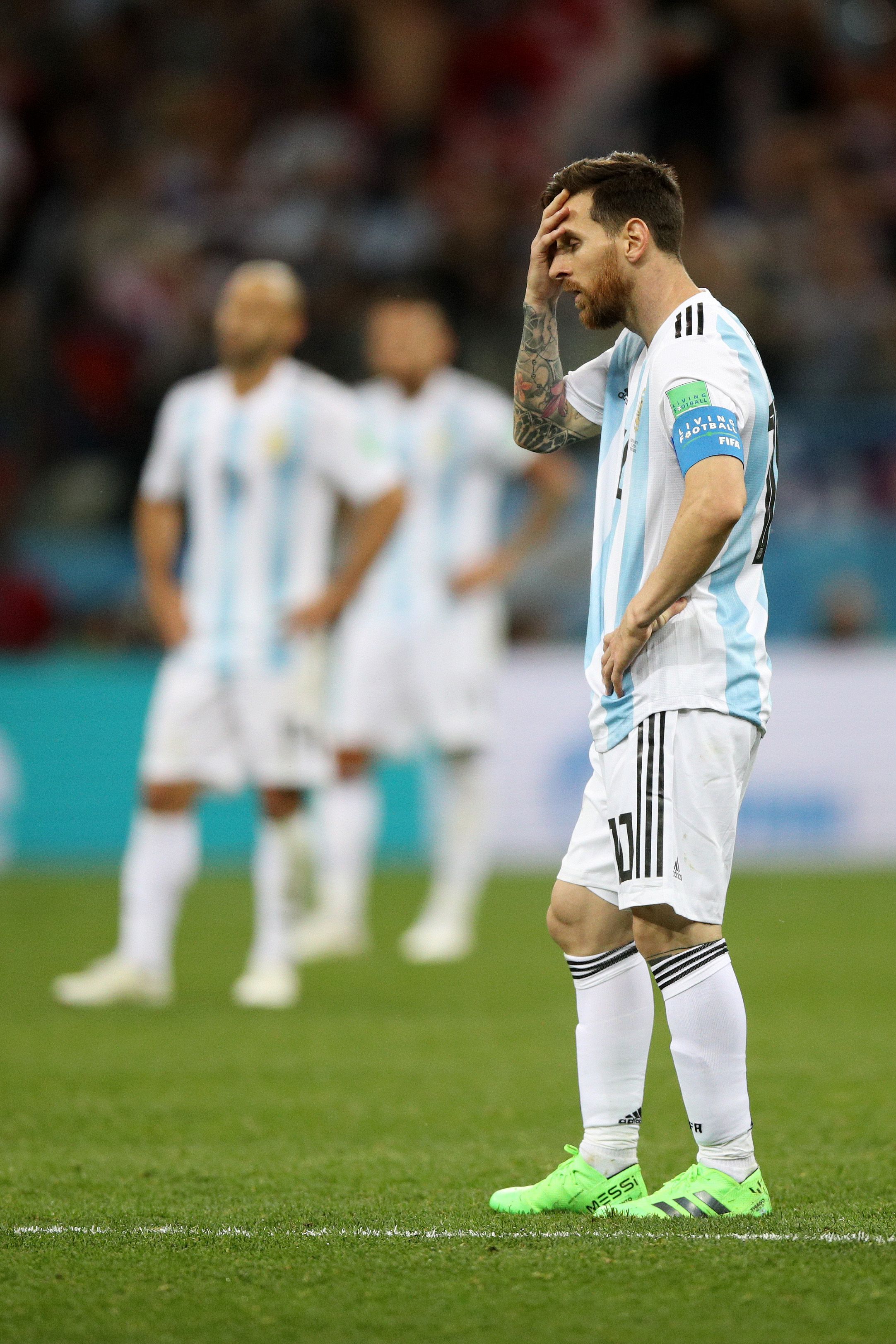 "Salah, Neymar, Messi, messy, messy: World Cup stars stifled" — AP's Mauricio Savarese in Saransk, Russia:
"With nagging injuries, heavy marking from opponents and some simply uninspired play, the top stars of the 2018 World Cup have struggled to deliver on the impossible expectations they carried into the tournament, with one prominent Portuguese exception."
"Aside from Cristiano Ronaldo, who has all four of Portugal's goals in its two games, many of the biggest names are off to a shaky start."
"No one has had rougher treatment from the opposition than the world's priciest player, Neymar. During Brazil's opening 1-1 draw with Switzerland, the 26-year-old was fouled 10 times, the highest number on a single player in a single match since the 1998 World Cup, when England's Alan Shearer took 11 challenges against Tunisia."