How D.C. restaurants are faring one year after Initiative 82 passed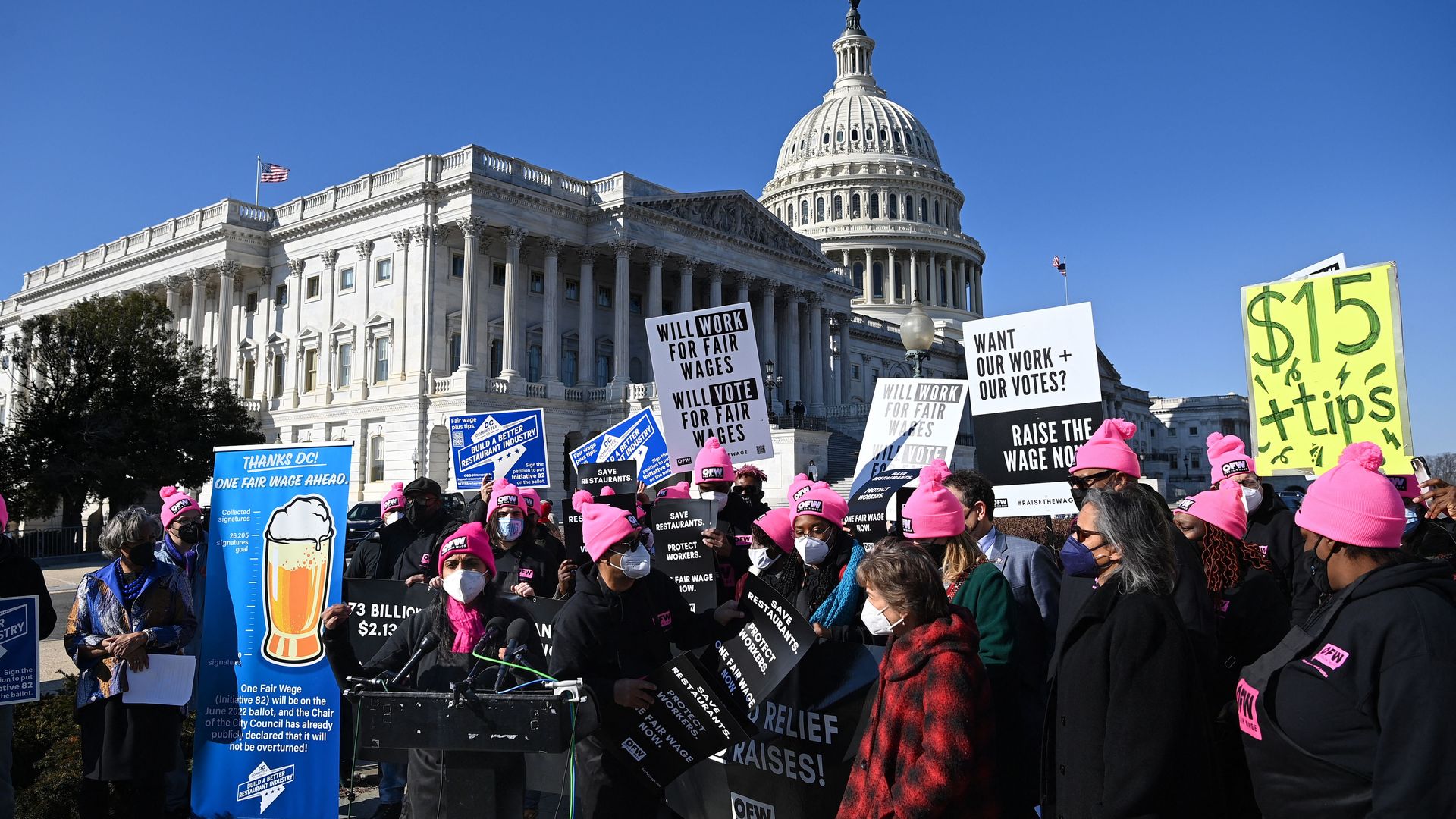 In the year since D.C. voters passed Initiative 82, some have argued it's a disaster, others call it a big win for workers, and there's a lot of unknown in between.
Why it matters: The growing pains for both D.C. restaurants and patrons are far from over.
Driving the news: The Restaurant Association of Metropolitan Washington (RAMW) released a report last week outlining recent industry struggles, including those related to I-82, which gradually raises the base pay for tipped workers to be in line with D.C.'s minimum wage by 2027.
The association, which initially opposed the ballot initiative, polled close to 300 D.C.-area restaurants — nearly all independent businesses and largely casual, full-service restaurants. It details:
More than a third of restaurants experienced a significant drop in sales and traffic over the summer and early fall, often between 30-40%.
Nearly all of the restaurants have increased prices, but inflation and costs are outpacing those increases.
Three-quarters of the restaurants are less profitable than in pre-pandemic years, down an average of 34%.
Between the lines: Diner's habits are also changing, according to a National Restaurant Association poll of over 940 D.C.-area adults.
More than half say they're eating out less due to increased prices, and more than a quarter are choosing restaurants in Virginia and Maryland over D.C. due to prices.
What they're saying: RAMW president Shawn Townsend tells Axios that I-82 isn't the only factor, "but it's definitely up there."
"Restaurants are still hurting …. We need help, period."
The intrigue: The association is backing a restaurant relief package coming before the council soon that proposes speeding up I-82's timeline by two years — a Band-Aid-ripping measure to get businesses on the same track, faster.
The other side: One Fair Wage (OFW), the Massachusetts-based organization that led the charge to end the subminimum wage here (and nationally), says it's too early to analyze I-82's full impact since the law didn't take effect until six months ago. But their research shows raising restaurant workers' wages doesn't reduce jobs.
Their report details how restaurant jobs have increased by 6.8% since July 2022, per Department of Labor statistics, though that also includes 10 months of data before I-82 was implemented.
Zoom in: Busboys and Poets restaurateur Andy Shallal has long advocated for higher worker wages. He tells Axios tips haven't declined since I-82, which he adamantly supports, and he hasn't raised prices. But Busboys is feeling the same operating challenges as everyone else.
"People ask, 'Why am I paying this much for a burger?' It's like okay, you helped pass this law, you have to know there are consequences involved. Nothing comes free."
At Roofers Union, which is closing in Adams Morgan after a decade, general manager David Delaplaine tells Axios the decision "was significantly impacted by labor costs — plus the costs of goods, and neighborhood revenue is down."
"I think there are a lot of people hanging on by a thread."
Meanwhile, more operators are headed out of town. Silver Diner's chief people officer Chris Shand tells Axios the local mini-chain "is actively not pursuing other locations in D.C. or Montgomery County."
The restaurant group reports that sales are down by 20% in D.C. for early fall and labor costs are up 30%.
Shand says tips are down, too, by around $23,000.
Reality check: Over 40 D.C. restaurants have closed since the start of the year. But there are also a bunch of restaurant openings, too, in all sizes and levels of ambition.
"At the end of the day, D.C. is still D.C. It's the coolest kid at the dance," Gravitas chef Matt Baker tells Axios. "And you know how fickle people are about crossing the bridge."
What we're watching: Shallal, like a lot of restaurateurs, says tech like QR code menus helps mitigate labor costs because it cuts down on worker hours. Others see it as the future with I-82.
"We're evaluating new ways to operate our restaurants," Baker says. "Unfortunately you see people trying to find models that don't involve tipped employees."
One thing everyone agrees on: I-82 is here to stay, as are similar wage battles across the country.
"Stop fighting it," says Shallal. "It'll be challenging to change and some places will fail, but people are reinventing the industry."
More Washington D.C. stories
No stories could be found
Get a free daily digest of the most important news in your backyard with Axios Washington D.C..