The real plan for building a Georgetown Metro stop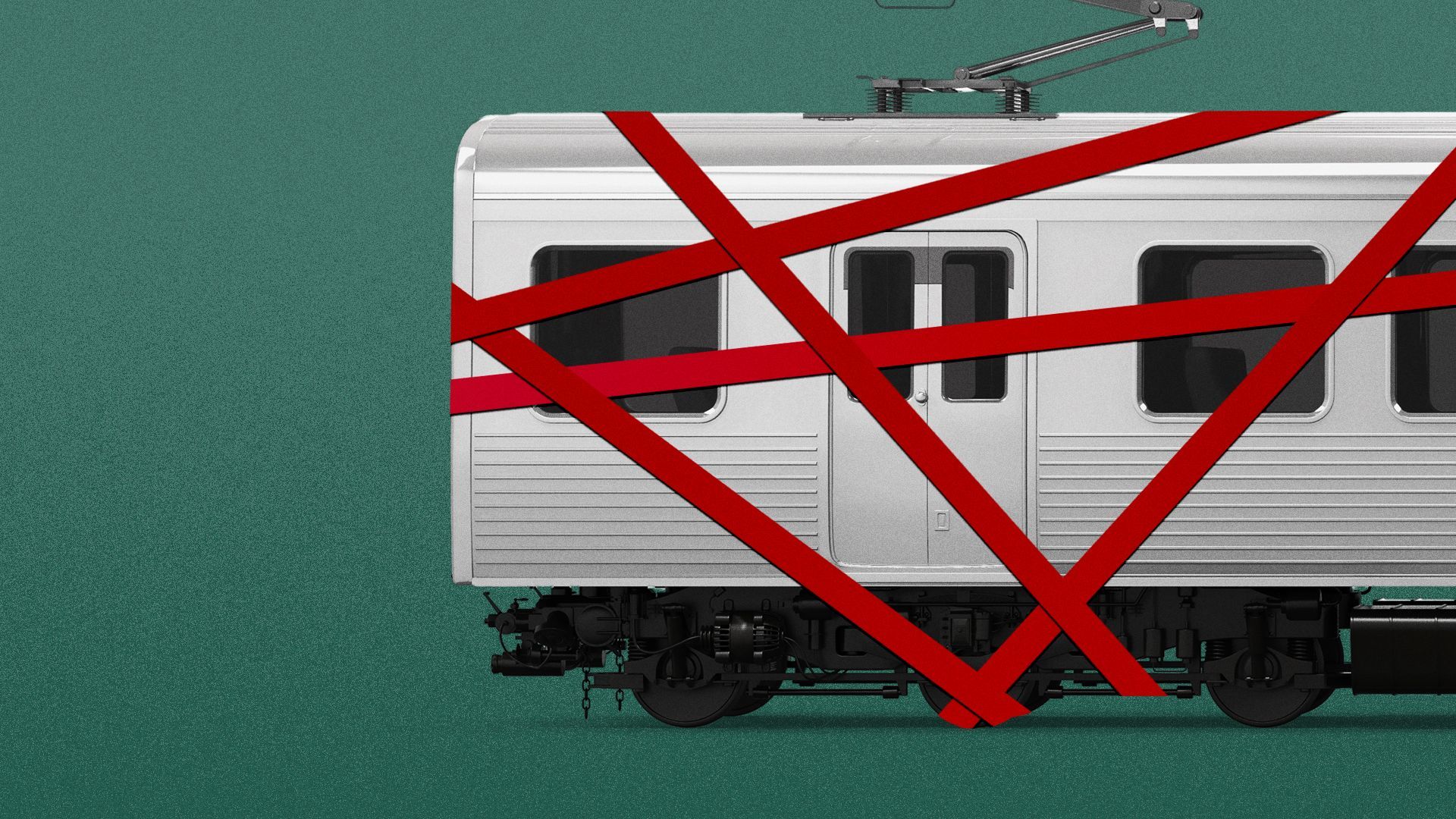 It's an age-old transit fantasy, but with neighborhood bigwigs in support and four concept plans drawn, how real is the idea of a Georgetown Metro stop today?
"It's totally real," says Joe Sternlieb, who runs the business improvement district. "The question is, is it 20 years away? 30 years away? 40 years?"
The big picture: Washington's growth is pressing. And so Metro needs a new Potomac crossing to meet the demands of booming Northern Virginia. It would bypass what's known as the Rosslyn tunnel bottleneck, where only 26 Blue, Yellow, or Silver lines trains can pass in an hour.
A second, new tunnel could go through Georgetown.
An Alexandria resident could board a Blue Line train running through Georgetown straight downtown or to Union Station, which would be a regional mega-station. Another alternative runs the Silver Line through Georgetown, boosting Dulles Airport.
Where? Station spots thrown around by people I spoke with include the foot of Key Bridge at a former gas station or the parking lot that wraps PNC Bank on Wisconsin and M.
In Kevin Costner's 1987 thriller "No Way Out," the old Georgetown Mall housed a station.
Reality check: Three problems stand in the way.
The biggest problem is money. The Blue Line or Silver Line expansions are estimated to cost between $25 billion and $40 billion. Enough said.
The second problem is NIMBYism.
First, some myth-busting: There's a 50-plus-year-old tale that Georgetowners prevented a Metro stop because they didn't want outsiders. "The myth is a myth," says Jack Evans, the area's former council member who used to chair the Metro board. "It was more of the fear of buildings falling down and secondly whether there was enough ridership to merit it."
Advanced tunneling these days wouldn't touch the rowhouses anyway. For example, D.C. will soon dig a sewer tunnel of a similar diameter to one Metro track along the Potomac River, with "very little impact at the ground surface," says DC Water spokesperson John Lisle.
But I wouldn't underestimate the potential for Georgetown dysfunction. Consider that it took the Four Seasons thirteen trips around the sun to turn a vacant heating plant into condos.
"Metro would be that, compounded many, many times over," says Carol Joynt, who once owned the old Nathans saloon in the heart of Georgetown.
Some problems are 460 million years old.
A Georgetown dig would need to blast through a "colossal pillar of solid granite" conceived during the formation of the supercontinent Pangaea, as the geologist J.M. Christoph laid out in a recent Greater Greater Washington piece.
As it happens, that hard rock basically starts west of 26th Street NW, posing a uniquely Georgetown problem.
The bottom line: The upside is tremendous. The Blue Line loop concept would add 16 stations and $154 million in annual revenue, according to Metro's projections.
"I want to believe America is not past its ability to do big things," Sternlieb says.
💭 Another upside: Granite countertops, locally sourced from the prehistoric rock under Georgetown? Town Talker is a weekly column on local politics and power. Send me good gossip: [email protected].
More Washington D.C. stories
No stories could be found
Get a free daily digest of the most important news in your backyard with Axios Washington D.C..