Congress takes on fight over long flights out of Reagan Airport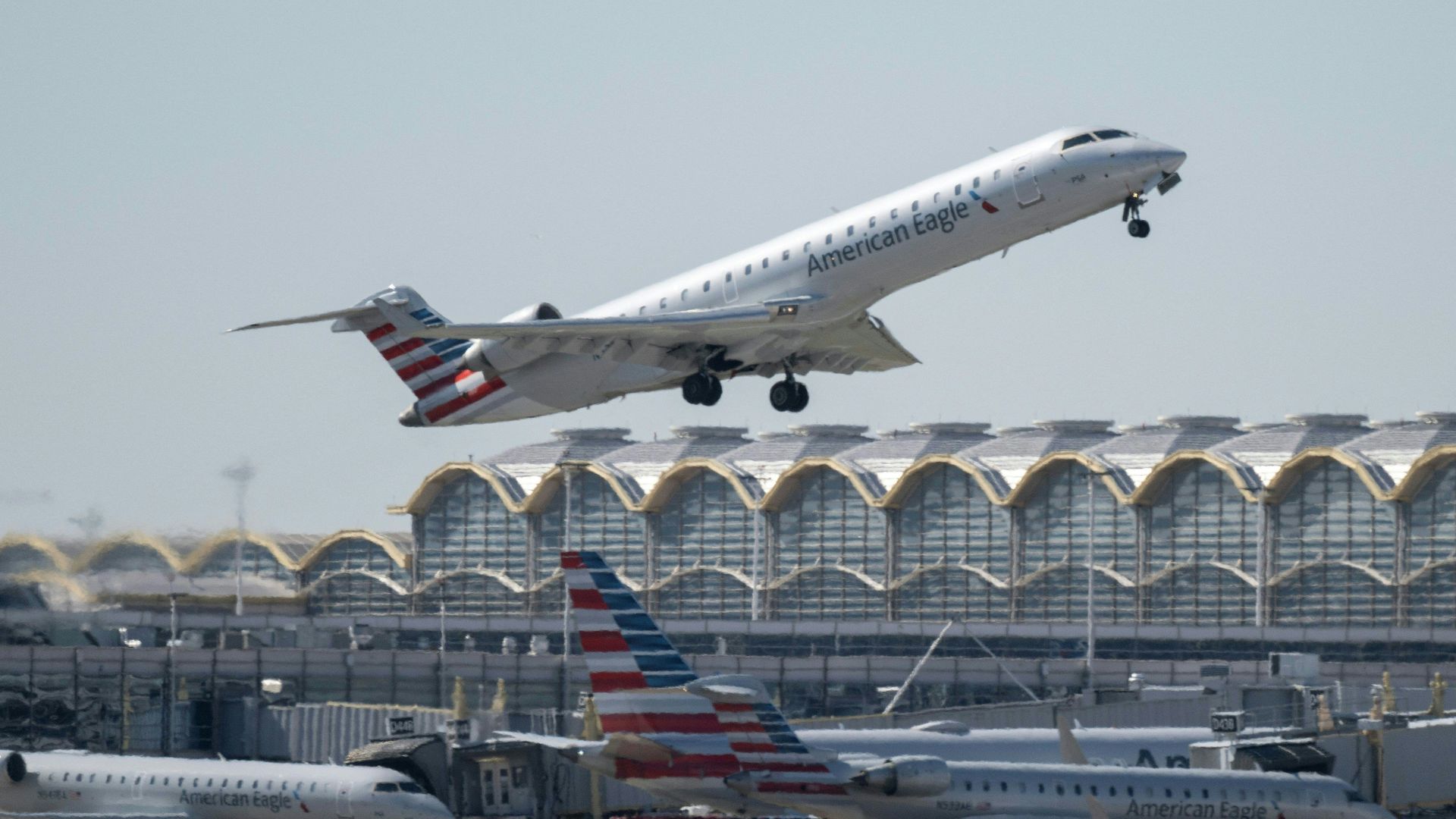 Washington-area lawmakers are on a collision course with representatives from Texas and out West over the reach of Reagan National Airport.
What's happening: Politicians in the DMV are virtually united against a new lobbying blitz from Delta and other groups who want to relax National's "perimeter rule," which keeps most non-stop flights within 1,250 miles of the airport.
The other side: The Texans — led by Republican Rep. Chip Roy — want a nonstop flight from San Antonio to National, arguing the perimeter rule is hurting their tourism and economies. Their push is bipartisan and includes Democrat Joaquín Castro.
And Utahns want more flights, too, says Rep. Blake Moore.
Delegations in California and neighboring states haven't stuck out their necks yet in this brewing fight — but it stands to reason they might join in on the side of wanting more flights to their far-flung locales.
Caught in the middle: Washingtonians who just want a pain-free travel experience.
Between the lines: There's a bit of protectionism going on from area lawmakers.
Virginia lawmakers want Dulles Airport to thrive economically to continue juicing the growth of a corridor that's heavy with tech and defense companies.
Sens. Tim Kaine and Mark Warner have shepherded federal dollars to grow Dulles as a long-haul flight destination, backing the Silver Line extension and $50 million for a new terminal.
And they're looking out for constituents who abhor airplane noise on both sides of the Potomac River.
The intrigue: The fight will play out as legislation to authorize the FAA moves through Congress this summer. Kaine's office tells me he's lobbying members directly to forestall any changes being proposed at National; he'll have to twist some Democratic arms, too.
What they're saying: "Unlike DCA, IAD can host a growing air travel industry for years to come," wrote Kaine and Warner, along with Maryland Sens. Ben Cardin and Chris Van Hollen, in a letter to the Senate Commerce committee.
Aren't there locals who might appreciate more long-haul flights out of Reagan National?
The area has a love-hate relationship with its three airports. Dulles is too far for many, and you can forget about BWI.
DCA is the hometown favorite, even though many in blue D.C. wouldn't be caught dead calling it "Reagan."
What they're saying: "A lot of Washingtonians consider National Airport more convenient than Dulles, so you might find a lot of people who would support that," admits Palisades resident Ken Buckley, whose neighborhood is under heavily trafficked airspace, where noise has gotten more concentrated since a new flight path took effort in 2015.
"My reaction was, of course, more planes, more noise."
What's new: The coalition called Capital Access Alliance last week began its lobbying against the perimeter rule, commissioning a study by the Boston Consulting Group.
Given that National Airport already allows 20 roundtrip flights exempted from the distance rule — going to destinations such as LA and Portland, the study calls for 20 to 25 more exemptions.
Arguing National can be expanded without extra noise pollution, the study concluded the rule is "antiquated."
Buckley, a retired federal statistician who sits on a regional group to battle airplane noise, has a different word for the study's findings: "bogus."
What's next: I'll be watching to see whether tech companies (hello, Amazon) and businesses literally steps from National wade into the debate.
By 2028, it is envisioned that a pedestrian bridge will let travelers walk to the airport from Crystal City.
Tracy Sayegh Gabriel, the head of the National Landing Business Improvement District, told me yesterday at a reception for the neighborhood's future that she hasn't polled her members yet on the long-haul flights topic, but noted, "The airport is a major anchor."
💬 Town Talker is a weekly column on local politics and power. Tell me about the talk of the town: [email protected]
More Washington D.C. stories
No stories could be found
Get a free daily digest of the most important news in your backyard with Axios Washington D.C..