A push for more long haul flights from Reagan National Airport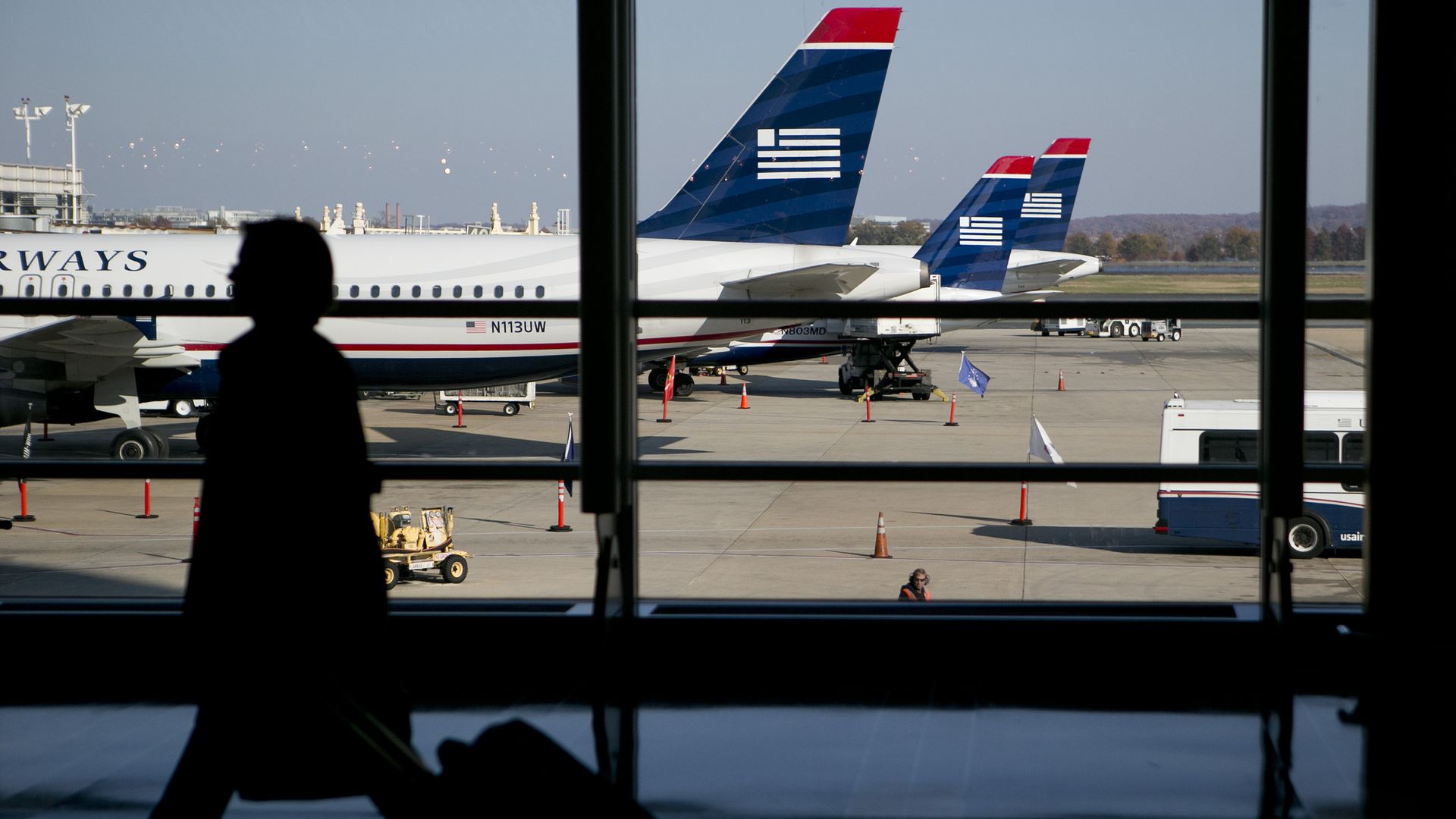 Reagan National Airport has few nonstop flights to the West Coast due to federal limits. Now, Delta Air Lines is part of a new coalition lobbying to allow airlines to make farther nonstop trips.
Why it matters: The flight limit has long led Washingtonians to seek out Dulles International and BWI for long-haul flights, and changes to the rule have been politically controversial.
Context: The "perimeter rule" was first established in 1966 to boost the viability of Dulles and reduce congestion at the much-smaller National and jet noise over dense neighborhoods.
The limit has been gradually relaxed to allow non-stop service within 1,250 miles — as far west as Kansas.
Congress has overridden the limit, often to establish flights to members' home districts.
There are now 20 exempted roundtrip flights daily going to destinations such as Los Angeles and Denver. Late Arizona Sen. John McCain won the first exemption for Phoenix.
Driving the news: The new coalition called the Capital Access Alliance includes business groups from California and Texas. It released a study from the Boston Consulting Group which called the National Airport rule "antiquated" and argued it drives up airfare costs.
The study calls for 20 to 25 more exemptions to the perimeter. Authors say they believe it can be done without increasing noise pollution, a long struggle in neighborhoods near the Potomac River.
Yes, but: Expanding the reach of National can hurt Dulles.
In 2014, Dulles was suffering financially as more passengers and airlines fled to National, according to David Mould, a spokesperson for the Metropolitan Washington Airports Authority, which manages both federally owned airports.
Dulles has recovered since then, after the authority worked on rightsizing the imbalance. And the Washington region's congressional delegation successfully fought back attempts to allow more long-hauls at National, Mould told Axios.
By the numbers: National Airport has a takeoff and landing virtually every minute of the day, serving close to 24 million passengers a year.
"The place is bursting at the seams," Mould said.
The number of passengers grows as airlines fit more people into larger aircraft. But there's a limit to that approach, as National's runways aren't long enough for most big planes used on long-haul and international flights.
What's next: The issue could heat up in Congress as FAA reauthorization legislation moves through this year, a chance for tweaks to the perimeter.
More Washington D.C. stories
No stories could be found
Get a free daily digest of the most important news in your backyard with Axios Washington D.C..