There's angst over D.C. crime in the sports capital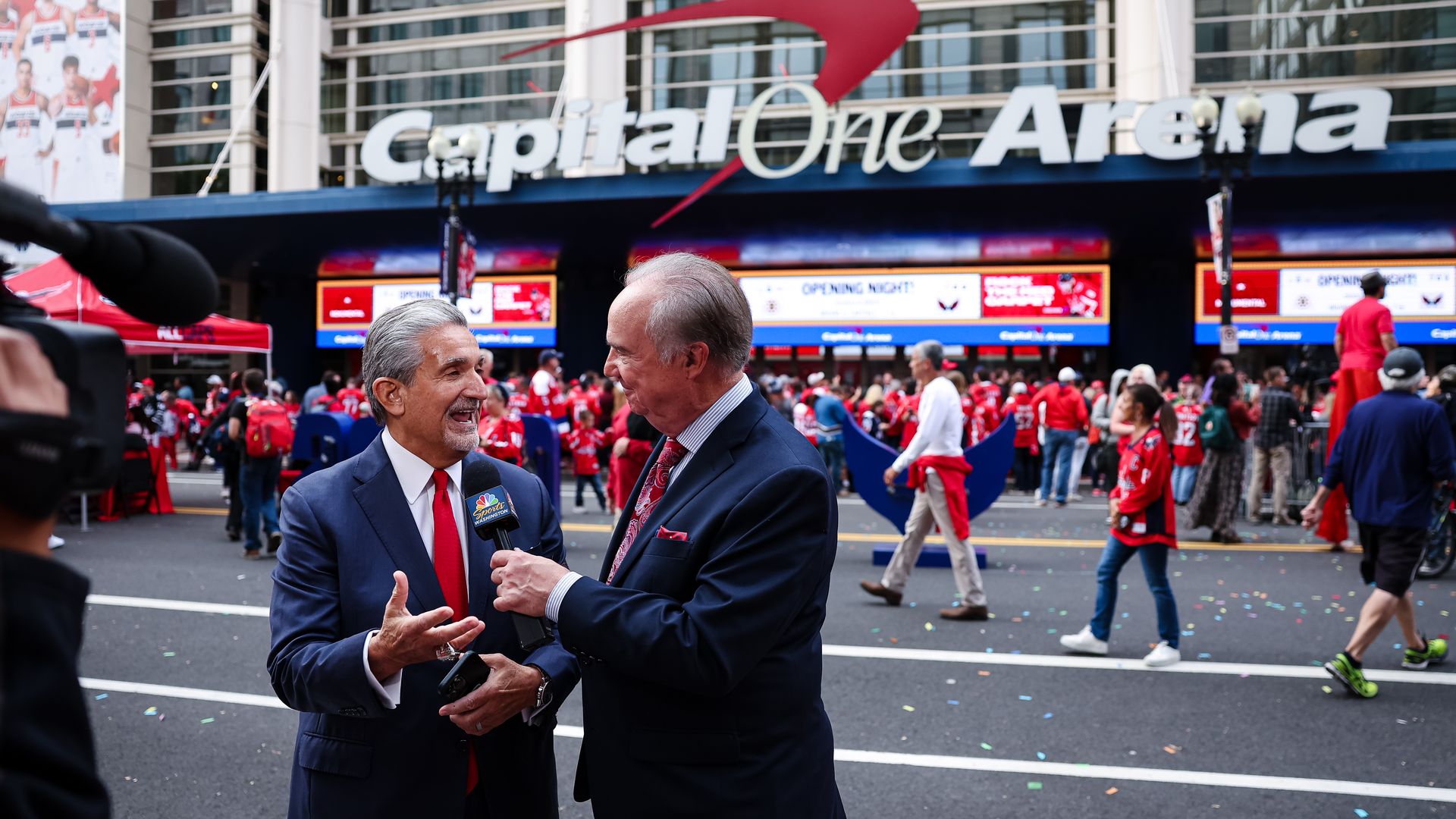 Inside Washington's pro sports world, there's angst over crime. It's leading Capital One Arena's owners to beef up security, and businesses around Nationals Park to hire new patrol officers.
Why it matters: The District's sports arenas are magnets for tens of thousands of Washingtonians and suburbanites, especially when there's little other reason to be downtown — even if the Wiz are floundering and star players flee the Nats.
What I'm hearing: Ted Leonsis, who is in charge of the Monumental Sports & Entertainment group that owns the Wizards and Capitals, has expressed displeasure with the safety and quality of life surrounding Capital One Arena, according to an insider who spoke to him about it late last year and requested anonymity to describe a private conversation.
Police data shows there were 80 more incidents of overall crime within 1,000 feet of Capital One Arena over the past two years compared with 2019 to 2021. That includes more robberies and crimes with a gun. Last November, a double shooting occurred after a concert.
Be smart: Before panicking, it's good to note that crime in D.C. is down overall. But businesses are increasingly worried that clusters of violence, and a public perception of disorder, are damaging Washington's recovery.
Monumental Sports is investing in 20% more off-duty D.C. police officers around the arena this season, spokesperson told Axios.
They're also building a new security operations center at the arena, have gotten approval from the city for traffic barriers on F Street and hired more security directors.
Behind the scenes: Monumental's representatives earlier this month met with council members and the Downtown D.C. Business Improvement District, a group funded by a levy on local businesses.
The area's council member, Brooke Pinto, says she's been "working for many months" to "improve the situation around the arena," including ensuring a "robust police presence" and social services.
Gerren Price, the head of the Downtown BID, says he's aware of Monumental's concerns and wants a "path to reimagining what the city's downtown can be, including safe, welcoming, and well-managed public spaces."
Between the lines: Leonsis and Monumental haven't gone public with their concerns.
As one person outside the worlds of sports and government put it to me, a real estate agent wouldn't complain about crime surrounding their home listing.
Monumental also wouldn't want to bite the hand that feeds it, lest it poison ties with Mayor Muriel Bowser. (At Bowser's budget unveiling on Wednesday, Council member Kenyan McDuffie channeled the concerns of the biz community when he prodded Bowser to address crime downtown. The mayor noted she needs to balance police resources across the city, including in areas seeing a spike in murders, and called on the BIDs to step up.)
Down around Nationals Park, crime has dropped. But a high-profile targeted killing outside the stadium led to a "heated discussion" in November between merchants and community leaders at Silver Diner, said the restaurant chain's founder, Bob Giaimo.
A ringleader of sorts, Giaimo worked with landlords, shopowners and the Capitol Riverfront BID to collect $275,000 to hire off-duty Metropolitan Police Department officers to patrol N and Half streets SE.
The officers began posting about a month ago. Walkie-talkies were given to shopkeepers and building concierges to directly reach the cops. "They become embedded in the community," says Michael Stevens, head of the BID.
"I would say to Leonsis, look at what we're doing," says Giaimo, calling it a model for community policing. "He can do it, too."
💬 Nats Park opening day is next Thursday. Town Talker is a weekly column on local politics. Drop me a line about what your friends are chatting about: [email protected]
Editor's note: This story has been clarified to show that Monumental is paying for a 20% increase in off-duty D.C. officers this season.
More Washington D.C. stories
No stories could be found
Get a free daily digest of the most important news in your backyard with Axios Washington D.C..