Candidates debate in hot Ward 5 D.C. Council race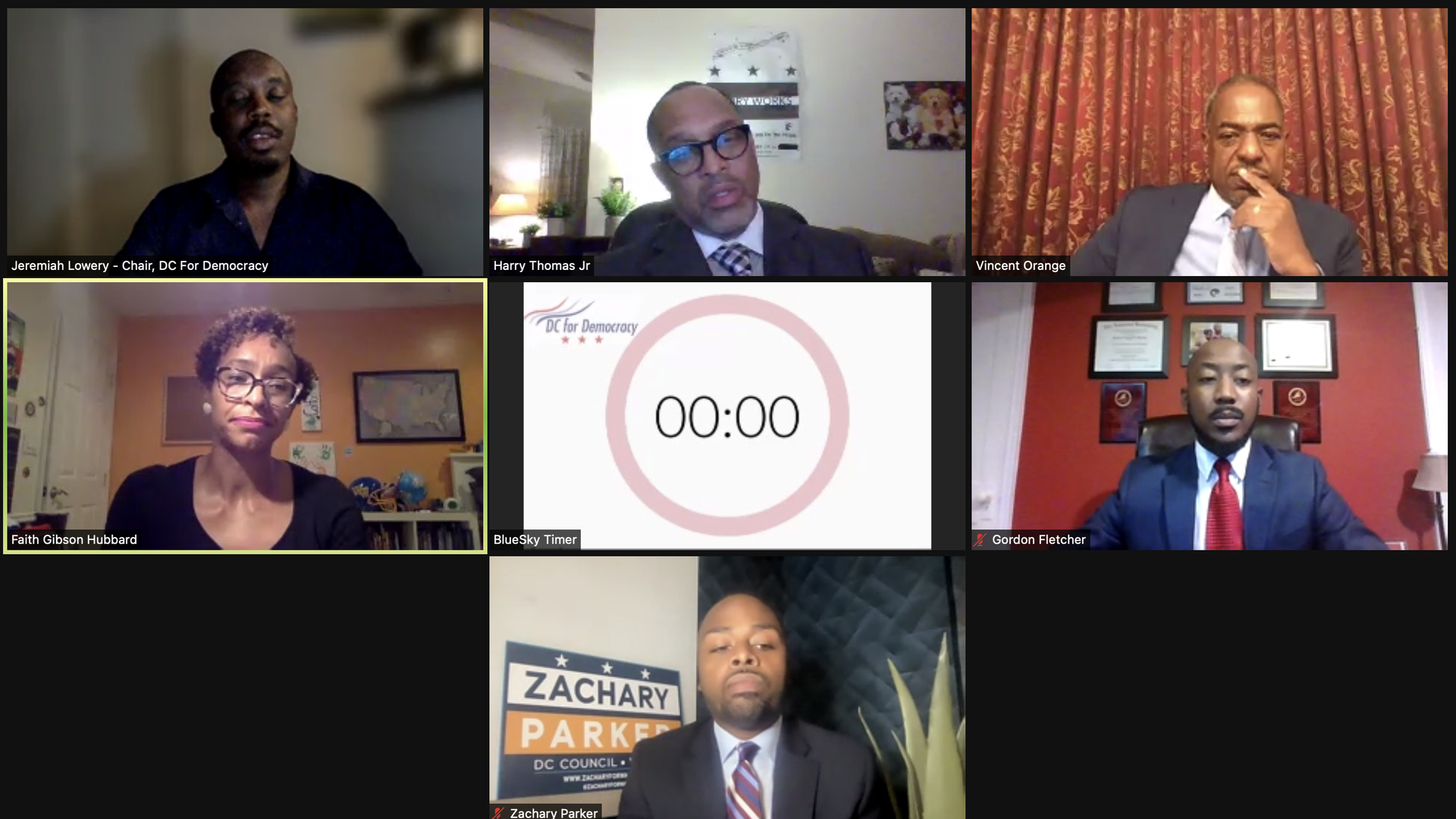 The first debate of D.C.'s 2022 campaign season featured two former council members seeking a return to public office in Ward 5.
Why it matters: Rapidly growing Ward 5 is home to many of the city's debates over inequality and violence — and there's now an uber competitive contest for council member after the incumbent decided to run for attorney general.
Seeking his old seat, Harry Thomas Jr. returned to the political stage — albeit on Zoom — nine years after he went to prison for stealing $350,000 in public funds meant for children's programs.
A chatty presence on the night, Thomas declared himself a "shining example of restorative justice," and didn't receive any questions about his past.
He joined the four other candidates bemoaning the city's wealth disparity and said with the city's "economic resurgence we're leaving people behind."
Another former council member, Vincent Orange, is also seeking the seat, alongside recent former D.C. government official Faith Gibson Hubbard, advisory neighborhood commissioner Gordon Fletcher, and Education Board president Zachary Parker.
Known as a moderate among Democrats, Orange was the only candidate to push back against a D.C. Council bill that would give residents $100 on a SmarTrip every month. He said the funds should instead go toward child care.
To address the spike in gun violence, candidates urged more resources toward violence interruption and social services over simply increasing police funding.
"What we're seeing in this city is the result of the years of defunding our communities," said Parker. He called for more dollars toward mental health resources and schools in poorer neighborhoods to address "the root causes of why a young person or anybody would pick up a gun."
Hubbard said a sweeping bill that aimed to bring a public health focus to crime prevention known as the NEAR Act should be fully funded. It was authored by the sitting Ward 5 Council member Kenyan McDuffie.
Fletcher supports reviving "Orange Hat" patrols, groups of citizens working with officers to walk through their communities in search of suspicious activity.
All candidates showed a willingness to consider some tweaks to mayoral control of schools.
Parker and Fletcher took the strongest stands, supporting a more independent State Board of Education to shape school budgets and curriculums.
Others supported more oversight and varying degrees of independence for education officials.
Hubbard said she wanted to "reexamine mayoral control as a whole" but didn't back a current bill that would take the Office of the State Superintendent of Education out from under the mayor's control.
Strikingly, all candidates said they would renounce an endorsement from pro-charter school organization Democrats for Education Reform, which in the past has spent heavily on mailers, some of which have been controversial.
Between the lines: All five candidates are participating in public financing for their campaigns, which has gained popularity after decades of big-money donations to politicians drawing scrutiny. The program gives a 5 to 1 match to small dollar contributions with taxpayer funds.
The forum was organized by left-leaning political group D.C. for Democracy. The Democratic primary, historically the decider of the eventual winner in deep-blue D.C., will be held June 21, 2022.
More Washington D.C. stories
No stories could be found
Get a free daily digest of the most important news in your backyard with Axios Washington D.C..