Updated Oct 21, 2021 -

News
Council member McDuffie runs for D.C. attorney general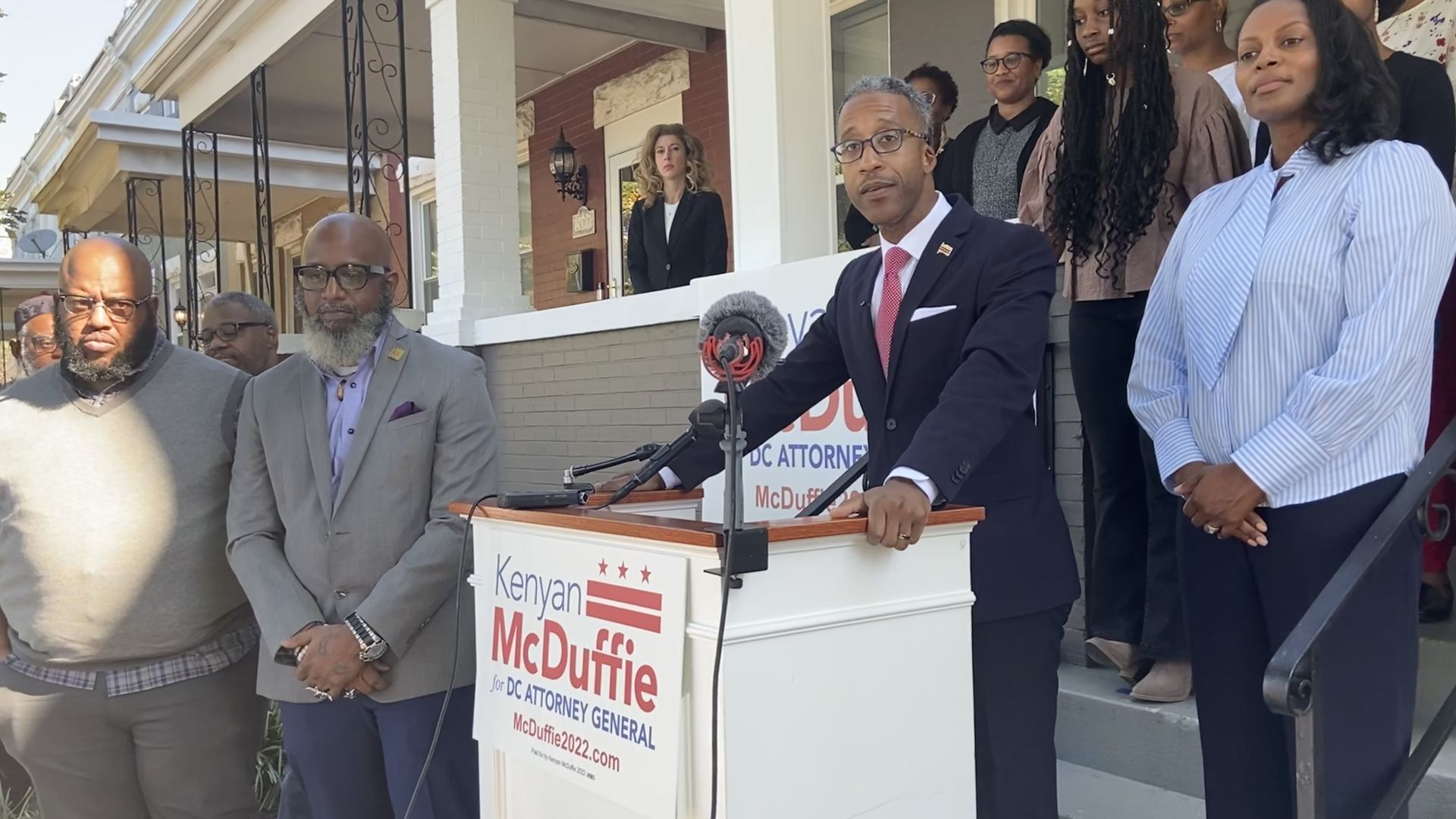 D.C. Council member Kenyan McDuffie launched his campaign to become the District's attorney general on Thursday morning.
Why it matters: A wide-open contest is expected to ensue for the seat, since incumbent Karl Racine declined to seek a third term, after elevating the profile of the office as D.C.'s first elected attorney general who took on Donald Trump and Big Tech.
McDuffie said he would build on Racine's work if elected to the position, praising him as a "tireless advocate for us and a thorn in the side of all those who violate our laws."
Surrounded by family, he said on his front porch that he would go further on protections for consumers and the environment and continue lawsuits against big corporations.
"Too many people and businesses cheat the system at the expense of our most vulnerable residents," he told reporters.
On the council, McDuffie has championed criminal justice reform and most recently shepherded a bill to give low-income families "baby bonds" as an investment in future young Washingtonians.
He authored a sweeping bill that aimed to bring a public health focus to crime prevention. Known as the NEAR Act, council members approved it in 2016, but its funding remained a source of friction between lawmakers and Mayor Muriel Bowser, who has implemented more provisions in recent years.
He chaired the Judiciary Committee before his current role leading the Business and Economic Development Committee, overseeing a wide portfolio that touches on tourism, businesses and tax policy.
Before being elected to the council in 2012, he served as a trial attorney in the U.S. Department of Justice and was assistant state's attorney general in Prince George's County, Maryland.
Due to the District's unique status, federal prosecutors handle adult crimes, while the local attorney general prosecutes the majority of juvenile cases.
Since 2015, Racine built out a formidable law office that has run a controversial landlord out of the city, sued companies such as Amazon and investigated Trump's business dealings.
Between the lines: McDuffie is giving up his Ward 5 seat to run for attorney general, resulting in an open race to fill his current seat for the second fastest-growing ward in the city.
McDuffie said he will use public financing for his campaign, which matches small donations with public funds.
McDuffie drew scrutiny in 2019 when he was a crucial vote in favor of awarding a $215 million no-bid contract for a lottery operator.
The Washington Post had reported a document that identified McDuffie's cousin as a chief executive of a company that would net $3 million from the deal, although the company denied the cousin's involvement, and McDuffie said he had no knowledge of the link and that it did not influence his decision.
McDuffie defended his vote by saying it was in the best interests of the city, which at the time was aiming to quickly establish a sports gambling operation, with some of its expected revenue reserved to fund social programs.
What's next: More candidates may enter the race.
Another attorney, Ryan Jones, filed earlier this year to run for the position. His platform includes a focus on consumer protection, promoting equity and reforming the city's judicial system.
Editor's note: This piece was updated with comments from McDuffie at his Oct. 21 press conference.
More Washington D.C. stories
No stories could be found
Get a free daily digest of the most important news in your backyard with Axios Washington D.C..