D.C. Council questions encampment pilot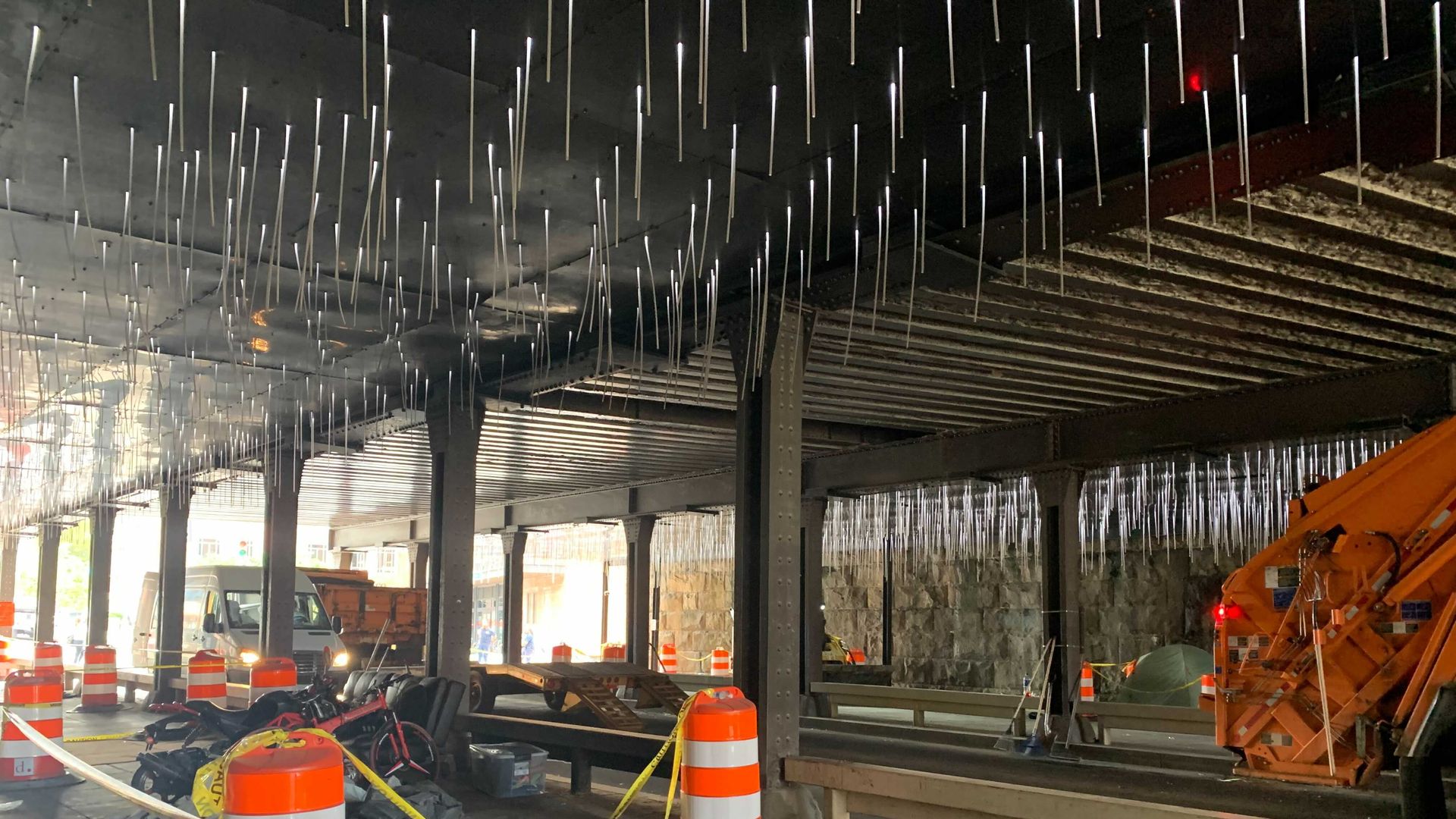 Jamal Thomas, who says he's experienced homelessness for several years, had to leave the NoMa encampment when it was cleared — and will have to leave yet another encampment in Truxton Circle if a planned permanent clearing happens on Nov. 18.
Driving the news: For several hours at a D.C. Council hearing Tuesday, housing advocates, unhoused residents, and some council members pressed Deputy Mayor of Health and Human Services Wayne Turnage on why an encampment pilot that is housing some people experiencing homelessness is subsequently clearing those encampments — and whether people will be permanently housed at the end of the pilot.
Advocates have expressed support for housing people, but say the city is clearing encampments too quickly and some people are not being housed in time, forcing them elsewhere.
Turnage defended the pilot, repeatedly rejecting language that the city is evicting people from encampments. However, some council members pushed back, noting that some unhoused people testified to being pushed to other encampments by clearings, and concrete barriers had been placed at two cleared encampments in NoMa to prevent people from returning.
"If our goal is to offer housing, why evict them in order to house them?" At-Large council member Robert White asked Turnage.
On Tuesday, Turnage said 88% of people offered housing in the first two encampments in NoMa were housed or in the process of housing, which he called a success.
At-Large council member Elissa Silverman noted they are temporary, 12-month leases and while Turnage said most people are eligible for permanent supportive housing, he did not say whether people will receive permanent housing.
By the numbers: According to Turnage, the number of encampments during the pandemic has grown from 96 to 134.
In two encampments in NoMa cleared last month, 45 were offered housing and 29 have since moved into housing. Eleven others are in PEP-V, or hotel rooms offered during COVID-19 awaiting houses or leases. One person rejected housing and four left the encampment.
15 NoMa residents were not on the housing list, Turnage said. 11 of those left the encampment, one rejected an offer for housing and four are in PEP-V awaiting housing.
The total cost of the pilot is $3 million to $4 million, DMHHS says, but Turnage could not say exactly where the money was coming from or how much clearings specifically cost.
At the NoMa encampment clearing in October, an unhoused man was hospitalized when a small piece of heavy machinery operated by the city lifted him while he was in a tent.
Turnage said the man was not seriously injured and is now in an apartment, "but that part of the story is not frequently told."
Two other encampments — with 28 and 33 people identified for housing respectively–are part of the pilot with one, at New Jersey Avenue & O Street, scheduled to be cleared on Nov. 18 but Turnage says the date may change.
What they're saying: Thomas, who called into the hearing from the New Jersey Avenue & O Street encampment, said he is trying to get identification documentation in hopes of receiving a voucher—but that will take time.
"I would rather stay here than be pushed out and sleep in an alley," he told council members.
Darlene, another encampment resident who called in, told council members through tears that she also doesn't know where else to go.
The bottom line: Turnage says the pilot will be assessed on how successful it was in permanently housing people, but could not say whether all people housed will be placed in permanent housing at the end of the leases—nor would he say why encampments were being cleared.
More Washington D.C. stories
No stories could be found
Get a free daily digest of the most important news in your backyard with Axios Washington D.C..