Updated Oct 4, 2021 -

News
D.C. pauses homeless encampment clearing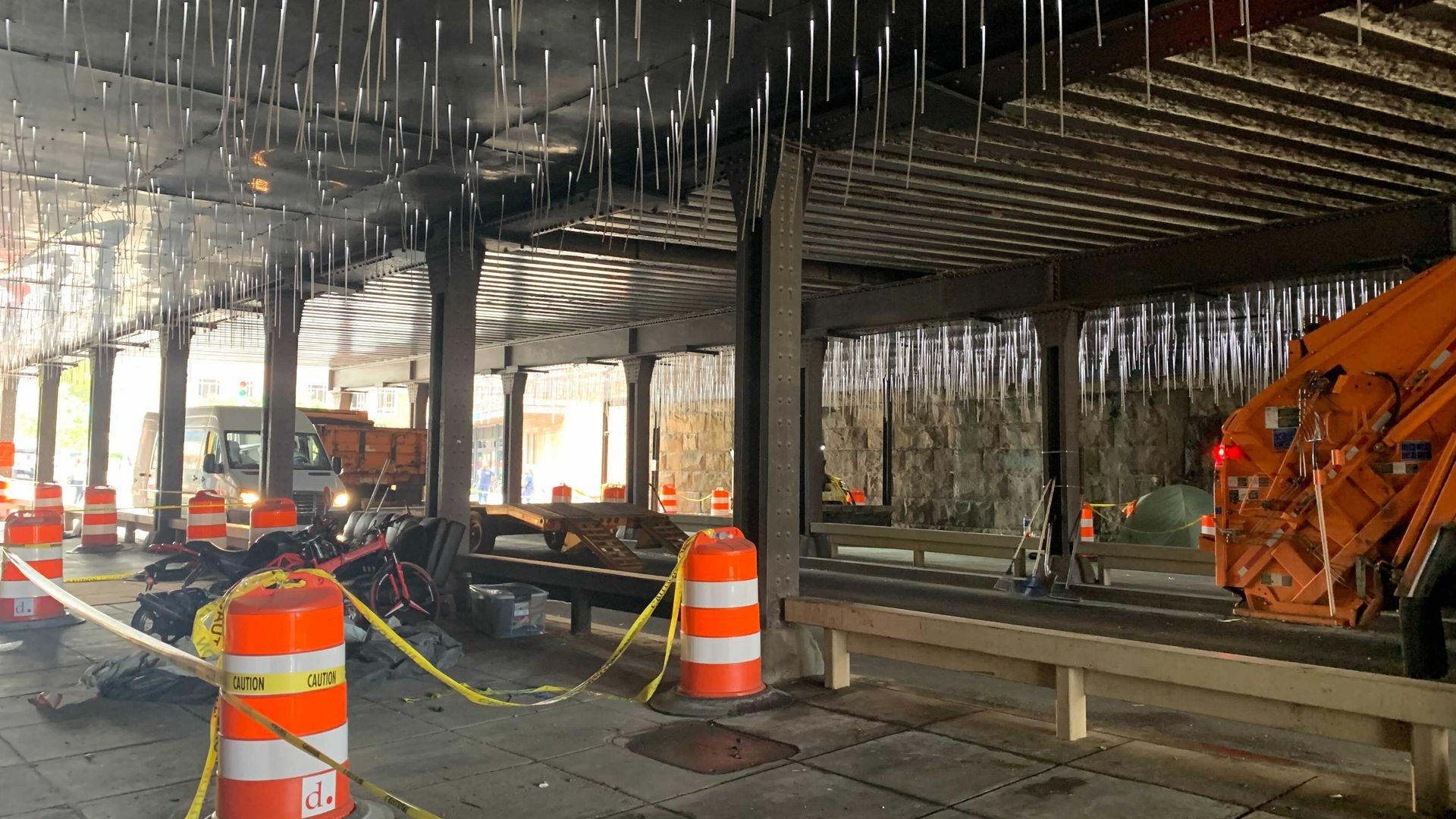 A homeless encampment clearing was paused and the chair of the D.C. Council's committee that oversees housing is asking for a pilot program to be re-evaluated after an unhoused resident was taken for medical care when a bulldozer used by the city lifted him while he was still in a tent.
Ward 1 council member Brianne Nadeau after the incident says she is concerned about the future of a pilot program that will connect some unhoused residents to housing and permanently clear four encampments.
Nadeau wrote on Twitter Monday night that she expressed her concerns directly to Deputy Mayor for Health and Human Services Wayne Turnage and asked him to "immediately revisit the protocols for the pilot."
Turnage said in a statement that "multiple checks" had been done prior to the man being lifted by the bulldozer. Turnage added that the resident had "no visible injuries" but received additional medical attention.
Why it matters: City officials have launched a pilot program aimed at clearing homeless encampments and housing unsheltered residents, but some of those residents say they're still waiting to move into housing or haven't received any information at all.
Driving the news: Two encampment clearings, on L and M Street NE, were underway Monday when a bulldozer picked up a tent someone was still occupying on L Street.
A video by WTOP's Mike Murillo shows people rushing over to a tent in front of a bulldozer and pulling someone out from it.
Witnesses tell Axios that the man, who was conscious, was taken away via ambulance.
City workers left L Street after the incident and the clearing was paused.
Flashback:
The pilot program will offer housing and case management to just over 100 residents of four encampments, Turnage said at a community meeting last month.
Pathways to Housing DC, a non-profit, tells Axios' Chelsea Cirruzzo it has been contracted by the city to offer temporary 12-month leases to roughly 45 people at the L&M street encampments.
Turnage says as of Monday 22 people have received housing leases and an additional eight will move into housing in the coming days.
Pilot participants who are eligible will also be offered PEP-V stays, a program to individually house people experiencing homelessness at risk of severe illness or death if they get COVID-19, Turnage adds.
People experiencing homelessness, housing advocates, and neighborhood leaders have questioned why the program includes the permanent removal of encampments. Nearly 600 people have signed a letter to city officials asking them to reject no-tent zones.
Meanwhile, as a bulldozer crumpled a tent and lifted it into the back of a waiting garbage truck on Monday, some residents of the homeless encampments on L and M Street in NoMa said they weren't moving.
M Street encampment resident Leon Willie, 46, is one of them. He told Axios that he's lived in the encampment for 14 years and is waiting for an apartment inspection before he moves into housing through the program.
Another unsheltered L Street resident who goes by Mama J, tells Axios that while she wants housing, she doesn't feel comfortable accepting housing offered by the city.
Her tent, she says, is "my bathroom, my change clothing room, my wash-up rooms and it's my storage," but she also says she's dealt with rats in her space.
Mutual aid groups and housing advocates, including those from Remora House, HIPS, People for Fairness Coalition, and Ward 6 mutual aid, were on site Monday, speaking with residents and watching the removal.
What they're saying: "We've been trying to come up with plans on our own. The resident says to us, 'I don't want to move,' that's what we're going to do …. We're going to do what the residents ask us to do," says Reginald Black, advocacy director of the People For Fairness Coalition.
He says that unhoused residents needed more options from the city.
What's next: It's not yet clear when the L Street clearing will resume and how many people have been housed as of yet. These were only two of four encampments that will be cleared as part of the program.
DMHHS has acknowledged Axios D.C.'s questions about how many people have been housed and what will happen to tents that were not moved, but did not respond by press time.
As of Monday afternoon, concrete barriers had been placed on the sidewalks just outside of where the M Street encampment had previously been.
Editor's note: This story has been updated to correct that Reginald Black is the advocacy director of the People For Fairness Coalition.
More Washington D.C. stories
No stories could be found
Get a free daily digest of the most important news in your backyard with Axios Washington D.C..