NPS clears homeless encampment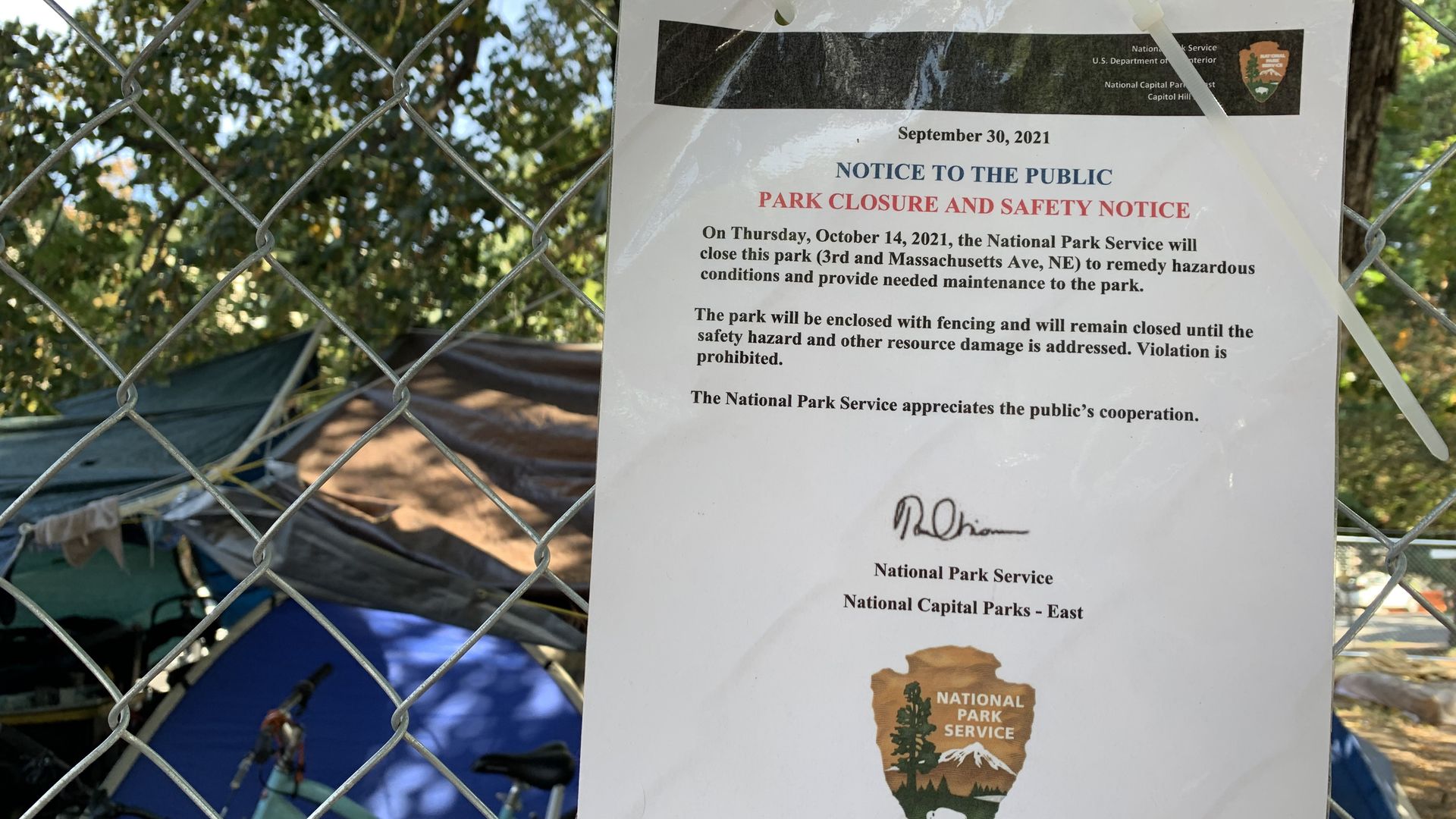 Steps away from a cot tucked under a tarp, David Graves, 42, smoked a cigarette and prepared to leave a homeless encampment near Union Station late last week.
On Friday morning, the National Park Service enclosed the small park with a fence after asking roughly ten people experiencing homelessness, including Graves, to leave.
Why it matters: Homeless encampments have been in the spotlight in recent months as both local and federal entities in D.C. resume clearing them. 
The encampment cleared on Friday was in a small sliver of green space along Massachusetts Ave. and 3rd St. NE, next to a liquor store and across the street from another park that had been fenced in months earlier.
This park is on federal land, which means NPS was in charge of clearing it. 
What they're saying: In a statement, NPS told Axios that it's working closely with the D.C. Office of the Deputy Mayor for Health and Human Services to increase outreach services to unhoused people moving from this location. 
"Once the fences do come down eventually, then people may return," NPS spokesperson Sean McGinty told Axios at the clearing on Friday. "We're not going to enforce the illegal camping that we normally would unless there is some sort of safety or health hazard that presents itself, like there was here."
In its own statement sent Friday night, DMHHS said its outreach team was able to inform residents of the encampment of its clearing ahead of time.
Graves has been in the park for four months and before that, he was in a park across the street — which NPS also fenced-in a few months ago. He told Axios he's been on a housing voucher list for two years. 
He says outreach housing services had been in touch with people in the park, although Graves didn't say whether he'd been connected to housing yet.
Go deeper: As the encampment was cleared on Friday, a U-Haul waited in the liquor store parking lot, rented by encampment residents and mutual aid groups to transport belongings elsewhere. 
Mutual aid groups, including Serve Your City - Ward 6 Mutual Aid, were on site offering packing help and giving out Ziploc bags with socks, masks, and toiletries. 
Graves said he and the others had ideas on where to go; this wasn't his first time being asked to leave an encampment after all, and Graves says he feels angry.
"Our leaders don't know what to do," he said. "They're asking us, 'what do we want to do.' We want to do what's right." 
At-large council member Elissa Silverman, who attended the Friday clearing, said it was likely that encampments would move to a nearby area. "It just moves the problem to somewhere else in the city," she said. "That's not a long-term strategy."
In a text message sent this weekend, Graves tells Axios that he's since moved under a nearby highway. 
Meanwhile, several D.C. council members have written letters to D.C. officials expressing both support and concern for aspects of the city's own pilot program to house some unhoused residents via 12-month leases and clear four encampments.
Last month, the city moved to clear two encampments on L and M streets in NoMa while offering 12-month leases to just over 40 people as part of the pilot.
One clearing was temporarily paused when an unhoused man was hospitalized after a small piece of heavy machinery the city was using lifted him while he was inside of a tent.
Housing advocates and mutual aid groups have launched a letter-writing campaign asking officials to stop clearing encampments until every resident who chooses to participate is in permanent housing.
Last week, eight D.C. council members sent a letter to DMHHS expressing support for expedited housing and targeted case management through the pilot, but asking for updated safety protocols following the man's hospitalization, calling it "wholly unacceptable."
Earlier this month, Silverman wrote her own letter to DMHHS with recommendations which included public roundtable discussions about the pilot's goals — such as pausing encampment clearings while housing needs are being met.
Silverman tells Axios that she met with Deputy Mayor for Health and Human Services Wayne Turnage over her concerns and said he forwarded them to City Administrator Kevin Donahue.
In the meeting, Silverman says she expressed concerns about the 12-month nature of housing for participants in the pilot, asking DMHHS to commit to a more permanent housing solution to avoid revolving people back into homelessness following the end of the lease.
The bottom line: The next encampment clearing is scheduled for Nov. 4 at a park on New Jersey Ave. and O Street NW. A photo posted to Twitter shows a new clean-up date for the L Street encampment in NoMa on Oct. 28.
Case managers are already working with newly housed residents from the NoMa encampment on more permanent housing solutions, says Christy Respress, executive director with Pathways to Housing DC, which is contracted by the city to provide housing services under the pilot.
Earlier this month, DMHHS said 22 people have signed leases and an additional 8 would move into housing within the week. Respress did not offer updated numbers last week, but said a few people who had initially been moved into hotels for a couple of days as they awaited their leases have since moved into their apartments.
"We're hearing so many stories of how thrilled people are to be settling into their new homes," Respress says.
DMHHS did not respond to additional requests for comment.
More Washington D.C. stories
No stories could be found
Get a free daily digest of the most important news in your backyard with Axios Washington D.C..