Why Twin Cities restaurants don't have any Michelin stars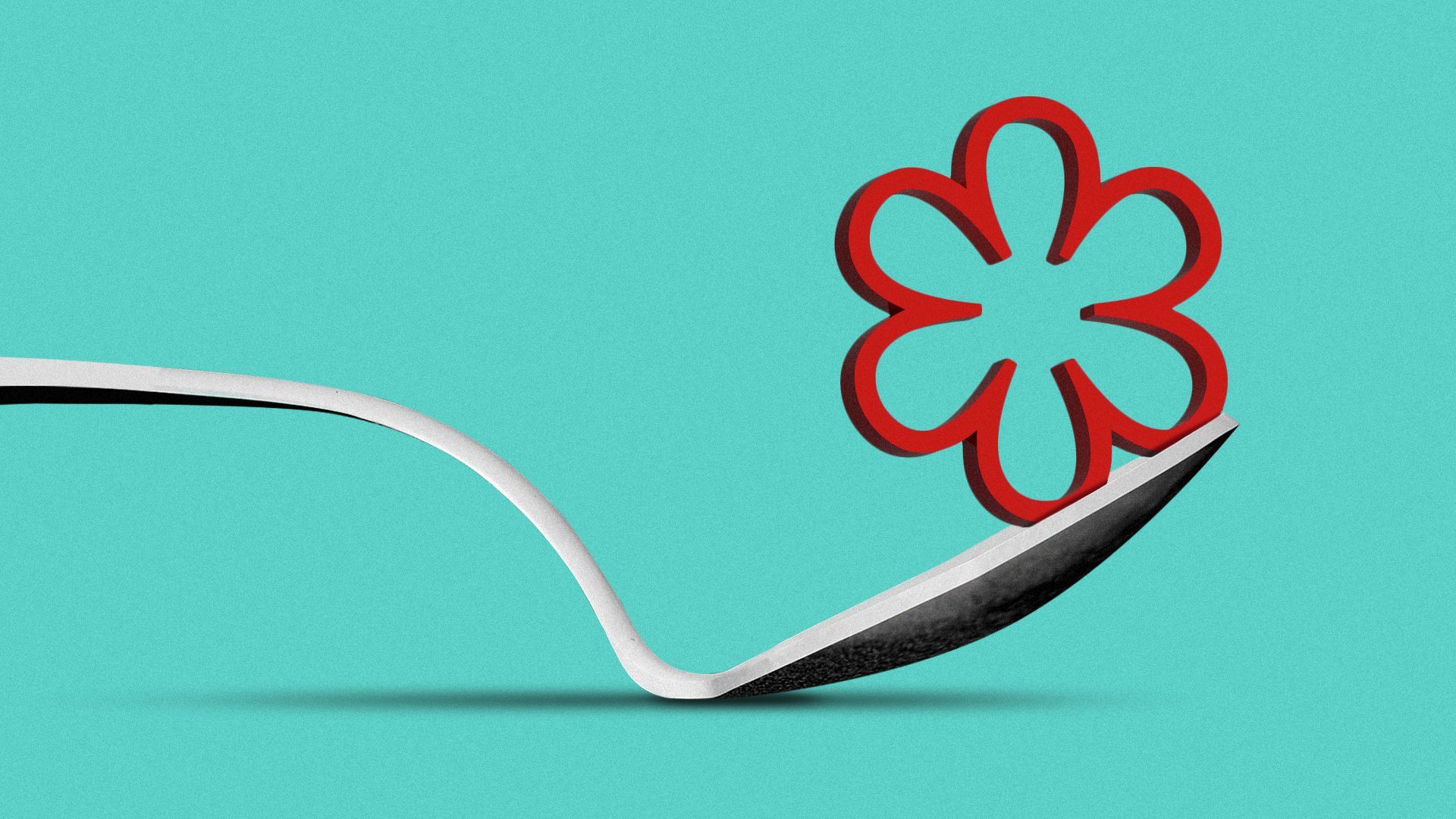 Despite the prestigious Michelin Guide's expansion to similar-sized cities, don't expect its shiny stars to show up in the Twin Cities anytime soon.
State of play: The Cities have received national recognition from organizations including the James Beard Awards and the New York Times, but have yet to receive acclaim from the Michelin Guide — the international reviewer that awards Michelin stars to the world's best restaurants.
Why it matters: Michelin stars are among the top honors a restaurant can receive, and having starred restaurants can boost a city's culinary tourism and public image.
The catch: Bringing Michelin to town can come with a hefty price tag.
How it works: Though Michelin is secretive about many of its evaluation practices, several states and cities have used tourism dollars to help fund Michelin's operations.
Denver, which had five restaurants receive stars earlier this month, paid around $100,000 to cover Michelin's operating and promotional costs, Visit Denver's vice president of marketing Justin Bresler told Axios.
Denver must pay that fee annually for Michelin to continue its presence, he confirmed.
What they're saying: "It's a promotional investment — Michelin relays quality and variety immediately to all of our audiences, both nationally and internationally," Bresler said.
Michelin did not return multiple requests for comment, but director of guides Gwendal Poullenec recently told the New York Times that while the company accepts partnership money to offset expenses, the decision to come to a region is made solely by the company's inspectors.
State of play: Bringing Michelin to the Cities has been "top of mind" in recent years, in part because tourists look to places like Michelin as a starting point when choosing a destination, said Meet Minneapolis' senior vice president of destination branding and strategy Courtney Ries.
But the price tag is a major factor, she told Axios, adding that the city expects costs similar to other cities like Denver. Minneapolis has not reached out to Michelin yet.
Zoom in: A Michelin Guide for Minnesota is "absolutely" of interest to Gavin Kaysen, executive chef and owner of Demi, Mara, and Spoon and Stable, and who previously ran Michelin-starred restaurant Café Boulud in New York City.
"[Getting and keeping a star] is a lot of work and a lot of pressure, but I always felt that pressure to be a bit of a privilege," he told Axios. "It gains recognition, allows us to promote differently, and attracts business."
The intrigue: Obtaining placements in other publications, like Gai Noi's recent spotlight on the New York Times' Restaurants List, could be even more valuable at attracting culinary tourism, celebrity chef and television host Andrew Zimmern told Axios.
"It's that other media where ... people will look and say 'Hey, Minneapolis would be a great place to go.'"
Between the lines: The James Beard Awards, which are widely considered the culinary industry's highest honors, have largely passed over Twin Cities chefs post-pandemic.
Though Minnesota had wins in 2016, 2018 and 2019, none of the 10 semifinalists for chef awards across 2022 and 2023 clinched a title.
But, Owamni's win in the competitive Best New Restaurant category brought notable national acclaim in 2022.
What we're watching: Meet Minneapolis will continue to promote the city's restaurant scene as part of its ongoing tourism efforts, but there are no plans to advance Michelin conversations for at least 18 months, Ries said.
Editor's note: This story has been corrected to note Minnesota had James Beard wins in 2018 and 2019.
More Twin Cities stories
No stories could be found
Get a free daily digest of the most important news in your backyard with Axios Twin Cities.