We tried it: "Minnesota's first THC restaurant," Hi Flora!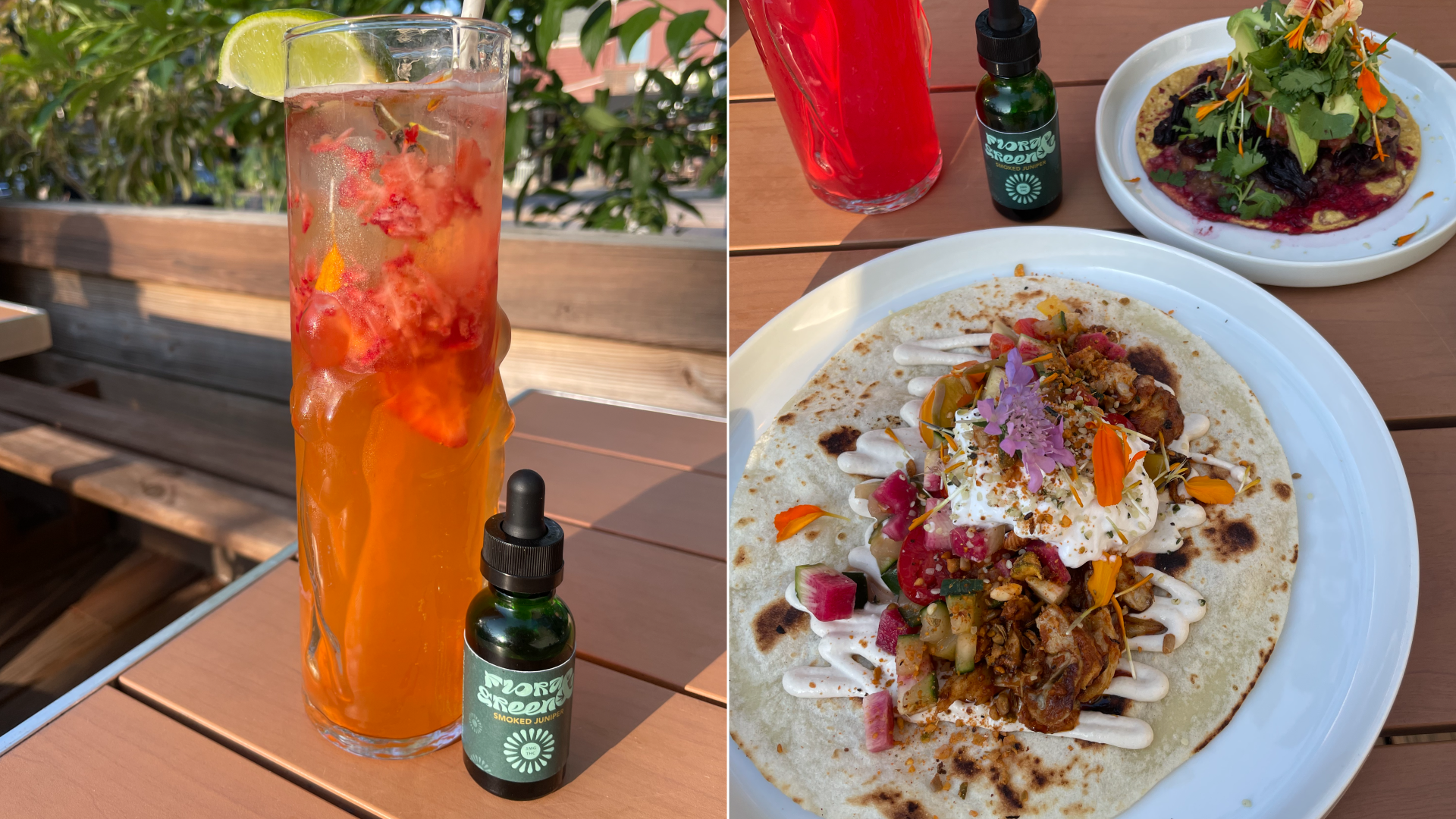 An innovative new restaurant is taking advantage of Minnesota's thriving hemp-derived THC industry by putting the products on the dine-in menu.
Driving the news: Hi Flora! has been advertised as "Minnesota's first THC restaurant." Patrons can purchase a house-made, five-milligram tincture with their meal and add it to their food and drinks.
The vegan, south Minneapolis eatery, which will hold a grand opening on July 19, is also alcohol-free and has more than 20 mocktails on the menu.
How it's done: Under current regulations, edible products can only be sold in a prepackaged, childproof container — meaning cannabis can't be baked into the dishes served to dine-in customers. The law does not apply to beverages.
But there's nothing against putting a packaged product on the menu that guests can do with as they please, owner Heather Klein told Axios.
I tried the restaurant during its soft opening in early July.
What to expect: The tincture, which costs $10 and comes in a three-ounce bottle with a dropper, is blended with beet, juniper, and several other herbs.
It works best in beverages, as that amount of liquid would otherwise make food watery.
More tinctures, including savory and umami flavors, will be added to the menu later, Klein said.
What I did: I added half to the food and half to my drink, consuming the entrée first to see if THC dropped on top of a dish affected me.
I was pleasantly surprised by how much I enjoyed the flavor. Its slight sweetness brought a welcome contrast to the savory dishes and enhanced the drink and dessert.
Though I'm not vegan, the meal stood on its own. The hibiscus tostada ($13) was delicious, and the creamy avocado cacao mousse ($15) was better than any chocolate mousse I've had.
Reality check: I did feel the effects from just the food, but it wasn't until the end of the meal. Considering edibles take about an hour to kick in, most guests would likely not experience anything until they were almost done.
Between the lines: This was a pricey dinner. The restaurant's signature "strawberry sunburst" mocktail was larger than an average drink, but it was $19 — and it doesn't include THC.
Meanwhile, the canned, five-milligram THC drinks on the menu were $7.77.
After the mandatory service fee and tax, two small plates, a drink, a dessert, and the tincture ended up being over $90.
The bottom line: I enjoyed the food, and there's a certain novelty that comes with adding THC to your meal. But the execution was just too expensive to justify again.
A shop across the street sells 10 five-milligram gummies for $20, and I found myself wondering why I didn't buy a pack of them instead.
More Twin Cities stories
No stories could be found
Get a free daily digest of the most important news in your backyard with Axios Twin Cities.