Storm dumps 14" of snow on the Twin Cities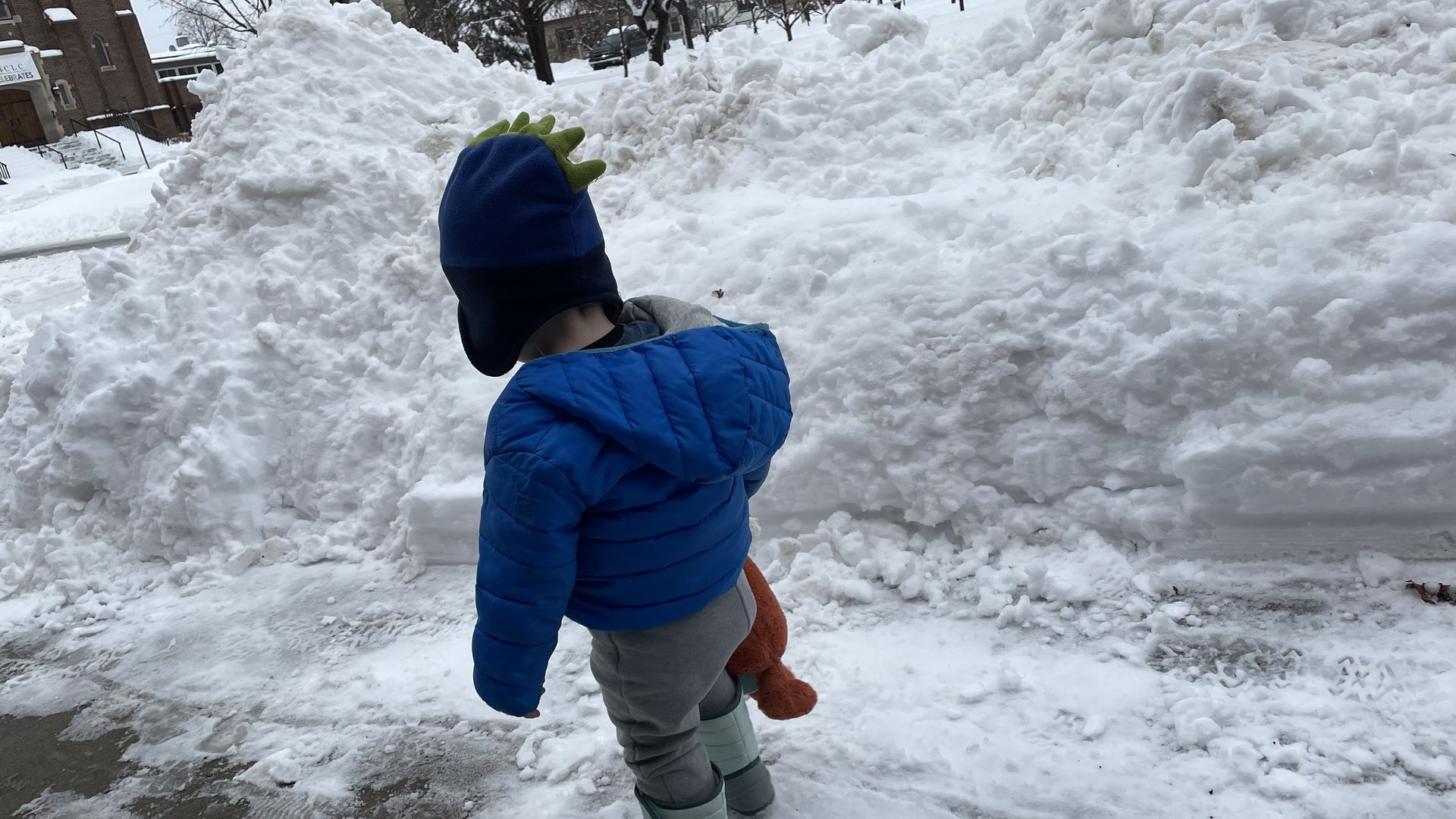 Shovelers across the Twin Cities are waking up to a peak Minnesota problem Thursday morning: We're running out of places to put all this damn snow.
What's happening: The latest winter storm system dumped another 14.9 inches — more than an average January's worth of snow — at MSP Airport over two days.
Why it matters: While we don't mind the winter wonderland vibe, the heavy snow once again derailed travel, school, garbage collection and more.
State of the streets: Minneapolis and St. Paul waited until Wednesday to call snow emergencies. Snow piled up on side streets and caused plenty of cars to get stuck Tuesday morning.
Those of you who ventured out probably saw (and hopefully helped) neighbors fruitlessly spinning their wheels.
What they're saying: Minneapolis spokeswoman Sarah McKenzie told Axios that while the city had plows out Tuesday, its practice "is to declare a Snow Emergency at the end of a snow event to get the most out of the three-day process." She added that the city wanted to give people plenty of time to move their vehicles.
St. Paul Public Works cited a similar rationale. Spokesperson Lisa Hiebert told Axios city plows wouldn't have been able to break from the main roads to clear residential side streets even if a snow emergency had been called sooner, given the duration and volume of snow.
The big picture: All told, the Twin Cities have been hammered with more than 47 inches of snow so far this winter.
That's 20 inches above what's normal for this time of year and just a few inches shy of the average total for the entire season, per stats compiled by meteorologist Sven Sundgaard.
Driving the weather: Big swings in temperature, fueled by climate change, have put Minnesota in the "line of fire for storm tracks," Sundgaard explained.
"This is a place where big swings are fairly normal but not to this frequency, and not to this extent," he says.
What we're watching: We hate to be the bearer of bad news, but we're not even at the halfway point of winter: Historical weather data suggests the cities could see another 20 inches (or more!) before spring.
Yes, but: Sundgaard said it would be "very unusual" for this level of precipitation to persist for the next three-plus months.
"Our snowiest seasons… have snowier periods and quieter periods," he said. "So will this continue through March? Probably not."
Be smart: The snow, combined with rain and sleet in recent weeks, have done a number on roads and sidewalks.
So walk, drive and ride with caution: While conditions have improved, there's ice under the snow in many spots.
More Twin Cities stories
No stories could be found
Get a free daily digest of the most important news in your backyard with Axios Twin Cities.