As enrollment dropped, more Hebrew schools opened in San Francisco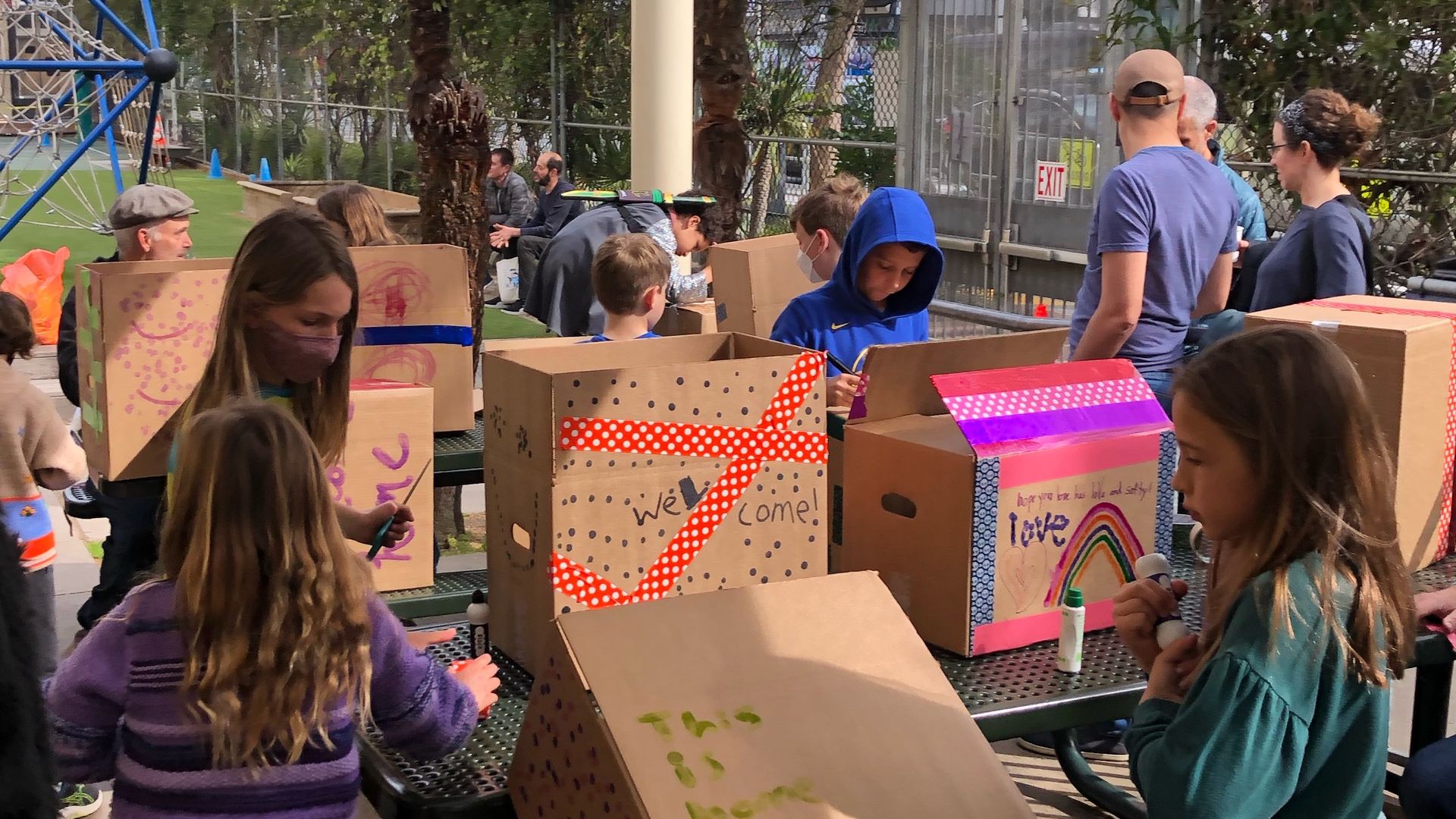 Student enrollment in Hebrew schools in the San Francisco Bay Area fell by nearly 30% between 2006 and 2020, despite an increase in the number of schools, a new report has found.
Why it matters: Enrollment in supplementary Jewish schools — which students attend in addition to public or secular private schools to learn Hebrew and Jewish rituals and history — has dropped sharply nationwide and comes as membership at some synagogues is also falling, Axios' Russell Contreras writes.
Zoom in: There were 31 Hebrew schools teaching 2,863 students in the San Francisco Bay Area in 2020, according to the latest data in a study recently released by The Jewish Education Project, a nonprofit that supports Jewish educators.
In 2006, there were 3,977 students enrolled in 27 schools.
By the numbers: While most schools and students are in the mid-Atlantic, California ranks second in the U.S. with 188 schools enrolling about 19,500 students.
Four California cities were included in the study for the 2019-20 school year: Los Angeles, San Francisco, East Bay/Oakland and San Diego.
LA, which has the largest number of schools (63) and students (nearly 8,000), saw a 31% decrease in enrollment and a loss of nine schools overall.
San Diego has the smallest segment with 16 schools and 1,634 students.
Of note: 12 U.S. cities were analyzed over time, including San Francisco and LA.
Six saw increases in the number of schools.
10 saw declines in student enrollment from 2006 to 2020.
The big picture: Total enrollment in Jewish supplementary schools dropped by nearly half nationwide and the number of schools also dropped as hundreds closed and others merge.
Yes, but: The number of Jewish Americans increased during the study's 14-year period, keeping pace with U.S. population growth.
What they're saying: In San Francisco, more families are turning to Jewish community programs that aren't connected to a synagogue or affiliated with a particular movement, according to Kathy Schwartz, senior director of professional learning at Jewish LearningWorks, an organization that helped gather the data for this study.
That's in part due to the independent, entrepreneurial culture in the Bay Area that gives parents and their kids a variety of options when building community and delving into their Jewish identity and education, Schwartz told Axios.
Independent Jewish religious programs, online communities and new Jewish centers are challenging the synagogue as the sole center of engagement, Miriam Heller Stern, a professor at Hebrew Union College-Jewish Institute of Religion, told Axios' Russell Contreras.
The intrigue: The Kitchen's Freedom School in San Francisco brings kids and their parents together to learn and pray on Shabbat morning (Saturday), which isn't common.
The school is not affiliated with a particular movement but acts as a synagogue by teaching the Torah and guiding families through major life and religious moments, such as the birth of a new child, the death of a parent, bar mitzvahs and weddings.
About 75 kids attend the Freedom School, according to senior family educator Joel Abramovitz, and enrollment is growing.
"Part of the issue we're facing is that 15, 20, 30 years ago, kids would just go to religious school; there was no question about it. Now, every family is thinking about 'what does this add to my life?'" Abramovitz told Axios.
"The programs that are the most successful and impactful have a clear answer to that question."
More San Francisco stories
No stories could be found
Get a free daily digest of the most important news in your backyard with Axios San Francisco.