The little-known Asian American history preserved on Angel Island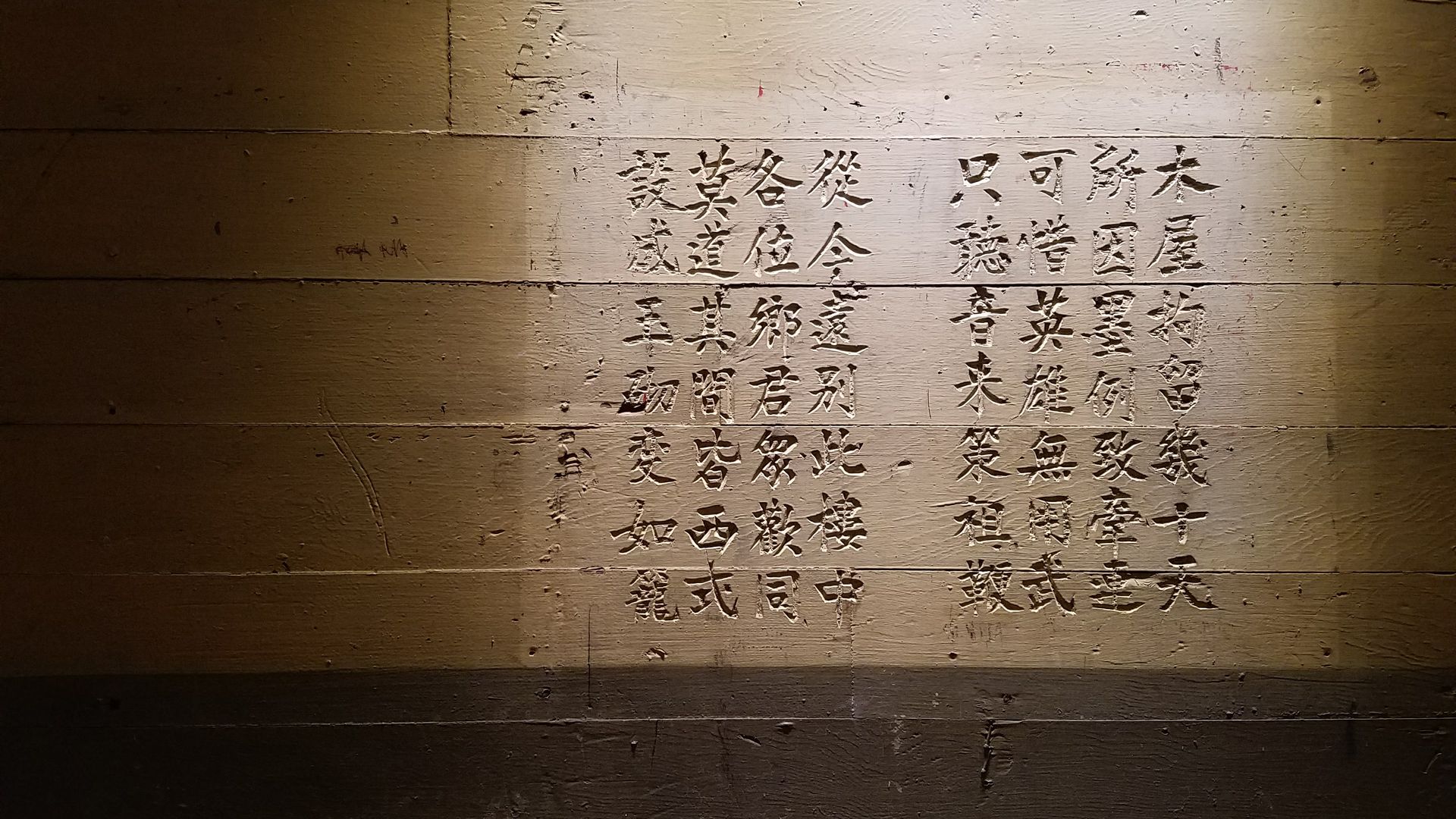 From afar, Angel Island appears a vision of paradise.
Yes, but: Run your fingers along the plaster peeling off the building's walls, and you'll find a different story.
Green algae and spreading mold. Pencil drawings of birds and etched columns of poetry. The Chinese characters carry a haunting lament: "When can I get out of here?"
In U.S. history, Ellis Island is the one that dominates conversations about immigration. On the opposite coast, Angel Island stood in stark contrast — an immigration port that served as over 500,000 people's first point of contact between 1910 and 1940.
Between the lines: When I first visited the old station — now a state park — it was eye-opening. This was history I never knew despite growing up in the Bay Area.
We'd learned so much about Ellis Island in school, but not one word about the half a million people who passed through Angel Island.
How it happened: In the early 1900s, as anti-Chinese sentiment rose to a fervor, Angel Island became an operation for "screening" and deporting Chinese immigrants, many of whom were attempting to enter the U.S. as "paper sons" due to the Chinese Exclusion Act.
Like many of today's asylum seekers, these immigrants traveled to America in search of security after suffering war and violence.
Instead, they were forced into detention for weeks, months and sometimes years — much longer than European immigrants, who were also less likely to be deported from the processing center.
There, they endured invasive medical exams, indefinite quarantine, repeated interrogations, family separation and disease due to the facilities' lack of hygiene.
Engraved on the walls: "With a hundred kinds of oppressive laws, they mistreat us Chinese. / It is still not enough after being interrogated and investigated several times; / We also have to have our chests examined while naked."
Details: Immigration officials mandated segregation of Asians and non-Asians throughout the entire station, including in the barracks, dining halls and hospital entrances.
Rooms meant to house 60 people at most had over 200 people crammed inside. Doors to the barracks were locked, and armed guards always patrolled the premises.
Detainees were only allowed out for meals and exercise, typically in a dirt area enclosed by a 12-foot fence with barbed wire.
Some Chinese immigrants died by suicide after languishing in the station. Looking at the strokes of Chinese characters carved into the wooden walls, I could only wonder how they persevered for as long as they did.
State of play: Angel Island may be a thing of the past, but the driving force behind its legacy remains very much alive today.
Two years in, President Biden continues to face criticism from both parties about the way he has handled the surge in migration to the U.S.-Mexico border.
Meanwhile, reports of poor hygiene and abuse in migrant detention facilities draw parallels to Angel Island.
Take a ferry to Angel Island to experience the history for yourself.
More San Francisco stories
No stories could be found
Get a free daily digest of the most important news in your backyard with Axios San Francisco.