San Francisco moves on office-to-housing conversions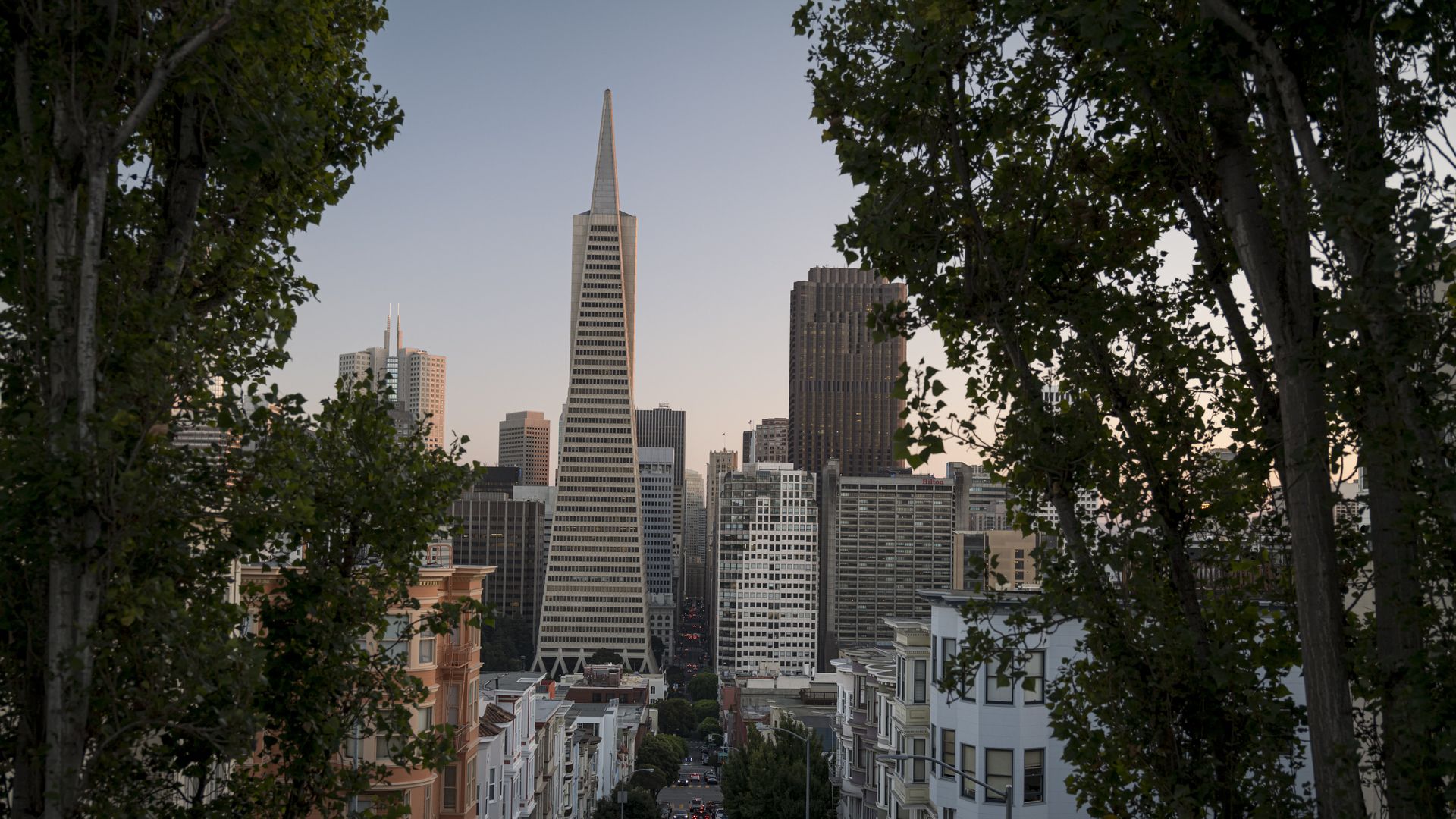 An effort to convert downtown San Francisco office buildings to housing moved ahead this week, with the introduction of two Board of Supervisors measures that seek to lessen costs and streamline the process.
Why it matters: San Francisco's office vacancies hit 29.5% in the first quarter of this year. That tops the previous 2003 dot-com bust record of 19.1%, according to commercial real estate services and investment firm CBRE. The loss of commercial tenants is costing the city significant tax revenue.
Supporters of office conversions also say it's time for a new downtown that's vibrant around the clock.
One of the measures introduced Tuesday would eliminate some fees that are typically imposed on residential development, for things like transit and public art.
The other would streamline the process by amending a number of current planning code requirements for housing, such as specifics about exposure to natural light and bike parking.
"We're going to get out of the way and see what the market does," Supervisor Aaron Peskin, who co-sponsored the proposal, told Axios.
The intrigue: You're not likely to land a corner bedroom with a sweeping view. That's because the vast floor size of many high-rise office buildings means that in a conversion, bedrooms might have to be on the interior and therefore lack windows.
One assessment of downtown buildings figured conversions could provide more than 11,000 new residential units.
But architect Mark Hogan of OpenScope Studio — who helped shape the code streamlining proposal — says the best candidates for conversions, especially affordable ones, are downtown's older, shorter buildings.
What they're saying: "We should start getting these properties. We should start construction, we should find people that want to do some of these to prove that it works," Hogan told Axios.
"Saying we're going to focus on 50-story buildings that are going to require hundreds of millions of dollars, that to me feels a little bit hopeless."
Between the lines: Officials are also looking at broad downtown development incentives such as freezing property taxes and rolling back SF's real estate transfer tax, which voters bumped up in 2020 from a maximum of 3% — depending on sales price — to a maximum of 6%.
"I think freezing of the property tax increment was a significant idea," Supervisor Ahsha Safaí told Axios. "It's not something we can completely control here at the local level without state intervention."
Zoom in: San Francisco's proposals are focused on downtown and Union Square.
Zoom out: Other U.S. cities are also exploring office-to-housing conversions.
Flashback: Ten years ago, the former AAA headquarters at 100 Van Ness Ave. was turned into 400 apartments. Rents now start at $3,212 for a studio.
Of note: Office futures aren't all cratering. Cisco just signed a multi-year lease near the Chase Center, and Donald Trump's stake in SF office space is 95% leased, according to The San Francisco Chronicle.
What we're watching: Proposed state legislation could clear the path for conversions "by right," which skips rezoning processes. Assemblymember Matt Haney — a former SF supervisor who is sponsoring the bill — says he wants to speed things up.
"Frankly, I'm concerned whether San Francisco will go far enough or move fast enough," Haney told Axios.
More San Francisco stories
No stories could be found
Get a free daily digest of the most important news in your backyard with Axios San Francisco.