Equity pay advocates try Congress again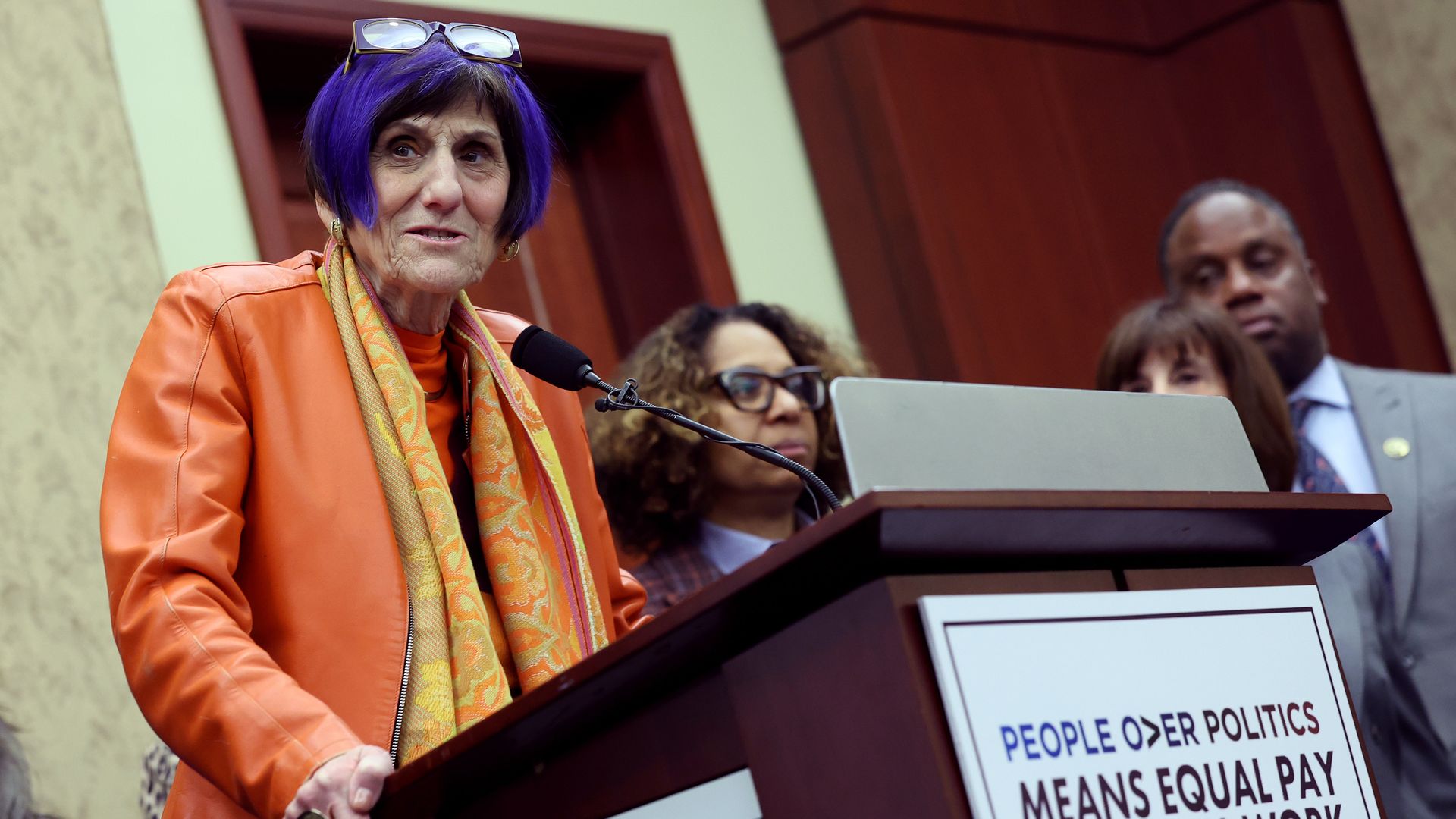 Women's History Month, which ends Friday, saw a repeat effort to strengthen equal pay protections in federal law, though supporters aren't optimistic.
Why it matters: Since 1963, it's been illegal to pay women and men differently if they're doing substantially equal work. Backers of the Paycheck Fairness Act want to end remaining loopholes they say still exist, though California law offers more protections beyond current federal law.
The latest: Rep. Rosa DeLauro (D-Conn.) introduced the measure to Congress this month, as she's done 14 times since 1997.
Over those years, it passed the House four times. The closest it got in the Senate was 13 years ago, when it fell two votes short of 6the 0 needed to move forward.
By the numbers: All of California's Democratic members of the House and Senate are on board, along with almost all Democrats in Congress.
So far this year, one Republican has signed on: Pennsylvania's Brian Fitzpatrick.
Details: The act would stop the use of salary history in hiring and ban potential retaliation if employees discuss their salaries.
It would also require employers to prove that pay disparities are connected to legitimate reasons, such as education or experience.
The intrigue: California law already includes these mandates, Jessica Stender, policy director of SF-based Equal Rights Advocates, told Axios. "We've strengthened our law in California really in the face of inaction at the federal level."
Of note: Some researchers have found that the "feminization of labor" in even new tech industries is a phenomenon that keeps women's wages and work status low.
Researchers Brooke Erin Duffy and Becca Schwartz studied want ads and found social media work, for example, called for historically feminized traits such as flexibility, kindness and devotion, despite requiring sophisticated communication and analytical skills.
Zoom in: Overall, the gender gap in pay has barely budged in two decades, reports Axios' Ivana Saric. The census broke out the pay gap by state, finding a roughly $7,000 difference in California.
The American Association of University Women analyzed pay in 25 major cities by gender and race and found a $13,000 gap in San Francisco, and more for women of color.
Zoom out: The wage gap connects to other financial disadvantages women face, such as disparities in student debt.
Women hold between 58% and 66% of outstanding student loans, which total over 1.6 trillion nationally.
Part of this discrepancy may be tied back to the pay gender gap, which persists despite equal education. A 2022 GAO report found that "among workers with a bachelor's degree, women earned an estimated 70 cents for every dollar earned by men."
Black women are hit hardest on both ends. They hold the highest debt on average, and after graduation, get paid less across the board.
What they're saying: "Obviously, when you earn less, you're going to take longer to pay it back, you're going to pay more interest," Gloria Blackwell, CEO of the AAUW, told Axios. "It builds upon itself and makes economic security for women more and more difficult."
What's next: While DeLauro calls her Paycheck Fairness Act a no-brainer, she acknowledges it does not have an easy path in Congress.
It's been referred to committees in both the House and Senate.
Eds note: This story has been updated to correct the name of Equal Rights Advocates.
More San Francisco stories
No stories could be found
Get a free daily digest of the most important news in your backyard with Axios San Francisco.