San Francisco step closer to restricting low-level traffic stops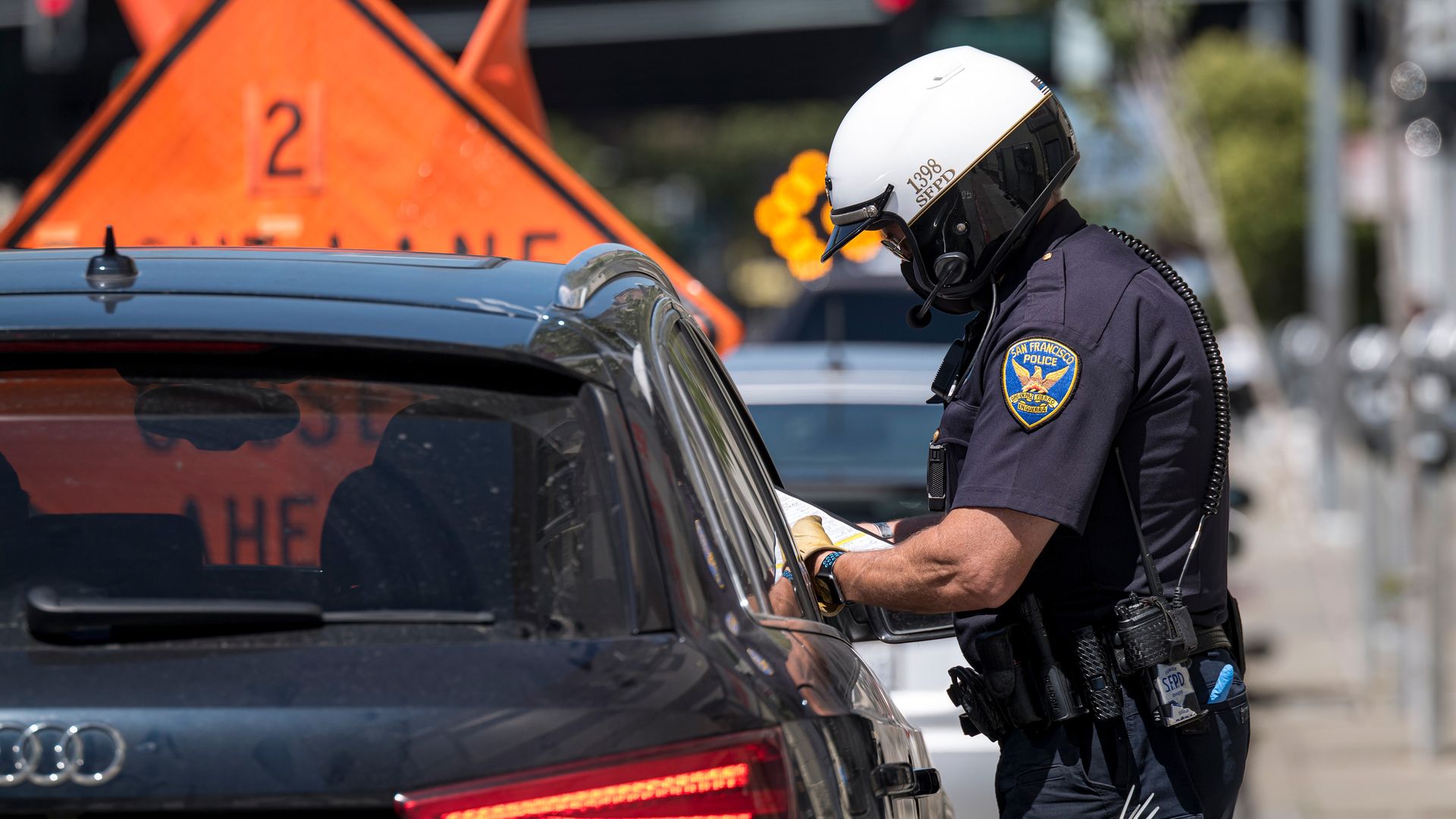 San Francisco's Police Commission, which oversees the Police Department, this week voted 4-2 to limit police officers from making certain low-level traffic stops.
The policy now heads into labor negotiations with the police union, meaning it could be months before a final decision is made.
What's happening: The "pretext stops" policy limits members of the San Francisco Police Department from stopping people for nine specific low-level offenses.
That means failing to display registration tags, driving without fully functioning rear taillights or failing to have a turn signal on continuously for 100 feet before turning couldn't be the sole reason someone is pulled over.
The policy also sets a mandate for better data collection around traffic stops.
Why it matters: The policy is an attempt to reduce incidents of racial profiling by police.
Pretextual stops disproportionately affect people of color and "return negligible public safety benefits," the policy states.
By the numbers: Black people account for 19% of police traffic stops in San Francisco despite only making up 5% of the city's population, according to a 2022 analysis of 2019 data.
Hispanic people account for 19% of police traffic stops in San Francisco but make up 15% of the city's population, according to the analysis by the San Francisco Bay Area Planning and Urban Research Association (SPUR), a civic planning nonprofit.
Meanwhile, Black and Hispanic drivers were more likely than members of other races to be stopped for infractions like having a broken taillight or not having their registration, according to SPUR.
What they're saying: These types of stops are "not in the public interest," with data showing they don't prevent traffic accidents, rarely lead to arrests and "drive huge and unacceptable racial disparities in our community," Police Commissioner Kevin M. Benedicto told Axios via email.
The policy, Benedicto added, enables a reallocation of law enforcement resources to higher-priority public safety concerns like unsafe driving and violent crimes.
The other side: Commissioner Debra Walker had previously expressed concern over a potential effect on traffic collisions and pedestrian fatalities, saying "that not enforcing traffic laws creates real issues rather than solving any," the San Francisco Chronicle reports.
Walker was at Wednesday night's meeting but was not present for the vote.
SFPD Police Chief Bill Scott supports restricting low-level traffic stops, calling it "a sea change for policing," The San Francisco Standard reports.
Zoom out: Los Angeles, Berkeley, Washington, D.C., and Philadelphia have all passed varying measures around limiting pretextual stops.
In LA, for example, the city only allows these types of stops when police have "articulable information" about a serious crime before making the stop, the Los Angeles Times reports.
Police must also record themselves stating why they suspect the driver has committed a more serious crime while making the stop.
What's next: The policy now heads to the San Francisco Police Officers Association for labor negotiations, a process that lawyers have criticized, saying it can delay police reform by months, if not years, The San Francisco Standard reports.
Once that process is complete, the Police Commission will vote on the policy again before enacting it.
More San Francisco stories
No stories could be found
Get a free daily digest of the most important news in your backyard with Axios San Francisco.