"Had to do it themselves": Miami's place in hip-hop history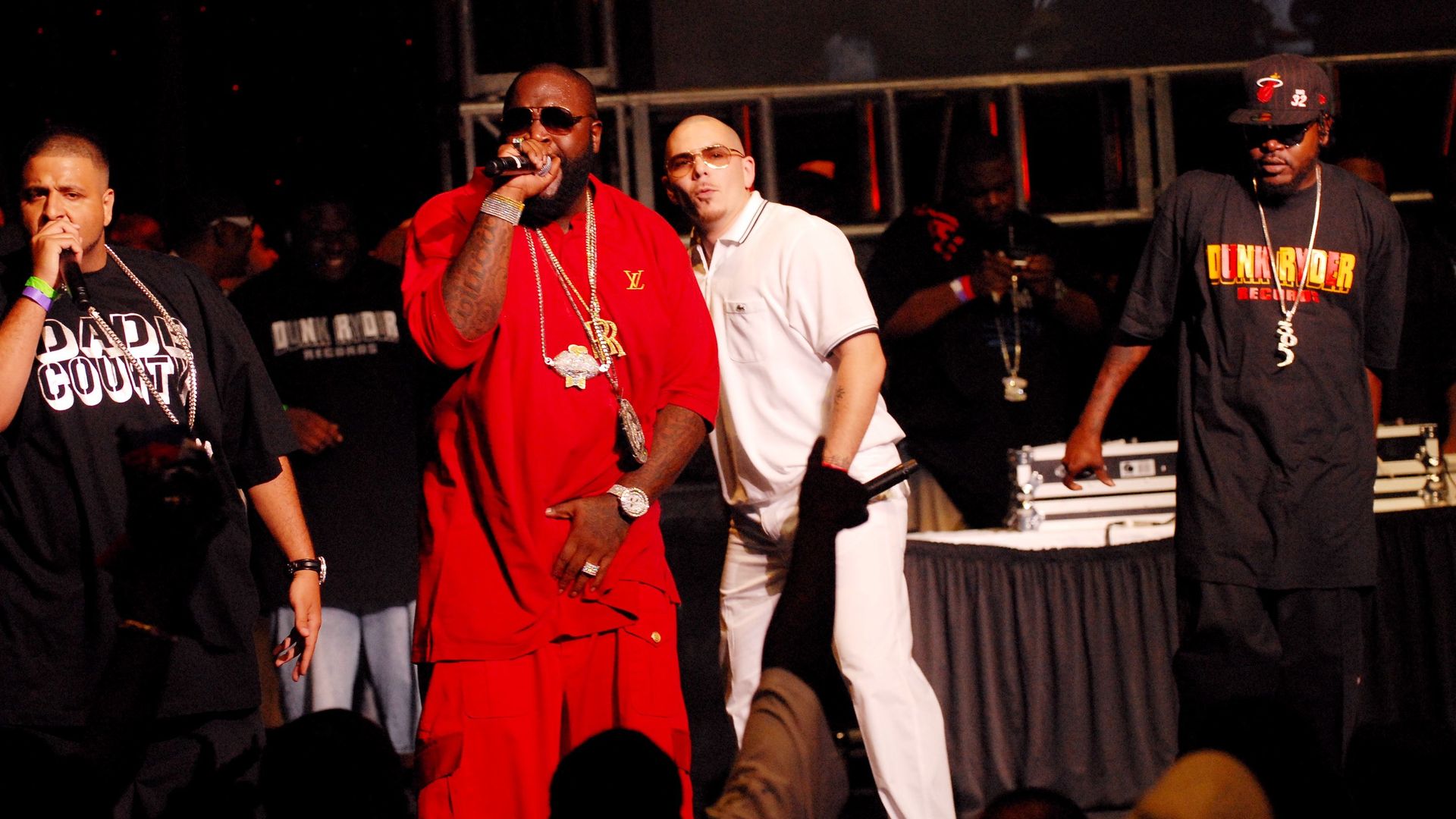 Before he became "Mr. Worldwide," Pitbull was a Cuban kid with cornrows freestyling in a Publix parking lot.
DJ Khaled was spinning records on pirate radio before he became a hitmaker and meme-shaper.
Why it matters: These local icons stitched the fabric of Miami's hip-hop scene and laid the groundwork for the next generation.
Hip-hop's 50th anniversary this month is a time to reflect on Miami's place in it all, from 2 Live Crew to Raider Klan.
What they're saying: John Cordero, a local hip-hop journalist who wrote the book on the Miami rap scene, had a front-row seat to the rise of Trick Daddy, Pitbull and DJ Khaled.
Cordero, author of "The History of Miami Hip-hop," tells Axios that local MCs like Pitbull and Rick Ross had to hustle harder because the industry had long ignored the city's homegrown talent.
"The local artists were being left behind," he said. "They had to do it themselves."
Catch up fast: The first local hip-hop act to blow up was Uncle Luke's 2 Live Crew, whose Miami bass sound was made for car stereos and clubbing, Cordero says.
The group became free-speech trailblazers after their 1989 album "As Nasty As They Wanna Be" was deemed legally obscene and banned from South Florida record stores. (The group appealed and got the ruling overturned.)
Uncle Luke and group member Chris Won Wong were arrested in Hollywood after performing songs from the album, but were later acquitted.
Of note: Before Trina came on the scene, one of Miami's first hip-hop anthems was Mother Superia's 1993 track "Rock Bottom," Cordero says.
The female MC signed a major record deal, but her debut album was shelved, Cordero says.
Carrying the torch: Miami bass made way for the southern hip-hop sounds of artists like Trick Daddy and Trina in the late '90s and early 2000s.
What's next: Internet-age rappers are keeping Miami — and South Florida — relevant as their predecessors change lanes or slow down.
The bottom line: In his book, Cordero laments the closure of the local clubs and record stores that kept the hip-hop community alive — but he also feels hopeful about the future of rap in Miami.
"The legacy we were a part of and the hip-hop lifestyle we lived and championed has either evolved into nostalgia, inability to get into the new generation's output, and/or questions of aging into a youth-driven culture," he writes. "Just as Miami has changed dramatically since I arrived 27 years ago, so has hip-hop."
👀 Let us know: Vote for the best hip-hop artist in Miami, past or present, in our new March Madness-style bracket.
Editor's note: This story was corrected to note Mother Superia's hit "Rock Bottom" was released in 1993, not 1996.
More Miami stories
No stories could be found
Get a free daily digest of the most important news in your backyard with Axios Miami.