Toxic algae overtakes Lake Okeechobee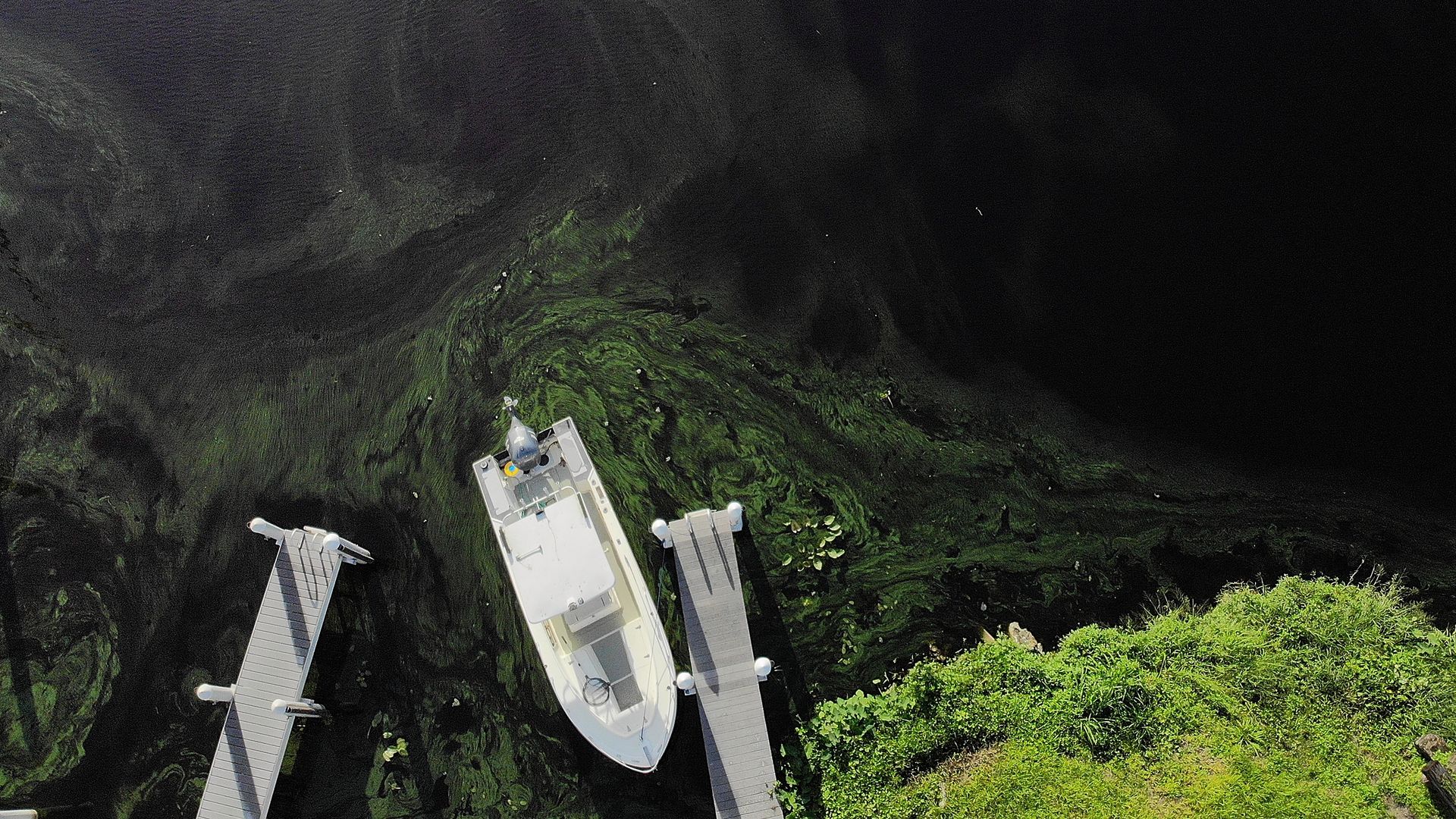 Lake Okeechobee is experiencing toxic algal blooms — and summer rains could make things worse, the New York Times reports.
What's happening: Lawn fertilizer runoff from farms north of the lake has contributed to pollution of the 730-square-mile lake.
Phosphorus in that runoff causes bright green algae to proliferate in the lake, which produces fumes so toxic they can harm people who breathe them and kill animals who drink the lake water.
What we're watching: When there's heavy rainfall and the lake level rises, experts fear the dike holding back Lake Okeechobee's water could break, flooding nearby farms and towns.
If the lake gets too full, water managers release its polluted water, sending it through canals and waterways east toward the city of Stuart and the Atlantic Ocean, and west toward the city of Fort Myers and the Gulf of Mexico.
That harms waters, fish and tourism all along those routes, devastating economies.
But as summer progresses and more rain is anticipated, stakeholders are bracing for it to happen.
What they're saying: "We're looking at a bullet in the chamber here," Eve Samples, executive director of Friends of the Everglades, told the NYT.
What's next: In 2017, a plan championed by then-state Senate President Joe Negron to build a 60,000-acre reservoir that could contain more water near the lake was scaled back to about one-sixth of its proposed size following a legal challenge from farmers.
The smaller project is currently underway and will cost $4 billion, though some experts fear it won't be big enough to solve the problem.
The new project does have artificial wetlands to help remove some of the phosphorus from polluted water.
Of note: Stopping pollution of the lake in the first place would be the best solution for the environment. Farmers have been reducing nutrient runoff but also emphasize that their crops feed millions of people.
Worthy of your time: "It's Toxic Slime Time on Florida's Lake Okeechobee."
More Miami stories
No stories could be found
Get a free daily digest of the most important news in your backyard with Axios Miami.