Mangroves common in South Florida are moving north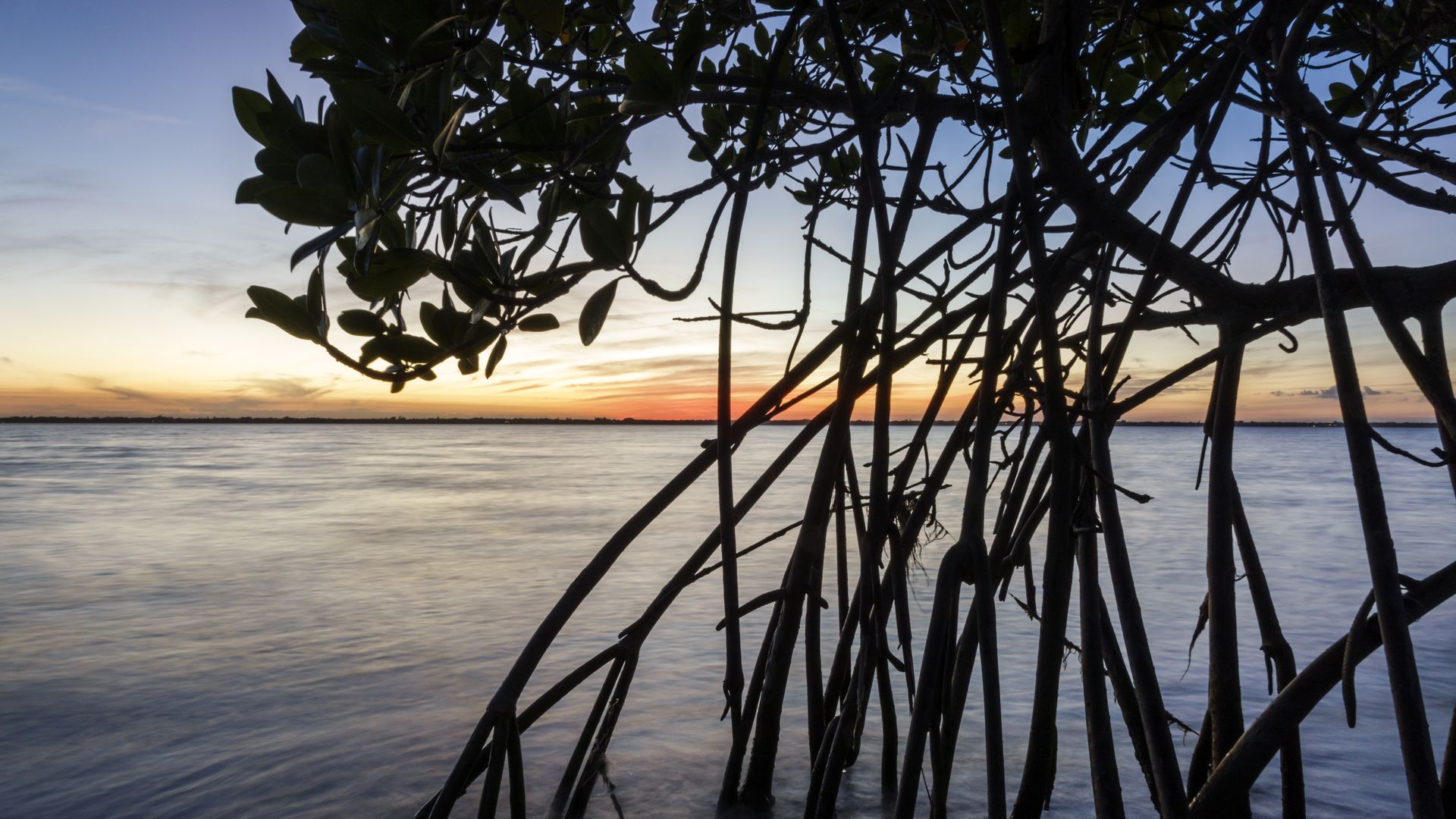 Floridians are familiar with mangroves — but imagine them moving into Georgia or South Carolina.
Why it matters: With the country experiencing fewer freeze events, mangroves that thrive in coastal wetlands are moving into salt marsh habitats at higher latitudes, Villanova University professor Samantha Chapman tells Axios.
Chapman worked on a study exploring how salt marshes and mangroves build elevation in the face of sea-level rise.
While mangroves serve as natural sea barriers for coastal communities, help with carbon storage and provide habitats for animals, the study also says that "consequences of this vegetation shift for ecosystem sustainability remain unknown."
What's happening: The study could help scientists decide how best to manage coastal wetlands, including whether mangroves should be planted.
It predicts that black mangroves moving into new environments can build soil elevation by 8 mm per year, four times greater than salt marshes.
But mangroves can also drown. Neither salt marshes nor mangroves have survived a centenary sea-level increase of 100 cm.
Zoom in: Mangroves are found as far north as Jacksonville and Amelia Island right now, Chapman says.
They drop seeds, called propagules, around hurricane season. Chapman predicts that stronger storms will send those further north, causing mangroves to grow in Georgia and South Carolina.
She has done research at the Kennedy Space Center, by the GTM reserve near St. Augustine and in St. Joe Bay on the Gulf Coast. Over the last 5-10 years, she says, some sites have grown from scattered seedlings to 30% mangroves.
What she's saying: "It's a really visible way of seeing the reshuffling of plants and animals with climate change."
The big picture: Mangroves are being lost all around the world, largely because of coastal development and shrimp farms.
In Florida, however, they're protected by law. One couple was fined $18,500 in 2018 for cutting down mangroves on their property in Coconut Grove.
Chapman hopes that other states will enact similar laws and educate their populations as the plants arrive there.
The bottom line: Chapman says the study offers some hope that "nature can adapt to climate change in some ways — if we give it the natural space to do so."
Mangroves "can build their own land, so anywhere that we can rebuild and restore coastal wetlands like mangroves, that's going to help us a lot with the threats to humans."
More Miami stories
No stories could be found
Get a free daily digest of the most important news in your backyard with Axios Miami.