New Florida bill would push back school start times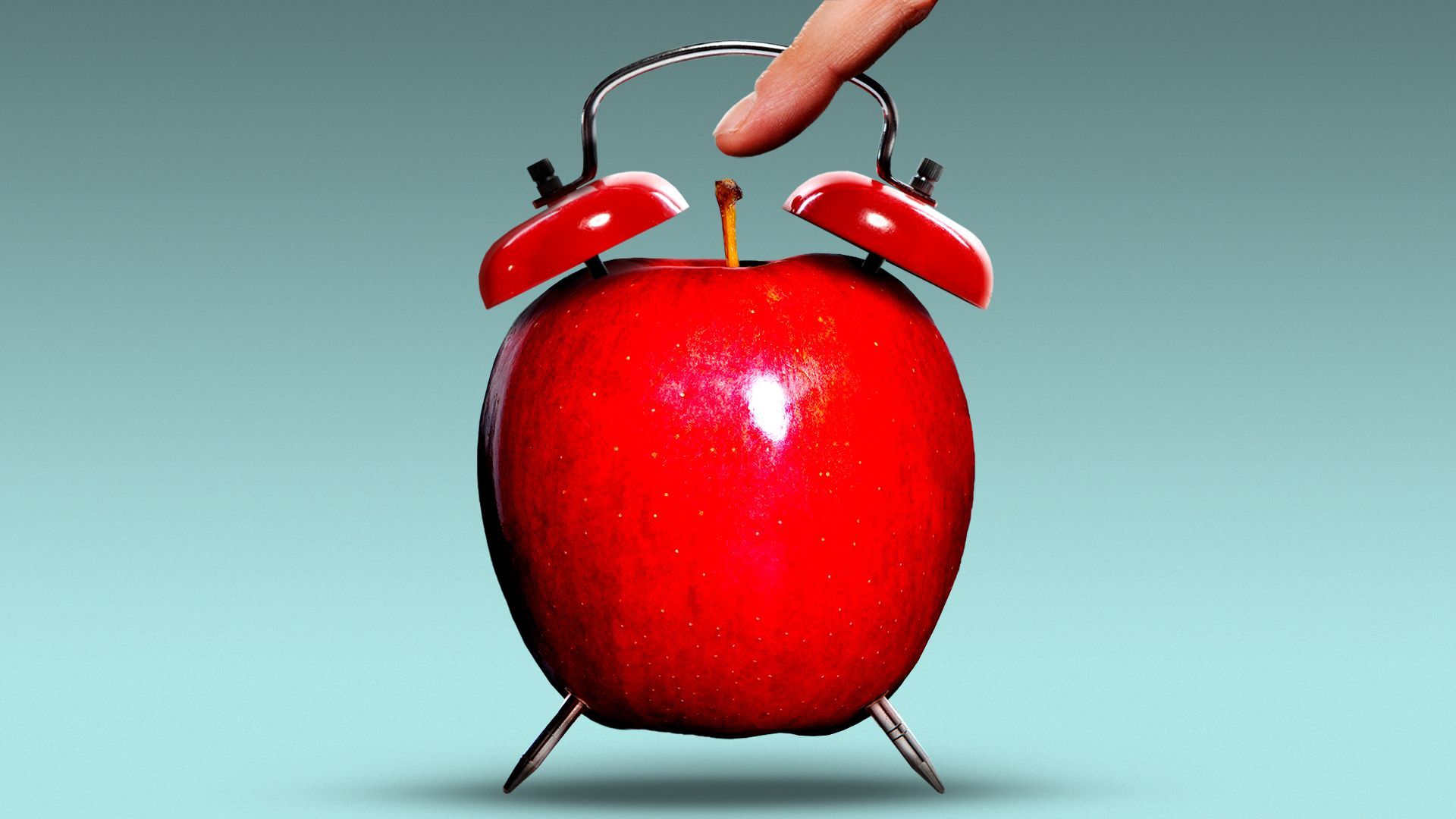 Miami high school students would get another hour of sleep under a bill proposing to delay the start of school.
What's happening: Senate Bill 1112 would create mandatory minimum start times for all of Florida's public schools.
High school classes couldn't start before 8:30am, with middle schools at 8am.
An identical companion bill passed the House in late March and the Senate version needs two more committee stops before the entire chamber votes on it.
Why it matters: Teenagers aren't getting enough sleep and the American Academy of Pediatrics supports later start times to fight chronic sleep loss.
During puberty, adolescents get tired later at night and need to sleep in more, per the CDC.
A 2015 survey found that 73% of high school students across 30 states were getting less than eight hours of sleep a night.
Zoom in: At Miami-Dade Public Schools, high school classes begin at 7:20am. Middle school doesn't start until 9:10am.
A 2014 report found that 93% of U.S. high schools and 83% of middle schools start class before 8:30am.
What they're saying: "Chronic sleep loss has a wide range of negative impacts to students with regard to physical and mental health, safety, and academic achievement, and there is a substantial body of research to demonstrate that delaying school start times is an effective countermeasure," Sen. Danny Burgess (R-Zephyrhills), who filed the bill, tells Axios in an email.
Yes, but: Students shouldn't get their snooze buttons ready just yet. If the bill passes, the new start times would begin in 2026.
Flashback: The Miami-Dade School Board voted in 2019 to explore later start times, but the pandemic put a halt to those plans, a district spokesperson tells Axios.
The district's proposal would have pushed back elementary school start times to 8am so that middle and high schools could start after 8:30am the Miami Herald reported at the time.
The district conducted a pilot program with the proposed bell-time changes and is still reviewing feedback from the experiment, the spokesperson says.
A Miami mom's perspective
👋 Hi, Deirdra here. As a parent of a teenager, I support a shift in the school day.
Why it matters: Even with a good night's sleep, it's still a struggle for my middle schooler to catch the 6:45am bus (his charter school starts at 8).
On days I can't run him to extracurricular activities, he's an electronics-addicted zombie between 3:30 and dinnertime.
Between the lines: Thanks to TikTok, he is well-versed in arguments that school should start much later to help with kids' brain development and mental health.
Yes, but: I shudder to think how much worse Miami traffic would be if schools started later in the day. Thousands of buses and parent drivers who now finish their morning travel by around 8am wouldn't come on the roads until others are starting their commutes, and vice-versa in the afternoon.
While Miami has some great magnet and charter schools, families often have to crisscross the city to get their kids there. I know families who drive twice daily from the beach to Coral Gables and even Miami Shores to Fort Lauderdale!
Imagine how much worse that would be during normal commuting hours.
Quick take: When I run the world, I'll make sure every public school is as good as our magnets, and all kids have a great option within walking/biking distance.
Add in a great slate of after-school sports and activities and sure — keep 'em there from 10am to 5pm!
More Miami stories
No stories could be found
Get a free daily digest of the most important news in your backyard with Axios Miami.