Miami Beach official sounds alarm on Florida "safe structures" bill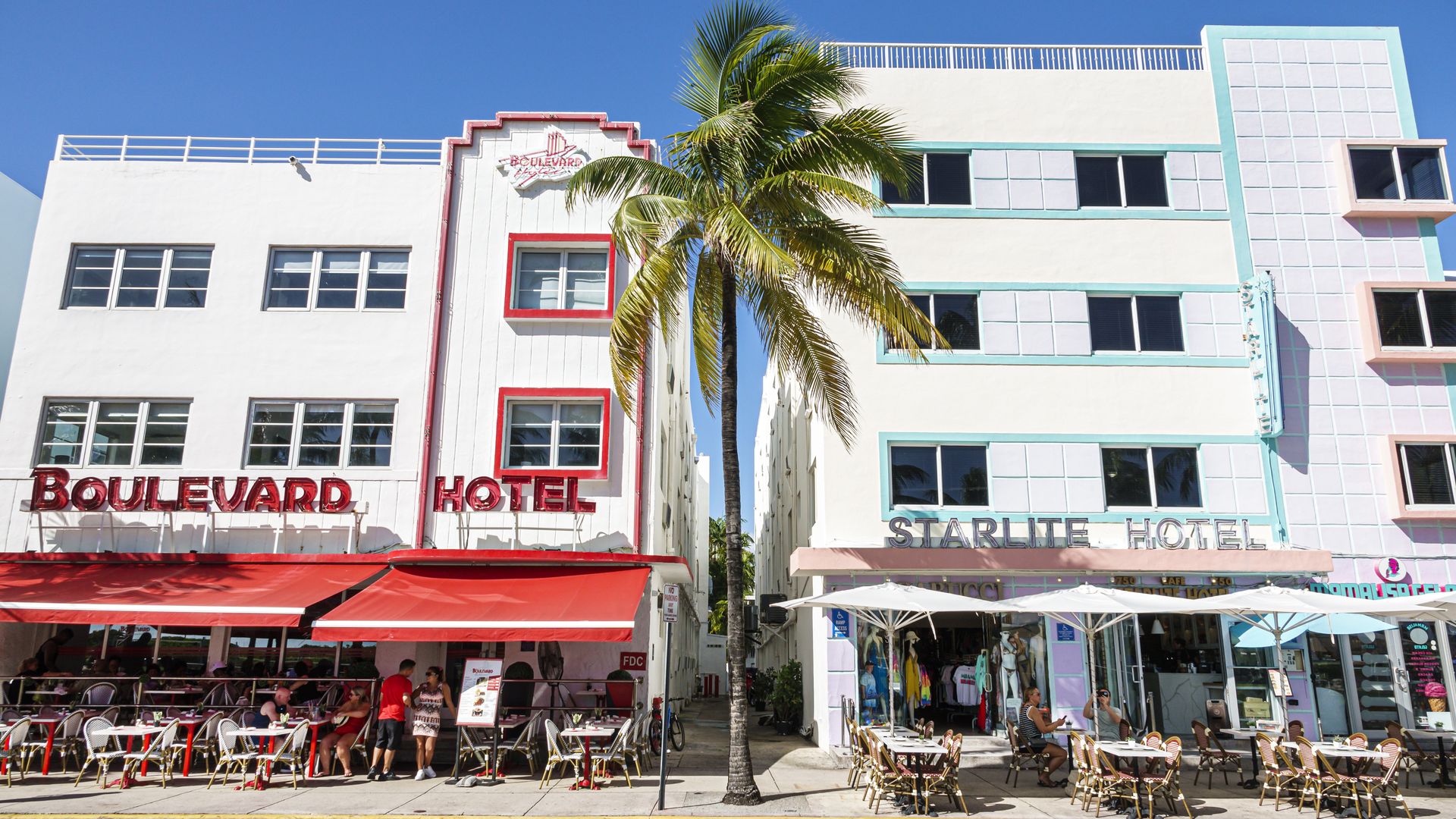 Some Miami Beach leaders are concerned about a bill moving through the state Legislature that they say could pave the way for the city's most iconic buildings to be demolished and replaced.
Why it matters here: An estimated 2,600 historic buildings in Miami Beach would be affected, according to Miami Beach Commissioner Alex J. Fernandez.
"We're talking about nearly every building on Ocean Drive," he told Axios. "The community church that's original to the city that was built by Carl Fisher. The Delano hotel and places like the Ritz-Carlton. The Raleigh Hotel. … They could disappear with this preemption bill."
What's happening: Senate Bill 1346/HB1317 would create the "Resiliency and Safe Structures Act, " which would prohibit local governments from stopping private property owners from demolishing certain structures.
It would apply to buildings in coastal high-hazard areas that fail to meet the Federal Emergency Management Agency's standards for new construction. Buildings could also be affected if they're deemed unsafe by local officials, a Senate bill analysis explains.
The bill prohibits local governments from imposing conditions — such as limitations on size or height — on the approval of structures that would be built in place of demolished buildings.
Of note: The bill exempts certain single-family homes and structures on the National Register of Historic Places. That includes about a dozen locations in Miami Beach, such as the Bandshell and the Fontainebleau Hotel.
Context: After Hurricane Andrew in 1992, Florida's Building Code was strengthened and standardized to be uniform statewide. It's updated every three years, and local officials must enforce it.
The bill, as it states, is an attempt to replace "older, unsafe, or nonconforming structures" with "new, resilient buildings built to contemporary building codes and standards."
What they're saying: Fernandez said buildings should be resilient, but predicts the bill will incentivize owners of historic buildings to let their properties fall into disrepair so they will be permitted to be demolished and large, more lucrative projects could built in their stead.
Fernandez fears the bill will hurt tourism, damage the character of the city and lead to more traffic and infrastructure problems.
Daniel Ciraldo, executive director of the Miami Design Preservation League, told Axios, "Property owners have spent millions maintaining their buildings, and this bill would negatively impact those investments — including funds provided by taxpayers through federal and state grants."
State Sen. Bryan Avila (R-Miami Springs), the bill's sponsor, and Miami Beach Mayor Dan Gelber didn't respond to Axios' requests for comments.
What we're watching: Fernandez wrote to Avila asking that he amend the bill.
Ciraldo suggested that an amendment exempt all buildings with historic designations — even if those designations were made by local governments.
Ciraldo said that other coastal communities like the City of St. Augustine and Dade Heritage Trust have also expressed concern.
A group called Save Miami Beach has started a petition.
More Miami stories
No stories could be found
Get a free daily digest of the most important news in your backyard with Axios Miami.