Critics of plan to move Lolita point to famous killer whale release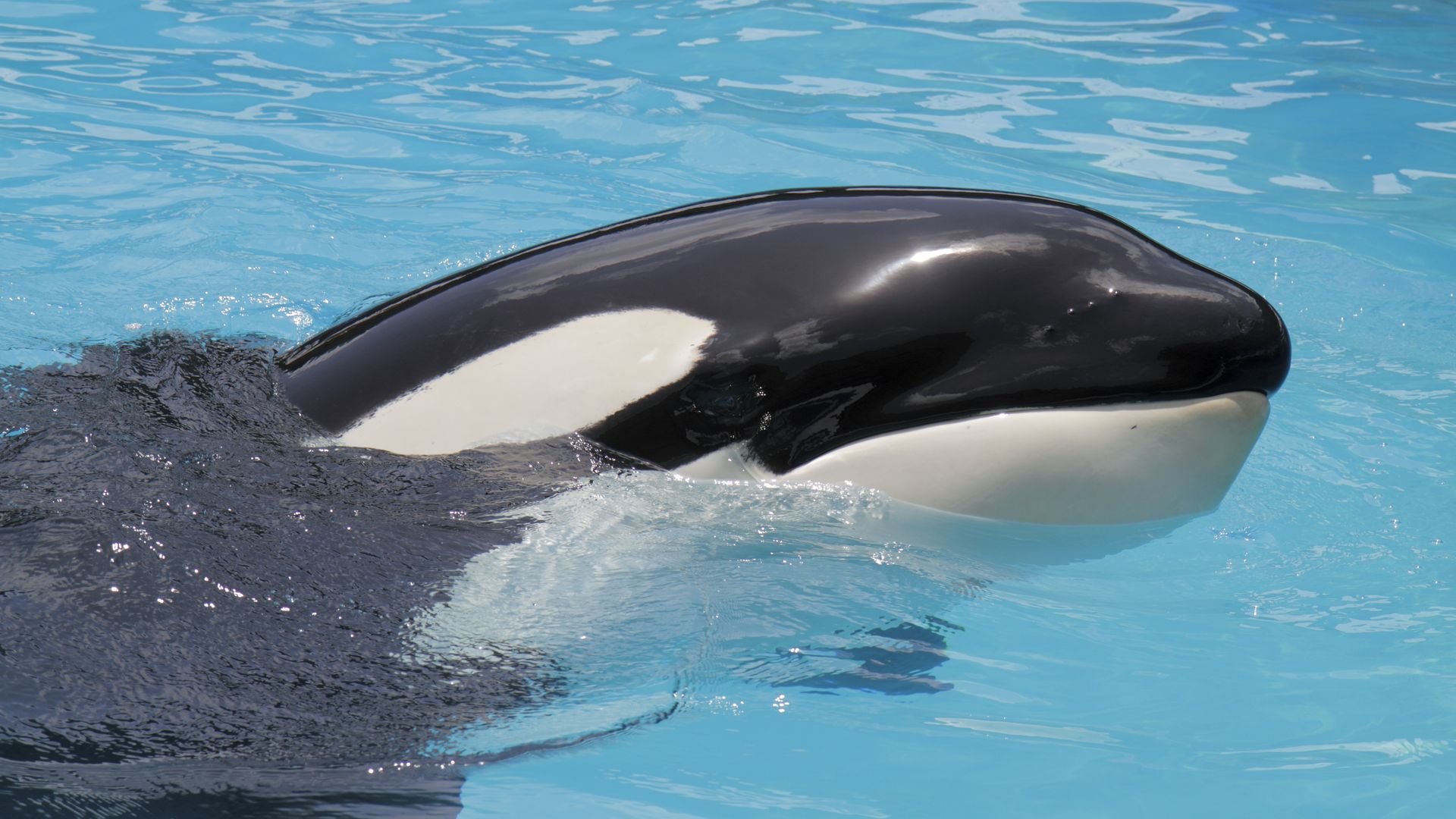 The last time a captive killer whale was relocated from its aquarium to the ocean, it didn't end well for the whale.
Driving the news: Former trainers of the orca known as Lolita, who's lived at Miami Seaquarium for over 50 years, are petitioning against the plan unveiled last month to relocate the whale to her native waters in the Pacific Northwest.
They argue it would be too risky for the 57-year-old orca, also known as Toki, to be flown to her native waters in Washington due to her age and chronic illness.
And they're pointing to the real-life story of Keiko — the star of the "Free Willy" film — as an example.
Flashback: After public calls for his release from a Mexican aquarium, Keiko was relocated to an enclosed bay pen in Iceland in 1998, where trainers would lead him on open-ocean "walks."
Why it matters: Lolita is a Southern resident killer whale, an endangered species whose total population dropped to just 73 in 2021.
Their preferred food, Chinook salmon, has also been depleted by 60% since the 1980s, according to Florida International University biological sciences professor Douglas Wartzok.
What they're saying: Mark Simmons, a former SeaWorld trainer who signed the petition, tells Axios that he's concerned that Lolita won't survive the stress of the journey at her age.
"I honestly do not think she would survive very long after transport because she's lived her whole life in a bubble," said Simmons, who worked on the Keiko project and wrote a book criticizing the orca's release.
"When you're putting her in the ocean you're exposing her to a whole host of things that her immune system has never seen."
The other side: Charles Vinick — who's a board member of Friends of Toki, the conservation group behind Lolita's relocation — also served as the director of the Keiko project.
Vinick tells Axios that despite the sad ending, Keiko enjoyed a much higher quality of life after his release and learned to swim 100 miles a day.
He said Lolita would be under 24-hour medical care, continue her diet of thawed frozen fish and remain inside her netted enclosure, where veterinarians and trainers would work to help her thrive in the new environment.
Between the lines: While there are no current plans to release Lolita into the wild, Vinick said it could be a possibility eventually, if veterinarians and regulatory agencies agree.
"A lot of people, myself included, look and hope that she could actually reunite with her family pod," he said. "But it's premature to think about how that could take place and over what period of time and it's not an objective for the immediate future."
If veterinarians determine Lolita is physically fit for relocation, Wartzok believes moving her to a sea pen would be an improvement from her current tank, which doesn't meet current federal standards.
But he said moving beyond the sea pen and reintroducing her to the open ocean "could present unacceptable risks to the wild population."
What's ahead: Vinick said the team continues discussions on where to build the whale sanctuary and how to navigate the federal permitting process.
They will then need to acclimate Lolita to the equipment they will use for her eventual transportation, which may be a couple years away.
More Miami stories
No stories could be found
Get a free daily digest of the most important news in your backyard with Axios Miami.