Who's building Miami: Edgardo Defortuna of Fortune International Group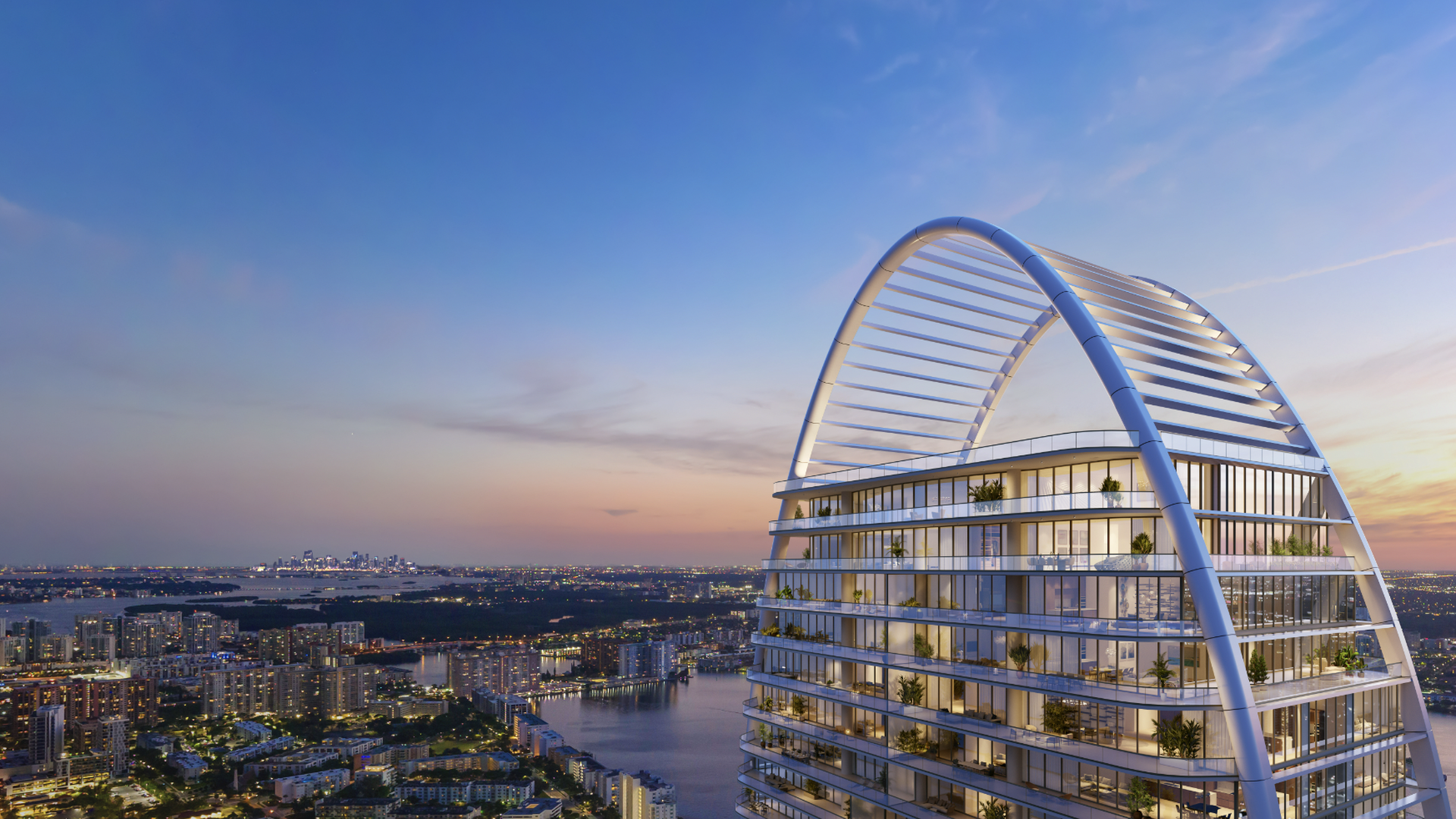 Edgardo Defortuna, one of the most prominent real estate figures in Miami, is making big bets that buyers will continue to pay up for branded luxury residences.
What's happening: Defortuna's Fortune International Group is in the midst of transforming South Florida's luxury property market, with three condo projects in the works named after high-end brands.
Why he matters here: Since he founded his real estate company in 1983, Defortuna has been instrumental in bringing Latin American buyers to Miami — investment that's helped make South Florida the multicultural metropolis it is today.
The big picture: As Latin Americans faced chronic political and economic instability over the last several decades, many have turned to South Florida as a safe place to invest their money.
The backstory: A native of Argentina, Defortuna started his career in Miami managing properties for people from his home country.
Defortuna founded a brokerage to help foreign buyers choose, finance and manage properties, eventually growing it to more than 600 real estate agents.
He then moved beyond sales and began developing buildings from the ground up. He has spearheaded condominium projects from Hollywood to Key Biscayne, such as Jade Residences at Brickell and Jade Ocean in Sunny Isles.
The latest: Defortuna is working on several new projects targeted toward luxury buyers and investors, including a 76-story mixed-use skyscraper project in Brickell that will be partly designed by Casa Tua, the private club and restaurant popular with jetsetters and celebrities.
Ora by Casa Tua will have 540 units designed for short-term rentals, and plans include a restaurant, bakery and market, Defortuna said.
"And on top of the building we're creating the Casa Tua club, like in South Beach, but bigger," he said.
It's projected to be complete in about four years.
Meanwhile, Fortune International Group has also teamed up with luxury hotel brand The Ritz-Carlton on a two-tower condo project in Pompano Beach. The Ritz-Carlton Residences broke ground last year and is expected to be completed in 2025.
Defortuna's firm is also developing a 61-story condo building in Sunny Isles Beach with upscale hotel chain St. Regis. The St. Regis Residences will have 177 condo units and be completed in 2027.
What they're saying: Defortuna told Axios it's a big selling point to have a name-brand in the condo market.
"Especially a brand that symbolizes attention to detail, service and quality of lifestyle."
What else we're watching: Fortune International Group's planned Nexo Residences in North Miami Beach. The 16-story project is designed for investors from foreign countries who want a place they can live in and rent out short-term while away.
The project is being financed using the EB-5 program, which lets investors qualify for visas for themselves and their families. It's projected to complete in 2025.
Axios caught up with Defortuna about the condo market and development in South Florida.
Editor's note: Some answers have been edited for brevity and length.
Q: Obviously, it takes years from the time you plan a building until it's built. How do you gauge whether demand will hold ?
A: "We watch the trends, especially demand from Latin America. The harder thing to forecast is supply, since I don't know all the projects that are on the drawing board [from other developers, nor] the timing of those launches. … How many buildings are going to be there at the same time, trying to compete for the same client?
Everybody exaggerates the volume of sales and the pricing, but … we have a very accurate representation of what the market is, because [of my brokerage]."
Q: New laws following the collapse of Champlain Towers are likely to increase the costs of maintenance and assessments for condo owners. Is that affecting you?
A: "No. Almost the contrary. … It's increasing the cost of the older buildings in favor of newer buildings. … I think we've just seen the tip of the iceberg on that."
Q: What about infrastructure? The causeways are already crowded, and with so much development in the pipeline, traffic is going to be crazy. I know in Brickell we've got sewage problems.
A: "These are growing pains of a great city. … Luckily, there are many projects [underway for fixes]."
Q: Many middle class people are frustrated with the limited affordable housing in the area. Is there anything that would incentivize you to build more affordable product? What do you think the solution is?
A: "We also need to figure out how to house the labor force that has been displaced by the wealth. … [If the government gives incentives to developers, such as allowing me to build] 60 units instead of 30, then the cost of the land obviously gets divided among more square footage, and you can charge less for the units. ...
The private sector is not going to do it by itself, because it doesn't make sense from a financial aspect to build a building that loses money. So nobody's going to do that."
Editor's note: This story has been corrected to fix part of a quote from the reporter that was erroneously attributed to Defortuna, and to add a question about affordable housing. It was also corrected to reflect the number of units (540) and stories (76) in the Ora by Casa Tua Project.
More Miami stories
No stories could be found
Get a free daily digest of the most important news in your backyard with Axios Miami.