Florida Panthers' hockey program for kids includes free gear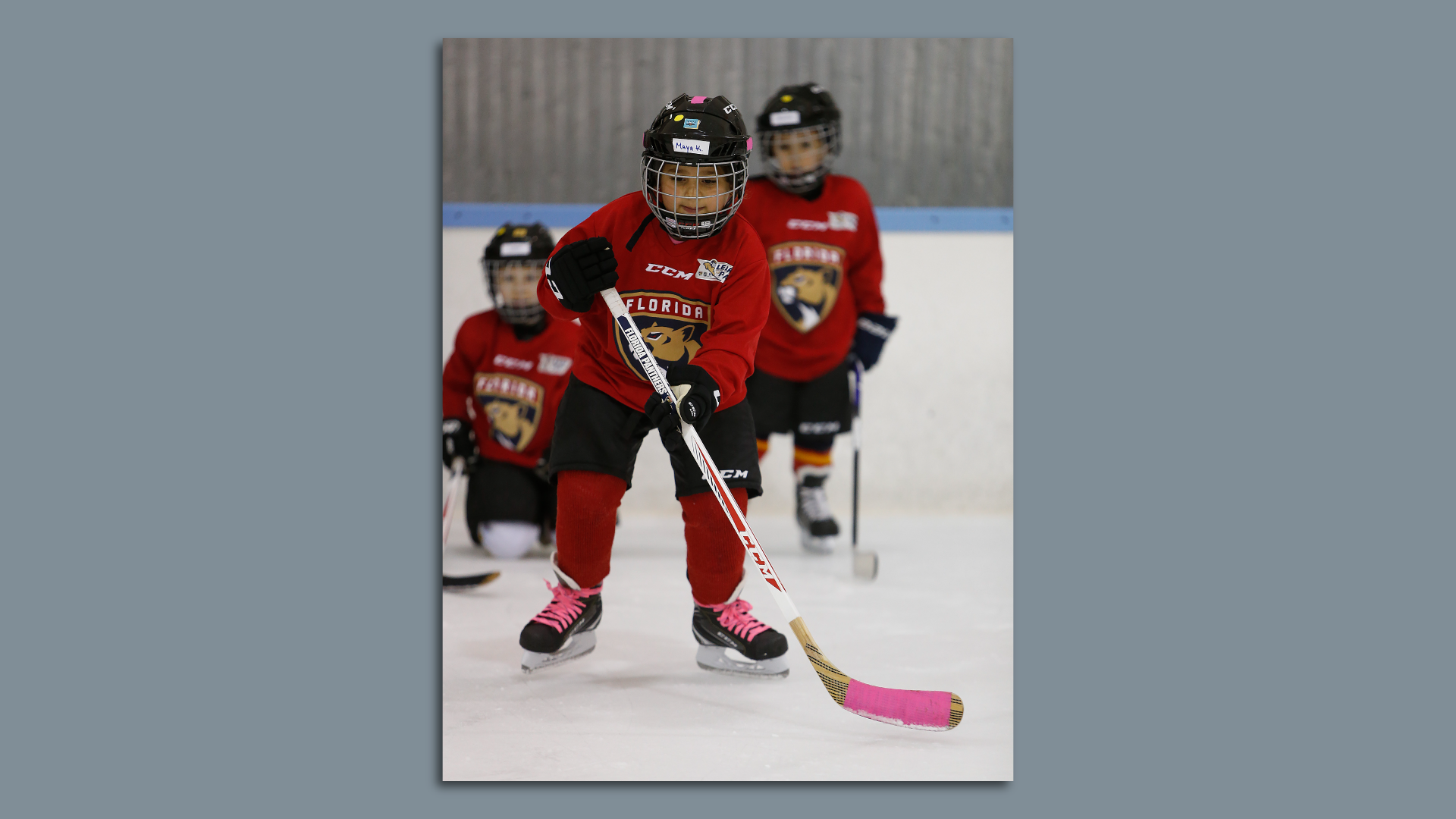 Last year, I told my TikTok-addled kid that he could pick a sport — any sport — as long as he got off the stupid phone.
Did he choose something cheap and convenient, that his mother understood, like running? Of course not. He chose hockey.
What's happening: I had to pay the piper, but other parents of hockey-playing kids may not have to.
The Florida Panthers have spots available for their Learn to Play program — developed to reduce the cost barrier for kids starting the sport — at the IceDen in Coral Springs (and Palm Beach County).
Details: Kids ages 5 to 9 get six weeks of instruction with Florida Panthers alumni and USA Hockey-certified coaches. One session is specially for girls.
There's a $225 fee, but it includes free gear.
What they're saying: "The NHL and NHLPA saw a need for a program run by NHL Clubs that would help to continue to increase youth hockey participation," team spokesperson Chrissy Parente told Axios.
Roughly 3,000 kids have gone through the program since its inception about eight years ago.
The intrigue: Parente declined to give a dollar value for the gear, but I can tell you it saves a lot. My credit card and I soon learned that:
Hockey players wear special underwear, which their socks get stuck to. Those "socks" are really just tubes, like leg-warmers. They need regular socks, too.
Hockey "pants" are padded shorts.
Add skates, jersey, shoulder and elbow pads, gloves, shin guards, helmet, stick and bag, and this single mom was lookin' at close to $1,000.
Learn to Play provides everything but the undergarments.
If you go: We did lessons at Pines Ice (which always has a good Groupon!) and hid out half of the boiling-hot summer skating inside the Scott Rakow Youth Center on Miami Beach.
Pro tips: To prevent my whining child from being murdered (by me) and get his skates tight enough, I invested in a lace tightener. Best $2.99 I ever spent. Also, don't forget a jock strap!
To make my baby deliriously happy on the way home, we would stop for Pokemon-themed bubble teas at Bobaman. Get the Bulbasaur!
More Miami stories
No stories could be found
Get a free daily digest of the most important news in your backyard with Axios Miami.